The Story of Straw, the polling engine for your pocket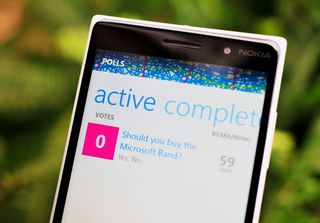 Straw is a new Windows Phone app that aims to help you get instant feedback from your friends and followers on social networks. Recently, we covered the polling app and its public beta on Windows Phone. Since our initial coverage, the app has received numerous updates fixing bugs and addressing feedback from a growing user base. We figured it was as good a time as ever to talk with Straw co-founder Ben Rudolph about the founding of the app and its future.
How Straw was born
Ben Rudolph, Craig Kitterman, Nate Gunderson and Jason Wilmot are the founders behind Straw. By day, the four of them work at Microsoft in various roles, but by night they're working on an app to help you easily poll friends and followers whenever you want.
The idea for Straw came to the team last year at a New Years Eve party. There, the soon-to-be Straw team was discussing upcoming college football games with the usual smack talk. While debating which teams would win this and that bowl game, they soon realized there was no good way to get that feedback on social networks.
Ask a question on Twitter (like, "which team will win a game?") and you can quickly get a lot of quick responses. The same thing happens on Facebook and other networks. A ton of responses, but no way to easily digest and process feedback. People can get off-topic or might not fully understand the results you're looking for. The Straw team wondered if it would be easier just to poll your friends? That's the idea behind Straw, to make polling across social networks easy and fun.
The Straw of today
The four began working on Straw in earnest a few months ago. Right now, Straw is available for Windows Phone, with Android and iPhone versions coming in the near future. The app allows you to create quickly and share a poll. Straw works with and can share to Twitter, Facebook, LinkedIn and SMS.
To quickly create a poll that works with the social networks you frequently use is an important feature for Straw. Right now the focus is on Twitter, Facebook, LinkedIn and SMS, but we wouldn't be surprised to see other options added based on community feedback.
When your friends and followers want to participate in a survey they just click the link generated by Straw. This link will take them to a web page where they can cast their vote. Users don't need to sign up to participate, so this helps to remove the friction of collecting data from your friends. You also don't have to worry too much about anyone rigging the results if they try to take a poll in the same browser. Anyone trying that are met with a dialogue box informing them the extra vote won't count.
The team at Straw has been receiving a lot of constructive feedback since launching their Windows Phone app. They've been impressed with the enthusiasm that has sprung up with those using Straw. The surprise to the team has been the quality of the feedback they're receiving so early in development. Instead of asking for WhatsApp and Straw integration, users are explaining how they want to see the WhatsApp integration. That extra depth of information when providing feedback to Straw has impressed the team in these early days of development.
How's it being used?
Just scan the #PollWithStraw hashtag on Twitter, and you'll quickly get an idea of how people are using Straw. Variants of "Which team will win this game?" are some of the more obvious questions users are asking with Straw. Sports will undoubtedly be popular with the service, but it's the personal recommendation angle that's interesting. Asking your friends questions like "What suit looks better on me?" or "What movie I should watch tonight?" are where Straw gets fun.
The Straw team has been surprised by the number of people using the SMS option with Straw. Dinner plans are now being made with Straw where everyone can vote for where to eat. Just make a poll and send it to your friends. They select from some options and it helps to speed up the decision-making process.
The Straw of tomorrow
Straw has some big plans for the future. The ultimate goal is to make mobile polling fun, quick and easy. The team hopes to accomplish this with apps on all major platforms.
Users on Android and iPhone can look forward to Straw coming soon. There's no ETA on those apps; the team just wants to release them when they're ready and functional. Users on Android and iPhone have already expressed their eagerness to the Straw team for the app.
A year from now the Straw team hopes to become the premier polling tool on mobile. That's the main idea behind Straw: to put a powerful polling engine in your pocket. To make polling fun, engaging and lower the barrier for users to make data-driven decisions.
Download Straw for Windows Phone
Straw is available as a public beta on Windows Phone, and you can download it today for free. Don't forget to send any feedback to hello@pollwithstraw.com and follow Straw on Twitter (@pollwithstraw)
Get the Windows Central Newsletter
All the latest news, reviews, and guides for Windows and Xbox diehards.