Strawberry Weather is a colorful way to check up on your local forecast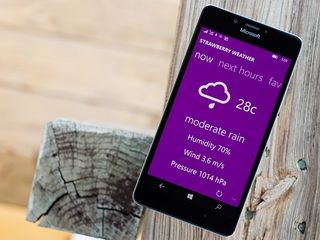 Strawberry Weather is a Windows 10 weather app that delivers the basic forecast information in a colorful and clean style. Available for Windows 10 PC and Mobile, Strawberry weather includes toast notifications to alert you on changing weather conditions, as well as Lockscreen and Live Tile support.
Add color themes, a few weather icon packs and location based forecasts and Strawberry Weather ends up being a rather impressive, free Windows 10 weather app.
The layout for Strawberry Weather offers a clean and colorful appearance that isn't overly complicated. The primary screens include the following pages.
Now: This is your current conditions that include a weather icon illustrating the conditions, temperature, humidity, wind speed/direction and barometric pressure readings There is also a Forecast Button at the bottom of this page to jump to a five-day forecast.
Next Hours: Curious what the next few hours hold? This page breaks down the weather forecast in three-hour blocks for the next twelve hours.
Favorite Places: Strawberry Weather can be set to deliver the forecast based on your current location or you can add specific locations on the Favorite Places page. There is also a premium feature that allows the app to automatically add nearby places to the Favorite Places list ($.99 in-app purchase).
Throughout the primary screens, there is a refresh button and menu button resting in the bottom right corner of the screen. The menu button pulls up the settings option and About screen with the Windows 10 Mobile version. The Windows 10 PC version, with the larger screen, has all the control buttons displayed at the bottom of the primary screen.
Strawberry Weather includes 12 pre-set color themes ranging from purple to pink to gray; there's also a "Chameleon" theme that matches your system color settings and allows for custom color selections. You can also customize the appearance of the weather icons, with options for Simple, Emoji, and Minimalistic.
Expanding on Strawberry Weather's notifications, the Live Tile delivers your current conditions and what to expect for the next forecast period (three hours ahead). Lockscreen support is limited to the Detailed Status settings in lockscreen options.
When Strawberry Weather is selected, current conditions and recommendation on how to deal with the weather (e.g. bring an umbrella, etc.) appear on your lockscreen. I would have rather seen the ability to use Strawberry Weather as the lockscreen background (with the ability to use your own wallpaper). As a compromise, you can use Strawberry Weather for the detailed status and another weather app for the background (such as Amazing Weather HD).
Toast Notifications offer two levels of detail. You can choose Smart Alerts that periodically notify you of changes in the weather. Generic Alerts are also available and alert you only of bad conditions (though I didn't run into any severe weather during my testing that would have triggered such notifications). The duration of these alerts ranges from fifteen minutes to two and a half hours.
Strawberry Weather lacks weather radar, which may be a deal-breaker for some. While you can always install NOAA Weather Radar or another app with a radar feature, it would be nice to have it all under one roof instead of relying on multiple apps.
While there is room for improvement, Strawberry Weather is a solid Windows 10 weather app. It delivers the basic forecast information to your Windows 10 PC or Mobile device and the toast notifications help keep you weather aware. If you are looking for a basic weather app that isn't short of color, Strawberry Weather is a great looking Windows 10 app to give a try.
Download Strawberry Weather from the Windows Store (opens in new tab)
Windows Central Newsletter
Get the best of Windows Central in in your inbox, every day!
George is the Reviews Editor at Windows Central, concentrating on Windows 10 PC and Mobile apps. He's been a supporter of the platform since the days of Windows CE and uses his current Windows 10 Mobile phone daily to keep up with life and enjoy a game during down time.
Sounds really cool. I'm going to have to try this out. I love 4caster but I'm open to checking this out.

Thanks developers. It's one of best apps here .
I will support u by donate plus bue the extra offers .

Thank you for that! Even the appreciation makes me feel satisfied for the night hours I put in making the app. Money is just icing on the cake!

I like this app, gets a lot of updates too. Best part are the push notifications/weather report and the detailed info on the Lock Screen. Not the most powerful, but clever and very minimalist.

And as always I am returning to MS Weather.

Installed it. Looks promising and nice, with a clean interface. I gotta admit, I love that it uses the old Win8 design language.

Yeah, this UI makes sense here. Hamburger for only 3 sections would be cumbersome to use. Easy to use was my goal! :)

I love to emoji weather icons. It's definitely one of the cutest weather apps and the push notifications are nice.

Hi people, I'm the developer of Strawberry Weather. Thanks George for such a great review! Made my day!

Thanks for developing the app! I downloaded last week and have been testing it out a bit, and so far I like it. But I'm finding the weather data to not be too accurate. Any thoughts on possibly adding different sources? I'm in NY. I know Dan commented above is in Massachussetts and said he likes it a lot, so maybe it's not a northeast thing and it's accurate for him, but just not locally for me.

Yes. Sure. It's on my list. I'm testing other sources in private project. But I'm a new developer, learning yet and it involves a lot of coding. So being extra cautious about bugs and thoroughly testing. The next major update including optional weather sources will be ready by next week. Thank you for using Strawberry Weather! Have a nice day! :) Owner, Strawberry Corp

Awesome, thanks for the response. Looking forward to the update, good luck!

If possible, please add sources like Bureau of Meteorology Australia, Weather Underground, Forecast.io, yr.no, weather.com, etc Don't mind being charged for enabling radar if there is such an option. Thanks

Forecast.io and Weather Underground are planned. After I'm done adding these, I'll add others too. I'm a new developer and it seems adding radar is quite difficult, but I'm getting feature requests for radar and I'll try to add it asap! Thanks for using Strawberry Weather!

I hate and love the app. I love that it's super lightweight. But I hate the look. It looks like an outdated Windows Phone 8 app. Other than that I think it's super useful. Stays on my device for now.

you don't need a weather man to know which way the wind blows.

Meh, aside from the m/s wind velocity details (nice touch!) I don't see what this offers over the competition. I'm still waiting for Weatherbug to fix/update their app to UWP; it was the best Modern app for PC.

There you have it! Strawberry Weather is a UWP app! ;) PS - Don't ever call someone's work 'meh'. Someone might have spent sleepless nights for it. I don't mind it, but some other dev might get hurt. Always remember that! Have a good day!

I still prefer the MSN weather as long as it stays ad free.

Yes, Strawberry Weather looks like colored glass beads for the primitive natives.

good job thoI really like it but would love to see different data providers too, so one can choose what is better for ones needs;)
Windows Central Newsletter
Thank you for signing up to Windows Central. You will receive a verification email shortly.
There was a problem. Please refresh the page and try again.