Vudu's new Windows 10 app brings the latest movies to your PC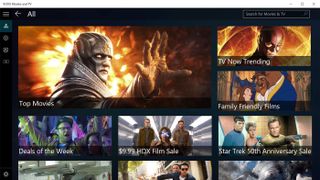 Vudu, a popular digital service for buying and renting movies and TV shows, has launched its official app for Windows 10. And as you'd expect, the app serves up everything a movie buff (or at least anyone with a sizable Vudu collection) would need to start streaming their flicks on Windows 10.
Just like the website, you can purchase, rent or redeem movies and TV shows and start watching right away. Here's a quick rundown of everything you can expect from the Vudu app for Windows 10 (via MSPU):
Watch the latest movies, from still-in-theater hits to blockbusters - some before they're even out on DVD or Blu-ray!
Catch up on TV episodes as soon as the day after broadcast, or binge-watch complete seasons.
Join VUDU for FREE. Rent or own only what you want, with no subscription or rental late fees.
Stream directly to your Windows 10 device or download to watch anywhere, anytime.
Connect to both Ultraviolet and Disney Movies Anywhere, and access your movie and TV collections all from the VUDU app.
At the moment, the app is only available for PC, so you won't be doing any native streaming on your Windows 10 Mobile device. However, if you're interested in giving the app a shot, you can grab it now for free from the Windows Store.
Download Vudu Movies & TV from the Windows Store (opens in new tab)
Windows Central Newsletter
Get the best of Windows Central in your inbox, every day!
Dan Thorp-Lancaster is the former Editor-in-Chief of Windows Central. He began working with Windows Central, Android Central, and iMore as a news writer in 2014 and is obsessed with tech of all sorts. You can follow Dan on Twitter @DthorpL and Instagram @heyitsdtl.
Does the app include the Vudu disc-to-cloud service?

Hope it comes to Mobile. Or have VUDU link like Disney's movies anywhere does with Microsoft Movies and TV. I could live with either option.

VUDU does support Disney Movies Anywhere. You need to enable it in the account settings in your DMA account.

I believe they mean to be able to link the VUDU account to the MS Movies & TV app where all movies including DMA can be viewed.

The Microsoft Store needs to support Ultraviolet for that to happen

And that would be very cool, I wonder if a user voice exists for that idea?

If you weren't aware, some of the digital movies from VUDU can be viewed using the Flixter app as long as they are supported.

True, but that has always been an awful app that was in desperate need of replacement. I'm happy I won't need to rely on dreadful Vudu site anymore. ------
Nexus 6p + Lumia 950 XL

Flixster abandon their Windows apps a while ago. The streaming no longer works since they separated the streaming into a new app that is only on iOS and Android.

awesome. in combination with the $5 codes that come with T Mobile Tuesdays, this app just came at the right time. Just bought Captain America Civil War today ! yasssss

came here to say this, for anyone here with T-Mobile a Windows 10 app is a BIG deal.

That movie is amazing!!! I bought it and watched it with friends last Sunday!!! Keep watching until after the credits for two interesting things. The new X-men Apocalypse movie is good too but Civil War has a grander scale that blows away most super hero movies of our time.

I've been waitng for this fro a long time, over a year

Sucks that it still doesn't work on Windows 10 phones.

Crossing fingers that it comes to W10M!

It's a UWP. It will eventually be there for Mobile too.

Not necessarily. That's why OP has his fingers crossed.

yeah, not necessarily. The AMC app came to Windows 10 a long time ago and it scales itself properly when you shrink the width down to a phone size on your pc just like this spanking new Windows 10 vudu app does but they left it on PC and so far haven't put it on mobile or HoloLens or xbox, nothing else. Hopefully Vudu won't do the same as AMC. I just tried it out and it has some scrolling problems and it cuts some things off and the videos so far only play in SD, not HD and HDX. But that's to be expected on a first time new app. Hopefully they will keep upgrading it and bring it to the rest of the Windows 10 family.

Go into settings and change from SD to HDX. Mine streamed HDX at least. Also, remember some movies only allow SD on a computer (don't ask me why).

Excellent news! My Vudu collection has grown considerably over the last year and it'll be so nice to have a native Win10 app so that I'm less reliant on my Bluray player for a decent Vudu experience.

Is there any advantage over buying them from Microsoft Films & TV?

Vudu has ultraviolet support, so most blu rays you buy, you can get the free digital version. Also they seem to have better deals than MS most times.

I agree. I too feel that they have better deals. Also I did the disc-to-digital conversion for a bunch of my existing DVDs and Blurays. And some of them included the digital version to begin with which is why I originally started using Vudu. There is also the advantage that there is broader support/apps for the platform on 3rd party devices.

And, since is is Ultraviolet, you can share your library with friends and family. Huge plus right there.

Roku app support is a biggie, I dont personally buy digital movies, but I rent alot and its annoying how I cant watch a Microsoft rented movie on a TV when I travel. (please noone recommend miracast or HDMI from my surface, I mean an actualy reliable and elegant solution)

I agree. If I buy or rent digitally (not to mention the free digital copy that comes with many blu-rays today) I always do it through Vudu. It's linked with my UV movies, and my Disney movies and I can watch on any of my 3 Rokus anywhere in the house. I have 1 Microsoft movie and when I realized it didn't have similar options, no more Microsoft movies. Too bad...

About time! Bring on the mobile too.

Now we just need UVerse to do this too and put it on phone as well. They currently have it on XBOX and I do believe it has been there since before Windows 10 came to XBOX. They should've spent their resources putting on windows 10 UWP though and then it would already be on all Windows platforms. I guess they decided they couldn't wait for Windows 10 to finally get officially launched to XBOX and went ahead and pulled the trigger...idk

That version of UVerse has been deprecated by Ericsson and will be going away soon. There was a proof of concept Windows 8.1 app, but it wasn't ever deployed by any Mediaroom operators.

Oh really, I didn't know that.

That is not the app he is talking about. That was on the Xbox 360 and died years ago. OP is talking about the Uverse app that came out not too long ago for the Xbox One.

Speaking of the Xbox.....this would be a hugh upgrade to the tired vudu app we have now. And a great reason to jump into Dolby vision with the one s