Subway Surfers floats its way over to Venice in latest update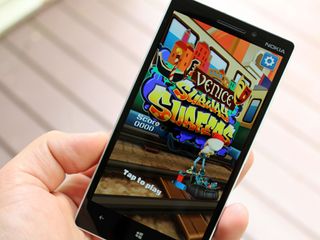 The popular free-to-play endless runner game Subway Surfers keeps getting new content. The latest update takes Jake and his crew to the romantic canals of Venice, Italy.
Here's what you can expect when you download and play the new 1.40.00 version of the game:
Join the Subway Surfers World Tour in beautiful Italy
Cruise the canals of enchanting Venice with Marco, the charming boat boy
Spice up your weekends by reaching for new Wordy Weekend Awards
Boost your collection with the Gondola board and a new spectacular Outfit
Win great prizes in the Weekly Hunts by collecting colorful carnival masks
Which location on the planet will the Subway Surfers hit next? Let us know your predictions in the comments.
Thanks to everyone who tipped us!
Download Subway Surfers for Windows Phone(Free)
Windows Central Newsletter
Get the best of Windows Central in your inbox, every day!
One of the various games I have a problem with on my 525. Sometimes 1GB RAM on MY phone isn't as better as it seems.

The ram is sufficient. The processor is the problem. I too had a 525 that i lost earlier this year.. Never made a big score on 525 just due to the slow frame rate and random lag..

You are right, runs noticeably smooth on a 630

Instead of releasing new themes, add Xbox achievements + optimize it for 512mb of ram

+million ,,,aimless updates ... Make it aimless even more!

Hey, it's their business model. They're probably doing what works for them. The game is still fun though.

Not sure we need these updates every time they change cities. (unless the dev company is comping WC for the press time...then by all means...)

WC probably has a deal with this developer to cover all their updates till eternity.

Is it necessary to post every new location on Windows Central? This is just one of many games on the Windows Phone platform.

I mean, you don't have to read and comment on this article. You can just skim over. Also, the ton of tips we receive suggest that yes, people are interested. Either way, it costs you nothing when we write these.

i came here to write the exact comment, Thanks for your polite suggestion. No one is forcing us to read this article, no one is forcing us to visit windows central either :P

"no one is forcing us to visit windows central either"

Exactly. If you find another site who does better, more in-depth and higher-quality coverage than us, then use them. That's totally fair. However, I will not justify why we post certain articles just because you

personally

do not care for it. That is none of my concern.

I think it's not fair for it. Writing these costs us nothing, but won't you discover other apps/games? Or you waste time writing the same lame topics rather than new topics even though many guys tip you a lot? That's why I enjoy seeing forum instead of that same lame topic. Also, some articles are tooo long to read and means nothing and so boring. No one spend time to read that, man! What if you just stop that? Short meaningful article for some popular or newly things, please. Or I won't give you annoying time to read it.
Just look what WMPoweruser does. I'm not bullying you.

"Also, some articles are tooo long to read and means nothing and so boring. "

Then don't read them. Those articles do very well for us in terms of site traffic which means

other

people

are

reading them. You are taking a very narrow view here, which is "I don't like this, therefore no one else likes them and you guys should change." That is not how this works.

"Writing these costs us nothing, but won't you discover other apps/games? "

Every single day we post about NEW games and add NEW reviews for indie titles and major releases. Every. Single. Day. Our rate of coverage has not

decreased

by us posting this. You are implying that we can only write X amount of articles a day and now with this, we are X -1. That is not the case. We write on games, apps, whenever it needs to be done.

"Just look what WMPoweruser does. "

That is their site. This is ours. We do 4x the traffic with nearly 4 millions uniques a month. We are the standard, not them. Sorry. Either way, they exist so use them too, no sweat off of our brow. We

cannot

be everything to everyone.

Hey, sorry if I sounded too negative. Don't get me wrong, Windows Central is my favorite place for tech news (since I got my 920). It's just that I've played Subway Surfers long enough to see that the changing skins are just what the developer does with the game, the skins are released regularly and are no surprise (they are more of a sign that the dev continues support and didn't abandon the game) That's why I thought that such updates aren't news material and there are much more exciting news to be found on WC. As for people tipping, I think it's more for the thrill of being mentioned as the tipper, rather than believing that they are selling you breaking news ;)

Even android central posts articles about various updates of popular games,if you don't like it then don't read it,sometimes authorities cannot change their ethics and way of working because of people's point of view.

Subway in Venice = submarine?

+720. It might jumping from boat to boat.

Boring game. Just the same thing with a different location. They should a release a sequel

Who plays this game yet??

Played for 4/5 months after installing and did periodic updates.... Made a high score of 1200,00,000+ ... And uninstalled

Good to see these updates coming...

Game is not showing in my apps yet I received update from store.. Is there a way to uninstall it what am u to do now?

this game is so boring, so far the only endless run i find interessant is Lara Craft, quite challenging

This game is not good in Windowsphone and have problem in all windowsphone devices .. I don't know why ??!!!

We Need Homerun Battle for our windows phone

New Subway Surfers 3 (Beta Version)! Download and play first. Beta version for developers.
Push -> https://drive.google.com/file/d/0B1WaYCYYHkjcOGlsNlo3QTBVcGs/view?usp=sh...

Subway Surfers 2:Free Beta Version! Download and play first. Beta version for developers.
https://drive.google.com/file/d/0Bz8ApSAe-E5aVnA0TWJjZTZGcFE/view?usp=sh...