Subway Surfers runs its way to Rio de Janeiro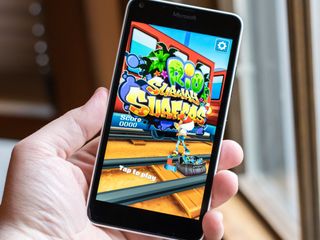 The popular free-to-play endless runner game Subway Surfers keeps getting new content. The latest update brings Jake and his crew to the party city of Rio de Janeiro in Brazil
Here's what you can expect when you download and play the new 1.41.0 version of the game:
Travel to Brazil on the Subway Surfers World Tour
Party with Jake and the crew in the colorful subway of Rio de Janeiro
Use up to three Score Boosters in one run and take off for even higher scores
Surf on the new Birdie board and get a flashy Shake Outfit for Carmen
Search for cute toucans on the tracks to earn prizes in the Weekly Hunts.
Where will the Subway Surfers run next? Let us know your predictions in the comments.
Thanks to everyone who tipped us!
Download Subway Surfers for Windows Phone(Free)
Windows Central Newsletter
Get the best of Windows Central in your inbox, every day!
Should be named city surfer?

Hurray, I'm so glad! This is wonderful news! Been waiting forever for this!

This is about the only endless running game that I like. The others get boring real fast. I do like that they change it up.

Once I tried windows 10, I lost all saved games, coins earned suits, surfers etc, so I lost interest. Too bad we can't image the windows phone drive, like we can do in windows, before we test something new. At the very least, all games and software should let you save on the cloud.

They aren't making performance improvements any more. It lags on my phone.

Stop playing its history.