Subway Surfers for Windows Phone gets latest Miami update same day as the iPhone, Android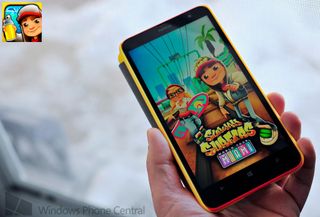 We have some great news for you Subway Surfers fans out there, as version 1.18.1 is now live in the Store. The update brings the brand new World Tour: Miami theme.
Windows Phone users had to skip World Tour: Mumbai due to the extended Christmas theme and challenges. Those ended yesterday. What's more, Windows Phone is getting the update the very same day as iOS and Android, making it one of the first times all three platforms land at once.
Now for the bad news: this update does not bring 512 MB support. Users will still need 1 GB of more RAM in order to get in on the latest Miami action, so users of the Lumia 520, 620, 625 and 720 will have to sit this one out.
Kiloo Games and Sybo Games have teamed up for the Windows Phone version and the 'World Tour' series basically is a re-skin of the game with new daily challenges and contests. Sure, it's just a re-skinning, but endless runners have very high replay value and getting a fresh look is always a welcomed treat (especially after being chased by Santa for weeks).
The new Miami theme features collectible pink flamingos, bright green trains, pink structures and palm trees. Users can also vie for 'funky new outfits for Nick and Tasha' and with the weekly flamingo-challenge contests, fans of the game can struggle to get limited edition upgrades and bonuses.
We have to admit, the game looks much fresher now with the bright new look and it's a great escape from the doldrums of winter. Considering this is our top endless runner (sorry, Temple Run 1 and 2), we're excited to see this game keep parity with iOS and Android. Too bad about the 512 MB support, but hopefully that will be coming soon.
[Note: the update is really new to the store, so give it time if you don't see it]
Head here to the Store to pick up Subway Surfers: Miami World Tour. Windows Phone 8 only, 1 GB of RAM required.
Thanks, Giordano P., for the tip!
Daniel Rubino is the Executive Editor of Windows Central, head reviewer, podcast co-host, and analyst. He has been covering Microsoft here since 2007, back when this site was called WMExperts (and later Windows Phone Central). His interests include Windows, Microsoft Surface, laptops, next-gen computing, and arguing with people on the internet.
Why its taking só long to have 512mb ram suport

Lol now I have to watch Chappell show.

i like this game very much, its fun to jump from an train to a train, to use snekears to jump to roll to avoid objects to run forever and dont get tired, and im happy that update came at the same time for everyone, i like updates, i like to install updates and i like to discover updates, updates are awesome, even one small bug fixes is awesome, i really like updates

I know that 513MB allowed low end devices but I wish that MS would have made 1GB standard. This would prevent fragmentation amongst the OS. I am glad I have a 1GB device otherwise I would be very frustrated.

i think it works with 512MB Devices great,do not get it why Kiloo still doesnt bring 512MB Support...

Great news to see it launch the same day; my wife (on iOS) normally asks if my apps get updated and I normally have to say no. Now I can tell her about this new udpate before she even knows about it.

Glad it's here but it's basically the same game, same jump patterns and all. This is just a skin. I thought it would be at least a little different....

You obviously don't know Subway Surfers then...

Do you even play the game?

Awesome, now thats amazong, i hope every app gets updated same day as others, and im so happy kiloo games have been awesome, and now that 512mb supoort and u guys will see millions more downloads

Same day as iDroid❔.... Getting better little by little...

The SAME day?!?! Hell has frozen over.....

I play Subway Surfer mostly and checked out Minion Rush on my daughters tablet. MR is the better game and it's pretty addicting. I don't know why they collect bananas though. LOL! I like the mini games and the different areas you can go too. Rail Rush is also awesome.

Plzz give for nokia Lumia 720 itz awesome phone bt it lags when its has no subway surf becoz it is compatible of much big games den dat like six gunz, asphalt 8 etc etc so plzx give subway surf and temple run 2 for 512 mb ram plzxx plzx i beg u for god sake

It lags bcoz it doesnt have subway suffers???

So bad English
Much wow :p

Thanks kiloo for the update and bringing the game in par with iPhone & Android. :)

Wow same day. I'm impressed

I think the Miami update looks terrible..

Whata the redstripe deal today?

I like pineapples, but what's the best screen cleaner for my Windows Phone?

Roasted cheese is yum with that!

Does the Bose bluetooth headset have volume control for Windows Phone?

This weeks red stripe deal is Collapse.

The growth of Lumia 525 might affect ppl with 512 MB ram devices in the mere future.

The game is a little buggy as related to ios and android versions. And sometimes crashes :/ l920 user.

Weird. I've never had an issue and I play every day...a lot. #1520

Android version is very hard. Subway surfers is very difficult to play. U know what I mean??

No issues on 920. Play it all the time

Thanks guys for same time update on all os platforms.

Updating! Subway Surfers was my daughter's favorite game on iOS. Now she loves it on my Lumia...

Yes, excellent; a first time for everything. That's great news. Thanks

i have htc 8s the game its not in the store

8s only got 512MB of ram,the game is only for 1GB of ram devices :(

Has anyone been able to update this game? I see the Update button on the games store page, but after I press it, I'm taken to the Downloads page and no download has started or even appears there.

Read the last line of the article!!!

The update is there, it just doesn't actually happen. Usually when updates are brand new they won't appear at all for me!!!!!!!!! [Note: the update is really new to the store, so give it time if you don't see it] I see it. It just doesn't work.

I had the same issue, reset the phone and works now

Read the part about this update being really new, might not be live for you yet...the lede image, my screenshots, confirmation of no 512 MB support and new Tile for the QR code should tell you that yes, people have updated this.

No Problem to update on my German Lumia 1020.

It's not launching for 512 mb ram users so that Lumia 525 make its way to market instead of a particular market share of 520 n 620 :/ probably that would be a reason

Are you kidding me? No 512MB RAM support again?? Fuuuuuuuuuuuuuuuuuuuuuuuuuuuuuuuuuuuu!!!!!!!!!!!!!!!!!!!!!!!!!!!!!

I guess its not coming for 512mb devices until 525 becomes a bestseller. Why would they?? Who would like to upgrade then?

Interestingly enough, I can the update but not download it. Strange stuff.

Turns out a restart fixed the problem. Have fun.

Just switch off and on your device and update. I did the same.

Thanks for this. I really wanted to get rid of Sanity Clause.

Guys i have nokia lumia 520 and i playing this game sometimes is litle bit laging but is much better then nothing so if who want to know how to play on low end devices contact me on skype: dainiax22

For the first time I get to ask an iOS friend about an update and hear him say he still doesn't have it :)

Maybe I'm missing something but I remember playing the Miami track months ago on ios

Miami only has a one-line elevated train. This must be easy mode.

this should be the thing thatthey release an update simulteneously to all platform.. two thumbs up! I hope all devs out there will release update at the same time..

My high score syncs via Facebook but not my mission progress...is that the same between android and iOS?

Is that lumia 820 in the first screenshot ? If yes, from where I can get that flip cover ?

Remember its coming veryyyyy sooooooon for 512 mb devices. How i like this joke. Why do they say its coming even though its not gonna come. Shitty kiloo games

It says i need one GB of Ram to download.. Please help

I could not update with my L925. Why??

Please stop these boring games.Only minion rush is best.SS is even worst than temple run 1.

Hello,
Thank you for your inquiry and for your interest in Subway Surfers. It has not been technically possible for now for us to create a version of Subway Surfers for the 512 MB RAM Windows Phone devices that had a playable performance. We are working on optimizing Subway Surfers to support these phones.
Unfortunately, we cannot guarantee that this will be possible. Sorry for the inconvenience. Best Regards,
Kiloo this is the reply to my mail by kiloo game

Take your time with the 512b update we always have minion rush that supported 512mb from the very beginning.

Please update for 512 Mb ram fast ... :(

Please support 512 mb of ram

Please kiloo bring the 512 ram update fast...
its been over a month the game has launched bt still no update. There's a guy over who's giving beta update of same game to 512 ram users and his getting positive responses.. If a douchebag like him can get a update then i suppose it would be easy for you too mr. Developer. So plzz kiloo bring the update as soon as possible plzz plzZ
Windows Central Newsletter
Get the best of Windows Central in in your inbox, every day!
Thank you for signing up to Windows Central. You will receive a verification email shortly.
There was a problem. Please refresh the page and try again.