Super Lucky's Tale is a simple yet promising platformer for Xbox One X and Windows 10
With an endearing world and robust platforming mechanics, Super Lucky's Tale will help kick-start the Xbox One X – but its identity still needs time to develop.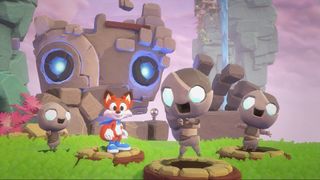 While the focus of the Xbox One X launch lies with Forza Motorsport 7, a second notable title coming out of Microsoft Studios this fall is striving to help kickstart the console. With some of the biggest Xbox One exclusives now on track for a release in 2018, Super Lucky's Tale will be one of the few in-house titles to look forward to in the months ahead. And with a release date set for November 7, 2017, for many, the game will be one of the several titles playable in 4K on the new flagship Xbox device at launch.
Super Lucky's tale is a somewhat unexpected addition to Microsoft's games lineup, with its predecessor available exclusively to the Oculus Rift. Originally envisioned as a 3D-platforming series with a unique virtual reality (VR) twist, "Lucky's Tale" showed promise as a concept, but was criticized at launch for the repetitive nature of its gameplay. Due to the added barrier to entry of requiring a VR headset, the franchise has seen little exposure outside of early adopters of the Rift.
With Microsoft now overseeing the series' future, Playful Corp is delivering Lucky's second adventure as an exclusive release for Xbox One and Windows 10 this fall. Following the move to a traditional display, the series has understandably ditched headset support, while delivering a much richer 3D world. And though this transition means the series has lost its previously defining feature, a new take on its platforming is shaping up for a simple, yet refined platformer.
A throwback to the golden era
Although Super Lucky's Tale delivers some noteworthy improvements over its predecessor, the series' simple platforming core can still be seen with the sequel. Taking clear influence from the "golden era" of 3D platformers in the 1990's, gameplay mostly centers around using a small set fundamental mechanics across a range of challenges.
While playing as Lucky, players will have access to both abilities commonplace in your average platformer, such as basic movement and jumping, alongside some more unique concepts tied to Lucky's design, such as swipe attacks or underground burrowing. These abilities influence the basis of the game's level design, with platforming puzzles and small-scale boss battles requiring the use of these mechanics. Seemingly without any form of traditional progression, unlockable abilities or skill trees, the focus of gameplay relies solely on using these core mechanics.
Even its level design is reminiscent of various classics of the platforming genre – in both the flow of its challenges and visual design. Over the course of the game, players will work their way through a series of stages, completing small puzzles and defeating various enemies along the way. While this adopting ideas from pre-established successes almost guarantees a working formula, this may also cause issues for the series' identity.
Sticking to the beaten track
There's a noticeable sleekness and simplicity to the design of Super Lucky's Tale, which was evident throughout every moment of our hands-on with the game. Between its clean but characterized world and small, yet polished, set of abilities, its gameplay solely leverages its strengths in forming engaging stages to explore.
However, while the simplicity and familiarity of Super Lucky's Tale isn't necessarily a bad thing, its approach does leave some uncertainty in regard to its future. Its "pure" approach to platforming might be nostalgic for fans of 90's platformers but the game risks failing to develop its own identity in the process. Similar franchises have thrived in the past by carving out their persona, but the somewhat generic concepts driving Super Lucky's Tale raise questions surrounding its success.
Microsoft could have its answer to Nintendo's Super Mario series on its hands and depending on the contract with Playful, there's nothing ruling out Super Lucky's Tale finding a permanent home on the Xbox platform. However, while its mechanics are enjoyable, the lack of innovation to distance itself from the competition may be a detriment to its growth at launch.
Super Lucky's Tale is already shaping up to be a simple and adorable platformer for the Xbox One X this fall and launching alongside the console at $29.99 will be a major draw. Sporting 4K resolution at 60 frames per second (FPS), the game will be another title showcasing the potential of Microsoft's console, at a price point that won't break the bank. With its adorable world and relatively simple gameplay, the game will be a great for all ages – especially for families picking up the Xbox One X later this year. Despite that in its current state Super Lucky's Tale can fail to stand out from other platformers, its fun and quirky gameplay is still making for a promising proposition.
Super Lucky's Tale hits Xbox One and Windows 10 on November 7, 2017, with enhancements for Xbox One X to run at 4K resolution. The game will also support the Play Anywhere initiative, allowing for cross-platform purchasing and saves between devices.
Matt Brown is Windows Central's Senior Editor, Xbox & PC, at Future. Following over seven years of professional consumer technology and gaming coverage, he's focused on the world of Microsoft's gaming efforts. You can follow him on Twitter @mattjbrown.
i enjoy games like these. This and Cuphead are good releases to include within the holiday block busters. It's a nice alternative when you need a break from the shooters. I do wish MS had another big AAA released along side this (not including Forza). But with the past few years with MS releasing a lot during the holidays, hopefully 2017 is the only slow holiday for MS AAA games, and not a new trend. Still looking forward to this, cuphead and hopefully Spring 2018 is busy with MS AAA games.

I played this game at PAX West, and I like it. Actually I played previous title on my Oculus Rift as well, but it was not a good VR game, due to bad camera position that leads to small viewport and somewhat motion sickness. However, on large screen, it's perfect. One issue is that this game seems to be a single player game only. I could understand for 3D platformer game, multiplayer is not trivial, and it's also necessary to design another character / color as well, but for such a cute family game, local multiplayer is necessary. Hope that either there will be a surprise before release, or as a DLC.

Looking forward to this as well as Ori and the Will of the Wisps

Microsoft need to stop bringing new characters and focus on the ones they have. They have the whole Rare library to work with. They have Xbox chaeacters

Yep, this, Cuphead and the new Ori. Depending on release dates, that could be the the school holiday's gaming sorted for the kids!

Oh, and if you have kids interested in Disney/Zoo Tycoon, three games are also being remastered with Xbox One X 4K support!

Since microsoft won't revive Banjo, I'll be playing this. I miss Banjo Kazooie

I've always loved Ratchet and Clank because of how they took a simple platformer and added a massive array of different guns and gameplay mechanics. Even swapping between Clank and Ratchet was tonnes of fun. These are the sort of things that keep Sony ahead. Nintendo also manages to make some great games that sell consoles. This looks great but not sure that it will keep people interested if the mechanics are so simple.

Exactly what IM SAYING. MIcrosoft has had so many platformer characters introduced over the years and they don't know how to godamn expand the universe.
BLINX started out fine, but failed to deliver on the 2nd and eventually disappeared
KAMEO was an amazing platformer for kids and adults, and no word of it since the launch of x360.
BLUE DRAGON game.
Banjo Kazooie
FABLE characters
GRABBED By The GHOULIES
Viva Pinata
https://en.wikipedia.org/wiki/Microsoft_Studios They could easily do a cross-over, sequels or a godamn SSBM like game with Master CHief, etc etc.


Day one for me at that price. I absolutely want to see Microsoft develop some talent and franchises around these sorts of games. I only buy a Playstation to pick up games like Ratchet and Clank. Give me a great Xbox equivalent and save me some money please.
Windows Central Newsletter
Thank you for signing up to Windows Central. You will receive a verification email shortly.
There was a problem. Please refresh the page and try again.