Super Polygon, a deceptive puzzle game for Windows Phone 8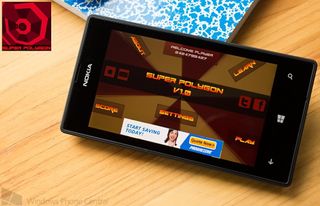 Super Polygon is a deceptively simple puzzle game for Windows Phone 8 that has you navigating through a psychedelic maze that is in constant motion.
The game has simple mechanics where timing is key and the pace of game play can get the best of you. Your score is based on how long you can survive the shifting, rotating puzzle and don't be surprised if it is only for a few seconds. Super Polygon comes across as an entertaining and challenging puzzle game for your Windows Phone gaming library.
Layout
Super Polygon's main menu has your standard options to jump into game play, access the game's settings, view high scores, view the about screen and play the tutorial. Super Polygon's settings cover rotation speed, sound levels, and themes (available via in-app purchase). The tutorial is a much slower paced version of the game that gives you fighting chance at success at the game. It's also an easy way to get a good feel for the movement controls and overall gaming concept.
Game play with Super Polygon has three gaming styles, Square, Pentagon and Hexagon that are progressively unlocked or unlocked via in-app purchase. Each mode involves a different shape of your core puzzle piece and the style of your puzzle pieces that you have to navigate around.
Game Play
Game play is relatively simple. You have a center puzzle piece that has an arrow just outside the piece. Tapping the right side of the screen, rotates the center/arrow clockwise, tapping the left will rotate it counter-clockwise.
The playing field rotates and changes colors as puzzle pieces (let's call them walls) close in on the center of the game. Your job is to rotate the arrow through the maze of pattern, avoiding the walls. If your arrow hits a wall, game over.
Your score is based on how long you can survive and the longer you survive, the faster the game pace becomes.
Overall Impression
Graphics are minimal, game play challenge and overall Super Polygon comes across as an entertaining Windows Phone 8 game. Game play can be a little frustrating at times as the walls close in on the center of the puzzle but that just adds to the challenge.
The pace of the game will keep you on your toes and overall, Super Polygon is an entertaining game to pass the time with.
The base game is free and ad-supported. To remove the ads will get cost you $1.49 via in-app purchases and enabling themes or unlocking gaming levels cost ranges from $1.49 to $4.99. Super Polygon is available for Windows Phone 8 devices (including low-memory devices).
You can find Super Polygon here in the Windows Phone Store.
Windows Central Newsletter
Get the best of Windows Central in in your inbox, every day!
George is the Reviews Editor at Windows Central, concentrating on Windows 10 PC and Mobile apps. He's been a supporter of the platform since the days of Windows CE and uses his current Windows 10 Mobile phone daily to keep up with life and enjoy a game during down time.
Another alternative for a good game (Super Hexagon).. gonna give it a try

I love it! I'm at the "polygonest" level

Thnx :) Please tellk your friends about it. Spread the word and enjoy this free game. I will be releasing additional 7 levels soon.

the problem with super polygon is it's not an original idea, and I can imagine this getting pulled pretty soon.

In my limited knowledge, I am not infringing on any copyrights, so I dont see why it will be pulled. There are around 30 Flappy XXX variations on windows phone. Heck look at apps, you can find 20 apps that offer the same functionality. I have differentiated my game from Super Hexagon. I have a brand new Octagon mode, 4 visual themes, different level structure and different wall patterns. I hope I can keep windows phone users entertaned with the game :)

Been playing this for two days, cool game, but it accelerates too quickly, 47sec is the longest I have lasted and im starting to lose interest already.

Such a rip off of Super Hexagon!

So what?! Super Hexagon isnt available on WP, not on my store anyway.

Yeah right, sod it, let's rip off everyone then. They deserve it... right?

Pretty much :D Use it or lose it, as they say.

Disgraceful attitude tbh.

Yes, Terry Cavanagh's attitude is indeed disgraceful. He actually released it for fucking BB 10 and refuses to for either WP8 or W8. Complete asshole.

Due to BB10 being easier to port to. No disgrace on Terry's part.

Yep thats right! If they have a problem with that just release their own and send the others to court or whatever. There is a demand and they fill the gap, good for us.

Please read my reply below regarding the issue. I am the developer of Super Polygon, and I wont be wasting my time if the original developer was bringing his game to our platform.

I am the developer of "Super Polygon". Lets get some facts first, then you can call it whatever you want :). Super Hexagon is NOT coming to Windows Phone and Windows 8 because the original developer is NOT interested in our platform. Please keep in mind that he hired developers to port his "Flash" game to Android and Blackberry, but he wont do that for our platform. The original developer has publicly said "If people want to play Super Hexagon on a Windows phone, they should buy a different phone," (source: http://www.pcworld.com/article/2032768/how-microsoft-is-trying-but-faili... ) Since I am a big fan of Super Hexagon myself, I want suhc a game on Windows Phone and Windows 8. So I contacted the original developer last year, and offered him that I would help him port his game to Windows Phone if he wants. He replied that he is NOT interested. So, I developed my game heavily inspired from Super Hexagon. Super Polygon has some differentiation as well, I have a brand new Octagon mode, 4 different visual themes, different wall patterns, original music. I am just trying to fil in the gaps for our platform. If you cannot appreciate that, thats OK. I am content if I can even make 1000 Windows Phone users happy. And I believe I have!

Great reply man ! I've been playing polygon since the first beta (came to know about it in the forums) and I've been loving it ever since ! (except the wall hitting bug, it still isn't fixed)
If people want to talk about it as a rip-off, they should know when something is a rip off, and when it is a boon...
If such an interested developer like that of super hexagon is there, you better get his work on our platform and appreciate the new developer instead of discouraging him. Good luck ! :)

You sir are awesome! I would love an alternative slower pace mode. :)

Just keep playing, you will slowly start recognizing the patterns and navigate them like a pro :)

He won't give it us, so I am taking it... Is basically what you're saying?

I am not cutting into his revenue, he doesnt want revenue from our platform. Moreover, I give him full credit for the "idea" of the game - thats teh thing about ideas, they dont appear in thin air, they come from other things we observe. There are a bunch of First Person Shooters out there, no one calls them rip offs. I have tried to differentiate my game as much as possible. Super Polygon is my game, my code, my art, my music, my 3 months effort. Please dont download and play it, if you are having such a moral dilemma with it. Better yet, please buy a different phone (as the original developer has suggested to people like you). Thank you everyone else for your support.

Well, I have plenty of iOS and Android devices, so am already enjoying the original on that. Thanks for the advice though :)

There you have it. 90% (if not more) of the readers on this forum dont have the luxury to keep phones of 3 platforms. So please let windows phone users enjoy the game :)

Would you just give it a fucking rest?

I did, 3 hours ago. Now you're replying to my posts...

Salute to u brother to support wp. And that the original developer is just a stupid person might be bribed by apple or google. So don't worry u do your best we are proud that u are supporting and working for our platform

Thank you sir. Love it when the developer responds in the comments :-) I think that earned you a purchase from me.

Thanks man. The game has 7 levels right now. Additional 7 levels (advanced skill / hard) are coming soon. I am just waiting on some kickass music for the new levels. I hope to keep windows phone users entertained. Please rate it a 5-star game and provide feedback if you have any suggestions or critique :)

Giving it a try because of the dev's response. Who knows, might become my next fav.

Thnx :) Try it on Windows 8.1 (Surface RT/PRO) as well Download for Windows 8.1 here: http://apps.microsoft.com/windows/app/super-polygon/29824fe9-ca53-41bc-b753-55ea6e9b898f

Man, can I suggest you something?

Yes please. You can send email/feedback from the game just tap the "mail" icon.

Could you bring it to WP7.x? Just saying, I've tried it and I liked it, but it would be cool if it would've been for WP7.x, even though not many people have it, but still, it would get more positive reviews (I guess, I like this game since I also am a fan of Super Hexagon and daily play it on my tablet and sometimes on Steam) and it would make more people happy, good luck with the game and thanks for it :)

Unfortunately, the game is developed in Unity3D engine and it does not support WP7.x. But the game is available on Windows Phone 8 as well as Windows 8.1 tablet/pc/laptop (RT version as wll as PRO version)

Thanks for the fast reply, can't wait to see the new levels :D

Are you sorting out the wall hitting issues ? Its really hard to play with them :-P
*all the best* :)

That's a classic reply. Ppl may call it copy or clone or whatever, but i admire the work that you did to bring up the game with the idea. As Picasso said "Good artists copy, Great artists steal" . All the best!!

:) Thanks for your support. Please spread the word about it.

Not really a rip-off because Super Hexagon for Android is a paid for game but this Super Polygon is free for us WP users. As far as I am concerned the developer of Super Hexagon isn't interested in WP so it's his loss if someone else releases a similar game for our OS. I say good work by the developer of Super Polygon and thank you very much for your support.

Complete rip-off of Super Hexagon. Lame.

Please do everyone a favour and read the above 2 comments (especially the one by dangling neuron)

Please read my reply above regarding the issue. I am the developer of Super Polygon, and I wont be wasting my time if the original developer was bringing his game to our platform.

So a Facebook app is also a complete rip-off of, er, Facebook according to his thinking? If you reply to all the negative types on here, you will be at it til Christmas. I think most people though are happy to get a good new app on their phone. Well done!

Ye, thanks. I wonder if these negative commenters do make a point to find the original tooth brush every morning instead of using one of the million tooth brush clones ;)

When is the sperm race game coming to win phones?!

As soon as you loose your virginity :P

ITS FINALLY HERE ! I've been playing super hexagon like mad

Please note that Super Polygon is available on both Windows Phone 8 and Windows 8.1 (RT / PRO) tablets. The game has released with 7 levels (swipe left/right) and 7 more levels are coming soon. Download for Windows 8.1 here: http://apps.microsoft.com/windows/app/super-polygon/29824fe9-ca53-41bc-b753-55ea6e9b898f

Downloading because I love the dev response. I agree, if people want to lose out on good revenue by not developing for windows phone, then I will gladly spend my money on someone that WILL develop for this wonderful platform. Thank you so much for your contribution to our community!!

Thanks for the support man. I am happy to keep WP players entertained. Check out my other hit free-to-play games Tank Arena (3D SciFi Tank Shooter) and Air Soccer Fever (online multiplayer swipe soccer game). Also I make a point to release my games on both WP and Windows 8 (Metro) And if you guys need another gap filled let me know :) I would gladly make variation of another game where the orginal developer does not consider WP platform worthy enough for a port.

I would love to see "Slice It!" on WP!

Hey developer, great game! I just installed it and like it a lot.
Don't waste your time trying to appease people who just don't get it. Instead spend your time on creating new content for those of us who do. Thanks for your effort.

Thanks :) I see 50 of you hardcore players have already finished the first 7 levels ... I have 7 more levels coming up 3 with 180 seconds each 3 with 360 seconds each 1 infinite. These new 7 levels will have you play for a long time - new wall patterns and very hard! I am waiting on some kick ass music tracks for thre levels. So please stay tuned. Also please make sure you rate the game a 5-star :) and spread the word about it.

I have a question for the developer: Your game seems very good. I would love to try it on my Lumia 820 but I hesitate because it requires access to "my photos library" and "my phone dialer". Why would you need access to these services on my phone?

Hey, so the game itself does NOT need to do anything with those two capabilities. Its basically a requirement for adding the Microsoft Ad Control in any app/game. Pretty standard, every game with ads need these. I think there is a chance if you click on some ad, it may start making a call for you - I have never seen one do that in my experience. Here is the Microsoft page (for developers) that mentions this. Not that you need to see this. Just so you know I am not making it up :) http://msdn.microsoft.com/en-us/library/advertising-mobile-windows-phone...(v=msads.20).aspx (Scroll down to point 6 on the page) I dont think you need to be alarmed. And you can always make an in-app-purchase of $1.49 to remove ads from the game.

Thanks for your quick reply! I have a good feeling that you wouldn't do anything wrong with these access :) But theoretically, does it mean that an app with such capabilities could transmit the pictures that are stored in my phone library? Thanks again for your good work and your good deeds on the windowsphone platform!

Here is what Micorsoft's website say about this: Phone Dialer: This capability is required to support "click-to-call" features in ads or on click-through web pages. Media Photo Lib: This capability is required for ad products that allow users to save an offer coupon to the phone's media library for later use. So its just for saving coupon image to your photos folder. By the way, apps can not read stuff from your phone without your permission and send it anywhere. I have not worked with Imaging apps, so I cannot give you a definite answer.

Thanks a million times sir :) 'will definitely download your app ;)

Super Polygon v1.5 update has been released for Windows Phone 8 and Windows 8.1. Sweet new features: Brand new leaderboards 1 new level Hyper Polygoner 2 new music tracks (in square and octagon) Wall hit bug fix Overall performance boost Brand new menu UI graphics DOWNLOAD WP8 DOWNLOAD W8.1
Windows Central Newsletter
Thank you for signing up to Windows Central. You will receive a verification email shortly.
There was a problem. Please refresh the page and try again.