Look good while carrying the Surface 3 with the Waterfield Outback Solo bag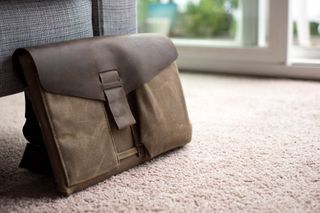 If you're looking for a small bag to carry just your Surface 3 and a few other things, then you're going to want to check out the Waterfield Outback Solo. They have a similar bag for the Surface Pro 3 which Seth has reviewed here, but Waterfield Designs have also created one specifically for the smaller Surface 3. Watch our hands-on video for a closer look.
When we look at the materials, we can see that the flap is made of leather while the rest of the bag is made of waxed canvas. There's a magnetic tab to keep the bag closed. The canvas material feels very similar to a thick pair of jeans. I like the rugged distressed look. Just like leather, the waxed canvas' appearance will change over time.
The Waterfield Outback Solo is water resistant so the bag should keep your devices inside dry.
The main compartment is lined with a neoprene material that is soft so that it won't scratch your Surface 3. The Surface 3 fits nicely even with the Type Cover attached. It's worth noting that if you use Surface Pen with the pen loop attached, it's going to be snug.
There are two pockets in front of the bag. In the bigger pocket, you can place your charger, wallet, or other small things. The smaller pocket can fit a phone. Just for reference, the Lumia 1520 fits in the smaller pocket, but it's tight. The Lumia 930 can fit more comfortably. You should also put the display towards the front because there is a softer lining on that side.
There's also a compartment on the back where you can store more things. You can put a notepad or even another small tablet. The shoulder strap is optional. The length is adjustable, and you can completely remove it by unsnapping four buttons.
If you're looking for a flashy bag, the Waterfield Outback Solo isn't for you. The design is simple and subtle. The logos are also hidden inside the pockets. The Waterfield Designs logo is in the bigger pocket while the smaller pocket has a 'Made in San Francisco' label. There's also a link to sfbags.com.
The Waterfield Outback Solo for Surface 3 costs $109, and you'll need to add another $19 if you want the adjustable strap. Is it worth it? If you're looking for a small, but high quality bag to carry the Surface 3, the Outback Solo is a good choice. However, if you don't care so much about the materials, you can find bigger bags with lower price tags.
Looks more phrone to thieves' eyes.

I bought one of these off the Las review I read on here, and absolutely love this bag.

They make real good stuff, I like 'em a lot too.

Thanks for thus review. Ever since I knew I was going to get a Surface 3, I was worried I might have to get the larger Pro 3 bag and just make due. Now I don't have to.

It looks really nice but doesn't fit half the things I usually fit in my current bag..

Well, that's the point, it's meant to be super small. They do make bags for very large laptops, so there is that option.

Hi Wael, If you're looking for a bigger bag that's still fairly svelte, you may like the VertiGo: http://ow.ly/PUmNQ .

I also bought one based on the prior review, and I love it. My step-daughter calls it my "man bag", but hey, if Harrison Ford had a Surface, I'll bet this is the bag he'd use. I love how small it is. It fits under the front seat of my Camry, so it's completely out of site in the car, without having to get into the trunk (where people could see you putting it there). Because of this bag, I take my SP3 almost everywhere I go. The smaller pocket on the front holds my Microsoft Arc Touch Mouse and Surface Pen and an ink pen, and the larger pocket holds my Nokia DC-19 charger, small USB hub, short USB cable, and mini-DP to HDMI/DVI/VGA adapter. The pocket on the back will hold my Dell Venue Pro 8 should there be some reason I need to bring it along with the SP3, but usually I just have a small notepad in it. Simply put, I love this bag.

Oh, and the customer service is out of this world. I've had my bag since around Christmas, if I remember right (or it could have been early this year). About a month ago I sent them an email saying that the snaps on one end of the strap kept coming unsnapped, and asked if I could get an exchange. A couple hours later I got an email telling me a tracking number, that they were sending a replacement and a post-paid envelope to send back the one I had. I had the replacement in two days, from California to Georgia. Top notch.

What about the actual charger for the surface. That's my biggest concern as I have a few of the same accessories you have. I wouldn't ber carrying a tablet in the back but i'm guess carrying the power brick back there would be uncomfortable.

I don't carry the brick. At home the surface is in the dock, so the brick is in the glove compartment in my car for those rare occasions that I need it. It WILL fit in the large pouch, but it is tight. I have taken the USB hub and the mini-DP adapter out and either left them behind or put them in the back pocket.

Thanks very much for your comment, hopmedic. Great to hear all the details too.

Credit where credit is due. I complain when something isn't right, and it's only fair to call out something for being great, as well. ;)

I have one with the optional straps. Only thing I wish is that the magnetic clasp was further down on the leather strap. I have a hard time getting it to connect when I have my power supply in the big pouch.

Thanks for the feedback, Richard. I think it may fit more easily with time, but feel free to email us and keep us posted.

It's not a purse ... it's European. (Seinfeld reference.)

My step-daughter calls mine my "man bag," but if Harrison Ford had an SP3, this is the bag he'd use. ;)

It's pretty and looks a good quality, I wouldn't mind paying for that. But it's too small, I usualy carry a few more things that would not fit into it.

The company makes other sized bags too. They pretty much make custom-sized bags for various tech devices, but also catch-all bags of many different styles and sizes. They are made in the USA too. I have several other bags from them and they are all fantastic.

Mark, can you take a look at the extra spacing and decide if this would also work well for the new XPS 13 from Dell. I am looking for a bag like this for it, and I really like the look and size. But I could not easily find detailed dimensions fo the bag. But the new XPS 13 is of similiar size to the Surface Pro 3. For your conveneince to compare size to fit in bag. Surface Pro 3: 11.5" x 7.93" x 0.36" (with cover ~ 0.56") New XPS 13: 11.98" x 7.88" x 0.33-0.6" Thanks!

Dan has an XPS 13. We'll check if it fits!

I thought they have version for xps13. May be I got it mixed up with the sleeve.

Hi Mark, I think the SP3 Solo would be a bit too tight side to side for your Dell (but we'll see what Mark finds out when he tests it). The Solo for the 13" MBPretina would fit with a bit extra space for you (3/4 inch at top, 1/4 inch side to side). The 13" MBPr dims are: 12.35 x 8.62 x .7 - so not a perfect, snug fit, but a comfortable one (and it may mean you can add a bit more to the pockets too). Hope that helps.

I do like the bad but I do miss an extra pocket to carry some extra documents. If you put to many things in the side pocket it's difficult to close the bag.
But overall quality is excellent with a clean and slick design.

I bought the Outback Solo, on it's release, for my Surface 3. Absolutely love it. Great workmanship and the extra 3 pockets are a plus to store my phone and chargers. I do recommend springing the extra $19 for the strap.

I also really like their products. Great quality and craftsmanship. I use the black ballistic nylon version of outback solo for my SP3.

Curious if this would also work well for Pro 2. Never really found a bag that seemed to work well for it.

I also purchased this several months ago. I added the strap and a shoulder pad. The shoulder pad is leather and costs $25, but was not listed as an option on page for the Solo. I carry all I need in the bag, including a Klein multi-tool, USB serial adapter, network cable and USB Ethernet hub. Of course I also carry the Surface power adapter and pen. My only request would be for a little bit more room around the surface pocket, I can't fit it in with the pen in the side loop. A dedicated pocket for the pen and a little bit more length on the front flap. I have to work it to get the clasp to catch sometimes. I really love the case and it does what I wanted it to do. It keeps me from carrying around a ton of crap I don't really need.

I only buy my bags from SFbags.com. Their quality is second to none. Support is second to none. And this particular sleeve/bag is drop-dead gorgeous. Only drawback is that their stuff is a little pricey; but when you take into consideration that they're actually designed AND manufactured in San Francisco (the most expensive burg in the US) and they design bags to fit specific devices, it suddenly doesn't seem like an extravagance. SF is an Apple town, and many of their bags are Apple-specific, but they're still have a ton of stuff for PC users. Unlike most companies that make sleeves in two or three sizes, they have sleeves in many sizes and a sizing guidelines that list most laptops so you can get the perfect sleeve for your device. Good stuff all around.

I don't see a use for this bag unless you solely going to Starbucks to play hipster writer. The price for me is too high for a low capacity, non-weatherproof, non-cushioned bag without a shoulder strap. I've found Tom Bihn has higher quality (built locally) and better suits my needs than either SFBags or Chrome.

They have a black ballistic nylon version of outback solo for SP3. More suited for professional use. I am sure they will make one for surface 3 if there is demand.

As an IT professional, the limited carrying capacity of this bag precludes its use in even a commuter instance much less a professional situation. My evaluation still stands: Starbucks hipster or internet cafe. No other instance.

As an IT professional I only carry my SP3, wallet, phone, notebook, mechanical pencil. Wallet and phone go in my jeans or jacket. Leaving SP3, notebook, pencil in my bag. What else do I need to lug around on a daily basis? This bag seems ideal to me.

I'd kick my own ass if I started wearing one of these

Besides, the price is wrong b####.

Any more tips on bagged for a surface device? I would like to see some more options before making a clear choice. ​

Hmm.. maybe I'll try to make my own with my next pair of worn-out jeans.
Windows Central Newsletter
Thank you for signing up to Windows Central. You will receive a verification email shortly.
There was a problem. Please refresh the page and try again.