Review – WaterField Designs Outback Solo for Surface Pro 3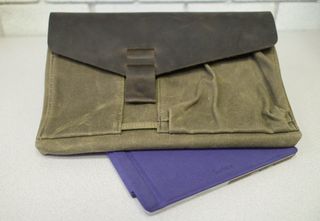 Last week, I reviewed WaterField Designs' Outback sleeve for the Microsoft Surface Pro 3 and was very impressed with both the quality and aesthetic.
Today, I'm taking a look at their Outback Solo for the Surface Pro 3, a hybrid sleeve/bag that has a few more features than the basic Outback sleeve.
Construction
The main body of the Outback Solo is much like that of the Outback sleeve, a waxed canvas shell with a neoprene-lined compartment for your Surface. But the Solo takes it further with the addition of a large secondary compartment on the back and two different sized pockets on the front.
The Surface pocket is protected by a beautiful leather flap that swings over the top of it and is secured with a magnetic snap. Rather than using D-rings on the sides of the bag, the optional adjustable shoulder strap connects through two slits in the back of the leather flap. This thoughtful design maintains the aesthetic of the rest of the bag and gives the Outback Solo an added "cool-factor" that is difficult to find in any other carrying case.
But the Solo doesn't get by on its amazing looks alone. The custom-fit sleeve compartment holds the Surface Pro 3 in a snug embrace, preventing it from being tossed around. And just like its smaller sibling, the Outback sleeve, the combination of rigged canvas and soft neoprene offer up superior protection against outside forces.
Using the Outback Solo
I gave the Outback sleeve high marks as a case that you can throw in your backpack or briefcase, or tote in-hand to a meeting. The Solo, however, is a self-contained, singular transport for your Surface and its accessories.
The larger of the two front pockets is the perfect size for holding your Surface power cord, stylus, and maybe even a small mouse, like the Microsoft Wedge mouse. You just need to be mindful how much you put in there and how you arrange it, as it can prevent the leather flap from securely clasping.
The small pocket on the front was clearly designed with a cell phone in mind, though it can just as easily be used for a wireless hotspot or even a small memo pad. The backside compartment spans the length of the Outback Solo. It is well-suited for holding a notepad or even a smaller tablet.
Be it for work or play, the rugged construction and extra storage space of the Outback Solo makes it a top-notch option for carting around your Surface and other essentials on the go. I recommend opting for the shoulder strap as well. It will free up your hands for carrying your coffee mug to your morning meeting or using a walking stick on your hiking trip.
The best way I can summarize my thoughts on the Outback Solo is that if Indiana Jones had a Surface Pro 3, then this is the bag he would use to carry it. It's clearly tough enough to accompany him on any quest, but it's handsome and intellectual design is also perfect for when he is lecturing in the classroom.
The Indiana Jones reference was the very first thing that came to mind when I took the Outback Solo out of the box two weeks ago, and I couldn't wait to use it in my review. Then today, I came across another review of the Solo that invoked his name as well. My heart sank, thinking I could no longer use the same reference.
However, at the risk of coming off as unoriginal, I decided to leave it in for one major reason. If two reviewers independently conjured up the same mental image after laying eyes on this bag, it must be the ultimate testament to its design.
The Outback Solo for the Surface Pro 3 can be purchased directly from WaterField Designs' website. Pricing starts at $109.00 without a shoulder strap, which will run you an extra $19.00.
Related reading
Windows Central Newsletter
Get the best of Windows Central in in your inbox, every day!
Looks good. But don't need one because Surface pro 3 is yet not available in India. Hope pro 4 will be launched here.

Agreed. I'd love to have one of these for my Yoga 2 Pro. Meanwhile my plain, cheaper, neoprene cover is doing pretty well.

You have a great product.

For now, especially on discount, the Yoga was a better value for me.

I have one of their laptop sleeves for the Yoga Pro 2. Holds the laptop and my logitech mouse. http://www.sfbags.com/products/custom-fit-pc-laptop-sleevecase I combined that with the Medium Zero Messenger bag from Rickshaw Bagworks. The sleeve/laptop are the perfect width. http://www.rickshawbags.com/medium-zero-messenger-bag.html#color=2644 I also picked up one of their small accessory bags for the charger brick. http://www.rickshawbags.com/utility-pouch.html It makes a great combo with plenty of room left over for other stuff... Battery packs, flashlight, extra razor, etc...

Very interesting that they sell this without the strap. :/ .

Well, it is sort of a sleeve/bag hybrid, so it works fine without a strap. But given the pockets, etc., I would just rather use it as a standalone bag than a sleeve.

I would probably only use it as a bag as well.

They make some other very nice configurable bags/sleeves but these Outback items are so beautiful.

Agree with you. I really like the outback solo design. They have so many beautiful products, its so hard to pick one.

Looks too hip for me. Kinda of an Appl$e like product... No strap?

It pretty much screams hipster.

I want to get a Windows tablet so that I don't have to carry my notebook everyday, but i don't know which I should get. SP3 is too ex so... Any recommendations? At least 10 inch and full HD would be nice.

this is sort of off topic, but lenovo's yoga tablets look pretty nice, and they're pretty inexpensive with full hd. The only way this is sort of on topic is if you go to waterfield's website, one of the bags(muzetto for sp3) has a yoga tablet in it.

Thanks for the review. this looks like a nice, minimalist option. I'd like to see a review of their backpack, because i don't really like the over the shoulder version, and the backpack looks like it could carry things a little bit easier...

iMore reviewed one of their backpacks a while back I think, head over there and have a search around :)

The added cost for a seatbelt strap is a nice touch. In all seriousness, I couldn't take this out into public. I would consider it in ballistic nylon and all black.

I agree with you. I use SP3 for work and wouldn't carry the waxed canvas version. I really like the design of outback solo, but I would also prefer a ballistic nylon version for professional use. I contacted SFBags/Waterfield Designs with my request. Lets hope they will come up with a ballistic nylon version.

This company makes some really nice looking products. I would worry a bit about durability on this one. To me it seems the way the straps go through the leather slits on the back might put a lot of stress on the leather and eventually tear through. You can get a better view of this on the manufacturer's web site.

The leather is thick. I cannot imagine durability being an issue with any part of the Outback Solo.

It's called Solo not Jones -- Wrong movie...

Six degrees of Harrison Ford...

Another great looking bag, but two problems for me that maybe Seth or somebody can anser. Two Questions: 1. If you have access to an XPS 13, can you see if it will fit in the previous SP3 sleeve by Waterfield that you reviewed? The sleeve they have for the XPS 13 closes with a velcro strap which is a dealbreaker for me. 2. Are they usually quick to respond to inquiries? I have been waiting 4-5 days and have not received any response to my inquiry on interior dimensions. Would love to know this as I really want to return my Dell Premier sleeve and get the Waterfield Outback Sleeve.

We're getting some XPS 13 products in from Waterfield in the near future so stay tuned for that.

I really like their XPS 13 sleeve, but I have a big problem with it being a velcro latch. I'm sure it is really secure that way, but when travelling on planes or having sleeping kids closeby, I have gone away from everything that has velcro on it if at all possible. My wife told me to just order it and she can take off the velcro and put on a button, but not really feeling the desire to do that to a $125 sleeve (including piggback pouch, and other). Would prefer it being exactly how I want it for that price.

Their customer service is excellent. Most of the time I got replies with in an hour. I never had to wait more than 24 hrs. So I would say give one last shot.

Hmm good to know, I will try again as maybe it got lost or something else happened!

FYI They did reply quickly then as it looks like my other may have gotten caught in their spam filter. While responses have been quick, they have almost been too quick and not very thorough. I have had a hard time getting clear answers, but here is what I found. MBA 11 Outback Sleeve - Interior Dimensions: 7.75" x 12" Supposedly the SP3 sleeve is smaller in all dimensions, although this is not possible as the SP3 depth is almost 8". So no way that the sleeve depth is smaller than the 7.75" of the MBA 11 sleeve. While it was a bit frustrating to come to that conclusion, it looks like it probably won't work. Not going with the recommendation of getting the MBA 13 sleeve as that would be even less snug than the Dell Premier Sleeve. I would still love it if somebody at WindowsCentral could try an XPS 13 in the Outback Sleeve for the SP3!

I just emailed them about their backpack, and whether they were going to make a smaller version for the SP3, and they replied within 10 minutes. I would say their response time is great. If you're interested, they are not making a smaller version of the backpack.

How much does a Surface Pro 3 cost? I don't know about you but I'm willing to pay for a quality product to protect it.

You wont be disappointed with the quality of the material and craftsmanship. This is a company based in San Francisco and they make the products in their local facility. So it is not going to be cheap like something you buy on Amazon that's made in an offshore facility. Just a feedback from one happy customer. :)

Still looks like a man purse, pass.

After reading the Outback review last week I got on the Waterfield site and liked this Solo better. It arrived about 4 days after I ordered. Very nice! Perfect fit and I really like the pockets for the power block/cord. I would suggest the strap as well. Nice to have a US company making such high quality accessories for something other than the fruit or robot gear.

I just purchased the Solo w/strap. Now waiting at an apo ae address. Cant Wait to show it off to another person in my unit that has a SP3 as well. I showed him the site earlier this week and he was interested.

So on that back pouch, does it fit an 8 1/2" x 11" engineering pad? What about typical file folders? I'm wondering if this could be my new work bag... Thanks for checking for me in advance!

A 8.5 x 11 pad fits sideways in the back pocket. A few inches of the pad stick out the top of the pocket.

Seth: It's a very nice looking bag, but how securely does the magnetic clasp hold the top closed? I'm worried that if I'm fighting off Nazis while riding atop a tank, the strap might pop open if the bag bangs against the side of the tank, and then my Surface might fly out and end up in a warehouse where I will never be able to find it. Your thoughts?

Fear not. The magnetic clasp is pretty strong. But even if it did pop open, the Surface is so snug in the pocket that it wouldn't fall out. Feel free to jump from tank to tank or swing from your whip.

I like the look of this bag...but just as a bag, not for something I would carry my sp3 in. Maybe its just me but it doesn't suit the sp3 look

A friend has one of these and it's drop dead gorgeous. Waterfield is in my own back yard -- they design, manufacture, and sale from their factory in the Dogpatch.

Sorry, Dogpatch is a neighborhood in San Francisco.

After reading the review of the Sleeve, I found the Solo on their website. I had a few questions and got immediate answers using their online chat. Ordered on Friday, arrived Monday. Great customer service! It's much smaller than it looks. It's the size of the SP3 and nothing more and the pockets perfectly fit the charger and my Lumia 920. It JUST snaps shut so I'm hoping the leather will stretch a little bit over time. The back side pocket was an added surprise too. I have no concerns about the strap attachment as the leather cover is pretty thick. It was about $75 more than I wanted to spend but I think it will last forever. No regrets on this purchase.

I've had one since the beginning of October (with the strap). Honestly? I love it. I carry it around and I've found that I store just enough in the thing to be ready for most things. I have a dock at work, so I don't bother bringing the brick (though if I do the big pocket works fine). I also have my own mouse at work, but for times where I'm not at work the Surface branded BT Arc mouse and the pen fit perfectly in the small pocket. In the big pocket I have a mini-DVI to HDMI converter, the MS miracast dongle, a pen or two and a 2TB external USB3 harddrive and cable. Being on-call, this is exactly what I need. I highly recommend it.


The only question I have is whether there was a functional intent for the strap that connects the two pockets at the bottom. Carabiner with keys?

Want one even though I don't have a surface!

Who is gonna pay all that money for that bag lol not flipping me.

Based on testimonials and the imediate answers from a phone call and a chat session with them, I would and DID. Paying $130 for this bag and strap seems like a no brainer to help protect a $1300 investment. I paid $35.00 for a sleeve when i purchased the SP3 at Best Buy. I cannot easily fit the charger, mouse, and cables in the small zippered pouch on its front plus the zipper is already bad and the fabric and stitching are fraying at the seems and piping.

I love the solo bag. It is very stylist and durable. I would like to have an option to attach a strap handle rather than have only the shoulder strap.

I bookmarked this page and bought my bag here. I have the Surface Pro 3 and bought the wrong bag. I had to return the bag to them ($5 in shpping), but they got it the next day and quickly refunded me. In the mean time I ordered the correct one and got it the day after that. Very happy with their customer service and the bag itself. A bit expensive, but very, very nice. I would recommend them to anyone.
Windows Central Newsletter
Thank you for signing up to Windows Central. You will receive a verification email shortly.
There was a problem. Please refresh the page and try again.