Surface Book and Surface Pro 4 certified to run Siemens Solid Edge CAD tools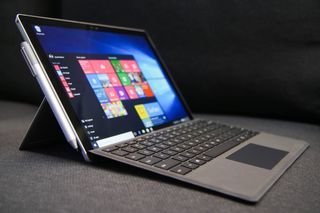 High-end 3D designers can now be certain that buying a Surface Book notebook or Surface Pro 4 tablet will be able to run the portfolio of Solid Edge CAD tools Siemens. Microsoft has just announced that both products have been certified by Siemens for the use of Solid Edge.
in a blog post, Microsoft stated:
One example of a designer using the Solid Edge tools on a Surface Pro 4 is Phillip Norman of Ross Robotics. He can work on his designs while he is traveling and show them off in meetings thanks to both the powerful hardware and the portability of the tablet. Norman states:
Windows Central Newsletter
Get the best of Windows Central in in your inbox, every day!
Cool, now TopSolid would be great, but since it requires a Xeon to compile huge manufacturing processes in a reasonable time I don't think it's happening anytime soon. Posted via the Windows Central App for Android

Modelling is one thing. Now coming to the real work, analysis. Would ANSYS run without any hiccups ?


You can prepare the models on the SB (pre-processing) and view the results (post-processing), but running the solver would not be wise. Still useful, as you can submit your analysis to a remote workstation/cluster. In any case, SP4 is less useful for this.

what exactly is the requirement for ANSYS?

It will run, no question about it. But 15W CPU is too much of a constraint for any meaningful solver job.

I think (hope! :D) you have better machines to run ANSYS!

Let's see an iPad "Pro" do this.

That'll be the day xD What a riot

The inability to run this (on any computer) is only a problem if you want to run it. Otherwise it's irrelevant. I can't tow an 80-ton semi trailer with my BMW. It doesn't matter, because I don't want to. That doesn't make a Kenworth better than my BMW. :)

Many people see the iPad Pro as a competitor to the Surface Pro line. It's like comparing an 80 ton semi to a 60 ton semi. Now if he had said, "Yeah, let's see them do solid modeling on an iPod!", then you would have a proper analogy. I would love to use a Surface Pro for my workstation, but I don't know how well that would work. I'm running Inventor, and I'm sure it would be fine for basic models, but complex assemblies with movement may bog it down a bit. Maybe when the 5 or 6 comes out, I will be due for a new PC, and will check into it then.

FYI, Revit and Civil 3D work awesome on the Surface Pro... Posted via the Windows Central App for Android

In my right side up world, the certification should be the other way around. Software is certified to run on Surface. Surface is a finite set of hardware and operating system that is pretty stable. On the other hand, software is the wild west of drama queen hex-pert developers, each with their own sort algorithm and obfuscation security techniques. Each of which has been patched over 15 years by developers who no longer exist on Earth. If the software is using some hack that alows it to only run on certain hardware, I would avoid it at all cost. Who needs to be certified? Thats right, the software does.

Damn i learnt some new words here..

A certification by the software developer only means that they have tested it on that system, and had no issues, and that they are stating it in writing. There are lots of PCs that aren't "certified" to run a program, but have no issues As long as it meets the hardware requirements, it will run just fine. Basically, MS wanted bragging rights and asked them to certify it, or customers kept bugging them and asking if it would work on a Surface Pro
Windows Central Newsletter
Thank you for signing up to Windows Central. You will receive a verification email shortly.
There was a problem. Please refresh the page and try again.