Surface Book teardown shows us the complex layout of components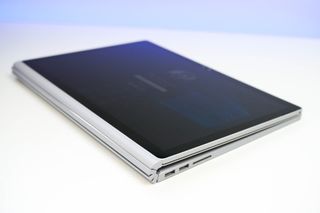 The team at iFixit has done their thing again, this time tearing down the all-new Surface Book, giving us our first look at what's inside the 2-in-1. Often times we just get to admire new technology from the outside, and read about what is inside that makes it work the way it does. Now, we can see everything inside Microsoft's new 2-in-1, and there is a lot to see.
From the complex puzzle-like layout of components in the tablet to the hard to open keyboard base, Microsoft put a lot of time into how everything would be put together. If you are interested in checking out what's inside the all-new Surface Book, you'll want to hit the link below. Will the Surface Book be your next computer? Let us know your thoughts in the comments below.
Source: iFixit
Jared started off writing about mobile phones back when BlackBerry ruled the market, and Windows Mobile was kinda cool. Now, with a family, mortgage and other responsibilities he has no choice but to look for the best deals, and he's here to share them with you.
What was the teardown rating I wonder? Guessing very difficult but didn't notice anything in the article about it

They said it was 1/10 on the very bottom of the article

It was rated 1 out of 10 at the end of the tear down.

If you click on the source link, all will be revealed... But here is the overall repairability score (about what you'd expect!): The Microsoft Surface Book (as a whole) earns a reparability score of 1 out of 10 (10 is easiest to repair).

I had to return mine due to a faulty touch screen. In the end, I decided to get an Sp4 instead. I'm just not crazy about the division of the battery between the screen and the base... the screen can barely make it for a couple hours. I tend to keep my machines for a while, and I worry how long the screen battery will last after a couple years. But it is very beautiful... I would have stuck with it if it wasn't defective.

It was never designed to make it for more than a couple of hours. If you bought it thinking that it could then you only have yourself to blame if thats the main reason you're returning it. I'm more annoyed at how non-grippy the non-slip strips are underneath.

The SP4 was probably a better device for you anyways if your plan was to use the device for more than 2 hours in tablet/clipboard mode. I'm trying to figure this out myself as I rarely use my Surface 3 without it's keyboard.

While I strangely hardly ever use the keyboard...it's like they built it for BOTH of us. What a wonderfully odd coincidence... =D

I really like these teardowns. Much more informative than those guys who set new devices in flames or smashing a hammer on it until it dies :P

Well, at least it's amusing to watch I guess. Otherwise they would have zero views. Then again, I guess all the view counts could be attributed to you :P.

God iFixIt REALLY need to stop with the fucking puns and trying to be funny. It just comes across as try-hard lameness and isn't even remotely humreous.

1/10... I was hoping for a 0/10 :P.

I am a bit dissapointed with the CPU, Skylake Dual Core , and the GPU, it says it has custom Nvidia chip with 1GB of DDR5 and its on par with the GeForce 940M, teardown also shows it has DisplayPort 1.2, which is the same than on the Surface Pro 3. To be honest I was expecting Dell XPS 15 (late 2015) specs or better: Skylake Quad Core CPU, Nvidia GeForce 960M with 2GB DDR5 and Thunderbolt 3. For me, the Dell XPS 15 (late 2015 model) is a better device than the Surface Book.

I would have to totally agree. Plus it has a bigger screen. Love the look of the Surface Book, very sexy. But the Dell XPS 15 is also great looking & has better specs. Not to mention a gorgeous 4k almost borderless screen. So that's why I ordered the Dell instead. Now I just have to wait 2 more weeks for delivery.

You guys are comparing a laptop to a 2 in 1.

Does anyone know what processor the i7 version uses?

http://answers.microsoft.com/en-us/surface/forum/surfpro3-surfhardware/w...

Thanks but the Surface Book is using a different i7 processor than the SP3.

O.M.G. How can they afford to just get these and take them apart?! @.@

http://m.wikihow.com/Earn-Money-on-YouTube
Windows Central Newsletter
Thank you for signing up to Windows Central. You will receive a verification email shortly.
There was a problem. Please refresh the page and try again.