"Surface Chinese": The third variation in the Microsoft Surface family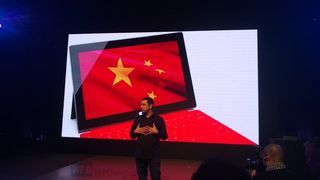 Microsoft threw a big party today to celebrate the formal launch of the Intel-processor-powered Surface computers in China. This is not unexpected. However, Microsoft actually announced TWO new variations of Surface: the "Surface Pro" we've always been talking about, and something that should be coined "Surface Chinese".
Microsoft invented a whole new SKU especially for the Chinese market. "Surface Chinese" is priced exactly the same as Surface Pro, and the two of them sport the same specification sheet. The difference lies in the software:
That har-har-you-are-locked-into-Chinese-mode-sucker strategy isn't Microsoft's original trick. My Dell Inspiron One desktop comes with Windows 8 (not Pro) pre-loaded, and this big baby does not allow me to add any UI language in the Control Panel either. I assume it's a limitation built into every copy of Windows 8 Basic (Chinese version). The reason for this is unclear though. It could be Microsoft's region-based pricing strategy, or the Chinese government's special demand for cultural/cyber censorship. Or something else, who knows?
The new Surface computers are available through Microsoft's official online stores as well as its online/offline distribution partners from 21:00 April 2nd (Beijing time). We had a look around within Microsoft's Tmall store on 23:00, 2 hours after the sart of distribution. So far that store has sold:
Curiously, it looks like Microsoft didn't bother with the 64GB version of Surface Pro in China. The official Tmall store only has aforementioned three models.
Along with Surface computers, Microsoft also revealed a new design of Touch Cover: The Year of Snake (2013 limited edition)
Source: WPDang (1) (2), Microsoft Tmall Store
Hmm interesting *puffs pipe*

looks awesome,... oh my god viber is so near, i cant breath i love viber so much, and secong first comment in a row what a day it is for me

Your Viber is Here....
http://blogs.windows.com/windows_phone/b/windowsphone/archive/2013/04/02...

Your Dell's Windows 8 is another aberration from MS, it's called "Windows 8 Single Language", a SKU for emerging markets that replaced the Starter Edition. My Brazilian HP came with this SKU too.

Typical blogger habit, rush out something rather than researching a bit more

That's a wise move. For the average people that means that the Surface Chinese comes with a free version of Office. That's a great deal! I can imagine that not everybody needs to change the UI language or need those other Windows 8 Pro features. And people should be able to upgrade their Surface to Windows 8 Pro with the built-in anytime upgrade.

But taking a look at the initial sales number posted in this article. It has sold far more Surface Pro units than Surface Chinese. I guess no one uses genuine Office in China anyway.

I just hope they offer browser suggestions this time around...

Pretty sure that idiotic requirement only applies to the EU region.

We Chinese come in peace. We don't bitch about browser choices on first start. If one wants something other than IE, one just goes to download it. ;)

Even Europeans don't bitch about browser choice .. It's their courts which do

So true.
What is interesting is that even if you buy a Surface Pro in the US and then bring it to EU the damn Windows Update wants to install the browser choice crap update. I was lucky enough to catch it in time on my Surface and hide it so it would not install, was not so lucky on my desktop, and you can't frikin un-install it, you can only get rid of it by doing system restore.


Oh wow... I didn't know there is a Chinese article writer in WPCentral 你的英文吊爆了!

FYI - that touch cover is available already in North America - so not really new.

Viber is in. Download here.. http://blogs.windows.com/windows_phone/b/windowsphone/archive/2013/04/02/big-update-for-viber-on-windows-phone-8-free-calls-with-hd-sound-live-tile-support-and-more.aspx

They'll get the Surface just in time to get radiation poisoning from the fallout blowing in from North Korea.

Okay, how can I purchase the Year of The Snake touch cover in the US??? I want one for my RT!
EDIT: nevermind I found it on the MS website! :)

Could you just like install windows 8 over it? Obviously you'd need a license for pro...

"The Year of Snake (2013 limited edition)"
- That looks identical to my touch cover that's right next to me (UK)

It was censored to keep Uncle Mao happy.

No mention of the fact that surface Chinese comes with an office 2013 license (like the RT)?
Windows Central Newsletter
Get the best of Windows Central in in your inbox, every day!
Thank you for signing up to Windows Central. You will receive a verification email shortly.
There was a problem. Please refresh the page and try again.