"Surface Chinese": The third variation in the Microsoft Surface family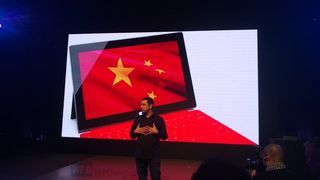 Microsoft threw a big party today to celebrate the formal launch of the Intel-processor-powered Surface computers in China. This is not unexpected. However, Microsoft actually announced TWO new variations of Surface: the "Surface Pro" we've always been talking about, and something that should be coined "Surface Chinese".
Microsoft invented a whole new SKU especially for the Chinese market. "Surface Chinese" is priced exactly the same as Surface Pro, and the two of them sport the same specification sheet. The difference lies in the software:
That har-har-you-are-locked-into-Chinese-mode-sucker strategy isn't Microsoft's original trick. My Dell Inspiron One desktop comes with Windows 8 (not Pro) pre-loaded, and this big baby does not allow me to add any UI language in the Control Panel either. I assume it's a limitation built into every copy of Windows 8 Basic (Chinese version). The reason for this is unclear though. It could be Microsoft's region-based pricing strategy, or the Chinese government's special demand for cultural/cyber censorship. Or something else, who knows?
The new Surface computers are available through Microsoft's official online stores as well as its online/offline distribution partners from 21:00 April 2nd (Beijing time). We had a look around within Microsoft's Tmall store on 23:00, 2 hours after the sart of distribution. So far that store has sold:
Curiously, it looks like Microsoft didn't bother with the 64GB version of Surface Pro in China. The official Tmall store only has aforementioned three models.
Along with Surface computers, Microsoft also revealed a new design of Touch Cover: The Year of Snake (2013 limited edition)
Source: WPDang (1) (2), Microsoft Tmall Store
Get the Windows Central Newsletter
All the latest news, reviews, and guides for Windows and Xbox diehards.