Surface Duo 2 Bumper review: Stupidly expensive, but also way better
By Daniel Rubino published
The new Bumper case is unnecessary if you have a Surface Duo 2, but it's also an excellent accessory with a crazy $40 price tag.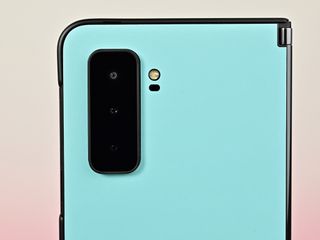 (Image credit: Daniel Rubino / Windows Central)
Microsoft's Surface Duo 2 brings with it many upgrades in hardware over the first generation, though it does so at a cost, literally. Surface Duo 2 is not only $100 more, but you also now get fewer accessories with no AC wall plug (a common theme for all phones these days) as well as no Surface Duo Bumper case. All those reasons make the $40 Surface Duo 2 Bumper a tough pill to swallow, even if it doesn't quite feel as necessary to have this time.
But the good news is this new bumper case is a much better fit for Surface Duo 2 and fixes many of the issues we had with the first one, even if minor. In other words, if you're dropping $40 on it, you'll be pleased.
Bottom line: While Surface Duo 2 Bumper is not necessary, it's a very well-designed accessory that adds some grip and mild protection from tiny bangs. But that $40 price tag is a doozy.
For
Doesn't pick up lint
Smooth, hard polycarbonate
Exceptional fit that feels native to the design
Looks way better than the older version
Against
Crazy expensive
Not great for drop protection
Bottom left corner is exposed
Surface Duo 2 Bumper: Price and availability
The Surface Duo 2 Bumper is available for $40 from Microsoft, Amazon, and Best Buy. Like all things related to Surface Duo 2, it is a low-volume product, so there may be some wait times. We found that Best Buy shipped the quickest and had stock in all colors available.
There are four colors available, including obsidian (black), glacier (white), and new gradients like tangerine (orange-red) and light blue that replace ember and ice blue from last year.
Surface Duo 2 Bumper: What's good
Putting the well-done packaging aside, the new bumper case for Surface Duo 2 is a complete redesign from the first generation. Gone is the soft rubbery silicone that would pick up lint in your pocket, and instead, we get a thinner, harder polycarbonate design that is smooth and lint-free.
While there is still the multi-piece configuration (three rails, including one larger one for the left display and two smaller pieces for the right), the bumper is now so much thinner.
Total installation was about three minutes. Difficulty level: Easy.
Image 1 of 2
Image 2 of 2
Putting the bumper on is simple: Peel back the two-sided tape and stick to Surface Duo 2. The tape is strong, and there is no reason to think it'll wear off over time. Of course, you can peel it off, too, if you no longer want to use it. While I have not yet tried to reattach the bumper, there is no reason to think that using third-party acrylic tape won't work.
What impressed me about this bumper is the much lower profile. If you let someone handle Surface Duo 2 with the bumper, they'd just assume it is a part of the device, not an add-on accessory. It just seamlessly blends into the Duo 2's chassis.
This bumper also doesn't rise above the Duo 2's edges (unlike Surface Duo 1 and its bumper). That means it doesn't interfere with folding back at all, attaching the Slim Pen to the device, or adding any thickness.
Being able to use the black version without picking up any lint or dust is also very welcome.
Regarding usability, the bumper adds a bit more grip to the device with more well-defined cutouts for the volume rocker and power button. It's a smidge easier now to open as your fingers can quickly grab the rounded edges.
If you are interested in using a dBrand skin, there is no concern either as you can put on the skin before or after the bumper. It all just fits perfectly.
Finally, because of the camera hump, there is no need for that extra back padding that Surface Duo 1's bumper had. Instead, it is now just a perfect ring around the device.
Surface Duo 2 Bumper: What's not good
There are a few negatives with this bumper, starting with the obvious: Price.
Since it is not included with the Surface Duo 2, that extra $40 purchase is expensive, especially when looking at the three plastic rails. There's just less "stuff" with this bumper than the last one making that price seem like highway robbery. Sure, it's laser-precise, but still.
Of course, if you've already paid $1,500 for the phone, what's an extra $40 at this point?
Image 1 of 2
Image 2 of 2
Oddly, the bottom left corner of Surface Duo 2 is left exposed with this bumper. This omission likely has to do with design as there would need to be two one-inch rails that would not have much to grip onto (save for a tiny corner notch). It's not clear those would stay attached like the other larger pieces, but it looks odd and leaves an area exposed. The bumper can't go around the Type-C port or SIM card slot either as it would recess those ports too much for a plug or popping out the tray. It's a difficult design, for sure.
For this review, I purchased the obsidian (black) bumper for the matching obsidian Surface Duo 2. I'm not sure how tangerine, glacier, or light blue would look, making the obsidian Duo 2 a bit more limiting for options than the glacier white model.
Surface Duo 2 Bumper: Competition
Due to the niche market for Surface Duo 2, there are not many options for cases yet.
Microsoft has its $65 Surface Duo 2 Pen Cover, arriving on November 15. That covers the entire front of the device with a rear matching bumper, so it's a bit more protective. Because the cover is removable it also extends the full length covering the SIM card slot for more protection.
OtterBox is releasing a full-coverage $89 hard-shell case in November that is much more ruggedized (MIL-STD-810G 516.6) and is suitable for those worrying about actually dropping Surface Duo 2.
Surface Duo 2 Bumper: Should you buy it?
You should buy this if ...
You want low-level/moderate protection
You want an easier-to-grip Surface Duo 2
You want to add some colorful flair to your device
You shouldn't buy this if...
You want actual drop protection
You find the price absurd
As a user of Surface Duo 1, I reluctantly found the included bumper necessary for the device as it just felt too fragile without it. It was a nice option for the owner.
In my review, I noted I don't feel that way about Surface Duo 2, which feels more substantial and less dainty. That said, I really like this bumper.
Whereas the first-gen one made Surface Duo larger and more challenging to put into your pants (it was grippy), this bumper does neither. It's smooth, light, and blends right into the chassis, with no unsightly lint. I plan to keep it on for those reasons, and it has increased my enjoyment of the device while offering some mild protection.
That leads me to a misconception about these bumpers: Safety. While there is no doubt the bumper helps protect Surface Duo 2, it is more for everyday bangs and knocks. I don't think this helps much for more significant drops (although it won't hurt, either). The Duo 1's bumper is thicker and softer, so maybe it offers more protection vs. being thinner and more rigid — it's hard to say. But don't buy this thinking it'll help if you drop Surface Duo 2 on a sidewalk.
Of course, I wish that the left corner had some protection, but the overall usability and modestly increased protection are compelling enough aspects for me.
So, yeah, the Surface Duo 2 Bumper is insanely expensive, but I love having it on and can recommend it if your expectations are kept in check.
Daniel Rubino is the Executive Editor of Windows Central, head reviewer, podcast co-host, and analyst. He has been covering Microsoft here since 2007, back when this site was called WMExperts (and later Windows Phone Central). His interests include Windows, Microsoft Surface, laptops, next-gen computing, and arguing with people on the internet.
I can't get over the price. It's the most minimalist case you could find for probably any device, yet it offers less than a $10 case from Amazon on another device. Something they used to include for free (before selling alternatives) is now taken out of the $100+ pricier box...Microsoft has some of the worst pricing in the tech industry these days (speaking for basically every surface product, IMO). This is the kind of accessory I would consider at a REASONABLE price ($20 or less), but I'll pass and watch to see if a reasonable, third-party alternative comes around. $40 is a joke, just like the rest of the prices for Microsoft's products in 2021.

For a flimsy thin piece of plastic, I don't see how it should cost more than $5.

The packaging costs more the $5.

I bought the tangerine for my Obsidian Duo 2 and I think it looks sharp. Yeah, $40 for a bumper that adds virtually no protection to the device is crazy but I saw it as an accent piece that's drawn quite a few "Wow what's that?" comments. I'm not the only one who paid nearly three grand for the "Chrome Package" on my Hummer which was no more than a bunch of plastic chrome electroplated trim pieces. Oh by the way, I'm using the Kensington case from my Duo 1 on the 2. It's snug but it'll have to do until something better comes along. I'm not crazy about having the camera module exposed but......

I bought the tangerine for my Obsidian Duo 2 and I think it looks sharp.

Bold! I may have to try that or the blue at some point. Hah, yeah, I tried the Kensington case too and was surprised it worked, but as you noted, the camera is exposed. I believe they have some new stuff coming out, and will cover it here.

Daniel, does this new material offer any slide resistance? With the Duo 1, when I'm using google maps in the car, I put it in tent mode and place it on the dash. It takes the corners like a champ and stays in place without any sort of mount. It doesn't appear the new polycarbonate will have the same quality.

It's sort of like soft-touch plastic if that makes sense. It's not completely hard/smooth, but it's nowhere as grippy/tacky as the silicone bumper. My guess is you may have some issue with it sliding around (in addition to the increased mass).

The Obsidian Duo 2 looks really sharp with the dBrand Matrix skin and the Obsidian bumper 👍

Yeah, those black dBrand skins look great. I'll have a small review tomorrow or Thursday on those.

Please comment if you need to remove the bumper or not before applying the Dbrand decals, thanks.

@JaimitoFrog he does mention it in the article - you can add dbrand skins with or without bumper attached.

Thanks. I missed that paragraph. Nice to know.

Pretty cheap compared to Apple polishing rag.

cheap!? $40 for a thin piece of plastic. This thing shouldn't cost more than $3. I don't mean $30, I mean $3. It probably costs $0.10 to make. GTFO.

The $19 Apple polishing cloth is more likely about $0.10 to make. The bumper will cost far more including packaging. Just making a comparison.

Hi does this bumper case compensate for the height of the camera bump to allow the Duo 2 to be laid flat for note taking?

No, as noted in the review it does not alter the size or height of the edges of the Duo 2 whatsoever.

Good point! Hoping the Surface Duo Pen 2 case may address the issue.

Those are some hefty profit margins lol...

Gotta make money somewhere. 22 % increase in revenue just isn't going to cut it with Wall Street.

It look so much better with the dbrand skin! I'm not a fan of the high gloss look they went this time. Much prefer a matte or low-gloss look.

Now that I have one of these I agree with this review. It is a better bumper if overpriced. Way less obtrusive
Windows Central Newsletter
Get the best of Windows Central in in your inbox, every day!
Thank you for signing up to Windows Central. You will receive a verification email shortly.
There was a problem. Please refresh the page and try again.