How to reattach your Surface Duo bumper for just $8 (Updated)
By Daniel Rubino last updated
If you removed the Surface Duo bumper, you could put it back on with this quick fix.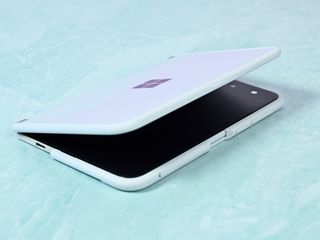 (Image credit: Daniel Rubino / Windows Central)
Update: The original 3M tape used here was too thick and has now been replaced by a new double-sided thin acrylic version, which is identical to what Microsoft uses with the bumper from the factory.
To bumper or not to bumper, that is the question. If you own a Surface Duo, the $40 white bumper in the box is a quick way to add some grip and confidence to the $1,400 dual-screen device. While it is only modest protection, most agree it is better than nothing.
The issue with the bumper for Surface Duo is the tape that holds it in place makes it difficult to remove and reuse. True, if you take it off for just a few minutes to add a decorative vinyl skin, you won't have any problems (so long as you don't pull up the tape), but if you take it off for weeks, or multiple times it is likely to lose its tackiness.
Solving this problem is technically easy: retape it. Luckily, I found five yards of double-sided acrylic tape at 3mm wide and 25 meters in length that seems perfect for the job. The total cost is $7.99 (plus free Prime shipping) and about five minutes of your time.
The process is straightforward: remove the old tape from the inner bumper (or your phone). Wipe down with alcohol and reapply to the bumper. Using the old tape as a guide for placement helps, but this isn't rocket science either.
The good news is there is enough left over so you could probably do this action ten more times if you need too. Plus, at eight bucks, this is hardly an investment.
The tape used here is very thin and is made for mobile phones, laptops, tablets, and LCDs for repairs and adjustments. I advise putting the tape on Surface Duo where the bumper makes contact as the tape is too thin to work into the bumper's wedge area. The secondary tape (which is red for visibility) peels back with ease, and as far as I can tell, this is the same type of tape Microsoft uses with the bumper making it a 1:1 replacement.
At the very least, if you already removed your bumper and are having second thoughts try this $5 trick first before going all-in for $40 on a new one. Unless, of course, you want one of those three new bumper colors.
Fix it yourself
(opens in new tab)
3mm x 25M Clear Double Sided Acrylic Tape
If you removed your Surface Duo bumper, there's no need to go buy another one. With just $8, you can reapply the bumper in five minutes. This tape from gets the job done, matching almost exactly the original tape used by Microsoft.
Main
Daniel Rubino is the Executive Editor of Windows Central, head reviewer, podcast co-host, and analyst. He has been covering Microsoft here since 2007, back when this site was called WMExperts (and later Windows Phone Central). His interests include Windows, Microsoft Surface, laptops, next-gen computing, and arguing with people on the internet.
If someone finds a thinner tape, let me know as I'll update this article. I'm sure it exists. [Update: I found a thinner adhesive that's very similar to what MS uses. The article has been updated] And for those going to make a joke about tape holding the bumper on - Samsung sells an $80 leather shell for my Z Flip that is held on ... by tape. It's a common theme with this form-factor (folding).

Only someone who doesn't have a Duo, and hasn't experienced just how perfect the bumper fits, would have any complaints. At first I didn't want to install the bumper because I thought it would add too much bulk and not stay secure, but I was wrong.. I actually think the bumper looks better on the Duo than without. I think it adds to the design; giving it more depth and style, especially around the buttons. It really finishes Duo. And, I'm surprised how strong the adhesive is. Overall, I'm amazed how good the bumper really is because I didn't think it would be. The downside is that it's too "grippy", and putting Duo in your pocket with the bumper on is a headache. I still can't wait to see what other solutions become available.

It definitely stays put and yes to putting in pockets with it on. A pro is that tent mode works quite well with no slipping

God yes.. Without grip this thing would be all over the place.. I'd also like to add that using Duo is a learning experience. The more I use it the less I feel like it needs an update (but it seriously needs updates, and refinement).. I've found that it's more user error on my part than the phone not working correctly. A few of those tips videos have helped out a lot. For example, I didn't know you can open Google Assistant by swiping up to the center from the left or right corner.. Things like that. Plus, there's a lot of gestures I've never had to think about, and each gesture set changes depending on the orientation. There could be 50 different gestures to learn and remember when to use them, if you think about it🤔. There's nothing simple about using Duo. Duo is actually more complicated than other devices, and it takes a longer time to remember how to use it. But, as complicated as Duo can be I have also over thought Duo a lot.. It's taking me time to realize that just because it has two screens doesn't mean that I always have to have the device open to both screens. You want to use both screens because the novelty of it all, but you can frustrate yourself by not giving into flipping it back 360% and using it like a regular smartphone. I would say that I could use it in phone mode over 70% of the time, especially with optimized apps not being prevalent. Duo is just a seriously interesting and fun device. I can't let it go. The last time I played with a device this much was my first smartphone (Samsung Blackjack), and after that my Samsung Focus Windows Phone.. Since then there really hasn't been any new (except apps for us reluctant windows phone fans)... Honestly, Duo has been so awesome I don't even care about the $1500 I paid for it. But, I can't stand this damn camera, though. Lol. Not so much the image quality, but the software is driving me nuts. I'm sick of the auto screen switching. I need a manual lock, or a setting for my left screen to default to the viewfinder permanently. The absolute most frustrating thing is when you're about to take a picture and Duo switches screens, or the camera just decides you told it to go away. Lol I will chunk Duo like a Chinese star at the wall if Microsoft Doesn't do something about the camera software. 😂 Other than that, Duo has been a better experience than my Note9 when it was new; before the load of updates over the past 2 years have made it usable (especially Android 10. And I can't figure out how yall delt with Android for a decade when it relatively recently got usable with 10🙄).. My point is if Samsung can majorly improve my Note9 over the two years I've had it Microsoft can do the same for Duo. It's all about the software................. I do love that Note9 now, and it's not going anywhere. 👍🏾

Spot on, sir. The Duo takes time, to discover the features, apply them to your own use case, and to gain muscle memory.

My experience dovetails with yours. It takes a bit of time and a shift in how you do things to fully grok the device, but when you do, it's hard to consider going back to a single-screen. My first few days of usage I saw a number of "bugs". Oddly, as my understanding increased, the "bugs" decreased. Other than the camera flipping -- which, hopefully can be fixed -- almost all of the "bugs" have magically disappeared! I think the postures may have something to do with the perceived issues too, as the device is always monitoring its position in space. All in all, a very strong outing. As an eBook fan, I was intrigued by the two-page layout. It's better than I thought it would be. I know it's psychological, but going between pages is so much more enjoyable than reading on a single screen.

Dan, Do you have a link to any instructional videos on how to install the SopiGuard skins? I've never used a skin on a phone before and my SopiGuard skin for my Duo arrives today and I am terrified of messing it up and having to wait another 7 days to get another one. What did you use to attach your SopiGuard skin? Any WC magic tips to keep it from looking like hot pockets are under the skin? If you get another skin, can you make a video tutorial/article on how to properly apply it to the Duo? Thank you.

Aren't the SophiGuard skins vinyl, same as the dBrand? You might be able to use the dBrand guide, or even email SophiGuard to see if they have instructions they can send you.

Thank you for the ideas. I'll look into the dBrand guides and possibly contacting SopiGuard.

Honestly, didn't watch any videos or nothing. Wiped it down with the included alcohol wipe, then lined up the sticker with the MS logo on the front - just worry a bit about horizontal alignment and let it go. ON the back, I just lined it up with the edge. ON the leather, bubbles don't show, but for others just use a credit card and a cloth around the card (to soften it) and smooth out any bubbles that way.

Thank you for the helpful information.

You could potentially look into the adhesive that companies use for screen replacements. iFixit recommends this stuff: https://www.tesa.com/en/industry/tesa-61395.html Note that you can get similar stuff from other brands on Amazon and it's extremely thin (the Tesa brand is 200 micrometers; .125 inches equates to 3175 micrometers). There might be concerns as to whether or not that's actually TOO thin to make proper contact between the bumper and and device, but only $6-10 to give it a try, depending on the brand.

Nice, thanks for the heads up. Will see if I can find any and test it out.

This is exactly why we love Windows Central: you are willing to take one for the team. That level of dedication is something you can't find on all the other brand x tech news sites.

Im selling my OEM bumpers if anyone is interested, trying to be brave use it bare.

The bumper is very secure. If anyone has made this come off via routine usage, please make a video because this thing sticks like it's held on with super glue.

I have this tape from the time I had to reattach the foot on my Surface Book 2, the one that almost runs the entire width of the laptop. I also used it to reattach the metal strip on the inside of the kickstand of my old Surface Pro 3. It works beautifully.
Windows Central Newsletter
Get the best of Windows Central in in your inbox, every day!
Thank you for signing up to Windows Central. You will receive a verification email shortly.
There was a problem. Please refresh the page and try again.