Windows Central readers are more excited about the Surface Duo 2 than any other Surface device
We're only a couple of months away from a likely Surface event, and the prospect of a Surface Duo 2 has people excited.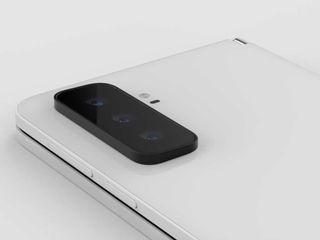 (Image credit: WindowsUnited)
Each year, Microsoft holds a Surface event in October. And each year, the months leading up to the event have rumors and reports about upcoming devices. So far, reports have come out about the Surface Pro 8, Surface Book 4, and Surface Duo 2. With the hype for these devices ramping up, we wanted to know which unannounced Surface device has you most excited.
In our poll that ran over the weekend, over 36% of voters said they were most excited about the Surface Duo 2. The Surface Pro 8 came in second with just over 28% of the votes. The Surface Book 4 drew the least interest of the unannounced devices but still won 26% of the votes.
Interestingly, 9.2% of participants said that they weren't excited about any of the devices. Even with rumors of a major redesign of the Surface Book 4 and reports of a dramatically improved Surface Duo 2, almost one in ten voters aren't interested in Microsoft's unannounced hardware.
This poll was much closer than when we pit the Surface Duo 2 and Galaxy Fold 3 against each other. Perhaps the Galaxy Fold 3 shouldn't feel bad about losing because even rumors of a Surface Book 4 and Surface Pro 8 couldn't pull our readers from the Surface Duo 2.
In the comments section of our Surface poll, Ladydias said, "Cautiously looking forward to the Duo 2 and Pro 8. Just hoping that the former doesn't feel as awkward as the leaks make it look with that camera hump and the latter has an improved inking experience with less pen wobble."
Another commenter, leo74, shared excitement about a couple of devices while coming to terms with the Surface Neo, "Duo 2, followed closely by the Book 4. I was really hoping for the Neo, but it looks like that ship has sailed for good."
Several comments mention hopes of a Surface monitor with a design similar to that of the Surface Studio.
Do you agree with the voters about Surface hardware? We'll keep the poll open to see if it trends differently as weekday readers take a look.
Windows Central Newsletter
Get the best of Windows Central in your inbox, every day!
News Writer and apps editor
Sean Endicott brings nearly a decade of experience covering Microsoft and Windows news to Windows Central. He joined our team in 2017 as an app reviewer and now heads up our day-to-day news coverage. If you have a news tip or an app to review, hit him up at sean.endicott@futurenet.com (opens in new tab).
I wish I could pick a Surface Go 3 from that list, even though I know there aren't any rumors of it yet in the wild.

Agreed. I would love to see a Go 3 with improvements.

To be honest, the Go needs a significant processor improvement. I bought the original Go for my daughter a couple of years ago, and my wife picked up a Go 2 (M3 version) last year. Neither of them are "techy" and think the machines run quite well, but I'm sitting here using a Book 2 (i5, 8gb ram) and Pro X, so when I occasionally use one of their machines, it's hard work. Really hard work. It feels like it takes forever for a webpage to load, or an app to open. They boot up slowly, run slowly, and get very hot. Even the mouse cursor seems to move slowly over the screen. The Pentium gold and M3 processors are not fit for purpose. I'm not saying the Go 3 needs to have top end specs, but the internals that Microsoft have been using to date are really sub-standard. The difference is price between the M3 Go 2 and the i3 Pro 7 is about £160, which is a fair whack of cash, but the i3 outperforms the M3 by a long shot, and would offer a much better user experience. I love the Go 2 form factor, but it really needs to move into i3 and i5 territory

I have a m3 too (with ssd, 8gb ram) and I do not think it feels slow at all compared to my regular laptop (i7-8850u), is not something running on the background of yours? To me the Go 2 feels snappy (high turbo boosts) for regular computing (MS Edge, taking notes, Word etc). The main disadvantage I think is the mediocre battery life when taxing the cpu.

Could be an application lurking in the background....I'll take a look :)

To be fair, I do have tweaked the Go 2 a bit (I used ThrottleStop to make it run a bit cooler and let MS Edge quickly put unused tabs into some kind of sleep mode which works quite well).

Wholeheartedly agree. I wanted a 10" Surface Pro, but the Go is super laggy and slow.
IMO, cheap low-power 4C/8T CPUs - Ryzen 3 5400U (10w) or Intel i3-1120G4 (7w) - with 8gb ram and sata3 ssd would be great. Intel Core M/Y processors are failures as we all know, they failed because they couldn't deliver ARM's power efficiency at the same performance and price as the regular U15. That's where the new 7-10w 4-core chips come in.

Yeah to some degree this is true but the M/Y chips do offer good turbo boost performance (almost the same as u series if from the same generation) just for a short time. This in theory makes them ideal for light computing, the only downside with them compared to ARM is still lackluster battery life if you tax the cpu.

2 Factors - Price and Non-Turbo Performance on Battery - are the biggest issue. As I said, Ryzen 3 and Core i3 (both 4-core) processors tuned at 7-10watts costs less and are better in every single way. Manufacturers are stupid not to use them (because of the bad perception surrounding i3 years ago). That's why tech journalism sites always tell people to avoid Intel's Core M/Y. Intel's Tiger-Lake-UP4 was designed to solve exactly that issue.

The Surface Go should have the 8cx, it never should have launched with Intel. Big mistake from Microsoft trying to make ARM devices premium and forcing them to compete with premium performance devices. It has severely hampered adoption of ARM for Windows.

It seems like half the articles on this site now are reader polls or giving the result of reader polls. Did someone at WC recently discover the polling tool or what?

Our news team averages over 200 posts per month (not including gaming). We love engaging with people so we have weekly polls on the biggest news and some other timely polls. I think a few polls here and there is a good way to enhance the conversation.

"Love engaging with people." Tell that to Mr. Rubino who loves getting really nasty with his readers when he disagrees with their view.

To be fair some readers can be insulting or are trolling. Like in the Surface Book 4 speculation article by Zac someone wrote "Everything in this article is a guess. There is no actual information here." while WC obviously has their sources (especially considering how they were largely correct with previous speculations).

You are correct, while some readers do of course speak nonsense, it is incredibly poor PR to attack your readers. Dan get REALLY nasty sometimes.

It isn't easy being a Microsoft/Windows consumer blogger. Most of them have gone anti-Microsoft for the most part, as they really don't have any consumer products as they all failed. XBox and gaming is a totally different beast than Windows.

A Surface Monitor seems like a no brainer...

Fully agree. I've been waiting for a Studio 3 since the hardware was outdated the day the Studio 2 was released. A stand alone Studio monitor would sell like hot cakes in my opinion.

Except that it'd be priced so it wouldn't sell like hotcakes.

That's probably why they don't sell one, because the profit margin would be too low for MS standards. They want to charge Apple Pro Display XDR prices for a non-reference quality consumer monitor, but no one is going to buy that so they bundle it with an outdated PC.

I don't think it would. There is a reason that finding even a touchscreen monitor is near impossible. Touchscreen and desktop don't mix.

I'd like to upvote the hopeful posts that the camera improvements on the Duo 2 (Two-o?) don't come off as janky and awkward. Surface has such a great heritage of mostly clean design (looking at you, Surface Book, for that weird fold) that it would be a shame to roll something out that just looks like the engineers decided to throw up their hands and say "there's your camera, Panos!"

Thanks for the mention!
The process of coming to terms on the Neo is still ongoing :-)
Oh, what it could have been...

I'm unsure why they announced it if they are not going to bring it to market. It seems like a perfect reading and note taking device.

I think it died with Windows 10X.
I believe Windows 11 would be a great fit for this device, especially if they can make it always connected with LTE/5G. But I guess they decided to give up on it once they gave up on the whole 10X thing.
Who knows, maybe something similar will see the light of day one day.

Windows 10x is not dead they probably just going to call it Windows 11x

If it isn't dead, where is it? Why did they announce it was dead?

Covid changed a lot. With people working from home instead of traveling it became even more of a niche device and not worth the investment. There may yet be a surprise in the future.

To be honest, my surface pro 5 is still an amazing device, no chance of switching soon. Always excited to see my favourite brand Microsoft bring out new flagships though. Well, I would love to see a new duo and wish WIndows phone come back. That is all I want.

Surface Duo? Isn't the first gen still running Android 10?

I think so but that's not a bad thing.

"Another commenter, leo74, shared excitement about a couple of devices while coming to terms with the Surface Neo, "Duo 2, followed closely by the Book 4. I was really hoping for the Neo, but it looks like that ship has sailed for good."" Oh my God you got to love the common on Windows Central hilarious negatives.
It be delayed 2022 😂

Well, the official answer is that it's delayed indefinitely. That does sound like not happening.

I guess they could put Android on the Neo. Otherwise, they don't have an operating system for a small touch machine since they killed W10X.

"Interestingly, 9.2% of participants said that they weren't excited about any of the devices. "
It's really easy to get those people interested.
Just launch
earbuds 2
headphones 3
surface watch

I would love to see a Surface Watch

I recently spent a couple of days with the Duo, before sending it back to MS for a refund. As fun as it was, I'd rather wait for the second version. It's an intriguing device. There is a bit of a learning curve. It's like nothing I've used before. But, once it's up and running, it's a very cool machine. But yes, the original Duo is not very polished. The lackluster internals hold it back, and the software just isn't quite there. After spending a few hours setting it up and feeling confident about its capabilities, I showed it off to a friend...and it immediately froze :( But when all is said and done, it's a brilliant device and more than capable of being a daily phone for people who like to try new things. In percentage terms, the machine worked very well at least 95-98% of the time. The sound/speaker/call quality is very good. The camera is decent. Video call quality is incredibly good. Overall build quality and heft of the device is excellent. Until you've held one on your hand, it's hard to explain how nice it feels. The screen quality is really (surprisingly) good. The apps that have been optimised for dual screen (particularly Microsoft apps) work well. One thing that was annoying is the inability to delete/uninstall apps. I don't want solitaire or company admin control apps. But there's no way to uninstall them. That was disappointing. The first Duo may be a bit rough around the edges, but it represents a fantastic blueprint for Microsoft to build from. Assuming they're listening to feedback, analysing diagnostics, and have a desire to play a leading role in this new and slowly growing market category, the Duo 2 should do very well.

I did the same.. it made me sad. Its software was more limited than its hardware.. and the camera.. was OOF.... bad. Also I use an app called Launcher10 to emulate windows phone.. and it didn't work at all. So that was end of the road for me with it.

Yeah, would have to agree with you, that the software is more of an issue than the hardware. Which puts the whole camera bump issue back on the table for discussion. Anyone who's spent time with a Duo will know that both the camera hardware and software is a problem. But at least with a camera that's flush with the chassis, you can rotate the screen and use the internal camera as the external camera. It's far from ideal, but it works...kind of. But if you stick a big camera bump on the back, that functionality goes away, as does the very basic functionality of being able to rotate it all the way back to use it as a single screen phone. It's already quite a big device to hold against the ear, but how do you do that it you can't rotate the second screen 360 degrees? These are problems that Microsoft will have to overcome in a very elegant way if they're expecting even die hard fans to drop £1400+ on the Duo 2. I really enjoyed the device, and spent two days with it back in the box before committing to sending it back. I kept looking at the package and thinking "listen, it was fun. Deal with the limitations and just enjoy it for what it is." But in the end, I'd kick myself if version 2 comes out and deals with 99% of the hardware/software issues, and I'm stuck with version 1 for the next 2-3 years.

Specifically referring to your comments about the Surface Duo 2's reported camera bump, I really don't believe it's the issue people are making it out to be. I own the original Duo and used it as my daily driver for several weeks (to write an article for Windows Central), and using the Bumper with a dbrand skin created a similar "camera bump" situation when in single-screen mode. I never felt it was an issue or even a minor inconvenience. It was aesthetic-only, not having the phone open completely flush.

What I hope they do is make the camera hardware as good as Samsung ( or Nokia ) and like Samsung release it on all carriers. I don't know why its taken them so long to understand that is why the iPhone and Samsung took over. Unlike ALL other manufacturers, they sell on ALL carriers.

I think the only way a big/powerful camera works on the Duo, is if they go with the camera bump, but add an external screen, to act as a viewfinder. In other words, more or less copy aspects of the Galaxy Fold and Flip. Neither of those phones would work without an external screen, and neither will the Duo. It would help Microsoft overcome quite a few design challenges. With an external screen to take/make calls, see notifications, and be able to point and click the camera without having to open/fold the device, it suddenly gets a lot more useful.

I fear that the Duo is just too thin to support an external screen and making it thicker would significantly reduce its appeal.

I agree, but can't think of any other way around it. If they add a camera bump, they lose the functionality of being able to swivel the screens to take pictures or make calls. If they increase the overall thickness, they might be able to squeeze a bigger camera into the chassis, so no bump, and add an external screen, but they'll almost certainly need to add an additional 3-4mm at least to both screens. It'll take it from less than 10mm current thickness, to more like 15+mm and add some serious weight to it as well. It's already quite a hefty device. Neither option is ideal, but then in my mind I can't see an alternate route. I'd imagine this is the stuff that keeps the surface engineers awake at night.

I agree about the camera, it's pretty lame for a device of this caliber. As for the carrier comment, your comment applies only to Samsung. It wasn't until the iPhone 4 or 4S that Apple broke free of AT&T - and it was only for Verizon and AT&T until the iPhone 5 came along for all carriers.

Carriers choose to sell your device, not the other way around. Even Samsung had to make unique Galaxy S devices for each carrier until the later generations when they had enough clout to force them to take a standardized model. Microsoft has zero pressure to force their phone on a carrier.

I've used the device before and I like it. Having two screens to multitask it's a great idea. It does desperately need a rear camera and also dual-sim capability. I know it has the esim and you can physically put an additional SIM card but it doesn't allow you to run both of them at the same time. You have to switch from one or the other. I would love to be able to manage my personal and my business on one device. Must have dual SIM calle townhouse switch back and forth and rear camera

As a (whoever) fan, I can't imagine being excited about a product that is helping the competition. Would an Apple fan be excited about an Apple anything running Windows? Would an Android fan be excited about a new Google phone running iOS? What if the Neo gets resurrected, but as a dual screen chrome book? Would anyone be excited about that?

I'm still hopeful that one day, we'll get 2 versions of the Duo to choose from...windows 11 or android.

What would you do with desktop Windows on two 5.5 inch screens? Plug in a mouse and keyboard? Use a giant magnifying glass to see the mouse pointer?

Have you used Windows 11? It's very touch friendly. I'd argue that W11 is the first time Microsoft has prioritised screen touch over keyboard and mouse input. I use my Pro x as a tablet all the time.

Not at all, I could not disagree more. No touchscreen gesture navigation for switching tabs, windows, app launch etc, no palm rejection, no 3rd party support to improve basic functionality like keyboard, majority of industry leading apps still do not officially support touch, like ProTools and Ableton that I use . And most of all... inefficient use of space and lack of touch-oriented functionality in new UWP apps that were primarily MADE for touch, and the list goes on and on. I fail to see any real improvements in W11, touchscreen wise. Touch is still a gimmicky afterthought to Microsoft and not the way of input to work for professionals.

I do think there is slight difference between Android and ChromeOS in that ChromeOS is completely controlled by Google, while Android is somewhat fragmented (eg countless Android forks, like the one from Amazon and the various stores amazon store and Samsung store, F-droid store etc).

Way to miss the point. Does the word "hypothetical" ring any bells? Again, IMAGINE that the Neo is announced as a dual screen Chrome book. Would you be excited about it?

I an actually considering getting a Surface Duo 2 as my next "phone".
Will be very interesting to see what specs it will have.

None of them are exciting. New computers aren't exciting at all, and we have already seen the Duo and its simplistic form factor that has already failed to prove itself. Microsoft has nothing exciting coming that we know of. Maybe they will have a surprise.

That initial excitement of the Duo 2 has now diminished with the Z Fold 3 being out! All we can hope for now is some unleaked surprises and a much lower price!