In late 2019, Microsoft surprised the world with its grand idea for a modern pocketable computing experience with Surface Duo, a phone with two displays that resembled a digital diary. A year later, that device hit store shelves with a thud. Buggy software, a high price, and severely lacking hardware made it nearly impossible to recommend except for the bold early adopters and risk-takers.
Based on ideas from years earlier, the Duo 1 was meant to be a pocketable Surface that ran a version of Windows, not Android. The concept was later salvaged as it was "converted" to an Android phone in a last-minute Hail Mary. If you wonder why there was no NFC, a lousy camera, no 5G, an old CPU, well, there you go.
So, what happens when Microsoft can completely redo the hardware knowing it's going to be a flagship Android phone in late 2021? You get Surface Duo 2 with Android 11 (an OS slightly more optimized for the dual-screen experience).
The good news is Surface Duo 2 is a giant leap forward in the concept. It is more impressive than ever with a triple camera array, 90Hz curved displays, NFC, 5G, and the potent Snapdragon 888. The software is also better — faster, snappier … and generally less buggy (more on that later).
At $1,500, Surface Duo 2 is still going to have a tough hill to climb to convince the masses to take the risk, but at least this time, it plays the part, even if it's still not ready for the mainstream.
Bottom line: Surface Duo 2 is a significant improvement over the first-gen with much better hardware, attention to detail, and software that is significantly less buggy. There are still issues to solve, however, and the high price will keep many away.
For
Fast, fluid dual-screen Android experience
5G, NFC, Snapdragon 888
Brilliant hardware design
Larger 90 Hz displays
Respectable rear cameras
Against
Even more expensive
Occasional minor bugs
No Wireless charging
Not much for the pen to do (yet)
Surface Duo 2: Price and availability
Surface Duo 2 has a starting price of $1,499, a $100 increase over the first Surface Duo's launch price. Even though it costs more, there is also less in the box with no free bumper case or a Type-C charger brick (though you do get the charger cable).
Optional accessories include the $40 Surface Duo 2 Bumper (redesigned with newer materials), the $65 Surface Duo 2 Pen Cover (pen not included), and the $130 Surface Slim Pen 2. The Surface Duo 2 Pen Cover can wirelessly recharge the Surface Slim Pen 1 or 2 and hold it in place with magnets. The pen also sticks to Surface Duo 2 without the cover, but it won't wirelessly recharge.
The device is available in more countries at launch compared to the first generation, however, and is expected to start shipping on October 21 in the following markets:
United States
United Kingdom
Canada
France
Germany
Australia
Surface Duo 2 can be had in Glacier White or Obsidian Black (new) colors, in either 128GB, 256GB, or 512GB storage configurations. The pricing for each spec is $1,499, $1,599, and $1,799 respectively.
Surface Duo 2: Hardware and design
Surface Duo 2 looks like the first version save for the new (fingerprint-prone) obsidian black colorway from far away. But picking up the Duo 2, it is immediately apparent that this is not the same phone as last year. Microsoft completely rebuilt every aspect of Surface Duo 2, and it is all for the better.
On the outside of Surface Duo 2 is Corning Gorilla Glass, and on the inside, Corning Victus — the toughest glass there is currently. That glass now slightly curves at the edges in a "2D" falloff reminiscent of Nokia Lumia screens. The result is Duo 2 feels softer in the hands with fewer hard edges compared to the first-gen. Microsoft also reworked the frame and materials used for the entire phone with better seals, making it more resistant to damage. This includes a reinforced Type-C port, which is now in the middle. There is even rudimentary IPX1 water protection.
The device is a bit thicker at 5.5mm opened instead of 4.8mm (11mm and 9.9mm closed, respectively), but it's only noticeable if you directly compare Duo 2 to its predecessor. The weight increases from 250 grams to 284, making it slightly heavier than Samsung's Galaxy Fold 3 (271g).
Duo 2 spreads its bulk out more evenly compared to regular phones, making it less like an anchor in your pocket. That size and weight increase are due to the larger battery, which jumps from 3,577mAh to 4,449mAh, needed to power the 90Hz displays (up from 60Hz) and much faster Qualcomm Snapdragon 888 processor (vs. Snapdragon 855).
Image 1 of 2
Ironically, that added weight and thickness work in the Duo 2's favor. The first Duo was almost too thin, making it feel fragile, which the included bumper case helped alleviate. Surface Duo 2 feels more substantial and less delicate, making the bumper feel non-essential.
Even the hinges are new with Surface Duo 2. Despite being an engineering marvel in how thin they are and housing the wiring for both displays, the Duo 1's hinges a very lightly click if you quickly opened the screens, which some users confused with breakage. That's gone now as the Duo 2's hinges are smoother with slightly more resistance — opening it up is even more satisfying, which is a notable achievement.
On the rear is the most significant difference with a new triple-camera array with ultra-wide, wide, and telephoto. Assisting those lenses is a flash and time-of-flight sensor for focusing assistance.
While there is a hump, the housing is angled to help when reverse-folding the Duo 2's displays. Many people have wondered how it feels when used this way, and it was no issue. Odd? Sure. Does it prevent usage? Nah. Indeed, the device has a satisfying "clap" when switched to this position, with the lenses being slightly recessed to protect them. It's a compromise design, indeed, but arguably the primary complaint of Duo 1 was the terrible camera situation, which this solves.
Internally, there is still a front-facing camera (minus the flash) for selfies and, more likely, video calls.
Image 1 of 3
The Surface Slim Pen 1 and 2 now magnetically stick to the front cover. While it seemed like you could do with Duo 1, it was only a side-effect of the device's magnets. This time, it is intentional, and the magnets are respectably strong (the Pen Cover's are even more potent).
Swipe to scroll horizontally
Category
Surface Duo 2
OS
Android 11
Processor
Qualcomm Snapdragon 888
Network
Wi-Fi 6 802.11ax (2.4/5GHz)
Bluetooth 5.1
LTE: 4x4 MIMO, Cat 20 DL / Cat 13 UL | Wi-Fi 5 802.11ac (2.4/5GHz)
Bluetooth 5.0
LTE: 4x4 MIMO, Cat.18DL / Cat 5 UL
SIM
Nano SIM + eSIM
Network bands
FDD-LTE: 1,2,3,4,5,7,8,12,13,14,19,20,25, 26,28,29,30,38,39,40,41,42,46,48,66,71
WCDMA: 1,2,5,8
GSM/GPRS: GSM-850, E-GSM-900, DCS-1800, PCS-1900
Display
Single: 5.8 inches (1892x1344), 401 PPI, 4:3 aspect ratio
Dual: 8.3 inches (2688x1892), 401 PPI, 3:2 aspect ratio
AMOLED, HDR, 800 nits, 90Hz
Memory
8GB
Storage
128GB, 256GB, 512GB
Camera
Front-facing: 12MP, ƒ/2.0, 24mm, 1.0um
Rear-facing wide: 12MP, ƒ/1.7, 27mm, 1.4um
Rear-facing telephoto: 12MP, ƒ/2.4, 51mm, 1.0um
Rear-facing ultra-wide: 16MP, ƒ/2.2, 13mm, 1.0um
Audio
Stereo speaker
Security
Fingerprint reader
Ports
USB-C 3.2 (Gen 2)
IPX Rating
Yes, IPX1
Battery
4,449mAh
Fast Charging
Dimensions
Open: 145.2mm (H) x 184.5mm (W) x 5.5mm (T)
Closed: 145.2mm (H) x 92.1mm (W) x 11mm (T at hinge)
Weight
284g
Color
Glacier
Obsidian
The SIM tray is also now on the bottom edge and centered opposing the Type-C port. It's a single nano-SIM slot, although Surface Duo 2 supports simultaneous eSIM usage too, which is another change.
Image 1 of 3
The side volume rockers feel untouched, which is OK. Microsoft correctly combined the power button and fingerprint reader into one, which makes more sense. It's an excellent reader too — fast, reliable. Double pressing that power button when Surface Duo 2 is closed enables the flash to be used as a flashlight; the same function launches the camera when the device is opened. You can turn this off in settings, but it's a crafty touch.
Audio is markedly improved. Whereas before the was a single speaker (in addition to the one for phone calls), there are now two (plus one for phone calls). Microsoft puts one on the top left display, and on the right, it's at the bottom, which helps sound balance regardless of the Surface Duo 2's postures. It's an immersive effect when using both displays. However, on a Microsoft Team's call, they were unusually quiet compared to playing a YouTube video or listening to music on Spotify, which was loud and vibrant. The audio works well when the device is closed, too, and is intended to be used that way if listening to music with no worsening in quality.
Bluetooth jumps from 5.0 to 5.1 with AAC support. Many people had issues with Bluetooth on Surface Duo 1 with inconsistent and deteriorated performance. I had no such concerns utilizing Microsoft's Surface Earbuds, Samsung Galaxy Buds 2, and use with the Tesla Model 3. With the Buds 2, I could walk 25 feet into another room and still had audio playing without missing a beat.
There is now NFC built into the left display to be used for Google Pay. Simply reverse fold Surface Duo 2 with the device unlocked, and you can make a payment. It works as expected.
Being unlocked, Surface Duo 2 works on any network with 5G. 5G can mean anything from blazing fast speeds to slightly faster than LTE, depending on your carrier and location. Using T-Mobile in downtown Marlborough, MA, I pulled 39.9 Mbps down and 54.2 Mbps up, which isn't bad.
If I could rate Surface Duo 2's hardware, it'd get an A+. If you can get yourself to a Best Buy to try a display model, I encourage you to do so.
So good
Surface Duo 2: Displays and pen
Opening Surface Duo 2, you're greeted with two 5.8 inches (1892x1344) AMOLED HDR glass displays that combine to form a larger 8.3 inches (2688x1892) one with 401 pixels-per-inch (PPI). That's an increase from last year's 5.6-inch display (8.1-inch total). It's noticeably larger. Those bezels are slimmer too. New this year is a higher 90Hz refresh rate, which, combined with the faster CPU, makes the whole device more responsive. You cannot disable 90Hz and drop down to 60Hz to save battery.
Peak brightness is a decent 800 nits, just enough to use outdoors in sunlight (below the 1,000+ nits of Samsung and Apple's latest). The screens are glossy, too, but easy to overlook due to the sharpness.
I don't want to mince words, and I'll just say these screens are tremendous. The color, contrast, and sizes make them nothing like any other device on the market.
While Fold 3 spans 7.6-inches with 374 PPI, the Duo 2's are larger (8.3-inches) and higher resolution (401 PPI). Samsung wins on the 120 Hz refresh, although I'd argue anything over 90 Hz has diminishing returns compared to the jump from 60 Hz. Plus, Microsoft uses glass displays versus Samsung's plastic.
The Duo 2's displays now curve inwards like how paper in a book bends, complementing the analogy that Surface Duo 2 is like a digital moleskin. The curves help in multiple ways and aren't just for looks. The effective viewing area between the two screens is now closer than the original Duo, with only 67 pixels being obscured, down from 84 pixels letting you see more uninterrupted content.
Because the curved screens show a tiny portion when the device is closed, Microsoft utilizes this as a secondary external display called Glance Bar.
While not as effective as Samsung's outer screen, this Glance bar shows notifications for missed calls, SMS, and voicemails. It also displays a pulsing blue bar for an incoming call and uses a different animation for an incoming text. A green bar reveals the battery level when plugging into recharge, while a white bar appears when altering volume and playing audio. Hitting the power button turns on the bar indicating the current time and any missed notifications. It's an imaginative solution that helps the utility of Duo 2's odd form factor.
Microsoft has not opened the Glance Bar's APIs up to third parties or other apps, but it told the press it is investigating the idea.
The Surface Slim Pen 2 is not included, although if you have a Slim Pen 1, you can use that too. While Slim Pen 2 supports haptics in Surface Pro 8 and Surface Laptop Studio, Surface Duo 2 does not, although Microsoft is studying it (translation: don't expect it).
Image 1 of 2
I wish there were more to say about the pen. The Bluetooth button still does nothing. There aren't many Android apps that make use of it. Microsoft didn't ship Outlook and Photos with inking support for this review, although the latter looks very useful. I suppose Whiteboard supports it, but it's only open for EDU accounts, so I can't tell you anything about it. You can use the pen in OneNote, and Slim Pen 2 glides like a dream in it — it feels better than a Surface PC. But that's about it.
Microsoft should at least bring its Journal app over to Android if it expects anyone to take inking and Surface Duo seriously. And maybe another five apps. Samsung at least went all out with S Pen software, even if half of it is gimmicky. Right now, inking is still an afterthought on Surface Duo 2. Bummer.
These hybrid moments
Surface Duo 2: Software
Hardware was only part of the problem with Surface Duo 1. But it was software that really ruined the experience of the first device. A lot of that is on Android 10, which is not built for dual screens. Duo 2 at least ships with Android 11 and, when combined with that better hardware, delivers a much-improved experience.
Interestingly, Microsoft is now leaning heavily into gaming, photography, and having fun with Surface Duo 2 — things all downplayed and ignored with the first version. It's a good move.
New is the ability to choose specific apps to "auto span," i.e., open the app to the dual-display mode by default. Such a feature makes sense for Amazon Kindle, Microsoft Outlook, OneNote, and Google Photos. Found under Settings, users throw a toggle to enable or disable it for each app.
Gameloft is on board this year, with Asphalt 9 being preinstalled. But this version, along with Modern Combat 5 and Dungeon Hunter 5 (separate downloads), is now customized to support dual-screen usage.
I'm not a typical mobile gamer, but Gameloft nailed the concept here. Asphalt 9 displays a map of the race on the bottom screen along with touch controls. Dungeon Hunter 5 also shows the map, touch controls, and dialogue with NPCs. None of it feels superfluous — Gameloft gave serious thought to utilizing a second display and delivered. And it's not just main gameplay; all levels where you customize your character (or car), choose levels, etc., all use the second display in ingenious ways.
Microsoft heavily plugs its value-driven Xbox Game Pass with cloud game streaming. They're right to do so as there are now 113 premium games that people can stream to Surface Duo 2 that utilize on-screen touch controls. It's an impressive accomplishment. Don't like touch controls? Just pair up an Xbox One controller and put Duo 2 into tent mode.
There is still the ability to pair apps — launching two apps simultaneously, one on each display. I pair my FedEx + UPS apps (Shipping), Eufy + Ring (Security), Google Maps + Yelp (Food), as well as Slack + Telegram (Work) to catch up on content that's important to me with a single touch.
Perhaps the most impressive is Microsoft rebuilt the camera and photos apps. Whereas Surface Duo 1 was a terrible camera experience, Duo 2 fully embraces it. Launching the camera app, on the right side is the viewfinder (live image) and on the left is the camera roll. Snap a pic, and it quickly pops up on the left so you can review it. Tap the edit button, and that photo shifts to the right display, and now on the left, you have a whole editing suite. I was impressed with the edit functions, filters, and tools, negating my typical Google Photos or third-party apps usage. It's an excellent app.
A standalone Microsoft Photos app is also part of OneDrive. By default, it shows all the on-device photos, separating them by camera roll, screenshots, and downloads where you can edit or share. With a single tap, you get access to all your OneDrive, shared files, and more. It worked seamlessly.
Microsoft reworked the notification shade to be wider and put in sliders for volume and display brightness. The idea is if you're using Surface Duo 2 in tent mode, you can now swipe and adjust the volume instead of lifting the device to reach the physical controls.
Swiping to the left, you get the "feed" area where news, weather, calendar, and other widgets are viewable. Weather and news widgets are updated to look more like those on Windows 11. Tapping a news item opens Microsoft's new Start app (rebranded News), which also now supports dual screens (browse the news feed on the left, read a story on the right).
There's "lift to wake" where the displays turn on if the device is opened but laying flat. Lift it, and the screens are awakened. All these Surface Duo-specific configuration options are now found under a subsection in Settings to find easily.
Previously, Surface Duo would try to guess which screen you were looking at based on how you were holding the phone in single-screen mode, but that turned out to be too difficult to predict, causing user frustration. Folding Surface Duo 2 Microsoft defaults to the right display. It's the correct solution, and users can always double-tap the left display to override it.
But while the overall experience is much better with Surface Duo 2, there are still quirks and growing pains.
Outlook and the Photos app both support inking or at least will support them. At the time of this review, those updates have not been pushed to the press. The apps let you draw in your emails or sketch up a photo. They're probably great, but they're not here yet.
Paired apps, which always worked on Surface Duo 1, sometimes fail on Surface Duo 2 with one app not launching (or being slow to do so). I've also had the camera app launch strangely (with the viewfinder and camera roll on the same side). These oddities were rare, but it shows the difficulty with executing this form factor when you don't build the OS.
There's still some strange system behavior. Tap a news story in the Feed area, and it opens the Microsoft Start app (good), and it auto-spans as I've set it (also good), but it's not the default spanning behavior with the story on one side and news feed on the other. Instead, the story is split across two screens, making it difficult to read (weird).
Actually, the Start app and feed areas are all a bit of a mess. Browsing news in dual-screen mode is OK, but as soon as you move to other sections in Start like weather, COVID, wallpaper, videos, etc., none of it is made for dual-screen usage. Even if you disable spanning for Start when you tap a news story in your feed (left side), Start opens on the left side too instead of the expected behavior (right side). This weird behavior happens for a lot of content in the feed area.
Amazon's Kindle app now requires less fiddling to work on dual screens (it's set up by default), which is excellent. But as soon as you leave the outstanding reading experience and head to the Kindle Store, the dual-screen setup falls apart. It's not a dealbreaker but is an excellent example of how apps can have these hybrid moments (cue the Misfits).
Though we're on Android 11, and it's a year after Surface Duo 1, none of Google's apps are optimized for dual screens (Photos works but seems to be more in tablet mode). Messages, Phone, Maps, Gmail, YouTube, YouTube TV, etc., still don't take advantage of the two screens despite Android 11 being better optimized for the form factor with improved dev tools.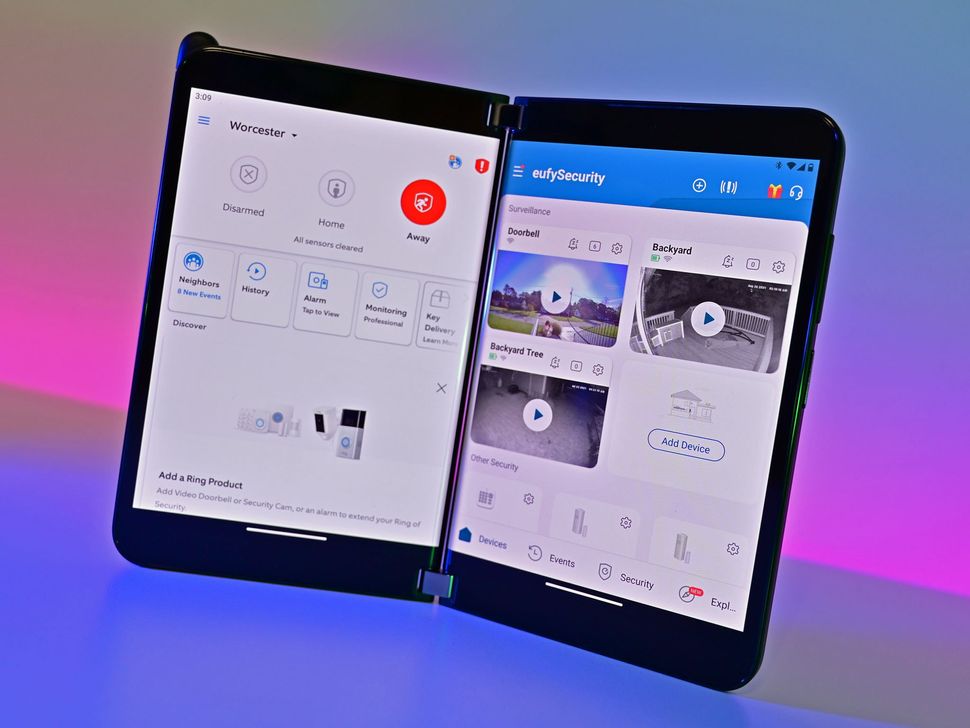 Many of Microsoft's apps are enhanced for dual screens (OneNote, To Do, Office, Outlook, Calendar, Teams). Still, a few peripheral stragglers like GroupMe, LinkedIn, Authenticator, Translator, and Xbox do not, and others like Bing and Start, which are partially optimized.
There is also the more significant issue of gestures. I'm still of the belief that Microsoft's sensitivity setting for swipes is too low, meaning you need to be deliberate in the motion for it to register. If you want to make a fast gesture and slide quickly, you may end up with the wrong action. The number of times I've wanted the notification panel only to get search instead is innumerable. Microsoft should offer a gradient tool for users to tune display sensitivity (it does for the back gesture).
I didn't have any issues typing using SwiftKey (default keyboard), but I have heard from other reviewers who did, which may tie into what I think is the low sensitivity issue related to gestures. The bottom line is that for some people, touch feels a bit off on Surface Duo 2, a similar problem on Surface Duo 1. Hard to explain, likely just as hard to solve.
Likewise, for Microsoft Launcher, there is little else to report. There are still zero customization options with no themes, no ability to modify gestures, change icons, etc. It's a bit weird that Launcher has not gained any new functionality after a whole year and only modestly improved the experience.
Microsoft's Your Phone, which lets you wirelessly manage notifications, calls, photos, and more, works well, but the "new" version is not here yet. There is still no per-app streaming like how it works with Samsung devices and instead is still screen mirroring, which is not as effective or convenient.
Pretty darn fast
Surface Duo 2: Performance and battery
Surface Duo 2 packs the venerable Qualcomm Snapdragon 888 with 8GB of RAM and between 128GB and 512GB of storage. Apps fly open, switching is nearly instant, and it's like night and day between the previous model. I wouldn't mind 12GB of RAM, which is the standard for premium Android phones, but 8GB is a step up from 6GB in Surface Duo 1.
On Geekbench 5, Surface Duo 2 scored 1,094 on single-core and 3,476 on multi-core, whereas Surface Duo 1 only squeaked out 737 on a single-core score and 2,815 for multi-core. Comparatively, Surface Duo 2 blows past the Samsung Galaxy S21 Ultra 5G (Snapdragon 888), Galaxy Fold 3, and every other Android phone available today except for the OnePlus 9 Pro (1,130). For OpenCL (4,679) and Vulkan (4,411), Surface Duo 2 is ahead of all other Snapdragon 888 phones by a lot.
Turning to AnTuTu, which measures CPU, GPU, memory, and UX combined, Surface Duo 2 still does well but falls slightly behind Galaxy Z Fold 3. We can conclude that the CPU performance is exceptionally good with Surface Duo 2, whereas the overall performance is above average (beating 78% of other Android phones).
Battery life is decent but not extraordinary, although when you consider the processor and running dual 90Hz display, perhaps it is impressive. Over a 14-hour day with a 40-minute Microsoft Teams video call, 40 minutes of TikTok, and another 3 hours of general usage (email, notifications, Telegram, camera, Twitter, Slack), I had 15% battery left, putting screen-on-time near the 4-hour mark. Of course, that's not a controlled test with varying display brightness and workloads.
Over nearly a week of heavy usage, I was nearing close to 5 hours of screen-on-time with typical non-video call workloads (email, web, Slack, Telegram, SMS, phone, camera, Twitter, etc.) and often finished the day with 30% remaining battery. That makes this a daily-charge device and not multi-day.
Luckily, the quick-charge feature works remarkably well, gaining 16% every 10 minutes on the charger, or about 50% in 30 minutes.
Surface Duo 2 does not have Qi wireless charging, unfortunately. When asked, Microsoft is interested in the idea for future versions but already was tight on space with 5G, NFC, and a bigger battery. Maybe next time.
Surface Duo 2: Cameras
Microsoft packed three rear cameras onto the back, and while some may take issue with the look, as someone who used Surface Duo 1 for the last year, I'm not bothered in the slightest. The tradeoff in flat design for these cameras is worth it. Yeah, there's a slight wobble when it lays flat, but you can now take pictures of your pets or snap a pic at night and not recoil in horror.
The three cameras have the following specs:
Wide: 12MP, ƒ/1.7, 27mm, 1.4um
Telephoto: 12MP, ƒ/2.4, 51mm, 1.0um
Ultra-wide: 16MP, ƒ/2.2, 13mm, 1.0um
The megapixel count is on the low side these days as some phones like the RealMe GT Master Edition Explorer feature a 50MP Sony sensor, so zooming in brings out the pixels.
Microsoft enlisted Morpho, a Japanese imaging company that leverages AI and deep learning for photo processing. The results paid off. While the live image is often just OK, the post-processed photo has a nice balance of colors, exposure, and contrast. See for yourself in the gallery below (all images untouched):
Image 1 of 17
The standard fare of camera features includes slow-mo, video, photo, portrait, and panorama. Even a new night mode takes a slightly more prolonged exposure that merges with shorter ones, as found on many Android phones. The overall experience is a considerable improvement over Surface Duo 1, which admittedly isn't saying much.
Comparatively, these cameras feel more on par with a mid-range phone from 2020, still falling behind Samsung and Apple's best in 2021, but it often holds its own against my iPhone 12 mini, which is more than I was expecting.
Photographing my cat, the Surface Duo 2 properly exposed the window and slightly overexposed Zoe. Whereas the iPhone got the window right but underexposed the subject. Neither photo looks impressive. But this is a challenging photo for any camera to master due to the intensely backlit scene (direct sunlight) and the contrasting coat of the cat (difficulty metering). I'll take the Duo 2's image over the iPhone's.
Low-light also does well, although you see more grain and noise than an iPhone 12 mini.
Video is satisfactory thanks to hardware image stabilization, and it can shoot 1080P 30 or 60 FPS and 4K 30 or 60 FPS. It'll struggle a bit in brightly lit scenes to compensate for exposure, but it's still miles ahead of Surface Duo 1.
The bottom line is compared to Surface Duo 1, Microsoft has made a terrific attempt at improving the camera experience. The new array on the rear may not be pretty, but I now no longer need to take my iPhone 12 mini as a secondary phone. It pales compared to top-tier 2021 flagship phones, but those phones also don't have dual screens, so there's that. I doubt anyone will criticize these pics being posted on social media for being of poor quality.
Not much else
Surface Duo 2: Competition
In many ways, Surface Duo 2 has no direct competition. There are no other dual-screen devices save for Surface Duo 1, trading around the $400 mark these days. While that phone is expecting Android 11 before the end of the year, no software can solve the limited hardware experience. Still, if you're looking for a "starter" dual-screen phone to use as an Android mini-tablet or superb Kindle reader, it could be fun as a secondary device.
Samsung's Galaxy Fold 3 is the next logical option and the overall safe bet. On the third generation, Samsung has mostly figured out the Fold 3's design and feature set. While the cameras haven't changed this year, the technology has around it, including support for the S Pen, which is welcomed. Still, the Fold 3 starts at $1,799 — $300 more than Surface Duo 2 — and there are still some questions regarding that folding screen and reliability (Samsung has a decent warranty, at least). To no one's surprise, battery life is also on the weaker side, but Samsung's software experience is more refined than Microsoft's.
Frustrating but good
Surface Duo 2: Should you buy it?
You should buy this if ...
You liked Surface Duo 1
You want a dual-screen phone
You want a device that sits between a phone and a laptop
You like the Microsoft ecosystem and Surface
You shouldn't buy this if...
You don't do work on your phone
You don't like using two hands for your phone
$1,500 seems way too much
You need a bug-free software experience
There's a lot to unpack with Surface Duo 2. Let's start with the most controversial question: Why even use it? The advantages for a dual-screen should be obvious; if not, answer the following:
Why have dual displays for a desktop PC?
Why snap apps side-by-side in Windows?
Why use a portable screen for your laptop when traveling?
Why buy a phone with a larger display?
The answer to all these inquiries is simple: You can see more information and multi-task easier. That's the same principle behind Surface Duo, and it's why it resonates with so many people. It's not any more complicated than that; it's not a profound riddle. Conversely, you should also figure out that not everyone needs those above choices — some people like small phones or a single screen for their PC. That's OK too.
As far as its place in tech, Surface Duo 2 sits between a phone and my Ultrabook. That's its value — think of it as a pocketable laptop. When I have it, I'm far less likely to hop on to the PC to do work, manage socials, chat in Slack or Telegram, etc. Toss in reading (Kindle) and gaming (Xbox Game Pass, Gameloft), and you have a new way to experience the modern digital wonders.
I still believe Microsoft is on the right track with Surface Duo 2 and the theory that some people prefer a device like this. I'm one of them; I love the darn thing. And Duo 2 goes a long way in making up for the outdated specs and missing features found in the first version. As a fan of the concept, Surface Duo 2 is what I wanted for specs and design.
Where Microsoft is failing is the software and support. True, Surface Duo 2 is launching in a much better state than the first iteration, but people who bought Surface Duo 1 are still waiting on Android 11. That's simply not acceptable. There are also the bugs, occasional software glitches, and some missing animations with Duo 2 that many people will find off-putting. And what about Android 12? Is it going to be another year before Surface Duo 2 gets it? The company has a lot to prove to win over consumers and even fans. (Microsoft promises three years of updates for what it's worth.)
These kinds of questions make it still hard to recommend Surface Duo 2 for regular folks, although there are far fewer dealbreakers this time. Fans of Surface Duo 1 will be pleased with the new hardware, but Microsoft cannot simply sell this device to some hardcore devotees forever.
Should Microsoft continue with Surface Duo? Absolutely. Version 2 feels very much like the middle of a story — it's coming into focus, improving in many areas, and making a lot of progress — but more needs to happen to complete the tale.
Don't let anyone tell you differently: Surface Duo 2 is a huge improvement over the first model. But the actual Surface Duo experience is waiting for another chapter, making Surface Duo 2 a nice milestone but still a novelty for many.
If you're on the fence, you don't need to take my word (or any other reviewer's). Microsoft lets you try Surface Duo 2 for 60 days via its Surface Promise (opens in new tab). Most people will know within a week if it's for them or not. If the price drops during that period, Microsoft will refund the difference upon request.
As for me? I'm not giving up Surface Duo 2. My iPhone 12 mini is now on gym duty, and the Z Flip 3 will be sold off because I'm a convert, and I won't apologize for that.
Daniel Rubino is the Editor-in-chief of Windows Central, head reviewer, podcast co-host, and analyst. He has been covering Microsoft since 2007 when this site was called WMExperts (and later Windows Phone Central). His interests include Windows, laptops, next-gen computing, and for some reason, watches. Before all this tech stuff, he worked on a Ph.D. in linguistics, watched people sleep (for medical purposes!), and ran the projectors at movie theaters because it was fun.
100 cameras like samsung.

When do we think Duo 3 will be dropping? I might have to pick up another Duo v1 until the if it gets android 11 because unfortunately one of the screens on my current Duo is cracked so I will either go to a standard candy bar device or as stated, pickup another v1 Duo.

I can't my head around how they could add a camera bump to something that needs to close flat screen-on-screen in both directions (360 degree hinge). Does it just leave a gap when folded all the way around, or is there a divot in the outside to align with the camera bump when folded open? Something else entirely? Of the concepts I can conceive, I think I'd prefer the divot so it can fold flush rather than leave a gap, like the Surface Book.

I'm assuming there will be a divot. Especially for use as a phone, folding flush remains a necessity, I think!

The phone doesn't fold completely flat when you have the bumper case on, so I am assuming they will use that distance, plus maybe a divot on the opposite side to manage it.

A slight bump (similar to the camera on the Lumia 1520) with an indention on the opposite screen for the bump to "rest" in would be the most logical solution.. We have been suggesting this for almost a year now.

rodneyej, I like that and hope that's what we get. I don't think it's as aesthetically pleasing as the current smooth surfaces, but worth it if we can get a great camera into the Duo.

If the bezels are going to be smaller how are the screens still going to be 5.8"?.. Shouldn't they be bigger? 🤔

1. Get rid of the seam
2. Make each of the single screens more narrow to allow for one-handed use
3. Pressure Apple to bring iMessage and Apple Watch to Android

1. Sounds like you'd rather use the Fold
2. The best facet of the Duo is its aspect ratio, so no thank you
3. Why?

Agreed, don't mess with the aspect ratio, it works so much better for productivity.

True, for me though I think if they can make the aspect ratio taller would be nice as well, like a 16:9, considering the extra height space especially when suing the touch keyboard and more contents to see. That's just me, which also reduce the top and bottom bezel a bit but not much since camera and sensors has to go somewhere.

Agreed...getting rid of the seam brings us to Fold territory. Increasing the size of the screens to a more normal aspect ratio will be very welcome.

@MicrosoftNorthstar, I'm neutral on the seam -- it's clearly a negative when you want to run a single app full screen (videos especially), but it's a positive when multitasking or running apps that take advantage of it, like Outlook, OneNote, To-Do, etc. Maybe just a narrower seam as part of smaller bezels so there are fewer pixels lost to it. I strongly disagree about narrower screens. I LOVE the aspect ratio and think other phone screens have become near useless, because they're too narrow. The Duo is the only phone I've seen that can actually be productive doing work even in portrait mode, and that's because of the 3:2 screens. Plus, the 3:2 screens flip to a nice 4:3 when opened up fully, which is just about perfect for the tablet view. I probably wouldn't complain too much if it went to 16:10 per panel, which would be 5:4 when opened, but I think the current 3:2 and 4:3 is better.

How is the seem ever an advantage. Android already has split screen. There is no advantage to dual screens, other than cost.

Well, that is a matter of perspective. Just like saying a single screen is just as good for split screen productivity. Some would say not so much.

Yeah, as Vincent said, and I would be in that camp: for some things 1 bigger screen is clearly better. But due to UI limitations, 2 or 3 screens are often better than 1 super wide screen. In Windows, this is because it's much faster to snap or maximize a window to a monitor or right/left side of the screen, but you lose much of that usefulness if running on 1 giant widesceen. Same concept with the 2 screens on the Duo vs. 1 big screen on the Fold: multitasking works much better on the Duo.

The only advantage of dual screens are multi tasking. It's much better on the Duo than the Fold brotha. Besides that there's no other advantage.

nah the aspect ratio is very nice, it should only be changed by reducing bezels.

If you remove the seam then you have a Fold. There is no way around that. I'm certain Samsung and Huawei would rather have a phone without a complicated hinge, but the current state of folding "glass" doesn't allow it. Look at Samsung's Fold concept 10 years ago or the Fold concept from their 2019 commercial. Those were Duo looking phones. Ultimately, every Foldables goal is to resemble the Duo(in varying sizes). The current progress of the tech doesn't allow it.

"Pressure Apple to bring iMessage and Apple Watch to Android"

There's no world in which that happens. Microsoft couldn't even get Apple to let Your Phone work more deeply with iOS. Apple decides things: On its own volition Courts

Apple in Europe will be forced to use RCS. So, who needs iMessage anyway? RCS as the replacement to SMS/MMS will be the global answer fairly soon. I don't think Apple will walk away from selling Iphones in Europe.

@MicrosoftNorthstar It's impossible to get rid of the seam for all foldables with current screen tech as you cannot completely flatten a screen in halves. Screens are not flexible as paper (yet) lol....

"3. Pressure Apple to bring iMessage and Apple Watch to Android" LOL, good one. Microsoft is in no position to pressure anyone about anything relating to mobile. MS has zero presence in mobile computing. Only Samsung could bring such "pressure", and even then Apple would ignore it. For obvious reasons. You might as well ask your local mom and pop restaurant to "pressure" McDonald's into allowing them to sell Big Macs. The entire idea is preposterous.

i love the wide screens - i would not want them slimmer. it's a huge benefit of the Duo imo

No need to bring iMessage. Europe is forcing Apple to use RCS. So, say goodbye to SMS between Android and IOS soon!

Zac, not all plastic yellow over time, they just need to purchase better plastic. With nfc does that also mean wireless charging, or would you have nfc without?

NFC isn't a wireless charging standard. It's a wireless communication. QI is the typical wireless charging standard used, and I'd really hope they have that in as well.

Keith, I think he meant that if MS has found the room to add an NFC antenna into the device, did they also fit Qi in there? At least, that's one of my big questions. I care more about Qi (by far) than I do about NFC, but I'd love to get both. As my first non-wireless charging phone in ages, I hate all the wires I now have lying around everywhere and the little magnetic dongle always sticking out of the USB-C port for the Gen 10 universal magnet. If I have to use wires, that's the best way to do it for easy one-handed charging (magnetic cable snaps right onto phone, Gen 10 plug is about as thin as one side of the Duo, and no constant plugging and unplugging cables means no stress on the device so no broken Duo at the charging port like many others have had), but it still absolutely sucks compared with the perfection of having Qi chargers around and just set the phone down anywhere to charge. No wires. No dongles.

The problem with Qi isn't just size of the coil (although that is an issue) but the heat it generates in such a thin device.

Other than when charging wirelessly with Qi does it add heat? If it does impact it outside of charging, do you know why/how?

I'm speaking of during charging, which is still a major use case e.g. your car when you're also driving maps (running LTE + GPS modules), playing media, while using Qi. The coil generates a lot of warmth, more than just the Type-C port. Because Duo is half the width of a normal smartphone (4.8mm vs 9mm), you get a lot less thermal space to work with. This was posted on Wirecutter regarding charging:

According to iFixit's Purdy, heat is particularly a problem when you're wirelessly charging. "Depending on a number of factors—alignment, sophistication of charging base, phone cases, interference—your charger can end up delivering as low as half of the current it draws into your phone," he said. "Where current meets resistance, there is heat."

Dan, thanks. That's interesting. And depressing if that means the compact nature of the Duo won't allow Qi in ver 2 either.

Wi kinda sucks anyways. It is so slow compared to current fast chargers that it negates any advantages of wireless charging.

The advantage is just being able to set it down and not worry about plugging it in. If you're not in a hurry somewhere, then it doesn't really matter how much slower it is than wired. If you need to leave soon then great just plug it in to let it charge more quickly. I'd like to have both as an option but I know is not realistic right now.

Advantage: laying your phone on the charger when not using it, and being able to instantly pick it up and exit the office for a quiet spot when it rings. Plus the first Duo obviously suffered from too many connections and disconnections with that broken port...

They should do something like my old Nokia Lumia 925, it added a sweet snap on protector case (made by Nokia) that was for wireless charging, loved that thing. And it would be better than the bumpers they give you with the Duo.

I already have the V! Surface Duo.
I miss my Win-10 phone. It was so much better.
Microsoft needs to Block Google from Hijacking the OS. I cannot even get to the Microsoft Store to download ANY APPS. GOOGLE HAS ruined this "Windows phone".
The Google App download BLOCKS any attempt to get a Microsoft App. The Google App Site equivalents; are just not up to the task!

I miss Windows phone too, but I don't understand your comments about MS apps. They're all there in the Google Play store, with many even pre-installed when first power up the phone. MS did a good job ensuring this phone thrives as part of the MS ecosystem.

NFC for payments and a better camera would go a long way. Not sure how they add a significantly better camera with the current design, but I guess we will see. 5G for future proofing is good, but I think we all have been underwhelmed (so far in 2021) by ACTUAL 5G speeds. I really dig the Surface Duo but I think that its better at the things most of us use 20% of the time (multitasking two full screen apps that NEED to be side-by-side) and worse at the things we do 80% of the time (send/reply to a quick text, look up something, band out a quick e-mail, snap a picture). It seems like it is a neat design for a tablet that folds in half rather than being a phone that double in size.

No reason those 80% things you mentioned can't be done as quick as single screened devices besides snapping a photo. Anything else is user ignorance/competence since the duo can literally operate as a single-screened device if truly desired.

Having to open the device doesn't slow you down?!?

Nothing about Wireless charging ?

I've had wireless charging in every phone since the original Nokia WP8 devices until the Duo and I can honestly say that with quick charge I don't really miss it.

I can agree that I've used it less with how good wired charging is these days, but I still think there's no reason to be selling a $1,400+ phone without it. Quick charging's gotten pretty good for wireless as well (on OEMs who implement it). Being able to set a phone down to top off is nice. Not worrying about if you have a USB-C or Lightning cable is as well.

"but I still think there's no reason to be selling a $1,400+ phone without it."

You argue like it's just a spec/cost choice and not an engineering challenge. One side of the Duo is 4.8mm thin and needs to have a battery, display controller, RAM, CPU, NFC, antennas, wiring, and some room for the camera housing. An engineer would need to account for the size of the Qi coil (not trivial), but, more importantly, the amount of heat Qi generates while effectively being layered on top of the SoC without any insulation. Regular phones that are around 9mm thin have literally 2x the thermal space as Duo making it easier to put in Qi. Maybe they'll figure it out, eventually, but it's not a simple task in this design.

Do you know if anyone has been looking into imbedding the antennas or Qi coils in the casing, like how antennas have been imbedded into automotive windows? I guess something like that could help but then it may be too costly, (just like cars are, got hate that inflation)

sorry, no idea. I'm sure there's lots of research going on including new, thinner materials for insulation/heat dispersion. We see a lot of that in laptops these days e.g. Dell's use of Silicon Aerogel, NASA technology in the XPS 13.

I too love quick charging, although two items I like about wireless 1. I like the fact that my ports life span is extended by not using it in place of always plugging and un plugging the phone all the time. This helps if you plan on keeping your phone 2. Great for when you have to frequently move in and out of a desk or car, I have a magnetic/wireless charger in my car and all I have to do is place it there without wire getting in my way.

Get a set of aftermarket magnetic cables for $30. addresses both concerns.

You don't miss it WHILE you use a device that doesn't have it.
I could say the same about my Duo, I was ok without qi. However, now that I've switched back to a 'regular' smartphone, I won't consider any other handset without wireless charging again.

we need wireless charging and charging of the slim pen when magnetized onto the Duo. that would be huge

The camera bump will be a big mistake. If I want a camera bump it is available on literally every other phone out there, its equally bad design in all cases.

Agreed, no bump, they are just ugly and bad design. If anything make one side thicker so you don't have to have a bump and then with that thickness add more battery power. Of course they did hire some well known to help with cameras in there devices, so that's hope.

It's most likely going to be a very shallow bump, similar to the thin bump of the 1520.. That won't bother anyone who actually buys the device.

Well we will see. I love that my Duo now does not have a bump, a bump is just lazy and bad design imo.
I think it makes more sense having the camera protected on the inside. Will be strange to use the camera with the phone opened in book mode which we have to do with a rear camera.

"a bump is just lazy"

No, it's more about limits. People whinged hard about the lack of cameras on Duo (and a quality one at that). You can't have both really good cameras AND no bump on a device this thin. So, it's not lazy, it's a tradeoff. We can barely get good cameras in laptop display because of the thinness issue. Duo is no different. That problem will be solved, some day, but not in 2021.

cameras require a lens. A lens requires distance to focus light. The wider and deeper the lens the better the image capture. The reason the Lumia phones had great cameras was because they were one of the first to use Carl Zeiss lens, which required the bump. Was it three years later that Apple added the bump to their phones for good cameras?

Yup, there's a lot going in there these days especially with vibrate reduction and now the common addition of macro/wide/tele options in many phones. If Samsung/Apple can't get away from a bump, a device that is half as thick (4.8mm) surely can't either. Not yet. Microsoft is good, but they're not magicians.

You don't have to have the bump on the Duo on the outside of the device. That's the beauty of it. The Bezels are large enough that you can have the bump on the inside in the Bezel and a shallow pit on the other side it rests in when closed. Then when you fold/swing the screens all the way open you can see on the camera side yourself for selfie and from the other side you can take pictures of whatever (one camera for all things). I mentioned this a year ago, they could have had a good camera and no bump on the outside.

I agree that a bump is aesthetically a negative, but personally, I'd happily take the bump for a great camera. Further, I'd prefer it on the back rather than the inside so I can always be assured that when I look at the screen, the camera is facing the target. In the current Duo, it always puts the image and camera controls on the wrong side: when I'm trying to take a picture of something, it's in selfie-mode, and on the rare cases when I want to take a selfie (hardly ever), it seems the display is on the screen facing out. I suppose this is really a software problem -- they could let us double tap the other display or the power button to flip the display screen or put the display on both screens, so many possible solutions. Current method is just terrible. An external camera (on the back) would fix it for sure.

It is a matter of personal preferences: I would rather have a device few millimeters thicker than the bump.

You forgot " In my opinion"...

I'd love to see the inner part of the screens wrap around the hinge to reduce the seam.

Yeah, it seems there are opportunities to tighten the space between the screens. Also, the gap that I assume is there for the case -- I'd be happy to see that tighten up too. I won't put a case on the Duo. I agree with Zac that a case just defiles the phone. My wife's cat knocked my Duo on the floor from a counter a couple of times with no case and it's still fine. I know others insist on a case though, so maybe the gap is a necessity for many customers..

This will be exciting news for my 8 year old daughter who has been eyeing my Duo 1.

My 12 year old called dibbs on my SD1, so she's super excited about the V2 :)

They need to at least add 90hz screen.

I have yet to imagine any use for a double screen android device. Or a proper productivity device running android... I'd take it as a pocket pc running some form of Windows any day, but as an android phone, a plain old single screen Samsung Galaxy is way superior.

Incorrect for the majority of Windows users. I say that based on the fact that majority of Windows users use apps that run great on the Duo. Further, they benefit from the dual screens, and specifically from having 2 separate screens. Excel is the only app that would work a bit better with a single large screen to avoid the seam between the rows or columns of your spreadsheet. But for all the other major apps, the dual screens are a huge productivity boost. And more than running any single app across both screens is the natural multitasking that occurs. I don't think someone can explain this part to you -- you have to use it to understand. You quickly find yourself running 2 apps all the time without any effort or thought. That's more like Windows than any single screen phone, including the prior Windows Phones.

'I have yet to imagine any use for a double screen android device."

It's not radically different to the notion of why people want/prefer/use dual (or even triple) monitor setups on desktop, and, increasingly, with laptops. It's not really harder than that. Running two apps side-by-side, for some, is meaningfully different.

One thing I'd like to see is a strong magnetic lock for both leaves/screens so when you close your SD2 someone else can't access your stuff w/o your permission. Then to "unlock" it simply use the side-mounted fingerprint scanner which would open both leaves slightly ajar - about half an inch - to help you unfold it all the way. Also it'd be cool to add Windows Hello so as you're unfolding the device, SD2 is already scanning your face and taking you to your homepage. Implement both ideas together and you have your two-factor authentication in one elegant motion.

Metal must be used I stead of plastic. My Duo charging port area cracked and fell off. Unacceptable

Hi Zac, a much more important question... have you heard any rumblings regarding increasing availability for international markets for V2? All of the changes are good but means bugger all for those of us who don't have access (officially)!

Any word on whether it will come with a microsd?

This please. Micro SD support is an essential for me.

I'd say the chances of that are extremely low.

A camera bump is concerning because the current device is so beautiful and folds so nicely. BUT if it means a superior competitive camera system, then bump away! lol

Agreed. The poor quality of the camera is my biggest pain point on the Duo. I'll take a slightly larger, less smooth device if it means a respectable camera.

Actually, my biggest pain point isn't the quality of the cam. It's the functionality. When I double click the power button to engage the cam, I expect the cam to open and account for the posture of the screen. Currently, it takes me 3-4 attempts to get the cam open and ready for use. If what I'm trying to take a pic of is now gone, the quality of the image itself is now moot.

My pair of thoughts on this exactly! Aesthetically better w/o a bump, but worth it for a great camera.

A great camera will seriously make me look at buying the Duo 2, more Microsoftish tools and features (WP fan!) sound great too. The 5G I can take or leave.
I just hope it's not ridiculously expensive.

I want bigger screens. I envision two 6 inch 16:9 screens. Essentially two Lumia 1520's next to eachother. As of now, I plan on getting the next Duo but if I end up not getting it, the size of the screens will be the reason. They are just a little too small for me right now.

They're not tall, but the width is excellent. They have more screen area than the phone size would suggest (just by the math: the closer to square the more area per perimeter length). I find I am far more productive on the Duo, even in single screen mode, than on my prior Samsung Galaxy S10, simply because the screen is wider. The move toward soda straw-shaped phones has been a bad one from a UX perspective, as far as I'm concerned.

A small screen where the external camera is would be nice. This way you can view and dismiss notifications while the Duo is folded closed, and take a selfie with the better camera. It will also help with battery life since you don't have to open the main screens all the time.

I hear about desire for an external screen a fair amount, but I don't understand it at all. Do you currently have a Duo? If you want an external screen, just flip the Duo around so it's "closed" with a screen on the outside. Then, it's just like any regular single screen phone, but better because of the 3:2 aspect ratio. There's no downside to this. It's just as sturdy and scratch resistant. An external screen on the Duo would serve no purpose whatsoever, except to add thickness and cost (or take away from space for more battery).

I really liked the hinge side module they showed on the Andromeda renders, the simple ribbon screen down the side, just enough for caller ID and Text messages

Panos Panay's intent is to make a great camera without changing the surface duo's slim design. That's why they hired Ari Partinen. Partinen's challenge will be to achieve a result that lives up to the competition without having to increase the thickness of the device. If they succeed, Surface will once again prove to be a brand that can bring technology solutions to market ahead of the competition.

Ari is a testing/verification professional. Just look at his LinkedIn profile, he is not developing cameras.

You sure are assuming a lot.

I would love to see more space for battery (and better specs), no camera bump (this was the best feature of the original), and Android 12 (since it will be out by the time this allegedly launches).

I find the battery life on the current Duo to be great. A better camera though is the main thing I need (I constantly curse the camera on the Duo). I'd also really like Qi charging, much more than I care about NFC.

Another phone with one screen that is four inches that has a Android/Microsoft ROM.

Buy literally any other Android phone and put Microsoft Launcher on it. Seriously that's it. A single screen device is a stupid idea and a complete waste of time.

I've tried to explain few people how if you have the device that is pocketable and can make phone calls the world will consider it as a smartphone to pick among smartphones. I expect that those same people that can only repeat what they get from Microsoft will now reply with "of course it is".

I'd really like to know the significance, if any, of Android 11 to Surface Duo. I have zero expertise, but I gather: 1) Microsoft built a fork off of Android 10 to accommodate Dual screen (as well as maybe Launcher changes etc. But let focus on Android.
2) Microsoft and Google said they will work together to integrate dual screen features into Android.
3) Android 11 is out and well known, but I haven't read any specifics are betterments for dual screen. Heck, wasn't Android 11 finished too soon for dual screen?
4) Android 12 has lots of announcements about features for dual screen
5) are Android 12 dual screen feature additions derived from Microsoft's fork off of Android 10? I'd guess yes.
6) If Android 11 has nothing much new for dual screen, won't Microsoft just take their Android 10 fork and attach it to Android 11. Bottom line, seems to me Android 11 ain't gunna help issues specific to dual screen. Android 12 will. Keep your power dry. What do you think?

If that's correct (I don't know much of the dual-screen specific differences between 11 and 12), then yes, I would be happy to keep using my Duo 1 and wait a bit longer for the Duo 2 in order to get it with Android 12. However, as an early adopter, I'd also be happy to get it with 11 as long as it really does upgrade to 12 fairly early in its life.

Ha. I jump in too. Had a Duo since day one and like it. (I was using a friend's Samsung S9, and man, I missed the second screen. Probably impossible for me to go back to single screen now.) But, more to the point, I hope for big dual screen features. And to me, it's unclear if that will come with Android 11. Android 11 improvements, which I've looked at in the usual YouTube videos, are modest. Which is fine. I'm not against advancement in Android or anywhere else. But for Duo to really hum, something big needs to happen to take advantage of the hardware. If someone deeply technical (because that ain't me) knows Android 11, I'd like to know what it will improve for Duo. Right now, from the little I can gather, it's Android 12 that matters to Duo. Time will tell.

I have a Surface Duo 1 and use it as my work phone. It does what I want. However, what I was hoping to hear during this announcement is software support and upgrade for Duo 1 to Android 11 and what Microsoft has done to improve usability, squash bugs, and get more developers on-board to support a true dual-screen. The hardware features and improvements are nice for Duo 2, but the software was always the problem and I still don't have warm fuzzies about the direction they're going.

Needs real phone.
With accesories, vaporwares ...

I've heard nothing to lead us to expect Qi charging in the Duo 2. I understand NFC and a better camera. For me, a better and FASTER camera is, by far, the single biggest need. I feel crippled with the Duo whenever I want to take a picture (compared with my prior Samsung Galaxy S10). There's also a weird software issue where my Duo always seems to put the view on the wrong screen so it's always facing away from me and there's no quick tap way to fix this. Just a terrible camera experience in the Duo all-around. However, second on the list for me would be Qi charging over anything else. Sure, I'll use NFC for purchasing occasionally if it has that, so it's a nice plus, but Qi charging dramatically changes how I can use the device. Even now with magnetic Gen 10 charging cables that snap into place for one-handed charging, this means that I now have wires everywhere (ugly mess) plus the magnetic adapter sticking out of the bottom of my otherwise pristine Duo. The adapter also prevents setting the Duo down like a book (and why can't any Android phones just rotate to work upside down, then the charging cable could come out of the top or bottom of the phone at the user's preference!?). I desperately want Qi charging back. The other thing I'd like to see is some modest level of water resistance so it's safe to have on me if it starts raining and so I can set the phone safely on a shelf in the shower for news and music control (even if I use a separate Bluetooth shower speaker, I still want access to the touchscreen). I don't need submersible capability, just enough resistance that I don't need to be careful to keep the phone perfectly dry at all times.

All of this. Glad I'm not the only one to feel this way.

A buy back program due to the lack of support of the original device due to a lackluster unknown android developer that has more regression per release than bug fixes and feature releases. Also the fact that my device has lost 66% of its value less than a year before release and still buggy as hell and no android 11 upgrade. They can take V2 and shove it up their asses.

"A buy back program"

lol, take responsibility for your own financial risks. There was a 60-day return window for Surface Duo. If you bought it, didn't like it, but kept it for more than 59 days assuming it would meet your expectations at some random time in 2021, that's on you. Reviews were brutally honest about the state of the OS experience and, anyone who owned one, would know what it was like. You buy the device based on what it is, not what it may be. Shopper 101, my friend.

The obvious question is, with potential Android apps support in Windows 11--will Duo 2 be a Windows device, or will they release a productivity-focused Windows version?

"will Duo 2 be a Windows device or will they release a productivity-focused Windows version?"

Zero percent chance.

good. not sure why everyone wants this as a windows device. Android's app store is a huge plus and far better for a small device

Maybe because it is a Microsoft device? lol

I know you are right and I totally get the reasons and agree with most of them. However I loved my Lumia 950 and hung in there are long as I could and I would just really like a nice shiny Windows Phone, even if I know it probably a bad idea!

@Daniel Rubino this makes no sense, why Microsoft would bother adding Android apps support in Windows 11 if they have no interest in entering the smartphone market again? Android apps on desktop are pretty useless...anyway I'm not buying it with Android...

I think Daniel said the same thing about Microsoft releasing a phone on the very morning Duo was announced. No, it's not Zero percent chance, the time isn't right yet, they still don't have Android apps running on Win 11 yet. It will happen. People demand it.

We saw the demand last time.

I'd sacrifice a few apps to have a Windows device. Especially one that could dock, like any other Surface tablet.

My big hope besides a better camera is more Microsoft apps. One of the reasons why I was a Windows phone user was because the stock apps were better than Android. I want to see a Microsoft app for the phone, contacts, messaging, etc. I know some apps must be included on the device for GMS, but if Google doesn't require it, I want a Microsoft version.

Also, i'd really love to see Groove, & OneDrive sync like the Lumia's had.

Sounds very appealing. I personally would do a version with a lower tier cpu too because they tend to have longer battery life.

Yup, there's no reason why, at a later point, they couldn't release a lower-cost model akin to how Samsung runs its S2x line. A lower-tier CPU would be a part of that play (with some other reduced specs) while keeping the overall design intact.

It took few minutes to see what was awkward about this article.
Here is the Title "Surface Duo 2: Everything we know so far"
The only time the article mentioned about what the author knows thus far was when it read "We don't yet know much about the specific details around Surface Duo 2, but as we learn things, we'll be sure to update this post, so check back frequently!" I should have stopped there, but after reading the entire article, confirmed I truly should have stopped there because the rest is all conjectures, innuendos, and the authors' expectations. If the Title were "My or Our opinion and expectations of Surface DUO 2" This article is right on the money.

Are these "Jump to" links supposed to do anything? Because they NEVER have.

So is @zacbowden confirming this is the same duo2 from his sources info.?

How would calling work with that bump?

Based on my experience with Duo 1, I don't think MS cares about calling at all. Which, some will point out that its meant to be more of a mobile computer than a mobile phone, so its almost to be expected.

Can't wait for Panos to explain how this works

I would much rather have fold flat on both sides than a Surface Book situation. This idea that you will have a reciprocal divot to the camera bump seems pretty fantastic to me. Each side is already very thin! I guess not being able do 'Screens out' in a totally flat way maybe gives you some intelligence around rotational positioning (you will never type in landscape on the bump side), but I feel like you are really risking the fundamental essence on the notion of a 'folding' device. BTW, in my head now, I keep hearing Sean Young yelling "Screens Out, Dan!" Allllll Righty then!

Ah, so the camera bump is angled to avoid stressing the hinges. Interesting. Still, because it's not in the middle (top-to-bottom-wise), that means that the bottom of the phone would be unsupported when folding it all the way open, like for making a call. That still seems like it creates a fulcrum that will put stress on the hinges... That could be avoided by putting the camera in the middle top-to-bottom, which would be fine on a dual screen Duo. Yet Panos chose not to do that... I trust him. I don't think I understand how this is supposed to work yet.

Yeah, that was my thought too, looks a little concerning.

They should have went Pixel 6 and made the camera run the full length. Which makes me wonder, if the Pixel 6 is $599 with better specs, did Microsoft really need a $900 premium to simply add a second screen? Wouldn't $400 be plenty and set this device up for possible success?

I wonder what the Venn Diagram of potential Duo II users look like This sounds promising and [ I am super] hopeful for what Microsoft will reveal in the Fall with this Surface Duo 2. As for the 3 camera design leaked , bring on the quality cameras!, don't mind the bumps whereever they end up being, especially if the "island" lends itself to the ergonomics and or function of the overal design. A thicker phone (relative to SD1) also wouldnt hurt. Agree the magnetic Surface Pen and charging features would be super dope too! Maybe a Surface Neo -like magnetic keyboard too. Anyway exciting times, let's hope the software brings it all together. Hardware wishes below: I hope the Duo 2 will have a mininum of 256 storage , with options for 512 gb or even 1Tera , all if they Microsoft forgoes expandable storage . 128gb is cool but after the OS update, and considerable apps, media ,and I mean...new creation and productivity, that storage will get eaten up fairly quickly. Haac mics? quality mics for calls, audio and video recording , streaming and all that jazz. It may not have to be Ozo levels but high quality mics would make for a reliable source for all the above use cases. How about bringing a 3.5 MM jack back? that maybe a "big " ask but um, Surfaces have them (yes much bigger devices and uses) , Sony and Asus brought it back in their Flagship phones, and beyond bluetooth, using dongles isn't exactly great, some of them are poor build quality or reliable across devices. Anyway a thought.

I really don't think there's room. A 3.5mm jack would actually have a bigger diameter than the thickness of either side of the Duo. One could argue that the Duo should use the smaller 2.5mm jacks, but then most headsets would need an adapter, and in that case, that's probably no better than the USB-C to 3.5mm adapter it already supports.

Don't really like the decision to put the cameras on the rear and have a camera bump. I think it's important that this device folds flat -- in the time that I owned the Surface Duo, I left it folded open probably about 75% of the time. I would have hoped they spend more time trying to engineer under display cameras so they can keep the cameras on the front.

I agree with you about it not folding flat. If I'm using it one-handed, I use it folded open. I love that the Duo 1 is basically the size of a normal phone in that posture, not folding flat means that it will be much thicker. That's a significant negative. At least I think it is. Maybe Panos has some trick up his sleeve to make that negative into a positive. On the other hand, I really don't like the front-facing camera being the only camera. It's constantly been a pain for me to take pictures with the Duo (independent of its poor quality camera). The Duo often puts the display for the camera on the wrong screen. It seems to always be in selfie mode when I want to take a picture of something else (which is almost always, I almost never take selfies). Maybe that could be solved with software and better sensing or just an option to display on both screens or better manual control, but I really do appreciate that we'll be getting a world-class camera with the Duo 2.

I like to think of it this way: If the technology allowed, obviously Microsoft would have put the cameras flat with the device, but unfortunately, the sensors are just too big. But give it time. Eventually, technology shrinks, and I'm sure camera tech is no different. This is an iterative device, so Duo 3, 4, 5, we'll start to see gradual changes that make the Duo not only a joy to use, but a tech powerhouse as well, much like their other Surface devices.

That camera bump is a deal breaker for me. Keep innovating Microsoft. I have faith in you, but you're not there yet.

Where is the innovation? I may have missed something, but Kyocera released this form factor almost a decade ago. Again, where is the innovation? There is nothing new here at all.

I think that they were stuck between a rock and a hard place. The camera bump is far from ideal in this device but they just couldn't get a camera of sufficient quality into such a thin device without one. I think the ideal scenario for this device is a two-part camera that becomes one when you fold the two halves together, but that is not really feasible with current technology and may not really be ever.

In an ideal world they could just release two SKUs -- one with the massive camera bump (and better photos), and one with no bump for those people who don't need an incredible camera on their business device. I'm sure that they could make the single-camera design (as on the Duo 1) better via computational photography, and I'm also sure they could improve the user experience for that single camera to be more reliable than it is currently on the Duo 1.

And the camera still sucks. They should have just went with the best flush mount camera they could. My Pixel 3 has a better camera and it is basically flush.

I don't think the under-display solution is there yet. The expectations for a FFC are still much less than a primary one. The Duo was lambasted (justifiably) for its poor camera quality. Trying to do under-display cameras as their only option wouldn't have fixed that problem and would have cut out more customers than having a camera bump does, I think. I'd much rather have the usable rear cameras over relying on under-display cameras that shouldn't be used for much more than a Zoom/WebEx/Teams meeting.

Hopefully it will be more readily available in the UK with all providers

I remember years (and I do mean YEARS) ago when Microsoft patented a foldable dual-screen touch-enabled device which could be written on with a stylus. It was innovative .... way back then. This execution as well as the Neo are, well, completely and totally underwhelming. I am SO disappointed. I admit to being one of Microsoft's biggest fanbois. Guilty as charged sir! I had my Pocked PCs and Windows Mobile devices. I was a Windows Phone Insider as WindowPhone 7 was being developed. My pride and joy was my Lumia 1450. Anything iPhone could do 1450 could do better.... except for third party apps. Why Microsoft sat on its be-laureled thumbs and watch crapdroid beat the everlivingcrap out of them, I will never understand. The fact that the Duo is a Google product is a total non-starter for me. It is a betrayal to all Insiders regardless of which Insider program. Had they partnered with Apple, I could have delt better. But no. NOT the other one. When the Lumia stopped being updated, I had to jump ship. My 12 Pro Max is my right hand. And because of my photography, I am going to have to get an iPad. I am running Windows 11 now. If MS would smoke some meth and get back into it, put Windows 11 on the Duo and Neo, release more phones, use the Apple App store I could get back on board post haste. To all MS Managers, Directors, AVPs, VPs, etc... Please read the following: Stop trying to be Apple. Streamline the Microsoft product line. It is too big and bulky right now. Let Apple be the Rolls Royce. Google is the Yugo, cheap, plastic, not much logic to the placement of, well, anything. I have always seen Microsoft as the Ford: The everyman's computer. Innovative, gets the job done well .... and here is what is Microsoft is missing: a good solid midline model made by Microsoft should be affordable for anyone. The $12K and $15K and $22K machines are redonculous. $200 for a pair of earbuds that are so easily lost. I should be able to do a MS Surface Pro X running Windows 11, that includes the type cover and the pen for max $550. Don't leave that to Acer or Asus or Dell. (HP is no longer in my vocabulary.)

Utter BS. You can't even make up a real phone - Lumia 1450!

What in the heck are you saying? How is "Google is the Yugo" a sensible statement? Pixels aren't cheap or of low build quality. I mean, Microsoft is the one whose flagship devices were using plastic (mind you, I liked it for the colors on the Lumia 920 and the user-replaceable battery on the Lumia 950). $200 on the earphones is par for the course in their market, even if I agree it's overpriced and ridiculous. IDK what $12,000+ devices you're talking about, unless you mean some variant of the Surface Hub..? Surfaces have always sat at, or just above, their competition's price points. They don't need to compete with the $500 starter laptops because they WANT their OEMs to have room to do their thing. Microsoft isn't trying to replace their partners and run the PC ecosystem. If what you want is offered by Acer, but not Microsoft, I think Microsoft would generally prefer you buy the Acer versus trying to engineer a lower-margin device and fight for Acer in that market (where they have Lenovo, HP, Dell, ASUS, and more to also fight). You're just...all the way out there. You want the Duo to run Windows 11 and have the iOS App Store? What? That's completely unrealistic on several levels. Apple's not outsourcing their App Store to Windows, so holding that against Microsoft (as if it's even a good idea) seems insane. Then again, you've made up some Lumia 1450 device out of your butt, so I guess it makes sense your "solutions" are also insane.

It may have been innovative in 2012 when Kyocera tried it, but they proved that the form factor doesn't work. The awkwardness isn't worth the rare times you actually need a second screen. ZTE and LG further proved it isn't viable. Microsoft will kill this early next year.

Unless and until Microsoft goes all in on software development any device they produce will not measure up.
example...
Microsoft launcher has more features for Samsung devices than their own. I could go on, but the dead horse is starting to stink

Are you not aware that this is an Android device with key Microsoft features?

Anywhere near $1399, let alone more, and it is dead in the water. Why even bother at such a ridiculous price?

What's a "not ridiculous price?" I'd rather spend $1,500 on this than $1,000-1,200 on a single-screen phone that is little more than a spec bump better than my 2.5-year-old LG G8 that was $600 at launch. At least this offers some kind of different, meaningful usability improvements against the yawn-inducing single-screen smartphone market.

The Fold 3 is $1800, the Duo2 is a much better device and is less expensive.

Duo isn't better in the slightest. Fold can multitask, arguably better than the Duo as it can open 3 apps at once. The software isn't buggy on the Fold and it actually functions as a tablet with a single screen. Duo only functions as a budget foldable, and even then it is still very awkward and likely not worth the rare times you want two apps at once. It needed to launch at $999 at most. For the specs, that is reasonable. A $400 premium over a Google Pixel 6 is more than enough to add a second screen. They aren't that expensive. Why didn't you buy the Axon M when it was released a few years ago? You get all the benefits of the Duo, the hardware just wasn't quite as nice. It really wasn't bad though. If Microsoft made the Fold, you would be saying the exact opposite.

I am sure this will go the same way the Windows Phone did. Microsoft will tease us with it until they get board and then abandon it. Leaving us to hold the bag with something no longer supported which we have spent a truck load of money on. I am just over the game.

That makes no sense. Even if MS doesn't stick with this long-term, it's ultimately an Android device that will still run for the reasonable life cycle expected. Even if it doesn't get Android 13, or even Android 12, it will be totally usable for as long as one wants it.

So you're saying the Surface lineup will fail?! Hahahahaha, why do you even bother to post a comment!

No, he is saying this Surface will fail, like some previous Surface devices have. Surface RT, Surface Studio, Surface Book, Surface Duo 1, etc.

Massive Windows fan since WP, but something tells me this will be a fail.
Nothing is amazingly better in Duo 2 than other phones out there (unless I'm missing something), it has lost the ability to fold flat when wanting one viewable screen (calling, photo taking, etc), and it is asking for a higher price.
Unless something else is announced I don't see this being a success but I'm happy to be surprised.

Duo 2 does a lot of things massively better, I think. Off the bat, it cleans up a lot of MASSIVE flaws from the first-gen Duo. It's much more competitive and a viable daily device, I think. Against the main foldable competition, the Z Fold 3, it offers a more streamlined package. If your interest in a foldable is video/media consumption, the ZF3 is the better device for sure. If you primarily want to do single-screen stuff, the ZF3 probably wins (since the outer display is a more traditional offering versus the wider Duo screen). My use case, though, involves a lot of multitasking with two things. My sister or dad will send me a picture while I'm on the phone. I'll want to look up a baseball player on FanGraphs while looking at my fantasy team. I sometimes look up Pokemon Go raid boss info or read about an ongoing event while playing the game. The ZF3 can do that stuff, but I think the Duo does that kind of stuff better. The Duo's width doesn't bother me, while the folded thickness should be similar, or better, then the ZF3 (depending on the protrusion of the camera in the pocket). Against traditional smartphones, the sell job is rather obvious. They got the cameras to a state of "good enough," where I don't think people will be crying about needing their 108 MP sensor like they justifiably didn't deem the FFC-only solution of the first-gen Duo to be good enough. You get things like the XCloud mode for playing Xbox games with touch support. You get a MUCH better multi-app experience than the stacked solution I get on my single-screen phones. It put the somewhat-interesting LG dual screen solution into a package that doesn't need to worry about bringing the second screen with your or taking it off. It's more flexible and elegant, in that regard. Plus, you have a better pen than the S-Pen, which is also an accessory limited to a couple of supersized Samsung devices, when it comes to single-screen phones. I don't see it finding mainstream appeal, and I could see it being deemed a flop in the end, but I think it's something Microsoft is doing well and has reason to keep iterating on to see if people like it.

That's your subjective opinion, the Duo2 is basically a mini laptop. I've tried the fold and returned it the same day. The screen on the fold can easily be scratched and indented. It's extremely fragile. The only reason most folks are buying the fold is due to the Samsung name. The Duo2 is a much better, more durable device.

They certainly aren't buying the Fold because it open up into a single giant screen.

That camera bump... Total dealbreaker. It may not ruin the functionality per se, but it certainly hampers it big time!

How so? It meshes in a similar way to the bumper case, from what most every first-gen Duo user said. It's not hurting functionality in a meaningful way, IMO.

I would never have considered the bumper case for the 1st gen Duo either... The Duo is a device that HAS TO open up completely. Open is how I would carry it 90 % of the time, and I'm not carrying around something wedge-shaped in my pocket! "Sorry, we couldn't manage to make it close properly" is what this says. It's like selling a closet with doors that won't close completely.

Trade in value for Original Surface Duo is now known as well. $475 when buying Surface Duo 2, or $425 for any other product. Appears to be the same for both 128 and 256 GB models.

Do you know if the Duo 2 is Dual SIM + Dual Standby? Or is it like the original Duo where you can only have one SIM active at a time?

Preordered 2! Can hardly wait.

Love it! Probably waiting for version 3, though 🤤🤤🤤

I'll be waiting for version 33 😒

Why didn't you love the Axon M when it was released years ago? The hardware wasn't as nice, but it wasn't bad, and you received all the benefits of dual screen. Is it merely the name on the device, and not the form factor you love?

Does anyone knows if this will also be locked to AT&T? Cause I didnt get the first one for that one reason.

What do you mean locked to ATT? Verizon also sold the first Duo and there was an unlocked version.

I just can't stand the bump. I want to be able to lay it flat and write on it. Now, it will wobble or bend at the hinge. I would have preferred to pocket it folded back sometimes, but now I'd be too worried about the stress on the hinge and back glass. We all know that the camera's software will likely fall short and make it pointless. Bummed.

Not sure if it has been mentioned: dual sim version available?

Question: does the duo 2 come with the pen charging cover? Because I assume not but can't see an option to buy one as an accessory on the UK preorder page, or am I being dumb? Also, did the bumper work with the charging cover, or are we in an either/or situation?

This looks so good... Wonder if the new slim pen will work with my original Duo? Also will there be a trade in programme in the UK?

I suspect it will. The first slim pen worked without fuss on a several-year-old surface tablet from before.

Surface Duo 2 it's actually amazing you get all that stuff . For only 1,500. 😳😳😳. If you go with the Galaxy fold 3 it's $1,800 just wow 😳😳

All what stuff? The already failed dual screen form factor? The buggy software and limited apps that have been updated to span? The awkward to use and generally poor camera? How about the lack of wireless charging or what will likely be slow or non-existent Android updates if the Duo 1 is any indication? This thing is a joke at $1500. It will also fail at $899, but at least then it will be priced decently.

Possiblities for Microsoft to remain Xbox Series and launch in Korea the Xbox with cloud service and phone 5G.

Folks the Surface duo is more than just a phone it's a PDA Personal data assistant phone &
better gamer's phone because one screen displays the game & the other controls the game.
You can edit documents better on a duo than a single screen phone because the keyboard is on
one screen the document is on the other screen. this device is not for everyone. Some People
used single screen devices will not see it's value but those who get DUO#2 will love to
multitask using 2 screens

All phones are PDAs. BTW, that is Personal Digital Assistant. "You can edit documents better on a duo than a single screen phone because the keyboard is on one screen the document is on the other screen." I would not want to edit anything on 1, 2 or 12 tiny screens. I would much rather have a 14" laptop - with a real keyboard and trackpad - and edit/create documents on that. Viewing the doc is fine on 1 tiny screen. "this device is not for everyone." Understatement of the year.

Right, I agree... but the basic functions of communication should still be a decent experience. The worst thing about the Duo 1 was the moments where I actually had to use it as a phone. I was ok with the Duo 1 until I hit a moment in my life where I had to do a lot of calling and accepting calls and the experience was so bad that I went back to a 'traditional' smartphone. Talking and calling on the Surface Duo 1 is the equivalent of using a spare donut tire on your car. Yeah, it works, but you don't want to ride on that for too long.

"Everything you need to know". Well, almost everything. You forgot to mention that in 7 months, it will be $800, $900 and $1,100. Guaranteed.

Well, lots of good improvements over the original. But, ... man... still need pest control up in here. UI bugs still abound. Woke up this morning, and the desktop is frozen. No icons. Not trying to be a neg nancy, but some things still persist to be bleeding edge. Love the hardware upgrades. But just like with the original, it's the software that's problematic.
Where's Win10X again? Oh yeah. That's dead. So this is all we've got. Ugh. Slave to Android with a buggy UI for the foreseeable future. Why'd we need this again?

For folks that liked the Duo 1 form factor and overlooked the bugs? Me included 😜 Hopefully second time's a charm for Microsoft.

I had a weird bug where edge spanned wouldn't let me un span it. That is the only bug I've noticed so far. It's much better than Gen 1 was at launch

A gather this article is updated on November 2, right? What's new?

Yeah, I already read this article, I thought there was an update with the review or something?

It's a phone when we have software experience in dual screens for everyone.

"After spending less than a week with the Microsoft Surface Duo 2, channeling phone-testing energy and something that resembled hope into this glitchy two-screened albatross, I started to think it might feel good to throw the Duo 2 into the ocean, except that would be bad for the ocean." https://www.wired.com/review/microsoft-surface-duo-2/ Oof, this thing is a joke. How soon before we hear of Microsoft canceling it? If these are the reviews, it isn't going to go far.

I wonder if MS would ever release something like the duo1 as a non phone device. I like the idea of a device like the duo, but not as my primary phone. However, as a device I carry with me when traveling instead of a tablet device - it may be interesting.

It is a bit more portable than an iPad or iPad Mini, but does it do anything they can't do a 1000x better? Especially at 3x the price of an iPad Mini?

I'd hope it would be cheaper than it's current price (because - I want it to be???). I'm just thinking that it's dual screen advantage would work for a portable productivity device as well as a phone. Quite possibly wrong on this.