'Microsoft Start' is a new personalized news and interests feed that launches today
By Zac Bowden published
Microsoft News is now Microsoft Start — a fresh way to have your news, weather, and interests curated with AI and machine learning, coupled with human moderation.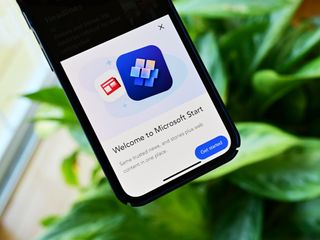 (Image credit: Daniel Rubino / Windows Central)
What you need to know
Microsoft has announced a new personalized news feed service.
The new app and service is called Microsoft Start and is available on iOS, Android, and the web.
It's available today and builds off MSN and Microsoft News.
People already running Microsoft News on iOS and Android will get an app update that refreshes the experience with the new Start design, layout, and icon.
Microsoft has today announced that it is launching a new personalized feed website that it calls "Microsoft Start" that's designed to make it easy to gather news and information content from premium publishers in one place. The company says that Microsoft Start builds off the legacy of MSN and Microsoft News, with enhanced AI and machine learning paired with human moderation to help curate content.
Microsoft Start is available starting today, and focuses on making it easy to bring all your interests together into one place. Just like MSN today, the service will present breaking news and on-topic articles on the front page, but Microsoft Start makes it so that the user can customize what exactly shows up there.
Liet Ben-Zur, Corporate Vice President at Microsoft describes the service:
The new Microsoft Start service is what powers the Windows 10 "news and interests" experience, as well as the Widgets panel found in Windows 11. It's also what users will find when they open a new tab in Microsoft Edge, and users can download a dedicated Microsoft Start app (opens in new tab) for Android or iOS, as well as access the service via the web (the mobile app replaces the current Microsoft News app on iOS and Android).
Microsoft Start appears to be a combination of a number of other Microsoft products and services, including MSN, Cortana, and more. Cortana used to be able to learn your interests and display latest news and headlines in its feed, as well as give you travel time estimates based on your location. Now, these feature has returned as part of Microsoft Start.
Microsoft says that Microsoft Start doesn't replace MSN.com, and the dedicated Microsoft News app for Windows 10 and Windows 11 will continue to exist for the time being.
Zac Bowden is a Senior Editor at Windows Central. Bringing you exclusive coverage into the world of Windows 10 on PCs, tablets, phones, and more. Also an avid collector of rare Microsoft prototype devices! Keep in touch on Twitter: @zacbowden.
Had to happen. The MS Bing and News App were effectively the same thing. RIP MS News.

What's wrong with 'News'? They have merged the Bing app with the News app but this renaming and icon change is not representative of the app. I wish they merge this with Microsoft launcher's Glance screen. Then the 'Start' name would make more sense.

In recent times the very term "news" has become suspect and for many (on both sides of the partisan divide) synonymous with "propaganda" (aka, fake news). Not good but very real.

No more dual screen fun on the Duo? Only Microsoft would upgrade an app and make it worse on their own flagship phone. This is one of thousands of examples why consumers are nervous to buy Microsoft hardware. They abandon support and upgrades to their own products. The old news app was outstanding on the Duo. I want it back.

That is the legacy and legend of Microsoft 🤦‍♂️

It doesn't say this in the article though? They did the same with Skype. When it was a UWP app it was also an ARM64 app so ran sweet on their Surface Pro X. When MS dumped the UWP version for a single Win32 app it went to a 32-Bit app only. Which it still is. Not even a 64-Bit Skype app :-/

How do we send your comment to Panos?

"Only Microsoft would upgrade an app and make it worse on their own flagship phone." But their "flagship phone" was a sales disaster. It was 1/2 price after 7 months. Then it went to 1/3 price after 9 months . No one is going to design software for a hardware product that is not selling, even at 1/3 price. Microsoft is - naturally - thinking of the current installed base of hardware. Which is NOT dual screen phones. Rest assured that if the Duo had been a success, there would be lots of software optimized for it. From MS and many others.

On the other hand, If MS isn't going to make their own application responsive to their 'productivity enhancing' experience, why would anyone else? Maybe set an example?

I wonder if this will be integrated into the Microsoft Launcher app?

I believe Launcher is getting a revamp that will coincide with Duo 2 launch. Just a hunch, though.

This is great news Daniel, hope this happens...

I fear this pushes the transformation of Windows OS to a news, ads and clickbait stand.

No more or less so than it ever has been. Ads in Windows aren't new and Microsoft has had MSN since the 1990s.

Computers are an information medium. I think this all makes sense. And, like always, is optional for the user.

Where the Microsoft Photos app for Android and IOS already? A decent OneDrive Photo viewer is badly needed, like Google Photos.

Duo 2 launch is coming up.

Daniel please ask MS to make a movies app as well as a photos app so that we can watch our movies natively on a Microsoft built device... Thanks... Surely it can't be too difficult...

<EyeRoll Emoji> Microsoft naming things is like Rodney M'Kay.
Gate Ship 1 Besides, forget the news, make the widget experience gooder.

I really don't get it. This is basically a duplicate of Bing with a somewhat more modern look and a dark mode. Why don't Microsoft work on one and make that better with the extra resources?! The Android app is both a news hub but also a browser, WHY?! Edge already exists! The older version of the news app was a better news app than the more recent overhaul. Sometimes, it just seems like no one in Microsoft talks to one another. The appearance of the lack of common goals is just painful from the outside.

Only just read your comment, couldn't agree more...

They need to hire a product/services curator that is required to sit in the p.r./marketing meetings and hire a new marketing team as well

Just updated, rubbish app, a retrograde step and now not opimised for dual screens on Duo... Microsoft's incompetence knows no bounds... In fact it is a rebadged Bing app... Pathetic...

No duo models?
Also it does replace news on duo and the screen break really sucks.

Long history of MS products not being aware of other MS products.

Not interested. Just window dressing for an already subpar experience.

Anyone else remember the original start.com from Microsoft? The precursor to www.live.com?

"Microsoft says that Microsoft Start doesn't replace MSN.com, and the dedicated Microsoft News app for Windows 10 and Windows 11 will continue to exist for the time being." Pretty sure we have heard that one before. 🙄

That app has survived endeavors like this before.

Tried the app and realised it is just a reskinned Bing app. Also, it is trying to act as a complete browser. When is Microsoft going to learn not to create multiple apps for same purpose?

Don't get it. The Bing app and News app were already the same. Now the News app is called Start and it's still the same as the Bing app. Do I uninstall the Bing app now, or do they keep both up to date?
Jee, what a mess.

Only if I can pick the news I want to see...from the sources I want to see it from.

Am I missing something? It seems to be the same

The MSN news forums... are by far the worst I have ever tried to comment on when it comes to censorship of your comments. Terrible service.

They haven't had commenting in ages. Second, your "censorship" claim reads as "I'm a Trumpy bigot boi and I take horse meds because I'm a moron.".

I don't understand, why didn't Microsoft just rebrand Bing and leave the news app alone?

I'm late to the comment party but, instead of leaping in with negative knee-jerk reactions, I ACTUALLY TRIED USING Microsoft Start. And for more than 30 seconds. Imagine that. Guess what? I actually like it! This is from someone who has never been a fan of the Microsoft News app or MSN News or any general news aggregators for that matter. For the first minute or two, I was all "Meh. What's the point?" Then, I started customizing the feed. That's when the built in AI starts to shine.
Windows Central Newsletter
Get the best of Windows Central in in your inbox, every day!
Thank you for signing up to Windows Central. You will receive a verification email shortly.
There was a problem. Please refresh the page and try again.