Microsoft reimagines Journal, an inking app that's 20 years in the making
A new ink-centered app just rolled out of Microsoft Garage.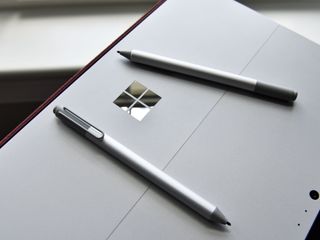 (Image credit: Daniel Rubino / Windows Central)
What you need to know
Microsoft announced Journal, a Microsoft Garage project for inking.
The app is powered by AI to help speed up input.
Journal features a page-based canvas and is optimized for tablets and 2-in-1 devices.
Microsoft announced a new app today that's built around inking. The app is simply called "Journal," and it's a Microsoft Garage project. The app supports several features to make navigation easy with touch and a pen, including Ink Gestures, touch scrolling, and making selections with a pen. You can get the app for free through the Microsoft Store.
Journal is built by Microsoft's Applied Sciences Group (opens in new tab), which works on "creating the next generation of computer interaction technologies," according to its page on Microsoft's website.
The Microsoft post (opens in new tab) breaks down the many features of the new Journal app:
An ink-first experience for those who write with a digital pen
A page-based canvas for easy scrolling, optimized for tablet and 2-in-1 devices
New intuitive Ink Gestures to erase and select ink that don't require mode switches
Use touch to scroll pages, or tap ink to select words, sentences, and more
Drag and drop selected content between pages, or to your favorite applications
Microsoft 365 integration to access your Calendar for faster meeting notes*
Import and markup PDF and images
Search and recall using keywords or filters
Microsoft has a long history with inking across devices. The announcement post highlights another Microsoft app called Journal that was on the Tablet PC in 2002. Microsoft also has OneNote and Whiteboard, as well as inking support on several major applications like the Office suite. Microsoft Garage even had another inking-focused app called Plumbago (opens in new tab), though it is a completed project and won't receive any more updates.
The new Journal app is an ink-first app that features a page-based canvas. It supports gestures, dragging and dropping contents, and selecting contents with a pen.
A unique aspect of the Journal app is that it doesn't have modes. You don't need to flip things around or jump between inking and erasing modes. Gestures within the app use AI, which eliminates the need to switch between entry modes. For example, the app can tell the difference between scratching out a word and shading in a diagram even though they use similar gestures.
Windows Central Newsletter
Get the best of Windows Central in in your inbox, every day!
News Writer and apps editor
Sean Endicott brings nearly a decade of experience covering Microsoft and Windows news to Windows Central. He joined our team in 2017 as an app reviewer and now heads up our day-to-day news coverage. If you have a news tip or an app to review, hit him up at sean.endicott@futurenet.com (opens in new tab).
Lots of rounded window corners in the pictures of Microsoft's post...

It seems like I've been waiting at least that long (20 years!) for a good inking app, though the early indications are that this is not it. Journal isn't working on my touchscreen desktop, though I have yet to try it on any of my Surfaces. In the most Microsoft thing ever, it doesn't seem to be available on the Surface Duo. Maybe by the time Neo arrives?

I tried it on SP4, I really don't understand the use case. It's just another whiteboard app.

This Journal app is more of alternative ti OneNote than Whiteboard app, which has a different use case. Journal app seems more akine to normal notebook but tabs, and its based on pages than infinite canvas. While OneNote is more of those bigger tabbed notebooks but it has infinite canvas for each page. OneNote and Journal has an overlapping use case being a note taking application, but approach different UX and usage scenarios. I think some of the Journal features could be implemented to OneNote like the new gestures and auto referencing features. Journal could Co-exist as a more simplified concept of OneNote due to not having infinite canvas and no tabs. That concept maybe is simpler to most people to deal with. OneNote is still one of the ultimate note taking tool, with more comprehensive Organization features and also friendly to mouse+keyboard users, which Journal doesn't seem to cater.

I see your point about the relative simplicity of Journal compared to OneNote. Thanks for taking the time to explain the differences; very helpful. It's just a bit sad that Microsoft sees the need to develop 3 to 4 different apps that on the "surface" seem to just be replicas of one another with minimal differences.

Gee, wouldn't this be nice on the Duo.

Yes it would! Just tried it out, it's super cool. Very well done on my SPx. Only thing cooler would be if it worked on the Duo (and synced across devices).

I agree! It just screams out for a Duo implementation...the two panel layout is PERFECT for the Duo. Maybe if it takes off, they'll port it over. I have a feeling this Garage project may just find an audience.

Definitely what I was thinking. Where are Microsoft's Duo specify apps??????

They'll be right along.. Right after the camera fix, and double tap to wake

Just tried it, and it's really nice! Have to say I'm impressed. My only real problem in the short time I've played with it is that for 365 support you need to log in with a Work or School account. I'm not planning to use it for work and I'm not in school. Can't understand why they don't support regular 365 user accounts. I posted my comments so hopefully others will too and they'll rectify this shortcoming. I use more than one pc, so I need to be able to access my notebooks on both machines. So far, the implementation is both clean and smart. This may be a keeper. Oh, and while it doesn't really feel like the next generation of Journal, it does reflect the simple pen-on-paper feel of the classic.

That Work and School thing is interesting. I do have a business account and could sign in that way. Given the additions that surfaces, I see this being tacked onto TEAMS (along with everything else). Reminds me a bit of Bamboo Paper. Haven't had the chance to play with how it syncs across devices, but I think that will be important.

Well, no syncing across devices (yet?). Also interesting that there is no keyboard functionality at all, aside from naming a Journal. You can draw with a touch pad or mouse, but you can't type anything. Guess that wasn't the point. Capturing scrawls as text and pasting them in some other app works well.

SvenJ, I noticed the lack of keyboard support, too. I guess they figured that's OneNote territory. That said, I also think that by using gestures, top-knotch inking, and drag-and-drop to Word, they'll have all the bases covered. They refere to it as ink-first, but as you noted, it's ink-only! Love where they're headed with this.

I noted that to and thought I must be missing something (so came looking and ended up here :-) Surely cross-device sync is on the near-term timeline.

Yeah, this Journal app is more pen centric application. No Keyboard support is either by design or just on lower priority features to implement. This is still where OneNote is superior in regard as it both excellent at pen and keyboard usage. I think they can put Journal features into OneNote like the referencing tools, gestures and that new AI thing. Journal concept though may cater more users as it is simplier than OneNote due to dealing with pages, instead of infinite canvas. It's more akin to typical notebook.

I hope features here get integrated into OneNote. I've been using OneNote for years and I don't like having redundant apps if I can avoid it, but it looks nice.

This Journal app is just another take on Whiteboard, but worse.

If by worse you actually mean better, then I agree.

How is it worse? They are trying different inking strategies for journaling apps, this time emphasizing minimal mode switching. It works surprisingly well IMO.

I agree with Kros and Andrew G1...this is well thought out and implemented. That said, I'd also like it integrated with OneNote like real0395.

No, this is not another Whiteboard. This Journal app is a note taking app, similar to OneNote, but approach with different aspects. Whiteboard app is basically like a well.... Whiteboard. I don't know how is that anymore difficult to grasp. Sure they may share some gestures and other concepts. But that's just the result of more common-UX implementations for pen-centric apps. They have to share same gestures, pen recognition, and other things.

I'm pretty impressed by this one, which I just tried in a fit of procrastination. It's another MS attempt to get the formula right for journaling. Their previous attempts at Garage projects in this vein were innovative but so-so practically. This one is surprisingly good - really well-thought out - and surprisingly refined. One bad thing I can note - and it's about the MS Store, not the app - is that when I search for "journal," 39 items come up before this app even though it's called "Journal." How stupid! It's hard to overstate how horrible the search is in the Microsoft Store app.

Hear hear. Same issue. Ink Journal comes up first. That's a font. It comes up first if you search for Microsoft Garage. Go figure. On a Go you have to scroll through a lot of stuff before you hit this. Unless you were diligent in looking for it, you'd never find it.

Kinda, but different as well. I think for People who 'Journal', OneNote is a bit overkill, and not all that efficient.

Yeah, OneNote is still superior, but can be overkill for most. This Journal app seems more simple and it's concept is more akin to real notebook with pages than OneNote with infinite canvas for each page and with tabs, which most can't even get around their heads with. Let's just say, Journal app is when you just want simple note taking app, especially for more random and unorganised notes. OneNote is best for more organized notes, especially for college, university and even on work purposes rely on taking notes alot like journalist, researchers, secretaries, etc. Some Journal features like gestures should come to OneNote though. OneNote interaction hasn't been evolved for decades and lacks some new gestures ideas that Journals got.

I read the headline and my mind goes "yeah, Surface Neo would be great for that."

It's labelled as "Journal, a Microsoft Garage Project" in the Microsoft Store. The first paragraph states, "Journal, a Microsoft Garage project, is an app for Windows that invites people who love to journal to pick up their digital pen, express themselves quickly, and evolve their ideas." I think that says it all.
Windows Central Newsletter
Thank you for signing up to Windows Central. You will receive a verification email shortly.
There was a problem. Please refresh the page and try again.