Surface Pro 8: Release date, specs, and everything you need to know
Microsoft's Surface Pro 8 is arriving Oct. 5, 2021. Here's what we know about the iconic 2-in-1 PC.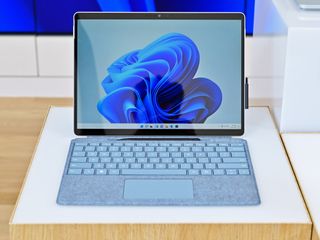 (Image credit: Daniel Rubino / Windows Central)
Microsoft's line of Surface Pro 2-in-1 laptops is undoubtedly the most popular and well known of all the Surface PCs — after all, it is the original that started it all.
But Microsoft hasn't given the Surface Pro a significant makeover since 2015's Surface Pro 4 where it picked up Windows Hello, its 12.3-inch PixelSense display, improved pen, and more. And while Surface Pro 7+ is actually quite impressive, it's also aimed at enterprise and not consumers.
Announced on Sept. 22, 2021, Surface Pro 8 matches with our earlier reporting that the overall look and style of the device remains, but it has been updated with modern components, a larger display, new ports, and more.
Here's what we know about the all-new Surface Pro 8 for 2021.
Surface Pro 8: Release date and availability
Update Sept. 22, 2021: Microsoft has officially revealed Surface Pro 8 to the public.
Surface Pro 8 goes on sale in select markets on Oct. 5, 2021. Those markets are:
United States
United Kingdom
Canada
Austria
Germany
Ireland
Switzerland
France
Japan
Due to an ongoing global chip and processor shortage that affects Microsoft quite substantially, some markets may not see Surface Pro 8 until early 2022, while others may see it in late 2021. Those markets include:
Australia
New Zealand
Belgium
Netherlands
Denmark
Finland
Norway
Sweden
Italy
Spain
Portugal
Poland
Bulgaria
Croatia
The Czech Republic
Estonia
Greece
Hungary
Latvia
Lithuania
Romania
Slovakia
Slovenia
Surface Pro 8: What's new
Here are some of the significant changes in Surface Pro 8 (compared to Surface Pro 7):
New processors: Intel 11th Gen U-series
New Surface Type Cover: Matches Surface Pro X, including Surface Slim Pen dock
Refined hardware design that tappers more in the rear
Larger display: Surface Pro 8 gets a 120Hz 13-inch display with thinner bezels instead of a 12.3-inch 60Hz display with thick bezels
Removable SSD (following Surface Pro X and Surface Laptop designs)
No more 4GB RAM model
2x Thunderbolt 4 ports
Support for Surface Slim Pen 2 with haptics
Windows 11 also delivers some new hardware features that Microsoft could enable with Surface Pro 8, including:
Dynamic Refresh Rate: This feature enables a higher-refresh display of 120Hz instead of standard 60Hz, but only when scrolling or using the pen, thereby saving battery life. It sounds like Apple's ProMotion display technology. This feature is expected to launch late with Surface Pro 8. By default, Surface Pro 8 is 60Hz, but users can set it to 120Hz manually.
Wake on touch: When Surface Pro 8 is in standby with the display off, users can turn on the device simply by tapping the screen, similar to how smartphones work (the Pro 8 can then auto-login to Windows using Windows Hello).
New Haptic Surface Pen: Windows 11 also supports smartpens with haptic feedback, which lets the pen simulate writing with different materials like pencil or pen on different types of paper. Customers need to purchase the new Surface Slim Pen 2 for these features.
Many more changes were detailed in a Microsoft Mechanics video, posted above. Those changes and improvements over Surface Pro 7 are:
Rounded chassis "compliments fluid UI design of Windows 11"
Thinner bezels expand the display real estate by 11%
Chassis is made from recycled anodized aluminum (vs. magnesium)
New ambient color sensor to dynamically adjust display colors based on room lighting
Display brightness peaks at 450 nits
120Hz display makes pen latency "seemingly undetectable"
IR camera has been improved substantially for speed and accuracy
Microsoft's AI lets Windows Hello dynamically adapt to changes in your appearance (glasses and facial hair)
5MP full HD RGB camera has larger 1.4-micron pixels for better low-light performance
The camera also has tuning optimizations to keep your face in focus
Dolby Vision (HDR) and Dolby Atmos (surround sound)
Surface Pro 8 supports up to 23-watt TDP for the 11th Gen Intel processor
You can get LTE in Core i3 and Core i7 models for the first time (commercial markets)
Battery has increased to 50.4WHr up from 43.2WHr
Uses new carbon composite thermal dissipation system
46% faster compute and 75% boost to graphics processing compared to Surface Pro 7
It is safe to say that Surface Pro 8 is a complete redesign from the ground up compared to Surface Pro 4, Pro 5, Pro 6, and Pro 7.
With Thunderbolt 4, users can now plug Surface Pro 8 into an eGPU to provide even more graphics power for gaming or video editing, while also keeping the benefits of the magnetic Surface Connect port.
Surface Pro 8: Specs
Here are the current Surface Pro 8 specs as noted by Microsoft:
Swipe to scroll horizontally
Category
Surface Pro 8
OS
Windows 11 Home
Windows 11 Pro (commercial)
Windows 10 Pro (commercial)
Processor
Consumer:
11th Gen Intel
Core i5-1135G7
Core i7-1185G7
Commercial:
11th Gen Intel
Core i3-1115G4
Core i5-1145G7
Core i7-1185G7
RAM
8GB, 16GB, 32GB
LPDDR4x
Graphics
Intel UHD (i3)
Intel Iris Xe (i5, i7)
Storage
128GB, 256GB SSD (Wi-Fi, LTE)
512GB, 1TB SSD (Wi-Fi)
Display
13 inches
2880x1920
267 PPI
3:2 aspect ratio
Up to 120Hz (60Hz default)
Touch
Ports
Two Thunderbolt 4
Surface Connect
3.5mm audio
Audio
Dual 2W stereo speakers
Dolby Atmos
Dual far-field studio mics
Connectivity
Wi-Fi 6
Bluetooth 5.1
Snapdragon X20 LTE
eSIM support
Camera
IR camera
Front-facing 5MP (1080p)
Rear-facing 10MP (1080p, 4K)
Keyboard
Surface Pro Signature keyboard
Not included
Touchpad
Precision
Pen
Surface Slim Pen 2
Not included
Security
TPM 2.0
IR camera
Battery
Up to 16 hours
Dimensions
11.3 x 8.2 x 0.37 inches
(287mm x 208.3mm x 9.4mm)
Weight
1.96 pounds (891g)
Color
Platinum
Graphite
In May 2021, Intel announced it had refreshed 11th Gen U-series processors, which bump existing clock and turbo speeds over earlier models. Those chips are not expected to ship until the fall, aligning with the Surface Pro 8 release.
While that extra 100MHz may not make a big difference compared to Surface Pro 7+, the consumer version of Surface Pro 7 only ships with 10th Gen chips, making it a much better upgrade.
There is no 5G option for Surface Pro 8, but there is for 4G LTE. However, those models are not expected to launch until later in 2021 (December) and may be for commercial markets. However, instead of LTE only being available in the Core i5 model, it will be an option for Core i3, i5, and i7 Surface Pro 8 SKUs.
While consumer editions of Surface Pro 8 all ship with Windows 11, commercial purchases will have an option for Windows 10 or Windows 11.
Surface Pro 8: Price
Surface Pro 8 pricing is mostly similar to Surface Pro 7 at launch. However, there are some subtle differences due to the availability of options for configurations at this time. Here is the current pricing at launch for Surface Pro 8:
Swipe to scroll horizontally
| SKU | Price |
| --- | --- |
| Intel Core i5, 8GB RAM, 128GB Storage | $1,099.99 |
| Intel Core i5, 8GB RAM, 256GB Storage | $1,199.99 |
| Intel Core i5, 8GB RAM, 512GB Storage | $1,399.99 |
| Intel Core i5, 16GB RAM, 256GB Storage | $1,399.99 |
| Intel Core i7, 16GB RAM, 256GB Storage | $1,599.99 |
| Intel Core i7, 16GB RAM, 512GB Storage | $1,899.99 |
| Intel Core i7, 16GB RAM, 1TB Storage | $2,199.99 |
| Intel Core i7, 32GB RAM, 1TB Storage | $2,599.99 |
As always, these prices do not include the Surface Pen and Surface Type Cover. Those necessary accessories add between $100 and $230 extra to the cost.
Previously, Surface Pro 7 started at $749 for the Core i3 model to well over $2,000 for the Core i7 with maxed out RAM and 1TB of storage. Microsoft has not announced pricing or availability yet for the Surface Pro 8 Core i3 models, so the starting price seems higher at $1,099 (Core i5, 8GB, 128GB) instead of $749 (Core i3, 4GB, 128GB).
That said, the entry-level Core i5 model is $100 more with Surface Pro 8 compared to Surface Pro 7, but all other models are priced the same as Surface Pro 7 when it launched. Indeed, Surface Pro 7 with i7/16/1TB launched at $2,299, but the same Pro 8 model is $100 less at $2,199.
New for Surface Pro 8 is a higher top-tier model with 32GB of RAM instead of 16GB, along with a Core i7 and 1TB SSD, which is priced at $2,599.
Classic 2-in-1
(opens in new tab)
Updated design, same 2-in-1 form factor

The Surface Pro 8 finally adopts the modern design that Microsoft first introduced with Surface Pro X, now with two USB-C ports that are Thunderbolt 4 enabled, an upgraded 13-inch display with a high-refresh rate of 120Hz, and support for the Surface Pro X style Type Covers with the Slim Pen charging cradle.
Surface Pro 8 latest news
Windows Central Newsletter
Get the best of Windows Central in in your inbox, every day!
Daniel Rubino is the Editor-in-chief of Windows Central, head reviewer, podcast co-host, and analyst. He has been covering Microsoft since 2007 when this site was called WMExperts (and later Windows Phone Central). His interests include Windows, laptops, next-gen computing, and for some reason, watches. Before all this tech stuff, he worked on a Ph.D. in linguistics, watched people sleep (for medical purposes!), and ran the projectors at movie theaters because it was fun.
I agree with all of this. As far as pen interaction goes, isn't wobble a software problem not a hardware problem? Meaning for a pen to have smooth lines on a screen and also not wobble when making slow lines, don't they just need an "auto" softening or smoothing function on the software side for pen movements? I would think that would be a simple OS update that could work natively on all devices even older ones, instead of some specific hardware.

Hey Cody, I've been affected by and looked a bit into the wobble issue. Back in 2015 when the wobble issue was presented to Microsoft, Steven Bathiche, then a Distinguished Scientist in Microsoft Corp.'s Applied Sciences Group replied that Microsoft was working on resolving the issue and that one of the methods for addressing the problem was increased voltage in the pen. In the linked article here, Bathiche explains how that increaseed voltage should improve the problem: https://www.surfaceproartist.com/blog/2015/4/3/microsoft-working-to-corr... Here's the actual exchange between the reddit user and the Surface Team in the 2015 AMA: JonBensonDesigns: "Hello, There has been a lot of reporting from artists (including myself) who use the SP3 of a distinct "jitter" to the Pen when trying to make slow careful passes. This jitter makes creating fine smooth lines near impossible. You can get a good idea of the problem at this forum: http://answers.microsoft.com/en-us/surface/forum/surfpro3-surfupdate/sur... Are there any plans to fix this flagrant error in the Pen or will those who have reported this problem continue to be met with skepticism and denial from Microsoft and N-Trig support? SurfaceTeam: Hey this is StevieB, working on it… we noticed this happening in a very specific instance. Likely when you draw really slow and across the diagonal of the screen… so it is quote a specific instance specific. It is really hard to a draw a straight line without the use of a ruler or the digitizer picking up the jitter in your hands… so that is why people use a ruler to do this test.. but the ruler messes up the signal as it capacitivly couples . Most touch sensors are oriented as a grid, when you draw across the diagonal the touch controller has to interpolate position of the pen and linearize its path. As for active capacitive digitizer we're the best out there! But we can do better. One of the improvement just involves boosting the voltage of the pen. So I cannot give you a timeline, but just know things are in the hopper. Other digitizer techs have other artifacts and issues, they don't do linearization as well, and have accuracy issues. Pen is really important to us, and our best people are really focused on making and maintaining it to be awesome and the most realistic digital pen experience in any tablet!" This was six (6) years ago. I'm really hoping that the jitter issue can be resolved. I prefer Surface but the iPad doesn't present with the same issue. https://twitter.com/JLTechWord/status/1422152793448718341 #FixTheJitter :-)

software matters. settings matter. In Clip Studio Paint (which I think is the best drawing software of any platform including Windows and iOS), you don't get any jittery lines especially if you tweak a setting.

A pen shouldn't work well only in one app. I use CSP as well and, while it has the best drawing experience, the jitter is still there. In other programs, it is horrific, even OneNote has issues. It is very clear that they skewed the pen more towards writing (where you go fast by default) versus drawing where you will have more variance in speed and pen pressure. I very much want the Surface pen to get closer to Wacom in drawing experience so hopefully this year is the year.

the jitter is not there. did you tweak your settings? there's only 1 setting to adjust

Hi Dirtyvu, what device are you using. I see jitter on both the Pro 7 and Book 3 in different programs like Affinity Photo and Photo shop, etc. I primarily use Book 3 with Affinity Photo.

for art, I mainly use Clip Studio Paint though I do dabble in Photoshop as needed (which is rare unless I'm editing photos). there are so many reasons for you to try CSP. it allows for both raster and vector layers. it has a bunch of cool features like if you're the type to accidentally cross lines, you can instantly remove the crosses with a couple swipes so the drawing is very clean. the touch interface is amazing. it's cross platform and your art goes across all platforms (it uses its own OneDrive as its cloud backup which is separate from your own OneDrive). it's also has a very similar interface to Photoshop which made it easy for me to migrate over (and Photoshop is a nightmare as a touch interface). and like I mentioned before, the way it handles the pen is excellent especially if you change a setting based on your preference. I can draw professionally in CSP with a Surface Pro machine which I can't do in other software (and when I mean professional, I mean I can submit the work and have it accepted without major modifications). As for the devices, I have a SP7 i7, SP2017 i7, SP4 i7, SP2 i5.

If the specs are close to what we are getting, then I'll stop buying Surface Pro (I went from 2 to 4 and now i have 7), Microsoft is asking for premium price and we don't get OLED screen, decent front camera (not 5mp!), and not to mention they are going to sell us intel 11th gen again!? If you don't agree with me, just look at what other brands can offer with similar prices!

The Pro 7 has 10th gen. Then 7+ (designed for enterprise) has last year's version of 11th gen. The 8 would have this year's hardware, which is the newest version of 11th gen. Not sure what you expect there.

12th gen intel (aka Alder Lake) will be released in the time the pro 8 hits the market, but I guess this is intentional so they can make 8+ after few months.

Intel (and other chipmakers) are having trouble shipping already. We could see 12th, but Intel hasn't shipped its latest 11th Gen yet, making it unlikely we'll see 12th for the fall imo. OLED is nice. It's also a bit overrated especially compared to IGZO, which gets better battery life and looks much better. I'll take IGZO over OLED any day.

"decent front camera (not 5mp!)"

This is just physics. You can't have a large camera sensor

and

get thinner bezels

and

have a thin device. Even HP's Elite Dragonfly MAX, which is made for conference calling, maxes at 5MP. That said, improvements to the camera(s) are likely for Surface Pro 8, but we do not have details on what that would mean for hardware.

Would love to see MS support ThunderBolt and eGPUs. Plus they need to keep developing their own Chips.

Not sure about that. iPad Pros are thinner than Surface 8 (.23"-.25" to .37") and have 12M cameras. Maybe physics are different in Cupertino.

There is a MASSIVE chip shortage and 12th gen CPUs aren't even readily available yet to hedge an entire product line upon. As for the screen, the screen on the surface has always been great and doesn't need to be OLED and the 5mp camera is the right form/function for a mobile device (essentially more pixels than 1440p which far exceeds the average rate for video chatting)

5 megapixels seems to me like plenty, maybe even overkill, for a front-facing camera, especially when there's also a higher resolution rear-facing camera. Full HD, which is about as good as anyone uses for conference calls, is only 2 megapixels (1920x1080 = 2.074M). 4k obviously doubles that in both directions, so at 8 megapixels it's bigger than 5, but closer than HD. So 5 megapixels is something like 2800x1785. That's a very high resolution image.

I agree. I own SP2, SP4, SP2017, and SP7. If this article is what SP8 is, I can skip this go-around... If it does have a 120Hz screen, then I can forgive having Intel as the only option and I can forgive having a body that is the same thickness. I've never had any problems with bezels as it makes it easier to hold the machine. With the Surface Pro machines I have, I'm already accidentally touching the screen all the time. I'm an artist and I don't think haptics is a big deal. Maybe a neophyte will think it's cool that something feels like paper. as long as the pen tip has proper resistance, it's fine. a rubber pen tip would be much better than a plastic tip with haptics. I'm all for better pen technology but haptics is the last thing I think of when it comes to better pen tech.

Without Thunderbolt 4, this would be DOA. It's high time Surface adopted the de facto docking standard that is used everywhere. Everywhere I go has Thunderbolt docking stations, and this has kept for me from buying Surface for years.

I predict it won't be DOA, even if you don't buy it.

It certainly will be for business at least. Enterprises use TB docking stations, and that is a hard requirement for any PC's they purchase.

Uh, I wish you were correct, but "business" has no trouble with outfitting their employees (such as me) with SB2s with i5s and measly 8GB RAM. "CPU thermal-throttling and RAM constantly at 90% usage? Just bring the device in an we´ll re-image it" - that´s "business" for you. ¯\_ (ツ)_/¯

Most TB docking stations work with regular USB-C ports too.

what businesses do you work for that has TB4 everywhere??? TB has so many incompatibility problems. I can't imagine what enterprises has TB everywhere.

Most companies I know have switched to TB as the "de-facto standard" due to the upgrades on Lenovo, HP and Dell's business laptops letting go of their proprietary docking solutions. If MS doesn't use it they will get left behind, at least in the corporate laptop market.

Are you sure it is TB? and not just USB Type-C which can do everything that TB can do, beside eGPU support or connect to a mass array of drives (which you should not do in any case. A NAS should be used instead)?

You're right, USB-C docking is now really common in lots of companies, but I know that at least in the tech industry, TB is also preferred for mass data transfers between laptops and data servers.
Also, TB docking is used for other things (I'm not exactly sure why) quite often, so you cannot rule them out completely, at least for corporate usage.

I'll agree on USB-C docking being common. But prevalent TB usage is mainly at video editing companies and some tech companies.

Are these JUMP TO links supposed to take us somewhere? Doesn't on my phone. GS10.

Yes, they link to other articles. Links work fine on PC and my Android phones. Not sure about your setup/what you are using/browser, etc. but nothing odd going on to report.

Still would like to see then incorporate AMD in their lineup. Using year-old chips in the Laptop is unimpressive but a Pro backed by a 5600U/5800U would be a near-certainty for me to purchase.

While the extra core count would be nice to have, I don't see how you can achieve a fanless AMD Ryzen 5 model that matches the fanless Core i5 currently available. AMDs can run quite warm with 8 cores and when packed in a tiny chassis with little thermal headroom there could be issues. To date, I have never seen: A fanless Ryzen system A Ryzen tablet 2-in-1 PC While I'm not saying that it can't be done, I've also seen nothing to suggest that it can. (One way is obvious: you throttle the hell out of the performance.). Additionally, by going with AMD, the hopes for Thunderbolt 4 also go out the door. My own thoughts: AMD makes sense for laptops you use and leave plugged in most of the time e.g. gaming laptops, workstations, and less so where portability and small-form-factor is the goal. We already know AMD laptops have vastly different performance on AC vs DC because of battery.

"A fanless Ryzen system", maybe the Steamdeck is fanless as well as a few other gaming handhelds? Slightly different scenario though with lower screen resolution and gpu getting taxed more.

Steamdeck is definitely actively cooled with a fan and has already been shown to hit around 115F on the rear. It has an intake on the back and a vent on the top. The fan is audible. Even Nintendo Switch has a fan.

I'm disappointed MS has not found a way to defy the laws of physics. This is a Pro device after all!

lol, we'll get there, someday. Qualcomm/Samsung/NVIDIA need to do some magic in ARM.

We are waiting on the 8x11 1/8 inch thick sheet of unbreakable glass that houses a super computer and 100K touch screen device.

Ah okay, makes sense now that you mention it.

I've only purchased SP machines with i7 and they all have fans. actually, the SP2 only came up to i5 but fans in that one. fan is fine. they have plenty of 15W AMD.

Yeah I do not mind the fan on the Pro 1 one too. I guess for work/corporate environments its nice though when the device is silent.

Historically, they made the Core i5 fanless for 2 reasons: It's just a better experience as fans are not preferred if possible ... and it is possible The space where the fan would go in the i5 SKU is where the 4G modem goes in the LTE model, which is why there is no Core i7 version with LTE, only Core i5. If Microsoft doesn't follow this strategy it would be unlikely that we get an optional 4G or 5G Surface Pro 8 or even 9. Maybe MS will keep that just for Pro X and Surface Pro 7+, but that'd be a shame.

Surface Connect is better than Thunderbolt. I don't mind if they include TB ports, but not as a replacement for Surface Connect.

Whether we get TB4 is unknown, but I am confident Microsoft is going to keep Surface Connect. They reiterate with each release that customers really like it. It'll be interesting to see if they can pull off both TB4 and SC.

I wonder whether a Surface Connect to TB4 adapter is feasible. Given the size of the original SC to USB-C adapter, I would think that they could fit the required circuitry in something no bigger. Not sure whether an adapter could be fast enough though. If they could do it, that would be a nice way to provide it for those who wanted it without affecting the base device. It might affect charging, but you can charge via the USB-C port too, as long as you have an appropriate charger.

I wish there were a lot more options to connect other stuff to Surface Connect. All I seem to be able to find is a converter to USB-C for charging only.

I have a surface dock with a 32-inch screen at my office and my home. Sit down, plug it in and work. When I leave, just close the keyboard, stuff in my bag, and head home/office. Simple quick productive process for running my business. With My phone app, I don't even need to look at my phone while I am at my desk.

I would have been fine with the lack of Thunderbolt if they used AMD processors. But Intel again and no Thunderbolt AND high prices (comparatively speaking)!?? Nope this is another Microsoft ****.
I'm already pissed off about not getting a Windows 11 upgrade on my Surface Go (even though its pretty much the same processor as the Go 2). Microsoft just sucks these days.

See my above comment regarding AMD. I have yet to see AMD in any tablet PC, or a fanless AMD laptop (you need fanless for the mid-tier Core i5 model right now). AMDs make sense for devices left plugged in e.g. gaming laptops and workstations. For ultra-portable 2-in-s I don't see the advantage especially when you factor in massive CPU reduction to save on battery. Doing so mostly negates any core-count advantage while also delivering worse graphic performance. Plus, as you mention, no Thunderbolt 4. I'd also point out that 4G/5G AMD laptops are non-existent too AFAIK.

I've given up on seeing fanless AMD devices. Even the latest Intel i5's have thermal issues in a thin and densely packed chassis like a Surface Pro. Fanless Ryzen APUs would cook themselves to death if the GPU is running at a decent speed. The Surface Pro design relies on users not pushing their devices hard so heat can slowly dissipate through convection. Even with the Surface Pro X, I can get the rear panel up to egg-cooking temperatures by running an emulated x64 game.

"I'm already pissed off about not getting a Windows 11 upgrade on my Surface Go (even though its pretty much the same processor as the Go 2).", at least you get 4-5 years of W10 updates still and you can always upgrade your pc to W11 unofficially (iirc some people already have upgraded their Go 1 to W11).

Sounds awesome actually. SSD hatch, bigger screen and pen dock are the highlights for me.

I'd mostly like the antireflective display plus battery and power improvements beyond what gen 11 Intel can currently deliver. But I think we'll have to wait a year for that. As for bezels, I'd expect SPX style bezels, with bigger ones right where one would expect to one-hand-hold the device (and also where the keyboard snaps up for the angle). I'm not sure I'm all on board with the SPX style pen though, especially if the ability to magnetically attach the pen to the side goes away. Anyway, looking forward to seeing how this pans out.

Does anyone know how many Surface Pro devices are sold? How many are repeat customers? I own a 5 and a 7. Not sure I need an 8. I also own the Surface Go and the 1st gen. Basically, MSFT knows who buys and uses the Surface Pro and knows their target market. It is a reliable form factor. They are innovating with other form factors.

An IGZO display is a not a type of a display panel. To be more specific, an IGZO display is any display panel that uses a backplane thin-film transistor or TFT made of indium gallium zinc oxide or IGZO semiconductor material. Hence, IGZO display technology is compatible with different types of display panels such as twisted nematic or TN LCD, in-plane switching or IPS LCD, and organic light emitting diode or OLED display.
https://www.profolus.com/topics/advantages-and-disadvantages-of-igzo-dis...

Thank you for explaining, good to know! Would love to see Mini-LED IGZO on a 2-in-1 laptop. I mean, besides the new 13" iPad Pro.

Let me be more specific: Sharp IGZO IPS. The same panels used in XPS 13, 15, and Razer Book 13. I have never seen a Sharp IGZO OLED display, in fact, Dell has separate OLED panels for the XPS 15 from its Sharp IGZO offerings.

You're right, Dell's 2nd gen OLED panel in this year's XPS 13/15 are made by Samsung but they're not IGZO. Samsung's LTPO-AMOLED display used on high-end phones and tablets is essentially OLED that combines LTPS and IGZO technology. Simply put, this allows for greater power-savings and faster perceived response time on the display, which helps make up for OLED's natural shortcomings. The reason we don't see LTPO-AMOLED on laptops yet is probably due to high costs of making them.

"don't @ us with you need the bezels to hold the tablet. Even Surface Pro X has razor-thin bezels" My Pro X has numerous white spots on the screen from holding it, clearly a result of the weight and bezel combination. Additionally, W10 edge rejection is suboptimal in everyday usage. If they haven't improved this in W11 it will be quite the disappointment. I doubt there's much they can do about the weight but it would make a world of difference to even drop .25 lbs.

Thanks Daniel for the article! I've been wondering recently what's coming as my SP4 is getting sluggish. I've been waiting for a redesign to upgrade and sounds like this one will be it.

I'm replacing my SP3 for this! Was waiting for the redesign, and finally we have it. xD

I don't know if WC reviewed it already, but Lenovo's Yoga Duet 7i is a SP7 competitor with a unique feature: a "Magnetic Bluetooth Keyboard Cover". So you can detach the keyboard and use it close towards your body on a desk setup and screen set to however you want. I really want to see this feature implemented on the new Surface Pro 8, along with a HDR 600 capable screen and some better speakers for asking price.

Bluetooth type cover would be nice indeed. I believe that Brydge keyboard for Surface Pro does provide that feature.

I would prefer the SP8 to have slightly thinner but same size bezels all round.

I know MS will cave on the bezels. But the bezels are already getting too-thin for users like me, who frequently use it as a tablet, meaning holding it in the hand, using the touch features and writing notes. The industry is caving to style, not function. But that's the way it is. I don't know why MS hasn't shrunk the bezels sooner, but I'm thankful it didn't: taking client notes and taking notes at continuing ed seminars is a major chunk of my work.

Same here. If they reduce the bezels, it will be a deal breaker 100% because I use mine for sketching and painting, as well as playing touchscreen games as a tablet. Windows does not have any palm recognition built-in for touchscreen, so it wouldn't make sense to shrink bezels. Also gripping the display with your fingers to hold the entire weight of the device is really bad for longevity, increases the chances of screen issues happening.

Windows 11 might change that, considering the release matches the W11 release date.

Doubt it, tablet functionality seems to be the LEAST of W11's focus.

I want a replaceable battery. My Surface Pro 6 is perfect in every way — but when you unplug it the damn thing dies. No shop in town is willing to crack it open, and I live in a big city. Microsoft told me battery replacement was nearly $500.

Last year I needed to update my Surface Pro 4 due to limitation with Zoom.... But the Surface Pro 7 wasn't much of an upgrade and the 8 was a no show. Ended up with a really nice 2in1 laptop from HP that was way ahead on RAM, Storage, CPU/GPU... Still needing something more portable, and I'm waiting to see what MS does.... but Apple's iPad Pro is going to be tough to beat on hardware.

So the information is out and pre-orders are up... and I'm getting an iPad Pro. Hardware is a let down at these prices... we are talking last years specs. And there are advantages in having a true mobile OS that has app support. As much as I loved my Surface Pro, it really needed to be paired with another devices that offers Apps. And I'd already gotten use to using my workstation via remote desktop to do most my more strenuous programs on my Surface. Can do the same with the iPad. Biggest was no 5G.... while I might never have mmWave speeds at my house, work and travel tends to offer these. But 5G is about more than just speeds... even coverage will be better than LTE.

Hey there ... does any one know if the LTE support on the SP8 business models is only by eSim or is there also a nanosim tray? Hoping to transfer a work Sim card into device
Windows Central Newsletter
Thank you for signing up to Windows Central. You will receive a verification email shortly.
There was a problem. Please refresh the page and try again.