The Surface Pro 8 may have leaked, with 120hz display and Thunderbolt in tow
A big leap for the Surface Pro.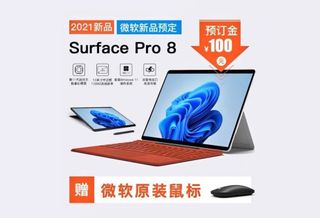 (Image credit: @Shadow_Leaker on Twitter)
What you need to know
A retail listing for the Surface Pro 8 has appeared.
While the render is of the Surface Pro X, we believe the leaked specs are likely accurate.
Microsoft has a Surface reveal event coming up on Wednesday, September 22, 2021.
This Wednesday, Microsoft will kick off a new Surface hardware event, and we expect to see the Surface Duo 2, a new Surface Book with a refreshed hinge, and much more. Although, one new Surface may have leaked ahead of its September 22 announce date.
Twitter account Shadow_Leaker posted (via The Verge) the above retail image of a purported Surface Pro 8 although we believe the render is actually of the Surface Pro X which appeared when the Microsoft SQ2 chip was announced. However, the specs the leakster posted may in fact be accurate.
The supposed specs include 11th-gen Intel Core processors, a 13-inch 120Hz display, dual Thunderbolt interfaces, and replaceable SSDs which we've seen on the Surface Pro X and Surface Laptop line previously. Of course, the Surface Pro 8 will also launch with Windows 11 as standard.
Adding Thunderbolt support would be a major boost for the Surface Pro line, which has up until now used only the proprietary Surface port and USB-C interfaces for data. Opening it up to Thunderbolt adds in the potential for external GPUs for gaming and other devices that require more speed and bandwidth. On top of that, this will also mark the first time a Surface device has had a 120Hz display, giving it much smoother motion than previous Surface screens.
Not only will these upgrades benefit gaming scenarios across the board, but they will also benefit inking and drawing, which is bottlenecked somewhat by the choppy refresh rate of previous 60Hz Surface devices. Microsoft is also working on Dynamic Refresh Rates for Windows 11 to rival Apple's ProMotion technology to that end, and 120Hz is an obvious progression of that commitment.
Our senior editor Zac Bodwen weighed in on the leaks on Twitter. "Think of it as a combination of the Surface Pro 7 and Surface Pro X design," says Bowden in a follow-uptweet. "Display is larger with thinner bezels, chassis is slightly tweaked, supports the new Pro X Type Covers, but the device is still thicker/more like the classic Pro chassis than the Pro X chassis."
While the render in the listing is not what the Surface Pro 8 will look like, the specs seem likely to be accurate. Either way, we won't have to wait long to find out, as the Surface event kicks off this Wednesday on September 22, 2021.
Jez Corden is the Managing Editor for Windows Central, focusing primarily on all things Xbox and gaming. Jez is known for breaking exclusive news and analysis as relates to the Microsoft ecosystem while being powered by caffeine. Follow on Twitter @JezCorden and listen to his Xbox Two podcast, all about, you guessed it, Xbox!
Oh man, I hope this is all true! Sounds amazing.

Same I'm looking to upgrade my older gen surface pro, this looks like a worthy upgrade so far!

The render isn't true sadly. So expect it not to be as slim as the Surface Pro X.

my sp4 is still going strong, but this new design taken from SPX looks really sexy.

Ha ha yes. Reading really is fundamental.

It's like they didn't even try

It is an awful design if it is the same as the pro 7, I would also kick Windows 11 out and reinstall 10, I do like some parts of 11, but others like the taskbar is worse than Windows 10.
anyway, if I was paying that much for what is a glorified tablet, I think I would go for a Macbook.

The task bar is exactly the same as Windows 10... Have you used a Surface Pro? Glorified tablet? Best and lightest laptop I have ever owned...

No the Taskbar is not the same, software can't use it for a start, I have software that displays memory, and CPU usage on the taskbar, that don't work in Windows 11 as Ms will not allow anything to use the taskbar and there are no labels either.
I have used the surface pro once and it is not a laptop, try using it on your lap for any length of time with that kick stand, that is when you spend out even more money for the keyboard, Which to be honest is not that great, not enough travel, I know laptop keyboards don't have much travel anyway, but to be honest the Surface is almost like typing on my large desktop calculator. I am not a fan of laptop style machines anyway, I had a dual Core Asus one a few years ago and I used it once in a blue moon, the other problem with modern laptops/glorified tablets, what ever you want to call them is the lack of expansion. This is the one reason why I am dithering about going for a Mac Mini instead of updating this machine next year. Then I thought maybe I should get a Macbook and use that in a dock, I have the best of both worlds. But the lack of expansion is the problem.
I would not buy another Windows based laptop that is for certain.

You're in the wrong place, the apple fanboi site is three streets down on the left.

A Windows 10 user dissatisfied with 11 makes him Apple fanboi?

Yes, this is how people handle differing opinions these days. If they don't like what you say, they make you an extremist to dismiss any valid criticisms. Most people need strawman arguments because they can't accept that someone rational might think differently.

But seriously 'dissatisfied' with the Surface Pro at version 7? The form factor of the machine has practically attained peak evolution!
If you are just realizing this now, the criticism is well deserved, especially when your so called point is 'I'll get a MacBook instead'. Who are you kidding trying to pass it like some logical argument? They are not even comparable machines! It's simply a deliberate attempt to work up the readers here. Think of users like @bleached and similar...

They clearly were already not going to get another windows based device prior to 11. Dual core Asus years go? Surface pro once? This was more of a case of looking for validation and support to get a Mac from the comment section and Microsoft and since we didn't "win" them over they are going to a Mac based machine (clearly he's stating a definitive while still not definite). There was nothing anyone here could have said that would have been worth a response.

I have never had a surface, and I am not looking for validation from anyone, just putting my thoughts in, I thought this was supposed to be a discussion forum or is it only one if I agree with you?
I am sure the Surface is a power machine and may be useful for some people.
I have been using windows based machines for around 24 years, mainly desktops, as i said I did buy a laptop a dual-core Intel thing, but I hardly used it.
I have been thinking of getting a Mac mini to get into the world of Macs, try something different, and now they are using the M1 chip instead of intel, I am more interested in getting one, never really wanted another Intel based machine. I have looked at a Macbook Air, thinking if could be used for the best of both worlds, connect it up to monitor and external keyboard/mouse, to use it here and then disconnect to make it a laptop. but would i really use it as a laptop. But as I said, the Surface is not a laptop and from what have heard is not nice to use as a laptop, so as i said it is an awful design . I am not going to get a new machine until next year, I did think about updating this machine, in fact the money I am put by for it is in an account called computer update, but then I got thinking about going for a Mac mini, still keeping this one and the closer i get to the end of the year, the more I am leaning into going Mac.

True Surface Pro is not a good laptop. You should check Surface Laptop for that. I have a SP4 and happy with it.

No you aren't a realusername, but I am a real fan, who cant run windows 11 due to TPM requirements but still I like how it looks and works, included that most features will probably be added along the way as usual and the performance utilization is better. and I'd like to think that Microsoft is probably trying to make the store one of the main sources of adding such features to the taskbar so it works as intended.

Did you just read a real username named realusername and came to the conclusion that it's not a real username?

No, but someone who just wants a MacBook is. Read the comment. He said he prefers MacBooks. Cool, the rest of his comment is biased.

I am not an Apple fanboy at all, in fact I am not a fanboy of anything. There are certain companies I try to stay with when I update if they have done well for me in the past, like Corsair, Asrock and AMD, but a Fanboy, no.
As for Apple, I have criticised Apple in the past and I still think they are expensive for the specs you get, but MS is no better with their machines, certainly when you add things on Microsoft adds another £200 on for another 8Gb or ram and another £200 for another 256GB of storage, so that is more or less the same as what Apple adds on. But at lest Apple don't charge extra for a keyboard and one that cost £150.

As someone that has been using a Surface Pro for the better part of four years; I have used the SP on my lap for many different things, will never replace my SP for a laptop as my SP does everything I need a laptop to do and act as a tablet. My SP is My Precious. It goes EVERYWHERE with me. To the point, that I rarely use handouts at meetings, never have a notepad with me, is my primary virtual meeting/Teams device, I have a work provided device that I only use when I cant do what I need to from my SP( certain websites have to be access from work device either from work network or via VPN). In the time I have used my SP, I have sold atleast 30+ work acquaintances to purchase one as well.

Very well said. The Surface Pro has also become indispensable to me - similar to your use cases. It's even beyond discussing its superiority at this point, I don't bother looking at any other devices in this category, especially since the Surface Pro 7 convinced me that the processors are definitely approaching the right efficiency/performance ratio. It can only get better from here. I have the OG SP1, SP4, SP5, SP7. The Surface Pro has indeed attained near perfection in form. There's a reason the form factor has not changed fundamentally. Only minor refinements and using more efficient chips, but the form has stood the test of time. It truly is the ultimate balance in productivity, pen input, portability and general purpose computing.

I feel the same way about my Surface. Only problem for me though is sometimes the screen is too small for split-screen, for instance having a zoom meeting open and looking at documents simultaneously. An ultra-lightweight "16 inch Surface Pro" would be amazing....

"An ultra-lightweight "16 inch Surface Pro" would be amazing....", I would buy one (and no before anyone begins over the Surface Book, its not the same). Considering they can make a 15" laptop with touch digitizer at low weight, it should be possible for a tablet without type cover.

A surface pro is a 2-in1, not a laptop. It sounds like you bought the wrong device for what you need/want. I've used the surface pro plenty on my lap. It's not as good as an actual laptop but it's good enough and fine for my use. And I'm using it on a desk, if typing, most of the time anyways.

For as much as I hear about laptops/surface pro/lapability etc., I never see people actually using a laptop on their laps.

That's because you can't, that's why 2-in-1 convertibles are so popular these days.

You can use a surface pro on a lap (at least I can). I also think Mister Burns refers to that people often are not using a laptop on their 'lap' but on a desk or table.

Microsoft calls it a laptop on their site. I don't have any issues using my SP on my lap and Windows 11 has made it actually useable as a tablet. The onscreen keyboard works well and it all feels much better than 10.

I think this is more because they have to. 2-in-1 and tablet pc aren't well known terms. The same reason people get triggered the words burger and sausage are stuck after the words vegan and vegetarian. Like there are other words they could use people understand.

Microsoft refers to the surface pro as laptops now due to tsa categorization. By definition, anything with a fan wasn't a tablet which was a big thing with people having to get devices checked and fcc clearance. Now that they are back to being fanless (

BTW, you better step it up, you've been having some contenders here lately coming for your belt

"I have used the surface pro once and it is not a laptop, try using it on your lap for any length" The same can be said for laptops. It's fine btw. But who uses laptops on their lap anyway? If you can afford to pay a grand for a PC, you should be able afford a table too.

That doesn't make sense...if you were passing for a glorified tablet you'd go for a clamshell device that doesn't have a touchscreen? Why not get a Surface Laptop?

Same as the Pro 4 even from 2015. We should be getting a bigger display but it won't be as slim as the Pro X because it's not possible with Intel CPUs. You're condemning an OS whilst it's still in beta :/

"anyway, if I was paying that much for what is a glorified tablet, I think I would go for a Macbook." And you wouldn't get a tablet. Odd comment. Surface Pro has never been a tablet. It's not Surface Pro but your misunderstanding of the product. They're Tablet PCs and don't even compete with iPads or Android tablets. Yes Apple pitches the iPad Pro as a Surface Pro killer but it's really not because iPadOS holds back iPad Pros.

If it's those specs but the SP7 body, I'll have to think hard. If it's that form factor with the specs, it's a definite buy for me.

Hopefully one day they will make a gaming laptop.

I think they would say they do. It's any laptop and xcloud.

My biggest issue with Windows 11 is the Start Menu. Going to a static menu that has less functionality than the Windows 10 version is ridiculous, in my opinion. It's not that I don't like the look of it, it's just not very functional. I also agree about being able to use the task bar. To say the least, work is needed to find a reasonable middle ground that works for most people.

Are you really doing anything in the Start Menu? Hit Windows key, start typing name of app you want, hit enter. Not much else to be done in start menu. Maybe open settings? Restart?

Exactly. It's for opening Apps, Settings and Restart/Shutdown. That's it.

Bleached, most people are not old school C: Prompt DOS initiates. I get your point. Most people don't think in this manner. MSFT has been trying to figure out how to make the start window bridge the gap between Windows and a more intuitive visual mechanism for people to point and click.

You have to remember that few used that extra Windows 10 functionality. Functionality that isn't used just looks like noise and complication. I'm no fan of IOS because it's so dumbed down but I get why non-technical people like it.

I've been waiting for this for 2 whole years for this. It's getting closer every hours and I'm behaving like crazy people these day. I can't wait any longer. My mind is gonna pop any second now omg I'm too excited right now omg omg omg

Sounds like the SPX design language but with Intel. I hope there aren't thermal issues with the i7 (especially if they decide to go fanless) but I'm hopeful. Overall sounds great. I still have a slight preference for the pen magnetically attaching to the side and being battery powered, but the SPX solution is also good. I can see how 120 Hz screens would be nice for some applications like inking, GPU permitting. As for Thunderbolt, I have zero interest in it personally and I have no idea why anyone besides those who need insanely fast external hard drives or external GPUs would be excited about it.

I have an idea, how about pro audio interfaces that use thunderbolt. Like my audio interface, and my thunderbolt monitor, and my thunderbolt external drives, plus like you said the advantage of being able to add in things like egpu's so that you can work on video and accelerate Adobe apps. If you are in the various creative industries then thunderbolt is a pretty big deal.

Thunderbolt is a big deal for some. Actually the only reason I've not bought the surface pro. My most critical use case is portable USB C monitors with power pass-through

It says it's a render of the Pro X and not upcoming Pro 8.

Reading is indeed, fundamental Lol

Microsoft cited security on why they don't support TB. To add it anyway.

They did but idk how much I believe that when the biggest oem's know no such thing and have not reported ANY vulnerability or exploit due to thunderbolt 4 ever.
Windows Central Newsletter
Thank you for signing up to Windows Central. You will receive a verification email shortly.
There was a problem. Please refresh the page and try again.