What to expect from Microsoft's fall 2021 Surface hardware event
A new Pro, Duo, Book, and Go are on the agenda this fall.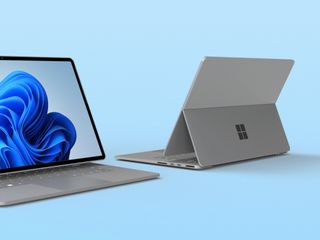 (Image credit: Ryan Smalley)
What you need to know
Microsoft is holding a hardware event on September 22.
We're expecting up to five new Surface devices, and accessories.
Surface Pro 8, Surface Pro X, Surface Book, Surface Go, and Surface Duo are on the agenda for updates.
Microsoft has announced that its annual fall Surface hardware event will be taking place on September 22. This year, rumors suggest we're getting five new Surface devices, four of which are among the first PCs with Windows 11 out of the box.
Our sources say to expect updates to the Surface Duo, Surface Pro and Pro X, Surface Go, as well as an all-new flagship 2-in-1 Surface laptop design. Here's an overview of the new Surface devices being announced next week, with some obvious spoilers ahead.
Surface Duo 2 brings much-requested upgrades
The next Surface Duo is under some serious pressure to deliver. After a rough launch with the Surface Duo 1, which shipped with outdated hardware and buggy software, Microsoft has focused on making Surface Duo 2 a better phone right out of the gate. According to my sources, Surface Duo 2 will feature a Snapdragon 888 processor with 5G capabilities, 8GB RAM, a new camera system, better displays, and NFC.
Surface Duo 2 has two 5.8-inch displays on the inside, up from 5.6-inches on the first Surface Duo. This allows Microsoft to thin out the bezels, though not by much. Microsoft has also very slightly curved the displays towards the hinge, allowing for glanceable information to appear down the spine when the device is closed.
The displays will also have a higher refresh rate, although we're unsure if that means 90Hz or 120Hz. Surface Duo 2 has a total of four cameras too; a selfie shooter on the inside above the right display, and a wide, ultrawide, and telephoto lens housed in the rear camera bump.
We're told the battery size has increased by roughly 800-900mAh to accommodate 5G and the higher-refresh rate displays. Bluetooth 5.1 and NFC are also present on the device, finally opening the Duo up to mobile payments. Unfortunately, I'm told that wireless charging is not present. We're expecting Microsoft to ship white and black models, with 128GB and 256GB storage configurations.
The Surface Duo is the only Surface device being announced at the event that doesn't ship with Windows 11. Instead, it will ship with Android 11 out of the box.
Changes headed to Surface Pro 8 and Surface Pro X
Microsoft is also planning to unveil a new mainline Surface Pro device, likely dubbed the Surface Pro 8. I'm not expecting huge changes to this hardware, though we will see some external upgrades to the chassis. The display is said to be bigger compared to that on the Surface Pro 7, likely closer to the 13-inch display size found on the Surface Pro X, with thinner bezels.
I'm also expecting Microsoft to upgrade the Surface Pro 8 with support for the Surface Pro X Type Covers, finally dropping the classic Type Cover connection that Microsoft has been using since the first generation Surface Pro. Of course, this also means the Surface Pro 8 will finally have "official" support for the Surface Slim Pen.
A report from The Verge also claims that at least one Surface Pro 8 model will ship with Thunderbolt support, which would be a first for Microsoft. The device is also said to ship with Intel 11th-generation chips, just like the Surface Pro 7+ released earlier this year.
Other features that will likely be new to the Surface Pro 8 include "wake on touch" and "wake on approach," two new Windows 11 functionalities that Microsoft will want to highlight with its new hardware. Overall, sources have said to expect "modest" changes to the Surface Pro 8.
Surface Pro X is also set for a refresh this fall, though don't expect any significant changes to its external design or SoC. This fall will likely consist of a support for the aforementioned Windows 11 hardware functionalities, and I've also heard that Microsoft is planning to sell a Wi-Fi-only model of the Surface Pro X for the first time.
Finally, Microsoft is reportedly testing a dynamic refresh rate up to 120Hz on the display for both the Surface Pro 8 and Surface Pro X. Whether or not this feature ships will depend on if Microsoft was able to maintain acceptable battery life in testing.
Surface Book 4 is the star of the show
I've been hearing for a while now that Microsoft is planning to unveil a new flagship Surface "laptop" at this event. I'm told it'll feature a non-detachable 2-in-1 design, essentially combining the Surface Laptop with the Surface Pro form factor. The display can be pulled forward and laid flat over the keyboard deck for drawing or taking notes, similar to the HP Elite Folio.
I'm unsure whether Microsoft plans to call this device the "Surface Book 4" or if it'll ship under another name. Sources familiar with Microsoft's hardware plans have referred to this device as several different names, including Book 4, Laptop Pro, and Laptop Studio. For now, the name remains a mystery. This device will likely be the star of the show, as it's the only product with a new form factor and design within the Surface line that's being announced.
Other details include a larger trackpad compared to the Surface Book 3, a display size of around 14-inches with a dynamic refresh rate, and slim uniform bezels with rounded corners. The device has two USB-C ports, a Surface Connect port, and a headphone jack. I'm also told the device will ship with NVIDIA RTX graphics, though I am yet to hear of which series, specifically.
No word on what chips it will ship with, but given the new design, I'm hoping that that Microsoft will strive for more powerful 6 or 8-core chips to rival high-end devices like MacBook Pro and Dell XPS 15. I'm also unsure if any of the USB-C ports are Thunderbolt enabled.
Minor revisions to Surface Go 3
Microsoft's budget Surface Go is likely to remain very similar to the Surface Go 2, with only chip updates expected. Geekbench results have revealed that the Surface Go 3 will likely ship with an Intel Pentium Gold 6500Y in the low-end model and an Intel Core i3-10100Y in the higher-end LTE-enabled model.
I was told last year that Microsoft was playing with the idea of shipping a black Surface Go 2, though that never materialized. Perhaps we'll see a black Surface Go 3 ship instead.
More accessories to come...
We also expect Microsoft to announce a handful of new accessories, as with past events. A new Surface Pen with haptics tops the list, which Microsoft has announced will be required to leverage some Windows 11 pen features. I suspect the new pen takes on the same Slim Pen form factor that was introduced with the Surface Pro X.
We also expect Type Covers to be updated with the new Windows 11 logo on the Start key, and possibly new colors too. I'm unsure if we'll see a new pair of Surface Headphones or Surface Earbuds, though both products are severely overdue at this point.
What not to expect
As is the case every year, there's a couple of Surface PCs that won't be getting an update this fall. These include the Surface Studio, Surface Laptop, and Surface Laptop Go. We also likely won't be seeing the Surface Neo given the fact that the Intel Lakefield chip inside has since been discontinued by Intel.
What are your thoughts?
That's everything I'm told we will and won't be announced on September 22nd. Of course, Microsoft is sometimes able to keep a few things a surprise, so maybe we'll see some addition things that we haven't heard about yet. Either way, the event is slated to commence at 11 a.m. ET / 8 a.m. PT, with coverage to follow on Windows Central. Let us know what you're most excited about in the comments below.
Get the Windows Central Newsletter
All the latest news, reviews, and guides for Windows and Xbox diehards.