What to expect from Microsoft's fall 2021 Surface hardware event
A new Pro, Duo, Book, and Go are on the agenda this fall.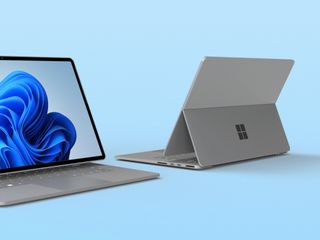 (Image credit: Ryan Smalley)
What you need to know
Microsoft is holding a hardware event on September 22.
We're expecting up to five new Surface devices, and accessories.
Surface Pro 8, Surface Pro X, Surface Book, Surface Go, and Surface Duo are on the agenda for updates.
Microsoft has announced that its annual fall Surface hardware event will be taking place on September 22. This year, rumors suggest we're getting five new Surface devices, four of which are among the first PCs with Windows 11 out of the box.
Our sources say to expect updates to the Surface Duo, Surface Pro and Pro X, Surface Go, as well as an all-new flagship 2-in-1 Surface laptop design. Here's an overview of the new Surface devices being announced next week, with some obvious spoilers ahead.
Surface Duo 2 brings much-requested upgrades
The next Surface Duo is under some serious pressure to deliver. After a rough launch with the Surface Duo 1, which shipped with outdated hardware and buggy software, Microsoft has focused on making Surface Duo 2 a better phone right out of the gate. According to my sources, Surface Duo 2 will feature a Snapdragon 888 processor with 5G capabilities, 8GB RAM, a new camera system, better displays, and NFC.
Surface Duo 2 has two 5.8-inch displays on the inside, up from 5.6-inches on the first Surface Duo. This allows Microsoft to thin out the bezels, though not by much. Microsoft has also very slightly curved the displays towards the hinge, allowing for glanceable information to appear down the spine when the device is closed.
The displays will also have a higher refresh rate, although we're unsure if that means 90Hz or 120Hz. Surface Duo 2 has a total of four cameras too; a selfie shooter on the inside above the right display, and a wide, ultrawide, and telephoto lens housed in the rear camera bump.
We're told the battery size has increased by roughly 800-900mAh to accommodate 5G and the higher-refresh rate displays. Bluetooth 5.1 and NFC are also present on the device, finally opening the Duo up to mobile payments. Unfortunately, I'm told that wireless charging is not present. We're expecting Microsoft to ship white and black models, with 128GB and 256GB storage configurations.
The Surface Duo is the only Surface device being announced at the event that doesn't ship with Windows 11. Instead, it will ship with Android 11 out of the box.
Changes headed to Surface Pro 8 and Surface Pro X
Microsoft is also planning to unveil a new mainline Surface Pro device, likely dubbed the Surface Pro 8. I'm not expecting huge changes to this hardware, though we will see some external upgrades to the chassis. The display is said to be bigger compared to that on the Surface Pro 7, likely closer to the 13-inch display size found on the Surface Pro X, with thinner bezels.
I'm also expecting Microsoft to upgrade the Surface Pro 8 with support for the Surface Pro X Type Covers, finally dropping the classic Type Cover connection that Microsoft has been using since the first generation Surface Pro. Of course, this also means the Surface Pro 8 will finally have "official" support for the Surface Slim Pen.
A report from The Verge also claims that at least one Surface Pro 8 model will ship with Thunderbolt support, which would be a first for Microsoft. The device is also said to ship with Intel 11th-generation chips, just like the Surface Pro 7+ released earlier this year.
Other features that will likely be new to the Surface Pro 8 include "wake on touch" and "wake on approach," two new Windows 11 functionalities that Microsoft will want to highlight with its new hardware. Overall, sources have said to expect "modest" changes to the Surface Pro 8.
Surface Pro X is also set for a refresh this fall, though don't expect any significant changes to its external design or SoC. This fall will likely consist of a support for the aforementioned Windows 11 hardware functionalities, and I've also heard that Microsoft is planning to sell a Wi-Fi-only model of the Surface Pro X for the first time.
Finally, Microsoft is reportedly testing a dynamic refresh rate up to 120Hz on the display for both the Surface Pro 8 and Surface Pro X. Whether or not this feature ships will depend on if Microsoft was able to maintain acceptable battery life in testing.
Surface Book 4 is the star of the show
I've been hearing for a while now that Microsoft is planning to unveil a new flagship Surface "laptop" at this event. I'm told it'll feature a non-detachable 2-in-1 design, essentially combining the Surface Laptop with the Surface Pro form factor. The display can be pulled forward and laid flat over the keyboard deck for drawing or taking notes, similar to the HP Elite Folio.
I'm unsure whether Microsoft plans to call this device the "Surface Book 4" or if it'll ship under another name. Sources familiar with Microsoft's hardware plans have referred to this device as several different names, including Book 4, Laptop Pro, and Laptop Studio. For now, the name remains a mystery. This device will likely be the star of the show, as it's the only product with a new form factor and design within the Surface line that's being announced.
Other details include a larger trackpad compared to the Surface Book 3, a display size of around 14-inches with a dynamic refresh rate, and slim uniform bezels with rounded corners. The device has two USB-C ports, a Surface Connect port, and a headphone jack. I'm also told the device will ship with NVIDIA RTX graphics, though I am yet to hear of which series, specifically.
No word on what chips it will ship with, but given the new design, I'm hoping that that Microsoft will strive for more powerful 6 or 8-core chips to rival high-end devices like MacBook Pro and Dell XPS 15. I'm also unsure if any of the USB-C ports are Thunderbolt enabled.
Minor revisions to Surface Go 3
Microsoft's budget Surface Go is likely to remain very similar to the Surface Go 2, with only chip updates expected. Geekbench results have revealed that the Surface Go 3 will likely ship with an Intel Pentium Gold 6500Y in the low-end model and an Intel Core i3-10100Y in the higher-end LTE-enabled model.
I was told last year that Microsoft was playing with the idea of shipping a black Surface Go 2, though that never materialized. Perhaps we'll see a black Surface Go 3 ship instead.
More accessories to come...
We also expect Microsoft to announce a handful of new accessories, as with past events. A new Surface Pen with haptics tops the list, which Microsoft has announced will be required to leverage some Windows 11 pen features. I suspect the new pen takes on the same Slim Pen form factor that was introduced with the Surface Pro X.
We also expect Type Covers to be updated with the new Windows 11 logo on the Start key, and possibly new colors too. I'm unsure if we'll see a new pair of Surface Headphones or Surface Earbuds, though both products are severely overdue at this point.
What not to expect
As is the case every year, there's a couple of Surface PCs that won't be getting an update this fall. These include the Surface Studio, Surface Laptop, and Surface Laptop Go. We also likely won't be seeing the Surface Neo given the fact that the Intel Lakefield chip inside has since been discontinued by Intel.
What are your thoughts?
That's everything I'm told we will and won't be announced on September 22nd. Of course, Microsoft is sometimes able to keep a few things a surprise, so maybe we'll see some addition things that we haven't heard about yet. Either way, the event is slated to commence at 11 a.m. ET / 8 a.m. PT, with coverage to follow on Windows Central. Let us know what you're most excited about in the comments below.
Windows Central Newsletter
Get the best of Windows Central in in your inbox, every day!
Zac Bowden is a Senior Editor at Windows Central. Bringing you exclusive coverage into the world of Windows on PCs, tablets, phones, and more. Also an avid collector of rare Microsoft prototype devices! Keep in touch on Twitter: @zacbowden.
I'm excited but please, please, please let there be pen improvements that fix the line wobble on current devices. The Surface pen performance has been static for four years now.

Yeah, it felt like it has been negletected for years, even the new Slim Pen didn't improved that much. As much as the new haptic may be cool and might be feel good. At the end of the day, it is the pen performance that will matter, especially if they are catering these devices for artists as well. Wacom and dedicated screen drawing tablets are great, but you are forced to carry with a laptop. Wacom Tablet PC is bulky, and something you have to be seriously only use it for drawing, since it is not a general purpose device in any way.

I have basically no line jitter on my Surface Pro 7.

How bad it is depends on the software and speed at which you draw. It's not as noticeable if you go fast (like in writing or quick markups) but slowing down for more deliberate strokes and it wobbles pretty badly. It even exists on the Surface Duo.

"Basically no line jitter" isn't "no line jitter" and is not acceptable. Embarrassing.

I'd like to see the Surface and Surface Go keyboards to feature the charging divit for the Slim Pen the Surface Pro X keyboard has. Make them backwards compatible BTW.

Agreed. Ideally, everything that uses a pen would have a place to store it and charge it.

I need to buy a new Go. If the Go 3 brings something far more than the Go 2, I'd buy it. I own a Duo, and like it. I'll watch what Duo 2 brings, but probably not buy it, instead sticking with the Duo 1, especially if Android 11 comes to Duo 1, AND actually adds substantial features and functionality.

I'm really excited about the Pro 8 and the new form factor! I'm in the market for a new portable and I'm really interested in seeing a comparison between those two. I hope they simplify their naming convention by changing the Surface Laptop to the Surface Book and calling the new form factor the Surface Book Pro or Surface Book Studio.

For me it depends on 4G/5G support...

I wonder what CPU the Surface Pro X will have. Will they announce the SQ3? And if so, what will it be based on? Will it be based on the ARM Cortex A78, or something older? The SQ2 itself is based on a 3 year old design. If Microsoft launches a new Surface Pro X with this old CPU, I fail to understand the purpose.

If they announce an SQ3 (getting ahead of Qualcomm's expected December announcement of Gen 3), it could be based on A78C/Hexagon 780, correct. I could also see them just keeping SQ2 but adding a Wi-Fi-only model while upping the refresh rate for Windows 11. Really hoping though it's more than that.

I'd be happy with that. The difference between SQ1 and SQ2 is minor. It's not hardware that's the problem with Surface Pro X but x86 emulation. The Surface Pro X runs great with ARM64 apps already and I can't see the new Surface Pro X addressing x86 emulation sadly. And I love my Surface Pro X so I'm no hater.

Hardware is certainly the issue with the Pro X. Old, slow processors are its biggest issue, as well as the lack of touch interfaces and software in Windows. Apple's M1 embarrassed Microsoft's hardware. They are so far behind.

It's really a shame that touch has been so ignored at Microsoft. My biggest example every time is that you can't filter by input type in the Microsoft Store. So if I am trying to find touch input, mobile style games, I cannot find them.

Agreed, even Steam allows to search for touch friendly games.

Duo section: 250gb instead of 25gb zac

Was hoping for the Neo to complement my Duo and my SP7, but with the chip gone, it will be a very, very long shot for the near future.
Might just replace the SP 7 with the new Surface Book and fully bank on the Duo 2 for on the go work.
I need to stay connected and kinda assumed the Neo would surely have LTE.
My dream would simply be the the new Surface Book with LTE.
In any case, I'm ready to throw some money at Microsoft.

Windows 11 is decent on a touchscreen. Maybe they will have an ARM Neo ready.

I hope the "Surface Book 4" will have an AMD Ryzen option.

Same, this is what I've been wanting from MS for years. I don't like the Surface Laptop (want a 2-in-1.hybrid, not a Macbook running Windows), and it's stuck to carrying year-old Ryzen processors anyway. There needs to be a premium 2-in-1 with Ryzen, IMO.

Surface Book needs give an All-AMD option: Ryzen AND RX Graphics, which is so much better value and better priced than Intel and Nvidia, with a lot better efficiency too.

Pricing will definitely not be reflected if they go with both versions. Also, I'm not sure what you mean by efficiency but since this is a portable device, AMD is not a good choice. See: https://www.windowscentral.com/amd-laptops-reduce-system-performance-bet...

By efficiency I mean battery life on idle, which AMD completely dominates any Intel + Nvidia laptop on the market. Also that article is wrong, performance drop on battery is not an AMD problem but the manufacturer's.

While I'm not a fan of the camera bump and believe they could have done something differently, I'm looking forward to seeing what Gen 2 Duo will offer. I hope it has great software experience out the box, with few to no hiccups. Any major issues will make the Surface Duo another device with so much potential to get cut, because consumers will not have any confidence that Microsoft can get back into the mobile phone market and sales of the devices will fail miserably, IMO.

Great software? Dude, this is Android...

Yep and Android is the perfect operating system for it. Samsung is doing great things with OneUI based on Android.

Camera bump is unavoidable if we want decent cameras.

Not true, they just want a thin chassis with a bump more than a flush design. My G8 has no camera bump, while not taking on a bunch of added thickness or weight for the trouble. With the Duo, that WOULD mean a commitment to more size/weight, which they might not deem an acceptable trade-off.

I don't think the G8 is in the same league as modern cameras.

I am looking forward to the new "surface book studio mini"

Surface Duo 2 time. 💪🏾💪🏾💪🏾💪🏾

Surface Duo 2 fire sale, and canceled, in January 2022.

Covid has just lain waste you trolling, bleached.

We will see. Duo will certainly not make it through next spring. Reviews will again be poor due to the ridiculous high price and awkward form factor, both causing sales to be tiny. Microsoft will have a hard time justifying going forward with Duo. It is going to be a very tough sell next to the Samsung Folds. Only a handful of Microsoft fanboys will buy it. That is no where near enough sales to justify continuing development.

"ridiculous high price"
Have you seen the prices of the new Samsung Fold?

The Folds have actual groundbreaking technology to justify the high prices. $1400 is way too much for the old tech in the Duo. You didn't see the Axon M, or LG being extremely expensive, they were basically the same price as a normal phone. Microsoft has to make up for their legacy technology through pricing. $1400 will not do the form factor any favors, and it needs all the help it can get.

Got the Surface Duo on sale, so good... So much better and thinner and more innovative than any Apple iphone... Professional device for professionals... Will definitely get a Surface Duo 2...

Innovative? Kyocera had that form factor in 2012. It doesn't work. It is awkward and even professionals rarely need to run two apps. The form factor didn't catch on, no one is pursuing it anymore, and it is only a matter of time before Microsoft gives up too.

Surface Go X ..... someday . . .

Surface Duo 2, Surface Pro 8, Surface Book 4 all look exciting. All badly need an upgrade. Still happy with my OG Surface Pro X though. Microsoft and/or Qualcomm need to fix x86 app emulation mostly and the new Surface Pro X isn't expected to address this sadly. Doubt I'll ever use the modem on my Pro X so a cheaper Wifi only model is a good idea.

Hmm... "Microsoft has also very slightly curved the displays towards the hinge, allowing for glanceable information to appear down the spine when the device is closed." Looking forward to seeing this on the new Duo

Still hoping for a surprise Surface Watch to appear at this event

Looks like it's just you and me hoping on this. 😞 I wonder why Microsoft doesn't see the need for this to fully balance their ecosystem.

Because watches are consumer devices and Microsoft have wound down their Cortana + Health services. It wouldn't be a great watch without Health. Outside of Windows Home and Xbox Microsoft has always developed with Business not Consumer in mind.

Because Microsoft's "ecosystem" is Windows, Office, SQL Server, Exchange, Visual Studio, etc. None of which has anything to do with watches.

Microsoft needs to show huge improvements to surface duo 2 and specially Surface pro x. Arm is the future not x86.
[Also waiting for next year to see surface neo with Microsoft's own CPU]

Can't see MS developing their own SOC. But otherwise agreed. All the other Surfaces to varying degrees are based on old architecture. Microsoft uses Intel for compatibility but it's not ultimately where Windows lies, or rather it's going to be an ARM + Intel future. Regarding Surface Pro X, reckon Microsoft is waiting on Qualcomm to catch up.

People keep saying arm is the future, not x86, yet, x86 is selling more than ever and is making huge progress in mobile, server and desktop

I don't think that is true. Windows sales are down and that likely means x86 is too. Not to mention, Mac sales are all ARM now. x86 sales must be down.

They aren't updating the Surface Studio at this event...Because they're discontinuing it in favor of the new Surface Monitor Pro!

There is no market for the Surface Studio, or even just a monitor. We would see copycats and similar devices if there were. Professionals are a small market, and aren't looking for that form factor.

I wish! That plus if they fixed the surface pens wobbly lines then maybe more artists will take Windows more seriously.

It's gonna be first time attending Microsoft launching event, hopefully window won't go too fast like apple
And i hope i see something shockingly to myself at the event especially surface!

Looks like top and bottom bazels pf duo will be noticeably smaller this time to accommodate extra inches of screen. that means most probably there will be a little change in aspect ratio from 4:3 to 1.41:1 most probably.

I'm looking forward to Dan's review of the Surface Go 3. The low end chip from Go 1 to 2 was virtually the same, but now for 3, the low end chip seems like a significant jump. I might get one for Christmas so all my devices have Windows 11 (currently have Go 1, which won't get updated to Windows 11). Interested to know the configuration offering of Go 3. I hope the drive on the low end version is a little faster. The Go is just a joy to take traveling, and use around the house.

My best is on low end version being almost similar to the m3 Go 2 version and the more expensive i3 version being slightly faster (~10%) but mainly having better battery life (but not a major difference).

I just wish they would go 8gb across the board on everything.. seems absurd shipping a device in 2021 with 4gb...

Hoping for pre-orders to go live for the Duo2 right after the announcement. I don't think I have been so hyped about anything since we'll the Duo1. The battery life improvement will be appreciated and hopefully the camera ease of use will be significantly better.

A stand alone Surface Studio monitor (Surface Display?) would be a dream.

For what? If people wanted them, they would make them. The Studio was a huge flop. Sales have been tiny. I wouldn't expect a new Studio ever. Maybe something new for AIO next year? The Studio form factor didn't catch on.

A monitor would sell much more. The reason it didnt sell, imo, is probably because the performance is not good enough as a AIO. People want to upgrade the specs more often than they want to upgrade monitor.

Also, Microsoft's inking has such poor accuracy it isn't useable as a production machine. All these issues due to Microsoft's poor strategy and software. They need to get it together.

Sure that might be the case, I wouldn't know because I am not such a user, for my use the inking is perfectly fine. All the people asking for a surface monitor is probably more after the premium design and aspect ratio rather than inking tbf. I would love to pay a premium price for it, I would even by the current studio if I could plug my desktop into it. computer monitors are so poorly designed with those cheap plastic cases. Why do you even comment on everything Microsoft related if you think all they do it crap? Did they hurt you?

You are right. I should just blindly cheerlead everything Microsoft does. No one should hold them to higher standards. The whole reason the Studio was designed was for inking and drafting. That is why the display folds down. Without that, it is just another AIO. 3:2 screens aren't good at that size. There is a reason you cannot even find one. While it is nice at smaller sizes so you can maximize space, as it gets bigger, you no longer need that. A 27" screen is much better at 16:9 than 3:2.

I would like to see the sales numbers. I am not saying that the Studio has been selling good, I don't know, but I don't know either the opposite. Also, we should define what should be a success for a niche device (and at this price) like this one.

I am quite sure it came out that the Studio sells in very low numbers. That is why they haven't updated it in a while.

The addition of slightly curved screens towards the hinge in the duo to allow for glanceable info is fantastic. Can't wait to get my hands on one.

Agreed! I'm wondering how far this will go toward making the two screens appear as one when fully open

I didn't know the Surface pro 8 was on the agenda for upgrades :/

Sounds good to me. Looking forward to the reporting here next week.

My Pro 7 is pretty good but I will still check out the Pro 8. What I really need is a new keyboard. I am hoping there actually are some new color options.

Supposedly the Pro 8 will support the Pro X type covers (those with a pen dock).

I'm a little surprised there lunch Surface Go 3. Since I know there's virgin of Windows 11 light education markets and cheap computers. This event might be more interesting than I was thinking might be.

Looking forward to seeing whether all the improvements to the Duo 2 win me over despite the camera bump!

So the duo 2 will ship with Android 11 just when Android 12 is right on the horizon lol.... Either the team is under serious resource constraints or Google hasn't been playing ball in terms of OEM support. Thus resulting in Microsoft and Google not renewing their litigation agreement not to engage in legal battles. My money is on the latter.

What would be the reason to delay the duo until 12 is worthy? is any device going to ship with 12 out the door? usually never happens - most wait for initial updates/certifications or further testing...

If Duo 1 is any indication, a year from now, it still won't have Android 12.

I hope the new surface book's hinge is as good if not better than any surface hinges. I'd rather not have to wait for Gen 2 or 3 to finally jump on it. This is certainly the most exciting device of this event. But what an event! It has to be two hours long if windows 11 is part of the show...

"Unfortunately, I'm told that wireless charging is not present." I understand that this is a "standard" at this point in tech for phones, but I will never understand the need for wireless charging (with its current capabilities). It's horribly inefficient. It's slower than charging with the cable, generates far more heat, and you still need to keep your phone tethered to something in order for it to charge. Aside from the cool factor, it's not a very good charging alternative. I dunno, maybe I'm missing something...

"I dunno, maybe I'm missing something...", its also bad for the battery (because of the heat)

W11 and Android store, or better yet, android apps in MS store, would do for me, while I wait for native apps for MS Store.

One day Microsoft will announce a product and say it is available that day. You know, like their watch. That was awesome.

That screen transition was really freaking cool.

Good showing by Microsoft today. Looking forward to read some of the responses from the media, as well as see how these new devices hold up during review time (and everyday use). I was looking for a little more accessory news, but I liked what I saw - met expectations with a few revelations, so to speak.
Windows Central Newsletter
Thank you for signing up to Windows Central. You will receive a verification email shortly.
There was a problem. Please refresh the page and try again.