Microsoft to unveil new Surface hardware on September 22
Microsoft's annual fall event is just a few weeks away.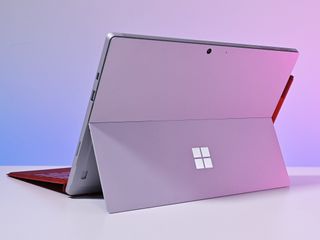 (Image credit: Daniel Rubino / Windows Central)
What you need to know
Microsoft has announced its fall hardware event.
The event will take place on September 22.
It'll be an online event with a live webcast, beginning 11AM ET.
Microsoft has today announced that it will be holding a Surface hardware event in a few weeks time, on September 22 as a virtual event. The company is expected to unveil new hardware with Windows 11, including the Surface Pro 8, Surface Go 3, and perhaps a new flagship Surface laptop.
We also expect Microsoft will announce Surface Duo 2, though that won't be shipping with Windows 11. We already know that Surface Duo 2 is set to feature a new triple camera system housed in a bump on the outside of the device, higher-refresh rate displays, a Snapdragon 888 with 5G and 8GB RAM. It'll be a big upgrade over the original Surface Duo, which launched with year-old specs and an eye-watering price tag of $1400.
In regards to the new Surface PCs, recent geekbench results appeared to reveal that the Surface Go 3 will ship with either an Intel Pentium Gold 6500Y as well as an Intel Core i3-10100Y for the model with LTE. The rumored Surface Pro 8 is expected to ship with 11th-gen chips, high-refresh rate displays, and an updated design more similar to the Surface Pro X.
I've also heard that we may see a new Surface laptop of some kind. I'm unsure if this will be a "Surface Book 4" or "Surface Laptop Pro" kind of device. I've heard it's a convertible with a non-detachable design, possibly similar to this recent patent filing from Microsoft. I guess we'll find out in a few weeks.
Finally, I've also heard that we may see a new Surface Pro X. I'm unsure about what exactly will be new, but I have heard there may be Wi-Fi only models of the Surface Pro X for the first time.
We'll know more when the event takes place on September 22. What are you hoping to see? Let us know in the comments.
Windows Central Newsletter
Get the best of Windows Central in in your inbox, every day!
Zac Bowden is a Senior Editor at Windows Central. Bringing you exclusive coverage into the world of Windows on PCs, tablets, phones, and more. Also an avid collector of rare Microsoft prototype devices! Keep in touch on Twitter: @zacbowden.
Wait... "won't" be shipping with android/win11? Is that a typo

I think he is saying Duo won't ship with Windows 11

I thought maybe he meant android 11 but written win11 by accident

He meant able to run Android apps on W11. That was a feature they mentioned, but it isn't ready yet at W11 launch.

Exciting stuff! I'm always most interested in Surface Laptop improvements, Surface Studio & potential external screen announcements, and surface go announcements. So I'm happy to see at least the potential for an updated surface go in this line up! Still holding out hope for much better performance in that form factor/size down the road for basic photo editing on the go!

Why Surface Laptop? The "improvements" there have possibly been the least interesting of anything MS makes. It's basically an also-ran ultrabook, not sure what there is to be excited for.

I didn't say they've made exciting improvements. I said I'm always most interested in improvements for that device. Big difference, ha. That means I want to see improvements, not that they've made them. After 2 years of holding off on laptop updates, when the 2nd came out, I did purchase the new one this year and it's a HUGE improvement. But I'm always looking forward to improvements because it needs it lol. Honestly, If I could get about 20% better performance out of the current Laptop 4 15" AMD 16gb and much better battery performance (I could care less about battery life, at least let me choose the performance level), then it would be the perfect ultrabook for actual high performance work.

I don't think we're going to see anything here re: Surface Laptop proper e.g. Surface Laptop 5. We're talking about a new device entirely that likely replaces Surface Book.

Do you think the Duo will have a separate event?

When the surface event was supposed to be in October, that seemed likely... but I think with them scheduling the Surface event for September instead, it's a sign they'll introduce all the devices (duo included) at the same conference.

For me it's the good old Surface Pro. Looking forward to the Pro 8. Have all the Surfaces (except the Studio), but I always keep coming back to the Pro. :-)
It's not perfect, but imho, it has the right balance of compromise and utility.

The Pro is the form factor I like the most. I am hoping I can buy my first ever Surface Pro this time, they just need to add Thunderbolt 4.

Same here. Lots of interesting announcement leak news in this article, but I think the lede is buried here - the Surface Pro stuff alone would justify its own article! 11th Gen Intel with SPX-style design would really be something. Of course I'm more interested in SP9/12th gen Intel personally, as I already have a SP7 and the 12th gen might be an even bigger jump up than the 11th gen was.

You got a Surface Hub? Damn man.

This is early! Very excited that it's coming fast! Looking forward to seeing this new laptop. If it is what your speculations have described (a laptop studio), then I will get it as a replacement to my 7 years old laptop. Still very interested to see where surface pro is going and the pen upgrade. Is it crazy to hope they will reintroduce surface neo? After all, why couldn't it run windows 11 with a layer of dual screen UX? Here is my bet : surface duo 2 will be revealed and neo will be shown right after as a "we are not done" thing. Anyway, very exciting!

This is all good news. MS never sits still. I'm most intrigued by the SP8 though - IIRC this is new news (vs. the SB4 and SG3 stuff, which we've already heard).

They should drop the price of the Duo to <$500. This is the only way to get people to switch. If they do not switch, this will be the last duo. Once they get people transitioned, then build an actual "flagship"...for the $1400USD

Duo for $500? Not happening. $1400 for a flagship is still cheaper than the competition. Price isn't the barrier to entry.

Yes!
That's why the Duo proved to be epic fail in terms of sales

Having no data but rather anecdotal assumptions about sales of Duo 1 it is hard to say if it was a flop or not. If anything, it was a large beta test of the quality of the form factor. Only minor issues were reported. Nothing like Samsung's fold 1.1. $500 is midrange mediocrity. Duo2 is not at all in that category. $1400 was a terrible price for what Duo1 was given that it had year old mid range specs. Leaks show that Duo 2 has fixed the specs issue, and it has real flagship specs now. Given the uniqueness of the second screen it's an easier sell now than it was before at $1400. No phone with an 888 processor and top specs is available for less that $800. Many are in the $1000-$1200 range. They go as high as $1800. But prices of other flagship phones have dropped recently. Cell phone manufacturers seem to have found the ceiling on price. So let's say it's specs are adequate so that makes it worth $800 comparatively to other phones. Then add $200 for the unique dual screen capability. Another $150 for the Surface tax. You're at $1,150. So $1199 for good marketing and you've got a compelling phone at it's competitive price.

I would rather like the Duo 2 to sell at lost so it can take profit other way from software revenue. Just like Xbox Console Strategy.

Agreed... I suspect it will be 1000-1200 for the entry-level model of the Duo 2 (unless there's a Duo 2 Lite or something, that scales back features/specs to get to sub-1k).

Quality issues weren't the issue with the Duo, although they didn't help. Form factor issues were. Dual screens aren't really worth it, and now that the Fold is in its 3rd iteration, it is really starting to catch on. I doubt dual screen will be viable unless they make the device very cheap.

$1400 is way too much for an old school foldable. They need to be under $1,000 and even then it will be hard to get users. The form factor just isn't desirable. There is a reason no one else is pursuing dual screens.

There was also a reason no one was interested in producing a Surface Pro form-factor device, and there aren't many out there that have or do. Is it successful? Very, and profitable. The form factor isn't desirable to everyone, but I love being able to view, control, and manipulate (comfortably) two applications simultaneously. Time will tell.

Given the adoption rate of folding phones your logic means Samsung should stop pursuing folding phones as well.

Personally the only interesting foldable from samsung is the z flip. I love the form factor and ill wait patiently for it to reach a more palatable price point. The fold is just for people with more money than they know what to do with it.

Foldable phone adoption/sales have doubled each year and that is expected to continue.

I am guessing you haven't seen the pre-order numbers for Samsungs folding phones. They are huge.

As with everything else before this, no one needs it or pursues it until everyone suddenly needs it (ask the Wright brothers about manned flight lol!). Once this form factor is perfected and the software is seamless (like today's ubiquitous glass slab phone), that's when we really know if this will catch on or fade into obscurity.
Fun times ahead for sure!

"They need to be under $1,000 and even then it will be hard to get users. "

Duo 2 won't be that device. But there is something else on the horizon for next year ...

I like the sound of that.

Then they shouldn't bother. The form factor is likely dead anyways, but if they don't move now, it is almost certainly dead.

"There is a reason no one else is pursuing dual screens.", yes there is, it is for now cheaper & thinner than Samsung Fold 3 and likely the hinge is stronger than the foldable screen of the Fold 3.

Who else is pursuing dual screen foldable? I don't think you understand what I meant.

Who else is pursuing folding displays? Huawei, which is irrelevant for most of the West, and?

That's a matter of opinion, I suppose. You can get a foldable Samsung at $1,000 (Z Flip 3), and you could get a dual-screen experience for much less from LG's accessory solution. In either instance, you're really misrepresenting the Duo if you're suggesting it's a bargain against the competition, or ever was.

"you could get a dual-screen experience for much less from LG's accessory solution."

It's 2021. LG doesn't make smartphones anymore.

LG stopped with phones because they did not make any profit with them, so no the LG's accessory solution is not an alternative (not to mention the mediocre software and update support they offered, MS does this much better imo).

lol Not happening It'll be priced similarly They can also release a lower-cost Duo without 3 cameras, SD888, or high-refresh panels.

Then sales will be tiny, reviews will be bad, and as such, the form factor will not succeed. All because Microsoft doesn't have a good product and/or massively over-priced it.

I guess they can release a cheaper Duo with SD7XX SoC and without the high refresh panel and fewer cameras. That may drive the price low. Basically Surface Duo 1. Thing is, Qualcomm basically stop making and supporting older chips. So making Duo 1 isn't possible. Only they can continue to sell old stocks till it runs out.

You mean for the old Duo? They already did that. The new Duo 2 looks to have much better camera's and specs, no reason at all the price it that low. Its basically a flagship phone with an extra screen, so it should be priced accordingly (1000-1200 bucks is fair I would say).

Really hoping that they add more devices with mobile data access.

Do you think anyone has told Panay that there IS such a thing as a Thunderbolt port, and it's now up to Version 4...

That would cut into their profits selling overpriced, proprietary accessories. They do not want universal docking allowed on Surface products.

Which is why I bought an HP Elite X2 instead of a surface. They have thunderbolt.

Surely Panay knows about Thunderbolt. Pretty sure the reason they won't put Thunderbolt on Surface devices is due to security risks:
https://www.theverge.com/2020/4/28/21239517/microsoft-surface-laptops-ta... Surface devices are fairly popular in education, enterprise and government environments; hence the lack of Thunderbolt.

"Security risks" is a BS answer/explanation. I asked Panasonic who literally makes Toughbooks for the CIA, military, US Gov't, etc. Thunderbolt has never come up and is not an option that can be removed for "security". They can request no Wi-Fi/BT/Cellular and no web camera, however. Even if it were true, Surface volume sales for gov't are well below Panasonic. And Microsoft could simply make devices for them without TB3/4 and make ones with Thunderbolt for consumers.

Pretty much other business laptops have Thunderbolt option, such as Latitude, Thinkpad and Elitebooks are the popular choice. They are heavily used on enterprises, education, government and even on secured environments. Thunderbolt were never an issue. Surface isn't common on those environments, and typically limited to smaller subset of groups or people. The fact that the volume is so low on those industries, might as well just add Thunderbolt despite the "security risks", since I think it is prosumers are most interested with Surface devices and asking for Thunderbolt for so long time.

I'm willing to use Microsoft devices if the price is right. It depends on how much they're willing to pay me.

My Surface Pro 3 is on its last legs and the battery barely lasts 2hrs, Hoping the Pro 8 has some nice specs. I want to run my Visual Studio 2019 Suite during the day and Adobe Photoshop at night. Here is hoping there is a new port replicator that does not suck.

Same bro! Have you been using your SP3 for work? The way my SP3 performs, I can't use it for work anymore.

This is what I wondered after yesterday's news--would the Surface lineup be ready for the W11 launch on October 5th? I wouldn't be surprised if they paired the "on sale" dates for these to match with W11's launch. Maybe they're a little after, but I imagine these devices (other than Duo) will be meant to ship with W11, so I doubt they don't launch BEFORE October 5th with W10 (unless MS is trying to give people choice). I'm definitely interested to see the Duo, that's the main thing. My G8 is fine, but I've been ready to try something new since they announced the first Duo (then ruined it with bad specs and pricing). IF they get the specs up to par, I'll pay the $1,400, but they had better get it right. After that, I'm really only interested if they bring AMD chips to these devices. If it's all Intel-based, there's really nothing in their CPU lineup to be excited for, unless you're needing TB4. If the Book successor uses Ryzen (ideally Zen 3), I'll probably pick one of those up. I've come to accept they're never going to make the switch with the Surface Pro, so it'll be of little interest to me. I am curious to see what design updates they bother to bring to their devices. Things have been so incremental for the last 3-ish years that excitement has been rare. The Book replacement is really the interesting thing to see, but first-gen's always been really clunky with Microsoft. Give me AMD and I'll accept that task of being a glorified beta tester, but with as bad as the first Surface Book's drivers and stability were, I'd definitely be wary of buying in if you want something smooth.

"would the Surface lineup be ready for the W11 launch on October 5th? I wouldn't be surprised if they paired the "on sale" dates for these to match with W11's launch"

That seems to be the case as on the 5th we'll see new laptops on sale preloaded with Windows 11. I expect Microsoft to be there too.

So.. Has no one else noticed how high the keyboard seems to be attached to the screen in the event picture? Could just be me, but that looks to be attached much higher than in the past - significantly!

It's probably the Pro X. It was that high.

I have a Pro X. It's not that high - not close.

Probably just using an existing device for the invite. Nothing special about it.

I am hoping for a surprise Surface Watch reveal with the Duo

I enjoyed using the Microsoft band and band 2, but seem to recall that they scrapped it because it essentially couldn't run even a heavily forked version of Windows, and they wanted every piece of Microsoft hardware, including xbox, to run windows (I believe the OS on xbox today is Windows 10). The Band had a great OS but it had literally zero windows in its DNA, although they gave it a tile layout to add some continuity. But that was then, and a lot has changed, notably the fact that the duo runs android, which would have been unthinkable at Microsoft a few years ago. If they ever bother with a watch, I just hope they avoid wear OS. I've been using a faster 3 for over a year and it's rubbish. Google have made zero effort on that platform. A surface watch running a new, Microsoft built wearable OS.... Now that would be interesting

I do agree that the band and band 2 were amazing. I was upset when they discontinued them. I can see them doing their own platform for a watch which I would love but at the same time google has made some decent gains with Wear OS 3 that might make them pick that route

A watch would be an awesome addition to the lineup :) Personally, my wishlist is a duo running Windows 11 with android app compatibility. I'm pretty sure that's not going to happen this year, but maybe by the time they release a Duo 3 in 2022, Windows 11 will be well and truly baked and ready to show up on a mobile device. Wishful thinking on my part :)

A brand new version of WearOS was just released that was a group effort with Samsung and Fitbit. Is that zero effort?

I'd love to see Surface Studio released as a stand alone monitor. The Target market already has high powered custom built desktops with 2-3 large 32" monitors. A digital drafting table that can harness the power of that desktop is what that industry really needs and wants. They don't want a non-customizable, prone to overheating AIO.

If they made one it would undercut any premium artist monitors in the market. Microsoft probably has some lasting deal with Wacom not to make a stand alone monitor, as they're actively trying to avoid monopoly judging by the choices they make about Surface products.

Is there any chance...any at all...that the duo will have a Windows 11 option, even as a dual boot?

Im interest in an updated go laptop with a screen comparable to the tablet go and a lighted keyboard. Its beyond me why Microsoft left a lighted keyboard off the laptop go

I'm still wondering why they put a lower resolution display on the laptop go than the surface go.

Why SPX with WIFI only. Seems like it defeats one of the advantages of the WoA.

Lower cost to compete against Intel. Same reason why we saw the Samsung Galaxy Book Go entry-model as Wi-Fi only.

It is only an advantage if anyone cares about the feature. Cellular laptops aren't very popular at all.

Bleached, you literally just sit home all day making up things, don't you? There are more LTE-enabled laptops in 2021 than there were in 2020 and the year before. Those are just facts.

The percentage of the LTE enabled laptops vice the WIF ones would be more indicative of their popularity though.

Lot of mobile plans now have free additional line for family packages. Been using SGo and SGo2 wtih LTE for a few years now. Businesses can definitely afford it. It's all about price for consumers. Very few are able to afford phone and computer with LTE. But the trend tells you that it's becoming more affordable.

Sad that these probably won't have 12th-gen, not enough time. Windows 11 has some cool heterogeneous computing abilities with Intel's new thread director. While not groundbreaking in terms of performance, it would have been a great opportunity to mention some of the behind the scenes improvements in Windows 11. Which I assume all of these will be running Windows 11 to boot, except mobile devices of course.

Exited for 360 degree surface because it might be the most powerful among surface -pros, books & laptops.
Acer has done great job with concept d3 ezel hinge hopefully microsoft will take it level above them considering Microsoft's hinge work in surface pro & even surface duo.

Don't know why they don't launch a Surface Go with ARM, a perfect consumption device.

I would guess the price. The 8x gen is not cheap (I think at least more expensive that what MS pays for Intel m/y chips which mostly allow the same workflow), so it would come down to the 7x gen (like the Samsung Book Go has) but that chip does not mindblow either. I think in the future when Qualcomm (or maybe Mediatek) has made some more jumps in performance we can expect a Go with an arm cpu (would also make more sense for a Go 4 when W11 and its Android app support is fully ready and being used).

No actually it's incredibly cheap, only roughly $50 more than SD 7c according to Gizmochina. Besides the SD 8cx Gen 2 is an already outdated product based on the old Snapdragon 855 from early 2018. Qualcomm needs to update both the 8cx and 7c with "5nm Kryo 600" in order to stay competitive, which should be based on upcoming Snapdragon 898 and 780. They're just lazy due to the obvious lack of competition in this market space.

Have the SD Gen 1. Interested in Gen 2, but would only consider it if the price is lower and there are generous trade-ins. Otherwise, I might wait 6-8 months and get it for 1/3rd the original price ;)

I do not think the SD 2 will drop so much in price as the SD 1 did. The SD 1 had a really mediocre camera while the SD 2 likely has a flagship phone camera (besides the numerous other upgrades the SD 1 lacked).

It will probably drop faster when Microsoft announces that they are no longer pursuing dual screen foldables after Duo 2 is a huge flop due to high prices and the poor form factor.

They are doing at least three Surface Duos. But I get it, you just like to troll here spouting off things as if you have knowledge when you don't.

This is obviously you trolling considering you mention high prices while the Fold 3 (its direct competitor) is more expensive. There is no risk here since at the end of the day it still runs Android ( same risk as with the Fold 3 or other Android phones).

I'd love to see some new "surface buds" aswel with noise cancellation

Same here. I love mine but noise cancelation would be sweet!

Crossing my fingers that we might actually get a Surface Studio 3 announced here... Please please please please please!
Windows Central Newsletter
Thank you for signing up to Windows Central. You will receive a verification email shortly.
There was a problem. Please refresh the page and try again.