The Surface Pro X arrived late last year as the newest entry to the rapidly growing line of Microsoft-branded devices. With its modern design, decent battery life, 4G LTE, and instant-on abilities, I made no qualms that it was my personal laptop of the year. But while I thought Pro X was nearly perfect, I also noted only for the right customer.
Microsoft is refreshing Surface Pro X for late 2020, and make no mistake, this is a mild iteration from last year. But a lot of progress around Windows 10 on ARM has been made in the previous 12 months, including our first preview of x64 emulation due in November.
What is new with that Microsoft SQ2 processor, and how does Surface Pro X still fair? Here's my review after using it for the last three weeks.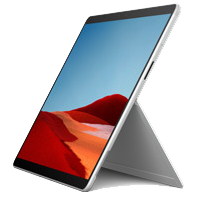 From $999 Bottom line: Microsoft has refreshed Surface Pro X for late 2020, and while the changes are welcome - new colors, slightly faster processor - the performance of ARM is slipping quickly behind Intel and AMD. But for those who need a 4G LTE, thin-and-light tablet PC that is just a joy to use, nothing beats Surface Pro X.
To the point
Surface Pro X (2020) What's new
There are four main buckets for changes to or with Surface Pro X:
New SQ2 processor
New platinum colorway
More color options for the Surface Pro X Signature Type Cover
General advancements in ARM and Windows
Out of these, it is only the new processor and advancements in ARM that are notable.
Following Qualcomm's somewhat vague announcement of its Snapdragon 8cx Gen2 5G, which now features optional 5G, Wi-Fi 6, and improved performance, Microsoft followed with its SQ2 chip. Both are based on the Kryo 495 CPU from last year and are clocked a tad higher than last year's processors.
Interestingly, the other two features of Qualcomm's Snapdragon 8cx Gen2 5G announcement – specifically 5G and Wi-Fi 6 – did not make it over to this refreshed Surface Pro X. That is somewhat understandable for 5G, which is still a bit green, and it would likely require a significant redesign of Surface Pro X's antenna system. Nonetheless, it would have been exciting to have as an option. The omission of Wi-Fi 6 is more disappointing and unclear.
The new platinum color option, which is only found in the upper two price tiers of Surface Pro X, is outstanding. Gone are the fingerprints the black model was so prone to collecting. And this platinum is very platinum, by which I mean it has such a gorgeous shimmer that is likely attributable to the aluminum chassis. This laptop plays with the light in ways the black model could not.
Swipe to scroll horizontally
| Name | CPU | RAM/Storage | Price |
| --- | --- | --- | --- |
| Surface Pro X | SQ1 | 8GB/128GB | $999 |
| Surface Pro X | SQ1 | 8GB/256GB | $1,299 |
| Surface Pro X | SQ2 | 16GB/256GB | $1,499 |
| Surface Pro X | SQ2 | 16GB/512GB | $1,799 |
There are now three new Surface Pro X Signature Type Cover options for color: Platinum, Ice Blue, and Poppy Red matching the Surface Pro 7 line. Each of those keyboards also has the Surface Slim Pen dock built-in for quick and easy access. While not an upgrade, it shows confidence in the product line with Microsoft expanding options for those who want more customization. Compared to last year's black-on-black, these new combos are a breath of fresh air.
Microsoft has also had a nice stream of announcements demonstrating the company's commitment to Windows on ARM. Last year, I lamented there was no version of the new Edge browser compiled for ARM64, though that was resolved a few weeks later. Microsoft Teams is also now optimized for ARM64 delivering improved performance and battery life. Microsoft announced the inclusion of ARM in its growing App Assure program, which helps developers and companies convert and optimize their apps for Windows and ARM-based systems.
Swipe to scroll horizontally
Category
Surface Pro X
Operating System
Windows 10 Home on ARM (Consumer)
Microsoft 365 Family 30-day trial
Display
13-inch PixelSense
3:2 aspect ratio
2880x1920 (267 PPI)
Processor
Microsoft SQ1
Microsoft SQ2
GPU
Adreno 685
Adreno 690
Memory
8GB or 16GB LPDDR4x
Storage
128GB, 256GB, or 512GB SSD (removable)
Rear Camera
10MP autofocus (1080p and 4K video)
Front Camera
5MP (1080p)
Security
Windows Hello face authentication camera
Connectivity
Wi-Fi 5 802.11ac
Qualcomm Snapdragon X24 LTE
Bluetooth 5.0
Ports
2x USB 3.2 Gen 2 Type-C, 1x nano SIM, 1x Surface Connect, Surface Keyboard connector
Battery
Up to 15 hours typical use
Dimensions
11.3 x 8.2 x 0.28 inches
(287mm x 208mm x 7.3mm)
Weight
1.7 lbs (774g) w/o keyboard
2.36lbs (1,074g) with keyboard
Colors
Matte black
Platinum
Availability
Oct 13th and beyond
Pricing
Starts at $999 ($1,499 for SQ2)
Microsoft is now preloading Amazon Prime Video and the new Liquid Text app with Surface Pro X. While LiquidText has a free version, the fully-featured app is around $30. While not cheap, it is a great productivity app ported natively to Windows on ARM from the Apple iPad ecosystem. It's a winner.
However, the most exciting news is that in November 2020, Microsoft should give Windows Insiders the first look at x64 emulation on ARM. Currently, Windows on ARM can only emulate x86-32-bit programs, but not 64-bit ones leaving many business and specialized apps unable to run on Surface Pro X, for example, Adobe Photoshop. With x64 emulation, that should solve many of those app incompatibility problems, effectively making ARM the same as traditional x86 systems.
Testing will begin in November, with the commercial release of x64 emulation occurring sometime later in 2021.
Now with more color
Microsoft Surface Pro X design and features
Despite many exciting laptops in 2020, Surface Pro X still holds its own for style and design. While the aging Surface Pro 7 is always a good alternative, there are simply no convertible-tablet PCs that match the slimness and looks of Surface Pro X.
At just 7.3mm thin, the Surface Pro X feels very much like an iPad Pro — solid, metal, premium, and lean. The Surface Pro 7, by comparison, is a hair thicker at 8.5mm. Weight, however, is similar between both devices at just 1.7 pounds (775 grams).
Audio is excellent, thanks to the dual front-facing speakers. They are loud and vibrant and are remarkably similar to the Apple iPad and iPhone sound profile.
Image 1 of 2
Ports are sparse with just two USB Type-C, either of which can be used for charging, data, or display out. Neither are Thunderbolt 3. There is no Type-A port, so users will need a dongle (not included). While the lack of a micro SD card reader is unsurprising, the omission of a 3.5mm headphone jack is regrettable. Microsoft sells a $12 Type-C to headphone adapter for those who do not want to use Bluetooth.
Bluetooth 5 and the 4G LTE X24 modem provide wireless connectivity. The LTE modem is a world-modem and not carrier- or SIM-locked, and users can sign up for an eSIM within Windows 10 directly. Users can even switch between a physical SIM and eSIM dynamically, which is excellent for traveling.
Below the kickstand, there is a door that pops off using an included SIM tray tool. Below that door is the replaceable M.2 2230 NVMe SSD and nano-SIM card slot for the 4G LTE modem (eSIM is also supported). Smaller M.2 2230 drives are harder to find, but they can be bought inexpensively online, giving users an easy way to upgrade (or replace) storage. Because of this feature, the site iFixit gives the Surface Pro X a favorable rating for repairability.
It's a testament to Microsoft design that I can't think of a single thing that needs improving on Surface Pro X.
Bright and glossy
Microsoft Surface Pro display
Due to the thinner side bezels, the Surface Pro X gets a larger 13-inch display compared to the 12.3-inch one found on Surface Pro 7. That number may seem small, but it is noticeable, and Surface Pro X is more enjoyable to use because of it.
The 2880 x 1920 resolution gives a pleasing 267 pixel-per-inch (PPI) density. It's a higher resolution than the Surface Pro 7's 2736 x 1820, but its smaller size results in the same 267 PPI as the Surface Pro X.
Last year I could not test color accuracy due to driver incompatibility, but that is changed. Plugging in my Spyder X colorimeter, it suddenly worked – just one of those bits of software coming online for Windows on ARM.
Microsoft quotes 450 nits of brightness, but I exceeded that with an impressive 487 nits at max and six nits minimum in my tests. By comparison, Surface Pro 7 is below that at 410 nits, although it can go a bit dimmer at just three nits.
Color accuracy is also reasonable at 99 percent sRGB, 74 percent AdobeRGB, and 75 percent DCI-P3. Those are all a hair higher than Surface Pro 7.
Like my criticism of last year's Surface Pro X, Surface Pro 7, and Surface Laptop 3, the Surface Pro X omits wide-color gamut (WCG) abilities, high-dynamic-range (HDR)/Dolby Vision, and anti-glare that other PCs in this price category feature. Surface Pro X lets users switch between an "enhanced" color profile with a more saturated look or a more neutral sRGB mode where color correctness is necessary.
Overall, the display on Surface Pro X is a selling point. It is bright, color-accurate, punchy, sharp, and larger than Surface Pro 7.
Slimming down and hiding away
Microsoft Surface Pro X pen and inking
One of Surface Pro X's hallmark features is its Surface Slim Pen, which can be optionally bought with the Signature Type Cover or by itself. Due to its design, it is perfect for those who use the pen all the time and those who barely need it at all. It is just incredible.
The secret is the Surface Slim Pen stows nicely in the Surface Pro X's keyboard deck. Held by strong magnets, the tray also wirelessly recharges the pen when not in use. It's a smart idea — one that lets you forget you even have a pen right up until you need it. Hidden away, it also means you'll never lose the pen in your bag. The magnets are so good that even if you place the pen down incorrectly in the tray, it flips over to make sure it charges.
Image 1 of 2
Functionally, the Surface Slim Pen is the same as the regular Surface Pen. It has a Bluetooth button at one end that also double as an eraser. There are two buttons near the tip for functions that can be assigned.
Based on Microsoft Pen Protocol (MPP), formerly known as DuoSense2 under N-trig, the Surface Slim pen supports tilt and 4,096 pressure sensitivity levels. Because of this, you can use the Surface Slim on other Surface PCs, and the older, regular Surface Pen also works on the Surface Pro X.
For artists, the usual pen jitter still occurs when slowly drawing straight lines.
I had no issues using the Surface Slim Pen for notetaking or marking up documents. While you can use it for drawing and higher-level artistry, I think Microsoft is keener on those using this pen for work-related tasks.
Sadly, the new Surface Slim Pen is not cheap at ~$115. If you buy the Surface Slim Pen separately, you still get a small wireless charging dock for it.
Draw Away
Microsoft Surface Slim Pen
Microsoft's latest Surface stylus

With the launch of the Surface Pro X, Surface Pro 7, and Surface Laptop 3, Microsoft redesigned the Surface Pen and threw in some wireless charging for good measure.
Best cameras around
Microsoft Surface Pro X keyboard and cameras
The Surface Pro X keyboard is fantastic and familiar to anyone who has used a Surface before. With three-stage backlighting, ample key travel, and a decently sized glass-topped trackpad, the Surface Pro X's keyboard is as good as Surface Pro 7's.
So-called "lapability" may be an issue for those with shorter legs, but I have no problem whatsoever.
Tiny magnets that help keep the Surface Pro X Signature Keyboard closed, which is a nice touch. While you can shake it loose, the magnets help lock the cover to the Surface Pro X's display.
The Surface Pro X cameras are the best of any Surface — and Windows 10 PC — to date. They are marvelous with excellent sharpness and clarity, beating Surface Pro 7 and Surface Book 3. The 5MP full HD front-facing camera with dual Studio Mics ensures exceptional Zoom or Microsoft Teams conference calls. In the rear is an 11MP full HD (1080p) camera with autofocus that's not all that dissimilar to Surface Duo. That's a small bump from the Surface Pro 7's 8MP camera, but it shows when taking pictures of whiteboards for your notes.
One new trick introduced earlier this year is Eye Contact. It's an option found under the Surface app and is off by default. The feature is exclusive to Surface Pro X and is due to the Qualcomm AI chip on board. The technology auto-adjusts your eyes in real-time using the video camera, so it looks like you are looking directly at the person and not down on your screen. While it is a subtle adjustment, it works incredibly well, and with any app that uses video.
Windows Hello — Microsoft's system for bio-authentication and facial recognition — works as anticipated and is fast and accurate. Due to the Qualcomm ARM processor, the Surface Pro X is nearly "instant on" each time you open the keyboard.
Mobile and virtual meetings are a necessity in 2020, and here Surface Pro X shines. If you need to work in your house or take a meeting away from Wi-Fi, there is no better laptop PC than Surface Pro X.
A modest improvement
Microsoft Surface Pro X benchmarks and battery
Getting to the crux of Surface Pro X (2020) is what is new with the Microsoft SQ2 processor and Adreno 690 GPU (up from an Adreno 685).
The SQ2 does not replace the SQ1 as Microsoft continues to sell that chip in the $999 and $1,299 models. Instead. SQ2 is for the $1,499 and $1,799 editions, which also come in the new platinum color.
The good news is if you have Surface Pro X with SQ1 (or you can only afford that model), you are not missing much. Please make no mistake: SQ2 is faster, but we are talking minor improvements, not generational shifts. The less-than-impressive conclusion is that SQ2 is clocked at 3.15GHz compared to 3.0GHz of SQ1 (and the original Snapdragon 8cx is just 2.85GHz).
Geekbench 5
Geekbench 5.0 (CPU) (Higher is better)
Swipe to scroll horizontally
| Device | CPU | Single core | Multi core |
| --- | --- | --- | --- |
| Surface Pro X | SQ2 | 798 | 3,100 |
| Surface Pro X | SQ1 | 725 | 2,819 |
| Flex 5G | SD 8cx | 716 | 2,844 |
| Galaxy Book S | SD 8cx | 685 | 2,681 |
| MagicBook 14 | Ryzen 5 3500U | 748 | 2999 |
| Acer Swift 7 | i7-8500Y | 732 | 1,106 |
| Surface Laptop 3 13.5 | i5-1035G7 | 1,177 | 4,413 |
| Surface Laptop 2 | i5-8250U | 909 | 3,372 |
| Surface Pro 7 | i5-1035G4 | 1,191 | 4,441 |
| Surface Pro 6 | i7-8650U | 1,113 | 3,519 |
| Surface Pro 6 | i5-8250U | 904 | 3,440 |
| Dell XPS 13 2-in-1 7390 | i7-1065G7 | 1,209 | 3,571 |
Geekbench 4
Geekbench 4.0 (CPU) (Higher is better)
Swipe to scroll horizontally
| Device | CPU | Single core | Multi core |
| --- | --- | --- | --- |
| Surface Pro X (ARM) | SQ2 | 3,649 | 12,299 |
| Surface Pro X (x86) | SQ2 | 2,379 | 7,422 |
| Surface Pro X (ARM) | SQ1 | 3,505 | 11,727 |
| Surface Pro X (x86) | SQ1 | 2,182 | 6,822 |
| Flex 5G (ARM) | SD 8cx | 3,288 | 11,139 |
| Galaxy Book S (ARM) | SD 8cx | 3,271 | 11,096 |
| Yoga C630 (ARM) | SD 850 | 2,287 | 7,215 |
| Flex 5G (x86) | SD 8cx | 2,103 | 6,681 |
| Galaxy Book S (x86) | SD 8cx | 2,032 | 6,371 |
| Yoga C630 (x86) | SD 850 | 1,345 | 3,560 |
| Acer Swift 7 | i7-8500Y | 2,281 | 4,905 |
| Samsung Galaxy Book2 (ARM) | SD850 | 2,262 | 7,405 |
| Samsung Galaxy Book2 (x86) | SD850 | 1,345 | 4,164 |
| HP Envy x2 (ARM) | SD835 | 2,111 | 6,314 |
| Surface Go | Pentium | 2,078 | 3,934 |
| Surface 3 | Atom x7 | 1,078 | 2,777 |
| Surface Laptop 3 13.5 | i5-1035G7 | 5,265 | 17,345 |
| Surface Laptop 2 | i5-8250U | 4,203 | 13,233 |
| Surface Laptop | i5-7200U | 3,725 | 7,523 |
| Dell XPS 13 2-in-1 7390 | i7-1065G7 | 5,459 | 19,097 |
PCMark 10
Applications (Higher is better)
Swipe to scroll horizontally
| Device | CPU | Score |
| --- | --- | --- |
| Surface Pro X | Microsoft SQ2 | 5,088 |
| Surface Pro X | Microsoft SQ1 | 4,617 |
| Flex 5G | SD 8cx | 5,026 |
| Galaxy Book S | SD 8cx | 4,308 |
SSD
CrystalDiskMark (Higher is better)
Swipe to scroll horizontally
| Device | Read | Write |
| --- | --- | --- |
| Surface Pro X (SQ2) | 2,045 MB/s | 810 MB/s |
| Surface Pro X | 2,023 MB/s | 832 MB/s |
| Lenovo Flex 5G | 1,913 MB/s | 426 MB/s |
| Samsung Galaxy Book S | 1,912 MB/s | 425 MB/s |
| Lenovo Yoga c630 | 791 MB/s | 220 MB/s |
| Samsung Galaxy Book2 | 722 MB/s | 205 MB/s |
| HP Envy x2 | 513 MB/s | 197 MB/s |
| Surface Go (SSD) | 1,185 MB/s | 133 MB/s |
| Surface Go (eMMC) | 260 MB/s | 145 MB/s |
| Surface 3 | 149 MB/s | 33 MB/s |
| Surface Laptop 3 13.5 | 2,338 MB/s | 1,583 MB/s |
| Surface Laptop 3 15 | 2,028 MB/s | 806 MB/s |
| Surface Laptop 2 | 1,509 MB/s | 811 MB/s |
| Surface Laptop | 486 MB/s | 244 MB/s |
| Dell XPS 13 2-in-1 7390 | 2,400 MB/s | 1,228 MB/s |
.
In 3DMark Night Raid, which runs natively on ARM and pushes the CPU and GPU heavily, Surface Pro X (2020) scored 7,366 while Surface Pro X (2019) 7,085. That's a four percent difference, and in video playback, just a couple of frames-per-second disparity.
The Adreno 690 GPU in Surface Pro X is no slouch, either. Surface Pro X (7,366) more than doubles Samsung Galaxy Book2 (2,972). And compared to the Intel Core i5-8250U with Intel UHD 620 (6,517), the Surface Pro X easily topples it by a wide margin.
PCMark 10 Applications (ARM) loops through productivity work using Excel, the web (Edge), PowerPoint, and Word for twenty minutes. Again, the SQ2 (5,078) beats SQ1 (4,523), resulting in a 12 percent improvement in overall performance.
The app story is still the same from last year, except that Microsoft Teams and Edge are now fully optimized for ARM64. Here is a list of apps I extensively use on Surface Pro X without any problem:
Microsoft Office (Word, OneNote, Excel)
Microsoft Edge
Hulu
Netflix
Amazon Prime Video
Spotify
VUDU
Twitter
Microsoft Teams
Slack (PWA)
Mail (Outlook.com)
Flow Mail (Gmail)
Polarr Photo Editor Pro
Microsoft News
GroupMe
OneDrive
Skype
Microsoft To Do
myTube! (YouTube)
MobileDiscord PTB (Discord)
Unigram (Telegram)
ExpressVPN using manual configuration
Gaming is not out of the question, either. I can play Borderlands 2 (Steam) at ~50+ frames-per-second (FPS) at 1600 x 900. Bumping the resolution to 1920 x 1080 and ~32-40 FPS is very enjoyable, especially when paired with an Xbox controller (Bluetooth). Other games like Dead Cells, Batman: Arkham City, Portal 2, Tesla vs. Lovecraft, Streets of Rogue play simply fine too. Indeed, Surface Pro X's display and audio make this a fun gaming machine if you are OK with older titles, platformers, and 2D fare.
A similar story is found with Geekbench, where SQ2 gets around 300 more points on multi-core performance than SQ1 and Geekbench 4, especially when comparing 32-bit emulation vs. native ARM performance.
For RAM, Surface Pro X ships with either eight or 16GB of LPDDR4x and is quite performant and energy-efficient.
The SSD performance has not changed either, yielding a satisfactory 2,000 MB/s sequential read and ~800 MB/s write transfer rate using CrystalDiskMark.
PCMark 10 Battery (Applications)
Swipe to scroll horizontally
| Device | Time | Battery |
| --- | --- | --- |
| Surface Pro X SQ2 | 8 hours, 42 minutes | 20% left |
| Flex 5G | 18 hours | 20% left |
| Galaxy Book S | 11 hours, 11 mins | 21% left |
| Surface Pro X | 8 hours, 31 minutes | 20% left |
Battery life is virtually the same as last year due to optimizations in drivers, Windows 10, and ARM64 applications. On the "recommended" setting, I get 8.5 hours at 200 nits of brightness. You could easily push ten hours in battery saver and lower display brightness. Throwing it on max performance, and I still get over 7 hours. While that is not record-breaking – even for an ARM PC – considering the size and display resolution, it is effectively all-day. The Lenovo Flex 5G gets substantially longer battery life. Still, it achieves that with a dimmer, lower-resolution display, slower processor, and much larger battery, which results in it being a half-pound heavier.
From the data, we can conclude Microsoft SQ2 is a bit faster, and the overall Windows experience feels a smidge zippier. Still, there is a good reason why Microsoft is also not calling this Surface Pro X 2.
Target audience
Surface Pro X: Who is this for?
As I said in 2019, Surface Pro X is a unique device with a particular target audience. Think of it more like a specialized tool rather than a do-it-all PC. For my job and when I'm not behind a desktop PC, Surface Pro X is my preferred laptop to use, whether it's on the couch, flying, getting away for the weekend, or visiting a friend. I use it all the time.
Microsoft Surface hardware chief Panos Panay said the Surface Pro X is for "a tech-forward, mobile professional". That sounds like corporate marketing jargon, but there is some truth to it. Much of today's workforce is increasingly mobile, relying on a few core productivity-based apps like Microsoft Office, OneDrive, Outlook, web, PDF readers, remote access, VPN, and custom line-of-business (LOB) apps. These workers need something very portable, long battery life, 4G LTE, and instant-on abilities with inking for document management.
Panay says more about who would benefit from the Surface Pro X in 2019:
Some of that has changed in 2020, however. Being mobile and needing 4G LTE is less critical, as so many are now working remotely from home. That will change as the world comes out of the pandemic in 2021. But for now, LTE is less of a selling point. Nonetheless, features like instant-on, all-day battery life, exceptional teleconferencing abilities, and portability make using Surface Pro X for home-work that much more enjoyable. Surface Pro X is essentially an Apple iPad Pro but with Windows 10 and an excellent keyboard.
If you need a PC that is always on LTE, turns on quickly, and brings the benefits of a 2-in-1 laptop, Surface Pro X solves some problems for you. But if you want PC gaming, the ability to run computer-aided design (CAD) apps, heavy-lifting things like video editing and media creation, then the Surface Pro X creates problems. Knowing where you fall on that spectrum determines if the Surface Pro X is right for you.
Confused? That's understandable. Luckily, Microsoft has a tool to help steer you towards the right Surface.
Looking at the competition
Surface Pro X Alternatives
When it comes to Surface Pro X, there are not many alternatives that tick all the same boxes for features, quality, and design. Assuming long battery life and 4G LTE are priorities, Samsung's Galaxy Book S and Lenovo's Flex 5G are worthy alternatives. While neither are as pen-and-tablet focused as Surface Pro X, they tend to get longer battery life, and in the case of the Flex 5G, offer next-gen internet connectivity.
If you prefer going with a traditional Intel x86 processor and want 4G LTE, the HP Elite Dragonfly is an excellent option as well as the highly-praised Spectre x360 13, which is more affordable. For more business folks, Dell's Latitude 9510 is fantastic. All have 4G LTE options and get decent to very good battery life, albeit in a heavier, more traditional laptop form factor.
You can find more recommendations in our Best Windows 10 LTE Laptops 2020 roundup.
Small tweaks
Surface Pro X (2020) Should you buy?
Who it's for
If you want a thin tablet/convertible PC
If you need always-connected 4G LTE, instant-on
If you want a good pen and inking experience
If you prefer thin bezels and a great office productivity device
If you like the iPad but wish it ran Windows
Who it isn't for
If you want to game (without streaming)
If you're looking to stretch your dollar
If you need 64-bit x86 applications like Adobe Photoshop (for now)
Surface Pro X with SQ2 is not an upgrade from last year's model. Instead, it is an attempt by Microsoft to keep its flagship Windows 10 on ARM Surface fresh for 2020. It mostly succeeds, but the new SQ2 processor is more of a footnote than a banner feature. It also does nothing to close the gap with traditional x86 chips.
That conclusion means if you are a current Surface Pro X owner, upgrading to this "new" version is probably not the best use of your money. The one exception is if you live on the Pro X all day, and you really (and I mean really) want it in platinum. You know what? I don't blame you – this refreshed version is dynamite looking.
Things are much better for those looking to jump on Windows 10 on ARM than when I last reviewed Surface Pro X. Microsoft Edge and Teams are now native for ARM64, helping with performance and battery. App x86-64-bit emulation is right around the corner, which could solve many app compatibility limitations, and there is now a nifty AI-based Eye Contact feature.
There are some unsurprising disappointments too. While 5G is still in its infancy, it would have been a fascinating future-proofing opportunity (see Lenovo Flex 5G). The same goes for Wi-Fi 6, which is another minor but essential upgrade that is missing.
Image 1 of 2
Performance is still reasonable with the Microsoft SQ2, and, for my work, it is all I need. But it is challenging to ignore Intel and AMD, who are making rousing processors in 2020 that genuinely take a massive lead in performance over Qualcomm. While the Snapdragon 8cx is an OK competitor against a two-year-old 8th Gen Intel Core i5, it pales next to an 11th Gen or a Ryzen 4000 series. That's just a fact.
Of course, there cannot be a device like Surface Pro X – super thin and light, no heat or fan, long battery life, and 4G LTE – but powered by an x86 processor. Not yet, at least. And that is what makes Surface Pro X so unique. There's nothing else like it on the market.
Overall, I still love Surface Pro X, and it is my go-to PC when I'm not at a desktop. But Qualcomm needs to start delivering real year-over-year performance gains if it wants to compete against Intel and AMD. Here's hoping we see that in Surface Pro X 2.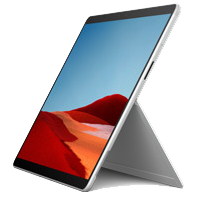 Refreshed for late 2020 is the new Surface Pro X with the SQ2 processor. A faster CPU, more powerful GPU, improved battery life, x64 app emulation in November (Insiders), and now in platinum, there is a lot to like here. You can even now pick multiple colors for the Signature Keyboard with Slim Pen Bundle. Preorder now; get it for October 13th.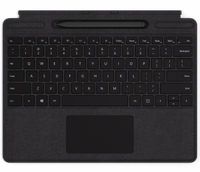 Surface Pro X Signature Keyboard with Slim Pen Bundle

This bundle includes the Surface Pro X Signature Keyboard that features Alcantara and the Surface Slim Pen that charges wirelessly within the keyboard. Previously only in Black, you can now get newer colors like Platinum, Ice Blue, and Poppy Red.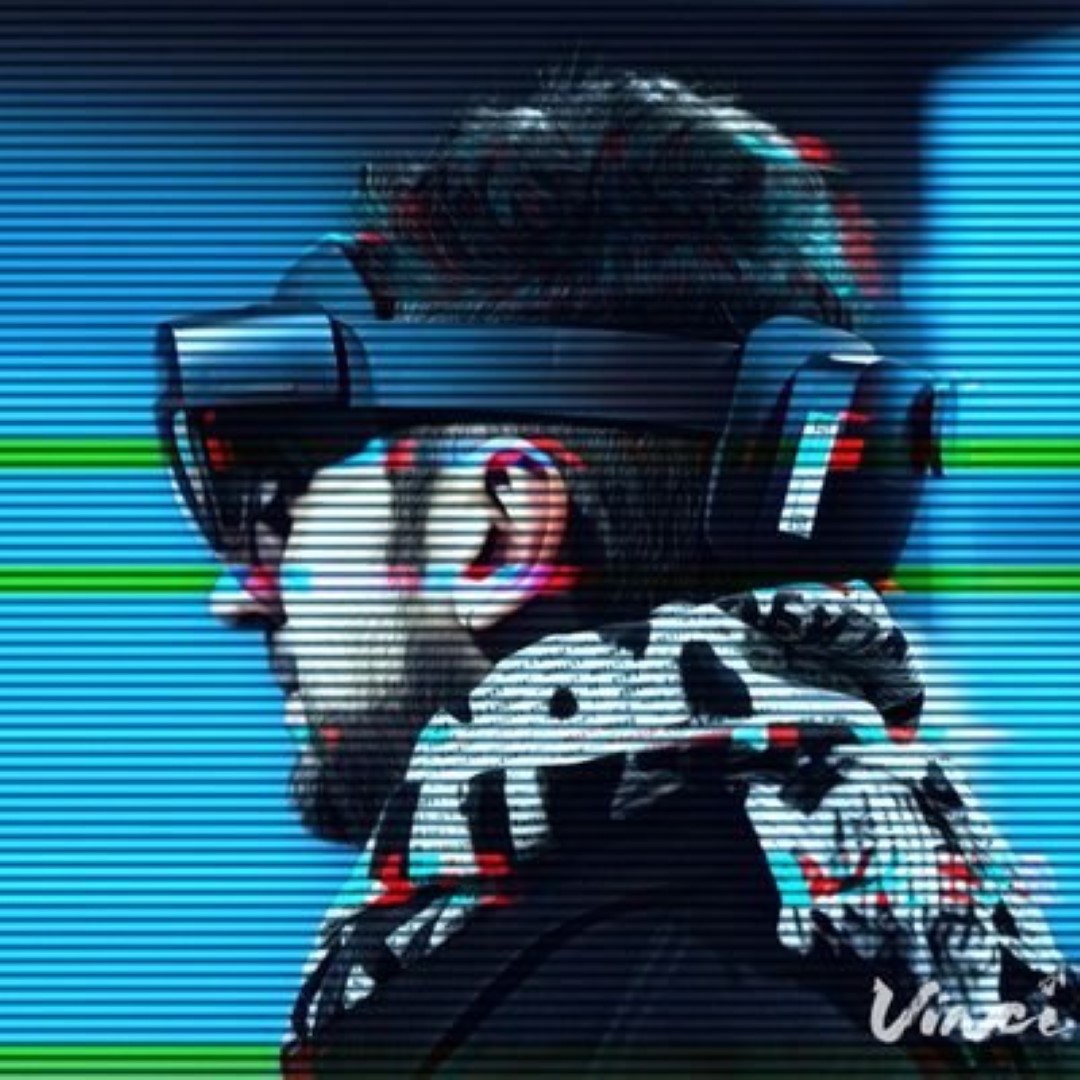 Daniel Rubino is the Editor-in-chief of Windows Central, head reviewer, podcast co-host, and analyst. He has been covering Microsoft since 2007 when this site was called WMExperts (and later Windows Phone Central). His interests include Windows, laptops, next-gen computing, and for some reason, watches. Before all this tech stuff, he worked on a Ph.D. in linguistics, watched people sleep (for medical purposes!), and ran the projectors at movie theaters because it was fun.