Why Surface Pro X is my favorite laptop of 2019
There were half a dozen amazing laptops released this year, but only one is my daily and it's Surface Pro X.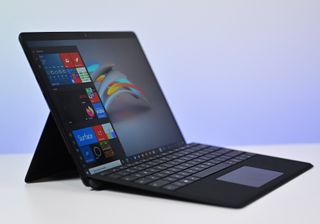 (Image credit: Daniel Rubino/Windows Central)
For 2019 there was no shortage of amazing laptops released by all the major brands. I'd argue this the most exciting year for Ultrabooks ever. However, what I recommend for most people – Dell XPS 13 2-in-1, HP Spectre x360 13, Lenovo's outstanding Yoga C940, or Razer's groundbreaking new Stealth – are not my personal go-to laptops.
Instead, the one PC that I grab every time I head out or hit the couch is the Surface Pro X. It's everything I want in a mobile PC and does what I need for my job. Here's why.
Windows 10 on ARM
(opens in new tab)
The thinnest and lightest Surface Pro available

Surface Pro X delivers the most exciting design for the Surface Pro yet. For people who need a light, thin, LTE-enabled productivity laptop, the Surface Pro X offers a unique set of features not found anywhere else.
It's about form-factor, display, 4G, and design
One of the anecdotes I like to tell people about the Surface Pro line is that it was not until Surface Pro 5 (2017) that the form-factor, battery life, and processor started to click for me. I thought Surface Pros were cool, but they were not for me. Up until that point, I preferred a traditional laptop experience.
That Surface Pro 5 deal was sweetened with the option for 4G LTE. Having an always-connected PC is essential when I travel. Wi-Fi is everywhere, but it is often terrible. At press events, everyone is clogging it up, making it more of a frustration than a benefit. Security concerns or having to watch an ad to subsidize a public Wi-Fi spot makes it that much worse. Tethering is OK in a pinch, but not when you use it dozens of times in cabs or in between flights, it's a pain (plus less efficient).
Unfortunately, there is no Surface Pro 6 or Surface Pro 7 with LTE. In some ways, that's OK as Intel's LTE game is weaker (and less reliable) compared to Qualcomm's with Surface Pro X.
Let's talk about screen size. Surface Pro X, with its larger 13-inch screen (up from 12.3-inches on Surface Pro), thin bezels, and smaller chassis, changes the game. For the first time, a Surface Pro delivers that slim iPad Pro experience that Apple provided a few years ago. I find 14-inch laptops ideal when at 16:9 aspect, but when you bump to 3:2 in the Surface line, 13-inches is functionally similar – and fantastic.
The same goes for that new Surface Slim Pen. I can't draw at all. The pen for me was always nice – but not required –when I travel. But with it built into the keyboard and tucked away, I don't need to see it until I need it. It's an ingenious design. While the Lenovo Yoga C940 does something similar, it's a toothpick of a pen compared to the Surface Slim, which feels like a real tool.
Other boxes Surface Pro X checks:
Excellent front-facing speakers.
The angled typing thanks to Surface Type Cover.
Pragmatic kickstand.
Flipping the keyboard around or removing it to watch a movie.
Type-C ports with Fast Charge.
High-resolution display that's not 4K overkill.
Eight or more hours of battery life.
No heat or fans.
Amazing cameras.
On paper, much of this seems like Surface Pro 7, but I can't stress how good Surface Pro X hardware feels to carry and use. It's a marvel of modern PC computing. Because of LTE and its slim profile, it goes everywhere I go. I haven't touched my Surface Pro 7 since I got the Pro X.
Surface Pro X performance (and games!?)
Finding the right laptop is about matching hardware abilities with your actual needs. While the Dell XPS 15 (7590) is a beast of a computer it is overkill in terms of size, power, and weight for my work. Do I need a Core i9 for email, Slack, web, and Skype? Of course not. Nobody does.
But Surface Pro X matches what I need for performance, battery, and app compatibility, including my most used:
Microsoft Office (Word, OneNote, Excel)
Microsoft Edge (ARM64)
Hulu
Netflix
Spotify
VUDU
Twitter
Microsoft Teams
Slack
Mail (Outlook.com)
Flow Mail (Gmail)
Polarr Photo Editor Pro
Microsoft News
GroupMe
OneDrive
Skype
Microsoft To Do
myTube!

(opens in new tab)

(YouTube)
MobileDiscord PTB (Discord)
Unigram (Telegram)
ExpressVPN using manual configuration
I love watching movies or Hulu Live TV on it, working on an article, doing some email triage, banging out some tweets, or just using the web.
And when it comes to games, I can run all the ones I want mostly at native resolution (2880 x 1920) at 60 frames per second (FPS). Paired it with an Xbox wireless controller and it's a giant Nintendo Switch with a bigger, higher-resolution display. Blasting through Dead Cells, StarCraft II, Rocket League, or Furi is my kind of jam when I'm on a plane or just kicking back on the couch. When I need to do "serious" gaming, I use my Core i9/RTX 2080Ti rig or Xbox One X.
Surface Pro X is everything I need in a PC
One of the toughest parts of my job is separating what I want or need in a PC versus what others are looking for in an Ultrabook. Because of that, I'm not blind to the limited demographic for Surface Pro X – I went to painstaking length to explain that in the review.
But I'm also a fan of promoting cutting edge – and yes, niche – technology that resolves pain points for people. I wrote about this in 2018 and 2019 when framing our reluctance to see value in new technology, including those new foldables coming in 2020.
Surface Pro X solves big problems for many people in my – and similar – professions. All-day battery life, responsive UI, fast app launching, always-connected 4G LTE, and just beautiful hardware. And, no, an iPad Pro is not an option because I need a PC.
I haven't been this enamored with a laptop in years. Because of that, Surface Pro X is my personal laptop of 2019, and I couldn't be happier.
Windows 10 on ARM
(opens in new tab)
The thinnest and lightest Surface Pro available

Surface Pro X delivers the most exciting design for the Surface Pro yet. For people who need a light, thin, LTE-enabled productivity laptop, the Surface Pro X offers a unique set of features not found anywhere else.
Daniel Rubino is the Executive Editor of Windows Central, head reviewer, podcast co-host, and analyst. He has been covering Microsoft here since 2007, back when this site was called WMExperts (and later Windows Phone Central). His interests include Windows, Microsoft Surface, laptops, next-gen computing, and arguing with people on the internet.
Looking forward to seeing how the progress ARM window really wished the pushed it more with RT

Been my daily driver since launch. It's amazing. I can do everything I normally do, only better. I'm not a gamer, more mobile/business productivity. Only complaint is it periodically puts itself to sleep and have to wait 20 seconds for it to resume. Instant on works most of the time. Oh, I can't find a reliable password manager on Edge. Last pass and 1password barely work.

Nice and congrats. For PW management I'm a huge fan of Enpass, which works with old and new Edge, also Windows Hello. Dashlane is also quite good and the same - works with Edge and Windows Hello (but more expensive). Both are also available on iOS and Android so you get it everywhere 👍

Where are the real-world benchmarks for this "Pro" machine? Let see some CAD or Photoshop comparisons. Can it get 50fps in Overwatch like the Surface Laptop in your review? How well does it edit 4k video? This is a "Pro" machine at a very high, "Pro" price, why aren't you treating it as such?

I don't use CAD or Photoshop nor play Overwatch. It's a Pro machine because I'm a working professional who uses it for work. That's it. (spoiler: iPad Pro also doesn't run full Photoshop either, just some weird abomination). Also, you're trolling. This isn't a review. I wrote that already. You know this. This is about what I use and what I prefer. Your standards, interests, requests, and requirements are irrelevant to me and this article. Have a good new year.

You don't buy an iPad expecting to use Photoshop or Mac software. It is an iPad, you know what to expect. A Surface Pro is a different story. There is no way for someone to know this isn't a true "Pro" machine, especially at the inflated price. It's performance doesn't live up to the name and especially the price. It should be half the price with Pro taken out of the name. Microsoft is confusing people by miss-naming this machine.

"You don't buy an iPad expecting to use Photoshop or Mac software. It is an iPad, you know what to expect."

Who are you to tell me what I should expect from a Pro device? You the "Pro" police or something?

"Microsoft is confusing people by miss-naming this machine."

This is all irrelevant. This article is about why I prefer the Pro X, not why you don't. /End of conversation.

iPad is right in the name. It is a known quantity. You are ignoring a big issue. Look at the real reviews for the "Pro" X. When reviewed as it is named, it is a terrible device. Even if you review it saw low performance machine, as you do, it is still terrible due to the massively inflated price.

Daniel you cannot like the Pro X because this guy says you paid too much for it. If they dropped the Pro and just called it the Surface X I guess it would have been ok. You must return it immediately.

lol 😂 exactly I mean, I cannot even run apps on it that I don't use, wth.

That would make much more sense. If they dropped the Pro moniker and they priced it properly, then maybe all the reviews wouldn't have been so poor. This device was a flop due to Microsoft's poor strategy around ARM devices. They won't make it very far like this. Is that a controversial stance? Daniel was basically the only positive review for this device. Merely because he ignored the poor branding and insane price.

What makes the iPad Pro a "pro" machine? Shouldn't it be called the IPad Max or Plus? As for the reviews, most of them really like the product but give the disclaimer that it's not for everyone. Just like a $1k iPad Pro, $2.4k Macbook Pro or $6k Mac Pro isn't for everyone. IMHO, the Surface Pro X is an introductory machine to what will most likely be the future of PC (aka a non Win32 world).

Bleached; Knowing you and your commenting history, even if all you just said and more were done by MSFT, you will still have a boatload to complain about.
Bleached... For mercy sake, you troll too much. You do not want to see any other point nof view or even explore them from logical thought process, only what you say, think and your point of view holds.

Is there any Microsoft site you don't troll? Do you really need to be a D!CK all your life?!

Every village has an idiot. Not sure what I can add after that.

"You don't buy an iPad 'Pro' expecting to use Photoshop", yes people do with the pen support and all, you just have double standards.

Funny...Who's Really Trolling? Facts are: 1. A Working Professional doesn't have to use a Pro Device, necessarily. 2. The Pro X is Not A Pro Device. 3. When it is time to run "Pro Class Applications"... with the X you have to put it down and use something else.

It is a really good device for some jobs though. E.g. for heavy Office use on the go this is a dream device. Same for some artist software (some pro/good ones run excellent).
It is as Pro as e.g. an Ipad Pro in that regard.

Office 365 is a "pro class application" and it runs on the Pro X. You are trying to use *your* definition of what is a "pro class application" to classify the Pro X, then proceed to state it as a fact. Your facts are based on your opinions. That's a problem.

"The Pro X is Not A Pro Device."

If a working professional uses it for work it's a pro device. If it's priced beyond budget range (comparatively) it's a pro device. Software functionality does not define a pro device. Don't believe me? Check out the Samsung Chromebook

Pro

.

You probably don't edit videos either? For some journalist this may be the perfect machine. For me, and a lot others it is useless.

Yeah, so what? Manufacturers make PCs in a variety of shapes, sizes, prices and capabilities. Is a PC only a "pro" model if it edits videos well or plays AAA games well but can't be "pro" if it is just lightweight, always connected, and runs productivity apps? Says who? Please post this agreed to definition of "pro".

" For me, and a lot others it is useless."

This is irrelevant. The question is does the Pro X solve problems for certain users who could use it? The answer is yes. I've reviewed Xeon/Quadro workstation laptops before. I don't need any of it. I didn't give it a negative review though because that would be stupid. This is no different.

"The question is does the Pro X solve problems for certain users who could use it? The answer is yes." Of course it is. Just as it's useless for people that needs software that don't run on this device.

Who is going to edit videos on an ultrabook/tablet? You get something with a h/hq core for that, so XPS 15 or a workstation laptop or such. This is for people that do lighter work (maybe even some programming etc) but still want something more premium in terms of form factor or something very portable for the screen size you get.

If u have been around, it is a cliche to just regurgitate the obvious weekness of SPX..lack of compatibility for graphic intensive apps like CAD and Adobe Alternatively, we can look at this weekness from the challenge of introducing this new category. We have Snapdragon 850 laptops 2 years back and now we have the new SQ1 2in1 (we had abandoned Snapdragon 810, 820 Windows mobile OS) Just from the fact above, it is clear Microsoft has gone through many iterations of learning from past attempts. If this trend holds, the next iterations will definitely keep getting better... starting from Windows RT, Windows mobile, windows on ARM, and soon Windows Core OS on ARM. https://megayuchi.com/2019/12/08/surface-pro-x-benchmark-from-the-progra... This review provided unfortunately a very low level game programming benchmark insight into the NOT Yet Ready part of Windows on ARM.... the fast agile iteration needed to improve the DirectX 12 driver essential ==+> to address the most cliche critique of SPX... where are the CAD and Adobe compatibility....

Love my X as well. A few questions for you - based on this piece: 1. What version of Polarr Photo Pro are you running? I bought the pro version, and it's stuck at 5.3.0. I'm always prompted to update, but I can't force the app to get past 5.3.0. I installed Polarr as a Chrome extension on Chredge, and it works fine, but it bugs me that my official app won't update. 2. Are you running Netflix, Hulu, Spotify, etc via their official apps or as Chredge apps? I find the latter runs leagues better. I HATE that devs rarely update or abandon their W10 apps. They feel clunky compared to their iOS counterparts. Maybe one day they'll wake up and realize that W10 has close to 1 billion users. 3. What games do recommend for the X? I'm not really a gamer, but would enjoy 2-3 titles that run well on this device. Thanks and Happy New Year!

Same, 5.3.0. Works good enough for me, but I will be happy if/when Elements gets supported. This is a weak spot right now. Combo of both, but I tend to agree that Edgium "apps" run a bit better. I'm a big fan of this practice and even on my Core i9 desktop I use it for Slack, Hulu, Google Calendar, AirTable, Disney+, etc. For this, it's usually better to get it through Steam as they tend to have 32-bit versions of the game whereas the Store puts them at 64-bit (this bugs me a lot). But, even then, it is kind of hit and miss. Luckily, I have tried a bunch. All of these work really well and are really good games: Dead Cells* (Steam) Rocket League (Steam) StarCraft II (Blizzard) Blazing Chrome (MS Store) Hyper Light Drifter (Steam) Hollow Knight (Steam) Broforce (Steam) Furi (Steam) Icey (Steam) Guacamelle! 2 (Steam) 8-Bit Armies (Steam) Neon Chrome (MS Store) All of these basically play at full resolution, 60 FPS and look great. They're more platformer/roguleike/twin-stick titles as I reserve FPS for my desktop rig or Xbox One X for "serious" gaming. Finally, check out this guy's playlist as he chronicles testing MANY games on Pro X including bigger titles than I have here e.g. DOTA 2 and Diablo 3, evidently, run just great. *This game is amazing.

The online reviews are horrible. I sold my iPad Pro 2018 and couldn't be happier with this. A perfect companion to my Surface Studio and Surface Book 2. Bring on the Duo and I I'll be set.

1000 thank-yous for this reply! Happy New Year, Daniel! Now I'm off to test some games on my X.

Mr. Rubino's comments about why the Surface Pro X is his favorite laptop mirrors my experiences with the Surface Pro 7. The common threads are that we both find these devices delightful to use, have excellent industrial design, and check all the functional boxes we want in a device. The fact that we both end up with similar experiences while using different Microsoft hardware I think speaks to how excellent the Surface hardware is at this time. For my needs the Surface Pro 7 is flat out the best PC I have ever used. Part of this high level of satisfaction comes from the holistic experience provided by the current Microsoft software environment. For me, Windows 10 Pro on my desktop and Surface Pro 7 have worked flawlessly from day 1 and provide all the functionality I need or want. OneDrive is an essential element here as it allows me to keep my data in sync across my PCs automatically and then be accessible from my cell phone (plus all the other great apps Microsoft provides). In my case my preference for OneDrive over other excellent options is that I am an Office 365 subscriber which provides 1 TB of cloud storage. Having a place to put everything at is a big deal. All of the sudden the Surface Pro X with a LTE modem is quite a solution to having your essential data available at all times. Plus it comes wrapped up in a 2 lb box that is about the size of a sheet of 8.5 x 11 paper and has enough processing power, to borrow a phrase, to make it all just work. Add in a NAS back at the office or home for everything else and you have a fantastic on the go computing experience. Ten years ago you would have found me grumbling about the state of PCs and dealing with hacks to get my data synchronized across machines. Never did I imagine that 10 years later that Microsoft be the company to have sorted all this out and then, for extra credit, delivered excellent devices where all this comes together.

Nice experience, thanks for sharing. Surface Pro 7 is quite great. The instant on feature is amazing. If Pro X wasn't a thing it's what I'd be using daily.