Why Surface Pro X is my favorite laptop of 2019
There were half a dozen amazing laptops released this year, but only one is my daily and it's Surface Pro X.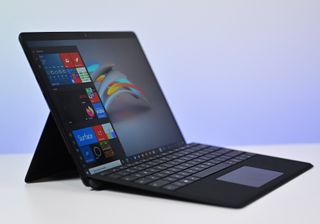 (Image credit: Daniel Rubino/Windows Central)
For 2019 there was no shortage of amazing laptops released by all the major brands. I'd argue this the most exciting year for Ultrabooks ever. However, what I recommend for most people – Dell XPS 13 2-in-1, HP Spectre x360 13, Lenovo's outstanding Yoga C940, or Razer's groundbreaking new Stealth – are not my personal go-to laptops.
Instead, the one PC that I grab every time I head out or hit the couch is the Surface Pro X. It's everything I want in a mobile PC and does what I need for my job. Here's why.
Windows 10 on ARM
(opens in new tab)
The thinnest and lightest Surface Pro available

Surface Pro X delivers the most exciting design for the Surface Pro yet. For people who need a light, thin, LTE-enabled productivity laptop, the Surface Pro X offers a unique set of features not found anywhere else.
It's about form-factor, display, 4G, and design
One of the anecdotes I like to tell people about the Surface Pro line is that it was not until Surface Pro 5 (2017) that the form-factor, battery life, and processor started to click for me. I thought Surface Pros were cool, but they were not for me. Up until that point, I preferred a traditional laptop experience.
That Surface Pro 5 deal was sweetened with the option for 4G LTE. Having an always-connected PC is essential when I travel. Wi-Fi is everywhere, but it is often terrible. At press events, everyone is clogging it up, making it more of a frustration than a benefit. Security concerns or having to watch an ad to subsidize a public Wi-Fi spot makes it that much worse. Tethering is OK in a pinch, but not when you use it dozens of times in cabs or in between flights, it's a pain (plus less efficient).
Unfortunately, there is no Surface Pro 6 or Surface Pro 7 with LTE. In some ways, that's OK as Intel's LTE game is weaker (and less reliable) compared to Qualcomm's with Surface Pro X.
Let's talk about screen size. Surface Pro X, with its larger 13-inch screen (up from 12.3-inches on Surface Pro), thin bezels, and smaller chassis, changes the game. For the first time, a Surface Pro delivers that slim iPad Pro experience that Apple provided a few years ago. I find 14-inch laptops ideal when at 16:9 aspect, but when you bump to 3:2 in the Surface line, 13-inches is functionally similar – and fantastic.
The same goes for that new Surface Slim Pen. I can't draw at all. The pen for me was always nice – but not required –when I travel. But with it built into the keyboard and tucked away, I don't need to see it until I need it. It's an ingenious design. While the Lenovo Yoga C940 does something similar, it's a toothpick of a pen compared to the Surface Slim, which feels like a real tool.
Other boxes Surface Pro X checks:
Excellent front-facing speakers.
The angled typing thanks to Surface Type Cover.
Pragmatic kickstand.
Flipping the keyboard around or removing it to watch a movie.
Type-C ports with Fast Charge.
High-resolution display that's not 4K overkill.
Eight or more hours of battery life.
No heat or fans.
Amazing cameras.
On paper, much of this seems like Surface Pro 7, but I can't stress how good Surface Pro X hardware feels to carry and use. It's a marvel of modern PC computing. Because of LTE and its slim profile, it goes everywhere I go. I haven't touched my Surface Pro 7 since I got the Pro X.
Surface Pro X performance (and games!?)
Finding the right laptop is about matching hardware abilities with your actual needs. While the Dell XPS 15 (7590) is a beast of a computer it is overkill in terms of size, power, and weight for my work. Do I need a Core i9 for email, Slack, web, and Skype? Of course not. Nobody does.
But Surface Pro X matches what I need for performance, battery, and app compatibility, including my most used:
Microsoft Office (Word, OneNote, Excel)
Microsoft Edge (ARM64)
Hulu
Netflix
Spotify
VUDU
Twitter
Microsoft Teams
Slack
Mail (Outlook.com)
Flow Mail (Gmail)
Polarr Photo Editor Pro
Microsoft News
GroupMe
OneDrive
Skype
Microsoft To Do
myTube!

(opens in new tab)

(YouTube)
MobileDiscord PTB (Discord)
Unigram (Telegram)
ExpressVPN using manual configuration
I love watching movies or Hulu Live TV on it, working on an article, doing some email triage, banging out some tweets, or just using the web.
And when it comes to games, I can run all the ones I want mostly at native resolution (2880 x 1920) at 60 frames per second (FPS). Paired it with an Xbox wireless controller and it's a giant Nintendo Switch with a bigger, higher-resolution display. Blasting through Dead Cells, StarCraft II, Rocket League, or Furi is my kind of jam when I'm on a plane or just kicking back on the couch. When I need to do "serious" gaming, I use my Core i9/RTX 2080Ti rig or Xbox One X.
Surface Pro X is everything I need in a PC
One of the toughest parts of my job is separating what I want or need in a PC versus what others are looking for in an Ultrabook. Because of that, I'm not blind to the limited demographic for Surface Pro X – I went to painstaking length to explain that in the review.
But I'm also a fan of promoting cutting edge – and yes, niche – technology that resolves pain points for people. I wrote about this in 2018 and 2019 when framing our reluctance to see value in new technology, including those new foldables coming in 2020.
Surface Pro X solves big problems for many people in my – and similar – professions. All-day battery life, responsive UI, fast app launching, always-connected 4G LTE, and just beautiful hardware. And, no, an iPad Pro is not an option because I need a PC.
I haven't been this enamored with a laptop in years. Because of that, Surface Pro X is my personal laptop of 2019, and I couldn't be happier.
Windows 10 on ARM
(opens in new tab)
The thinnest and lightest Surface Pro available

Surface Pro X delivers the most exciting design for the Surface Pro yet. For people who need a light, thin, LTE-enabled productivity laptop, the Surface Pro X offers a unique set of features not found anywhere else.
Windows Central Newsletter
Get the best of Windows Central in in your inbox, every day!
Daniel Rubino is the Editor-in-chief of Windows Central, head reviewer, podcast co-host, and analyst. He has been covering Microsoft since 2007 when this site was called WMExperts (and later Windows Phone Central). His interests include Windows, laptops, next-gen computing, and for some reason, watches. Before all this tech stuff, he worked on a Ph.D. in linguistics, watched people sleep (for medical purposes!), and ran the projectors at movie theaters because it was fun.
Looking forward to seeing how the progress ARM window really wished the pushed it more with RT

Been my daily driver since launch. It's amazing. I can do everything I normally do, only better. I'm not a gamer, more mobile/business productivity. Only complaint is it periodically puts itself to sleep and have to wait 20 seconds for it to resume. Instant on works most of the time. Oh, I can't find a reliable password manager on Edge. Last pass and 1password barely work.

Nice and congrats. For PW management I'm a huge fan of Enpass, which works with old and new Edge, also Windows Hello. Dashlane is also quite good and the same - works with Edge and Windows Hello (but more expensive). Both are also available on iOS and Android so you get it everywhere 👍

Where are the real-world benchmarks for this "Pro" machine? Let see some CAD or Photoshop comparisons. Can it get 50fps in Overwatch like the Surface Laptop in your review? How well does it edit 4k video? This is a "Pro" machine at a very high, "Pro" price, why aren't you treating it as such?

I don't use CAD or Photoshop nor play Overwatch. It's a Pro machine because I'm a working professional who uses it for work. That's it. (spoiler: iPad Pro also doesn't run full Photoshop either, just some weird abomination). Also, you're trolling. This isn't a review. I wrote that already. You know this. This is about what I use and what I prefer. Your standards, interests, requests, and requirements are irrelevant to me and this article. Have a good new year.

You don't buy an iPad expecting to use Photoshop or Mac software. It is an iPad, you know what to expect. A Surface Pro is a different story. There is no way for someone to know this isn't a true "Pro" machine, especially at the inflated price. It's performance doesn't live up to the name and especially the price. It should be half the price with Pro taken out of the name. Microsoft is confusing people by miss-naming this machine.

"You don't buy an iPad expecting to use Photoshop or Mac software. It is an iPad, you know what to expect."

Who are you to tell me what I should expect from a Pro device? You the "Pro" police or something?

"Microsoft is confusing people by miss-naming this machine."

This is all irrelevant. This article is about why I prefer the Pro X, not why you don't. /End of conversation.

iPad is right in the name. It is a known quantity. You are ignoring a big issue. Look at the real reviews for the "Pro" X. When reviewed as it is named, it is a terrible device. Even if you review it saw low performance machine, as you do, it is still terrible due to the massively inflated price.

Daniel you cannot like the Pro X because this guy says you paid too much for it. If they dropped the Pro and just called it the Surface X I guess it would have been ok. You must return it immediately.

lol 😂 exactly I mean, I cannot even run apps on it that I don't use, wth.

That would make much more sense. If they dropped the Pro moniker and they priced it properly, then maybe all the reviews wouldn't have been so poor. This device was a flop due to Microsoft's poor strategy around ARM devices. They won't make it very far like this. Is that a controversial stance? Daniel was basically the only positive review for this device. Merely because he ignored the poor branding and insane price.

What makes the iPad Pro a "pro" machine? Shouldn't it be called the IPad Max or Plus? As for the reviews, most of them really like the product but give the disclaimer that it's not for everyone. Just like a $1k iPad Pro, $2.4k Macbook Pro or $6k Mac Pro isn't for everyone. IMHO, the Surface Pro X is an introductory machine to what will most likely be the future of PC (aka a non Win32 world).

Bleached; Knowing you and your commenting history, even if all you just said and more were done by MSFT, you will still have a boatload to complain about.
Bleached... For mercy sake, you troll too much. You do not want to see any other point nof view or even explore them from logical thought process, only what you say, think and your point of view holds.

Is there any Microsoft site you don't troll? Do you really need to be a D!CK all your life?!

Every village has an idiot. Not sure what I can add after that.

"You don't buy an iPad 'Pro' expecting to use Photoshop", yes people do with the pen support and all, you just have double standards.

Funny...Who's Really Trolling? Facts are: 1. A Working Professional doesn't have to use a Pro Device, necessarily. 2. The Pro X is Not A Pro Device. 3. When it is time to run "Pro Class Applications"... with the X you have to put it down and use something else.

It is a really good device for some jobs though. E.g. for heavy Office use on the go this is a dream device. Same for some artist software (some pro/good ones run excellent).
It is as Pro as e.g. an Ipad Pro in that regard.

Office 365 is a "pro class application" and it runs on the Pro X. You are trying to use *your* definition of what is a "pro class application" to classify the Pro X, then proceed to state it as a fact. Your facts are based on your opinions. That's a problem.

"The Pro X is Not A Pro Device."

If a working professional uses it for work it's a pro device. If it's priced beyond budget range (comparatively) it's a pro device. Software functionality does not define a pro device. Don't believe me? Check out the Samsung Chromebook

Pro

.

You probably don't edit videos either? For some journalist this may be the perfect machine. For me, and a lot others it is useless.

Yeah, so what? Manufacturers make PCs in a variety of shapes, sizes, prices and capabilities. Is a PC only a "pro" model if it edits videos well or plays AAA games well but can't be "pro" if it is just lightweight, always connected, and runs productivity apps? Says who? Please post this agreed to definition of "pro".

" For me, and a lot others it is useless."

This is irrelevant. The question is does the Pro X solve problems for certain users who could use it? The answer is yes. I've reviewed Xeon/Quadro workstation laptops before. I don't need any of it. I didn't give it a negative review though because that would be stupid. This is no different.

"The question is does the Pro X solve problems for certain users who could use it? The answer is yes." Of course it is. Just as it's useless for people that needs software that don't run on this device.

Who is going to edit videos on an ultrabook/tablet? You get something with a h/hq core for that, so XPS 15 or a workstation laptop or such. This is for people that do lighter work (maybe even some programming etc) but still want something more premium in terms of form factor or something very portable for the screen size you get.

If u have been around, it is a cliche to just regurgitate the obvious weekness of SPX..lack of compatibility for graphic intensive apps like CAD and Adobe Alternatively, we can look at this weekness from the challenge of introducing this new category. We have Snapdragon 850 laptops 2 years back and now we have the new SQ1 2in1 (we had abandoned Snapdragon 810, 820 Windows mobile OS) Just from the fact above, it is clear Microsoft has gone through many iterations of learning from past attempts. If this trend holds, the next iterations will definitely keep getting better... starting from Windows RT, Windows mobile, windows on ARM, and soon Windows Core OS on ARM. https://megayuchi.com/2019/12/08/surface-pro-x-benchmark-from-the-progra... This review provided unfortunately a very low level game programming benchmark insight into the NOT Yet Ready part of Windows on ARM.... the fast agile iteration needed to improve the DirectX 12 driver essential ==+> to address the most cliche critique of SPX... where are the CAD and Adobe compatibility....

Love my X as well. A few questions for you - based on this piece: 1. What version of Polarr Photo Pro are you running? I bought the pro version, and it's stuck at 5.3.0. I'm always prompted to update, but I can't force the app to get past 5.3.0. I installed Polarr as a Chrome extension on Chredge, and it works fine, but it bugs me that my official app won't update. 2. Are you running Netflix, Hulu, Spotify, etc via their official apps or as Chredge apps? I find the latter runs leagues better. I HATE that devs rarely update or abandon their W10 apps. They feel clunky compared to their iOS counterparts. Maybe one day they'll wake up and realize that W10 has close to 1 billion users. 3. What games do recommend for the X? I'm not really a gamer, but would enjoy 2-3 titles that run well on this device. Thanks and Happy New Year!

Same, 5.3.0. Works good enough for me, but I will be happy if/when Elements gets supported. This is a weak spot right now. Combo of both, but I tend to agree that Edgium "apps" run a bit better. I'm a big fan of this practice and even on my Core i9 desktop I use it for Slack, Hulu, Google Calendar, AirTable, Disney+, etc. For this, it's usually better to get it through Steam as they tend to have 32-bit versions of the game whereas the Store puts them at 64-bit (this bugs me a lot). But, even then, it is kind of hit and miss. Luckily, I have tried a bunch. All of these work really well and are really good games: Dead Cells* (Steam) Rocket League (Steam) StarCraft II (Blizzard) Blazing Chrome (MS Store) Hyper Light Drifter (Steam) Hollow Knight (Steam) Broforce (Steam) Furi (Steam) Icey (Steam) Guacamelle! 2 (Steam) 8-Bit Armies (Steam) Neon Chrome (MS Store) All of these basically play at full resolution, 60 FPS and look great. They're more platformer/roguleike/twin-stick titles as I reserve FPS for my desktop rig or Xbox One X for "serious" gaming. Finally, check out this guy's playlist as he chronicles testing MANY games on Pro X including bigger titles than I have here e.g. DOTA 2 and Diablo 3, evidently, run just great. *This game is amazing.

The online reviews are horrible. I sold my iPad Pro 2018 and couldn't be happier with this. A perfect companion to my Surface Studio and Surface Book 2. Bring on the Duo and I I'll be set.

1000 thank-yous for this reply! Happy New Year, Daniel! Now I'm off to test some games on my X.

Mr. Rubino's comments about why the Surface Pro X is his favorite laptop mirrors my experiences with the Surface Pro 7. The common threads are that we both find these devices delightful to use, have excellent industrial design, and check all the functional boxes we want in a device. The fact that we both end up with similar experiences while using different Microsoft hardware I think speaks to how excellent the Surface hardware is at this time. For my needs the Surface Pro 7 is flat out the best PC I have ever used. Part of this high level of satisfaction comes from the holistic experience provided by the current Microsoft software environment. For me, Windows 10 Pro on my desktop and Surface Pro 7 have worked flawlessly from day 1 and provide all the functionality I need or want. OneDrive is an essential element here as it allows me to keep my data in sync across my PCs automatically and then be accessible from my cell phone (plus all the other great apps Microsoft provides). In my case my preference for OneDrive over other excellent options is that I am an Office 365 subscriber which provides 1 TB of cloud storage. Having a place to put everything at is a big deal. All of the sudden the Surface Pro X with a LTE modem is quite a solution to having your essential data available at all times. Plus it comes wrapped up in a 2 lb box that is about the size of a sheet of 8.5 x 11 paper and has enough processing power, to borrow a phrase, to make it all just work. Add in a NAS back at the office or home for everything else and you have a fantastic on the go computing experience. Ten years ago you would have found me grumbling about the state of PCs and dealing with hacks to get my data synchronized across machines. Never did I imagine that 10 years later that Microsoft be the company to have sorted all this out and then, for extra credit, delivered excellent devices where all this comes together.

Nice experience, thanks for sharing. Surface Pro 7 is quite great. The instant on feature is amazing. If Pro X wasn't a thing it's what I'd be using daily.

You are absolutely right with everything you said here. I fell in love with the Surface Pro since it was first introduced back in 16:9. I have been using the Surface Book 2 as my main driver for some time now but I was lucky enough to attend the Surface event this year as a fan. It was one of the best experiences I ever had and will forever be grateful to Microsoft for it. I just received my Surface Pro 7 from them as gift and just the fact that everything synced up from my Surface Book 2 for the most part was such a great experience. I feel like the Surface Pro 7 is basically the best of the best for this line. I hope that over time the Surface Pro X is the new face of the Pro line and with developer backing it matures just like the Surface Pro did. I can't wait for what they have in store for the Surface Book 2 because for me, this replaced my entire desktop and if they put any of the updates that the Pro 7 has, then it will be a game changer for me.

When are you guys gonna review the new Spectre x360 13?

Hey Daniel,
I'm thinking of purchasing one of these. I have an iPad Pro, but looking for a more dedicated daily carry. This looks like it.
The only question I have is the configuration. I will mostly be using slack, office, mail. streaming music/video, & getting into some gaming, Should I opt for a higher config? What config are you running? Thank you

Good but tough question. I have the 16GB model with 256GB of storage. Storage you can always upgrade yourself later (I'll probably do a guide in a few weeks), so don't worry about that TOO much. RAM is harder as you could argue Win32 emulation will use more RAM than native ARM64/UWP apps. I've run plenty of Windows 10 PCs with 8GB and even 4GB of RAM with no problem. But if you're looking to use this daily and hours at a time, I would try to spring for the 16GB model. If you can't the 8GB one will be fine for basic productivity/web and the things you mention. I've used older ARM devices with 4GB to do that and I was still happy.

Hey Dan,
Thanks for the info. I was leaning toward the 16/512. Didn't know that I could upgrade storage myself. That piece of info now has me looking at the 16/256 config. Saw this device in a Microsoft store & immediately fell in love. PERFECT size!! I'm an "Apple guy" who spent hours in a Microsoft store & was awestruck at how innovative Microsoft seems to be.
I do video editing on a 5K iMac using FCPX, but that Surface studio (OMG!) has me ready to learn Adobe Premiere.

Great article. Your experiences with the Surface Pro X mirror a lot of my own personal experiences with my new Surface Go LTE (which I bought in mint condition with type cover and UAG case off of Ebay for $470). Having so much computing power with such PORTABILITY is just astounding and delightful to me. It runs all the apps I need for work and then some. Plus the USB-C for charging, connecting a hub and using HDMI are also great, and I haven't even mentioned the LTE, which is just game-changing. All this in something I can literally take anywhere with me is awesome. I don't have the exact same device as you do but the experiences are very, very similar. I know that if/when I upgrade to a Surface Pro X, I can expect all this greatness but on a bigger display.

Awesome to hear. Yeah, Surface Go with LTE changes things, right? Suddenly you're grabbing it all the time when you leave the house because it works everywhere. That ability to bang out an email, or surf the web with a full KB and PC experience is so good. It's why I'm such a fan of mobile/LTE these days (but I'm still in the minority, as in the US LTE is still expensive).

It definitely changes the game. And for relatively affordable LTE in the U.S., check out US mobile. They're a Verizon/T-mobile mvno that lets you add data a la carte at reasonable prices.

Are there any one time purchasable data sims that can be refilled in the U.S.? I have a Surface Go and will be traveling in Europe in June and would like to take it for the size. Tethering to my phone is an option but an expensive one I believe.

Check out Gigsky and their data plans. Other options include Google Fi due to their nice data roaming.

It's practically THE device for writers/bloggers and students not majoring in something tech related.

@zizu101 So, it's an insanely expensive Chromebook then?

A Surface device running full-blown Windows can do many more things that a Chromebook can't due to its ability to run desktop apps.

@Culex316 Read Daniel's review. It isn't capable of running traditional desktop apps effectively. I've just been reading a few updated reviews and the fact is the Surface Pro X is not full blown Windows.
It doesn't have to be though and I understand and support what MS are attempting to achieve with their ARM efforts. My issue is given this products obvious limitations it is insanely priced. Pcworld stated "Only a subset of Windows software will run on this computer, and only a subset of that subset will run at full speed" Daniel is right in stating this device isn't for everyone and I just hope sales staff are explaining the limitations to interested buyers in store. If not, a lot of people starting this machine up at home are going to be bitterly disappointed.

"Read Daniel's review. It isn't capable of running traditional desktop apps effectively. "

That's not what I said at all and I list all the apps I run on, many of which don't run well on a Chromebook (including full Office). There's also no Chromebook that is This premium Has as nice a display Supports quality inking Supports LTE Runs full Windows apps and games Has this amazing form factor. Works as well with Microsoft services. Has bio authentication Has cameras as good as these Supports Active Directory, which is KEY for companies and enterprise Edge support which many companies require (not Chrome). Those are very literally the reasons why I use the Pro X. Chromebooks are rarely premium and once they do hit that range, the price makes it a wash against any Windows device. That's why only schools are using Chromebooks and not a lot of adults. (Seriously, have you tried one? It's a very "meh" experience and I have one from Samsung).

"Only a subset of Windows software will run on this computer, and only a subset of that subset will run at full speed"

It can't run 64-bit apps, but 64-bit apps are a tiny subset of all Windows apps, which are MOSTLY 32-bit including many games. You then also have UWP and ARM64 apps. Don't forget, 64-bit for Windows apps only came online starting in 2009 (10 years ago) with Windows 7 and it took YEARS to get some 64-bit apps. (

Chrome 64-bit came out in late 2014!

) The vast history of Windows computing is 32-bit. Where you DO see a lot of 64-bit apps it's for high-end things like CAD, photo/video editing, app development, engineering, high-end gaming, etc. - basically things you would want to run on the XPS 15, not a thin-n-light Ultrabook.

@Daniel Rubino I'm reading several new/newish reviews and they simply don't match with your experience.

Many tried to do things like edit video, install Photoshop, or run Chrome. That's fine. It's fair to point it out. It's also fair to point out that many people, including myself, don't do video editing, or even run Ps or Chrome. Reviewing laptops also involves knowing the audience for the device and conveying that to the audience. The problem with Windows PCs is, in theory, they can run/do EVERYTHING. Can you install/run Ps on a 7-inch PC with an Atom processor? You bet! Should you? Probably not because that 7-inch Atom PC is not meant for that task. It's why we have categories for PCs including enterprise, consumer, gaming, graphics pro, workstations, Ultrabooks, budget, etc. Have you ever tried gaming on a Lenovo or Dell with a Xeon processor and Quadro graphics? It sucks. And yet, they're powerful as hell. But those aren't meant for gaming, they're meant for CAD/engineers with certified software. These details are important.

Reviews reviewing a product and knocking it for not being able to run tasks efficiently which it was not designed to run in the first place is very annoying. It's like complaining a small sedan can't fit 10 sheets of plywood in it's trunk. Well yeah, if you wanted a vehicle to haul plywood you should have bought a truck.

@Dojo005 It's perfectly understandable for reviewers to be demanding on a device labelled as a 'Pro' device and a device that is so expensive.

It's definitely prudent to point out any device's limitations, but the whole "Pro" thing is just a dumb critique. Everyone is using "pro" these days and it really has lost its meaning. For the Pro X there's definitely a play here for business users who need always connected, security, AD support, and longer battery life. Even myself, I use it for work ergo it's more for certain "professionals", not general consumers necessarily. Either way, it's a dumb thing to hang your hat on . iPad Pro is not any more pro, it's just bigger. In fact, most smartphones "pro" just means "it's the bigger version, maybe has an extra camera, also it's expensive" that's it.

@Daniel Rubino "Everyone is using "pro" these days and it really has lost its meaning"
"Either way, it's a dumb thing to hang your hat on" Agreed.

@Blue Ross SPX means it is part of the Surface Pro series but with (X) tral features for professionals ... If u are a start up or doing pre-sales ... U need an instant on, LTE always connected, light to hold for hours(due to long lasting battery life for whole day exhibition), (almost) Windows Desktop class tablet for less than 30 sec opportunity elevation pitch... Every single second wasted for not having an instant on could loose u potentially a critical opportunity I think most if not all business professionals will find SPX "the perfect choice"

@GeorgeOnArm I'm sure MS hope you're correct but time will tell. I honestly do feel though normal everyday people buying this device will have some nasty surprises in store when they get it home and fire it up.
I absolutely do see a niche market in business and artist type users for it though.

It's also THE device for freelance translators and copywriters.

Well The Verge says the SPX has only 37 minutes of battery life and can barely simulate the first 500 milliseconds after the Big Bang so it's not pro so you might as well just buy a $1200 iP -- oh, sorry, bleached already covered this. Happy New Year y'all!

@Andrew G1 Pcworld agrees with Tom Warren posting "But in a baffling turn of events, the Surface Pro X falls short in battery life. Meanwhile, the app compatibility issues and bugs that are an unfortunate staple of Snapdragon-powered PCs remain. Maybe it can be tolerated in a system like the Samsung Galaxy Book 2, which delivered 18 hours of battery life. But not the Surface Pro X, with a mere 8 to 10 hours. The tired chant of "this is a new architecture, give it some time," doesn't fly anymore. When a bug or another issue pops up—and it probably will—it's painful"

Warren has revised his thoughts if you follow him on Twitter:

"I've been using Edge ARM64 on the Surface Pro X for more than a month now. It has truly transformed the Pro X for me, and it regularly exceeds 8 hours of battery life now"

In another tweet:

"I've been testing an ARM64 version of Chromium Edge on the Surface Pro X, and wow it's night and day over Chrome 32-bit emulated. This isn't massively surprising, but I'm hopeful that Adobe and others can recompile to ARM64 and make WOA work better"

You - like many reviewers - forget to mention ARM64 of Firefox and new Edge. Many early reviews used Chrome, which is 32-bit and not optimized yet for ARM64. But if you use new Edge or Firefox it radically changes the experience especially battery.

This is all you need to know:

Surface Pro X, on average, gets 20-30% more battery than Surface Pro 7 and it has LTE.

That

is what we're paying for.

@Daniel Rubino Most people use Google Chrome for their browser. To your knowledge is Google planning on releasing an ARM64 version?

No reason why they won't, but I'm not sure of the schedule. Since Microsoft committed ARM64 code to Chromium all Google has to do is merge the code into their build of Chrome. Same with Smooth Scrolling. Microsoft did the work for them.

I get this but it is kind of strange many people use Chrome. It eats up ram and is basically spyware. Edge Chromium is a much better browser generally. Or Firefox if you want more security + privacy. Both sync well with your phone if you use Edge / Firefox on it too. No reason to choose Chrome anymore.

@ochhanz "I get this but it is kind of strange many people use Chrome" Why is it strange. Most people use Chrome on their phones so it's only natural they seek out Chrome on their desktops. Chrome also syncs better than any of the alternatives in my opinion.
They're not voting against any MS browser, they are just using what they use on mobile. "It eats up ram and is basically spyware" Yet no one in the real world cares. Chrome continues to dominate on both desktop and mobile. "Edge Chromium is a much better browser generally" Ridiculous statement. Edge Chromium hasn't even been released to the public yet. You're letting your emotions cloud your judgement.
It may turn out to be the case but it is far too early to make such a call. "No reason to choose Chrome anymore" Again, it hasn't even been released to the public, only time will tell.

Chrome dominates because Google is good in advertising their products (read showing annoying banners that you should install Chrome when visiting their sites) and slowing down their popular sites (Youtube etc) on other browsers. Popular does not mean good.

My snark aside, this is a premium ultrabook but always connected to the internet like a phone - with decent ultrabook battery life even when you're using emulated Chrome. That's remarkable. People aren't going to buy this for heavy lifting. And people already buy $1000 Intel ultrabooks for business where they spend 100% of their time on a mixture of browsers, Office, Slack/Teams, and whatever they use to get into their work systems. What's different about this, other than the headline benefit of being always connected, which is the whole point? Also, the "tired old chant" isn't all that old. This is a big first step for MS into WoA and only the second real step into that world in the industry (after the first wave of devices, which was lackluster). Why are we so impatient? (Granted I'm not the target audience for this device and YMMV.)

@Andrew G1: Are u the digital twin of bleach?

Culex316: Your comments reflect exactly what I like about the Surface Go/Pro/X machines: they are all so beautifully designed that they are a joy to use. These Surface tablets sneak up on you - you really have to own one and then lug one around for a while to understand how excellent these machines are. It is uncanny. I can't afford, nor do I really need, a dedicated LTE account for my PC so that feature is of less importance to me; my work around is to use my cell phone as a hot spot. On the other hand, I really get how having LTE in the box completely changes the game. Pair that up with the cloud connectivity built into Windows 10 and suddenly a light duty machine like the Surface Go ain't so light duty anymore. You can have your entire life with you all the time. Provided you aren't trying to use it for enterprise level software development or high end gaming the Surface Go covers the 80% plus usage profile. My on-the-go machine over the last year was a Surface Pro 2017 (M3 / 4GB / 128GB) and it was a joy to use and I found Windows 10 runs remarkably well on machines in this class. It made me a complete convert to Microsoft hardware. I have owned many PCs over the years and right now we are having something of a computing party. Pretty fantastic right?

Yes, it is definitely fantastic. Another thing I forgot to mention was freedom from bloatware (McAfee, etc.), which is QUITE refreshing, I must say. Also, even though having a separate LTE data plan is somewhat of a luxury, once you try it, you won't want to go back to the hassle of tethering your phone again. I think Google Fi lets you add a data-only SIM.

I recently compared the SPX and SP7 in-store. One thing I noticed is that the writing experience is much better on the SPX. There is less resistance from the screen, so it is much smoother. This is inherent to the screen and not the new pen. This is one thing that I haven't seen discussed in reviews. Made the SP7 a non-starter for me.

I am keen to learn more of this...

@Daniel Rubino Perhaps you should consider updating your review on this product. You were critical of its inability to run serious games and applications as well as describing ARM64 as "confusing" and listed its battery life as a negative.
You also stated, "The Surface Pro X is a complicated device to understand and that's a problem for consumers" and "While the Surface Pro X can run older desktop (32-bit x86) applications, it does so in an emulation layer. These apps generally run fine, albeit with a slight performance hit compared to running native ARM64 apps" That's an awful lot of negatives for such an expensive device. Clearly though, judging by this new article you have warmed up to the Surface Pro X.
Again, perhaps updating your review to reflect this may be in order.

Good point and I'll see about doing that.

Isn't it just wonderful to know that folks remember what said before 'quoted too"
Keep up the the work

My final thoughts for this decade are thank you to the great work at Windows Central and the thoughtful community that responds to that work. I have a handful of web sites I read every day, think of them as section replacements for a traditional newspaper. Windows Central is, daily part of my Tech Section. After a life in technology I rely on reporting like this to keep in touch with one of the my great passions in life. My first PC was a clone I bought in the early 80s and it changed my life. Nothing changed after that but change. It even got me into school and I walked out with a degree in Computer Science which led to a professional career. Now at the other end of my life I find myself still utterly in love with all this stuff. More importantly I find myself really jacked by all the terrific advancements in the computer world over the decades. At this moment in life I still contemplate this part of life constantly without the burden of having to make it happen. I am good with that and at the same time sort of sad I am not in the swim. Good reporting keeps me involved. Being able to respond is equally important. My favorite tech stack, Microsoft, is doing fantastic work, be that software or hardware. I can say with utter honesty I never saw, even 15 years ago, what Microsoft would being doing today be that software or PC hardware. It is rather breathtaking. Because of the fantastic work across the hardware and software stack over the last few decades I now have something that is pretty close to a life changing experience. Turning to Microsoft, they have built this fantastic hardware and software that I take with me everywhere, that can be connected to the internet as I chose, and connects me to my entire life in depth and detail. I like my smart phone but dang, being able to do everything from paying bills, schedule my life, listening to music or watching videos, write essays, edit photos, communicate to critical professionals in my life, be connected to my historical data as long as I have have internet tap while using a device, which is important to this thread, is so well designed that it disappears, leaving me with a connection to the world. The nuances of the Surface Pro/Go universe do that like I never expected. These are devices that I carry with me seamlessly and allow me, when the need arises, to engage with my thoughts or the world. This is flat out spectacular stuff and the Surface Pros/Gos are utterly fantastic pieces of kit, maybe the best ever.

The Surface Pro X looks like a great device. In fact, it is the only Surface 2-in-1 with LTE and long battery life available. Having read many reviews and searched through the internet, I am still not very certain of the following questions that I have:
1) Is MS Office running native ARM64 or is it running under emulation with 32 bit x86? I am not clear with this because benchmark seems to show that running Office on the Pro X is as fast as on the Pro 7, and thus it should be running native. Yet, I read here that it is running under 32 bit x86 emulation. It is very impressive for a software running under 32 bit x86 emulation on ARM to be as fast as on a Core i5 8th gen chip natively.
2) Is it true that Netflix and Spotify run better on Chromium Edge than with the app? If so, will we lose the download capability of Netflix and Spotify?
3) Daniel mentioned that Photoshop Element is still not supported, yet I read on many reviews that Photoshop runs on the Pro X. Are they referring to the full Photoshop CS and not Photoshop Element? This is not an important point as I agree that Pro X is not really meant for serious photo editing. For minor photo editing, there are many apps that should run great on the Pro X. This point still confuses me because during the very early preview of the Snapdragon 835, one of the demo was Photoshop CS on Windows on ARM.
4) I read that Visual Studio doesn't run on the Pro X. Not sure if anyone has tried. This too is not an important point because I agree that the Pro X is not meant for development work.
5) Perhaps more important to most mobile workers is whether the Pro X supports VPN. I am glad to hear that ExpressVPN is supported. I am not sure if there are other unsupported VPN that we may need to use. Any feedback on the above will be useful.

Here are a few answers: MS Office is compiled for ARM64, so it runs native. BUT, and this is key, it "presents itself to the rest of the system as an x86 app", which is why people are confused. Why does it do this? Because people/pros need to install Office plugins. If those plugins by third-parties "see" an ARM64 compile they won't install. But if masked, they do and work fine. There's some debate there. I won't say it's a massive difference, but using Edge's "app install" feature is quite amazing and I highly recommend it. I use it for Slack, Spotify, Hulu, Disney+, AirTable, Google Calendar, etc. I do believe you lose the download capability, but the apps work fine AFAIK. Photoshop recently went 64-bit only - the Creative Suite version. You can still use Ps 2018, which has a 32-bit compile - that is what some reviewers were using. Ps Elements is something else - I have to actually check if there are older 32-bit versions. Something like Polarr Photo is a good alternative that runs on Pro X from the Store. VS2019 does run on Pro X via x86 emulation layer and it can compile at "about half the speed of a Core i7". I know a few devs who own/use one, but not as their primary dev machine, just something they can use on occasion for that task. VPN is supported naively in Windows 10, which is how I use it (see the link for Express VPN above). For companies that have you install a VPN launcher, it gets trickier. We're starting to see some adopt ARM64 e.g. Cisco AnyConnect Secure Mobility and Viscosity, but most brand-name consumer ones will have to be used via the Windows 10 method (which I prefer as it's one less app to run in the background).

Thanks Daniel, that clears up most questions. Seems like there is really not much downside to WoA. Looks like MS has a potential winner. With the new SnapDragon 7c and 8c processors and lower cost WoA devices on the horizon, this could be a game changer for Windows 10. On MS Office, MS' own website is not helpful in promoting ARM64 when it states that users should use 32 bits x86 Office for ARM64 Windows devices. This gives the wrong impression that MS is not supporting WoA for something as important as MS Office. Glad that the reality is different.

@Dan I know Office works great on the device, but is it the same for Excel extensions (like StatTools, for statistics)?

Yes, Office plugins and extensions work, there are no compromises. See my explainer above.

Nice. Wish that device was available back during my bachelor's. I had to make do with the Surface pro (1).

Same. I'd would have died to have this when I was in school. I'm so old no one even had laptops in college, most used the computer lab lol.

I bet printing your documents was the most annoying thing you had to do those days. :)

Oh totally. Someday I'll also share a story of how I was arrested for nearly taking now our VAX system due to a prank.

Looking forward to it. lol

Running ZX spectrum games on the Pro X brings me back to the old days where I was impressed by that small but powerful device.

Just picked one up myself. Liking it so far with the improved design over my old Surface Pro 4. Pretty much everything I need installed and runs on it. No real performance problems to complain about, but I do need to switch out to a different and much newer version of a personal finance app, like Quicken, which should run much better than my old app, I'm assuming.

The reviewers who largely dissed the Pro X all reviewed it as though it was just another Windows laptop and with no apparent awareness of the type of users it was designed for. That's just lazy opining and not useful advice. Daniel and a few others looked at it as members of the class of users the Pro X is targeted at. And for me, as a member of that class, this is the Surface Pro device I've been waiting for. I've sold or passed on my previous gen Surface Pro devices and not looked back.

One could argue the same thing about critics of any device that isn't their "brand".

https://youtu.be/VRNIFwz94Gg
SPX for students not just big corporations

Nice review. Thanks for sharing.

I think many of us would like to re-live our School/college/university time walking around with SPX... a device that empower creativity...

The missing information of SPX cpu: SQ1... Lack of support and documentations, no insider track on Directx12 drivers for SPX... https://megayuchi.com/2019/12/08/surface-pro-x-benchmark-from-the-progra... The blog was referenced in MPowerUser... I hope WindowsCentral can reference this.. ===> In summary, with ARM edge browser (with proper user feedback) AND with improved Directx12 driver (unfortunately not even proper developer channel feedback....as it is probably limited to a few developers hired to work on that) SPX will be in similar performance category as Intel core i5 for both productivity but to lesser extend game and graphic intensive apps like Adobe... In addition to speedy LTE, no nose due to fan and no discomfort of holding and consuming a long time due to heat. Please lobby for Microsoft and Qualcomm to setup websites as a platform for developers to validate the one person attempt to objectively providing controlled experiments to benchmark SPX, not like most using high level consumer benchmark softwares BUT low level programming The one person attempt gives NEW insight.... Many people intuitive choice and convection that SPX is here to stay as the new Surface category from Microsoft. The blog is unfortunately communicated in a language that unless u are a hardcore game engine developer, not just consuming Unity3D for game developing, it is not trivial to understand the great length this one person... took... to get the answers he NEEDs to have.... after burned like many by the last Windows RT attempt from Microsoft ==> I think his blog will encourage more independent game developers to write game for SPX.. Hence to drive feedback to e.g
DirectX 12 drivers...key to agile spped up the performance of Adobe porting to SPX. What we need Next in another one person attempt to write SPX GPU and AI benchmark blog...to provide insight into what makes SQ1 so unique for SPX.

The ONLY reason why I didn't get the Pro X is because the Surface Neo looks better and more functional to me as a companion device. I'm hoping though that Microsoft continues to improve WoA at a rapid pace...even if its for their own software more than anything. They also need to add Windows 10X's UX/UI to WoA to make it more user touch friendly.

I I love this device I'm going to buy it and get a flip phone that's who really a smartphone in this day in age.

Thanks Daniel, I've been using Surface devices since the RT launch, I used the RT as my daily driver for over a year and then switched to the Pro 2 and Surface 2. To be honest, I used the Surface 2 more than the Pro 2. I've used every generation since (Pro 3, 4 and 5, Surface 3 and Go, Surface Book 1 and 2) I will say that the Pro X has restored that "I love to use this device everyday..." I'm an VP in a global consulting firm, I use Office 365 as my main application stack and everything else I use has a web interface, UWP or Shell environment. I live and die using OneNote and I ink everything. I'm also away from my desk and the office 90% of the time. Not needing to depend on guest WiFi or tethering has made my presales duties much easier. I attempted to use a Samsung Galaxy Tab S6 for this role but some of our Excel tools require the desktop version. The idea that this isn't a professional level device is rubbish, Professional means it does work and for 90+% of professionals that means full Office, and for mobile professionals it means thin and lite with the ability to connect anywhere. To many reviewers are not actual professionals, they come from creative (video and animation), gaming or IT backgrounds each are niche. Also, this device is a beacon towards a Cloud Future, one that doesn't rely on legacy management tools but it also still supports the vast majority of them when necessary. There are those of us who are willing and comfortable in paying for this device and it makes our days better for it.

What is the built in LTE carrier options? One of the advantages of the cellular iPad is the ability to setup and use major carrier plans without going to a carrier and manually inserting a SIM card. Are there options to use the surface pro X this way as well?

Just realized that the lack of heat will probably greatly reduce the chance on battery bulging that some of the Surface Pro's (especially the older ones) suffered from. It would be even better if the casing was tinted lighter for when working outside in the summer.

Good review and nice to see some re-evaluation once you've had a chacne to use the device for a while. I've been really tempted by one of these but only as a secondary device initially, I think that there are some applications I rely on for work that I wouldn't be able to replace with something that's ARM or Windows32 compatible (Graphics type software mainly) - and I've currently got a Dell XPS13 that's just a powerhousr for almost anything I need to do work wise. I do however always like having a secondary, lighter non-work device that has LTE and can cover off work stuff in a pinch and I always like my second device to be one I can hand write notes on, something the Surface Pro excels with (and it seems the X is even better). If I thought that the low end 8GB RAM machine would be sufficient I'd probably give it a go and see how I get on, currently using a Galaxy Tab S6 that is still in its return window and while I enjoy using Android I just miss the fully featured experience of things like OneNote and O365....
Windows Central Newsletter
Thank you for signing up to Windows Central. You will receive a verification email shortly.
There was a problem. Please refresh the page and try again.