Dell XPS 15 (7590) review: The king of 15-inch laptops retains its crown
Dell's XPS 15 is a legend of a laptop, and for 2019, some new hardware keeps it chugging along.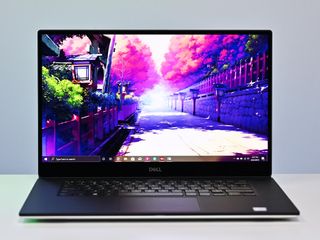 (Image credit: Windows Central)
Dell has been churning out the XPS 15 for a few years now with the same design, and that story is not changing much for 2019. The new XPS 15 (7590) brings some minor improvements, though, including fixing the web camera placement and offering the latest from Intel and NVIDIA for a faster, more efficient experience. There's also a new non-touch 4K OLED display option that matches the power of this laptop.
But is the XPS 15 still the king of 15-inch traditional laptops? Yes, it is, but some things are getting a bit stale.
(opens in new tab)
Dell XPS 15 (7590) (2019)
Bottom line: The XPS 15 (7590) gets the latest Core i9 processor, NVIDIA GTX 1650 GPU, and an option for 4K OLED. Battery life is good, and this non-gaming laptop is nearly unmatched for raw processing power. However, middling audio and an aging keyboard keep it from being perfect.
For
4K OLED display with Infinity Edge
Core i9 and GPU are a good mix
Full SD card slot
Build quality
Webcam placement
Against
Keyboard is mediocre
No top-firing audio
No Windows Hello IR
Dell XPS 15 (7590) 2019 features, display, and specs
For 2019, Dell offers three significant internal hardware changes to the XPS 15 over last year's model: 9th Gen Intel chips, NVIDIA GeForce 1650 for graphics, and the option for 4K OLED (on top of the 4K LCD choice). Externally, Dell finally moved the camera to the top bezel.
An Intel Core i9 processor may sound great, but many users will be fine with a Core i5 or Core i7. Not only will you get exceptional performance with these chips, you'll also likely get a few more hours of battery life while saving some cash.
The new GPU is the NVIDIA GeForce 1650, which despite its name can be thought of as a successor to the GeForce 1050Ti with about 30 percent improvement in performance. While it is not a gaming GPU, it's enough to do some light gaming. But it is better geared towards video production, photo editing, and professional use than fragging enemies in Overwatch.
Swipe to scroll horizontally
Category
Dell XPS 15 (7590)
OS
Windows 10
Display
15.6-inch 1920 x 1080 InfinityEdge
15.6-inch UltraSharp 4K 3840 x 2160 InfinityEdge
15.6-inch OLED 4K 3840 x 2160 InfinityEdge
Processor
9th Generation Intel Core i5-9300H (4.1 GHz)
9th Generation Intel Core i7-9750H (4.5 GHz)
9th Generation Intel Core i9-9980HK (5.0 GHz)
Graphics
Intel UHD Graphics 630
NVIDIA GeForce GTX 1650 (4GB GDDR5)
Memory
8GB DDR4 2666MHz
16GB DDR4 2666MHz
32GB DDR4 2666MHz
64GB DDR4 2666MHz
Storage
256GB PCIe SSD
512GB PCIe SSD
1TB PCIe SSD
2TB PCIe SSD
Webcam
720p
Security
Windows Hello fingerprint reader
Wireless
Killer AX1650
Bluetooth 5.0
Ports
One Thunderbolt 3 with DisplayPort
Two USB 3.1 Gen 1
One HDMI 2.0
SD card reader (SD, SDHC, SDXC)
3.5mm combo jack
Audio
Waves MaxxAudio Pro, 2x 2W
Battery
56Whr
97Whr
Dimensions
0.45 - 0.66 in x 14.06 in x 9.27 in (11 - 17 mm x 357 mm x 235 mm)
Weight
1.8 kg (4 lbs)
Dell has custom displays made for its XPS line, specifically the outstanding Sharp IGZOs, which have always fallen between LCD and OLED for appearance. The matte Full HD option is the most affordable. That display has 500 nits of brightness (but is non-touch) and is an excellent choice for those who need great battery life and do mostly programming or data-entry. The 4K anti-glare (still glossy) IGZO panel has touch and is probably the best of the bunch at 500 nits. The new 4K OLED – supplied by Samsung – is the same 4K OLED we have seen this year from HP, Razer, and others. With 400 nits of brightness, but no touch support, it's a bedazzling option for those who require the coveted 100 percent DCI-P3 rating.
The RAM is user-upgradable and comes with DDR4 2,666MHz. With this new 9th Gen Intel board, users can configure the XPS 15 with up to a staggering 64GB of RAM.
Storage, also user-upgradable, runs the gamut from 256GB up to 2TB, all of which are high-performant PCIe NVMe.
Ports are an adequate mixture of what is most commonly in use today, including full HDMI 2.0, two Type-A (Gen 1, USB 3.1), Type-C (Thunderbolt 3, x4 PCIe), and the increasingly rare full SD card slot, which photographers and videographers will appreciate.
While Dell eschews a Windows Hello infra-red (IR) camera for instant-logins, it does use a very accurate fingerprint reader built into the power button.
Dell doesn't offer any color options, just a lighter silver with its touted soft-touch carbon-fiber interior. It's a great combo, though, that looks professional but not pretentious (unlike some of HP's Spectres). I wouldn't mind seeing an all-white configuration like the XPS 13 though. That soft-touch interior feels excellent, but it's a magnet for oil from your hands, requiring an occasional wipe down.
Image 1 of 2
Pricing starts at a little more than $1,000 with the excellent full-HD matte display and a beefy Core i5-9300H 45-watt processor. That's with Intel UHD 630 for graphics. Users can add on the quite powerful GeForce GTX 1650 GPU with 4GB of video memory for an extra $220. And the top-tier option with a blazing fast Core i9-9980HK (5.0 GHz), 1TB for storage, and 32GB of RAM with the GeForce card and 4K OLED is "only" $2,640.
Dell XPS 15 (7590) 2019 keyboard, trackpad, camera, and audio
Dell used to be one of the better keyboard providers of PC laptops. The company has slipped in recent years as HP, Lenovo, and Microsoft have met or exceeded Dell. The keyboard on the XPS 15 hasn't changed much, and it can best be described as good but not exceptional. Most users will be OK typing on it, and it has no significant flaws, but Microsoft, HP, and Lenovo are pushing the category forward. Even MSI's SteelSeries is better.
Key travel is at 1.3 mm, which is on the shallow side for a 15-inch laptop. The keys are plastic and have two-stage backlighting that does well in low-light situations.
Image 1 of 2
The trackpad is large and uses Microsoft Precision drivers. It's the same design and execution as the last few years, but the XPS 15's trackpad is one of the better ones for Windows PCs. There is no discernable rattle as some XPS laptops have had in the past.
As I wrote in 2017 about that year's XPS 15, Dell has not done enough in the audio department. That's still the case. The speakers are on the bottom and to the front, which gives some clearance. But nearly everyone is doing top-firing speakers now, often doubling from dual to quad configurations with amplifiers. But not Dell. It's a shame, as the audio here should be better.
Dell also finally had enough of everyone's complaints about the bottom-bezel web camera that gave very unflattering views. Now, the camera is a micro one that fits in the slightly larger top bezel. Being so small, I expected the tradeoff to be an absolute garbage image. That's not the case; Dell managed to create a reliable camera that produces wide, clear photos with not much distortion. Features are still soft compared to a Surface Pro's camera, but it is better than most laptop cameras.
Dell XPS 15 (7590) 2019 power and battery
Dell offers the somewhat dubious Intel Core i9-9980HK (16MB Cache, up to 5.0 GHz, eight cores) processor with the XPS 15, as it did last year. Some have made hay at the sustained performance of the i9, which due to heat and improper thermals drops down over time. Dell did release a special firmware for this new 7590 model to help it perform better in such situations, including gaming.
What I can tell you is this i9 is very powerful. On Geekbench scores, it falls just below the similar Core i9 desktop version (9900K, not overclocked).
The NVIDIA GeForce 1650 is also quite a performer, falling below a GeForce GTX 1070 with Max-Q Design but well ahead of a GTX 1060 in Geekbench. More serious benchmarks like PCMark 10 and 3DMark show it well ahead of a GTX 1050Ti, but not quite as robust as GTX 1060. For the XPS 15 (7590), however, this new GeForce 1650 is the exact upgrade needed for this class of laptop.
PCMark 10 gives a score of 5,521, or better than 79 percent of all results and just above a 4K gaming PC. That number, however, is mostly for short bursts of activity, not sustained performance. When firing up 3DMark Time Spy 1.0, which stresses the GPU and is focused on continuous performance, the XPS 15 hits 3,735. That score is still better than 20 percent of all results but falls just short of a "gaming laptop" (3,879) and well below a 4K gaming PC (6,733). For 3DMark Fire Strike 1.1, the XPS 15 gets 7,763, or better than 36 percent of all results but well below a "gaming PC" (9,271), or a 4K gaming rig (17,805).
CPU
Geekbench 5.0 Benchmarks (Higher is better)
Swipe to scroll horizontally
| Device | CPU | Single core | Multi core |
| --- | --- | --- | --- |
| Dell XPS 15 7590 | i9-9980HK | 1,176 | 7,624 |
| Dell Inspiron 13 7390 2-in-1 | i7-8565U | 1,111 | 2,965 |
| Dell Precision 3541 | i7-9750H | 1,117 | 4,720 |
PCMark
PCMark 10
Swipe to scroll horizontally
| Device | Score |
| --- | --- |
| Dell XPS 15 7590 | 5,521 |
| Dell Inspiron 13 7390 2-in-1 | 3,764 |
| Dell Precision 3541 | 3,906 |
| HP Pavilion x360 14 | 3,558 |
| Lenovo ThinkBook 13s | 3,468 |
| Chuwi AeroBook | 2,140 |
| Chuwi LapBook Plus | 961 |
3DMark
Fire Strike (Higher is better)
Swipe to scroll horizontally
| Laptop | GPU | Score |
| --- | --- | --- |
| Dell XPS 15 7590 | GTX 1650 | 7,763 |
| Razer Blade 15 | GTX 2070 Max-Q | 14,944 |
| Lenovo Legion Y545 | GTX 1660 Ti | 12,598 |
| Lenovo Legion Y7000 | GTX 1060 | 10,137 |
| Lenovo Legion Y740 15 | RTX 2070 Max-Q | 14.669 |
| Lenovo Legion Y740 17 | RTX 2080 Max-Q | 16,303 |
| Dell G7 15 7588 | GTX 1060 | 10,029 |
| Razer Blade 15 | GTX 1070 | 13,560 |
SSD
CrystalDiskMark (Higher is better)
Swipe to scroll horizontally
| Device | Read | Write |
| --- | --- | --- |
| Dell XPS 15 7590 | 3,000 MB/s | 2,796 MB/s |
| Razer Blade 15 | 3,204 MB/s | 1,894 MB/s |
| Lenovo Legion Y545 | 1,585.1 MB/s | 321.1 MB/s |
| Razer Blade Stealth | 2,850 MB/s | 1,087 MB/s |
| MSI PS63 Modern | 3,300 MB/s | 1,875 MB/s |
| Lenovo Legion Y7000 | 3,493.5 MB/s | 1,653.8 MB/s |
| Lenovo Legion Y740 15 | 3,395.1 MB/s | 1,549.7 MB/s |
| Lenovo Legion Y740 17 | 3,356.6 MB/s | 1,388.1 MB/s |
| Dell G7 15 7588 | 521.5 MB/s | 303.4 MB/s |
| Razer Blade 15 | 2,722 MB/s | 1,217 MB/s |
| Acer Predator Triton 700 | 3,353.5 MB/s | 1,859.3 MB/s |
The Toshiba solid-state drive (SSD) that Dell uses performs quite well, especially for write speeds, putting it above average.
Are those 3DMark scores disappointing? Sure, if Dell advertised this as a gaming rig, but it did not. It's effectively a large Ultrabook that can give exceptional performance for short durations. For my expectations, the XPS 15 does what it is supposed to do.
Regarding SSD storage, the XPS 15 uses a Toshiba XG5 1TB NVMe PCIe 3.1a and yields exactly 3,000 MB/s for read and 2,797 MB/s for write. Those scores are quite high but fall short of the fastest out there for read. The write score, however, is impressive.
Battery life with the Core i9 is surprising in a good way. If you are just using the XPS 15 as a laptop – web browsing, Office, and email – pushing seven hours is possible with the display at 50 percent. That number is not amazing, but for something with a 4K OLED display and quite possibly an overkill Core i9, it is much better than I had expected. If you start pushing the GPU, however, or are doing video encoding or maxing the CPU, battery life can be as short as four hours.
The story for the battery can change dramatically, however, based on the hardware configuration. Opting for a Core i5 with full HD will likely let you push 10 hours.
Standby time is also improved. Leaving the XPS 15 with a lid closed for a week resulted in no battery drain, which was a problem for previous versions. Dell could benefit though from faster resuming, as the laptop is comparatively (and frustratingly) slow when coming out of hibernation.
A Core i9 under heavy, sustained load can get very hot, and the XPS 15 is no different. Still, for regular laptop usage, I had no issues with heat or it becoming uncomfortable in my lap. Fan noise was also quite good with the fans never becoming irritating. Coil whine was also at a minimum, but once in a while would pop up when connected to AC and set to maximum performance (this is a common effect in modern laptops).
XPS 15 (7590) 2019 is a 4K OLED wonder
OLED is quickly becoming one of the hottest options for 15-inch laptops in 2019, due to Samsung offering many to laptop manufacturers. Dell's is not much different with claimed 400 nits of brightness and 100 percent DCI-PC coverage, along with its Infinity Edge micro bezel design.
While there is no touch here, the display has a great anti-glare layer which effectively helps reduce reflection from indoor lights. It works quite well and is an excellent middle ground between an actual matte display (like the full HD option) and keeping accurate color reproduction found in glossy screens.
In our tests, the 4K OLED panel holds up to Dell's claims. Brightness peaks at a higher-than-expected 517 nits on our review unit, with 100 percent sRGB and 97 percent Adobe RGB for color gamut. The white point, tone response, and contrast are all above average.
The tougher question is whether one should go for the touch 4K Sharp IGZO LCD at 500 nits of brightness or the 4K OLED (non-touch) at 400 nits. The OLED version is $44 cheaper than the LCD one, meaning cost shouldn't be a deciding factor. Both screens are very pleasing to the eye. OLED, though, offers a bit more contrast but also lacks Dell's Premier Color profiles to switch between various modes like cinema, sRGB, and internet.
Dell's display choices are all first-rate. If you prefer to max your battery, full HD will do wonders. However, the 4K OLED, with its near-perfect blacks and extraordinary contrast, is hard to pass over once you see it in person.
The XPS 15 is still the king of its class
Dell is quite conservative with its laptop designs, often sticking with them for years. For the XPS 15 (7590), this is not a problem as it's still very forward-looking, even in 2019.
The small changes Dell brought to the XPS 15 (7590) are welcomed, and surprisingly, there are no downsides. Faster processors and a much-improved GPU deliver. The option for a 4K OLED display is not unique to Dell but certainly worth consideration. Concerns over "screen burn" have been reportedly fixed due to new pixel-turning tech.
The XPS 15 is easy to recommend because it has no real competition. The closest would be Razer's premium Blade 15 Advanced, which offers similar hardware but with a more powerful GPU that is skewed more towards gamers. Dell starts just above $1,000 for a 45-watt Core i5 with a full HD display, well below Razer's starting price of $1,599. Either laptop is an excellent choice, but with Dell, you get better battery life, while with Razer you get better performance.
Compared to Apple, Dell looks like a bargain. Our unit with a Core i9, 32GB of RAM, 1TB storage, 4K OLED, and GTX 1650 costs $2,560. That's not cheap. But a new MacBook Pro from Apple with similar hardware runs a staggering $1,390 more, at $3,950. Dell has a much more reliable keyboard, so the choice is even easier.
It's also worth mentioning that Dell's excellent software suite, including Dell Update for BIOS and firmware and Dell Mobile Connect, is a superior way to use your laptop to control your smartphone, including making calls.
Still, despite Dell's conservative approach to design, its bottom-firing audio in 2019 is a travesty, especially for this price. Lenovo and HP are doing quad-speaker setups in business laptops these days, and Dell is still playing with tiny bottom speakers in its premium consumer line. The keyboard is OK, but Dell can (and should) do better if it wants to stay ahead.
As far as choosing the Core i9-9980HK over a Core i7-9750H, the i9 is fun to use but the $300 upgrade cost is likely not worth it for most users.
Overall, the XPS 15 keeps chugging along, doing what it does best. Competition is creeping up from unlikely places like Razer and other gaming laptops, but the Dell brand, support, and history will keep consumers coming back. TheXPS 15 7590 keeps up that tradition while delivering some modest improvements.
King of the 15-inchers
(opens in new tab)
A beastly machine that dazzles

The refreshed XPS 15 (7590) for 2019 brings new processors, a faster GPU, and an option for 4K OLED. Plus, the camera is now on the top display. Excellent performance, a large battery, and plenty of configuration options make this one of the best 15-inch "power" laptops on the market. Too bad about those speakers, though.
Windows Central Newsletter
Get the best of Windows Central in in your inbox, every day!
Daniel Rubino is the Editor-in-chief of Windows Central, head reviewer, podcast co-host, and analyst. He has been covering Microsoft since 2007 when this site was called WMExperts (and later Windows Phone Central). His interests include Windows, laptops, next-gen computing, and for some reason, watches. Before all this tech stuff, he worked on a Ph.D. in linguistics, watched people sleep (for medical purposes!), and ran the projectors at movie theaters because it was fun.
Does this charge using usb-c or a barrel plug?

Well, technically both/either. Issue is the GPU/CPU can drain a Type-C plug faster than a barrel, so the default is the 130W barrel wall charger. But you could technically use Type-C when the device is in standby and charge that way. If you're going to max the i9 and GPU though e.g. video editing/rendering you'll want to use the barrel charger to keep the battery from depleting while in use.

Undervolting might also be interesting for this laptop.

Of course it has a competitor. What about the Lenovo C940 15"?

Nice review!
Can I get the link to download wallpaper is that first pic?
thanks
Windows Central Newsletter
Thank you for signing up to Windows Central. You will receive a verification email shortly.
There was a problem. Please refresh the page and try again.