Dell Mobile Connect puts Microsoft's Your Phone to shame
Many companies strive to let you connect your phone to your PC, but Dell is beating Microsoft in the quest to merge PC and mobile.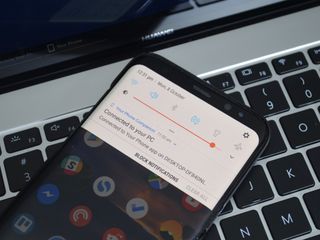 (Image credit: Windows Central)
Microsoft's Your Phone app allows you to sync your text messages and photos between your phone and your Windows 10 PC. As good as it is to be able to text message from your PC, Your Phone has stikoff competition from Dell Mobile Connect which recently became available on non-Dell devices.
Previously exclusive to specific Dell hardware, Dell Mobile Connect relays text messages as well as phone calls. It also mirrors the entire Android phone experience to your PC.
Dell Mobile Connect is available for free on Windows 10 and requires a free companion app on Android (opens in new tab). While it isn't perfect, in many ways it puts Your Phone to shame.
It's worth noting that it may have been a mistake by Dell to release the app to all devices and it may be made exclusive once again or made not work on all hardware. But this article focuses on the concept behind Dell Mobile Connect rather than reviewing it.
See at Microsoft Store (opens in new tab)
The full experience
Dell Mobile Connect bridges the gap between a phone and PC in a better way than almost any app. It syncs text messages, relays phone calls, and mirrors apps from your phone. In my time with it, I could just leave my phone charging on my night stand and have all the functionality of my phone at my desk.
While I don't think Dell Mobile Connect is perfect, it is an excellent peek into the vision that I think Microsoft has, a day where you could leave your phone somewhere and not miss a beat. You could have an Always Connected PC and leave your phone in your bag or not even have to take your phone out at the office. In some sense, this is already possible and working well with Dell's efforts and I suspect it will get better with time.
Still imperfect
While Dell Mobile Connect provides a larger feature set than its competition, it isn't perfect. It requires a Bluetooth connection rather than just WiFi. That isn't a major drawback in my opinion but it is one more connection that you have to leave running. It also requires your phone screen to be on to mirror apps, though it's now dimmed thanks to a recent update.
It also looks much better in a small window than taking up your entire screen. If you just wanted to use it to send a text message from your PC, you may prefer the design of Your Phone that feels native on larger screens.
It also doesn't integrate with things like the Windows 10 notification center which extends the feeling that it isn't a native experience. In my opinion, using Dell Mobile Connect feels a bit like using Android and your phone on top of Windows 10 rather than inside of it.
Lastly, app mirroring looks good sometimes but can be laggy or glitchy at other times. It also struggles to connect at times. This could be hardware related though since my PC isn't made by Dell.
Why it puts Your Phone to shame
Updated: This conclusion had been edited to clarify the technical differences between the two pieces of software.
What Dell Mobile Connect delivers and the concept behind it puts Your Phone to shame. App mirroring and call relaying are important features that make Dell Mobile Connect much more complete when it comes to letting users leave their phones in their pockets.
The feature gap is a result of technical differences between how Dell and Microsoft approach connecting phones and PCs.
Dell is only licensing its app from a third-party company. That means others like ASUS are also shipping their own branded versions of this Connect app with their laptops.
The core difference between apps stems from the types of connections used. Dell relies on Wi-Fi Direct, which uses Bluetooth to initiate the pairing but actual data is transferred directly over Wi-Fi from your phone to the PC without the need for a Wi-Fi network. That means you can use Dell Connect anywhere without the need for internet. That's not only convenient, but it's also much more secure; information is encrypted and not flowing onto a public network.
Microsoft does not use Wi-Fi Direct and instead relies on a network-based system because it makes its app available on more devices. Not all laptops or phones play nicely with Wi-Fi Direct, including older hardware or even older versions of Android. Microsoft's method, while not as powerful, works everywhere on every device, without any unique requirements. That choice has tradeoffs, but Microsoft is trying to make its service ubiquitous instead of targeted.
These technical differences are noteworthy but the fact remains that users who use Dell Mobile Connect have a more complete experience compared to those who use Your Phone.
Microsoft has a history of playing catch up with third-party developers; for example, Night Mode came after f.lux. I hope that Microsoft is looking at Dell to gain inspiration for merging mobile and PC.
See at Microsoft Store (opens in new tab)
News Writer and apps editor
Sean Endicott brings nearly a decade of experience covering Microsoft and Windows news to Windows Central. He joined our team in 2017 as an app reviewer and now heads up our day-to-day news coverage. If you have a news tip or an app to review, hit him up at sean.endicott@futurenet.com (opens in new tab).
Dell Mobile Connect is still unavailable for my Surface Book 2.

You might want to log in to Microsoft store using your browser and then tell it to install to your specific device. This worked for my Surface 3 (non-Pro).

Not all PCs are compatible. WC claim is not founded!

I had no issues installing Dell Mobile connect on My Surface Book 2 15" even 4 months ago.

Plot twist: Our phone is not ashamed of Dell, Dell is, should be.

I contacted dell few months ago about why they don't have integration with the action center and here is the answer:
_This is something we've explored but settled on a custom notification for more feature flexibility.
_We are in the process of releasing a new version that allows this from 3rd party apps that support it! This includes popular apps such as WhatsApp. Be on the lookout for updates any day now.(that already exist in the newest version)
Contact me if you want to see the full email.. For the Bluetooth connection: it is way better than wifi. I tried the your phone app that works only on wifi and its unuseful. if I use my phone as hotspot the app doesn't work. if I use it at work where we have secured network it doesn't work. Dell works everywhere!!

Doesn't Samsung Flow do all the above already except relaying calls?

Kinda, but it's nearly as good as Dell Connect. Same with HP. They all have "solutions", but some are definitely better than others.

hi Daniel. its off topic but can you try to download these apps on any windows 10 pc on arm you test?
https://www.windowscentral.com/e?link=https2F%2Fclick.linksynergy.co...
https://www.windowscentral.com/e?link=https2F%2Fclick.linksynergy.co...
these are lumia exclusive apps but now they appear in the store that they work with windows 10 pc on arm. but I don't have any to test them... thanks,

I'm confused. Why don't you just Miracast into your Windows 10 PC using Smart View on Android and the Connect app on Windows 10? You have full functionality over your phone on your PC. No need for extra software, it is inbuilt.

Miracast kinda sucks and Wi-Fi direct works better - especially for taking actual phone calls (or making them), or sending SMS messages directly without turning your phone on. Also, this will sound mean, but not meant to: stop being a nerd. Your solution may work for you but Dell Connect and Your Phone is meant for the masses who want to click a button and have it just work, not some convulated method outlined above that you have to look up on the internet to know how to use (or even that it exists).

Thanks Dan. I'm officially a nerd! Don't worry, I didn't take it as being mean at all. I get your point. :)

I don't think he should stop being a nerd, I am going to bet that half if not more that that of WC readership are folks who like to tinker with devices and features, I really do think he is right at home with that comment of his here at WC

Miracast (transmission) doesn't work on the considerable number of Android phones. Judging by "Smart View" you have one, manufactured by Samsung -- they are (sizeable) exception. Miracast (receiving) doesn't work reliably on the considerable number of PCs -- if your "Project to this PC" setting gives you warning that PC was not designed for it, it is a coin toss whether it is going to work or not. Miracast (AFAIK) does not support input devices, so you can see the screen, but you cannot do much from PC side.

Except Miracast isn't available on ALL Android devices neither is Smart View.

Yes sir. This is the future Microsoft has a play in, working hard to keep phones in people's pockets and purses. And as hard as it is to swallow killing off the Lumia 950 was the best decision MS ever made. It allows them to focus on these kind of efforts. As stated they have some catching up to do with Your Phone. But now they have the time and resources to do it. Only wish they would have killed off phones even earlier. ;o)

I find both apps useful, depending on what I need a the time

will this work on iPhone?

It does, but limited compared to Android. You can SMS, Call and receive notifications. It does not mirror iPhone display.

Silly says you, I bet others including me would disagree. As far as your second point, not sure what you're saying. It does use iMessage to send messages to contacts that are capable.

I know what you are saying, and I am saying many of us would disagree. I see value in mirroring my phone. When I carried my 950 I used continuum daily and would love to be able to do so with my iPhone. Just one example.... I would be able to travel with my surface instead of surface and work laptop, mirror my iphone to my surface for quick hit office and email. - just one example.

To me it is the other way around as my desktop does not have Wifi, Microsoft shines.

Even if you have your PC with Ethernet plugged in, it requires Wi-Fi to be turned on...

Now that sucks. Having both ethernet and wifi on interference could occur...

I have no problems with Your Phone using ethernet on my desktop (well, docked laptop) and Wi-Fi on my phone. But it does not work unless the phone is on Wi-Fi; if it's on cellular it doesn't sync (and the app in Windows lets you know that's the case). I found the Dell solution to be somewhat cumbersome. Bluetooth is a bit of a pain really. I'll wait for the MS solution (Your Phone) to improve. It's still early days.

Unfortunately, having this installed (probably the drivers) causes all UWP apps to close without error after some time during standby for me, so I had to uninstall it again.

I think this is normal behavior for UWP apps -- at least I see it on the regular basis without Dell Mobile Connect.

Hard to compare at the moment. Sms is slow and unreliable on Your Phone, while it works great on DellMC. Your Phone has a much better interface, and I'm excited to see how they integrate screen mirroring, or app launching on your PC, and control of the device. I like how Timeline and recent images carry over, but One drive needs better integration on Your Phone. It should be able to backup and delete images after they upload to the cloud, or at least detect differences between Camera folders on local device and cloud. DellMC's notifications are good, but should be moved to lower right, and apply blur effect to at least look native. It also doesn't scale, at all. If you try to make the screen larger your stuck with portrait, and a weird zoomed view of controls. There is potential with both, only time will tell which is better. At the moment I am using only DellMC, because Your Phone is just not quite ready yet.

Why do I always get the Erie feeling these days that my mobile phone is getting secretly WiFi-direct-Hacked without my permission or even knowing about it? ohh right... sorry we didn't tell you about the WiFi direct "error packet" that lets anybody hack into your phone in a public place if they know the secret handshake malcilous and secretly inserted by the manufactures.

I had a ghost phone on my window 10 network the other day... nobody on my network except me and my cable modem fire wall... so how is it that windows pops up am asks if I want to contect to a mysterious blu branded cellphone? Is it my neighbors phone? Evilness... serious... i feel the network is becomes a dense fog or mist... and nobody knows who's really lurking on it ... lol

Microsoft's approach requires you to be signed in along with an internet connection which is retarded even to begin with. I think they are only left with incompetent interns incharge of maintaining Windows.

Dell's approach requires Bluetooth on their hardware purchased after Jan 2018, which makes it more lame.

Microsoft Soon in full display. Sometimes I thought Microsoft has this behavior to create half-baked products/software and let others do it way better... Living users who wants a unified ecosystem under Microsoft scratching their heads, big time.

But it works. And it just came out.

Installed and working fine! Not sure how useful it is though, will give it a trial run 😎

Personally Dell should rename this as Mobile Connect by Dell as it works on more than just Dell hardware.

I have mixed feelings about all of these solutions (Samsung's, Dell's, Microsoft's, and HP's). I've tried all of them and they all have their faults. Obviously Your Phone is missing some features, but it integrates into windows in ways the others don't. Plus Dell's and HP's both have scaling issues on 4k displays and, in my opinion, just look and feel dated by comparison. Samsung flow is great, but it tends to fail in connecting if Windows Hello logs me in before Flow does (if I have my phone unlocked). My hope rests on Microsoft though! So far, Your Phone has felt the most seamless and smoothed out.

Soft Buttons kept showing up during fullscreen mode, blocking app UIs during mirroring. Kinda annoying.

Arguably the most interesting aspect of the app requires your desktop PC to have WiFi, which sadly mine doesn't. Messaging is actually slower to load than Google's "Messages for web" which requires no local connection between your devices at all. But interestingly, some of what the app does isn't so much a "vision of the future" as it is a reminder of what Bluetooth has always been capable of. Prior to Windows 10 it was common for Bluetooth adapters and equipped PCs to come with custom Bluetooth stacks that offered functionality like acting as an audio sink, headset control over calls, contact sharing and so on. Unfortunately Windows 10's stack doesn't offer much at all when you connect to a phone.

MS should buy this app from Dell... and then ruin it like everything they buy

Can someone help me out here? I downloaded Dell Mobile Connect and love it so far. I'm using it on my work desktop that doesn't have a built-in mic so I bought a USB mic. My PC recognizes the mic and it works when I say, "Hey Cortana," and when I test in the settings, but it won't work when I try to take or make a call through Dell Mobile Connect. Any ideas what I might be doing wrong? I have a dual-monitor setup with no speakers but have a USB soundbar.
Windows Central Newsletter
Thank you for signing up to Windows Central. You will receive a verification email shortly.
There was a problem. Please refresh the page and try again.