You can now run Dell Mobile Connect on any Windows 10 PC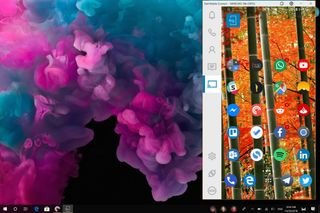 Dell has seemingly made the Mobile Connect (opens in new tab) Windows 10 app available to all PC owners. When app originally hit the store, specific Dell PCs were required since they had a special driver that allowed everything to work. Now the PC vendor has made it so any compatible Windows 10 installation can run the app without issues.
It was possible to run the app — which allows you to mirror your phone, take calls, viewing notifications, and more — on a number of PCs but the experience was a hit or miss. Now anyone can enjoy the excellent feature set.
All you need is a Windows 10 PC with Bluetooth and a smartphone running Windows 10 Mobile, iOS or Android and you're good to go. We've already tested the app out and it seems to work just fine on a few different devices so give it a try for free today by downloading it from the Microsoft Store.
See at Microsoft Store (opens in new tab)
Thanks Blue Jeans for the tip!
Windows Central Newsletter
Get the best of Windows Central in in your inbox, every day!
Rich Edmonds was formerly a Senior Editor of PC hardware at Windows Central, covering everything related to PC components and NAS. He's been involved in technology for more than a decade and knows a thing or two about the magic inside a PC chassis. You can follow him on Twitter at @RichEdmonds.
Can't download on my Surface Book 2

Neither can I... Bummer as its the device I'd use it probably the most.

Search directly for the app from the Microsoft store rather than the link from the article

I can't download it either. When I search for the app it isn't in the search results either. I used the button on this page to open the app in the store, clicked the developer's name, and they aren't found. I wonder if the app is taken down.

You may also have to download the driver from Dell's sight.

Same here … Store says it's not available for this device (which is not from DELL)

I used windows mobile to download to my surface pro3 works great giving me calls and text from pc for my w10mobile.

I can select iPhone from the app on the PC and then select my device but it says my HP Elite x3 is an Android. So either you figured something out or you are fibbing...

I've tried on my home PC (not Dell) and on my work PC (Dell), not available for both.

Sorry, but this news is ******:
1. Go to the Shop via link, you will see that your PC is not compatible. Search for Dell apps and choose Dell Mobile Connect. Now you will be able to install. Don't ask me why.
2. You will have to install Dell drivers from app. Nothing special here.
3. You cannot connect W10M phone. Only iPhone and Android. Ups...

Wow, thanks, download works now!
Update: Everything works fine! Phone is connected

Manually searching for the app is not working for me. It says not compatible.

works fine on my surface pro 6 and Samsung galaxy note 9

Installed successfully in Australia on a Surface Go.

Installed and working great on my Surface Go and One Plus 3t. I used the store search on PC to download it.

been using it on my HP laptop for two months now... better than your phone app by Microsoft

app not compatible ideapad 310 windows 10 home build 1803

Try searching from Microsoft Store.

Can this app also send texts? (SMS and MMS)

SMS yes. Not sure about MMS though.

Can't do MMS at the moment. It only shows "[Image]" in place of it in the message feed on the computer. You must send or view MMS from the phone though.

Meh.. I have no bluetooth on my PC...

$7 adapter.... https://www.amazon.com/Bluetooth-Receiver-Transfer-Wireless-Keyboard/dp/...

Does this work with Windows Phone 950xl or not? Since the store doesn't find it when I search, and it doesn't come from Dell (which I inferred from the article "Now the PC vendor has made it..."), I'm hesitant to even download it. (I did find it through links, but a Store search didn't show it up. Odd and suspicious) My 950xl hasn't been able to send SMS text messages from my Dell XPS 2720 for months. When I try, it just sends the first letter of the message. It used to work and I was hoping maybe this app would make that work again. … time passes...
Posting this message got me to thinking to try sending sms from the PC again. I tried and it is working again. It was broken for months and is now fixed. I THINK the last update was the phone and not the PC, but not sure which side seemed to fix it, but now I wouldn't bother with this app, unless someone can verify that it is safe to use since it isn't from Dell and doesn't say it works with a Windows Phone.

I've always just used the cortana integration to send and receive texts, never had an issue on a dell, Lenovo, or emachines. You can try with your 950, when I use my Elite x3 it finds it when I select iPhone in the Dell app on the PC, but then it says my device is an Android.

@Pairadyce, how do you do that? I thought the old integration was only through Skype, and that broke with the 1809 Windows update on my PC (that Windows update also forces a Skype update which no longer supports linking to a phone). I'm on a slightly older Windows 10 handset (Lumia Icon/930) that didn't get the final build. Maybe that's part of the problem for me.

To be 100% honest, I'm not sure how to "activate" it. On my PC in the Notification Settings, it has "Phone notifications (via Cortana)" so I can only assume Cortana knows that it is active on my W10M device and therefore can alert me of notifications on that device. From there I get my Text messages in the PC Action Center and can reply. It works a whole lot better than it did, say this time last year. Which is strange that it got better after they stopped development.

In Cortana, just type "text " and it will pop up a window where you can confirm the name and type the message.

I read on Windows Latest that after installing the Store app it will notify you of installing drivers. Isn't it the same reason why the Google Chrome installer got removed from the Store due to violating Store policy?

No because unlike the Chrome installer this one serves other purposes apart from redirecting to an install.

Pretty sure the Chrome installer got removed because it would allow download of a browser that didn't use edge as the base engine. Think store policy says browsers on the store have to use edge

Yeah, could be. You may be right, that that was the real reason. However it states in the policy: "10.2.4
Your app may contain fully integrated middleware (such as third-party cross-platform engines and third-party analytics services), but must not deliver or install non-integrated third-party owned or branded apps or modules unless they are fully contained in your app package.
Your app may depend on non-integrated software (such as another app or module) to deliver its primary functionality, subject to the following requirements:
You disclose the dependency at the beginning of the description metadata
The dependent software is available in the Store" And an outer driver is not contained in the app package to my understanding.

so to be clear, with the screen mirroring it still uses the phone's processing power to run the app, not the PC?

Yes, and your phone will be unlocked when mirroring.

For people who installed on the Surface Go, how do the Android apps scale?

It works pretty well with my Surface Book 2 and Note 9! Still not as advanced as iMessage between iOS and macOS, but does also include screen mirroring which is neat. Overall, it's a great start! If only Microsoft could have done with this their useless Messenging application. 🙄

I don't use Dell trash computers. It says "This app is not compatible with this device". Tells me you need a Dell crapoid to run it.

I think I am beginning to like this more than Microsoft's Your Phone app. Microsoft's looks nicer but the app needs to be open for it to function, rather than just in the background like it is with Dell's. I suppose the "Dell" brand is no longer needed since it has become generic.

So the app info still says "available only on Dell XPS, Inspiron, and Vostro PCs." Is this false? Also it says "for machines purchased in January 2018 or later." False again?!

Dell have clearly rebadged some other application, and that application would have been available for earlier operating systems. The notifications are not even part of the Windows 10 notification system, which makes it look out of place.

Here is how I installed it. When I opened this article and clicked on the link via my Surface laptop, it gave me error of incompatible device so I open this article using my iPhone and kept going to next step until i get the download option on Microsoft store. of course it won't download in iPhone but it gave me option if you want to install in your surface laptop and i clicked YES. Done. Don't forget to install drivers after installing the app.

Doesn't it work with W10M? Anyone tested it?

I tried, but it tells me my HP Elite x3 is an Android. My 950 is broke at the moment but I can assume that all W10M devices are recognized as Androids.

Well, the Dell website still has the old information and does NOT say this app is compatible with any Win10 PC! I installed the app but it could not pair it with my 2013 XPS 2720!
"Product Requirements
Available on Dell consumer XPS, Inspiron, Vostro, and Alienware PCs with Bluetooth purchased in January 2018 or later. PCs purchased before January 2018 are not supported to ensure the highest level of quality you expect from Dell. Expanding to machines purchased before January 2018 is under investigation. The companion mobile app is compatible with iOS 10 and above and Android 5 and above."

Works perfectly on my old Lenovo AIO. On the other hand I still couldn't get "Your Phone" app to connect with my phone.

There are two versions of this app floating at Microsoft store. Version 1.3.6718 which shows up if your pc is compatible and version 1.2.6056 which appears if your pc is not compatible. Both versions get installed on your machine but only version 1.3 pairs with your iOS or android phone on some (definitely not All) non Dell or unspecified Dell PCs. Even then, this is not to say that the companion app for your phone can get paired with your PC easily after your phone gets paired! There are actually two pairing sessions...

Contrary to what is stated in this article, I cannot install this on my HP Elite x3 running Windows 10 Mobile. It appears that it can only be installed on phones running Android or iOS.

Works on my ASUS ROG GL-553VE with the Nokia 7 Plus and Android 9 Pie. It would be cool if it worked with W10M and the Lumia 950 XL for screen mirroring, but it is only for Android and iOS . For the rest, W10M has already native synchronization with W10. For me, the Your Phone app works perfectly but lacks screen mirroring, which Dell's app has.

I downloaded the app directly from the store (Just search for "Dell Mobile Connect"). Open the app and a link for the drivers will show in a pop-up notification from the Mobile Connect app. Download the drivers and all should be fine. Devices used are Surface Pro 3 and Galaxy S8.
Windows Central Newsletter
Thank you for signing up to Windows Central. You will receive a verification email shortly.
There was a problem. Please refresh the page and try again.