Dell's Mobile Connect app currently works with any PC, but it might not for long (Updated)
While it might not be intended, Dell's Mobile Connect app currently works with any Windows 10 PC.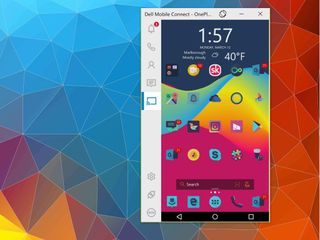 Updated August 1, 2018: It appears the download is unavailable for some devices. However, we have confirmed it is working with multiple Surface Book 2 devices and a Surface Pro, so it's still working for at least some.
One of the best additions Dell has made to its PC lineup in recent months is Dell Mobile Connect. While we're still waiting for Microsoft to bring its Your Phone app to all Windows 10 users, Dell Mobile Connect already achieves much of what it promises, including phone mirroring, making and receiving calls, viewing notifications, and more. The only problem? It has only been available with Dell laptops sold after January 1, 2018 – until now.
In what appears to be a mixup, potentially related to recent changes to the Microsoft Store, Dell Mobile Connect is now available to download and use (opens in new tab) on any PC, regardless of manufacturer. Previously, going to the app's listing on any PC that wasn't a Dell would show that it wasn't available for that device.
Getting started with Mobile Connect requires a few steps, but it's fairly simple. Once you've downloaded the app from the Microsoft Store, you'll be prompted to install drivers from Dell's website (opens in new tab). After installing the required drivers, you can open Mobile Connect again to begin the setup process, which involves selecting whether you're using an Android or iPhone device, downloading companion mobile app, and connecting your PC to your phone.
After everything is set up, you'll be able to use Mobile Connect to make and receive phone calls and text messages, view notifications, and edit your contacts. Android users can even mirror their phone's screen, allowing you to do anything you'd normally do on your phone within the app's window.
Because Mobile Connect is intended for Dell PCs, like the latest XPS 13, it's likely that its availability for all PCs is a mistake and Dell could very well pull it for non-Dell devices in the future. But if you're looking to get a taste of what Microsoft's own Your Phone app will be able to do in the future, Mobile Connect is a great little app that provides much of the same functionality for now.
See at Microsoft Store (opens in new tab)
Thanks for the tip, Asmit!
Dan Thorp-Lancaster is the Editor in Chief for Windows Central. He began working with Windows Central as a news writer in 2014 and is obsessed with tech of all sorts. You can follow Dan on Twitter @DthorpL and Instagram @heyitsdtl. Got a hot tip? Send it to daniel.thorp-lancaster@futurenet.com.
got it on my hp desktop... hp laptop says not compatible... guess it's gone :(

Never thought about using that app before but I wonder if it'll work on my Dell XPS 9560.

I have a Dell at work, and the store says it's not available to me =/

Received error on downloading

I actually got this to install and was working but seems to have stopped now

Shows as not being available on my Dell Latitude. Guessing the error has been resolved.

Thank you for posting this. I was just able to get it installed on my Surface Pro (2017). I tested it and I was able to make a phone call and send texts. Hope it keeps working. Edit: I did have to reboot my computer after installing the drivers to get it to work. And you obviously also have to download the app on your phone (I'm using an iPhone).

That 'obviously you need an app on the phone' wasn't obvious until I tried to send a txt and it told me. This was with a Surface 3 and iPhone. It also mentioned the connect app would need to be in the foreground. That sort of killed the excitement for me. If I'm at my PC and want to send a text or make a call, and I have to go get the phone and run the app, I might as well just use the phone. I don't expect I will be thinking about running the app before setting the phone down everytime, so I guess I wouldn't get calls or txts on the PC. Seems neat but has that unfortunate caveat.

You never have to open the app on the phone again after the initial setup.

Maybe if you have a Dell PC, but on my SP3 it tells me I need to open the phone app when I try to send a text.

I've been using it for over a month on my SP4 and never had to open the app on my Android phone. Even after restarting or turning off the phone. Same with 2 friends who have HP laptops. Edit: I wonder if this is an iPhone issue.

Downloaded it at 18:30 from the UK store, app worked on Dell Venue 11 Pro. Required drivers installed fine. Companion app installed and all connected and working.

So far so good on my Surface Pro 4. Guess I'll keep trying it until Dell breaks it.

Worked for me on my work ThinkPad! I used the remote installation option to try to send it to my computers at home, too. The screen mirroring is pretty slow and I likely won't bother with that often, but at the very least, getting notified of phone calls and texts and being able to answer them directly on the PC is pretty helpful.

Like with Alexa and previously with Nokia app exclusives, you can't really have a functionality that's not hardware based as an exclusive and keep everyone from using it if they want to. So MS better hurry with their own version, I'd rather use theirs than Dell's.

Agreed. I want something built in and not tacked on. I use the Dell Software (I guess i'm one of the few here that has a Dell that it was meant to work with. haha) and it serves its purpose, but it isn't an awesome experience. It does what it needs though.

Works on my 13.5 Surface Book 2.

Sideloaded it on my SP4 a month ago and it's still working well. If you sideload the app it'll still receive updates through the Windows Store automatically.

Can confirm it working on my SP4 and desktop: https://i.imgur.com/F6whjjE.png

If this works on W10M, this could save me a few bucks as I can then further delay the purchase of a non-windows phone just for the sake of few apps. The real fun is Google can do nothing about it.

For those with an HP, try HP PhoneWise. It is an exact copy of Dell Connect. I currently use on my Spectre x360 and it functions exactly like the Dell Connect on my wife's XPS.

I looked at this, it's in the MS Store. It says 'Intel Chipsets' only - would that be the same as the Dell one do you think? Might explain why mine isn't working properly as I have AMD

Yes, It is working on my CyberPro Game rig desktop and pixel XL

I uninstalled this cancer because it caused my wifi to stop connecting on my PC and my phone wouldn't connect to my car's Bluetooth anymore

Doesn't get dl'ed on my Dell laptop...

Lenovo Yoga 720-13 working with this Dell app perfectly but additional driver installation needed. Thanks a lot!

Given up with it. Worked initially then wouldn't reconnect, now my Bluetooth isn't working properly at all

I got it working on my Dell latitude 5480
Windows Central Newsletter
Get the best of Windows Central in in your inbox, every day!
Thank you for signing up to Windows Central. You will receive a verification email shortly.
There was a problem. Please refresh the page and try again.