Surface Pro (5th Gen) review: A 2-in-1 tablet you'll actually want to use
The new Surface Pro (5th Gen) from Microsoft finally achieves the original vision of a true 2-in-1 PC, and it's a blast to use.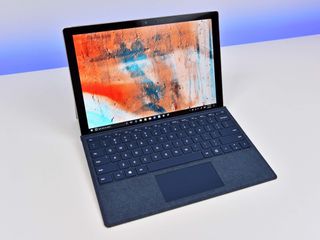 Ever since the Surface Pro was revealed in 2012 Microsoft has been trying to convince the world that a PC tablet with a floppy keyboard should be your laptop of choice. With the Surface Pro 3 and 4, that vision started coming into focus despite a few flaws.
After spending a few weeks with the new Surface Pro for 2017 (a.k.a. Surface Pro 5), I think Microsoft's dream is now fully realized. Never has the Surface Pro felt so complete, so well-rounded and balanced and it rightfully earns your attention.
About this review
Microsoft supplied a loaner Surface Pro for this review. The unit tested features a Core i7-7660U processor, with 16GB of RAM and 512GB of storage priced at $2,199. The package also included the Alcantara Surface Type Cover ($159) and new Surface Pen ($99) for a total of $2,457. Starting price of the new Surface Pro is $799 for a Core m3 with 4GB of RAM and 128GB of storage and maxes out a Core i7 with 16GB of RAM and 1TB of storage for $2,699 (plus Type Cover and Surface Pen).
See at Microsoft (opens in new tab)
Related: Surface Pro keyboards that cost less than Microsoft's Type Covers
All the power
Microsoft Surface Pro 2017 technical specifications
Like previous Surface Pro releases, Microsoft is offering numerous configurations based on three types of processors and various RAM and storage options. The display and chassis are otherwise the same on all versions.
The processors are all seventh generation Intel "Kaby Lake" chips, and the high-end Core i7 version includes upgrade Iris Plus HD640 Graphics giving that that configuration even more power.
Swipe to scroll horizontally
Category
Specification
Display
12.3-inch Pixel Sense display
10 point multi-touch
Display Resolution
2736 x 1824 (267 PPI)
Aspect Ratio: 3:2
Software
Windows 10
Processor
Seventh Gen Intel Core m3 7Y30
Seventh Gen Intel Core i5-7300U
Seventh Gen Intel Core i7-7660U
Storage
128GB, 256GB, 512GB, or 1TB Solid State Drive (SSD)
Memory
4GB, 8GB or 16GB RAM
1866Mhz LPDDR3
Graphics
Core m3 and Core i5: Intel HD graphics 620
Core i7: Intel Iris Plus Graphics 640
Rear Camera
8.0MP autofocus camera with 1080p HD video
Front Camera
5.0MP camera with 1080p HD video
Windows Hello face-authentication
Speakers
Stereo speakers with Dolby Audio Premium
Ports
One full-size USB 3.0
Mini DisplayPort
Headset jack
Surface Connect
microSDXC card reader
Sensors
Ambient light sensor
Accelerometer
Gyroscope
Network
Wi-Fi: IEEE 802.11 a/b/g/n/ac compatible
Bluetooth Wireless 4.1 technology
Security
TPM chip for enterprise security
Battery Life
13.5 hours of use
Pen
Surface Pen
Weight
1.69 lbs to 1.73 lbs (768 g to 784 g)
Dimensions
11.50 inches x 7.9 inches x 0.33 inches (292 mm x 201 mm x 8.5 mm)
The catch with any Surface Pro is that the practically essential Surface Type Cover is not included. That adds $129 for the Surface Pro 4 era covers (Black, Blue, Red, Teal, Bright Blue) to $159 for the new Surface Pro Signature Type Cover (opens in new tab) with Alcantara (Burgundy, Cobalt Blue, or Platinum) to the final cost.
Additionally, for the first time, Microsoft is not including the Surface Pen in the box. Microsoft says that only 30 percent of Surface buyers used the pen, and the fully upgraded pen increased in cost from $59 to $99. Plus now you can mix-and-match colors between the Pen and Type Covers.
Finally, the Core m3 and now Core i5 versions of Surface Pro are both completely fanless. Only the Core i7 maintains a fan, albeit redesigned and now quieter. Towards the Fall, Microsoft is expected to release another model of Surface Pro that supports 4G LTE.
Familiar but all-new
Microsoft Surface Pro 2017 design
Not much has changed regarding the design of the Surface Pro 2017, and in many ways, it still looks a lot like the Surface Pro 3. That's a good thing, as the overall execution and layout are perfect — except maybe for that headphone jack that near the top left corner of the display.
The chassis is still magnesium and solidly built with no flex or creaks. The power and volume control keys are found on the upper left of the tablet – they feel a little more stable this time around too, with less rattle. On the right-hand side are the ports: one USB Type-A, one mini-DisplayPort, and one Surface Connect for plugging into power and the optional Surface Dock.
Somewhat controversially, there is no USB Type-C slot. Microsoft plans to release an adapter that fits into the Surface Connect port later this year though as a compromise. That dongle will reconfigure that power and data port into USB Type-C for those who want it. I won't dwell on the topic as it has been discussed endlessly, but if you want Type-C and Thunderbolt 3, you may want to look at offerings from HP or Dell instead.
Why Microsoft's new Surface Pro doesn't have a USB Type-C port
There are, however, numerous smaller changes that help make the 2017 Surface Pro even better than older models. These include a restructured chassis with smoother and more rounded edges, thinner radial vents with a new "whisper quiet" thermal system, a kickstand that now tilts back a full 165 degrees, and blacked-out Windows Hello IR lenses that better blend into the bezel. All told, we're looking at more than 800 customized internal parts.
Although these alterations may seem trivial on paper when using the Surface Pro daily, I appreciate them nonetheless. The less harsh edges and marginally slimmer vent around that edge help the new Surface Pro feel like a more typical tablet, which betrays the powerful Core i7 processor and 16GB of RAM beneath. At just 8.5mm thin it is still remarkable that this is a full Windows PC.
Not only do I have no complaints about the Surface Pro 2017's design I feel like it is essentially perfected at this point. Everything is balanced for weight, there are no screws or seams, and even the radio antenna on the top blends in nicely. With fewer visible grates, the new radial vent looks, well, less vent-y.
Surface Pro still stands out from all 2-in-1 PCs and tablets, and it is just a handsome looking device.
Lots to love
Microsoft Surface Pro 2017 display
For 2017, Microsoft is keeping the 12.3-inch 2736 x 1824 (267 PPI) Pixel Sense display for the Surface Pro at the ideal 3:2 aspect ratio. It is an IPS LCD with ten-point multi-touch with glossy edge-to-edge glass. At first glance, the screen doesn't seem all that different than the 19-month-old Surface Pro 4, but a lot has changed with its production and quality.
The biggest change with the new Surface Pro are the new color profiles, which are like those found in the Surface Studio. Microsoft carried over a lot of what it learned from making the Surface Studio's display to the Surface Pro. There are only two profiles right now – sRGB and Enhanced – with the former aimed at professionals who need a neutral color palate for photo or video editing (or those who prefer more "naturally" saturated colors).
The second one, Enhanced, is what I imagine most people will opt for — especially if you use the Surface Pro to consume media like movies. Enhanced saturates the display, giving an almost HDR-look that resembles AMOLED or even Sharp IGZO screens. The new screen pops with a full-color gamut. Interestingly, neither color profile is found in the new Surface Laptop.
Color accuracy is also very good at 97 percent Adobe sRGB and 75 percent Adobe RGB during a color calibration test. That is about a one percent increase from the Surface Pro 4, which was found to have 96 percent Adobe sRGB. While excellent and above average those numbers are below the new Surface Laptop, which has 99 percent Adobe sRGB and 80 percent Adobe RGB. It's known that those displays while similar are different with Surface Pro having better support for Surface Pen.
Another point worth mentioning is the lack of LED hot spots near the edge of the display. While all IPS screens have some form of edge light bleed, Surface devices in the past have been prone to larger and noticeable bright areas. The review unit I tested did not suffer from any hotspot issues, and the Surface team claims to have solved that manufacturing problem.
The display bezels are the same size as with the older Surface Pros, and while the trend in PCs is to make bezels as thin as possible, the Surface Pro is first a tablet. Those edges help in holding the Surface Pro and not activating the display — in addition to hiding various radio components including the antenna. I have no problem with bezels on tablets like this, but you'll be disappointed if you were hoping for a Dell Infinity Edge screen here.
Overall, the Surface Pro's screen is nearly perfect. The 12.3-inch size may not be ideal for those who prefer something larger, but that is a personal preference. The colors, brightness, clarity and the new enhanced color profile make this display the best Surface Pro yet. It's just beautiful.
Fast, smooth, and entirely optional
Microsoft Surface Pro 2017 Pen inking
The Surface Pen has also been reworked for 2017 with 4,096 levels of pressure — four times the sensitivity of the previous pen. Activation force – the amount of pressure required before the pen activates – is down to a mere nine grams. For the first time in a Surface Pen, you'll now find tilt and rotation support, letting artists create more life-like pencil strokes for shading.
All of that is great, but it is the reduced latency that is the star of the show. Latency is how fast the ink registers on display after a pen stroke – the faster you draw, the more noticeable any lag becomes, and the more our brains sense that there's something artificial happening in front of us. After all, real-world analog pens have zero latency. Dropping from 40 milliseconds to just 21 is a massive accomplishment, and a lot of it is due to the new co-processor found in the Surface Pro's display that connects the GPU to the screen's digitizer and helps speed up pen calculations.
The reduced latency is fantastic. The new Surface Pen on the new Surface Pro is much more fluid, smooth, and lifelike compared to the older version. It makes me want to use the pen more (notwithstanding my complete lack of artistry).
Surface Pen battery life is still estimated to be one year for the single AAAA battery based on regular usage every day.
To be clear, all newer Surfaces – including Surface Pro 3, Pro 4, Book, and Studio – will see improvements with pressure (up to 4,096 levels), fine-tuning of activation force and improved latency. That will be accomplished through driver updates over time. Tilt support will be coming to Surface Book and Surface Studio as well with a software update.
Only the new Surface Pro gets all those benefits at the 21ms latency level on day one, making it the best Windows Inking experience around. Without the new coprocessor, it's unlikely older Surface devices will be able to catch up.
Other physical changes to the pen include the removal of the shirt clip, which gives a larger magnetic side to attach to the Surface Pro. It works well, and while it may still get knocked off in your bag, it will be harder to so.
Inking has always been a focus of the Surface line, and Microsoft is keeping Surface Pro on its toes. It's a real joy to use despite the higher $99 price point.
It is also worth noting that you can now use the Surface Dial directly on the display just like Surface Studio.
What's new is the same as before
Microsoft Surface Pro 2017 Type Cover
The refreshed Surface Type Cover line is more about minor improvements rather than a complete redesign. The Surface Pro 4's Type Cover is easily the best Microsoft created, so it makes sense to bring that forward with the new Alcantara-decked ones for this year. This synthetic plastic fabric has a similar feel to suede, but without the environmental impact of raising and slaughtering cows to make leather. It's warm and inviting, and the new color options (Burgundy, Cobalt Blue, and Platinum) match the Surface Laptop, Surface Pen, and even Surface Arc Mouse.
Image 1 of 2
There are concerns about Alcantara longevity, but at least with a Surface Pro, you could always get a new Type Cover (versus Surface Laptop, where it is part of the keyboard deck). I like the feel — it looks great, feels fantastic, and simply works well. The new color options are muted, but elegant.
Everything you need to know about Alcantara
Key travel is still 1.3mm (Surface Laptop is a hair deeper at 1.5mm), and the actuation and response feel as great as before. I had no problem typing on the new Type Cover, and enjoyed it as much as the old ones. It's basically the same as before, anyway.
There are some other improvements, including dedicated keys for display brightness, instead of a secret key combo for that function. There are the volume, play/pause, and keyboard backlight keys as well. Backlighting is still three stages and works well in low-light situations.
Microsoft made some minor improvements to the Precision trackpad as well, but it appears to be more superficial. The size is the same, and I couldn't pick up on any performance differences. Nonetheless, it works perfectly, and while it could always be larger, it is enjoyable to use for extended durations.
The magnets that hold the Type Cover to the Surface Pro feel stronger, though this could be in my head. Either way, you really must tug to remove the Type Cover.
Microsoft nearly perfected Surface Type Cover with Surface Pro 4. This year's version, while not radically different, has no glaring flaws. The added display brightness keys, new colors, and Alcantara just make it all better.
Turn it up (a bit)
Microsoft Surface Pro 2017 audio
Microsoft rightly puts the dual stereo speakers at the edge of the Surface Pro's display. The placement means they are front-firing, with excellent fidelity and stereo separation.
Image 1 of 2
The speakers with Surface Pro are improved over the Surface Pro 4 — they're larger and more powerful, along with Dolby Audio Premium support. The two companies are working closely together across Windows 10 and even Xbox One to bring Dolby support to the hardware and software.
These minor improvements result in excellent audio quality for music, movies, and Skype calls. While Surface Laptop has richer sound thanks to its larger size and speaker placement, the Surface Pro is quite impressive for its size. Audio is crisp, clear, and loud without distortion.
Instant on
Microsoft Surface Pro 2017 Windows Hello and Cameras
A lot of work went into Windows 10 and Surface Pro to make resuming from sleep/standby "instant." The idea is to make the PC more tablet or smartphone-like so users can just get to work, and I think Microsoft has mostly succeeded.
Tapping the power button or keyboard to wake the Surface Pro turns on the display, activating the face recognition camera (Windows Hello) and logging in the user in about 2.5 seconds. It is remarkably fast. By the time you remove your hand from the power button, you are ready to work. It's a delight to be able to sit down, press a button, and be ready to go.
The Surface Pro will still hibernate, which takes longer to wake from than sleep, so there is still some residual "this is a PC" experience. However, Microsoft noted that Surface Pro learns when you use it so that it should not hibernate during your frequently used work hours.
The IR lenses for Windows Hello are now blacked out letting them blend into the display bezel. A minor detail, but Surface is about minimalism.
The front-facing camera is still 5MP with 1080p resolution. It is very bright and looks fantastic in video – better than most premium laptops. The rear 8MP autofocus camera with 1080p HD video camera is surprisingly useful for classrooms to snap pictures of whiteboards and to use Office Lens to save the content. And sure, you can even use it to snap a photo in a pinch and not cringe at the quality.
A compact Core i7 monster
Microsoft Surface Pro 2017 benchmarks
While I feel the new fanless Core i5 Surface Pro is the sweet spot, the dual-core Core i7-7660U and Iris Plus 640 Graphics are fantastic combos — especially in a device that weighs just 1.73lbs (784g).
CPU
For synthetic benchmarks, the Core i7-7660U is a massive performer, even beating the quad-core Core i7-7700HQ found in the Dell XPS 15 in Geekbench's single-core tests.
Geekbench 4.0 benchmarks (higher is better)
Swipe to scroll horizontally
| Device | CPU | Single core | Multi core |
| --- | --- | --- | --- |
| Surface Pro 2017 | i7-7660U | 4,513 | 9,346 |
| Dell Latitude 5285 | i7-7600U | 4,635 | 9,289 |
| Dell XPS 15 (9560) | i7-7700HQ | 4,503 | 13,587 |
| Samsung Notebook 9 15 Ext | i7-7500U | 4,316 | 8,320 |
| Lenovo X1 Carbon | i5-7300U | 4,139 | 8,311 |
| Dell XPS 13 (9360) | i7-6560U | 4,120 | 7,829 |
| HP Spectre 13 | i7-7500U | 4,100 | 7,469 |
| Surface Book | i7-6600U | 3,977 | 7,486 |
| Surface Laptop | i5-7200U | 3,725 | 7,523 |
| Surface Pro 4 | i5-6300U | 3,319 | 6,950 |
GPU
In a test aimed more at the graphics capability, the Intel Iris Plus 640 Graphics also perform exceptionally well.
Geekbench 4.0 OpenCL (higher is better)
Swipe to scroll horizontally
| Device | Compute score |
| --- | --- |
| Surface Pro 2017 | 30,678 |
| HP Spectre x360 15 | 28,868 |
| Samsung Notebook 9 15 Ext | 23,207 |
| Dell Latitude 5285 | 21, 921 |
| HP EliteBook x360 G2 | 21,512 |
| Dell XPS 13 (9360) | 19,410 |
| Surface Laptop | 19,256 |
| Surface Book HD520 | 18,197 |
| Surface Pro 4 | 17,395 |
What makes that 30,678 GeekBench OpenCL score for Surface Pro impressive is it beats the HP Spectre x360 15 and Samsung Notebook 9 15 Ext — both with NVIDIA GeForce 940MX discrete GPUs. Users who need rendering power or engage in casual gaming will like the punch of the high-end Surface Pro.
SSD
Unlike the 256GB Surface Laptop, Microsoft did the 512GB Surface Pro well with its solid-state drive (SSD). The unit reviewed here included a Samsung PM971 (KUS040202M) SSD and its performance is impressive:
CrystalDiskMark (higher is better)
Swipe to scroll horizontally
| Device | Read | Write |
| --- | --- | --- |
| Surface Pro 2017 | 1,284 MB/s | 963 MB/s |
| Lenovo X1 Carbon | 1,518 MB/s | 1,188 MB/s |
| Samsung Notebook 9 Ext | 1,365 MB/s | 1,213 MB/s |
| HP EliteBook x360 G2 | 1,129 MB/s | 916 MB/s |
| Dell XPS 13 (9360) | 1,287 MB/s | 794 MB/s |
| HP Spectre x360 15 | 1,128 MB/s | 862 MB/s |
| Surface Book | 1,018 MB/s | 967 MB/s |
| Surface Laptop | 423 MB/s | 237 MB/s |
While not quite the fastest SSD, the Samsung PM971 is an excellent solution for the Surface Pro. For those who are disappointed with the Surface Laptop's SSD, you'll like what Microsoft is using here.
Caution should be noted, though: PC makers tend to use a multitude of SSDs in production due to supply availability. So not all Surface Pros may be using this SSD – indeed, it may even be limited to the high-end Core i7 model, which makes some sense.
PCMark
Looking at PCMark Home Conventional – which is an overall performance test - the new Surface Pro also does well.
PCMark (Home Conventional 3.0)
Swipe to scroll horizontally
| Device | Score | Comparison |
| --- | --- | --- |
| Surface Pro 2017 | 3,055 | Better than 57 percent of all results |
| Dell Latitude 5285 | 3,079 | Better than 57 percent of all results |
| Samsung Notebook 9 15 Ext | 2,998 | Better than 57 percent of all results |
| Lenovo X1 Carbon Core i5 | 2,965 | Better than 57 percent of all results |
| HP EliteBook x360 G2 | 2,916 | Better than 52 percent of all results |
| Dell Latitude 7280 | 2,829 | Better than 52 percent of all results |
| HP Spectre x360 15 | 2,472 | Better than 41 percent of all results |
| Surface Laptop Core i5 | 2,494 | Better than 40 percent of all results |
Compared to the Surface Book's last-generation Core i7-6600U, the new Surface Pro is a significant jump in performance. The similarly specced and business-oriented Dell Latitude 5285 also does quite well compared to the Surface Pro.
Overall, the Surface Pro with a Core i7 and Intel Iris Plus 640 is a surprisingly powerful combination, especially with this form factor. While you will pay a lot for the privilege at least, Microsoft is fully utilizing the best tech around for maximum performance.
Work all day
Microsoft Surface Pro 2017 battery
Despite the impressive benchmarks for the Core i7 model, the Surface Pro stays surprisingly cool under CPU and GPU duress.
During thirty minutes of benchmarking with simulated photo editing and casual gaming, the Surface Pro with Core i7 never went over 104 degrees F (40 degrees C) on the back; the display stayed at just 100 degrees F (38 degrees C), which is warm but not hot to the touch. That is quite remarkable with the performance attained from the CPU and GPU, and it shows Microsoft did do a lot of thermal engineering.
Likewise, for fan noise. During the thirty minutes of benchmarking the fan did come on and was audible, though barely above a whisper with no whine or high-pitch noises.
In a room with ambient noise, you would struggle to hear the Surface Pro even when the fan is running. That is a momentous change from the infamous "hiss" of previous Surface Pro devices. At no point did I ever find the fan noise annoying. During non-intensive tasks, the fan is either not running, or not audible enough to notice. When just browsing the web, or using the Windows Store app, you could almost convince me the Core i7 version was also fanless.
For battery life, Microsoft claims 13.5 hours using a closed-loop video test. My real-world usage puts it closer to eight hours – maybe slightly more – which is a significant bump from the Surface Pro 4, which peters out around six hours.
On a cross-country flight from Boston to L.A., I watched a two-hour movie, played about 15 minutes of Pinball FX2, and spent a couple of minutes just playing with the OS. I still had 71 percent battery left when I landed. On another occasion, after the Xbox E3 liveblog, which was just over 2.5 hours (including one hour of waiting for the event to start) I had 73 percent battery left from a full charge.
In using Surface Pro 3 and Pro 4 extensively, this is the first time I felt like I could go to work without the AC charger (which is also smaller this year).
Just as importantly is stand-by battery life. If you charge the Surface Pro to 100 percent and leave it overnight (or even a few days), the next time you turn it on it will still be at 100 percent. That, too, is a welcome change.
The sum of its parts
The Bottom Line: Microsoft Surface Pro 2017
The Surface Pro 4 was a momentous achievement for Microsoft, but the device had a very rough start due to issues with its Intel "Skylake" processor. Even once those problems subsided, the device still ran hot, had a hissing fan, and battery life always approached being acceptable, but often fell short for users when compared to the competition.
Microsoft has seemingly solved these issues – and more – with the new Surface Pro for 2017. Sure, it may look the same from a distance, but it is the sum of its parts that makes it a delightful experience. I confess all this despite not being a Surface Pro fan. I like the device, but I gravitate towards traditional laptops. That changed with the new Surface Pro, and here is why:
Battery life is all-day now and doesn't deplete in stand-by.
It doesn't get hot, nor is the fan loud.
It feels better to hold and use.
Instant-on makes you want to use it often.
The display looks fantastic with the new Enhanced color profile.
I could also throw in what a beast the Core i7 model is, rivaling many of my laptops. And while I'm still not a hardcore Surface Pen user, it's so good to use I want to do more with it.
Microsoft managed to cover all the bases with Surface Pro to make it a very versatile – but just as importantly – a reliable machine. It is the first time I felt the lines between powerful PCs and tablets definitively blurring.
Should Surface Pro 3 users upgrade?
Absolutely. There is just too much that is new and improved that the jump is well worth it if you can swing the cost.
Should Surface Pro 4 users upgrade?
While not a big a leap, if the battery life or fan noise of the Surface Pro 4 is a disappointment, then the 2017 Surface Pro will be a welcome upgrade. If you do much inking, it's an essential upgrade. Either way, there's the cost to consider — your Surface Pro 4 is a year-and-a-half old at most and is still plenty capable.
The first Surface for you?
If you have never owned a Surface Pro but have thought about it, then this is the one to get.
Microsoft convinced many that the Surface Pro is a solution to the tablet versus laptop problem. It took a few years to get there, but in 2017 that vision has never been more clearly articulated. The Surface Pro is the culmination of the previous releases with nothing but improvements all around. It's astonishingly beautiful, reliable, and delightful to use. Whether you can justify the cost – which is admittedly not cheap, nor value-driven – is another question. But the quality and experience are never better with the new Surface Pro.
Surface Pro for 2017 is Microsoft vision of modern computing, and it's a lot of fun.
The new Surface Pro is now available in 26 markets world-wide.
See Surface Pro at Microsoft (opens in new tab)
Pros:
Solid battery life and outstanding performance.
Beautiful display with new color profiles.
New Surface Pen is a joy.
Stays cool and barely makes any fan noise.
Instant on is instant awesome.
Cons:
Type Cover and Pen not included — gets expensive quickly.
No USB Type-C or Thunderbolt 3.
2-in-1 kickstand design isn't for everyone.
Windows Central Newsletter
Get the best of Windows Central in your inbox, every day!
Daniel Rubino is the Editor-in-chief of Windows Central, head reviewer, podcast co-host, and analyst. He has been covering Microsoft since 2007 when this site was called WMExperts (and later Windows Phone Central). His interests include Windows, laptops, next-gen computing, and for some reason, watches. Before all this tech stuff, he worked on a Ph.D. in linguistics, watched people sleep (for medical purposes!), and ran the projectors at movie theaters because it was fun.
You know I'm sure the bit about it finally achieving what a true 2-in-1 has been said about every version since SP3....this isn't a bad thing necessarily, obviously it shows they keep coming up with tweaks to what a 2-in-1 should be and do so continues to do what the Surface line was designed to do....push things forwards and show what can be achieved. Sure, it's in smaller increments since the Pro 3 but great we are still moving forwards with these devices and not staying still

I really want to hear what's the loudest the i7 model can be with the fans on. On my i7 Pro 3 somebody thought it was raining outside when they kicked in 😂 Hope you can get an i5 at some point too, to review the performance

The i7 SP3 my work gave me has a loud fan too, but my personal SP4 is insanely quiet. I have to hold my ear near the vents to tell if the fan is on or not. It sounds like the new SP is even better.

The pressure points bit is very interesting, since the Pro 3 didn't get that benefit with the Pro 4 pen.

Include the pen, add USB-C and then I'll toss alll my money at them.

USB-C will probably be next year, but I doubt they're going to include the pen anymore. I got one with my SP4, and I barely use it.

I lost the Pen for my SP2 and decided I wasn't going to replace it since the price was so high for a new one, didn't thin I used it all that much. After a week I was placing an order. I don't use the pen a whole lot, but when I do it is definately worth the price of admission. Just pissed that the Pen is excluded now excluded.

I think by not including it Microsoft was able to make a much better pen than in years past. I love the pen, I own a Surface 3 and really like it.. I'm looking forward to upgrade to the new Surface Pro in the near future.

How so? From the extra profit they'll make by not including a pen sold at $99 while keeping the actual Surface Pro price the same as when it did include the pen?

Actually, Microsoft did say they were able to sink more costs into the actual Surface Pro without raising the base price by not including the pen.

Daniel is the new type cover flexy at all? that was one of the issues I had with my surface 3. The keyboard felt flexy and "not premium". How's this one stack up? I have to say though, MS's devices now are KILLER looking....Love the color choices more adult than preteen.

I can't tell the difference between 'em for flex. Seem exactly the same to me. Personal preference, but I really love the Sp4/new SP era Type Covers. They're just so perfect IMO.

I get that, but it just doesn't seem that way when the price is roughly the same but you don't get the pen now. Most every manufacturer upgrades their devices each year and keeps a lid on the price increase. Maybe all the changes justify the assertion, but to many it just seems $100 more expensive than last year.

Great review. This is what I would love as my PC for work. With the great battery life and instant on it is going to be perfect in the car for getting that quick quote out to a customer and checking records for them quickly. So many times I reach for my phone (950XL over the iPhone 6 that was given to me for work) because the current laptop I have, although reasonably quick to turn on and ok battery life, just isn't as quick as reaching for the phone. However the screen size is limiting. The Surface Pro seems to be that perfect 2 in 1 device acting as a touch enabled device and a PC all in one... plus you have the outstanding screen to work with. 😀

You are parked when you do this, right?

Wow, wow, wow... Nice review, joy to read it.

Well... then you think about when Dan was NOT pumped about any Microsoft product. Even the Surface 1 was the best of the best.

I think I was more critical of Surface Laptop compared to larger tech outlets, actually. I also never reviewed S1 or S2 (though I owned/used them).

I take back that you reviewed the Surface 1. I just mean... come on Microsoft has done a lot wrong and I have never seen you say anything about it. You could do much more good if you would write an article about what could be done better, which I think I have never seen since I read Windows Central daily (probably since 2011 or 2012).

You just have selective memory. I've wrote an article just recently about how they flubbed Surface Laptop announcement and Win10 S messaging; or how MS needs to talk about Mobile plans ASAP at build, or the USB Type-C issue. What you want is for me to evidently take your position on things and write that. Your idea of things to be critical about do not necessarily mean I have to agree with it, or that they are universally accepted. Furthermore, we have other writers on this site who also take Microsoft to task. Either way, that's enough for now. I'm not hear to justify what I write. Literally nothing you have said so far is actually about my review, refutes or challenges anything I have said, or points out flaws in what I wrote in my conclusion about the new Surface Pro.

I agree with Dan on this one. There have been plenty of Microsoft articles where the tone was a bit negative. There was a run of articles recently that spelled out the "doom and gloom" we find the MS mobile space in currently. Dan has been critical of Microsoft in podcasts as well. I like that Dan is critical about Ms but also is fair to them when they get things right. It seems like a more realistic approach than deciding to flat out hate or praise a company. The Verge does that enough.

I just dont find it anywhere balanced. There is tons of stupid decisions by Microsoft and there is barely a negative article about that. And when it's negative, sometimes you have to go find it hidden between the lines. For me that's not enough. I think, Warren does give more feedback on both positive and negative than Dan. There is "an other little website" that does write a lot more balanced and just says when something's not right and when something is good as it is. I like that and I am missing this here a bit.

Do you only know how to speak in hyperbole? Has it ever occured to you that what you view as "tons of stupid decisions by Microsoft" are a matter of your own personal preference? Literally, the only problem I have with this incarnation of the Surface is that the pen is not only not included but has been bumped up in price. I can't even fuss over the lack of USB C because Panos was not wrong in that people are NOT currently using it to it's potential and they'd just complain that their phone charger doesn't work because people are just that ignorant. A reviewer being overtly negative about a product should never equate to "This person's opinion is automatically more legit". Quite frankly, if you want someone who will trash this product becasue their personal tastes align more with yours (or because they have a stake in another company), this is probably the wrong website for you.

It took me longer than most of the time to think about if I am going to answer you. You should think about your tone and I don't know why you're mad at me. First of all, I did never say that I wanted someone to thrash this product. My OP was off topic (and so are you by answering to it). You should try working on your reading comprehension. Secondly. There are decisions that I might not like by my personal preference and I never said anything else. There are also decisions that are stupid because of the outcome. If I make a decision and it bankrupts my company, it probably was a stupid decision wasn't it? You can't forge your own "right or wrong" by saying that's a personal decision. Life is not black and white, but there are some parts of it where you can for sure say if it's very dark or very bright. Third. What Panos said about the people using the wrong charger is the simplest example of a probably stupid decision. It is very oldschool and also very close-minded to say that thousands of users are just too stupid to use your device. A newer approach for companies very simple: make smarter software. For example, a simple message could pop up, when the driver detects too low voltage to charge the Surface telling the user to use the original charger*. The fact that Microsoft's product manager didn't think of that is stunning. Also, there are multiple of questions [1][2][3] with houndreds of replies about these issues unanswered by Microsoft. I can assure you that many of those people are using the original charger and it's broken (I also was one of them!). You can't tell if it's broken or it's something else. You just have to buy a new charger and try. It's a quality issue of the charger, when I bought a new one (the replacement was really expensive at that time!), it worked. Before writing mad, maybe just read calm and try to think about what you just read. And then think again. And again. And dont write anything. * Samsung uses a similar approach with the waterproof Galaxy Smartphones. If it's wet, it won't let you charge it (for obvious reasons) and it will show a message telling you that you need dry your phone. By Panos' logic, the phone would just start burning and it's the user who was too stupid to know that.

Side Note: Microsoft misused the USB-Standard for the charger of at least the Surface 3. Micro USB was never thought of being used to charge tablets like Surface 3. So Microsoft thought their were smarter (see: an other stupid decision) and created a custom Micro-USB charger with a higher voltage. You can be happy if you don't break other electronic devices if you plug the Surface 3 charger in (hell, my Samsung Phone thinks it's wet and won't even charge if I plug in the Surface 3 charger). But according to Panos, it would be the User's fault for being stupid.

Why do you think they do article of "here's what's good, and here's what's bad"? It's to give both sides of the argument.

still love my surface pro 4, I don't think it worth the upgrade, I'll keep my cash for a Xbox One X instead

Thanks for the review. I have a question concerning the surface connect. Anyone knows whatis the performance? With the future usb-c dongle, will it be possible to connect an e-gpu?

99% sure no eGPU, which is dependent on Thunderbolt 3-level bandwidth. Heck, some TB3-enabled devices still can't do eGPU either (see Dell).

"Heck, some TB3-enabled devices still can't do eGPU either (see Dell)." Wait what? Well I now totally understand what Panos meant about USB-C confusion.

Yeah, XPS 13/XPS 15 only use 2x PCIe lanes, not 4, which is what is needed. It's tricky stuff. Even if Thunderbolt 3 there are caveats to it.

Yeah, like Dan said, Dell uses 2 lanes on some of their their thin Thunderbolt 3 devices. From what I've read you can use e-GPUs but it reduces the graphics card performance by another 20%. Some reductions are made because it is external (about 10%) and if you're piping the graphics back into the screen of the device you're using , vice an external monitor connected to the Razer Core /Akitio external Thunderbolt graphics hub, you can lose up to an additional 20% of performance.

Interesting. I didn't consider piping the graphics back to the main screen as even a possible use case. If I had an eGPU box, I would use it to hook up an external monitor every time.

Thanks for the great review, Daniel. I have two questions. Firstly, when you say that you think that the upcoming Connect port USB-C dongle is unlikely to work with an eGPU, does that mean that I won't be able to connect a USB-C monitor (eg Asus MB169C+ or their new ZenScreen MB16AC)? Sorry if that's a dumb question, but I don't really know what an eGPU is (beyond translating the acronym)! Secondly, if I only use theb Surface Pro to run Outlook and Excel (not huge spreadsheets) and cloud-based appilcations on a web browser, will the m3/4GB model be powerful enough?

You can bet that almost any usb-C peripheral that doesn't require Thunderbolt will work just fine. Don't know what that new ASUS ZenScreen uses, so I can't give you a specific answer. Check the specs for input and that should help you clarify

Thank you, Neo Nuke. The Asus web site says "MB169C+ is compatible with all DP Alternate (Alt) Mode or DisplayPort over USB-C devices without the need for additional drivers.". For the newer monitor, Asus web site says "ZenScreen MB16AC only requires a single USB connection for both power and video transmission from your host device. It features an innovative hybrid-signal solution with native support for USB Type-C connections, and uses an installed driver to support USB Type-A connectors for full compatibility. The reversible, any-way-up USB-C design enables quick, hassle-free connection to any device." I don't understand the tech behind video compatibility features and thunderbolt etc, so do these descriptions suggest that either or both Asus monitors will work with the new Surface dongle? https://www.asus.com/uk/Monitors/MB169C-plus
https://www.asus.com/Monitors/MB16AC

You have to be real careful with Asus's flat monitors. I have one and it is fantastic, BUT. You have to be careful of how they are driven. The traditional ones, and the one I have, the MB169B+, is driven over a standard USB port using DisplayLink* drivers. The drivers look like another monitor to the system, convert the provided video to bits that go over USB, and the monitor converts those bits back into video. It adds to the processor load to do that conversion on the PC. In the case of a Surface, the single USB port also doesn't supply enough current to power the display, so you must come up with a USB Y cable that you can cpombine some power source (can be the USB on the Surface brick) and the USB out of the Surface, into one cable going into the monitor. I's a little kludgy, but it works. I have other laptops (Dell) that do power and deliver video just fine over the one cable. The next type, MB169C+, uses no drivers at all but depends on the laptop having "DP Alternate (Alt) Mode or DisplayPort over USB-C". It basically delivers a DP compatible signal over the cable that has USB-C connectors at both ends. The system thinks you just added an external DP monitor and reacts accordingly. That is becoming more common, is an option feature in USB-C, but is not guaranteed just because a USB-C connector is on the laptop. If and when MS makes a dongle for the Surface Connector to USB-C, you will need to read the specs to see if that is supported. Those of us who wish they had replaced the DP on the Surface with USB-C also assumed they would support this mode, thus losing nothing and gaining a whole lot. The final model, MB16AC, allows both modes, Displaylink over regular USB, and that "DP Alternate (Alt) Mode or DisplayPort over USB-C". That's probably the point of the A and C in the name. I expect if you use a USB-A to USB-C cable it will expect DisplayLink drivers, and if you use a USB-C to USB-C cable it will expect the DP capability out of the laptop. It is possible(probable?) that if you use USB-C to USB-C it will still work using DisplayLink . If I were to buy one today, I would get the last one, MB16AC, because it does work on normal USB-A (with drivers) but is ready for the future of USB-C (With DP of course), and is actually compatible with some stuff I already have. It is of course the most expensive, because of the flexibility. If I had a specific laptop I knew would work, I might go for the MB169C+, but that limits the laptops I could consider as replacements. The the MB169B+, is the most universal at the moment because it only needs USB-A, but requires drivers be loaded, which I expect would eliminate even Win 10 S. Do watch the resolutions on the ASUS travel monitors as well. They do sell 1366x768 as well as 1920x1080. All the above are the latter. If you see a great price, check the resolution. Hope that helps somebody BTW * http://www.displaylink.com/

Thank you. SvenJ. That's very helpful. I've emailed Asus to ask which of their monitors will work with the new Surface Pro, but your explanation is great. The ability to add an external monitor to the Surface Pro with only a single (USB-C) cable and no power brick for (say) a couple of hours' use would make that an unbeatable combination for meetings, when i can take everyhtign in a thin sleeve. Once you add power bricks and more cables etc, I need a bag and then I may as well take a full laptop. I so want the Surface Pro, but I need a simple way to add a second monitor.

One other question, SvenJ, if I may. Does DP over USB-C have to use Thunderbolt or is that yet another transmission system? If MS announce that there is no Thunderbolt in the Surface Pro, then might DP over USB-C still work and, if so, what is Thunderbolt for? I just wish that MS would announce what tech will be in their new Connect to USB-C magnetic dongle so that I can decide whether the Surface Pro will suit my needs.

Why 71% bat when you landed and 73% 2.5 hours later? Is that a typo?

They were on separate days starting at 100 percent each; not same event. I didn't fly 6.5 hours and the drive right away to Xbox E3.

He said it got to 73% after he charged it to 100% again later, so it went from 100 to 73%, not 71 to 73%. Those were 2 different days.

My surface pro 4 will do for now.

Looks at Signature Type Cover bought a year ago with brightness buttons. Doh, he menat screen brightness, not key brightness. Wish we had teh option to select that in the Sruface app. #headstofeedbackapp

Yeah, as a Surface Pro 3 user I'm NOT upgrading because it's NOT worth it to be robbed. In fact, I just checked my receipt for the Pro 3 and here's what I found: - The Surface Pro 5 at launch costs 150€ MORE than the Surface Pro 3 was at launch. - The Surface Pro 5 does NOT include the pen...which, when you have to buy it separately will cost you 110€. Which makes the Pro 5 260€ more expensive than the Pro 3 WITHOUT any REAL justification for that price increase. Yes, it's rounder, it's newer but it's not 260€ nicer. And since I don't like being robbed (otherwise I'd be using Apple products), I'm not giving Microsoft a single cent for the new Pro 5. Oh and yes, I will continue to call it Pro 5 and I couldn't care less what Microsoft wants to name it officially. There was already a Surface Pro and I so happen to still remember it. So yeah. (Nice review though. Question: will you be getting a fanless core i5? 'cause the i7 is cool and all but most people will NOT be getting the i7 but the i5 and since that one now doesn't bring a fan and the previous Pro 3 and Pro 4 with a core i5 loved to kick off the fans for no reason, it'd be interesting to see how the core i5 performs without one)

I'll try to pick up a Core i5 version today. I was told they did not use cTDP on that one and it is a true 15W chip, but will do some benches/stress tests.

I look forward to that! Especially a test on the SSD given the one in Surface laptop is disappointing for the i5 version.

here's something to consider though: Comparing the launch price of the pro 3 with the new surface pro (or pro 5 as you wish) is pretty pointless as the pro 3 was released 3 years ago and prices of everything have gone up, that's just how economy works... also: if you're not an artist who needs the best pen tech available, and you just want to do some notetaking, the surface pro 4 pen will do just fine and you save yourself $50 i'm not saying you should upgrade; the pro 3 still holds up pretty well. It's just that you're not really getting robbed

"prices of everything have gone up" Microsoft prices have gone up. Materials and manufacturing prices have gone down, though. The Surface line materials have now entered into economies of scale. So it was more expensive to produce a Surface Pro 3 in 2014 than it is to produce the Pro 5 in 2017. "also: if you're not an artist who needs the best pen tech available, and you just want to do some notetaking, the surface pro 4 pen will do just fine and you save yourself $50" That's exactly the opposite situation I'm in. When Microsoft presented the Pro 3 they presented it as a great tool for artists. It wasn't though. And now they're presenting the Pro 5 with the same messaging and asking for more money. Obviously, fool me once shame on you, fool me twice, shame on me. I'm definitely not upgrading. Not within the Surface line, that's for sure. When I went with the Pro 3 the appealing factor was that I could merge my drawing board with a laptop and have a portable all-in-one. It was overpriced then but it was a reference device so it was forgivable. However, the Pro 5 no longer represents a good value-for-money. It's no longer a reference device for anything and there are far superior offerings from the competition. I understand if Microsoft doesn't want to undercut their OEM partners but I also don't have to be loyal to a company that has no interest in keeping my patronage. For these kinds of prices (overpriced), I could just as well buy an iPad Pro which, unfortunately, proved itself a better drawing machine than the Surface Pro 3 and Pro 4 (and I wouldn't be surprised if the new one proves better than the Pro 5). And I hate Apple.

"Microsoft prices have gone up. Materials and manufacturing prices have gone down, though. The Surface line materials have now entered into economies of scale. So it was more expensive to produce a Surface Pro 3 in 2014 than it is to produce the Pro 5 in 2017." Can we get a source(s) for this? first time I've heard this. "That's exactly the opposite situation I'm in. When Microsoft presented the Pro 3 they presented it as a great tool for artists. It wasn't though. And now they're presenting the Pro 5 with the same messaging and asking for more money. Obviously, fool me once shame on you, fool me twice, shame on me." Part of it is marketing mumbo jumbo (which any company does) and part of it is how technology works, it advances over time. "However, the Pro 5 no longer represents a good value-for-money. It's no longer a reference device for anything..." I disagree. The surface line was always meant to be reference devices, the new surface pro is no different. It is an evolution of the first surface pro. OEMs have been and continue to make surface look-a-likes. Sure there hasn't been radical changes since then but that's not necessarily a bad thing. They are incrementally improving the basic design, which is fine. At some point there will be some other radical form factor change, but big changes aren't going to happen every generation.

Can't wait. Upgrading from Surface 3. mine shows up tonight!

I think for the performance, lack of heat, lack of noise and battery life you'll be really impressed with that jump.

Can you tell us if i5 has a significantly longer battery life?

Sure, but in theory, it may not. It all depends on how you use it because these CPUs scale so radically now. In other words, if you ran Core i7 at 100% load vs i5 at 100% load, i5 should definitely last longer. But we don't run them that way, so i7 peaks higher, but for shorter durations. If running just Windows apps, you shouldn't see too much difference.

finding battery life on my core i5 not awesome. maybe I still have some settings to tweak but with light usage for a few hours (3-ish) found the battery at 50%. oh and device feels relatively warm to the touch.

why only have magnets for the pen on the left? I'm right handed and find it very cumbersome to reach across the screen with my hand to grab the pen. or worse have to grab the pen with my left then switch hands. poor design by Microsoft or am I missing something?

I'm on a Surface Pro 3 at home too and am really looking forward to the upgrade. Plan to get mine from the Microsoft store next week! Based on the reviews I'm going to upgrade to the i7; my currrent SP3 is the i5 with 256MB but the new Pro with i7, Iris graphics and superfast SSD is worth the extra money to me as I occasionally do light video editing on the road and the new Pro should crush my old SP3 and give me longer battery life :)

I wish they had the i7 256GB hard drive / 16GB RAM combination available. It's the one I usually go for but it is absent.

My guess is that SKU just didn't sell a lot, or rather if you're going all in with 16GB/i7 you're more likely to want the 512GB option too.

That sounds even better than I thought! I didn't expect to be keen to switch as I have SP4 but this really seems to be the ultimate Surface Pro yet.

There is one very cool thing that didn't make it onto the Surface Pro that Intel has been developing. Along with Hello Intel has a way to crop out background while having video calls. The sensor creates a 3D map and anything beyond the close range of the camera is not shown. Built in green screan capability. They've also developed instant docking capabilty where you walk up to a dock and everything connects automatically.

Great review. Thanks. I have SP3 and mostly use it for Photoshop/Lightroom work with some drawing using Sketchbook and similar, and am looking to upgrade. I'm assuming the Surface Book used in the comparisons was the original, not the one with Performance Base. Do you think the new Surface Pro would outperform the SB with PB?

Correct it was with HD 520 for the GPU tests; the CPU tests are the same between Surface Book and Surface Book PB. Re: 2nd not for GPU intensive tasks, but overall new Surface/i7 will be faster/better overall.

Many thanks, Daniel. I will go for the Surface Pro.

I don't get it... I've "wanted to use" it since I've had an SP2. So, ok... I guess.

Im just choosing my first Surface. There are virtually 3 ways at my budget. Slightly used SP4 i7/16/512 with 1y warranty. Brand new SP4 i7/8/256 with 3y warranty and new SP2017 with i5/8/256 and 2y warranty. What do you think its best choice?

I'd REALLY go for new i5. I think the heat/battery/performance and display are just so much better.

Nice Review...The SSD (PM971) with 1500/900 MB/s R/W speed is a lot better than the one in Surface Laptop but nothing close to top of the line! It is actually a new tech SSD from Samsung with BGA (ball grid array). It is NVMe, PCIe with turbo write technology. It is very small (16 mm x 20 mm) and is embedded into motherboard (sorry folks, no upgrade!). Time will tell how this SSD perform in a long run... The SSD also comes in 128 GB (1400/500 MB/s R/W) and 256 GB (1400/800 MB/s R/W) capacities and I am hoping MS uses them in those version of Surface Pro. For the 1 TB version, a different SSD should be under hood and hopefully upgradable.
BTW- the instant-on is part of SSD not the Win10 OS.

Sounds like daniel really liked this device. I would have bought one if I didn´t got the hp spectre 360 a month ago (before the SP announcement)

Nice review :-) Couple of points though, the older keyboard had 6 brightness levels (including off). If they now have 3 (presumably plus off for a total of 4 choices) then that is a step down. Probably won't bother most people I guess. Can be nice to get the level just comfortable though in different lighting conditions. Also the comment on the buttons seems odd, I just checked my 18 month old SP4 buttons and they are rock solid, no wobble or rattle. So not really an improvement there either.

Daniel, does the Windows Hello camera login work if you're offline (not connected to the internet)? My SP4 has it but I turned it off as it would only work with an internet connection and often at work when I take it to meetings I don't have internet (security thing, no wifi at my company). When I complained that the Hello camera on the 4 wouldn't work when offline Microsoft told me that was by design, so I'm curious if the same restriction applies to the new Pro as well, which I am considering to replace my personal home SP3.

Yeah, just checked. Put in airplane mode, Hello still works.

Nice review dan. Want to buy for the first time a surface. Is the m3 7y30 a good follow up for my lenovo yoga pro 2 i5? Thank you.

I have not tried the 7y30 but I was pleased with the 6y30, so it an only be better ;) Yeah, a core i5 from 2013 should be behind it for performance.

Great review, Dan! It was great to hear the perspective of someone who prefers the laptop form factor starting to be won over with the SP. Quick question about the pen experience... in previous models, the surface pen was noted as having an issue with lines appearing jagged when you try to draw them slowly. If you drew them quickly, they were smooth as expected. Can you do the "slow line test" and report back on if this has improved? I hope to make it to a store soon to see for myself, but figured to ask. Also, have you noticed any issues with the keyboard not being recognized when coming out of sleep? I see this a decent amount on the SP4 and hoping that has been corrected as well. One small correction for you BTW... in the PC Mark scores, you have "Surface Laptop 2017" at the top of the list, but I think you meant "Surface Pro 2017" since the last row in the list is the Surface Laptop. Thanks again - love the review : )

Thanks! Re: Pen, although I'm not a pen user I did ask Microsoft specifically about jagged lines (I heard that a lot about SP4) and yes, between tilt/rotate, LoP increase, and latency, all of that should be much now. Re: KB, no, but there is sometimes a 1-2 second delay before the trackpad kicks in; never had to pull the KB off though to get it to work again. will fix the last part.

Nice shirt Dan. The Finnish startup, Eve V, crowd funded tablet is a good competitor to this device and excited to see what OEMs do to compete with Surface.

Hi,thanks for the review, you got me when you mentioned light bleeding as one of the problem that surface pro 4 had and the reason why I returned it. But I want to know for how long did you had been using this device? And any idea if the same device you're using in your review will be available with the LTE option? Thanks in advance

Daniel, I enjoy reading your articles, thanks! What I'd really like to hear is your real life experiences in using the SP with a dock driving two external monitors, which as I review other forums, still appears to be an issue. With a the Surface being positioned (almost) as a desktop replacement, it only makes sense to talk about how well it behaves as a desktop replacement.

I was actually at a Microsoft tech event last week and I asked the Surface rep there about that exact problem, the DPI issue running my work Surface Pro 4 as a laptop/tablet and then docking it to my keyboard and two external HD monitors. I explained the only way I was able to resolve the weird DPI issues when docking/undocking was to set the Surface Pro 4's screen resolution to a DPI that's close to that of my external monitors (1600x1066 on the Surface screen, 1920 x 1080 on the monitors). While that works, it seems a waste of the SP4's native 2736 x 1824 resolution. The rep understood the issue I was explaining saying he knew other people in the same situation (desktop icons become massive when you redock to the external monitors, etc.). He said it's "better" with the new Surface Pro and Windows 10 Creators Edition, and there will be more improvements in the fall update as well. My SP4 is on Creators update now but I haven't bothered to try resetting my resolution back to the SP4's native resolution since it honestly doesn't look bad at all and for work its fine. What MS really needs to make for Surface users is a standalone 3:2 monitor (like the Studio has, that would be nice) which would resolve the aspect ration issues when docking/undocking. Maybe if more Surface-like devices start using that aspect ration we'll see some monitors show up.

Thanks Jeffery, that's encouraging to hear. Unfortunately my experiences were different than just DPI issues. Quicken was probably the only real offender I had in regards to scaling, or other DPI issues, irregular icons, etc... My issues were more along the lines of trying to keep two monitors active, especially after coming out of a sleep or hibernation. I was using MS's active display HDMI adapters, and two Dell 22uh Monitors at 1920x1080. Certainly nowhere near todays 4k monitors, but they are definately suitable. David

Yes thats something I really would like to know too.

Thanks and I'll try to follow up on doing an dual-external monitor article in the coming weeks. As Jeffrey noted above Creators Update does bring improved support for multi-monitor/varying DPI scenarios.

Awesome! Looking forard to it!

I would love to know why they continually put a mini display port, which is all but useless. You can NOT push sound through it, so hooking the sp4 or sp up to a smart tv does NOT allow you to push the sound through the tv's better speakers. That is a total waste of a port!!! why not put a hdmi port there??? And they should have changed the power port to a type c port, so we could have many more options to charge it, if something happens to our proprietory power cable. Why is M$ always so slow to learn what the customer really wants??? They forum is full of these exact ideas. Yet they continue to ignore it.

Actually, why not replace it with a USB-C, with thunderbolt? About the same form factor. They could have kept the magnetic Surface Port, maintaining compatibility with all the dock and charger options, and offered charging via USB-C as well. (Dell does on he XPS line) If they did it right, they could have led in supporting the standard that ohers have half-assed, leading to the unfortunate articles about USB-C incompitibilities.

What do you mean doesn push the sound? Of course it does. If it didn't work for you then you had a cabling or adapter issue. The reason to not have HDMI is that unless you go to HDMI 2.0 you can't do 4k at 60Hz. And no desktop monitors come with HDMI 2.0, thay have displayport instead. also the mini hdmi connector is physically rubbish, whereas the mini displayport one is pretty reliable. You can cheaply buy a mini displayport to hdmi cable if you want to connect to a tv. Or mini-DP to DVI for older monitors. It's a very usable port.

Dan, great reading. Could you include same speced Surface Pro 4 (i7, 16gb, 512gb or even 256) just to show what performance gain we could really get from upgraded CPU and GPU.

Thanks. Was going to but I don't believe I have a Core i7 SP4 around. Will see what I can find.

Thanks, I'm really looking forward to seeing it. I can't decide if it's worth to splash extra to get me surface Pro or I I should stick with 4 until next generation comes out. I can't see my computing needs changing dramatically in next 2 years.

Wish I had devices just "laying around" :-)

Caught that too, but figure that is Windows Central talking, not Dan personnaly ;)

Daniel If you were given the choice of a SP with Windows 10 Pro or Windows 10 S, which would you prefer and why?

I'm totally fine with W10S because all I use are Store apps. Ironically, the only reason I had to upgrade to Pro for Laptop was to do benchmarks for the review! Ofc, everyone is different with unique needs for apps. I just like the idea of S where it's "pure" Windows, but as I've written elsewhere 10S and Pro are the exact same, just one can't run non-Store apps.

The only thing that concerns me with Win 10 S is drivers. MS has a pretty good suite of generic ones (even delivered by peripheral OEMs) but they can't include everything. Couple of for instances. The stock drivers for a couple of my printers don't offer double sided printing. The support it and I have to use the CD that came with the device or download the drivers to get that functionality in the print options. Another is DisplayLink drivers. There are some great travel monitors that depend on them, and I expect you can't install them on S. With the laptop not having a USB-C with DP option, which wouldn't require drivers, it removes a significant option. (Until some travel monitor OEM builds one with DP or HDMI in, darn them)

If I'm going to spend $2700 for the top end Surface Pro, it better last at least 5 years.

Define 'last'. If you take care of it, I'm sure it will do everything in 5 years it does the day you buy it. The possible exception is battery life.

Hi Dan. Thank you for this through review! It answered a lot of questions I had about the new release. Very well done. I am wondering if the pen accuracy has been improved? When I use the pen on the SP4 at a bit of an angle the pen doesn't write exactly where the tip is touching the screen but a bit off to the side. Has this been improved?

To my eyes and from my experience I have never felt a digital pen to be as realistic as this one. I'm not a 100% sure if it's better, but when I just tried writing it was dead on where I placed the tip.

How is the NEW Surface Pen on the SP4? Did you notice a big difference?

A little, but not a lot...yet. Expect driver updates to SP4 to gain some of the new Pen's benefits.

Thanks for the reply Daniel, I am eager to test that on the SP4 and also the S3 when the driver is released.
On a separate note did you ask the Surface guys if they were planning for larger devices, a 15" Surface Laptop for instance.

The Surface 3 (non-pro) has dedicated screen brighness buttons n the keyboard. Odd that the Pro 3 & 4 did not. In any case, I also picked up my i7/512 today. A very nice upgrade from a Pro 2! :)

The Pro 3 and 4 type covers DID have dedicated screen brightness keys (Fn+Del, Fn+Backspace). Just for some reason they never printed the symbol on the key top so you needed to have looked at the help page which lists them all. There are still othere listed that are not printed on the keys.

so we are sure the 4G LTE is coming this fall not 2018???

God damn it, Dan. I don't have 3500 (I7, 512GB + kb) bucks to spend on a new SP but you make me want one so bad.

It's sort of unfortunate that MS sent out the next to top of the line to reviews, which highlights that price. The i5, 256G SSD, 8G Ram would likely be perfect for most that don't have extraordinary requirements. That one is $1299, like that model has always been, minus keyboard. The Pen is extra now, but you can use your current pen, or pick up the older one, or now evan a Wacom Bamboo.

Yeah that one is 1999 here, which is actually more than I paid for my Pro 3 I7 when it was released. My issue is the 256GB RAM, I have that on my Pro 3 and have had to get a MicroSD card for it. I would love an I5 model with the larger storage.

Microsoft Shop in Sydney staff told me that the LTE functionality will be by way of external plugin hardware. WTF? Please tell me this is not right.
LTE is a must. It is the reason I have not yet upgraded form my Surface Pro 2. External device will greatly diminish the mobility point of LTE. Please say it is not so

lol no; I've SEEN/HELD the LTE proto, it's looks 100% the same, which Microsoft's point with it.

I've read that it supports both the eSIM and a physical slot. The eSIM would allow just provisioning for a carrrier at the MS store electronically and changing the same way. The physical slot would be for grabbing a pre-paid SIM whle travelling if that was better.

I can't get on board until Microsoft goes bold and revamps their Desktop APIs so that Desktop applications can scale properly on HiDPI screens - like they do on macOS. Having to manually up the screen scaling defeats the purpose of having a high resolution display, and many desktop Apps are ugly as hell on it. I'm really losing my patience with Microsoft. UWP cannot deliver Pro Apps, and they need to invest in their desktop APIs so that software remains as usable as ever on modern hardware. Apple has done this, but Microsoft has not. Everything they've done has been in a way that almost ignores the issue. Every time I use a Windows 10 PC with a high resolution display, I want to throw up. It's so sloppily done, that I wonder if anyone at Microsoft even uses their own software, are all they all running MacBooks with Windows in a VM? Proper scaling is needed. These devices are too much work to use, practically, without it. UWP are pretty much worthless and don't offer anything that I'd need to get work done (and my work consists of 0% Microsoft Office use, so that's not really an example I care to entertain).

I dont gett this. Is it still a problem somwhere. I had the problem i Adobe software, but it was fixed, like 2 years agoe. I have absolutly no scaling issues with my Surface Pro 3 ore my Dell 4k eksternal monitor.

They can't to fix it for all software, there's something that developers must fix. Unfortunately, Microsoft allowed developers to fix this for a long time ago. However, there's the price for that - now they can't scale unless they know whether the app is fixed or not and if developers don't declare it...

Feels like this whole Alcantara thing will last a generation or two before they ditch it, realizing it's not something customers asked for, or want. Either way, this will be my first Surface Pro...as soon as the Pen becomes available to order here in New Zealand, which it still isn't :/

I dunno, don't you think last year's Signature Type Cover was the tester to see how it sold/did/was received? Had it tanked, they would have not put it in their desktop keyboards (another test) and then for the new Surface line. But sure, feedback is important so who knows what happens. It is a differentiator though.

I love the Surface Pro line and will deffinatly gett this new one. I realy dont care about USB-C, a prefera the Surface connector (magnetic is very plessent) but it will bee nice to see the dongle and what kind of charger I can charge the Surface with. Had one hope for this irridiation though, a "performance base" keyboard. A Surface Book type of base with more USB-A and more batteri, would not want a GPU but even more batteri, It midght just reach for that 20 hour limit, and maybe outlast some of the mobile phones.

Hi Dan, thanks for a well written review as always , it's just that it becomes so painful when u see a well written review on a device that is so touching like this and you want it body and soul but you cannot afford it. Still on my old 2012 macbook pro 13 inch with windows 10 on it, wishing i can afford a proper windows 10 machine like the surface book or the new surface pro.

Thanks! Yeah, it's not cheap to get into. Don't forget MS does give a 10% student discount and I'm sure we'll see some price drops.

I LOVED IT!!! A shame that the pen is not included anymore

Well, I'm excited to read all this! I own a Surface Pro 3 -- two years old -- and I'm very happy with it. My main reason for needing an upgrade -- I opted for a core i5 with 256 Gig ssd. At the time, my assumption was that this would be my travel computer, and I would do most of my "work" (music production/multi-media projects/programming/etc.) on my home computer (a Rain laptop tricked out for music but not very portable) and my employer-provided MacBook Pro. Well, turns out the Surface Pro 3 is a champ, and it's ended up being my main computer. But I do want to upgrade the innards.I didn't think the SP4 was enough of a leap, but now looks like the time. It's not urgent, though, so I plan to wait to see if the Surface Book gets an enticing upgrade this fall and then decide. I'm sold on the Surface design, though -- I use the pen all the time, and when I use a computer without touch now it seems a little quaint. And I walk to work, so the tablet-like portability has been pretty wonderful. Two points -- the fan noise on the SP3 was originally distressing to me when I was working with music, but it doesn't really switch on that much. (Maybe because I like pretty cool room temps in my home -- that seems to make a difference.) And battery life isn't great but I have lived with that because I'm never really that far from an outlet when I need it. But, still, not having to carry a power adaptor will be nice. Thanks for a very helpful review!

I'm real wishy-washy on the lack of keyboard and pen. I do get the idea that it gives the customer the option if they don't want what comes with it. I recall getting a black keyboard with my first Surface Pro and was fine with it. My wife however tore her's off, threw it in the closet, and bougt a different color. That was kind of a waste. Right now I have a keyboard or two, and a pen or two, so I could push that expense out and still be fully functional, until I chose to invest in Alcantara and the new pen. I could also try Wacom's new Bamboo option, and not feel like the price of an included pen was wasted. On the other hand, would be nice if the price reflected that you are getting $50-100 less than you used to (the pen). The branding of the Surface as the 'most versitile laptop' really doesn't ring true if you don't have a keyboard. It's sort of like a vehicle being sold without tires, and it being the most versitile vehicle, because the customer gets to BUY, slicks, or rain tires or all season, or performance tires. If you got to choose what keyboard they gave you in the price, that would be one thing, but you just have to buy one. You do have the option of just buying a BT one, forgoing the clip on functionality. Make no mistake though, if they included the keyboard and pen, they'd charge you for it, in the price. P.S. Dan, nice shirt, and who makes that bag you stuffed the Surface into with the brilliant Surface pen slot?

A good review, though the implication about the earlier Surface Pros was...odd. People love the Surface Pro 3 (and 4, for that matter), the reception was overwhelmingly positive (even with the 4's early glitches and issues), and the reception to original SP and follow-up were still very good...or good enough that it triggered a waved of imitators and almost single-handedly created a new form-factor of compact ultrabooks. So the headline is wrong: they're all 2-in-1 tablets you'll want to use (and if you don't, it doesn't sound like the 2017 model will change your mind in the least). I'm still using my (increasingly worn-out) SP3, and it still gets compliments (especially compared to the recent iPad Pro for anyone who wants to use it as something beyond an tablet). Not perfect but any means, but there's a reason it sold very, very well even with Windows 8.1.

The exclusion of the pen, is the money saved doing that passed onto the consumer?

Well that's what they say. Although the new Pro is as expensive (maybe slightly more?) than previous versions. They would argue that it would be even more expensive if the pen was included but...we will never know I guess.

Despite it being from a Windows enthusiast website, this review of the numberless Surface Pro is the most useful one I've read. The information on the standby battery performance was particularly appreciated. It looks like the Surface Pro is the standout detachable 2-in-1 on the market today if you don't need USB-C or Thunderbolt - which is most people. Still, I kind of wish they had made a more portable version, like an updated Surface 3.

Wow... 5 out of 5. That is the first time I have ever seen that on a product review from Windows Central :)

Good news: after 5 years on my Macbook Pro 2012 (i7, 8 GB RAM, 125GB SSD) I'm allowing myself to get something new. Bad news: which one to get? HP Spectre x2? Dell 5825? This one? I'm a marketing consultant, I move in and out of meetings a lot, I work remotely a lot... and I also like to play the occasional game (nothing heavy... but enough to make the i7 HP stand out - Iris graphics - at that price point). Battery matters, but I do spend most of my time close to power sockets in offices. What do you guys think? :)

if you don't absolutely need a very good battery life, I would probably go for the HP, as the difference in price between the Surface Pro i7 Iris and the Spectre x2 i7 Iris is very significant (not so for the i5 - but the HP i5 has Iris).

I've had my Macbook for 5 years, I would love to get 5 years out of this machine as well. Hence the higher specs for the HP seem enticing. But the general feel of the SP just seems more solid - and what is a tablet without battery life? I'm just wondering if the SP will still be awesome after 3 years or something, or if the i5/8Gigs will start to be a problem.

I would go with the Surface! As I have the Pro 3 for over 2 years now and just upgraded to the Pro 4 for a great price, the Pro 3 is still a great choice after all this time. I really think the new Pro can run 5 years or so. My Pro 3 i5 4GB model was good, but the more ram and power was great to have. With my Pro 4 i7 8GB version I have no need for an upgrade to the Pro 2017. 8 gig are way enough for everybody, despite of heavy photo and video editing. Rather invest in the upgrade to the i7 for some extra power if you need it.

Alright, I've trimmed down the options to: New Surface Pro i5/8Gigs/256SSD
HP Elite x2 G2 i5/8Gigs/256SSD I would love more RAM and an i7, but the cost is prohibitive and whether I'll actually use it remains to be seen. Now to find a pair-off for these two devices...

What's the price difference between them where you are? (please include tax...European here ;) )

They're about on par IF you take into account that you need to buy a separate cover and pen for the SP. I'm in the Netherlands myself. In fact, the i7/16Gig for the Elite x2 is about 1850 (without taxes). That's a lot of cash, but it might be worth it...

If the price between the HP X2 and the SP (with accessories) is about on par..I would go with the SP. Battery life is better + I can't judge the build quality of the HP but the SP is a beautiful device. I received mine (i5/8g/256) and it's a great piece of engineering. It's incredibly slim and totally silent. I still can't quite believe the power in this tiny silent thing. The display is great as well - I have some light bleed but i checked very carefully and it's visible only on the very edges (the 4 of them) and on a pure black or blue background, with high luminosity. I can't see it at all when in use even when i'm looking for it. It's such a beautiful device you jsut want to keep using it. It has something...attractive to it. I had the same feeling with my 2010 Macbook which was my first non-cheap crap laptop (can't use Mac anymore - no touchscreen is a killer + I like the consistency and elegance of MacOS but I also find the OS very boring). I have not seen the HP X2 in reality so I'm not saying it's bad at all. But I can confirm the SP is quite something to hold in your hands.

great device with every angle only draw back is high price without type cover and pen

COME ON! Nice review, but you completely missed the huge topic that so many are wondering - that is, how the i5 and i7 versions compare in performance and throttling. Since MS dropped the fan from the i5 version, this is a big question that many are asking. You did a great analysis of this on the Surface LAPTOP, but this is even more of a question on the Surface PRO due to the i5 sku not having a fan. Please do a followup article comparing i5 with i7 performance on the PRO! Thanks!

Look for it in Windows Central mate! Dan has written a very comprehensive and detailed article about throttling on Surface Pro. Both i5 and i7 ;) It's called "Microsoft didn't cut corners to ditch the fan on Surface Pro" (or something similar). Published 26 June. You're welcome.

No Pen: then why wasn't price DROPPED $59? No USB-C: absolutley NO excuses for this one. Panay: "Microsoft did research on why people want USB Type-C. Panay said that "by far" the number one use for Type-C is charging. Data and external hubs are a distant second, he said, with external GPUs (eGPUs) falling squarely in the niche enthusiast category. The problem for Microsoft is consumer confusion. The company tried before with a standardized power port with the Surface 3 and micro USB. "Many customers complained about their Surface 3 not being able to charge," Panay said." 1. As for the Surface 3, even the included power supply was as slow as mollases in winter to charge the device. Any sane user immediately bought the dock to at least be able to charge in a timely fashion. There were times, under stress, that the included power supply couldn't even maintain battery power, much less charge. This is a total red-herring. 2. Don't care what they say their research showed them, any user beyond casual consumers wanted the USB-C/Thunderbolt for expandability, NOT charging. How can I say this, because Microsoft chooses its words all too carefully and ALWAYS focuses this discussion on USB-C without addressing Thunderbolt. In that circumstance, they are right because it offers little more than USB 3.1 in the "C" packaging. However, THUNDERBOLT, with 4 PCIe lanes, gives you data, 4K video, external GPU - you name it. There is NO REASON to not have replaced the mini-displayport with USB-C/TB3. In fact, if you want to talk about "confusion" ask the common consumer what DisplayPort is - dare you. It was ditched merely to preserve the current docking and power colution (don't get me wrong, I like the magnetic dock, but it is NO EXCUSE for avoiding USB-C/TB3).

I'm shocked at a major oversight in almost all reviews for this machine: Microsoft has absolutely abysmal quality assurance. I went through 9 (yes, NINE) of these devices in two weeks. ALL of them had lightbleed (and I don't mind just a tad, I mean the really noticeable bar of light at the bottom/side of the screen that was reported on several websites). Thank goodness I got it through a vendor that took me seriously and allowed me to keep trying until I got a good one - until I lost patience, that is. But it's not just Microsoft, either. Out of desperation I switched to an HP Spectre x360. First one: dead pixel. Second one: loose trackpad. Utter, utter garbage. I should have known better. I'm back on a Macbook Pro. It may not have a touchscreen, but you can't fault its build quality or the fact that, you know, you actually get a working device when you pay that kind of money. I really wanted to get a Windows machine this time around, but I guess I'll try again in 5 years.

This is why I have been reluctant to buy any of the new models. But be careful about mentioning shoddy build quality on blogs or reviews...you might get blocked like i did for posting this image on twitter.

Seems like you might be delivered all of the same lot. We have 24 Surface Pro 4, 5 Surface 3 (of which 24 and 3 Surface 3 are still running) bought on day one. Except one badly scratched display so far no issues. As new devices we decided on Dell XPS 13 2in1, and of 7 one had a broken battery (only charged to 56%) and another one a broken Bluethooth connection. So now we are considering eigher the Asus Zenbook or Surface 2017.

Daniel, great article. I sure love mine, but over the past few weeks of intensive pen usage and note taking I've become extremely frustrated with the pen functionality. There is a common thread on the microsoft support site about the accuracy of the pen when tilted and your palm is resting on the screen. I would link it, but that doesn't work in your comments... Either way, search google for surface pro intermittent pen inaccuracy and you should find it. It seems no solution has yet been found and I recently contacted surface support to ask about the issue and they were unable to help... Other than that I really enjoy this device, but with note taking being a primary usage for this device I'm slowly losing faith in it.

Hey guys i "don't dwell" on no USB Type - C, thats why it is useless sending windowscentral anything to review since they don't hold the manufactures responsible for their pitfalls, or entertain the pros and cons of such a port. I realize windows phone is dead so caring about what data cable works best isn't a priority but the rest of the world cares...

I've got a 2017 Surface Pro with the Core M, type cover and 4 Gigs of Ram for $637. Absolutely Love it! Maybe there was a batch of screens that were defective or something but mine has been Flawless (knocks on wood).

I've owned 4 surface devices, including a Surface Book and the new Surface Pro. Six months in, the Pro is an overall excellent device, with a few caveats. Battery life is disappointing, as I only get 4 hours or so without doing anything crazy. Type cover sensitivity is off, and I had to turn off "pinch-to-zoom" as it kept happening on an hourly basis in browsers. Other than that I love it - speedy, light, and the new kick-stand makes it truly "lap worthy". I migrated most recently from a Galaxy Tab S3, and managed to get everything that I used on the android device up and running on the Surface Pro. (I wrote a blog post about the process). That means one less device to haul around - loving that!

It is a very good article.