Alcantara fabric on Microsoft Surface PCs: Everything you need to know
Microsoft makes a number of high-profile products for its Surface lineup that feature "Alcantara" fabric, including the Surface Go, Pro and Laptop. But what exactly is Alcantara?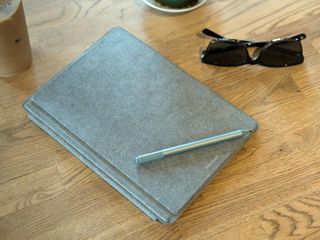 (Image credit: Windows Central)
On Windows Central, we cover everything and anything Microsoft. That means we do a lot of stories on its Surface PCs, some of the most exciting PCs available today. By extension, that means we do a fair amount of coverage of devices with Alcantara fabric, which Microsoft has used for a while now on certain covers and keyboards. For example, it features prominently on the Surface Go's Signature Type Cover (opens in new tab) and is used in the latest Surface Pro Signature Type Covers, (opens in new tab) as well as on the Surface Laptop 2's (opens in new tab) built-in keyboard.
To give Alcantara its due, we decided to do a bit of digging and try to answer some of the most common questions about the semi-mysterious fabric. Here's everything you could possibly want to know about Alcantara.
(Surface) Go in style
(opens in new tab)
Surface Go Signature Type Cover with Alcantara
Your Surface Go deservers some Alcantara.

The Surface Go is powerful, petite computer, but to get the best experience, you need a good keyboard. The Signature Type Cover is just that, and it comes in multiple color options and Alcantara fabric.
Typing life
(opens in new tab)
Surface Pro Signature Type Cover with Alcantara
Making the Surface Pro even better with fancy fabric.

The Surface Pro is a full PC inside a slim tablet but to get the very best from it you'll want a Type Cover, and the Signature version comes in Alcantara, with a few color options.
The fuzzy fabric notebook
(opens in new tab)
Notebook computing done right — and in style.

With 8th Gen Intel Core CPU options, a beautiful touch display, and light, slim build, the Surface Laptop 2 is perfect for handling a standard day's work. It also has a built-in Alcantara keyboard.
What exactly is Alcantara?
Alcantara is an Italian-made fabric that looks and feels much like suede. The name Alcantara is actually a brand name, and it's a registered trademark of Alcantara S.p.A., an Italian company.
What is Alcantara made of?
Polyester (about 68 percent) and polyurethane (about 32 percent), at least according to Wikipedia). The actual "recipe" for the fabric is unknown and is proprietary information that belongs to its maker.
Where does the name Alcantara come from?
Though the brand name is Italian, it's derived from the Arabic word "al qantara," meaning "the bridge." You could say Alcantara fabric is a "bridge" between animal leather and cotton fabric.
What is Alcantara used for?
In addition to being featured prominently in recent Microsoft Surface products, Alcantara is used by various companies in the fashion, interior, automotive, yachting, and aviation industries. One notable automaker that uses Alcantara in its vehicles is Porsche.
According to a Porsche dealer in Calif., the luxury vehicle maker uses three types of Alcantara:
Why do luxury brands (and others) use Alcantara?
For a lot of reasons. According to the manufacturer, it's good looking, first and foremost. It's stain-resistant (to a degree) and very soft. It's relatively durable and doesn't fade easily. Alcantara is also lightweight.
Additionally, it's sustainable and 100-percent carbon neutral, meaning it doesn't release any potentially harmful carbon dioxide into the atmosphere. It's versatile and can be dyed in a ton of different colors. It's easy to clean (here's how). It's nice and "grippy." And it's reportedly fire-retardant... though we've not tested that ourselves.
It's also (generally) cheaper than leather. Which leads to our next question.
How durable is the Alcantara fabric on the Surface Laptop?
Is Alcantara expensive?
Compared to leather, usually not. But like any material, it's available in a variety of different quality levels, which can be expensive. Companies that use Alcantara like to position it as a specialty material (including Microsoft) and therefore they sometimes charge a premium for it. For example, Porsche charges the same amount of money for Alcantara in its cars as it does for leather, even though it pays significantly less for the Alcantara, according to amusing Kiwi YouTuber Nick Murray.
Is it animal-free and vegan-friendly?
You betcha. Alcantara is 100-percent cruelty-free and not of animal origin. It's sometimes referred to as "Alcantara leather," but that's simply not an accurate term.
What's the difference between Alcantara and "Ultrasuede?"
The country of origin. Ultrasuede is another registered brand name, but it's very similar to Alcantara. The main difference between the two is that genuine Alcantara is made in Italy. It's like champagne. There are all kinds of sparkling white wine, but real champagne is made in Champagne, France.
Is there anything bad about Alcantara? Any disadvantages to using Alcantara?
Sure, it's not perfect. If you simply don't like the look and feel of suede, you're probably not going to like Alcantara. Like suede, it can collect "pressure marks" or signs of use. But that's not necessarily a bad thing.
Some people who have experience with Alcantara complain about durability issues, meaning it doesn't exactly stand up to the test of time as much as its manufacturer would want you to think. However, our Executive Editor Daniel Rubino, who has used both the Signature Type Cover (opens in new tab) and the Surface Ergonomic Keyboard (opens in new tab), says his Alcantara still mostly looks and feels like new. Your personal mileage may vary.
Comfortable typing
(opens in new tab)
Surface Ergonomic Keyboard
A premium typing experience with Alcantara.

The Surface Ergonomic Keyboard provides a premium typing experience that will help your wrists feel more comfortable while typing. It uses Bluetooth, which makes connecting to your computer easy, and its wrist rest is covered in smooth Alcantara fabric.
All about Alcantara
There you have it. That's just about everything any reasonable person should want to know about this unique fabric. If for some reason, you have a question about the fabric that we didn't answer, drop it in the comments and we'll do our best to find an answer for you.
Windows Central Newsletter
Get the best of Windows Central in in your inbox, every day!
Al Sacco is content director of Future PLC's Mobile Technology Vertical, which includes AndroidCentral.com, iMore.com and WindowsCentral.com. He is a veteran reporter, writer, reviewer and editor who has professionally covered and evaluated IT and mobile technology, and countless associated gadgets and accessories, for more than a decade. You can keep up with Al on Twitter and Instagram.
Checked out the Surface Laptop at the Microsoft store. It is really nice, much bigger than the Surface Pros. Only issue I saw was with the edges of the Alcantara. The seem between the Alcantara and the metal is really rough. Big turn off.

I think the alcantara works better with the Surface Pro keyboards for the same reason. On the Type Covers, it's all alcantara and it tapers to an end. On the Surface Laptop, you can see the division between the alcantara and the metal. Not that big. But not a magical non-seam.

It is glued on I assume. As long it doesn't peel off, I'm okay with that. Ordered one for my gf.

Looks like my nanas cushions 😨

It sort of has a ruffle around the edge like the Nana's cushion too, except it doesn't feel like it should be there.

Looks like my nana's cushions 😨

How cool would an Alcantara Surface Pen be 👈

How cool would a Surface Pen be at all - no store, not even Microsoft brick & mortar, have any to test the new magical ultra pressure pen!

how to raise the final price of a product? Add some alcantara. I dont like it, looks weird. Alcantara is a luxury material but its not meant to be used as Microsoft did. For a limited number of products - special offers - it could be OK but for the whole line? Nope

Stop nagging. The material has already prooved itself. Also on Type covers.

It is optional. There has always been a non-Alcantara type cover for Surface Pro. As for the Laptop, it can't be optional because the fabric decking was part of the esthetic of the device to stand out from the other million laptops already on the market.

We use it every week on the seatings in our boats and it looks stunning in the right element. This isnt the right element✔

it feels really really good under your wrists on the Surface Pro 4 and 3. I never really liked the gray look of the keyboard but the alcantara covered keyboard is my primary SP4 keyboard (though I do also own the regular teal and the regular blue). I think the reason I abuse the alcantara keyboard the most is that it is the most stain resistant of the Type Covers and feels durable. I take out the teal when I just want to chill in a coffee shop and stand out. But most of my work is with the alcantara keyboard.

I love it on the wrist rest of the Surface Ergonomic Keyboard. It just feels good - FAR better than plastic, and also much better than the rubbery stuff that's supposed to feel like leather but doesn't.

I prefer plastic that oozes ozone and was made from dead plastic animals that were brutalized.

what's it made of? Plastic. how is it carbon neutral? It's literally made from oil.

The article says it is carbon neutral because it doesn't "leak" carbon to the atmosphere.

Alcantara isn't made of plastic. It's fancy cotton.

What?! no, it isn't, it's plastic. it even states that specifically in the what's it made of

LOL, go back to school or learn to do some basic internet research.

unhh "68% polyester and 32% polyurethane" those are both synthetic oil based products.

Exactly, its ridiculous with these crooked companies trying to sell this enviromental BS while using oil industry to make their products; and contaminate the environment with micro plastic pollution.

i thought you were telling me to research! Sorry! i fully agree. It's not environmentally friendly, and they shouldn't present it as such.

Carbon neutral is not exactly they way it is defined in the article. Carbon neutral doesn't mean the creation doesn't emit carbon, it means the company does some environment friendly things to compensate the emissions they do, like planting trees and such things.

Exactly. Trees absorb carbon dioxide. Leather is far from carbon neutral because the animal agriculture industry cuts down rainforest to make room for grazing land and to grow plants to feed the animals, plus the animals emit methane, which is a double whammy against the environment. At least this product has a net zero impact.

And I guess the device your using to read this has no environmental impact?

that's an asinine question. Nobody wants MORE plastic in the oceans. Why would you ask such a silly question?

If you do not want plastics in the oceans, ask your fellow human beings not to drop plastic bottles and plastic bags on beaches and river shores.....

you clearly don't understand how that cycle works, nor the consequences of plastic production. It's inevitable that plastic ends up in the oceans if we produce it. It's also not infinitely recyclable, so any we make is here forever.

Sorry bit I think you are missing the point Great deal was making. Criticizing Alcantara in such a rigorous manner because its an oil based product whilst using a device that almost certainly contains other oil based products is a tad hypocritical. His question wasn't insane at all, it was perfectly valid.

no, it's dumb and nonsense. I'm not sure when you thought that anyone said UNDER NO CIRCUMSTANCES USE OIL. I never saw that. they did say "pretending this is environmentally friendly is completely dishonest. It's plastic" let's not chase false extremes. We all lose.

Caron neutral is the term...which means they probably purchased credits to offset the carbon expenditure. Greenwashing at its finest.

WILL SOMEONE THINK OF THE DINOSAURS!!!

You guys are missing my point! My point was: screw the environment. Go drive somewhere for no reason and along the way throw an empty beer can out the window! It will change your life...

Lol how can Daniel say anything at all about it's durability? How long did he use it? It probably starts showing pressure points/fades after 4 months or so. And it will look like crap (unless you like that look) in 2 years. Same as with all Microsoft type covers actually. They all show signs of wearing off, especially where it bends and around the edges.

Do *you* own one? Daniel has a Signature edition type cover so he can totally comment on it unlike you....

I have the Surface Ergonomic Keyboard, and have had it since November. It still looks almost like new, but I did just last week notice that it's starting to show a very faint darkening of the color where the heels of my hands rest. It still feels like new - no indentions, no wear - just that very slight discoloration.

I've had the Pro 4 since November and I've not noticed any discoloration yet.

So, it's the same stuff unbreathable raincoats are made of.

> our Executive Editor Daniel Rubino, who has used both the Signature Type Cover... I'm curious... the "old" Signature Type Cover has been available for some time. The new three "Signature Type Covers" are (i) slightly cheaper than the old one, and (ii) will not be available in my country until mid July... So -- my question: is the new "Signature Type Cover" the same as the "old" one, or is the new one improved?

The new ones are same as the old ones. And the new platinum seems to be the same as the old signature type cover. So I guess there are only two new type covers.

Lol it is confusing even now im looking at:
QJX-00001 on special order for 165.36 cad
QJW-00001 for 189.99
QSW-00001 for 369.99 & soon the slim pen 2 variant

Alcantara: For people who want their keyboard carpeted.

I'm fine with that so long as it matches the drapes.

made of "Polyester (about 68 percent) and polyurethane (about 32 percent)," Great another product made from fibers that come from petroleum based chemicals (petrochemicals); and which contributes to the micro plastics problem. How about promote the use of natural materials like Cotton, silk, wool, lether, etc. instead of these petroleum based environment polluting ones. But I am sure people want something that is "animal-free and vegan-friendly" right, just to then sit down for dinner and eat a stake. /s

Stakes are also animal-free and vegan-friendly. Steaks, on the other hand, are not.

LOL, nice catching the typo :)

Vegan-friendly food is the food that my food eats.

You will never know until the problem surfaces like the mad cow disease.

Do you know the amount of pollution that the leather industry contributes? It's a lot!! The processing of leather itself is harmful. Then the end of life (when you need to dispose off that leather) is another problem. In each stage it's causing pollution. It's not about animal free products.

"Is it animal-free and vegan-friendly? You betcha." If it doesn't freak out those damn tree-hugging-hippies then I'm not interested. Call me when they make the keyboard out of the skin of young baby white tigers. On a serious note, I'm not a fan of Alcantara. And I definitely don't like it in cars (leather FTW!). I haven't used it on a keyboard though...and judging by the colours Microsoft is offering, I don't think I will. If they are going with fabric, I'd much rather see them use silk. Otherwise I'd much rather see them do the keyboard in metal.

Bamboo?
That's could be really nice. I don't like Alcantara, it feels greasy and looks untidy and the colours are all pseudo colours.

People keep talking about the feel of the Alcantara keyboard and I just dont get it. The top of the keyboard where the keys are feels so dry and plain. There is no feeling to it. Nothing. And i've seen others complain about this. The back of the keyboard, you can actually feel the material but it's still not what I thought it would be based on all the advertisements and the cost. Honestly, I expected more.

Just a random FYI: Bose QC 35 use alacantara (and they seem to be pointing it out, so MS making a big deal of it may be acceptable)

The last thing i would expect to know about an Italian product, it's Arabic root, meh

Every time I hear Alcantra I think of the old Chrysler commercials with Ricardo Montalban, expecting to hear him say Rich Corinthian leather and lush Alcantara upholstery.

Oh yeah! I remember Mr. Montalban and the Chrysler Cordoba.

Yeah. I kind of want to get the type cover for my SP3 JUST so I can use test it. I have big concerns about getting a Surface Laptop for anyone in my family just because of the material choice for the keyboard. As it stands, I own several Microsoft Ergo keyboards including the fancy ones and *I* always end up rubbing off all of the characters due to use. The palm rests all are in remarkable shape, all things considered, but you can see some minor fraying and then there is the issue of smudging. On black, its more readily visible than you might think. Not really a complaint. It took some serious use to get this way. But for a laptop where I can't just switch on a new (type) keyboard, it is a concern.

can't wait to have the feel of alcantara on my fingers

Is there something you can spray on it so it prevents stains?

My Surface 3 cover has what I think is the best combination. Fabric feel on the back. Durable plastic by the keys.

Alcantara fabric on Keyboard makes Surface much luxurious.
If I ever had enough money to buy surface pro or laptop, I would have afford it right away.
But still feels like its overpriced for the Surface go.

Thanks for the article! That's good info.

Bamboo?
That's could be really nice. I don't like Alcantara, it feels greasy and looks untidy and the colours are all pseudo colours.

I much prefer how stain resistant the non-Alcantara Type Cover is on my Surface over my Surface Ergo keyboard. I've had my Surface ergo keyboard for 2 years, and it's got dark spots where my wrists always rest that no amount of cleaning will remove.

Arabic word? Oh no!
Here is the origin of the Alcantara name:
http://www.parcoalcantara.it/Eindex.php
For everyone who has been there at this magic place, it is obvious why.
It is enough just to look at the photos.

Would be fine with a plastic matte finish if done properly(the kind that doesn't attract sweat)
Windows Central Newsletter
Thank you for signing up to Windows Central. You will receive a verification email shortly.
There was a problem. Please refresh the page and try again.