How durable is the Alcantara fabric on the Surface Laptop?
Will the Alcantara fabric on the Surface Laptop keyboard wear out or damage easily?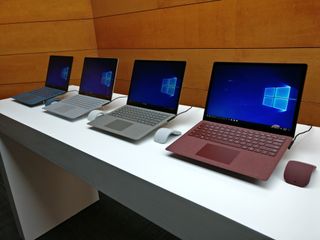 Microsoft's newest goodie, the Surface Laptop, was revealed May 2, 2017. This slim, light, powerful laptop is immediately recognizable as a Surface device, due to its the logo and screen, but especially due to the keyboard covered in "Alcantara" fabric. This material, according to Microsoft, "ages beautifully, growing richer and darker over time, and is wonderfully soft to touch."
This is the same stuff used on the company's Signature Type Cover and Surface Ergonomic Keyboard, so you might already be familiar with it. The fabric is sourced from Nera Montoro, Italy, and is often used in high-end automotive interiors. It's soft and warm, and it looks great. But how does it hold up after a few years of use?
See at Microsoft (opens in new tab)
What the Signature Type Cover and Surface Ergonomic Keyboard have to say
Since we haven't yet had a chance to put the Alcantara fabric on the Surface Laptop through any sort of endurance tests, we have to look at the Signature Type Cover and Surface Ergonomic Keyboard, which currently employ the exact same fabric.
Reviews on the Microsoft Store for the Signature Type Cover are glowing; it currently sits at a 4.3-star rating with more than 40 reviews (opens in new tab). Some of the lower ratings — where durability issues were cited — received responses from Microsoft, and it urged customers to reach out because that is not the standard experience when it comes to the Alcantara fabric. The Amazon listing sits at a 4.6-star rating with more than 75 reviews.
Executive Editor Daniel Rubino has been using the Signature Type Cover (opens in new tab) and the Surface Ergonomic Keyboard (opens in new tab) for some time, and he has this to say:
If the Surface Laptop is assembled with the same care as other Surface products, there shouldn't be any problems with the Alcantara fabric on the keyboard.
What Microsoft recommends
While the Alcantara fabric should hold up to normal wear and tear, that doesn't mean your hands won't cause a bit of grime to build up over time.
Microsoft has this recommendation (opens in new tab) for cleaning the Type Cover keyboard:
As with any keyboard, some dirt is expected to stick to it. If you clean it often, it should hold up just fine.
See at Microsoft (opens in new tab)
More Surface Laptop goodness
While we patiently wait for the June 15 release of the Surface Laptop, be sure to check out these articles with way more information about Microsoft's latest laptop.
5 important questions about the Surface Laptop answered
Senior Editor, Laptop Reviews
Cale Hunt is a Senior Editor at Windows Central. He focuses mainly on laptop reviews, news, and accessory coverage. He's been reviewing laptops and accessories full time since 2016, with hundreds of reviews published for Windows Central. He is an avid PC gamer and multi-platform user, and spends most of his time either tinkering with or writing about tech.
Can't wait to get one next month!

Take care of it and it'll last 5 years perfectly fine. Clean it once a week or so. The longer you leave the oils, the worse, long lasting effects they'll create.

Yeah.... I've had my Surface Ergo keyboard since November, I think. Just a week or two ago, I noticed that when the light is right, it is just a tad darker where the heels of my palms rest. I tried washing it with Dawn dish soap, didn't seem to help at all. Oh, well.

Not gonna lie, a one per-week cleaning is pretty needy for a laptop.

its ugly i cant write down how much i hate that fabric. It looks cheap like a laptop from China. Very bad decission. Should be an option to have full matel body... for that price

I've never seen a laptop from China with a fabric base.

Agree. There should be an option for an all-metal body. I've never heard of someone not buying a laptop because of its all-metal unibody design. I think most people actually prefer this design for its premium look and feel. There's a reason why MacBook and Surface Book use this design. The fabric design will turn some people (you & myself included) away. In fact, I was at the MS store this past weekend where they had the new Surface Latop on display (all 4 colors). Most people seemed to like the different colors of the metal, but quite a few did not care for the fabric keyboard.

Well, they can come up with Alcantara keyboard cleaning kit and make sure the students don't use stupid things to clean.

Are you kidding? Some of them are going to use beer to clean it.

That would be a waste of beer.

I have spilt beer on my surface keyboard before, one of the people of using it in a pub environment. It did mean I could upgrade to the SP4 keyboard which is infinitely better.

Mine had very defenant wear spots when I had my 2 surface 3 keyboards.

That's not Alcantara though. 😉

According to Gabe Aul, the new Surface Laptop
s keyboard is really good and durable. He's been using this for 6 months as part of internal testing. Check his tweets (picture included).

The question is -- what will resale on these be? There are a lot of people who aren't going to be thrilled with someone else's ... fabric keyboard. With the Surface Pro at least you can always buy a new type cover...

Why would a lot of people not be thrilled when it looks just fine? Assumption is the mother of all fuckups ;)

I can understand this, though. With second hand gadgets, I personally would prefer them to arrive clean or with the ability to be easily cleaned up to 'new' - purely because you don't know where they've been before. Fabric seems harder to erase any trace of the previous owner, and on a device like this you can't exactly stick it through a thorough wash. Whilst I wouldn't necessarily turn a preowned device like this down, I'd much prefer a mint condition one.

I wouldn't buy a used device made of fabric like this. Good point. Just too many used options. Price would have to be lower by a lot.

Wonder if this fabric will hold up in a healthcare setting.

I still think there should be just Alcantara sticks on pads for any notebook and it becomes Surface Laptop?

I've been wanting to buy the Alcantara keyboard for the Surface 4, but after seeing some images and videos of crazy discoloration I am hesitant to buy it. Any experiences?

Why did they stop making the touch covers? That you could wash in the sink with no issue. Plus they were the best thing ever for taking notes in meetings as you did not disrupt the whole meeting with constant clicking sounds type keyboards make.

I personally would have gone for Supima cotton or Uniqlo's Airism. Alcantara, folks, while used in Ferraris and Lamborghinis is really just Italian ultrasuede.

My Touch Cover on my original Surface RT still looks almost new. I still use it occasionally.

Had a chance to go hands on with the demos at a local MS store this past weekend. All 4 colors were available. They all looked really nice. However, I did notice on one of the demos the Alcantara fabric was starting to become unglued in one corner. I personally prefer an all-metal look and I'm sure a lot of people do too. I think MS should have an all-metal option. I don't think the fabric keyboard will help them gain more customers. I think it will actually turn some of them away based on comments on this site and other tech sites. All-metal is a safer bet.

Nah, my signiture typecover begs to differ. It makes me WANT to type on it, even though I have not much work to do. It looks awesome and all my freinds ask "can I touch that"?

I've never had an issue with it. I didn't think I'd use my surface pro 4 that often because I have a very powerful desktop PC hooked up to my TV but the surface is ultra convenient

SP4 type keyboards are not covered with Alcantara, are they?

YES. YES THEY ARE. What the hell is wrong with this guy? It's like he doesn't read an article and goes right down to the comments and types up a **** ton of bull.

Only the "Surface Pro 4 Signature Type Cover" is covered in a "two-tone gray mélange Alcantara fabric". Normal Surface Pro 4 keyboards are not. I think you should now have the courtesy to apologise.

Some people just get bent out of shape over nothing. The guy had a one-sentence comment/question and this dude accused him of typing up "a*** ton of bull."

Actually... Alcantara doesn't age that well. The thing is though, it takes quite a lot for it to actually age. My car seat's alcantara is about 16 years old, and has just now started to wear. I've taken a lot of care though... cleaning, and protecting it.

I personally prefer all metal body design
Windows Central Newsletter
Thank you for signing up to Windows Central. You will receive a verification email shortly.
There was a problem. Please refresh the page and try again.