5 things you will NOT like about Microsoft's Surface Laptop
We're super excited about Microsoft's Surface Laptop. But let's get real: The company got a lot right (and wrong) with the new PC. Here, we focus on the wrong.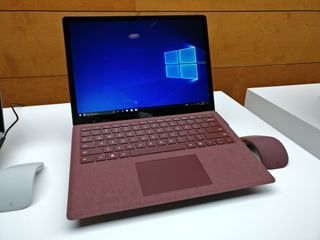 With the dust settling after Microsoft's May 2 event, I want to focus on the Surface Laptop.
Regarding its overall "classic" design, Surface Laptop is a fantastic product. With its solid state drive (SSD) uniquely integrated directly into the motherboard, hidden speakers below the keys, and the "thinnest touch display in any laptop," there's a lot to be excited about.
There are, however, a few glaring misses that leave me bewildered.
1. No USB Type-C
Microsoft's Head of Industrial design for Devices Ralf Groene told us that USB Type-A is used by more people today than the more modern Type-C.
That may be true, but we know from Microsoft's own video on design that the company was experimenting with a two USB Type-C and one Type-A configuration.
Compromises are often necessary, but who wouldn't have preferred that more future-proof iteration? I sure would have.
Putting aside the USB Type-C request, having a single USB Type-A port is a bit rough for a laptop (even if it's just mirroring the Surface Pro 4). And the lack of an SD-card reader but the presence of a Mini DisplayPort just seems ... strange.
2. Surface Pen is not a good fit
For the first time, a major Surface device won't ship with a Surface Pen. That's fine, too, because the Surface Laptop is not at all pen-centric. In fact, it looks downright odd to use with the Pen because the display does not articulate very far.
Not everyone needs a pen or a device designed to be used with one. I don't. However, it bucks the trend of Surface PCs that put the pen front and center.
Considering the Microsoft Creators Update for Windows 10 and the heavy focus on inking, this seems like a change in messaging.
3. Non-convertible design bucks the market
In another sign of mixed-messaging, Microsoft's Surface Laptop is not a convertible. After spending the last few years inventing and preaching about the 2-in-1 category, it seems odd for the company to back away from the form factor.
Microsoft has Surface Book and Surface Pro to make up for Surface Laptop, but it seems like the younger audience the company is targeting is more interested in convertibles than traditional Ultrabooks.
4. 4GB of RAM is not enough
The entry-level Surface Laptop starts at $999 and comes with an Intel Core i5 processor, 128GB of storage, and just 4GB of RAM. To be fair, the Surface Pro 4 with comparable specifications along with the extra $129 keyboard cost $979.
Is 4GB of RAM enough? Microsoft seems to think so, and it lets the company hit a lower pricing tier. But we're not so sure.
5. Surface Laptop is not a 'category creator'
I'm honestly still scratching my head as to why Microsoft is even releasing the Surface Laptop.
It's a beautiful machine, and I'm glad they did make it. (Yes, I want one.) But it breaks a trend of "category creation." Surface Pro, Surface Book, and Surface Studio were all category-defining devices – PCs we had not seen before, or that hadn't been executed as well.
Microsoft's hardware partners such as Dell, HP, Lenovo, and even Razer have all been contributing amazing new laptops to the market. In fact, those companies have released some of the best laptops consumers have ever seen.
Is the Surface Laptop a vote of "no confidence" in those devices? Definitely not, but it is a slap in the face to those companies.
Microsoft says Surface Laptop fills in a gap in its Surface lineup. That makes sense, it still seems out of place.
I'm sure the same team could make a drool-inducing Surface Toaster and Surface Pager, too, but that doesn't mean the market needs those things.
Why all of these complaints may not matter
Not every PC or Surface created fits your personal needs. Maybe you want a laptop with USB Type-C, maybe you need a convertible, or you want a larger display or quad-core processor.
The Surface Laptop is still unlike Apple's highly-criticized MacBook lineup for a simple reason: options. Apple makes macOS and is its only hardware manufacturer. When Apple misses on laptop design or a feature set, its audience has no alternative recourse. Microsoft is adding to the PC mix with Surface Laptop, not creating the world's only PC Ultrabook. If Surface Laptop were the only Ultrabook option for Windows users, you would see much more outrage over the things listed here.
The fact is, PC users have an overabundance of hardware choices.
Is the Surface Laptop too expensive? Not enough ports for you? If so, grab an HP Spectre x360 4K, Huawei MateBook, or a Dell XPS 13. If you want to game on premium hardware, just grab a Razer Blade.
Microsoft's design is not above criticism, but Windows users have far less to worry about if the company has a misses its mark with a new Surface device. There are better and even cheaper alternatives readily available.
Best Surface Pro 4 Alternatives
A few years ago, if you wanted a premium PC experience Surface was about the only option. That is no longer the case, which is a massive victory for consumers.
For my needs, Surface Laptop is the kind of device I can enjoy using and get my job done, too. In the end, that is what this comes down to: You should pick the laptop for your personal needs.
It's OK if the Surface Laptop does not meet your expectations. You have plenty of other options. That is likely a big reason why you're a Windows PC user, after all.
Preorder the Surface Laptop (opens in new tab)
Daniel Rubino is the Editor-in-chief of Windows Central, head reviewer, podcast co-host, and analyst. He has been here covering Microsoft since 2007 when this site was called WMExperts (and later Windows Phone Central). His interests include Windows, Microsoft Surface, laptops, next-gen computing, and for some reason, watches. Before all this tech stuff, he worked on a Ph.D. in linguistics and ran the projectors at movie theaters, which has done absolutely nothing for his career.
1. The price.
2. The price.
3. The price.
4. The price.
5. The price.

Disagree. Surface has always fetched a premium price. A similarly configured Surface Pro 4 is just $25 cheaper. This is old news. Microsoft is not pricing these to destroy their partners, but for those who do invest in them, they have very high satisfaction rates (even beating out Apple for the first time). It's like criticizing Porsche as being too expensive. If you can't afford it, you shouldn't be eyeing it. Regardless, the are sooo many alternatives that are as good and cheaper it makes the point moot.

You're both right. It's design is top of the line so it should be more expensive than similar spec'd laptops. Surface Pro is 2 in one so this should be cheaper. It just came out though so give it time.

" A similarly configured Surface Pro 4 is just $25 cheaper." Yes. And you can detach the keyboard, it brings the pen and you can actually use it comfortably for inking. This is overpriced by Microsoft standards. It's not a question of "their OEMs have cheaper equally good offerings". Here it's more "Microsoft itself offers a cheaper (even if just $25 cheaper) better option".

In fairness though, with this you get a bigger battery and a form factor a bit more suited to laptop mode - it's just nice that if you really wanted a Surface product, you have the option to choose whatever personally suits you better. The price, yeah it's high. Probably could be lower.. And they could've done away with the touch/pen tech to reduce it further, but I think people just expect a Surface product to work with a pen. I mean, what would the reception have been like if it didn't facilitate it?

The weight distribution of the Surface Pro 4 (lapability) is a show-stopper for some people, though, as is its screen size. This would have been a nice alternative for those people to whom that matters a lot. However, the Surface Laptop's awkwardness with the pen bothers me. I can think of people who would enjoy the Surface Laptop but it will keep them from using a pen when a device that makes the pen natural might have won them over. Creating a full fold-over design couldn't have added that much to the price and would have provided worthwhile choice while retaining the emphasis on inking. Maybe in version 2?

This is priced comparable to other premium ultrabooks from Dell, HP and Lenovo. I don't see why you expect Microsoft to be cheaper than others.

Yeah, and this is only to show off the new Windows 10S. They're all giving the opportunity to upgrade to Windows 10 Pro. Let's see a Chrome Book do that. It's for schools and you can be sure that Dell, HP and others will have a much much cheaper versions.

The new Ms only makes what they think we want..they will see soon enough..they don't listen to consumers even with there precious insider programs.

Well, this post is BS because listening to customers is exactly why this laptop happened. As for what people want, a lot of people wanted this and it will no doubt sell more than the Surface Book which had a couple of significant compromises and a base price of $1500, which is why it didn't sell what Microsoft wanted or needed it to sell.

You have forgotten the fact that Surface Laptop has a bigger screen, 13.5" vs. 12.3". This is a big plus for many people. For people without the need of using a pen (fact: >90% don't need and don't want it), the pen is of zero value to them. And don't forget some "alternatives" laptop in the market even don't support touch. So, in the end, it is your choice.

Stop being logical, the mindless trolls will just vote you down.

The price is not a major issue. It is targeting at college students and consumers. But there are design flaws beyond the 5 things mentioned in the article. - Lack of a back camera - for photo taking, Skype for backside pictures and View Mixed Reality It is funny that MS has to use SP4 back camera to do View Mixed Reality demo on stage while the Laptop doesn't even have one. - No flat Tablet mode The video demo shows that students all draw on tablet mode laying flat while the Laptop doesn't even support. It is strange that a $1,000 plus machine nowadays doesn't support either of above two features. What are Panos' team thinking?

"It is strange that a $1,000 plus machine nowadays doesn't support either of above two features. What are Panos' team thinking?" - then you should say Dell XPS, Macbooks are even more strange beause they don't even support touch. So why are some people still complaining a laptop lacking some tablet features???? The question is: is it Surface = tablet = pen friendly???

Why are people complaining that it lacks some tablet features? Because this was presented at an Education conference aimed at K-12 and college kids. Take a look at the use cases for that market and it seems pretty obvious why tablet features are important.

quote "Is 4GB of RAM enough? Microsoft seems to think so, and it lets the company hit a lower pricing tier. But we're not so sure." why dont you say the truth? Is 4GB enough? No, its not. Its a big downside + the ugly fabric around the keyboard is bad too

I agree that 4GB is not enough. However, I disagree about the fabric around the Keyboard. That and the 3:2 aspect ratio are the biggest selling points for me personally, since I hate to rest my hands on a metal body just as I hate using a 16:9/10 display.

That fabric will make your Surface smell like **** in a matter of weeks.

Also, surly it will eventually wear.

Yes it will wear but having now had a Surface Signature type cover for a year on my SP4, it wears very nicely, and naturally. Much like a fine leather item, the wear just adds to the effect. And no, it doesn't smell. And yes, it is survives spills and accidental marks; it wipes clean provided you get on with fixing it quickly.

It is different from SP4. The fabric covers the inner part of the keyboard, the outer part is covered by aluminium. I don't think the inner part is vulnerable to dirt. By the time it wears, you will want to buy a new model.

It's the same material as the Pro keyboards, so no, it won't.

Hand sanitizer, wash your hands after using the restroom ; )

4gb, yes its plenty, but depends what you're doing. Ugly, is opinion... think you'll struggle to find a single article (even from the iOS fanboys) that share your opinion. #KeepEmTrolling

Do you complain about that "ugly fabric" in Porsche, Ferrari, BMW, Mercedes, Bentley, Lamborghini, and so on? Or do you just think it is ugly because it is not available in your 1983 Toyota? But what do those car designers know, who make billions per year from their products that are coveted by millions and even billions of people from around the world. Papple has decided it is "ugly fabric" and he knows better than everyone.

BMW puts some ugly leather in its high end cars, doesn't stop people buying....at all!!

The truth is 4GB is enough. Depending on your task. I have a 4GB and 8GB laptop in use and the 4GB version is just fine. Let the consumer decide. At least there is the option to go for a cheaper 4GB model.

Agreed. If you do web browsing, writing papers, e-mail, Spotify, Netflix/videos, and some picture editing, 4GB will do just fine.

This thing of not being able to upodate memery is stupid, just because they want to make it a bit thinner.

Even 2GB is enough if just for browsing + office apps. 4GB is indeed VERY enough, unless you do extensive video editing stuff. I am quite disappointed that even some experienced nowadays claims 4GB is not enough... that's very misleading indeed.

Sure if you only have 1 tab open. Open up a few tabs and you are out of ram.

I have been using a Core M powered SP4 with 4GB of ram for over a year and everything's been pretty smooth.

They have option with up to 16GB of RAM; https://mspoweruser.com/heres-full-surface-laptop-specsheet/

Sorry Dan, very rare I'd disagree with you, but this should have been starting at a low ~£200 for an ARM or i3 device, with the option of going high spec with the current/similar pricing. This is a beautiful device (if I didn't love my SP3, I'd want one - but I work!!) but if seriously attacking the chromebook market it's WAY too expensive and over-spec'd.

Have you watched any of the presentation of the Surface Laptop? Or even read this article? This computer is in no way a Chromebook competitor. They announced that their hardware partners would be releasing Windows S laptops start at $189. Those are what's supposed to attack the Chromebook market. This is an Ultrabook designed to target the same demographics as the MacBook Air/Pro. It's a direct competitor to those devices and is not supposed to challenge Chromebooks at all. It's like comparing a Prius to a Porsche.

Positioned as such, with Full Win 10, that's fine (and I like it, as I already said), but this is specifically targeted at Education which is simply not a fit. It's over spec'd and overpriced for a WIn 10 S device. How can a Win 10 S device NOT be competing with Chromebooks (and the like) - it's functionality is otherwise too limited. Yes, OK, it's aspirational from an aesthetics perspective, but feel they've shot themselves in the foot with the Edge Lock and Pricing. The aspirational/aesthetics part is the only "Surface"-ness of the device - it isn't pushing boundaries or categories. I'm NOT against this device. I'm NOT against Windows 10 S. Simply put, IMO, this is not the device to launch at an Educational event, except to those exceptionally spoilt students who will, quite simply, get a MacBook Pro/Air etc. - especially when they see this is locked to Edge and Bing.

Would you rather have 20 budget devices made by various OEM's and Microsoft without any premium offerings? You can also unlock them quite easily to become full fledged laptops.

The Chromebook is neither a Prius nor a Porsche. It's a Geo Metro from 1998.

Still if all services are on ios and android now if I'm a iPhone user....most college kids why would I use this vrs my mcbook.

"while I appreciate the extra convenience of touch on my laptop I really do see why Apple has not yet bothered to add it to MacBooks" I see the next disruption that Apple is going to do. If they have the right patent library, they'll take Microsoft's ground work with touch and implement touch properly. However, I just don't see it. Touch has been around for well over two decades and it's not really profoundly different from what it was in the mid 90's. The technology is different but the basic use case for touch is still about the same. To date Microsoft has failed to really take the real-world paradigm and bring it to the virtual PC world the way Apple did with iOS.

@butterscotchcrematorium "same demographics as the MacBook Air/Pro" Who are you kidding? Microsoft does not have a cool factor. Why would you buy an expensive Microsoft device to run Windows? Windows runs on cheap hardware. That's its shtick and it does it well. If you're going to shell out a good chunk of cash you may as well get an operating system that "just works" with hardware that "just works" and a device that keeps its value. Windows laptops simply don't retain their value the way Apple MacBooks do. Microsoft is searching for a new niche. It doesn't have the brand loyalty that Apple does so it can't go proprietary. It's got zero market share amongst mobile devices so it has no actual leverage to affect change. Previously Windows was THE operating system on commodity/cheap PCs. It still is, but, the role of cheap PCs has changed. They're now playing second fiddle to mobile devices where Apple rules and Andoid is playing the role that Microsoft did with desktop PCs (except, Apple learned from their mistakes with the Mac and are much more aggressive about not sitting back with iOS as what they did with Macs and Mac System in the mid-90's). PCs have also shifted towards a more high-end market. There simply isn't any money to be made in the cut-throat <$500 laptop market so they've all pretty much abandoned it. Now they're duking it out with Apple in the $1000+ market, and, that's a market that Apple owns. If you're going to spend $2000 on a laptop, why would you spend it on anything but a MacBook Pro? They retain their value better and they have a social cache that a PC laptop doesn't. The winner in this story is Apple. Microsoft is still trying to figure out how to make its mark in the world that it no longer dominates. A world in which it--for all intents and purposes--does not exist! Sadly (for them, but luckily for consumers), Microsoft has missed the mobile boat, but, at least they have the only desktop OS that supports touch, however poorly it does that (while I appreciate the extra convenience of touch on my laptop I really do see why Apple has not yet bothered to add it to MacBooks).

Buy the cheap one from an OEM partner. Were you listening, they start at $189 which competes against chrome books!

It's also had things that warranted a high price. Now, we get low specs, mediocre design, and a stripped-down OS. You said yourself that it's a weird thing for MS to release in the first place, and that it doesn't exactly do anything well. There's avoiding the toes of the partners and flat-out being an Apple copycat on steroids, which a $1,000 device like this ultimately is. The Surface Pro 4 is cheaper, while coming with a pen and offering a flexible/convertible hardware design. There's 0 justification for locking down the OS, taking away a key accessory, lacking down the hardware, and coming to a higher price point.

According to this revised article, the surface laptop comes in several options with more RAM and larger SSD drives: https://mspoweruser.com/heres-full-surface-laptop-specsheet/

He's right in that, for what you get at $999 (I'm looking at you, 4GB RAM and paltry 128GB SSD), Surface laptop does not offer good value at its entry level price point. The others are debatable, but the entry level is not: it's a poor offering that at MINIMUM should have matched the specs of the Macbook Air they're comparing it against. I'm all for premium designed products, but that needs to extend to the internals. The price differential between 4 and 8GB of RAM in 2017 is not significant enough to compel anyone paying attention to choose 4GB on a premium product. That was a mistake, end of story.

Daniel, no offence, but you're sounding like them shortsighted apple fanatics here. Yes the Surface line has always been premium priced, but you always got advanced functionality to make that price tag easy to justify compared to the cheaper or similar priced OEM competion. That all changed with this Surface Laptop, it's joke compared to similar priced OEM competition, and even compared to the Surface Pro 4. The Surface Pro offers all of the following uses/features over it for the same price tag: - It's 3 times as versatile (a mono Laptop vs a Tablet + Digitizer Drawing Board + Laptop in 1) - Can practically replace ALL your needs for pen and paper (something Satya was clearly too stupid to realize is a big factor for Students) - 2 higher quality webcams (5 MP and 8 MP vs 1 front-facing only 720p webcam). That rear camera is extremely handy for students going paperless, especially with Office Lens in OneNote ( https://is.gd/JqZnjr ) - A higher resolution display (funny how they increased the screen size and gimped the resolution) - A convenient storage expansion port (MicroSD card slot vs being stuck with what you bought or having some dongle sticking out of your Laptop) - Comes with Windows 10 Pro regardless of when you buy it - etc. Money is not the problem here, this is simply an overpriced joke like them apple products, but this time, with a Surface Logo. There's a major difference between being able to afford something and getting separated from your cash like a fool. This laptop makes 0 sense for students compared to the Surface Pro, and I say that as a former University Student who switched from a mono Laptop to a Surface Pro (now using a Surface Pro 2 as my Tablet, Notepad, Logbook, Sketchpad, Laptop, and Desktop).

The laptop should be cheaper than SP4. If the screen size had been larger, then maybe there is a point, but at 1" larger, and just Win10 S (even if it is free now) , what's the compelling argument in buying the laptop over the SP4?

No wonder Microsoft is having a tough time when poeple like this author Daniel Rubino use highly emotive and negative titles just to stir up anger and resentment. 5 things youll HATE about the Surface laptop .... Really .-... thats the best you could come up with ... then diluting the title to '....Will not Like....' ... Really the negativitiy Windows Central Spins constantly about all things Microsoft ... are you sure your not being paid by Google.... I would not be surprised. You are your kind are responsible for trying to kill of public support and interest from Microsfot fans in things like Windows Mobile and not your at it with the latest Surface offering. Either present balanced questions about this tech, or get yourself another job. I cant read anymore of your Microsfot bashing Drivel. Your Title should have been for this article something along the lines of 'New Suface laptop curiosities' becuase the points you raise are curiosities .. they are NOT things anyone will HATE .. or even dislike!" Get a life!

I have an HP Envy ultrabook with less specs for more money. I disagree on the price.... just compare and you'll find out

It's the palm warmer, the fabric that adds to the price!

given that they are trying to compete with the chromebook, they are really costly..

"I'm sure the same team could make a drool-inducing Surface Toaster and Surface Pager, too, but that doesn't mean the market needs those things." Could they make a Surface Phone? Seems to be an actual hole in the lineup there.

Sure. Now what apps do you put on it?

They could make a Surface phone with Android. Windows might be ok on personal computers (PC) but nobody wants it on their personal phones (PP). Any Surface mobile device positioned to compete in the mobile space will be DOA if it runs Windows.

Because you won't buy it? I mean even all dozen of your friends are not going to buy them? That's a research.

How about the same apps as Windows 10 S? If the app store is good enough for the Surface PC, why not the Surface phone? You could even sell x86 emulation mode for $49, just like PC.

The 5 apps that you use :)

According to many x86 converted, but I'm with you on this one, what apps?

The same u wud put on a w10S

Oh geez, come on. Given Nadella's comments the other day, we can all guess that a 'Surface Phone' is probably not happening. Let's stop it with the Surface Phone; it's been finally laid to rest.

After that Microsoft Galaxy S8 thing, it's pretty clear in what direction Microsoft is going in regards to mobile. They want to be everywhere with their services, people are just too entrenched in their Android or iOS ecosystems. Making them change for a promise of something that has already failed is almost impossible.

Nadella said they were working on the ultimate mobile device. Nevertheless nobody ever said Nadella is doing a good job, especially when it comes to consumers and hardware. I think Nadella has been a complete disaster regarding consumers and devices.

I concur, but he's a pro at azure do he should have stayed where he belongs!

Does it fit in the surface dock? Actually, nevermind. I assume all the ports are in the base, not the display. I am looking for reasons to upgrade my SP3!

It does fit with the Surface Dock, which is one reason they kept the ports as is.

Presume that's just the dock released at the same time as SP4, right? Even when closed, I imagine the new laptop is too big to fit in the old vertical dock.

Correct. They had docks there at the event and talk about it in the video announcement too.

Ohh, I have the old vertical dock. Bummer. An adapter looks like it would be very simple to create though.

Honestly, after the overpriced disappointment the Surface Laptop turned out to be, I personally decided I'd rather wait to see the Surface Pro 5 instead. Otherwise, I'm keeping the SP3.

Owning a SP3 (i5/128GB version), I haven't yet felt the need to upgrade. I still find SP3 or SP4 to be a better option over the Surface Laptop.

I have the same SP3 and the same issue. I don't use it as a tablet ever, so I would be ok with the laptop form.

In my opinion the only real downfall, or possible downfall, is just the price. Or maybe keep the price the same but do 8gb instead of 4 and perhaps it wouldn't be looked at as so overpriced.

1. I mean it would be nice, but ive had USB-C on my PC for two years now and still dont own a single device that uses the port. The USB-C takeover is much slower than anticipated. 2. Its a laptop, and doesnt even come with a Surface Pen... who cares? 3. If i wanted a convertible i can just buy a convertible, nobody will buy a laptop they know isnt convertible and complain that its a laptop. 4. Its more than enough for the super basic functions i want a laptop for. 5. Who cares?

Regarding your "who cares" lots of people care. I also give reasons why it is weird. If you spent the last few years criticizing Apple and boasting about 2in1s, convertibles, pen and touch only to release something similar it's just weird messaging.