How to control screen brightness on the Surface Pro 4 and Surface Book using the keyboard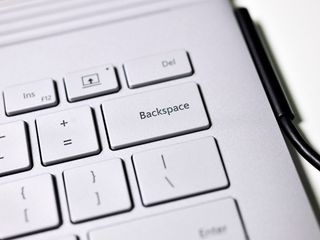 Here is a quick tip for those who own a Microsoft Surface Pro 4 or Surface Book. I've seen quite a few questions – even from pro reviewers – that there is no way to control the display brightness on these devices via the keyboard.
In fairness, Microsoft does make this a bit tricky as the new keyboards have dimming options under F1 and F2 but they are for keyboard backlight and not the display itself.
So how do you do it via the keyboard? As it turns out, this is the same method found on the Surface Pro 3; in fact you can watch our old video above as a refresher:
Simply press [Fn + Del] to increase or the [Fn + Backspace] buttons to decrease the display brightness.
Of course, you can also use the new display brightness buttons in the Action Center with presets at 25, 50, 75 and 100 percent increments.
We suppose Microsoft could make manual display controls a little more obvious, after all many keyboards have specific keys for that function, but for now just remember this trick and you should be all set.
Have you got your new Surface Book or Surface Pro 4? If so, have you checked out the forums?
Windows 10 Help and How-tos at Windows Central
Daniel Rubino is the Editor-in-chief of Windows Central, head reviewer, podcast co-host, and analyst. He has been here covering Microsoft since 2007 when this site was called WMExperts (and later Windows Phone Central). His interests include Windows, Microsoft Surface, laptops, next-gen computing, and for some reason, watches. Before all this tech stuff, he worked on a Ph.D. in linguistics and ran the projectors at movie theaters, which has done absolutely nothing for his career.
How to is getting redundant ;) lol

I know. It's exactly the same shortcut as the Surface Pro 3.

Ohh god, they've actually managed to move it to the other side now, so one is forced to use both hands. Who comes up with these things???? UX fail!!

Daniel OT, sorry, wcentral app is not updated since one year ago...
Forum part is still quite terrible sorry
Any plans?
Thanks

This is Mobile Nations way of saying "Windows on Phones is dead, we can't be bothered"

Exactly. We all use iPhones now and we're shutting this site down at the end of the month, sorry. (Alternative answer: I answered this a few weeks ago on AskDan Ep 10)

I wish I could like this response. LOL.

You can.. View windows central in your web browser and let the liking or up ticking begin.

At least for me, the windows central website is horrible on mobile use. Takes ages to load up with all those crappy and repeating ads. I wish wc would take better care of what ads are allowed on the page and how it slows down the site. I especially hate that annoying ad space on top of the pages almost always blocking 1/3 of the screen space! Fucking google ads! And then there are the constant banners at the bottom scrolling with the page that you have close. Also most ads disable touch scroll when they are on screen...WTF!?

They said a new app is coming... #askdanwindows why didn't you watch it?? Edit: Dan said!!!

Good to know for people switching from Macs or trying a Surface Book for the first time.

very easy step, I didnt know this. thanks

I'm glad news outlets have been posting about this because I assumed the keyboard light buttons controlled the screen brightness lol. I'm loving my Surface Book i7 8GB with dGPU!!!!

Yay! That was driving me nuts having to mess with the screen every time.

Technically harder to do one-handed now. This has been there for years, but was super easy to do one handed since the Fn key and Del/Backspace were all on the same side of the keyboard. But alas, the new keyboard layout means the Fn key has migrated to the other side of keyboard, so now it's two-handed brightness adjustment.

Do you use a keyboard with one hand?

You mean when I'm scrolling a webpage? Or casually watching a video as I snack upon something? Yes: Indeed. When I'm not doing anything that requires real keyboard usage, I frequently have one hand on the trackpad, and I just sometimes like to quickly reach over and adjust the brightness. Right thumb on the Fn key, middle finger on Del/Brightness. Really quick and easy for when I'm just chillin'. I'm not saying this is like make it or break it for the Surface Book nor Surface Pro 4, I'm just saddened that one of the little details requires me to use two-hands to adjust the brightness. #FirstWorldProblems, I know.

I do it with just my right hand on my Surface Pro 2 + Type Cover 2; thumbs on the Fn key, middle-finger pressing Del or Backspace key. Wouldn't be any more difficult on the Surface Pro 3 Type Cover. On the new Type Covers, more easy to initiate from the regular placement of the hands on keyboard; left pinky-finger on Fn key, rigght pinky finger on Del or Backspace key...

This was super useful, did not know this shortcut... click on the action centre and then adjust is definitely cumbersome.
BY THE WAY, anyone else just got nearly 100 updates in the app store? How come so many apps updated all at once? Or was it a glitch?

Re: updates, it's a glitch that happens

Best tip evah! I usually pop open the notification panel and jump to 25-50-75-100% brightness

Thank you thank you thank you. Even if this is a repeat, thank you. I was getting really super angry about not being able to do this any more! Being able to have finer grain control and go below 25% at night is super important for me.

Dan, do you know if they are going to have software upgrades to allow the new surface pen to work with programs like Krita? There was a workaround for the surface pen that came with pro 3, but for some reason the new pen doesn't work with Krita. (sorry to be off topic)

Just picked up a new SP4 on the way home from work. Finished all the updates and loaded the core apps I rely on and came to WC for the first time on it. So this was my first SP4 tip! And I did not already know it. Wicked device. Keyboard is fantastic. And Hello is far better experience than I was expecting. But the fingerprint scanner is fast too.

Yes!!! Thank You! Coming from a macbook it was driving me nuts not having a keyboard short cut for it.

Do yourself a favor, buy TouchMe Gesture, awesome app...

MS could have added a small icon on the left of the DEL and Backspace.

The is the worst Launch of a new product that I have ever experienced. My Surface Pro 4 is 2 days old and has locked up about 12 times. Now after trying a recovery to start fresh I locked up at 99% and now will not reinstall windows from the recovery. Total Fail Microsoft. P.S. the Surface does NOT play well with Google apps. This is going back to Best Buy

I'd say you got a defective unit; it happens... Try exchanging first and see if the experience is better. Regarding Google support, all their services are available via the web as is the case for all PCs.

I restored mine but DON'T pick erase all files securely. It will secure wipe the entire drive which physically takes time no matter the brand of the machine. The system has to write all 0s to the entire disk and this takes long. Do a restore and pick delete files Not secure erase (first option). It only takes around 20 minutes to complete.

Oh god you are my savior! They should have printed this out on the keyboard! Thanks!

Great, being unable to do this via a dedicated shortcut was driving me nuts as well! Not sure why they didn't make it obvious for Surface's keyboard.
Windows Central Newsletter
Thank you for signing up to Windows Central. You will receive a verification email shortly.
There was a problem. Please refresh the page and try again.