Surface Pro 7 review: Microsoft's king of the 2-in-1s retains its crown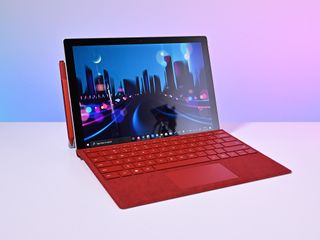 (Image credit: Daniel Rubino / Windows Central)
Last year, I reviewed the Surface Pro 6 and concluded that "an already exceptional 2-in-1 gets even better." That is the same story this year for the Surface Pro 7, and while that may sound monotonous, it reinforces just how crucial and intriguing the Surface Pro is after seven generations.
Now, with the latest iteration going on sale October 22, 2019, the Surface Pro 7 has become one of my favorite PCs despite all the great choices on the market. The new Intel 10th-Gen processor, Iris Plus graphics, and Intel Wi-Fi 6 go a long way. Oh, there's also that nifty USB Type-C universal port.
Here's why the Surface Pro 7 earns a near-perfect rating.
(opens in new tab)
From $749 (opens in new tab)Bottom line: While the Surface Pro 7's exterior looks like last year's model (and the year before that), the new 10th Gen Intel processor and Iris Plus graphics bring some serious horsepower to one of the coolest PCs around. The new USB Type-C port greatly expands its abilities, and switching to Intel for Wi-Fi goes a long way to perfecting this already great convertible.
For
Exceptional performance for Core i5 version.
USB Type-C.
All-day eight-hour battery.
Instant On and resume.
Best 2-in-1 form factor.
Against
No Thunderbolt 3.
No LTE.
No Dolby Vision or anti-glare display.
Bezels look dated.
Just the important stuff
Surface Pro 7 what's new for 2019
The Surface Pro 7 looks exactly like the Surface Pro 6 and Pro 5, but that betrays all the small – but not immaterial – internal changes, which include:
USB Type-C 3.1 port (replaces Mini DisplayPort).
Wi-Fi 6, 802.11ax compatible.
Bluetooth Wireless 5.0 technology.
Change from Marvel to Intel wireless.
Instant On (never hibernates).
10th-Gen Intel processors (10nm "Ice Lake").
Iris Plus graphics.
DDR4 RAM.
Surface Connect+ with fast charge.
Dual far-field Studio Mics.
New color Type Covers (poppy red and ice blue).
The new banner feature is USB Type-C, which replaces the aging Mini DisplayPort. Microsoft is finally making this change across its entire Surface line, including Surface Book 2, Surface Pro X, Surface Studio 2, and Surface Laptop 3.
While this Type-C port is not Thunderbolt 3, it can power dual 4K displays (60Hz), act as a charging port, use hubs, and transfer data. It's now a universal port, and it is quite powerful even if it can't power an external GPU (eGPU).
For those looking for more specifics, the Surface Pro 7's Type-C port supports USB 3.1 Gen 2 (10GB/s) and DisplayPort 1.4. That also means it can accept high-capacity Type-C wall chargers ranging from simple smartphone ones at 5 watts and up to at least 65 watts while using fast charge. The laptop can likely utilize even 100W Type-C chargers, although those are rarer, and it is not clear if the Surface Pro 7 will utilize that extra power. At the very least, it means you can use a 65-watt Type-C charger and get similar benefits as the Surface Connect+ one.
The switch from a Marvel wireless chipset to Intel is also noteworthy. Microsoft has been using Marvel for the last six generations of the Surface Pro, and while it has improved over time, it also caused some headaches for many users. By switching to the latest Intel chip (AX201), the Surface Pro 7 now supports 2.4Ghz, 5Ghz (160Mhz) and Wi-Fi 6, making it ready for the future.
Category
Surface Pro 7
Operating system
Windows 10 Home
Display
12.3 inch Pixelsense, 3:2 aspect ratio, 2736x1824 (267 PPI)
Processor
10th Gen Intel Core i3-1005G1
10th Gen Intel Core i5-1035G4
10th Gen Intel Core i7-1065G7
Memory
4GB LPDDR4x
8GB LPDDR4x
16GB LPDDR4x
Storage
128GB SSD
256GB SSD
512GB SSD
1TB SSD
Rear camera
8MP autofocus (1080p)
Front camera
5MP (1080p)
Security
Windows Hello face authentication camera
Connectivity
Bluetooth 5.0
Wi-Fi 6
Ports
One USB-C
One USB-A
One microSDXC
One Surface Connect+
Surface Keyboard connector
3.5mm headphone jack
Battery
Up to 10.5 hours
Size
11.5" x 7.9" x 0.33" (292 mm x 201 mm x 8.5 mm)
Weight
i3, i5: 1.70 lb (775 g)
i7: 1.74 lb (790 g)
Colors
Platinum
Black
The change to 10th-Gen Intel processors is expected but not to be overlooked. As demonstrated in our benchmarks, this is a significant improvement in performance that we have not seen in some time. The same goes for the new Intel Iris Plus, which offers a modest boost for graphics of last year's Intel UHD 620.
Microsoft also added "fast charge" to the Surface Connect port (now called Surface Connect+). It uses the same 65-watt charger as previous Surface Pros, but it can now charge the battery quicker.
A feature that was briefly glossed over by Microsoft is the new "Instant On" ability, thanks to a combination of that Intel 10th-Gen processor and some tweaking Microsoft has done. The Surface Pro 7 never enters hibernation like every other Windows PC or Surface before it. Instead, it is always in instant standby, so there is never any waiting for it to engage when you open the Surface Type cover. Whether you leave the Surface Pro 7 for two minutes or seven hours, it will always be ready to use, similar to how Qualcomm ARM PCs behave. This change is an extraordinary feature that makes the Surface Pro 7 similar to how an Apple iPad Pro operates.
The upgrade to DDR4 RAM (up from DDR3), improved dual "Studio Mics" for Skype or calls on Microsoft Teams, and adding two new colors to the Surface Type Cover line are minor tweaks, but still positive ones.
Looks the same but that's OK
Microsoft Surface Pro 7 design
The overall design for the new Surface Pro 7 is the same as the Surface Pro 6 and Surface Pro 5. Colors for the Surface Pro's chassis are still matte black, which was introduced last year, or the traditional platinum color.
The power and volume keys are located on the top left of the Surface Pro. The Type-C, Type-A, and Surface Connect+ ports are located on the right side while the optional Surface Pen can magnetically stick to the left side.
Interestingly, the new Surface Pro X, which is made from the ground up for Qualcomm's Snapdragon 8cx, steals the design thunder from the Surface Pro. It's rumored Microsoft will bring similar design changes to the Pro line in late 2020. While thinner bezels would have been lovely for the Surface Pro, it's tough to be upset with its design, which works well even in 2019.
Great but could be better
Microsoft Surface Pro 7 display
Of all the changes to the Surface Pro 7, the lack of any to the display – especially when compared to other PCs – is the biggest frustration. It's still a superb screen and enjoyable to use, but Microsoft is falling behind the competition, not leading. The display is effectively the same as Surface Pro 6. Some enhancements in power consumption and minor tweaks likely have occurred, but there are no apparent differences.
The 12.3-inch LCD screen supports a resolution of 2736 x 1824 (267 PPI) with a 3:2 aspect ratio. Microsoft still offers two presets for the color gamut, including sRGB for color accuracy (photo editing) and "enhanced," which brings punchier colors and more contrast ideal for movies or regular usage.
Our brightness measurements pegged the Surface Pro 7's max output (100 percent) at 410 nits, while its minimum (zero percent) is barely visible at 2.8 nits. While good, the Surface Pro is beginning to fall behind competitors, who are achieving 500+ nits of brightness. That also translates into the lack of HDR400 (where 500 nits are needed) and the lack of Dolby Vision certification, something that is more mainstream.
Color accuracy is a decent 98 percent for sRGB, 73 percent for AdobeRGB, and 72 percent for DCI-P3. While those are good results, they are below that of something like the new Dell XPS 13 2-in-1, which achieved 100 percent sRGB coverage with AdobeRGB at 76 percent and DCI-P3 at 81 percent.
The Surface Pro 7's display is also still glossy with no anti-glare layer. Companies like HP, Dell, and Lenovo are investing heavily in anti-glare technology. The tech keeps the benefits of glossy displays, such as accurate color reproduction and wide color gamut, while also reducing reflectivity. That ability helps to lessen eye fatigue, and unfortunately, Microsoft has nothing to contribute here.
Another trend that Microsoft is missing out on is the push towards OLED displays. However, many users prefer the more natural look of LCD, making that more a subjective and personal critique.
New colors
Microsoft Surface Pro 7 pen inking
If you want to use digital ink on the Surface Pro, you need to shell out an extra $99 for the Surface Pen (opens in new tab) (although there are cheaper alternatives.
For 2019, there are two new colors for the Surface Pen that match the new Type Covers (opens in new tab): poppy red and ice blue.
There is nothing new with the Surface Pen this year, so those who are upgrading can easily use their current Surface Pen and Surface Type Covers, saving $260.
The pen still has the same 4,096 levels of pressure, supports tilt, rotation, and Bluetooth. Activation force – the amount of pressure required before the pen activates – is nine grams. Microsoft also maintains just 2.1 milliseconds of inking latency from last year's model due to the inking co-processor that's part of the Surface Pro 7 display. That co-processor connects the GPU to the screen's digitizer and helps speed up pen calculations.
Best Surface Pen and Surface Slim Pen Alternatives in 2019
Microsoft has steadily improved both the firmware for Surface Pen and made better apps with more significant support, such as Microsoft To Do, OneNote, and Sticky Notes 3.0.
Microsoft also has a new Surface Slim Pen designed for the Surface Pro X. While that pen works with the Surface Pro, it doesn't seem to make much sense to spend the extra cash for it over the regular Surface Pen. The changes are mostly in the design.
New colors
(opens in new tab)
Unleash your creativity

Just because Microsoft has a new stylus out, doesn't mean you necessarily need to buy it over the classic Surface Pen. This stylus still has excellent potential for creative work.
So fast its instant
Microsoft Surface Pro 7 Type Cover, Windows Hello, and resume
Typing on the Surface Pro 7 is still just as excellent as it has been for the last few years. The keys are three-stage backlit with 1.3mm of travel.
The new Type Covers don't have any new features or improvements. The trackpad, which uses Microsoft Precision drivers, is the same physical size as last year's and still works wonderfully considering the size restrictions.
Following the Type Covers from Surface Pro 5 and Surface Pro 6, the Pro 7's new Type Cover also had dedicated keys for changing the display brightness.
Everything you need to know about Alcantara
The new Type Covers also feature the Alcantara cloth material, making them extra comfy. Retail price is $160 and is not included with the Surface Pro, making it an additional but necessary purchase for most people. For those looking to save some money or who prefer a black cover with no Alcantara, Microsoft still sells that Type Cover for $130 (opens in new tab).
Windows Hello facial recognition is still present thanks to the 8MP (1080p) front-facing camera and sensors. That system is now flanked by two microphone holes for what Microsoft is referring to as Studio Mics. Those mics give a considerable improvement for video teleconferencing.
The Surface Pro 7 also includes a world-facing 5MP (1080p) camera ideal for whiteboard and OneNote use. Both it and the front-facing camera are some of the best on any PC on the market.
Windows Hello activation is now even speedier than last year's model. These small details are what separate Surface Pro from everything else on the market. By the time you drop the Type Cover and open Windows Hello, Surface Pro 7 will have already logged you in even after hours of nonuse. It's a fantastic experience and easily the fastest system I have tried.
New colors
(opens in new tab)
Surface Pro Signature Type Cover
With Alcantara fabric finish

The Pro 7 brings a couple of new Signature Type Cover options, available in poppy red and ice blue colors. You still get a backlit keyboard and a Precision touchpad.
A massive performance boost
Microsoft Surface Pro 7 benchmarks and battery
Microsoft is one of the first to adopt Intel's new 10nm 10th-Gen Core U-series processors. There's always a lot of hype around new Intel products, but the 10th Gen series delivers on that excitement. A Surface Pro 7 with a fanless Core i5-1035G4 will beat last year's Surface Pro 6 with an actively cooled Core i7- 8650U processor. That's an astonishing result.
Both Geekbench 4, Geekbench 5, and PCMark 10 show that Intel's 10th Gen series brings a serious performance boost. The fact you can now buy a fanless Core i5 Surface Pro and get more performance than last year's Core i7 – all for a lower price – is a massive win for consumers.
Geekbench 5
Geekbench 5.0 (CPU) (Higher is better)
| Device | CPU | Single core | Multi core |
| --- | --- | --- | --- |
| Surface Pro 7 | i5-1035G4 | 1,191 | 4,441 |
| Surface Pro 7 | i7-1065G7 | 1,205 | 4,852 |
| Surface Pro 6 | i7-8650U | 1,113 | 3,519 |
| Surface Pro 6 | i5-8250U | 904 | 3,440 |
| Surface Laptop 3 13.5 | i5-1035G7 | 1,177 | 4,413 |
| Surface Laptop 3 | Ryzen 5 | 769 | 2,720 |
| Dell XPS 13 2-in-1 7390 | i7-1065G7 | 1,209 | 3,571 |
| Dell XPS 15 7590 | i9-9980HK | 1,176 | 7,624 |
Geekbench 4
Geekbench 4.0 (CPU) (higher is better)
| Device | CPU | Single core | Multi core |
| --- | --- | --- | --- |
| Surface Pro 7 | i5-1035G4 | 5,245 | 17,350 |
| Surface Pro 6 | i7-8650U | 5,037 | 13,864 |
| Surface Pro 6 | i5-8250U | 4,287 | 14,031 |
| Surface Pro 5 | i5-7300U | 4,302 | 8,482 |
| Surface Pro 5 | i7-7660U | 4,513 | 9,346 |
| Surface Pro 4 | i5-6300U | 3,319 | 6,950 |
| Surface Laptop 3 13.5 | i5-1035G7 | 5,265 | 17,345 |
| Surface Laptop 3 15 | Ryzen-5 | 3,985 | 12,079 |
| Surface Laptop 2 | i5-8250U | 4,203 | 13,233 |
| Surface Laptop | i5-7200U | 3,725 | 7,523 |
| Dell XPS 13 2-in-1 7390 | i7-1065G7 | 5,459 | 19,097 |
| Razer Blade Stealth | i7-8565U | 5,139 | 16,339 |
| Dell Latitude 7400 2-in-1 | i7-8665U | 5,469 | 15,800 |
| HP Spectre x360 13t | i7-8565U | 5,056 | 14,767 |
| Lenovo Yoga C930 | i7-8550U | 4,787 | 15,028 |
PCMark
PCMark 10
| Device | Score |
| --- | --- |
| Surface Pro 7 i5 | 3,992 |
| Surface Pro 6 i7 | 3,644 |
| Surface Pro 6 i5 | 3,501 |
| Surface Laptop 3 15 | 4,006 |
| Dell XPS 13 2-in-1 7390 | 4,427 |
| Dell XPS 15 7590 | 5,521 |
| Dell XPS 13 2-in-1 7390 | 4,427 |
| Dell Inspiron 13 7390 2-in-1 | 3,764 |
| HP Pavilion x360 14 | 3,558 |
| Lenovo ThinkBook 13s | 3,468 |
GPU
Geekbench 5.0 OpenCL (higher is better)
| Device | GPU | Compute score |
| --- | --- | --- |
| Surface Pro 7 | Iris Plus | 7,613 |
| Surface Pro 6 | Intel UHD 620 | 5,396 |
| Surface Laptop 3 15 | Vega 9 | 11,334 |
| Surface Laptop 3 13.5 | Iris Plus | 9,811 |
| Dell XPS 13 2-in-1 7390 | Iris Plus | 10,406 |
| Dell Inspiron 13 7390 2-in-1 | Intel HD | 5,632 |
| Dell Precision 3541 | NVIDIA Quadro P620 | 12,469 |
SSD
CrystalDiskMark (Higher is better)
| Device | Read | Write |
| --- | --- | --- |
| Surface Pro 7 | 2,040 MB/s | 809 MB/s |
| Surface Pro 6 | 1,632 MB/s | 814 MB/s |
| Surface Pro 5 | 847MB/s | 801 MB/s |
| Surface Laptop 3 15 | 2,028 MB/s | 806 MB/s |
| Surface Laptop 3 13.5 | 2,338 MB/s | 1,583 MB/s |
| Surface Laptop 2 | 1,509 MB/s | 811 MB/s |
| Surface Laptop | 486 MB/s | 244 MB/s |
| Surface Book | 1,018 MB/s | 967 MB/s |
| Dell XPS 13 2-in-1 7390 | 2,400 MB/s | 1,228 MB/s |
| Huawei MateBook X Pro (new) | 3,416 MB/s | 2,779 MB/s |
| HP Spectre x360 13t | 3,085 MB/s | 1,182 MB/s |
| LG gram 14 2-in-1 | 558.1 MB/s | 523.1 MB/s |
.
While I didn't get a chance to test the new Intel Core i7-1065G7, I can imagine it is the fastest 15-watt chip around.
Thermals – even on this passively cooled Core i5 – are excellent. During a 25-minute benchmark, the system was merely warm at 91 degrees Fahrenheit (33 degrees C). Those numbers could go up in a more heated room or during the summer, but in most office environments, those results should hold.
After having the Surface Pro 7 just short of a week, I cannot conclude if it is better for my daily handling. Microsoft is now claiming 10.5 hours of "typical usage." The company is adjusting how it estimates battery consumption, moving away from the misleading video-loop test to a more real-world experience. That test now consists of the Surface Pro 7 running a web browser with 10 tabs open and all the Microsoft Office apps running simultaneously.
For a synthetic battery test, I ran PCMark 10's new battery benchmark dubbed "Modern Office." That benchmark runs through a similar analysis of web browsing, video conferencing, Microsoft Office apps, with some idle time in between. My results pegged Surface Pro 7 with a Core i5 at eight hours. That's not bad, but the Surface Pro 6 with a Core i5-8250U was closer to 10 hours. It's difficult to conclude if that's because the 10th Gen Core i5 runs at a higher peak clock speed (3.7GHz vs. 3.4GHz), because the drivers are not as optimized yet, or a combination of both. Still, that eight hours is considered "all day" by most people.
The new Intel Iris Plus graphics also deliver a nice boost. Iris Plus falls right between last year's Intel UHD 620 and NVIDIA GeForce MX150. That means it is OK for photo editing, occasional video editing, and arcade-style gaming.
Anything related to gaming, or heavy GPU usage though is taxing on the battery. Playing the arcade-side-scroller Broforce (opens in new tab) for 10 minutes dropped the battery by a whopping 10 percent. Stretched out, that means many games would kill the Surface Pro after 90 minutes on the battery.
Luckily, the new fast charge feature for Surface Connect+ and the Type-C port somewhat saves the Surface Pro 7. Microsoft claims 0-80 percent in about an hour, but my experience places it nearer 0-70 percent. That is still terrific, though, and even after a 30-minute charge, the Surface Pro 7 jumped from 56 percent battery to 86 percent.
Because of the Type-C port, users are now also free to leverage portable Type-C battery packs with the Surface Pro 7, an excellent option for those away from a wall outlet.
Battery drain while not in use seems non-existent or very minimal. Left overnight for seven hours, the Surface Pro 7 lost only three to four percent of the battery.
The SSD for Surfaces has always been just OK, and that is the case here. The 256GB model yields 2,000MB/s for read, while writes were only at 800MB/s, far below the industry average. However, most people experience read performance, and there the Surface Pro 7 is closer to typical laptops. It's also an improvement over the Surface Pro 5 (847MB/s) and Surface Pro 6 (1,600 MB/s). It should be noted that due to the parallel nature of SSD storage, the 512GB and 1TB options are likely to improve those speeds too.
Buy or not?
Microsoft Surface Pro 7 still amazes
It may be hard to get excited about the Surface Pro 7. But part of that disappointment is that Microsoft effectively figured out what Surface Pro should be like with the Surface Pro 4 and Surface Pro 5 (2017). Since then, it has been merely tweaking it in all the right ways. Surface Pro 7 is an extension of that.
Previous problems like loud fans, underperformance, or miserable battery life put the Surface Pro out of reach for my needs. The Surface Pro 7, though, is almost everything I want in a portable PC. Performance is excellent, typing and audio are still the best of the bunch, and battery life gets me through the day.
That Type-C port brings so many new options to the table, drastically increasing the Pro's abilities. I can now use portable displays like the excellent Lenovo ThinkVision, mobile battery packs, hubs for port expansion, or use my phone charger in a pinch.
While Thunderbolt 3 would have been fantastic, I still contend that most people want those universal abilities I mentioned. Using an eGPU is cool, but this is still a very niche case, one that I believe will drop dramatically once Project xCloud's game streaming comes to PCs.
The Windows Hello login and resume speeds (Instant On) are so fast that I could mistake this for a Qualcomm ARM device. That matters when you are opening and closing the Surface Pro dozens of times a day and brings it closer to behavior to the Apple iPad Pro.
My only letdown is the Pro's display. Don't get me wrong it's excellent and looks fantastic. But the rest of the industry is adopting HDR400/Dolby Vision, and anti-glare technology, and Microsoft is not adding to that story. Windows 10 now supports playing HDR games and apps and wide color gamut apps, but the Surface Pro's hardware doesn't. That's unfortunate. If Surface Pro is supposed to represent the best of Windows 10, it's failing there.
There is also the lack of an LTE option, but it is apparent Microsoft is keen on positioning the new Surface Pro X for that use case.
While the bezels look a bit dated, I'm also not taking points off. The fact is, a lot of people don't care that much and it doesn't distract from the usability expeirence. That said, if the display bezels really bother you, consider either the Surface Pro X or pin your hopes on Surface Pro 8 likely in 2020.
For most users, the Core i5 Surface Pro 7 is the ideal choice. Going by benchmarks, the Core i3 model should also do quite well, though it is still just a dual-core chip versus the i5 and i7, which are quad-core. The SSD and RAM are non-upgradeable, so buy what you will need.
The Core i7, which is likely enormously powerful, also brings a fan, so keep that in mind if you dislike the idea of an actively cooled system. That model is likely ideal for those who want to use a desktop dock where the Surface Pro will do double duty as a portable and desktop PC daily.
Overall, I am more impressed by the Surface Pro 7 than I expected when I started this review. It's simply terrific. It proves that the Pro's design is not only here to stay but that this the best iteration of it. While the price is still high ($1,200 for a Core i5, 8GB of RAM, and 256GB of storage, not including Type Cover and Pen), that "Surface tax" is well earned. No other manufacturer has been able to make such a compelling 2-in-1 like the Surface Pro 7, despite many attempts.
Better and faster than ever
(opens in new tab)
Type-C and 10th Gen Intel are game-changers

Microsoft has finally added a loaded-out USB Type-C port to the Surface Pro 7. When combined with Intel's latest 10th Gen processor and GPU, this year's Core i5 blows away last year's Core i7 all without a fan. Minor tweaks to the RAM, going to Intel for Wi-Fi 6, and Instant On ability make this Surface Pro 7 an absolute joy to use.
Daniel Rubino is the Executive Editor of Windows Central, head reviewer, podcast co-host, and analyst. He has been covering Microsoft here since 2007, back when this site was called WMExperts (and later Windows Phone Central). His interests include Windows, Microsoft Surface, laptops, next-gen computing, and arguing with people on the internet.
Great review as always. This is a big deal that cannot be overstated: "Windows Hello activation is now even speedier than last year's model. ... By the time you drop the Type Cover and open Windows Hello, Surface Pro 7 will have already logged you in even after hours of nonuse. It's a fantastic experience and easily the fastest system I have tried." And the SP7's i5 blows away the SP6's i7? Awesome.

It's so good! The Pro 7 was on my couch all night, just grabbed this morning: instant on, no hibernation/sleep. It's a game changer and one that steals a bit of thunder from Pro X and ARM in general.

I think I read elsewhere that the Pro 7 has a 72 or 78 hour standby before truly hibernating. They said the fast wake is great too! I suspect the Pro X will have similarly fast wake, but much longer standby time. Still very happy Microsoft have gotten this so good on an Intel system.

120hz OLED would avoid having to burn your eyes to get HDR-worthy contrast/color, and fight reflections better than the usual mud coat that low brightness lcd has made standard, and its 120hz!

tbf, I have not seen an 120Hz OLED laptop displays yet.

But also greatly decrease battery life unless you only use dark mode in programs and the OS can smartly handle the 120hz (otherwise the screen would use twice the amount of energy roughly speaking).

This is awesome! I've always been a fan of the Surface Pro series. If they made these with 32GB RAM, I'd jump on this in a heartbeat.

Hopefully there's a sweet Cyber Monday sale on this and I'll get it. It'd be nice to get the matte black, but an extra $300 just to double storage from 128GB to 256GB is ridiculous.

"An extra $300 just to double storage from 128GB to 256GB is ridiculous." Totally ridiculous! Unfortunately for me I'd just have to spend that money.

Yes, the storage pricing is insanity. It's double what Apple, or anyone else in the industry for that matter, charges. Or if you want to go to 512GB, it will cost you $600 just for that. In my opinion, that is unacceptable, and I would never spend my money on that kind of highway robbery.

I love my Surface Pro even though it has been a buggy mess, especially with the Surface Dock. Every firmware update brings some new issue. Whatever, I will deal with the workarounds, but it would be nice if Microsoft could tighten the ship. Maybe newer models are better. It is tough calling it a convertible it 2 in 1 though. It is a laptop with a removable keyboard. The interface is almost unusable as a touch only tablet. We are now like 5 years since the Pro 3 was released. It is time they put an actual tablet mode into Windows. When you remove the keyboard, the interface should totally transform. I agree this is a great machine, but at version 7 those bezels and lack of a touch interface should start being addressed.

The dock has been a buggy mess for me too (that's about 3 years). But about a month ago basically all my problems with the dock disappeared. It sleeps properly, doesn't swap monitor signals, doesn't drop USB signals, etc. I think real tablet mode is never coming to SP7 or older. I think W10X is the only way forward regarding touch on Windows. The ads for 10X devices (basically, Neo) look promising, though.

That is probably the same update that made all my problems come back! With no true tablet mode, it is tough to call this a 2 in 1. Hunting and pecking those little targets in Windows isn't fun with a human sized finger.

Yeah I hear you. I get by using a third party gesture system, plus I'm a heavy OneNote user, so a Windows detachable is right for me.

There will be a "leak" to install 10x on normal devices, I'm going to bet. Even Windows on ARM is out there to install on devices.

I mostly agree with this, though I do think W10 is usable as a tablet (when setup right with GestureSign etc) just very bland with the animations which makes it feel stiff/clunky (especially in tablet mode). I noticed it has been improved slightly, e.g. the keyboard appears more consistent and the swiping works pretty good. Iirc they did say they will improve touch for desktop mode or something like that, looking forward to those changes.

There is nothing that is done in tablet mode that can't be done in desktop mode. This means that tablet mode adds NOTHING to the user experience or productivity. Since tablets, like SPs, are real computers NO ONE uses tablet mode and it needs to be eliminated.

The sad thing is Microsoft refused to add Thunderbolt 3, so Surface products STILL aren't compatible with most all standard docking stations out in the wild. These things are using old technology and charging absolutely insane prices. No thanks.

I must be ignorant on this, but I see plenty of USB C docks on Amazon. The article says two 4K screens are supported as well. I would love to see Thunderbolt, but only for eGPUs.

No I think have you have good argument. I think the advantages of Thunderbolt are slightly exaggerated. Newer versions of Usb-c (3.1, upcoming 4 etc) should do by far most things that Thunderbolt can do. As you say eGPU's are still the clear exception but that seems very niche to me with Surface devices (especially since eGPUs are quite clunky and expensive and losses/bottlenecks, from that perspective I think xCloud or a seperate mini itx gaming pc is more attractive for now).

Most standard docking stations are Type-C 3.1 not TB3 because TB3 ones are VERY expensive. They're also not very good at being backward compatible. See, if you have a TB3 laptop a Type-C dock works. If you have a TB3 dock and Type-C laptop, well, you may have issues. Same with buying a TB3 portable drive. Very expensive, doesn't work on just Type-C devices.

To be honest this device is sold at a premium so I would expect it to have TB3. There is zero reason to not put it there.

Which docks absolutely require Thunderbolt 3? Daniel Rubino keeps plugging non-TB3 laptops into USB-C docks in his reviews and they work.

I have mine pre-ordered at my closes MS Store, it will be ready for pickup tomorrow. I initially struggled with which model to get but I need guaranteed 32-bit compatibility, I also have some 64-bit only programs. None of that would be possible with the Pro X. Just looking at the pictures and videos, I think the Pro X has a better design but that ARM chip is keeping me from getting it.

I have been unable to get 8 hours on a sp6 i5 8gb 128gb ever. 50% brightness, low performance mode, and only using edge and one note. I've tried 2 different sp6s and can't get more than 6.5 hours. I'm skeptical to say the least on the battery life claims.

I manage to get about 8 fairly regularly on my SP5 i5/8/256. But if course it really depends on what you're doing. If all I'm doing is OneNote, Office and PDF with minimal Wi-Fi use, I can even get 9 hours. But with Wi-Fi always on and software like Stata running my code over and over again, I'm lucky to get 6.5 hours. With Matlab it's worse. Netflix and YouTube (via myTube) don't help. This is assuming zero gaming. Also, of course, the older the battery is, the worse it is.

I don't know what I do to my devices but I don't get anywhere near that. I had a SP3 that, at time of purchase for ~5 hours light use (or what I would consider light use) and 3 years later gets less than 1 hour. I now have an SP6 that's about a year old and I can't get more than a few hours out of it. I've always been amazed at battery life reviews as they're just nonsense to me.

I could see this happening if only because the Pro's battery is just flat out smaller than most laptops.

It really depends on what you do. Also, if you have a fanless Surface Pro, I suspect the device is more susceptible to battery damage (at least, I think that's what happened when my first SP5's battery life went over a cliff last year.) But I can assure you I am a heavy user, doing several presentations a day on some days, and I can get 8-9 hours on my Surface Pro 5 (that is, the second one, the warranty replacement!). Today, for example: I'm on track for 9 hours and Wi-Fi has been on most of the day. Another thing that I've noticed is that the SP5 is a lot like mobile devices in that if you charge it fully and then restart the device while plugged in, or charge the device while shut down and restart it when still plugged in - and do this maybe once a month - the battery life is better. Also, Microsoft recommends running your battery down to ~10% once a month, which I try stick to. Maybe these little things are making a difference for me.

Thanks for an excellent and very useful review - as always. It appears that MS has improved on many aspects of what was already the perfect 2-1 device - USB C port not least. That is really great. I have no problem with them not going for a slimmer device, but as you point out they could have been expected to improve on the screen - both quality and size (with smaller bezels). However, as you also point out; the screen is already excellent, so it's not a major issue. My only real concern is battery life in particular with a bit graphics intensive apps. Not just with light gaming (though I like to do that from time to time) but also using it for drawing, photo editing and such. It seems that you should only use it for office on battery. To me, that is really dissapointing. I think I will wait for the review of the Pro X before deciding.

I would love to see a Surface Pro X with an Intel processor.

Seeing them side-by-side in the Microsoft Store, the SP7 doesn't look too dated (in black). The SPX definitely has the better design but I didn't notice much of a difference in the screen sizes. Holding it in landscape mode was a bit more different. The main things I noticed were the lighter weight and the wireless charging Pen. I'm not sold on Windows ARM though. We will see what Intel and MS do next year with performance and thermals.

You might not believe this.....I didn't either until I looked at the tech specs - The Surface Pro X weighs the same as the SP7 i5. Although it is thinner it isn't lighter. At least according to the Tech Specs when I looked them up to compare. The Pro X is the same weight as the i5 SP7, 0.04lbs lighter than the i7 SP7. I was surprised. I've not tried them in person but this is what I saw on the MS Store - Both 1.7lbs IIRC according to that. I have been using my Surface Go a bit more when travelling (also have a Surface Book 2 i7) and realised how much I like it and why I originally bought it as a companion device. It's got me thinking I should cancel my Surface Pro X pre-order because it's no lighter than a Pro anyway, and I got the Go as a super-light super-small full PC and tablet for when I'm travelling - It just has really bad battery life lol.

I think the battery life gains from 7th Gen to 10th Gen Intel have been big (from my own experiences plus reviews of various devices). But if you're still not satisfied, one option is to go into power settings and reduce the max cpu power to, say, 75% of max when unplugged. I've done that with previous Surfaces and it works.

You can also unhide some additional settings like "processor performance core parking max cores" via PowerShell and that lets you permanently park (or disable) some CPU cores for additional battery gains. I do that plus reduce max cpu power and get an hour more or so out of my Ryzen laptop with sub-par battery life.

Definitely picking up the Surface Pro 7 with i7/16 GB/256 GB to supplant my Surface Pro 2017 i7/8 GB/256 GB. I've been holding onto that for awhile now, but it's time to upgrade. Can't wait!

Thanks for the excellent review as always, Daniel. The "instant on" is pretty awesome and should have been an industry standard by now. I can't wait for the Surface Pro X review.

Cheers. Yeah, surprised more reviews haven't mentioned it. It completely changes the experience. It's just like Surface Pro is now an iPad, why aren't more people talking about that? (I know the reason, which is a lot of reviewers are Windows not aficionados, but flybys, but still).

So I would expect 'instant on" also in Surface Laptop 3 with Intel chip

Million dollar question, right? Will find out soon.

Seems like ~0 battery drain in standby + instant on, might mean the 8hrs battery could be better, practically, than a previous 10 hrs-under - special - use outcome. I rarely use my sb2/tablet for more than a 4-6 hours at a time, but find myself recharging more often than I like /expect, due at least in part,it seems, to stand by drain.

Mine was delivered today..... Whats going on with the cameras??
Doing a side by side comparison with my outgoing Surface Pro 4, both the front and rear cameras are much worse, Over smoothed, blurred detail and poor colour balance.
Anyone else noticing this?

Did you get a chance to test the USB-C charging more extensively, for instance is the USB-C fast charge capable of charging while using the device? At what level will it cease to do so? I presume 65W shouldn't have a problem, but more common 18W chargers, how do they fare?

18W will slow charge/not charge the device if you are using unless you're idling. 45W is the minimum to get a net positive charge. And yeah, if you use a Type-C 65W it'll charge as fast as Connect will. Not seeing any difference.

Dear Daniel, I love Windows Central and it's always my first source for writing articles.
But at least Verge's pics were levels more beautiful than yours, take a look at what they'd done with the Surface Pro 7 review

Has anyone gotten their hands on an i7 version to compare graphics performance? In theory it should only be a 10-15% difference, but I wonder if it is in practice more because of the active cooling. Sure, it can wonderfully cool either the CPU or GPU, but what about both simultaneously. Also fishy, the i5-1035G7 is only $11 MSRP more than the i5-1035G4 that Microsoft chose to use - I'd gladly pay an extra $11 for the full Ice Lake GPU rather than the trimmed down version.

Where's the 2nd black dot on the back of Surface Pro 7?! I'd just received the device today and I noticed that there's only one black dot beside the camera.
Former Surface Pro 4, 5, 6 all of them had two black dots on the back.
But this Pro 7 has only one and far from the rear camera. Would you please explain about it more dear Daniel?
Windows Central Newsletter
Get the best of Windows Central in in your inbox, every day!
Thank you for signing up to Windows Central. You will receive a verification email shortly.
There was a problem. Please refresh the page and try again.