Best new features in Windows 10's Sticky Notes 3.0
Microsoft is giving Sticky Notes some love with its new 3.0 release, which includes a new UI, syncing capabilities, and more.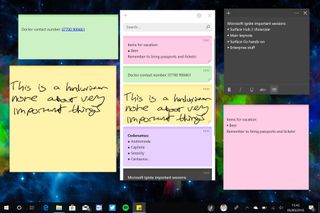 Microsoft is working on a brand new update for its Sticky Notes app on Windows 10 that introduces several new features and changes that make for a major 3.0 release. First introduced as a "gadget" on Windows Vista, Sticky Notes has, over time, slipped into the background, as services like Wunderlist and Cortana Reminders took over the need for virtual sticky notes. But sometimes being able to pin virtual paper to your desktop is just better, and that's where Sticky Notes 3.0 comes in.
The new version of Sticky Notes is a major improvement over the previous version on Windows 10, which was essentially a pinnable version of Notepad. Now, Sticky Notes is an entire service, allowing you to do things such as save multiple Sticky Notes under one Microsoft account and sync them across devices. They also sync up with Outlook Notes, meaning you can make notes using Sticky Notes and find them saved in Outlook later.
New Windows 10 Sticky Notes hub
There's more to Sticky Notes 3.0 than behind the scenes changes. There's a new "hub" that gives you access to all your notes, allowing you to hide them away if you don't need them pinned directly to your desktop. This is great for those with smaller screens who might not have enough room to keep all their notes up at one time. Now the user can pick and choose what's on display and what's hidden in the hub for viewing at a later date.
In addition to being able to color each sticky note differently, there's a new dark color for those who are fans of dark mode. This new color turns the text white on a dark background, and it looks great. The colors you choose for your notes are represented as such in the hub, too, which makes it much easier to find what you're looking for assuming you color coordinate your notes.
Thanks to the new hub, you can now search your notes as well. In the past, if you had lots of notes, there was no easy way to find a specific note unless you already knew where it was. Now, even if you've lost it, you can search the hub for a keyword or phrase that's part of the note, and it'll show up quickly. Search and overall use of the new Sticky Notes 3.0 are also very fast.
Microsoft might be bringing Sticky Notes to iOS and Android too
You can now also format text within a note, using the new formatting bar available at the bottom of any note. You can make text bold, add strikethrough, italics, underlines, and bullets. This lets you add even further customization to your notes, allowing headers to be bold and underlined and lists to be bullet-pointed, and more.
The settings for Sticky Notes are still simple, with new options that let you configure whether an alert will pop up when trying to delete a note and the ability to sync your notes across devices. Cortana insights still work as expected, though I've noticed that Cortana will no longer try to recommend reminders when you type something like "remember to grab eggs at the store."
Image 1 of 5
A noteworthy upgrade to Sticky Notes
Overall, the new Sticky Notes 3.0 experience is a huge improvement over the previous versions. Now, the app is almost like a full service. The only complaint I really have is when a note is on the desktop, it leaves an app icon in the taskbar, which is annoying. If I want a note on the desktop, I don't need to see it in the taskbar also. Hopefully, Microsoft changes this behavior in a future release.
For now, the new Sticky Notes 3.0 is available to Insiders in the Skip Ahead ring and will likely make its way to the public over the next several weeks and months.
Windows Central Newsletter
Get the best of Windows Central in in your inbox, every day!
Zac Bowden is a Senior Editor at Windows Central. Bringing you exclusive coverage into the world of Windows on PCs, tablets, phones, and more. Also an avid collector of rare Microsoft prototype devices! Keep in touch on Twitter: @zacbowden.
Agree that active sticky notes should be managed from system tray or like My People instead of an active app.

"Now, the app is almost like a full service." Jeez. Why would you use any Microsoft service when this 3.0 version is explained this way. It is absolutely ridiculous this wouldn't be a cloud service from the very beginning. It is 2018 and Microsoft still isn't able to effectively utilize the cloud beyond selling it to others (Azure). This is exactly why I haven't used their services for a decade now.

Shocked that you're already here to provide your negative spin.

Negative spin? I would hate to have someone working for me who lived off of sticky notes--real OR virtual.

Or you know, don't take something this no trival so ridiculously overboard. It's STICKY notes...that's all! And during the I tervuew process do you ask "what are your thoughts on using sticky notes?" as a prerequisite to someone being hired? If so you have far more issues than the "Sticky Note Bandit" you're thinking of hiring.

Have you considered knitting? Windsurfing? Competitive poker? Seriously, dude, get a hobby or something. No one cares how much Microsoft broke your heart.

Oh, you not using their services for over a decade now explains 99% of your comments. Maybe you should try to use them and at least be knowledgeable about things you comment on.

Sticky Notes strated way before cloud services, originated in Windows XP Tablet Edition in 2002. How could it have been cloud from the very beginning. Do you know at leats what you are talking about?

Sure, because this is exactly what I want my screen to look like. Sheesh.

They're talking about Bleached, not you

LMAO! Quit getting worked up people Jesus H Christ lol. It's STICKY NOTES. Use them or don't. It's still a great update. Just because someone can aster them all over their desktop.doesnt mean you have to. People will.complain about anything I guess. Be better than you have been....

Some people just love to complain about everything. They must live absolutely miserable lives.

Syncing! Formatting! Love! It!

"The only complaint I really have is when a note is on the desktop, it leaves an app icon in the taskbar, which is annoying." Amen to that. Stopped me ever wanting to use it. Should just be an Icon in the Notification Tray instead.

There was nothing wrong with sticky notes as it was. Why does evey thing have to be synced to some other device or send a load of rubbish to the cloud? Sticky notes was a simple app that done what it said on the tin. Really getting fed up of this cloud crap.

Because it's super useful for us with multiple devices. I have 4 devices that I regularly use, and when I'm sitting at my desktop I don't want to boot up my surface just to check what my to-do items were that I made last week. And if I don't have my Surface with me then I'm out of luck. Having the stickies automatically appear on my desktop is very handy. I do, however, understand that it's not important for people who mainly use one device.

Don't use it very often, but needed it the other day and was surprised to note that it's not possible to adjust the font size. I hope they're sorting that for 3.0. Don't see any mention of it though.

I bet Microsoft are so stupid, retarded and inconsistent once again they forgot to add the dark mode to the hub area "for those who are fans of dark mode", making the note's dark mode totally irrelevant and useless as the entire hub will shine bright light into your eyes nevertheless...
Windows Central Newsletter
Thank you for signing up to Windows Central. You will receive a verification email shortly.
There was a problem. Please refresh the page and try again.