A year after Microsoft announced To-Do, Wunderlist still wins — and that's too bad
Using Cortana, Wunderlist and the Harman Kardon Invoke speaker together has improved our Executive Editor Daniel Rubino's life. But the combo also made it clear that Microsoft is taking too long with To-Do.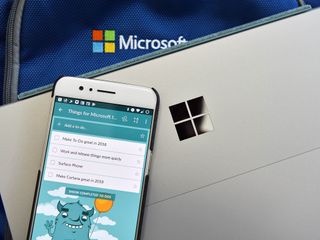 I've never been one for reminders, lists, notes, or really any tool that helps organizes my life. I'm just stubborn and they've never captured my interest.
Recently, I started using Wunderlist in another attempt to become more efficient. While Microsoft is building out To-Do – the Wunderlist replacement – at a glacial pace, Wunderlist is still much more useful today than the newer tool, especially when you use Cortana. This is why.
It all started with a grocery list ...
When your significant other insists on using a pen and paper to make a grocery list right next to her Surface Pro, you have to question how it all went wrong. Surely there must be a better way, especially since later, when you went to the store, you forget the grocery list at home.
Enter in Wunderlist with its coveted shared lists. On firing up the Wunderlist app for Windows 10 and Android, it becomes evident why it remains such a popular service. Creating a list and adding people from your contacts – like Outlook calendar invites – lets you easily collaborate and get live updates on changes.
In my household, we have a shared grocery list, with things for the house, and I'm also using it for work to keep track of ideas for stories. I'm even using the folders option at the gym where I can add new exercises and notes for new routines. The grocery list is shared, and when either of us buys something (removes) or adds something to the list a notification lets us know.
And support for iOS, Android, and Windows 10 makes it even more valuable.
Linking Cortana to Wunderlist and Invoke
Cortana already has a built-in "lists" feature under its Notebook. However, users can add Wunderlist to Cortana via the connected apps feature. Once complete, the Cortana grocery list is the Wunderlist grocery list and vice versa.
Using Cortana and Wunderlist together is a blast. While on my PC I can add things through Cortana and they appear in Wunderlist (including that shared grocery list).
Cortana lets you do text, but it's the voice part that's the most fun. Say "Hey, Cortana … add coffee to the grocery list," and it is done. While the ability to use "Hey Cortana" – the voice activated part of the digital assistant – is not new, leveraging the Harman Kardon Invoke speaker is (for those in the U.S., at least).
The Invoke speaker becomes much more useful now with Wunderlist linked. Barking out commands to add this or that to my various lists has been liberating. Having those lists shared with family members is even cooler as they all just update in the cloud to their devices.
This all raises an issue I have with Cortana. To get to your lists, you need to dig a bit into the menus, and it is not nearly as convenient to use compared to Wunderlist. It's also better in Windows 10 since you can pin frequently-accessed lists to Start for quick access.
Cortana also unfortunately lacks many of the features – including sharing – that Wunderlist brings.
What to do about To-Do
Microsoft bought the company behind Wunderlist in 2015. Next month, it will be one year since the Wunderlist team announced Microsoft To-Do app. Wunderlist is now in maintenance mode and will eventually be phased out when To-Do ramps up. From that announcement:
To-Do is available on iOS, Android, and Windows 10. But if you are a dedicated Wunderlist fan (or a new convert like myself), Microsoft To-Do ultimately pales in comparison nearly a year after its release.
Those sought-after shared lists are the thing that makes Wunderlist. But they're nowhere to be seen in To-Do. Cortana or Windows Ink integration? Nope.
It is strange to see Cortana support – and even endorse – Wunderlist as an add-on but skip over To-Do. Even Microsoft's Launcher for Android still ties into Wunderlist as a login option, but it has nothing to do with To-Do.
I'm more than willing to cede development time to the Wunderlist team to get it right, but after a year, the feature set of Microsoft To-Do feels miles behind Wunderlist, with no signs of improving. It's not even entirely clear why To-Do needs to exist versus merely rebranding Wunderlist as a Microsoft product.
The lack of urgency and a clear roadmap to bringing feature parity to To-Do from Wunderlist is worrisome. When combined with the issues surrounding Cortana in general, it starts to look like Microsoft is, again, its own worst enemy.
A connected future is coming ... slowly
The good news is Wunderlist still works well. Combined with being available on all my devices and working with Cortana and the Harmon Kardon Invoke speaker, I have a chance to get more organized. Finally.
But the Wunderlist team needs to get going. Bringing things like support for hashtags or Microsoft Flow is excellent, but the core features of Wunderlist need to happen now. The To-Do team has reportedly flipped the switch on the development of Cortana and shared lists, but there is still no deadline for when those changes will happen.
I see a bright future for tools that let users collaborate within apps and services across devices. Microsoft is keen on the idea, with apps like Whiteboard, Teams, OneNote and Office. Toss in hardware options like Always Connected PCs, the new Surface Hub and the Surface Pro with LTE, and you begin to see a future where our devices, apps, and services all sync and talk to each other. We just need to remind Microsoft to complete its own tasks.
Daniel Rubino is the Editor-in-chief of Windows Central, head reviewer, podcast co-host, and analyst. He has been here covering Microsoft since 2007 when this site was called WMExperts (and later Windows Phone Central). His interests include Windows, Microsoft Surface, laptops, next-gen computing, and for some reason, watches. Before all this tech stuff, he worked on a Ph.D. in linguistics and ran the projectors at movie theaters, which has done absolutely nothing for his career.
I don't understand why they didn't just re-brand the Wunderlist app and continue to make improvements, like they did with Acompli when they rebranded that as Outlook.

Same. People love Wunderlist, not sure why the refocus so much on To-Do or what it does better yet.

As with most acquisitions, I think it comes down to the plumbing of Wunderlist being a mess. If they want to do anything more ambitious with Cortana and other Office-based services (such as Flow), they have to rebuild it the "right" way. I think the idea is that Wunderlist works just fine for now and provides some revenue (albeit minimal) as a standalone service, so they're just letting it do it's thing while they build out the replacement. But yeah, I'm with you. I'd really like them to get on with it.

Some good points. I just hope To-Do goes beyond Wunderlist. As someone who's completely disorganized, I feel like an app like To-Do could be a cornerstone of any mobile/connected future.

Yes....To-Do App would be very useful for Microsoft to organise their priority

"Having those lists shared with family members is even cooler as they all just update in the cloud to their devices." Welcome to ROOMS. Where you could stay connected to family or friends. Send text, put reminders on calendars for all to see within that particular Room. Share informaton easily with family and friends. Sorry Microsoft sucks when it comes to cultivating a vision and promoting it hard. I still miss Rooms! One of the BEST features of Windows Phone!

I'm on Android now after a year with the craptacular iphone 7+, and I miss SO many features of Windows phone. And why the hell can neither iOS not Android natively read and let you respond to texts hands free over a standard Bluetooth connection, in 2018, when WP was doing it in 2012?!

Your point is sound. It's just that To-Do has been out for 1 year and it's barely been improved since launch.

Whenever this sort of thing happens where an old program or service or OS is left to stagnate while it's replacement takes a long time to get up to speed, I can't help but think back to this article about "things you should never do" https://www.joelonsoftware.com/2000/04/06/things-you-should-never-do-part-i/

The same thing with Wunderlist and To-Do happened many years ago with Skype vs. MSN Messenger.

It doesn't do anything better. The world's biggest difference developer can't make a better to do all that Wunderlist, after a YEAR. That speaks volumes about their commitment. Also, retiring a well known brand like Wunderlist in favor of the incredibly boring "Microsoft To do" is ridiculous. As usual, Microsoft fails marketing 101.

Microsoft just loves to start things from scratch and never follow through. They literally do this with absolutely EVERYTHING they do, save a few products here and there. One must think their successes are almost by mistake. E.g.: Office 365, Azure, Surface, Xbox, the ones they followed through.

Wunderlist is the way to go, AND it is disgraceful that a Seattle team tried to steal their thnder after the acquisition. A shameless act through and through. They even copied the Berlin skyline concep. bLERGH. The proper way of action would be to add these resources to the Wunderlist team, so they can offload the maintenance and integration part, and the original team should focus on new ideas. Microsoft once more dropped the ball, by almost blocking progress on 2 programs simultaneously. Thankfully they didn't make the mistake to shut down Wunderlst!

Isn't this the most accurate description of MS of all time... "Microsoft is, again, its own worst enemy"

I agree with all of this and I am extremely disappointed that MS decided to scrap Wunderlist, a full featured app that everyone respects and that they could build on, in favour of a new app that no one knows instead. However, playing devil's advocate for five seconds, I was a Wunderlist early adopter back when it first came out in iOS (it was iOS 3, I think) and IIRC, development was always slow. The Wunderlist team seemed to prefer to iron out every problem they could before launching a new version, specially when it came to new features. Still, these are different times and things move at a different pace, I guess.

Exactly how Apple does it!

Between the two, Wunderlist kicks ass! I have it integrated with Outlook 2016(insider) via MS Flow

2Day was long the best todo app for me, but development stopped when its developer was poached by the ToDo team. Sadly as yet there are few signs of his influence on ToDo. I'd still be with 2Day if it was available on Android as it was on W10M.

How do I share to do lists? That's the reason I'm still using Wunderlist.

You can't, that's my point. Not yet, at least.

Doesn't To Do let you set up lists in the Family Calendar? That's at least shared by those on your Family Calendar, isn't it?

Microsoft doesn't seem to care about Windows 10 apps. They are all mediocre. They only care about Android and iOS.

Eh, their apps on iOS & Android are fairly mediocre too.

This is the wrong argument/point for this article. This has zero to with Windows 10 apps/UWP and "caring" about them. This is about To-Do and Wunderlist regardless of platform.

Why on earth would they buy an existing awesome product and then proceed to start over from scratch?

I thought I read somewhere (here on WC?) that the point of starting over was to build from Outlook tasks and, I suppose, Exchange and SharePoint. That would make sense, since it would mean enterprise support. But it doesn't explain why the ToDo app does exactly the same today as 12 months ago (despite numerous updates).

>Cortana already has a built-in "lists" feature under its Notebook. US only. >However, users can add Wunderlist to Cortana via the connected apps feature. US only.