Whiteboard is in preview on Windows 10 and shows promise for collaboration
Microsoft's Whiteboard app was released in preview last week and it shows a lot of promise for online collaboration.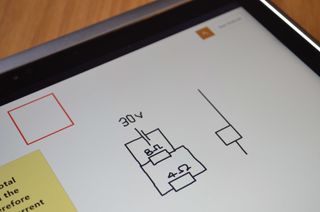 Microsoft has added the ability to collaborate in real time over the internet to a number of their apps and services. Last week, Microsoft released Whiteboard in preview which allows users to ink on a digital whiteboard with multiple users from different devices. We took a hands-on look of the app earlier this year before it was available to the public and now have some more thoughts after using it some more in its public preview release.
Since the app is in preview it wouldn't be fair to do a complete review, but here's what stands out and what we hope to see in the future. The app is free but to use multi-party collaboration at least one person needs to have an Office 365 personal, work, or school account.
See in Microsoft Store (opens in new tab)
A natural evolution
The concept of Whiteboard just works. Sure, there are some performance hiccups but the app is in preview so that isn't an issue. Being able to draw on a virtual whiteboard and have others join in with very little delay seems like something that should have been a key feature on tablets years ago.
Whiteboard supports multiple ink colors, tools that help you draw shapes and charts, and the ability to type notes. These options make it easy to work together on math problems or any type of handwritten work or just play tic-tac-toe with a friend. Whiteboard will fit in very well in classrooms, workplaces, and could even be used for games and doodling with friends.
The app also lets you insert photos and galleries which help it be more versatile. Whiteboard combines the standard inking tools from many other Microsoft apps such as OneNote and brings in real-time collaboration. Eventually, it might even work as a baked-in part of other Microsoft apps.
A wish list
Whiteboard already has a good set of features in its preview form. Over time it's certain to grab some more. There are a few specific features we'd love to see added in the future as the app comes out of preview and is developed over time. First up is releasing the app on other platforms. Whiteboard feels handmade for tablets and the reality is that while tablets powered by Windows 10 are popular, the iPad is still a major player in the tablet space. Being able to collaborate in real time using a Surface Pro, an iPad, and a Surface Hub would be a very attractive option for schools and businesses using a number of devices. Microsoft has a plethora of apps on iOS and Android so it's certainly a possibility that Whiteboard will come as well.
Another feature that would help would be some orientation markers. When drawing on my device and sharing it with my friend, it opened to a different part of the same digital whiteboard. This could be a bug of being in preview but even if it that's the case, having some markers to make sure you can find an area on the page would be nice. A potential solution would be the option to have the whiteboard be marked with rows and columns. For example, you could tell your coworker to jump to C7 on the grid.
Summary
Whiteboard feels very natural and makes working with other people easier. It supports some nice inking features and the delay between you writing on your device and a friend seeing it is very low.
It's a very promising preview and it'll be exciting to see what Microsoft does with it in the future.
Pros:
Makes collaboration easy.
Very little delay between devices.
Has a good collection of inking tools.
Cons:
It's in preview — so this could come in the future — but being available on other platforms would be a plus.
See in Microsoft Store (opens in new tab)
Windows Central Newsletter
Get the best of Windows Central in your inbox, every day!
News Writer and apps editor
Sean Endicott brings nearly a decade of experience covering Microsoft and Windows news to Windows Central. He joined our team in 2017 as an app reviewer and now heads up our day-to-day news coverage. If you have a news tip or an app to review, hit him up at sean.endicott@futurenet.com (opens in new tab).
I have this installed on my Surface Pro 4 seems to a decent app for a preview, haven't had much of a chance to use it yet.

Does it have a way to detect shapes, letters, and numberes, then fix them up for you if you want?

So, the answer to the parallel resistance problem in the article is 3.75 Amps, or It =3.75 amps
..........
The formula for total resistance in a parallel circuit with two resistors in parallel is R1(R2) / R1+R2.... To find total current, applied voltage is divided by the relative resistance = 8ohms... 30/8 = 3.75 amps😲😲😲🙂
And, let me add that with two resistors in parallel the relative current will split equally passing 1.875 amps through each resistor.

Does it work with the Surface Pro 4 pen????

I tried it on my Surface Pro 1 and it works. But I have problems with:
1. Have no idea how to change the angle of the ruler. Why there is a ruler if it is always under 45 degrees angle?
2. I tried it on my desktop PC with a Wacom Intuos tablet. While this tablet works great in any other software it simply doesn't work properly with Whiteboard. I can see the cursor while drawing but the line drawn is on a completely different location than the cursor.
3. There is an issue sometimes where cursor changes its shape into an arrow used for stretching an application window up and down or left and right and you simply can't make it change into a drawing dot.
4. It would be good to have it on other platforms too since we are now forced to use them.

Crazy thing is I was doing virtually the same thing 20 years ago with Microsoft NetMeeting. Just without a pen.

Does it have an infinite canvas? Or how does it work exactly?

U = 30 V
R1 = 8 ohm
R2 = 4 ohm U = R1 * I1 => I1 = 7,5 A
U = R2 * I2 => I2 = 3,75 A
=>
I = I1 + I2 = 11,25 A
=>
R = U/I = 2,7 ohm OR 1/R = 1/R1 + 1/R2
=>
R = (R1 * R2)/(R1 + R2) = 32/12 ohm = 2,7 ohm
=>
I = U/R = 30/(32/12) A = 11,25 A