Microsoft working to bring Cortana integration, list sharing, and more to To-Do
Microsoft has confirmed it is working on a number of new features for its fledgling To-Do app.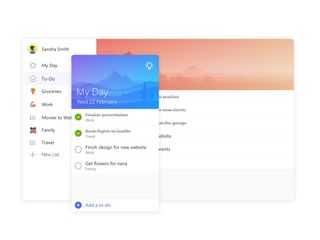 Microsoft To-Do launched in early 2017 as a relatively simple to-do list app that works across several platforms. And though Microsoft stated at the time that it intends for To-Do to replace Wunderlist, it hasn't evolved much from its simple beginnings. However, it looks like that's about to change, as Microsoft has confirmed it has started work on some major new features (via Thurrott).
In recent updates to the Microsoft To-Do UserVoice page, Microsoft has flipped the status on several new feature requests to "Started." Among those is Cortana integration, along with the ability to share lists with others and collaborate on them, and the ability to create subtasks. The UserVoice confirms that the team is actively working on a MacOS app for To-Do as well.
There's no timeframe available for any of these features, so it's anyone's guess when they'll arrive. But one thing's for sure: To-Do could use some added pep if it's meant to attract users from other list apps.
Windows Central Newsletter
Get the best of Windows Central in your inbox, every day!
Dan Thorp-Lancaster is the former Editor-in-Chief of Windows Central. He began working with Windows Central, Android Central, and iMore as a news writer in 2014 and is obsessed with tech of all sorts. You can follow Dan on Twitter @DthorpL and Instagram @heyitsdtl.
I don't see the point of this app when outlook has a calendar... Which doesn't sync with this

To Do already syncs with Tasks in Outlook 2016/O365. I typically use Outlook on my desktop (where it is typically running) and To Do on my phone. Plus To Do isn't simply for scheduling things by date.

Yup it syncs with my outlook.com calendar and as noted you don't have to have a due date for your to-dos if you don't need one

This is purely for to do lists even though it integrates with the calendar.

I'll miss Cortana when Nutella **** cans it.

Maybe I am not the target, but I don't quite undererstand the app. As has been mentioned, ToDos aren't synched on my Outlook.com calendar (if there is a way to do this I would love to know). Also, in the latest MS Launcher they added Cortana Integration, and the MS Launcher ToDo section links with the Cortana app Reminders section and do populate on my calendar. Just seems to be some general confustion between these functions that don't make sense to me.

The Cortana reminders and Shopping Lists/To Dos lack of integration is odd. I find myself torn on where to create these lists and find I create them in multiple places and then just get frustrated on where to find things. I have Outlook, Cortana, ToDo, OneNote, and Wunderlist. All have different integrations. Puzzling.

Same. I saw somewhere that they are looking to ingegrate To-Do into OneNote as well. It will be nice to have an integrated task scheduler. I will move to To-Do when shared lists are available as I share Wunderlist To-Do lists with family.

I agree with the sharing. However I already use this great app.

They do sync to your outlook.com calendar/tasks. You just sign in to the to do app with your Microsoft account. I've been using it this way since they made the to do app. But yes it's not linked with cortana yet unfortunately as noted in this article, even though wunderlist is

App is still crap and no progress since they bought it.. It was better when Wunderlist had it.

Wunderlist is still there... they just are focusing on bring ToDo up to and past where Wunderlist is. In some aspects it is better (better fine grain schedule controls) but in many it still lacks.

Disagree. It's great and will get better.

I am using both for advanced task managing and I can tell you only Wunderlist provides the tools (subtasks, shared lists and comments) to get the job done. To-Do have not had a new feature in more than six months - The versioning keeps going up, but the feature counts doesnt. How is that great :)?

I love this app! It's really good. Of course it laks some features, but they will arrive!

I really, really want to like this app. I gave it a go. I truly did...but then I got an Echo...and another, and another, etc.. So now, I use Alexa's lists. This Cortana integration came too little, too late for me. I hope that the Cortana/Alexa relationship blooms soon, because Alexa is gaining on Cortie in functionality. She's already surpassed the Halo honey in accessibility, availability, and affordability.

There is a feature request for adding MS To-Do skill for Alexa.
https://todo.uservoice.com/forums/597175-feature-suggestions/suggestions/19018651-alexa-integration
It would be great if they introduce this as getting a cortana enabled speaker is not feasible at the moment form many places in the world.

Nothing new. Their twitter account has been promising sharing, subtasks etc. all year long last year. So they keep on starting to work on these features :/

Most people don't seem to get that this is a task manager, not a scheduler. Yes, you can add dates, but lists don't have to have dates. This is more closely related to the Tasks subsection of Outlook than the Calender, it already syncs with Outlook's Task view.

Get To-Do connected to Launcher's To-Do. Kinda an obvious thing that apparently isn't.

Really baffled by this.. doesn't MS own Wunderlist? Why not just change the name to To-Do? Wunderlist already has Cortana and Office 365/Outlook integration... works great with Flow. I love adding items to my shared lists with my invoke and my wife and I both see it.

I think part of it is that Wunderlist isn't integrated into Office 365/Microsoft account while To Do is. I imagine the architecture on the backend must be very diffierent. Also, I heard once a while back that To Do would eventually replace Outlook tasks anyway so there's that whole issue.

This is a GREAT app. I use it everyday. Yes, it can improve, and it has and I hope it will.

I think they are making this so that their foldable device will have a good todo list app built-in.

I've never understood the point of this app. What microsoft should do is bring Cortana features to OneNote (especially with the to-do lists you can already build within a quick note) and integrate these Cortana/OneNote lists into outlook (similar to how Cortana recognizes dates, airlines, etc in the Sticky Notes app).

Cortana integration would be nice.

Let me guess: this works only for US-English users????

Technically should available to all places where Cortana is available now.
But we have to wait and see.

The real question is: why do they have both Wunderlist and To Do, and yet only Wunderlist is integrated with Microsoft Launcher on Android, and Cortana in Windows 10?

They are going to REPLACE Wunderlist with To-Do once the To-Do app comes up to snuff, but for some reason development of the app is really slow. New updates are released bi-weekly to monthly, but it doesn't have new features. This is likely some dev issue thing... but the issue remains that To-Do doesn't evolve fast enough for anyone to take it serious right now. That needs to change, if they want people to move from Wunderlist til To-Do :)

To add injury to insult, the Wunderlist app halted development as soon as MS announced To-Do. Luckily the app is fairly stable, with the only web-feature missing being copy/paste tasks.

They're just upsetting all the people who love Wunderlist and use it religiously. Reinforces the whole "companies ruin apps/services/products when they're bought out" mentality.