Microsoft To-Do Preview launches on the web, Windows 10, Android and iOS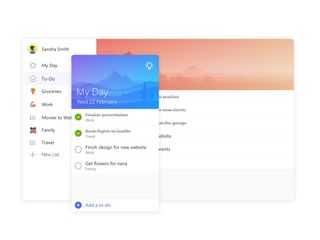 Microsoft has been cooking up a new To-do list app under the code name Project Cheshire for several months. Now it looks like that app is ready in preview form under its official name, Microsoft To-Do. Initially spotted by Walking Cat on Twitter (via Thurrott.com), Microsoft To-Do Preview is now available on the web (opens in new tab) as well as via apps for Windows 10 PC and Mobile, Android, and iOS.
As for the app itself, it's a very simple To-Do list that will sync your lists and reminders across platforms. Though it sports a relatively simple and attractive look, Microsoft has packed some smarts into To-Do with intelligent suggestions, recurring reminders, and more. Here's a look at some of what To-Do can, well, do:
Add to-dos that you'll focus on today to My Day, every day it wipes clean so you can start afresh.
Try out our intelligent Suggestions.
Set due dates & reminders.
Color-code your lists—easily separate work from home, and everything in between.
…and much more!
The app likely owes a bit of its DNA to Wunderlist, which Microsoft acquired in 2015. In fact, as pointed out by Thurrott.com, you can even import your to-dos from Wunderlist, as well as Todoist.
While the service sports the Microsoft To-Do name on the web, Android and iOS, the Windows 10 app is still listed in the Windows Store under the Project Cheshire name — though it changes to Microsoft To-Do once installed. Still, if you want to give To-Do a look, you can grab it for all 3 platforms or check it out on the web now.
Updated April 19, 2017: Microsoft has now officially announced the To-Do Preview launch on the Office blog (opens in new tab). Notably, Microsoft says it will look to retire Wunderlist once it is confident is has "incorporated the best of Wunderlist into To-Do."
Dan Thorp-Lancaster is the Editor in Chief for Windows Central. He began working with Windows Central as a news writer in 2014 and is obsessed with tech of all sorts. You can follow Dan on Twitter @DthorpL and Instagram @heyitsdtl. Got a hot tip? Send it to daniel.thorp-lancaster@futurenet.com.
Never used a to do list before, I need a tutorial ☺

And there's number 1 on your To-Do list

Any idea how Microsoft would position this compared to Wunderlist? Maybe Wunderlist will be the more "professional" app, and this one more for lightweight use? I like the design of this one though.

I checked Wunderlist, and it's more for the Enterprise folks that have a lot of people doing multiple tasks. All of the users can add new tasks to specific people or to multiple people, and view their taks. Or the individual can add tasks and not display to others. Where as To-Do (I like the name "Project Cheshire") is more for the individual. I need a to-do list. If I don't write something down I may forget about it later. I was using OneNote but I'm going to give this a try, and definitely provide feedback.

According to the reviews right now To-Do-List requires a corporate account so it looks like they aren't targeting consumers. Strange thing is the screenshot shows groceries and other personal items.

This was straight from the store today. It had nothing newer.

I never understood why MS didnt roll this kind of thing into Outlook/Outlook.com. The desktop outlook client has had Tasks and Notes for ages...

I too have wondered this as it has been such an essential component for the desktop client since the very beginning. At least Tasks and coloured categories has come to Outlook.com but I really need them to be on the mail and calendar app for my phone.

I've said the same thing. Microsoft likes to keep reinventing the wheel. Look at how Office 365 started at Outlook, then BPOS, then Office 365.

Still called project Cheshire for W10M, doesn't look baked like it does for android and ios

Its definitely called Microsoft To-Do on Windows Mobile, and looks exactly like it does on the iPhone..

The link doin wc took me to the project

Read the whole article dude

Not on mobile?
I would want to be able to add things on my PC but them have them with me when out and about.
Currently I use OneNote to do this and have a share with my wife, would be great to have a dedicated app instead that can be shared..
================================================
Update, just downloading on mobile now too, so if this can share it would be incredibly handy and simpler than OneNote..

So is it Microsoft To-Do or Project Cheshire? I only ask because the store listing says Project Cheshire.

From the story: "Additionally, while the service sports the Microsoft To-Do name on the web, Android and iOS, the Windows 10 app is still listed in the Windows Store under the Project Cheshire name — though it changes to Microsoft To-Do once installed."

I musta glazed right over that...sorry

Some business based steps for Windows 10 Mobile. That's cool. Works smooth on my 950 XL.

Redundant. They own Wunderlist. And why wouldn't they attach this kind of functionality to OneNote and or integrate that in Outlook.

Maybe this one will get sorting of completed items for things like shopping lists where you re-use things periodically. Wunderlist has kind of languished since MS bought them. :( You can do To-Do lists in OneNote, but they're kind of a pain to use. I would agree that putting this in Outlook would make some sense, but Outlook more does Tasks than To-Dos.

This is built from the ground to be multiplatform. It is also fully integrated with outlook (website). It is built by the people of wunderlist to replace it. Since it is not complete, they won't remove wanderlust just yet.

anybody else having problem with the store on mobile.. error 0x80131500?

So it looks like this uses the same data set that Cortana uses for reminders... when I looked at completed to-do's in the app, I see things that I had marked complete through Cortana where I had previously asked her to do things like "remind me to pick up my prescription next time I'm at Wegmans"... Super cool!

Where do you see that in the app? I was thinking about the same issue where Cortana reminders are basically the same as To-Do's, but I don't see a section in the app for completed tasks.

Select the "To-Do" list... click on the three dots menu thingy and select "Show completed to-dos" and you'll see the last few things you've marked as completed through Cortana.

What's the point of this app?

To remind you of your to dos. Really? Why are you even asking this?

He forgot to put 'Dont ask stupid questions' on his daily to-do list

I might not elaborate my point more. I meant another to do app? What does it do that make it stand out from others? Ps: You guys are ******* mean.

Lol sorry didn't mean to be mean. Just so used to trolls, my first instinct is to go on offense mode. I first thought this was redundant but if it works on all platforms and integrates with other services, it seems useful if you ask me

Right now this app can't beat Todoist. I don't know if MS has any special vision for this app. I use Todoist heavily and atm MS To Do lacks many features like: Label, natural intelligent input, filter, smart schedule...

it reminds me to answer your question....later :)

Finally they got it out of private beta! Now I can talk about it xD

I'll be sure to download this to my s8 when it arrives Friday. Wanted to stick with the elite x3 but i just cracked the screen with a coffee mug. Ahhh fudge it... Onto android I go. Feels like I'm cheating on a 6 year marriage ☹

Lol did you throw a coffee mug at your phone or is the X3 just that fragile?

What about a repair then?

Put it on my Windows tablet and my iPhone. Guess what, on the iPhone you have the ability to change themes and on the Windows version you don't. Microsoft is such a bizarre company.

By themes do you mean the image at the top? Because i changed mine...

To change themes on Windows 10 & Windows 10 Phone, click the ... in the top right corner.

To add to this, you need to be in the 'To-Do' section, the elipses dont appear in the 'My Day' section

Thanks for catching that 513.

I like it and will probably switch as soon as I can get Wunderlist imported but right now it's failing everytime I try. All around I really like it.

"incorporated the best of Wunderlist into To-Do." With no ability to share a list or connect it to Cortana, they've left out some key features of Wunderlist. Sharing the grocery list and telling Cortana to add an item from across the room is handy. Add these things and I'm in.

If you have your Microsoft account linked it should add a task to the list when you tell cortana to remind you to do something

Instantly synchronizes between Window 10 Phone, Desktop and Web

Windows 10 PC and mobile... guess mobile still isnt out of the game then

I miss the swipe gestures of Clear ('Clearer' on WP,) even if it's a bit dated of an app nowadays, with no cloud syncing. You can right-swipe to add a to-do to My Day, but can't left-swipe to complete or delete it? Boo. I'm also surprised / amazed that it doesn't let you pin specific lists to the Start screen. That seems like it'd be a basic design feature of any UWP to-do list app.

Microsoft make it hard to fine in the windows 10 mobile store...I can find it only by using the link provided by windows Central. I search for To-Do and Project Cheshire. Microsoft to-to -> make it searchable in Windows modile store

I use Wunderlist and I've given this a try today and here are my thoughts. First the showstopper (for me). No way to assign tasks to other people in your household or share the lists, at least not what I could find. I was able to import all of my Wunderlist tasks and categories with no problems. To-Do inherently works fine on Android Wear, complete with options to SNOOZE or mark COMPLETE without the need of a watch "app." Was impressed by this. No option to add your task to the calendar on the Outlook App on Android or on "Windows Mail" on Windows 10. I assume that is coming. This is actually a good start and very much like Wunderlist. Just not ready to let go of Wunderlist until I can share tasks.

Just got the app, looks really beautiful. It's smooth, and the UI is just plain awesome. They should make more apps like this

interesting that it has family room when first accessed........does this mean family room will come back????

Anyone else not able to get it from the store on W10 mobile?

Never mind got it from the link using Windows Central app on my phone, that seems the only way to get as of now?

Not me. Only desktop. I need it on Mobile as well.

Use your phone and the Windows Central app bring up this article then click the download arrow at the bottom of the screen it will send the W10 mobile store link to your phone then you'll be good to go

I like this app so far - simple, easy and to the point. Have it on Pro 4 now but has anyone been able to get it on Windows mobile? Doesn't appear in the store????

Did you notice that there is no Windows Phone in the ad and blog post?

Anyone having import problem bringing over data from Wunderlist? I have tried to import from my pc and phone and only old tasks that were already completed synced.

I'm having the same problem. I tried last night on the Web, iPhone (work phone) and my Windows phone. It just keeps spinning and nothing is importing. I'm trying again this morning...

OOh it just worked. Took about 20 minutes, but I see all of my Wunderlist stuff in To Do now.

Not integrated with W10M colour theme. Feels like a forked out app.

I can't even get my Outlook Calendar snooze function to work. Not very hopeful that this won't suck.

Import didn't work on Edge on a Win10 PC. But it worked on edge on my Lumia 950. However it imports only the tasks in my main list (inbox) in Wunderlist. All my other lists do not import...so the app is not usable at all so far for me. Will try to import again from time to time. However, the App is very quick to launch and I really like the clean design - better than the dated design of Wunderlist on Windows phone.

The last thing I need is another app - I'll keep using Cortana on my iPhone for to-do lists.

I echo those who want To-Do to integrate with OneNote checklists. Outlook has always had Tasks, but stopped using it years ago, a bit too structured for me, To-Do seems more adaptable. Check boxes as in OneNote helps with progress through lists. Other integration with Cortana would assist with voice dictation on the run or driving. Location integration would help make this app even more useful. So far, I am enjoying To-Do on both my Lumia 950XL as well as my Surface Book, but roll on the Surface Phone, or whatever this rumoured device is named - I have other suggestions.
Windows Central Newsletter
Get the best of Windows Central in in your inbox, every day!
Thank you for signing up to Windows Central. You will receive a verification email shortly.
There was a problem. Please refresh the page and try again.