Surface Laptop 3 15-inch review: Loads of good looks, very little substance
By Daniel Rubino published
A bigger display is about all you get with the new Surface Laptop 3 15, and that's a shame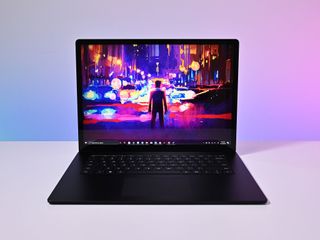 (Image credit: Windows Central)
The Surface Laptop 2 was one of my favorite laptops last year, notwithstanding some reviewers suggesting it didn't make sense for Microsoft to release it. After all, it's just a typical Ultrabook. My contention was the excellent 3:2 display, typing and trackpad experience, sublime audio, and overall design were an engineering marvel that delivered on core features.
For 2019, Microsoft made a bigger 15-inch version of the Surface Laptop. Surface Laptop 3 should be the pinnacle of what I want in an Ultrabook. With a larger screen, more room to work, longer battery life, and the potential for Microsoft's new partner, AMD, to show the world how it can beat Intel, how could it go wrong? Unfortunately, my hopes have been somewhat dashed.
Here's why the Surface Laptop 3 15-inch doesn't quite win me over.
Update: Starting in April and May 2021, Surface Laptop 4 is replacing Surface Laptop 3. The article was updated to reflect that info.
(opens in new tab)
Microsoft Surface Laptop 3 15
From $800 (opens in new tab)Bottom line: The Surface Laptop 3 15-inch looks the part, but underneath it all, it disappoints. The AMD processor is nothing exciting, and battery life is just OK. No Wi-Fi 6, muddied audio, and the lack of HDR makes this laptop just a slightly bigger 13.5 model with no unique features. Potential buyers may find the 13.5 model more appealing.
For
Gorgeous design and craftsmanship.
USB Type-C.
All-day 10-hour battery.
Superb keyboard and trackpad.
Stays quiet and cool.
Can be serviced
Against
AMD Ryzen and Vega underwhelm.
No Thunderbolt 3 or Wi-Fi 6.
No Dolby Vision or anti-glare display.
Frequent battery drains.
Audio not as good as Laptop 2.
Surface Laptop 3 15 price and availability
As of April 2021, Surface Laptop 3 15 has been superseded by Surface Laptop 4. However, users can still find Surface Laptop 3 15 from various retailers, often discounted, making it a viable option for those who want a solid laptop but do not need the latest.
Amazon and Best Buy both still sell non-refurbished (new in box) Surface Laptop 3s with $400 savings as of May 2021. For example, a model with a Ryzen 5, 16GB of RAM, and a 256GB SSD costs $1,299 instead of its previous $1,699 price point.
The remaining stock of Surface Laptop 3 will likely last through 2021 before being phased out altogether.
The good stuff
What's new with Microsoft's Surface Laptop 3
Following in the steps of Surface Book 2, Microsoft is making a larger — and in theory — more powerful version of its 13.5-inch Surface Laptop. Compared to the Surface Laptop 3 13.5, which uses newer Intel processors, the 15-inch has gone AMD. The move is likely meant to save on some costs, as AMD regularly undercuts Intel on a per-chip basis. But some have speculated that the AMD Ryzen and Vega combo may outperform a similar Intel configuration.
For ports, Microsoft is following the rest of its refreshed Surface line by bringing USB Type-C 3.1 Gen 2 (10GB/s) to the Surface Laptop 3. That port is the most powerful Type-C you can do without bringing full Thunderbolt 3 to the mix. It features DisplayPort 1.4, for powering dual-4K displays at 60Hz. There is also Power Delivery (PD), so you can use a 65-watt Type-C charger, and it can be used with Type-C hubs or for data transfer.
Category
Surface Laptop 3 (15-inch)
Operating system
Windows 10 Home
Display
15-inch PixelSense, 3:2 aspect ratio, 2496x1664 (201 PPI)
Processor
AMD Ryzen 5 or Ryzen 7 custom CPU
GPU
AMD Vega 9
AMD Vega 11
Memory
8GB, 16GB, or 32GB LPDDR4
Storage
128GB, 256GB, 512GB, 1TB SSD (replaceable)
Front camera
720p
Dual far-field Studio Mics
Security
Windows Hello face authentication camera, Firmware TPM
Connectivity
Wi-Fi 5: 802.11ac compatible
Bluetooth 5.0
Ports
One USB-C, One USB-A, One Surface Connect, 3.5mm headphone jack
Battery
Up to 11.5 hours
Weight
Up to 3.4lbs (1.54kg)
Colors
Platinum metal, Matte Black metal
There is a standard USB Type-A port and headphone jack, both of which are on the left side of the laptop. On the right is the Surface Connect+ port, which now supports a fast charge of 0 to 80 percent in about an hour. Microsoft includes a standard 65-watt Surface charger with the 15-inch model, and that should already give hints about the power draw of this device; it's the same charger that a Surface Pro or 13.5 Surface Laptop use.
The front-facing camera is very good, even at just 720P. This year it is now flanked by two microphones, or what Microsoft calls far-field Studio Mics. They work well and greatly enhance the Skype experience.
For Wi-Fi and Bluetooth, Microsoft is leveraging the Qualcomm Atheros QCA61x4 chip. That's an odd choice because that part has been around since 2015, and it does not support Wi-Fi 6, unlike the Intel-based Surface Laptop 3 13.5. Instead, it supports Wi-Fi 5 and is significantly slower. It's a direct result of going with AMD and not Intel for the chipsets.
Also new this year is serviceability. Surface Laptops were infamously unrepairable since it was all glued together. This year, the keyboard deck can be removed so that the SSD can be upgraded or replaced as well as the battery. However, this is not for the end-user to do, and you will need to take the Laptop 3 to an authorized service center to have the work done.
A giant gorgeous slab
Surface Laptop 3 15 design
The Surface Laptop 3 15 is unsurprisingly just like the 13.5 model but, well ... more substantial. The taller 3:2 aspect ratio gives this laptop a rather sizeable footprint, but comparatively speaking at 3.4 lbs (1.54kg), it is lighter than most 15-inch laptops. While the all-metal design feels very premium, you must baby this laptop. It is prone to dings, chips, and scratches from seemingly minor incidents. Carrying it in a well-protected bag with no foreign objects is a must.
For color choices, there are just two with the 15-inch model: platinum and matte black. Both are stunning. If you do not like fingerprints, the platinum is the better choice, and it will also hide dings and scratches better. If you scratch the matte black model, it leaves a noticeable silver mark.
There is no Alcantara fabric on the 15-inch model, although the 13.5-inch offers it in two color options. Alcantara is somewhat controversial with some loving the feel and others really disliking it or worrying about it getting dirty over time.
Some of the best things about the Surface Laptop are what's hidden. The speakers are under the keyboard with no visible grill, and there are no bottom intake vents for the cooling system. Instead, the vents are at the rear of the laptop. This design is brilliant as your knees never block the intake system. It looks clean and minimal — a common theme with Surface Laptop.
Every little detail of the Surface Laptop 3 15 is well thought out and signifies precision craftsmanship. Closing the lid is even a joy as it has just enough resistance not to slam shut, but instead, quietly close. You can also easily open it with one hand despite it lacking a physical notch like Apple MacBook Pros.
Saying the Surface Laptop 3 15 feels and looks like art is not an understatement.
Good (but not great) screen
Surface Laptop 2 display
Microsoft is used an LCD-based 15-inch PixelSense display with a 3:2 aspect ratio at 2496x1664 resolution for the Surface Laptop 3 15. The 201 pixel per inch (PPI) is lower than that of Surface Pro 7 (267 PPI) and Surface Book 2 (260 PPI), but that's not really discernible.
The bezels are relatively thin, and the glass is Gorilla Glass 3 with some oleophobic protection. That glass is edge to edge without any plastic for the bezels — another excellent design choice.
The Surface Laptop 3 supports inking with a Surface Pen, but the display does not open to 180 degrees, nor is there a place to keep the pen in transit. In a pinch, however, the pen is great for signing a document or making a quick note. Likewise, the Surface Dial is also supported with off-screen interaction.
New colors
(opens in new tab)
Unleash your creativity

Just because Microsoft has a new stylus out, doesn't mean you necessarily need to buy it over the classic Surface Pen. This stylus still has excellent potential for creative work.
For color accuracy, the screen delivers 96 percent sRGB, 72 percent AdobeRGB, and 75 percent DCI-P3. Those numbers are below that of the Surface Laptop 2 (99 percent sRGB and 81 percent AdobeRGB), which is unfortunate.
Peak brightness, when set to 100 percent, is just under 400 nits while turning the intensity to 0 percent results in 3.4 nits.
As I remarked in my Surface Pro 7 review, Microsoft seems to be slipping in the display race compared to Lenovo, HP, and Dell. Things like support for HDR400 (500+ nits) and Dolby Vision are now standard features for premium Ultrabooks. Likewise, for new anti-glare tech, which keeps the benefits of a glossy display but cuts down on reflectivity, making it better for long hours of work. The same applies to the rise of OLED displays and even faster refresh rates instead of 60Hz.
The Surface Laptop 3 15 (and new Surface Pro 7) lacks all of these new display features. The color accuracy and gamut are not as good as other premium Ultrabooks. Windows 10 now supports wide-color gamut apps, HDR apps, and games natively, but the Surface Laptop 3 does not. That's a shame.
best typing around
Surface Laptop 3 15 keyboard and trackpad
Microsoft has been killing it in the Surface line with its keyboards and trackpads. That's the case for the Surface Laptop 3 15, which highlights the best in this area. Microsoft has made the keyboard a bit quieter than the Surface Laptop 2, the key travel is still 1.5mm, and there is a three-stage backlight.
Part of that typing experience is amplified by the plentiful wrist area on the deck. Your hands will not hang off when typing, and instead, you can rest them comfortably. However, because Microsoft didn't use Alcantara, there is no padding, and the metal deck is prone to scratches if you wear a watch or bracelet. It seems almost complicated to avoid unless you remove anything from your wrist or type without resting your hands on the deck.
The Precision Trackpad is now 20 percent larger than the Surface Laptop 2's. It's tremendous — not Apple MacBook huge — but still ample. The click is soft, and the accuracy is excellent.
muddied sound
Surface Laptop 3 15 audio
Microsoft is one of the best at audio for laptops. The Surface Pro has amazing front-facing speakers that sound better than you would expect. Same for Surface Book 2.
Sound quality for last year's Surface Laptop 2 — even with the speakers hidden under the keyboard deck — is the best I have heard (putting aside MacBook Pros). It is rich, but clear, and it sounded fuller than Surface Pro or Surface Book due to the ability to resonate in the body of the laptop.
I was dissatisfied, however, with the sound profile for Surface Laptop 3 15. The audio can get loud, but go above 60 percent and you start to risk minor crackles or distortions. When playing the movie Interstellar (2014) on both the Surface Laptop 2 and Surface Laptop 3 15, the former had clearer dialog with better highs, whereas the Laptop 3 sounded muddied.
It's not clear if this is just a software tuning issue (there are no manual controls to alter), or it is related to the lack of Alcantara. I presume Microsoft could adjust the sound curves to deliver similar audio to Surface Laptop 2, but as of this review, the Laptop 3 audio is disappointing.
It's OK
Surface Laptop 3 15 performance, battery, and heat
There are a lot of high hopes for the combo of AMD Ryzen and Vega chips in the Surface Laptop 3 15. Despite the hype around "customized" versions of the Vega GPU and the Ryzen 5 (tested here) and Ryzen 7, I am so far not seeing many advantages.
A more straightforward way of classifying all of this is to say that the Surface Laptop 3 15 is just a 13-inch Ultrabook with a slightly slower CPU and a slightly more powerful GPU. For those looking for a massive performance gain that places Surface Laptop 3 15 closer to Surface Book 2 rather than Surface Laptop 2, I don't have any good news.
Update: October 23 — We now have Intel Core i7-1065G7 benchmarks to compare to AMD as there is a "business" version of the Laptop 3 featuring Intel processors. Keep in mind, we are comparing a Core i7 to a Ryzen 5, which is not a fair comparison. AMD does offer a Ryzen 7 model, which would compete better against the Intel Core i7.
Geekbench 5
Geekbench 5.0 (CPU) (Higher is better)
| Device | CPU | Single core | Multi core |
| --- | --- | --- | --- |
| Surface Laptop 3 15 | Ryzen 5 | 769 | 2,720 |
| Surface Laptop 3 15 | i7-1065G7 | 1,336 | 4,893 |
| Surface Laptop 3 13.5 | i5-1035G7 | 1,177 | 4,413 |
| Surface Laptop 2 | i5-8250U | 909 | 3,372 |
| Surface Pro 7 | i5-1035G4 | 1,191 | 4,441 |
| Surface Pro 6 | i7-8650U | 1,113 | 3,519 |
| Surface Pro 6 | i5-8250U | 904 | 3,440 |
| Dell XPS 13 2-in-1 7390 | i7-1065G7 | 1,209 | 3,571 |
| Dell XPS 15 7590 | i9-9980HK | 1,176 | 7,624 |
Geekbench 4
Geekbench 4.0 (CPU) (higher is better)
| Device | CPU | Single core | Multi core |
| --- | --- | --- | --- |
| Surface Laptop 3 15 | Ryzen-5 | 3,985 | 12,079 |
| Surface Laptop 3 15 | i7-1065G7 | 5,727 | 19,593 |
| Surface Laptop 3 13.5 | i5-1035G7 | 5,265 | 17,345 |
| Surface Laptop 2 | i5-8250U | 4,203 | 13,233 |
| Surface Laptop | i5-7200U | 3,725 | 7,523 |
| Surface Pro 7 | i5-1035G4 | 5,245 | 17,350 |
| Surface Pro 6 | i7-8650U | 5,037 | 13,864 |
| Surface Pro 6 | i5-8250U | 4,287 | 14,031 |
| Surface Pro 5 | i5-7300U | 4,302 | 8,482 |
| Surface Pro 5 | i7-7660U | 4,513 | 9,346 |
| Surface Pro 4 | i5-6300U | 3,319 | 6,950 |
| HP Spectre x360 15 | i7-9750H | 4,968 | 18,790 |
| HP Spectre x360 15 | i7-8565U | 5,246 | 16,272 |
| Dell XPS 13 2-in-1 7390 | i7-1065G7 | 5,459 | 19,097 |
| Razer Blade Stealth | i7-8565U | 5,139 | 16,339 |
| Dell Latitude 7400 2-in-1 | i7-8665U | 5,469 | 15,800 |
PCMark
PCMark 10
| Device | Score |
| --- | --- |
| Surface Laptop 3 15 (AMD) | 4,006 |
| Surface Laptop 3 15 (Intel) | 4,604 |
| Surface Laptop 2 | 2,748 |
| Surface Pro 7 i5 | 3,992 |
| Surface Pro 6 i7 | 3,644 |
| Surface Pro 6 i5 | 3,501 |
| Dell XPS 13 2-in-1 7390 | 4,427 |
| Dell XPS 15 7590 | 5,521 |
| Dell XPS 13 2-in-1 7390 | 4,427 |
| Dell Inspiron 13 7390 2-in-1 | 3,764 |
| HP Pavilion x360 14 | 3,558 |
| Lenovo ThinkBook 13s | 3,468 |
GPU
Geekbench 5.0 OpenCL (higher is better)
| Device | GPU | Compute score |
| --- | --- | --- |
| Surface Laptop 3 15 | Vega 9 | 11,334 |
| Surface Laptop 3 15 | Iris Plus | 10,497 |
| Surface Laptop 3 13.5 | Iris Plus | 9,811 |
| Surface Laptop 2 | Intel UHD 620 | 5,514 |
| Surface Pro 7 | Iris Plus | 7,613 |
| Surface Pro 6 | Intel UHD 620 | 5,396 |
| Dell XPS 13 2-in-1 7390 | Iris Plus | 10,406 |
| HP Spectre x360 15 | GTX 1050Ti | 82,576 |
| HP Spectre x360 15 | MX150 | 47,284 |
| Dell Precision 3541 | NVIDIA Quadro P620 | 12,469 |
SSD
CrystalDiskMark (Higher is better)
| Device | Read | Write |
| --- | --- | --- |
| Surface Laptop 3 15 | 2,028 MB/s | 806 MB/s |
| Surface Laptop 3 13.5 | 2,338 MB/s | 1,583 MB/s |
| Surface Laptop 2 | 1,509 MB/s | 811 MB/s |
| Surface Laptop | 486 MB/s | 244 MB/s |
| Surface Pro 7 | 2,040 MB/s | 809 MB/s |
| Surface Pro 6 | 1,632 MB/s | 814 MB/s |
| Surface Pro 5 | 847 MB/s | 801 MB/s |
| Surface Book | 1,018 MB/s | 967 MB/s |
| Dell XPS 13 2-in-1 7390 | 2,400 MB/s | 1,228 MB/s |
| Huawei MateBook X Pro (new) | 3,416 MB/s | 2,779 MB/s |
| HP Spectre x360 13t | 3,085 MB/s | 1,182 MB/s |
| LG gram 14 2-in-1 | 558.1 MB/s | 523.1 MB/s |
.
When it comes to raw CPU performance, the Ryzen 5-3580U often falls below that of the Intel 8th Gen Core i5-8250U on Geekbench 4 and Geekbench 5. Meanwhile, the Intel 10th Gen Core i5-1035G4 easily outpaces the AMD Ryzen 5 on both single and multi-core scores. AMD chips are a better match for Intel's 8th Gen series, but it will lose out against the 10th Gen.
The AMD Vega 9 is a bit improved where it wins over the Intel UHD 620. But it is only a smidge faster than the Dell XPS 13 2-in-1 7390 with 10th Gen Iris Plus. Those Vega graphics did provide a boost over the Surface Laptop 2's overall score in PCMark 10, though.
While you can play games, you are mostly limited to side-scrollers and arcade style instead of first-person shooters. I was able to play Crackdown 3 (opens in new tab) with a decent framerate, but it was only after all the graphics were set to "low," reducing detail dramatically.
Battery life is a mixed bag. Microsoft claims 11.5 hours using a new test that relies on 10 browser tabs and Microsoft Office running for a productivity-focused benchmark. That's not too far from PCMark 10's "Modern Office" battery test that mixes Office use, browser, video conferencing, and some idle time. My results show that 10 hours of battery life is achievable, compared to just eight hours in the smaller Surface Pro 7.
However, my review unit did experience a persistent battery drain. If I leave the laptop with the lid closed overnight, it results in a 20 percent drop in the battery. By comparison, the Surface Pro 7 only dropped by four percent. I'll chalk that up to some early driver issues. But therein lies another rub: AMD laptops are woefully underrepresented in the market resulting in its drivers having possible problems. Those can be fixed, of course, but it highlights a small risk with Surface Laptop 3 until Microsoft can isolate the issue. (Intel chips have also had plenty of problems.)
SSD storage performance is in line with Surface devices. Read scores hit the 2,000 MB/s, an increase over Laptop 2's 1,500 MB/s, and Surface Laptop 1's abysmal 486 MB/s. Write speeds are still below the industry average, at just 800MB/s.
Finally, the Surface Laptop 3 15 stays cool under duress. Temperatures rarely went over 91 degrees Fahrenheit (33 degrees C), and the fans were always quiet.
sum of its parts
Bottom line on Microsoft's Surface Laptop 3 15-inch
The Surface Laptop 3 15 is quite disappointing.
While I recognize that some may prefer a 15-inch model, at least, in this case, the Surface Laptop 3 15 offers no clear advantage over the smaller 13.5-inch one besides a larger screen. That's not the case with Surface Book 2, where the 15-inch received a more powerful GPU and even had Xbox Wireless Controller support. Those were clear differentiators.
And therein is the core issue with Surface Laptop 3 15: identity. Microsoft claimed this was the fastest 15-inch in its class, but it is almost in a class of its own, and not in a good way. Most manufacturers, when they go to the 15-inch size, also bring more significant features, such as 45-watt CPUs and GTX graphics. You'll find none of that here.
Overall system performance is worse than the Dell XPS 13 2-in-1. The new Razer Blade Stealth has a Core i7 processor and NVIDIA GeForce GTX 1650 graphics. It's just a 13-inch Ultrabook. Couldn't Microsoft go with Intel and sneak in an NVIDIA MX150 like everyone else?
Some of the performance worries could be eased if I could point to extraordinary battery life. But I can't.
Then there are smaller matters. The sound profile and color gamut are worse than the 13.5-inch model. The display looks great and is excellent for most users, but other companies are adding value plays like Dolby Atmos, Dolby Vision, HDR400, anti-glare, and OLED. While I can excuse the lack of Thunderbolt 3 in smaller laptops, it seems 15-inch ones should have that feature. This one doesn't.
Even wireless is disappointing, with no Wi-Fi 6 with a chip. Wi-Fi 6 in a laptop this premium should be a given.
The Type-C port is at least welcome. With it, you can use external displays (even portable ones) and Type-C hubs to add more ports. You can also use portable Type-C battery packs, external drives, or a Type-C charger in a pinch. But it is a bit odd that Microsoft could not squeeze in another port like a full SD card reader — a common practice with larger laptops.
None of this is to say that a Surface Laptop 15-inch is a bad PC. But Microsoft overhyped the performance with Surface Laptop 3 15.
If money or performance is a priority and looks aren't a concern, there are better choices on the market. The XPS 15 (7590) is a bulkier laptop, but it has excellent battery life and exceptional performance all for $70 less. The HP Spectre x360 15, while dated with thicker bezels, is disproportionately much more potent than Laptop 3 and slightly cheaper.
An even better choice is to go with the slightly smaller Surface Laptop 3 13.5. I'd argue that size is better for everyday use and travel, more comfortable to type on, and it delivers Wi-Fi 6, optional Alcantara, and likely crispier sound. While I haven't benchmarked the 10th Gen Intel chips on that laptop, the Surface Pro 7, which uses a similar configuration, has been outstanding.
There is a version of this laptop with Intel 10th Gen Core processors, but Microsoft is only offering it as a direct sale in select markets. While I feel the Intel chipset with Wi-Fi 6 addresses some of my concerns here, I'm not convinced it addresses all of them.
I still like the idea of a 15-inch Surface Laptop, but for the price Microsoft is charging, I want more substance. The laptop design is exquisite, but in giving up Alcantara, the Surface Laptop lost one of the things that made it different. The partnership with AMD here is also odd, too. I can't understand at all what value it brings to the end-user over Intel — something I recently suggested. It's not faster. The GPU is a hair better but far below even an MX150. And if battery life is significantly better, Microsoft's estimates betray that fact.
The good news is Microsoft will likely bring this laptop back with significant refinements ... eventually. But for now, unless you're hooked on a 15-inch Ultrabook, it may be best to pass on this PC.
It looks beautiful, but…
(opens in new tab)
Microsoft Surface Laptop 3 15
It's a huge Ultrabook, but that's it

The Surface Laptop 2 was one of Microsoft's most fabulous creations, but in making a larger 15-inch version, the company missed the mark. The AMD Ryzen and Vega are merely OK and don't offer much over Intel. The lack of Wi-Fi 6, extra ports, Thunderbolt 3, slightly worse speakers, and occasional battery drains make it even harder to recommend. There's a lot of style but not a lot of substance.
Daniel Rubino is the Executive Editor of Windows Central, head reviewer, podcast co-host, and analyst. He has been covering Microsoft here since 2007, back when this site was called WMExperts (and later Windows Phone Central). His interests include Windows, Microsoft Surface, laptops, next-gen computing, and arguing with people on the internet.
This review confirms that it was the right decision to pre order the Intel I7 versione of the SL3 15".

Ikr, I was kinda dissapointed with MS choice for 12nm Picasso (should've waited for 7nm Renoir). And my suspicion was right... Should've made Intel 10nm + MX250. And I actually won't be suprised if M$ (sorry for the slang, but it's true; so is Appl€), update the SL3 2020 refresh in 6-8 months with either AMD 7nm or the Intel/nvidia above. Or release it with Surface Book 3.

Good honest review. Can you do a mini review with benchmarks on the 13" too?

Thanks and yup, definitely my plan.

If at all possible I would appreciate if you could review the 15 inch intel version!

Hey Dan, good write up and an honest review. This is the kind of writing I prefer.

Thanks, Daniel. This was a good review. While I'm disappointed that the AMD version didn't hold up to the hype, this makes me feel better about going with the 10th Gen Intel i7 version of the Laptop 3 15".

I wonder if the wifi chip is socketed, you could replace it just like the ssd also while the amd gpu might not seem all that much faster than intel, it is a heck of a lot better supported for sure, and the intel+mx150 combo is way less power/space efficient what really bothers me is AMD is not yet offering their A game for this cpu class, this is a zen1 chip, if it was zen2 there would be no difference in performance vs intel, and probably twice the cores, also current software was made with intel hw for intel hw, that has a strong influence on general performance

I'm assuming it's not socketed since WiFi 6 is available on all the Intel devices but not the AMD.

This review confirms that Microsoft should have waited another 4 months for AMD's Renoir Zen 2 APU on 7nm that will be unveiled at CES 2020. This is still a Zen+ APU on 12nm (Picasso) and it shows with week single threaded performance. Zen 2 would have been a better performer in every way possible. Much better single threaded performance, PCIe 4.0 support for faster M.2 storage, lower power usage, better GPU with a revised Vega unit. Hopefully Microsoft doesn't wait a full year to revise this unit with AMD's Renoir APU. I'm looking forward to buy an AMD based Surface Laptop since you can't trust Intel's CPU's with its many security flaws.

"Wi-Fi 5 and is significantly slower. It's a direct result of going with AMD and not Intel for the chipsets." Yeah I'm going to go ahead and stop reading here, that's notnhow any of this works. AMD doesn't have integrated SoC wifi, MS could have gone with WiFi 6 if they wanted. They just didn't. Also 1 game tested? And then a bunch of synthetics. Okayyy

Dude, the chip sucks. You won't find a single review that says otherwise. It's not a gaming chip, the CPU is slightly worse than 8th Gen Intel, far behind 10th Gen Intel. The GPU is better than Intel's integrated but miles behind an MX150 and not even on the radar of a GTX 1050. Get over it.

"MS could have gone with WiFi 6 if they wanted. "

And they did. The 13.5 inch Laptop 3 has it and the 15 inch Laptop 3 with Intel has it. The AMD does not. Nor does it have DDR4 RAM. Awesome 👍🏼 You do know that Intel as a chip supplier is the biggest right now for Wi-Fi 6 in laptops, right?

Edit:

No DDR4x for RAM like the Intel version. It has DDR4. DDR4x saves around 30% on power consumption, which would matter a lot here.

I think saying it "sucks" is too harsh. Granted, Intel beats it in performance and certainly battery life, but Ryzen is still miles better than any of AMD's previous mobile offerings (A series *barf*) and is still a good option for the common productivity-focused consumer, because those benchmark results may be disappointing, but they are splitting hairs when it comes to average use for consumers. I can see your frustration though in not at least achieving feature parity where they could have, though, such as Wifi 6 ( because the AMD mobile platform simply doesn't do LPDDR nor Thunderbolt). At least they are keeping Intel on their toes and preventing them from becoming complacent and not innovate as much. AMD should definitely integrate LPDDR4 or 5 and create a response to Thunderbolt to even be on the same playing field and be truly worthy of the Surface moniker.

Agree, too harsh ;) I do have hopes for AMD next year and I think a Laptop 4 15 with next-gen AMD Ryzen could be a much bigger deal. I do want AMD to do well here, we need the competition. But right now, all the reviews have been consistent on this which is this is not the chip that will win over fans for AMD. They need to do more than just "OK".

"Nor does it have DDR4 RAM. Awesome 👍🏼" Dude, you can't be serious. This is your job? Did you spend more than 10 minutes gathering any info on the product at all? You're clueless lmao

DDR4x RAM. I love how I leave ONE letter off and you people lose your mind, like it is some conspiracy. Meanwhile you'll ignore everything else I say as to why I have issues with this laptop - including no DDR4x RAM - because you have nothing else, right? Let me recap: No Wi-Fi 6 Worse performance on CPU benchmarks No Instant On Slow write speeds on SSD Audio crackling and a muddied sound (compared to Laptop 2) 15-20% battery drain overnight Other reviews citing mediocre battery life. Display being too glossy, no HDR, not 500 nits No Thunderbolt 3 No SD card reader So, why would I give this laptop a strong review in spite of that? Are you really going to be an apologist and defend all of that? Are you going to really go buy one and put your money where your mouth is, or just be an AMD fan in comments? I'm not clueless, but I have used this laptop and you have not. So there IS that.

I miss one pro: 1.54 kg for a 15 inch with a touchscreen/digitizer! That is quite a feat, especially since most 15 inch touchscreen laptops with an ok gpu are much heavier. As a buyer I would generally wait for a sale or a next version with a 7nm AMD proc however.

I wasn't aware MS is going to make a 15" Intel version too? How are they going to (clearly) distinguish the two CPU brands in marketing for non-technical folk?

They don't need to. You can only buy the Intel version through 3rd party business retailers, not Microsoft themselves or in stores. Microsoft, Best Buy, Amazon, etc. will only sell the AMD version. Intel is for "business purchases".

Daniel,
I actually preordered a SL3 15" Business version (Intel I7) through Microsoft italian site. It should be shipped Tomorrow. The Intel version is just 100€ more expensive than the AMD one, but reading your honest review of the AMD one it should be a lot better as performance.

Yeah, I hear in Europe you can just order the Intel version direct. Can't here in the States as it goes through partners for resale. Update: We just posted how now anyone can purchase the Intel version too, direct from Microsoft, so that's good . I think Zac is getting the Intel one too for the same reasons. You get DDR4, Wi-Fi 6 and 10th Gen Intel should be much more powerful (graphics will be about equal). If I had to choose I'd go with Intel right now too. Maybe AMD next year as they are making moves, but today is not that day.

Daniel,
sincerely I did not really understand the reason MSFT went with AMD. The reviews are quite disappointing on the performance side. I think the Surface brand has to be viewed as the top under all aspects and the AMD choice was not in that direction.

Oops I accidentially reported this post. What I wanted to say is that the Amd has a slight advantage in security (not affected by Spectre or Meltdown or whatever it was called) and you can probably get the Amd version cheaper than the Intel one.

$100 cheaper for 10-20% performance hit, no wifi 6 and worse battery life (we'll confirm with SL3 15" Intel or 13" shortly) Isn't that great of a payoff.. there's no reason it performed worse than SL2. Cheap, or should I say affordable is Huawei MX pro. That sadly have trouble in US markets + may have QC issue.

Well one could make a case for it if you just want the igpu speed within a premium/portable 3:2 touchscreen laptop. Generally I agree with you, though I do think the Amd version will be on sale faster so from that perspective it might be interesting to keep an eye on it.
And lets be honest, Thunderbolt is a nice extra but quite niche now that we have usb-c 3.1 that can do most things Thunderbolt can do (4k displays through DP etc, fast backups, charging(?), most docks etc). Wifi 6 is a nice boon but not sure how much it is needed (don't know how good it was with previous Surface Laptops). The battery life will probably still be a bit better but Pascal did bring big improvements compared to 2500u/2700u (Ravenridge?).

Yep, thanks, saw. Will wait for the review, but also curious if they'll offer the Student Discount for these, too...

Glad I waited for your review before ordering. Will there be an additional review for the Ryzen 7? Or perhaps comparison with i7 in the 13"?

Not sure at this point. Was thinking more of the i5 in the 13".

With this review public, could you do a story of alternative AMD-powered laptops for gaming you would recommend over this? I was hoping to avoid a desktop replacement gaming laptop but it looks like that may be the only choice if you are on Team Red.

Asus TUF Gaming with the Ryzen proc and a nvidia 1650 is pretty nice. For Amd-only laptops it generally makes only sense for casual/light gaming at the moment; Thinkpad e595 or the newer Amd Envy 15 inch (also 2-1) versions are nice if on sale. Whatever the case, for Amd-only laptop get something with dual ram and decent cooling. Best is to wait for the Amd 7nm Ryzen and/or Navi laptop chips though.

Appreciate the honest review boss! I think I'm on team alcantara now as well- but took me a couple years to get on board!

Thank you for the review. Any chance you will be reviewing the 15 inch intel version?

I think Zac is getting an i7 version of that, so maybe he can get some benchmarks, but unlikely I'll be able to review it myself.

Nice.
It would be the first showdown between Intel and AMD in the same Surface Product.

Hopefully Surface Book 3 15" comes out soon.
I guess it makes sense why they didn't announce it this month. It would overshadow Laptop 15"

Can someone tell me if I fit the niche for the SL3-15? I'm currently using a Lenovo X1 Carbon i5, I like that it's light and has a 14in screen and it has enough oomph for what I need - it can run an IDE and all the Office apps simultaneously. But I'd like a bigger screen and I'm bored with the matte black body. I really don't want to go heavier. I don't mind short battery life, the longest time I'm away from a socket would be around 4 hours. A price range similar to Carbon would be acceptable to me. Touchscreen would be good but only for pen and pen-ready apps, I don't see the point of trying to use it as a tablet.

Absolute garbage review, full of technical mistakes.
Author has apparently been writing since 2009, obliviously he hasn't learned anything since he started. Review might as well have been written by Intel. It most likely was. For those that want a comprehensive review that isn't biased should read this review from AndandTech. They at least took the time to identify the Ryzen CPU in the laptop. A rather important thing that is a BASIC part a review that Daniel Rubino found incapable to do. Maybe it was a direction from Intel, after all they avoid doing a direct comparison of performance for EVERY review they meddle with. https://www.anandtech.com/show/15008/the-microsoft-surface-laptop-3-15-i... Daniel also forgot to mention that every Intel CPU, including 10th gen continues to suffer from rather large security vulnerabilities, which is pretty damn important for a work laptop.
I wouldn't do basic banking on an Intel machine. Intel isn't what it was. It's time that reviewers stop accepting Intel's coin and do reviews for those who read it.

Underrated comment here. I was incredulous when I read these illogical statements and clear bias

I stand by everything I wrote, in fact, I may have been too kind.

Okay, my turn. Defend/address all of these criticisms about Surface Laptop 3 15-inch I made in this review: No Wi-Fi 6 No DDR4x Worse performance on CPU benchmarks No Instant On Slow write speeds on SSD Audio crackling and a muddied sound (compared to Laptop 2) 15-20% battery drain overnight Other reviews citing mediocre battery life. Display being too glossy, no HDR, not 500 nits No Thunderbolt 3 No SD card reader Go ahead, what is inaccurate there? I get it, you're an AMD fan who is trolling our comments (you joined our site YESTERDAY) because I see no point in Ryzen/Vega here. You're right, the processor did not impress me. It didn't impress Microsoft either who are selling the 15-inch Intel version in its Stores too

because businesses don't want AMD

. (And consumers can buy it too). Explain why all the other reviews for this laptop have been

middling

, at best. Also, I'm good friends with Brett from Anandtech, so I'm not offended at you recommending his review. It's excellent. We had extensive talks about Laptop 3 15 during the reviews process. In fact, here is what he concludes:

"But the Zen+ CPU core doesn't offer the same CPU performance of even the previous gen Core-U series from Intel, leaving the Surface Laptop 3 trailing a bit in CPU tests. Meanwhile, platform power is a mixed bag; Microsoft and AMD have made some incredible strides here in bringing down AMD's platform power, but on the whole even the highly tuned 15-inch Surface Laptop 3 is hobbled a bit by a higher platform power draw that eats away at battery life. Even with Microsoft's help, there's only so much AMD can do with their current-generation silicon, especially without LPDDR4X support."

Your turn.

Good points, I like it that you take the time to come with constructive replies. I think the AMD SL 3 is pretty impressive regardless if it a good deal (considering AMD's backlog in the laptop market and their smaller budget), this only shows how close AMD is to Intel and once 7nm rolls out we can see some real competition (finally). My guess MS knew that the AMD SL 3 is less interesting but that they want to give AMD the oppertunity to further optimize chipsets etc as preparation for the 7nm chips.

Thanks. I did perhaps understate the value play of a $1,200 Laptop 3 15 and some of that is attributable to AMD. And yeah, all eyes on Zen 2-based Ryzen mobile processors. My question is: Can AMD get those into any major laptops? Rumor back in January said AMD has a difficult time giving support and marketing to OEMs, which is why some are sitting out Zen 2 launch. HP was rumored, but I have heard nothing about Dell or Lenovo. AMD needs at least one or two of the big three to make real waves here.

Just go buy the Intel Business version of the Surface Laptop 3 15. Anyone can purchase the Intel-powered version of the Surface Laptop 3 for Business from the MS store.
The AMD version is a big disappointment on many fronts, showing how far behind AMD is in the laptop chipset race. The Intel version has many of the things the AMD version does not; better power usage, 10th Gen Intel CPU, WiFi 6, DDR4 Memory, less heat, etc.
Agreed that other vendors sell better designs with better value, but if you MUST buy a Surface 3 Laptop, get the Intel for Business version.

The AMD version has a ddr4, just not ddr4x. The SL 3 makes most sense in a sale (it will be less popular so probably higher chances on sales). Still it is pretty amazing actually that AMD is so close to Intel in laptops while still using old tech considering the backlog they had in the laptop market (and with a way smaller budget). Once the 7nm AMD chips are on the laptop market, we can see some real competition in premium laptops too.

Dan, I think you need more sleep 😅 in the video at 15:38 you said it has WiFi 6 oops! Sadly Zen+ is not as efficient as the Zen 7nm... I'm surprised they went with Zen+ I suppose the shortage of 7nm factored into the decision. Qualcomm Atheros QCA61x4... why??
Microsoft could have used Broadcom's BCM4375 for WiFi 6 support. I wonder did cost savings influence certain decisions here... As usual pretty solid review, don't let the youtube comments get to you lol. Otherwise you'll end up too drunk whiskey or something every day 😆.

Yeah, was doing back to back videos and that was a mistake I made there ;) It was a long day. No idea about Broadcom's BCM4375 - maybe it was a cost thing? I'll try to dig around. Cheers.

I can imagine it was indeed a long day and we all make mistakes :) no one is infalliable lol. Thanks Daniel and have a good weekend. Edit: Maybe Broadcom's BCM4375 is only smartphones?
but I'm sure Microsoft could have made it work if they really wanted to... 🤷‍♂️🤔

Hey do you have a link to the wallpaper? It's awesome!

Nice products! Great company. Thanks for sharing such a great and powerful contents.

Not sure why WC is reposting Surface Laptop 3 review today?

According to a Youtube video comparing M1 Macbook with Surface Laptop Intel and AMD models, Intel comes out on top.
Anything to say about this?
Windows Central Newsletter
Get the best of Windows Central in in your inbox, every day!
Thank you for signing up to Windows Central. You will receive a verification email shortly.
There was a problem. Please refresh the page and try again.