New Surface PC lineup shows Microsoft 'matching the right silicon' to the user experience
Microsoft's new customized AMD and ARM Surface CPUs aren't just a flirtation with diversity — they may be crucial to nailing the optimal product experience.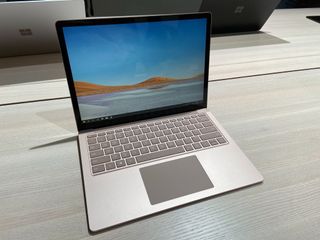 (Image credit: Windows Central)
When Microsoft took the stage at its fall 2019 Surface event this week, we were expecting the company to make some big waves. That's exactly what we got, with Microsoft announcing everything from a simple refresh to the Surface Pro 7 to a look at the dual-screen future, with the Surface Neo and Surface Duo.
However, there was another shift in the Surface lineup that may have been overshadowed. Microsoft is now shipping customized CPUs in two Surfaces: the new Surface Pro X and the 15-inch Surface Laptop 3. The former ships with the Microsoft SQ1 chip, a modified version of Qualcomm's Snapdragon 8cx. The latter, meanwhile, taps AMD for a set of tweaked Ryzen CPUs.
Both are major shakeups for a brand that has been almost entirely Intel-based for its entire life.
The right chips matter
Over the years, the Surface brand has expanded to meet many different needs. What started as a unique tablet 2-in-1 hybrid in 2012 with Surface Pro has gradually grown to a brand that now includes a detachable notebook, a premium laptop, a powerful all-in-one aimed at artists, and even a business-focused digital whiteboard and collaboration tool.
With the exception of the original Surface and Surface 2, which both ran Windows RT on NVIDIA's ARM-based Tegra chips, Microsoft has stuck with Intel CPUs throughout Surface's seven-year run thus far. While Windows RT ultimately ended in failure, it showed that Microsoft had its eye on using different chips to meet different needs from the start. That strategy is what Microsoft appears to be returning to with the Surface Pro X and 15-inch Surface Laptop 3, albeit with a much more solid foundation and many more years of experience in place.
"Adding AMD chips — not to mention a modified Qualcomm ARM chip to the Surface X — means that Microsoft is focused on matching the right silicon to the right product experience for users," says J. P. Gownder, a vice president and principal analyst at research group Forrester. "Any time you are matching the right components to the product experience customers want, that's a net good," Gownder notes.
With the Surface Pro X, Microsoft is looking to transform the Surface Pro lineup with a thinner, sleeker device built around mobility. The 15-inch Surface Laptop 3 is focused on providing a little more power, particularly in graphics, for those who need it on the go. The key here, Gownder said, will be making sure that these new chips work as well with Windows 10 as Microsoft hopes.
Finding the right fit
It's here that the work Microsoft has done to customize the SQ1 and AMD Ryzen chips will matter. Rather than just slapping off-the-shelf Snapdragon 8cx and Ryzen chips in these new Surfaces, Microsoft says it has implemented several tweaks to get the experience it envisions.
With the SQ1, for example, Microsoft has increased the 8cx's clock speed and pushed its graphical power up to two teraflops. While the AMD Ryzen 5 and Ryzen 7 CPUs look very similar to the chips found in other laptops, Microsoft has added an extra GPU core and done some extra legwork with the drivers to make sure performance hits its targets.
Gownder says Microsoft is "following Apple's lead" here, referring to the iPhone maker's strategy of developing customized silicon to fit its needs. "Sometimes, the only way to get the right experience outcome is by doing it yourself."
With the Surface Pro X, Microsoft may be aiming to give Windows 10 on ARM a boost as well. "[Of] course ARM hasn't lived up to Microsoft's hopes for Windows 10 up to now, so it's part of the company's attempt to get mobility working better on Windows 10," Gownder says. "If it becomes popular, it might inspire other OEMs to develop similar products on Windows 10 as well."
Where does this leave Intel?
While AMD and ARM chips may be entering the picture, Intel is still very much "in the driver's seat," Gownder says. "It certainly is something for Intel to keep an eye on, but it's not immediately a moment for panic."
The vast majority of the updated Surfaces still run on Intel silicon, including the full gamut of 13-inch Surface Laptop 3 models and Surface Pro 7. It's telling, too, that Microsoft is offering an Intel variant of the 15-inch Surface Laptop 3, but only for business users.
Looking forward, Intel chips aren't going anywhere, and that's made obvious by Microsoft's upcoming dual-screen Surface Neo. The foldable PC is the first mass-market device to use Intel's "Lakefield" CPU. Lakefield is a next-generation chip that uses Intel's Foveros 3D packaging tech to bundle a mix of low- and high-power CPU cores on a tiny chip.
In any case, this is an exciting time to be a Surface fan. There's more choice than ever across the lineup, and with things like the Android-powered Surface Duo on the horizon, that doesn't look to be slowing down anytime soon.
Microsoft Surface fall 2019 event: Everything announced
13- and 15-inch options available
(opens in new tab)
Microsoft Surface Laptop 3
Get yours while it's hot

The Surface Laptop 3, available in both 13.5- and 15-inch configurations, is sure to please anyone looking for a premium Ultrabook.
Windows 10 on ARM
(opens in new tab)
The lightest and thinnest Pro available

Available in a few different configurations, the thinnest and lightest Surface Pro to date is now available for preorder. Itis expected to be released November 5, 2019.
Competent capabilities
(opens in new tab)
Welcome to the Surface family

Between the awesome processor line-up, Wi-Fi 6 compatibility, and plenty of RAM and storage to go around, the Microsoft Surface Pro 7 is shaping up to be a great device.
Dan Thorp-Lancaster is the Editor in Chief for Windows Central. He began working with Windows Central as a news writer in 2014 and is obsessed with tech of all sorts. You can follow Dan on Twitter @DthorpL and Instagram @heyitsdtl. Got a hot tip? Send it to daniel.thorp-lancaster@futurenet.com.
What I've always liked about Surface is that the choice is limited, but that you know the quality is higher. With more devices in the Surface current resources will have to be divided across more devices, I could image diluting the status quo quality for past, current and future design AND maintenance in the long run and long game, essentailly what was above "the Surface" to only just reaching "the Surface".

With foveros technologies and the fact the pc is getting thinner how well will intel and microsoft guarantee perfect longlasting heat management. in essensce foveros is packaging a potential microarchitecture with relative large surface area of silicon into a smaller volume. I could imagine the thermodynamics here would theoretically be be contradictory to favoral conditions for adquate heat management compared to silicon spread over a larger area across the motherboard.

Microsoft is not following Apple's lead with custom CPUs and GPUs. The Xbox team at Microsoft has been doing it with success since 2003 when they first conceived of the Xbox 360. The GPU was a custom chip by ATI (who was acquired by AMD), and the CPU was a custom developed CPU by IBM. The Forrester dude needs to dig a little deeper and put down his Mac book and iPhone.

I think he meant it in the context of laptops and mobile devices, not game consoles. In any case, it's the right move. I am EXTREMELY curious about how the Surface Pro X performs vis-a-vis the Surface Pro 7 and, more importantly, how it runs legacy x86 apps.

What are the specs for the "business only" 15-inch model? What constitutes as business only?

"Gownder says Microsoft is "following Apple's lead" here, referring to the iPhone maker's strategy of developing customized silicon to fit its needs. "Sometimes, the only way to get the right experience outcome is by doing it yourself." That is not the same Windows Central. These are modified ones that are already available CPU's/SoC's. Apple's are totally designed from the ground up designs in house using an ARM license.

That's a good point. Microsoft hasn't made anywhere near the same level of investment in PC silicon design, which (I think) suggests that they're in no rush to make ARM a mainstream option for running Windows.

"Both are major shakeups for a brand that has been almost entirely Intel-based for its entire life." This is so wrong. Ok, I just saw that first Xbox was Intel, but after that they didn't used Intel until Surface line. Xbox 360 was on IBM. Xbox One (S) and X are on AMD. Kin, Zune, Lumias, Band probably, Hololens, Surface RT was on ARM...

I think he is referring to the Windows brand. It has been known as WinTel for decades. "Kin, Zune, Lumias, Band probably, Hololens, Surface RT was on Arm" And - except for Hololens - they all failed. Not exactly helping your point. "...almost entirely Intel-based for its entire life" is correct.

Microsoft is 44 years old. Windows is 33 years old. And they use Intel in their Windows devices (Surface) only in the last 7 years. So "...almost entirely Intel-based for its entire life" is not correct.

I would buy this on day one if it wasn't for the lack of a micro-SD or SD expansion slot, I'm never going to pay 350 eur for 128GB extra when I could simply use a 200GB micro-SD card for 30 eur.
I use my surface mostly for reading comics and watching video and the lack of expansion is a big 'no' for me, too bad as I was really looking forward to a new Surface with a bigger screen, I guess I'll have to keep waiting. PS: comment marked as spam for using the word eur** complete? seriously?

It's nice to see MS getting into the CPU/SoC business even if it is just to help modify AMD and Qualcomm chips that any company could buy. It shows that they are somewhat invested on the back end to make the user experience better. They aren't going to full-on Apple route of designing their own chips but I think this is a nice step in the right direction. Hopefully it all pulls through and things are figured out. I wouldn't mind switching over to Windows on ARM but... I'm still not sold on the Pro X. It's a solid design but, if the Neo represents the future of the Surface line, that means Intel is the future too. MS also doesn't have a good track record of Windows on ARM. Other ARM-Windows devices don't really have the same app selection and (with the Pro X) emulation will be limited to 32-bit programs. For my needs, I have a 64-bit program that would require the purchase of an additional $5000 license to get the 32-bit version. The history, current app selection, and limited emulation capabilities have me worried for now. Most people though, they would be fine with the Pro X. I'll be picking up the Pro 7 on launch and will wait for the Neo. Maybe the Pro X2 will pull me in.

I wonder what a stretch it would be to build a custom ARM chip for the upcoming Duo and allow both Android and Windows apps to run on the same device. Maybe Andriod when on the go and Windows when plugged into an external monitor? At least if not with the first iteration, then perhaps eventually.

Also, didn't the Surface Book OG use a customized/ tailored Nvidia 940m chip for the dGPU? I realize it's nowhere near the same scope, but I think it is representative of the path MS took to get to the extremely impressive SQ1.
Windows Central Newsletter
Get the best of Windows Central in in your inbox, every day!
Thank you for signing up to Windows Central. You will receive a verification email shortly.
There was a problem. Please refresh the page and try again.