Surface Duo unveiled: A folding Surface phone that runs Android
Microsoft unveiled a folding Surface phone that runs Android.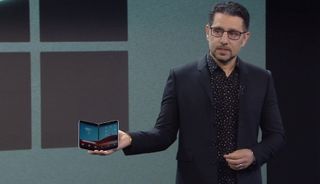 (Image credit: Microsoft)
What you need to know
Microsoft unveiled a folding Surface phone that runs Android at the October Surface event.
The device looks similar to the Surface Pro X but with a smaller form factor.
The two screens can run apps side by side to improve productivity.
The Surface Duo surprised everyone at the October Surface event. Despite potentially the most leaks leading up to any Surface event ever, viewers and reporters were caught off guard by a folding Surface phone that runs Android apps. It combines the hardware design of the Surface team with the Google Play Store and all the apps that come with it.
The Surface Duo features two 5.6" displays joined by a 360-degree hinge.
As pointed out by Panos Panay, the phone runs "every single app" in the Android ecoystem. Panay highlighted that this phone is pushing the ecosystem forward.
The device will be available in the holiday season of 2020.
Here's everything Microsoft announced at its Surface 2019 event
News Writer and apps editor
Sean Endicott brings nearly a decade of experience covering Microsoft and Windows news to Windows Central. He joined our team in 2017 as an app reviewer and now heads up our day-to-day news coverage. If you have a news tip or an app to review, hit him up at sean.endicott@futurenet.com (opens in new tab).
They did it. They actually did it.

Were can I insert my credit card. Tim cook must be flipping chairs.

I doubt it. It runs Android so I guess I'll be giving my money to Tim

Doslesnt MS make money off EVERY android device sold? Isn't there some patant thing that MS make money off of Android? Im genuinely asking. I read that some where.

That was most likely for a period only.. It's likely that would've expired by now.

The patent for FAT was part of that and a big reason why Google stayed away from SD cards.

Omg whyyyy Android. It should have been running Windows 10 S with telephony and SMS/RCS support (is it really that hard to add this?!). That's literally all we want.

Stop using we, OK I would have preferred windows OS, But I will take this one.

I think launching Neo AND Duo is a smart move.
If Windows 10X gets enough developer support, they might switch to Windows 10X, in the next iteration.
If it doesn't, they'll keep going with Android, which is the best option, ATM.

I think anyone that was a Windows Phone/Windows 10 Mobile fan, wanted that. But, honestly, this isn't that bad. You get an extremely sexy device. You get the productivity of two screens, you get the use of a magnetically attached and charge pen and you can load all of MS apps on it. My only question, does this partnership allow for Cortana to be used, instead of Google Assistant, with always on voice noatter what you're doing? If it will do that, it will be icing on the cake. Even if it doesn't, I will still hold on to my Note 8, until next year. I would take this over Samsung's option. Assuming the Surface buds are good and I don't see why they wouldn't be, I may spring for those, too lol... But, we shall see, once these products are in hand and the reviews start popping up. Besides, with a device that runs Android, MS and Google may tighten their relationship to allow further integration of products. If you can't beat them, join forces and create something great!!

Hold on. He never said that it runs only Android!!

I'm with you Renoktation. I didn't hear anything about the OS being Android! If it's possible to efficiently run the apps, why Wouldn't they use the new Windows 10X OS??

Neo runs Windows 10X OS and apps from the Google Play Store and Microsoft Play Store. Maybe they will release a version of Duo that does the same.

Neo has apps from the Play Store?! Haven't seen that anywhere.

Well as much as we want that, practically Android is way to go. It is a proven OS for mobile devices with pretty healthy app ecosystem with huge developer support. Sadly Windows 10 X is far from ready to head-on with like of Android and iOS/iPadOS. Which is another reason why we will not be even getting Surface Neo this year. On positive note, knowing that this will be running Android, more people will be interested and consider Surface Duo since they know they will have the apps available for this device and can replace their primary Android phone. I think this is just the after effect after the failure of Windows 10 Mobile/Phone project. They could have done it better for sure and tons of Microsoft mistakes that I even personally thinks is ridiculous. But the damage is done and Microsoft only choice is to move forward to a proven platform. Windows team is still crucial for Microsoft and will need more effort for Windows 10 X, hopefully learned from past mistakes and release a truly polished product. I still have some things I don't like with Windows 10 X like the lack of Live Tiles, but this is still early stages and changes can still happen even its unlikely, and the potential benefits will rule out the negative maybe. What I'm curious is how the updates will be handled, considering this is a heavily customized Android.

The way to go for what? What is the point of working for the sake of Google?

The Android OS is way to go for now since it is at least a proven OS for mobile while Windows 10 X may not be truly ready for it. Google involvement may be likely to do just for Google Play and Play Services, which are needed for many apps using those APIs and the store for Android apps. We'll see more when we get more info. It seems Microsoft is taking a safer approach for Surface Duo which is surprising to see Android there (more accurately AOSP). Though will be there still a Microsoft Store on it? That only make sense if let's say it is Windows 10 X with Android container running alongside of it or like a "userland" of Android. Most likely this is just a Microsoft version of Android with licensed to use Play Store from Google.

Your remark about Android being te way to go I recognize as an pragmatic remark. Pragmatic while Android is currently the only OS option that is so popular it will guarantee a potentially large public. What Microsoft has driven in the past decennia was reaching popularity with the mobile solutions she proposed to the public. The reason the policy of Microsoft did wander off so much I think was caused by Microsoft not reaching te popularity for her mobile solutions she desired. Leaving from the point of view that huge popularity is the leading drive the choice for Android as an OS for this Surface Duo is almost a logical one. Still I have some questions. Time will learn when more information has been shared. I know that, but I am especially curious to know in what way Microsoft has been able to optimize the OS for her Duo. Without a optimized OS, Android or not, this Duo will become less effective than it could be. Do not read my statement that I expect Microsoft would have done a better job when she would have used an Windows Phone/Mobile variant as OS for the Duo. That this Phone took so long to emerge has probably partly been caused by the difficulty Microsoft did experience to integrate her own mobile OS to work satisfactory. In spite of this I am cautious about Microsoft using Android. The OS is not within the influence of Microsoft, so we have to mind about how well Microsoft has been able to integrate Android with the Duo.

It kind of had to be Android. Panos talked about how the press would look at this device as a phone. It looks like he was right. I'm already seeing press call it a phone and referencing back to the fall of Windows 10 Mobile. Given Microsoft's history, the obvious question would be "Where are the apps?" This addresses that and without that move, this device would be DOA. Hopefully, with Neo and other Windows 10X devices, we see Microsoft build its own app ecosystem and for the Duo 2 or Duo 3, they can cut over to Windows 10X (or maybe even a dual launch device?).
Another possibility is if this device gains traction, Microsoft could work on getting the Windows Store to support .apk's (Android apps) that would allow devs to just send over their Android apps but also build .appx (Windows 10 UWP apps) for all Windows, including Duo. Since this, along with Neo, is starting to bridge the gap between mobile and desktop/laptop, this may be a good route to go.
My two big questions for this device are as follows: 1. How much will Microsoft tweak Android for this device? Is it just going to be stock Android but with the Microsoft Launcher by default? Or are we going to see essentially a Microsoft version of Android? 2. Will Microsoft be working on bringing some of their Windows 10 Mobile apps to this platform? I personally preferred Maps to Google Maps. Office Remote was pretty epic.

Windows 10 S with what apps? Better off with Android.

Don't need apps. My Surface Pro is doing just fine without apps.

yes I agree 100%... putting ADroid just ruined an amazing device! this would've been a game changer if they went with windows 10S...SMH

It would be a game changer for you and a couple of others. Regular consumers wouldn't buy it without Android and the play store, so Microsoft would have another dead device on its hands. Open your eyes.

Regular customers aren't going to buy it regardless. If they want Android, they'll buy a regular Android device with a more reasonable pricetag.
This should have been a tiny pc with phone functionality.

No, we want apps, and services,,, and support.. Android is a terrific idea.

Let's see if Microsoft has managed to fix Android.

Lol... I don't have a problem with Android.. It least it let's you clean it up a bit.. Looks much better than it used to.

Here is all my money.... They kept it secret and not a single leak occured. Welcome MSFT.

Actually they didn't say it runs Android, he says it runs all Android apps...

That's true, although they also DIDN'T say it runs Windows apps. I still have some slim hope it's some kind of Windows/Android hybrid though, I hope they clarify that issue soon.

May be Android subsystem is layered on top of Windows Core to showcase the power of WCOS if that makes any sense. I hope it does. After all if a Surface device can't run Windows app, we cannot call it Surface!

That's no longer possible with googles GMS service dependancies. It might however, be possible to do the opposite, and run UWP apps on an android device, or win32 apps via some kind of server or emulated container based approach (UWP is probably more useful on a phone, for now). Because MSFT owns the patents to these (unlike GMS), that seems to be perfectly viable. Hard to say exactly where they stand with this, but they keep talking about windows core being a 'cloud driven experience', and I'm not sure what that means, but I wouldn't rule out some inclusion of that in both neo and duo.

Based on the promotional video, the status icons are from Android and not Windows, which tells me this is really just Android, at least most of it. The promotional video have the freedom to use Windows status icons, but they didn't. But this is rather surprising actually even though it was speculated that this can happen. I'm curious what Microsoft have done to Android for Surface Duo beyond facelift and dual-screen support, which Android already supports.

It has a Google Search Widget in home screen rather than Bing which is necessary to get pass the Google's CTS and GMS test to get Play Store certification. And those certification only applies for 'Pure Android base' devices. Even you fork Android too much you will fail the test and won't get Play Store. (Only exception for this rule is ChromeOS because it is also made by Google. )

They did say they partnered with Google, so it's possible that a special deal was made, rather than a simple licensing.

Samsung and other manufacturers will want in on this deal on that case. Google won't make special deals, they will need to follow Play Store licensing requirements.

The big trick will be in having timely Android updates.

This is also what I wonder, is Android updates being pushed by Microsoft? How frequent will it be? I think I can trust Microsoft to be more frequent on updating Android if they have dedicated team for it. Likely better than most Android OEMs when it regards to updates.

Holy Moly!!!!! Yes!! Let's see if this thing is actually any damn good!.... This is exactly what we've been asking for. 👍🤣👍🤣👍🤣👍🤣👍🤣🤣🤣🤣🤣🤣🤣🤣🤣🤣🤣🤣🤣🤣🤣🤣🤣🤣🤣🤣🤣🤣

Is it? You have been asking for a dual screen Android? When? Why don't you have one? They have been available for several years now! The new LG doesn't look too bad and the Axon was ok.

I think he meant a device from MS on this level. Whether it runs Android or just capable of running Android apps is interesting. Either way, the new version of Windows 10 for these device is likely built with the open-source version of Android, but tweeked by MS to fit the needs and capabilities of these devices.

Ever since we got over WP we have been asking for a Window device running Android... Bleached brain is bleached.

I never got over WP. I'm still LOVING my L1520! Then again, I don't use my phone like most people do, so what the L1520 can do for me is all I need. The Duo does look interesting, though.

The Duo will be cool if it has a competitive camera, which I'm sure it doesn't.. But, a version 2 might. This is why MS should've never stopped making smartphones. They should've continued on with Android, and kept researching camera technology. They've probably been researching, but most likely not as much as Samsung and Apple have

It actually doesn't even have a camera! Look at the back of the prototypes they showed. Microsoft said that is one of the things they are focusing on during the next year. Hopefully they remove those rediculous bezels at the same time. It looks like two iPhone 4s hooked hooked together. Very dated.

I'm not. I've got an Android device, and I'm not impressed. My work iPhone is even worse.
All I want is a full pc in a phone-sized package, with UI tweeks to fit the form factor. This is just a glorified smartphone...

A Windows device running Android? What does that mean? This is an Android device running Android, not what you are looking for.

Yes, avoid Microsoft. Go to Google and others. That's your general bleached position no matter the circumstance. Unlike all those others and Google itself, Microsoft can implement a proper "bounce back" animation at the end of lists, something everybody else except Apple and Microsoft lack and makes Android feel clunky no matter which hardware and Android version it is.
Microsoft is Google's only hope to make Android smooth. Let's hope same licensing structure that allowed Windows and Windows Phone to feel fluid can be applied to this device.

Apple sued Samsung specifically for the bounce back animation as well as other items. That is why it might not be in Android.

So, is this running Windows 10X and/with Android or just Android? I've been using an Android phone for a while now, so i'll get one either way, but the two together somehow would be off-the-charts awesome. I say that all those who have been telling us that the Surface phone would never happen should have their accounts instantly deleted.

WINDOWS PHONE CENTRAL IS BACK IN BUSINESS!!

You're a sad little man who would've trashed this device if it ran Windows...

But it isn't running Windows and I still think it is pointless. Dual screen phones have been done before. We know they suck. This is nice hardware for sure, the best dual screen phone we have seen. Luckily it opens a full 360° because that is how you are going to use the vast majority of the time.

Yeahhhh Boiii! Haven't been active here for a while, ready to come back. I hate my current Android phone :(

Get a Note 10.. You'll like it. Android is a mess, but the hardware, and apps, are sick. This first generation Android/windows phone by MS is just the beginning. It might not be that great. I'm looking forward to version 2-3.

I would have if I could afford it. I lived in a third world country for a couple of years and I'm getting back on my feet. By the time this comes out hopefully I have enough money saved up to buy it. I currently use a Motorola G6.

I was looking forward to the Note 11, now I want to see what this is all about.

The return of Jedi "Surface Phone"

But Panos said it's not a phone, even though it makes phone calls.

Can your car make phone calls? My Mercedes can.. Is it a car, or a phone?

is it truly running android or just have the full google play store?

It's running stock Android with MS launcher, and probably everything that makes the Note 10 the closest thing to a Windows phone you can get right now..

Everyone's saying it runs Android but I heard "runs all Android Apps" - this still might be running Windows 10x but with some extra capability to be compatible with Google Play Store...

This is how I interpreted it as well - Windows 10X with Android App capabilities.

They did say it runs Android towards the end of the presentation.

Listen at 1:32:45 where he say something like "We are exited to see what developers will do on Windows and on Android", holiding up each of the two devices in turn. What we get to see of the UI is also very android-like. Nothing like the W10X on Neo.

I agree about the interface difference. If one is running Windows 10X and the other is running Android, then it is a major fail, because developers won't be able to easily develop for both devices, unless they switch totally to Xamarin.

The status icon are from Android though. They could use Windows status icon in the promotional video but they didn't for whatever reason. They even stated that it is Android but briefly and we don't know if this is the latest version and how customized it is from stock.

It will be next year's version of Android. You can bet Android 11 will be focused on dual displays and/or folding.

Funny how everything was leaked except the Duo, which nobody predicted. Almost like they were controlled leaks... 🤔

Does "duo" mean it will run apps from the MS Store... and... apps from the Play Store? Please confirm for us WC.

So it's still another year away, is that correct? Sounds like just another coming soon® to me.

I heard it runs Android apps with cooperation from Google for Play services. I was under the assumption it runs Windows 10x. Zac, please confirm!

Same here. They never said it runs android

The Surface Pro X is the ARM version of the Surface Pro. The Surface Duo is the smaller version of the Surface Neo. I also doubt it runs Android OS, just the Android apps. Please fix the article.

Definitely just runs Android. They said it runs Android. That wasn't Windows.

All I heard Panos say is that it runs all Android apps.

It looks like this may very well be the one time that bleached is correct.

You can just read the title of this article and every other one today...

Yes, because there are never errors in articles? I did point out more than one. But the Android part does seem likely, which is a big swing and a miss by Microsoft.

Bleached who cares what the article title is Windows Central heard what we all heard and Panos did not say it runs the Andoid OS. Just wait for the true facts. My bet is that is runs Windows 10x and Android Play store apps.

Impossible. Google won't allow Play Store unless it is Android and meets the license requirements. If they make an exception for Microsoft, then the Samsung's and LGs will be asking for the same. https://youtu.be/IA7ceG8tMgM 4:55, he holds it up and says Android.

The Android element. I'm not an expert on all of this - one reason why I read stuff here - and so I don't know what that means in terms of Google involvement. If it means Google gets data from my device, nope. If not... It's a beautiful device.

It will likely have to abide by all the requirements to get Google Play Service support. This is no different than any other Android phone, Microsoft is just another manufacturer.

It could be just have a license to have Google Play on it and Google App Services to run Android apps that uses them. It may not be necessarily the OS have baked Google services on it. Maybe it will be like the Chromium Edge which doesn't have a Google baked features on it despite being a Chromium. Remember, Android Open Source Project (AOSP) is not exclusive to Google, but surely they contribute alot to the development of it.

The license would not allow that or anything similar. Google isn't going to give Microsoft or anyone else a pass on that.

Pity. Google access makes it a non-starter for me.

Flash a custom ROM without Google services :3

Will Microsoft make it that insecure?

Now, if they would agree to nurse my 1020 along until then...

Neo= Centaurus, Duo=Santorini?

Duo=Andromeda. Santorini is the foldable shell UI that runs on top of WCOS on both devices. I think Duo runs WCOS. Windows X = Santorini + WCOS

Didn't like the name though.
I would have preferred something like "surface sidekick" or "surface ally"

Can't imagine being as "productive/creative" as MS is pushing if this runs Android OS. It's gotta be Windows X with Android in a container...

Possibly, remains to be seen. So far not much info about it but my bet is this just Android but Microsoft flavour of it. Google's involvement may be only the Google Play and Play Services.

He actually never said that it runs Android, just Android Apps....

Holy moly! Well I know what my next upgrade will be. Very impressed with their event.

You're a little late with that comment. It's been dead for a long time.

I'm starting to feel like Windows Mobile will never come back.

So a Surface phone did release in 2019! I had given all hopes...

I can imagine Tim Cook hunched over an iPad furiously taking notes...

You don't think they already had two iPads/iPhones duct taped together? I am sure they had prototypes 10 years ago. Previous folding phones haven't been compelling. Not sure if this changes that.

Apple claimed to have invented tape just for this reason.

Exactly. Apple Tape to mount your iPads together is revolutionary, and starts at only $199.99 per roll! Remember when Apple literally announced a monitor stand for $999 and expected people to cheer!?

Previous folding phones didn't have the backing of Microsoft and Google building the functionality into the OS.

Well, looks like I have to buy a Neo and a Duo next year :)

I'm in the same boat man, great combo coming up.

Now that looks like a worthy upgrade to my Note 9... also explain why Google hasn't addressed the folding market. Smart move on both of their parts.

Thanks, Panos. You just made this world better.

Zac! Dan! Please confirm this shiet!

Why are you guys saying that it runs android? Seemed quite clear that it runs Windows X but with the android app store included

Gizmodo just confirmed it runs Windows and has an android subsystem for android apps.
BOOOOM! "The tiny device will rely on Android for the majority of its work, like phone calls, video calls, and general web browsing. However, the Duo will be infused with Windows in some unspecified way, which means all the usual Microsoft apps like PowerPoint and Word should work."

Awesome if true, meaning bleached is wrong again (like Windows on ARM being dead).

No. I never said anything about a Windows subsystem. I doubt it will though. It might make some sense when you dock it, but Windows doesn't really have the handheld apps.

Unless they got that from some source other than the presentation, I'm wary that it's a misunderstanding. I seem to remember the presentation mentioning things like PowerPoint and Word, but they could have been referring to the Android versions.

CNBC is also hinting it runs windows "Microsoft said it partnered with Google to "bring the best of Android" to the device, while incorporating elements of Windows 10X, a new operating system meant for hybrid devices. It can also run two different apps at the same time."

I'd image they'd customize Android enough so the feel is very similar to their other folding device they want you to buy.

Hope it's true, but I'm doubtful. I just hope that the OS uses Segoe UI as the font. The default Android font is DOG UGLY!

Thanks, Ticomfreak, I'm so glad to FINALLY read that at least one person thinks so, too! So far, I can't even convince my brain to accept the name "Surface" at all for a computer which is built by MICROSOFT ITSELF (not some OEM partner!) but which DOESN'T run any version of Windows or any other OS made by Microsoft. It just doesn't compute, pardon the pun. But if it absolutely has to be this way under the hood (that it has to run on Android), they should at least get the LOOKS of it right.
And although I, too, hate Android's system font, I think that its beauty/ugliness (which can be argued about) doesn't even need to be a factor; it would simply be a shame if the Duo's GUI didn't look CONSISTENT WITH THE OTHER devices in that growing lineup that the Windows company is rightly proud of. I can imagine that Microsoft simply might not have had enough time to get this right in time for the presentation at this event, and thought "it's gonna be such a surprise that, hopefully, nobody's gonna care about a font" - but I'm not too confident. Time will tell.

You missed this quote a little further down - "Panay implied that the version of Android found on the Duo will be customized using Microsoft's dual-screen know-how from the Neo."

So The Neo will be a duo or a trio ? (did you get that> hahahhaah Matrix 4 .

Now I know that I can stay on my Samsung Galaxy S10. I will never again need to look for a full Windows on a phone.

Such a disappointment. I don't understand why everyone is so happy about it. It's just another Android phone with dual screens. Kyocera sold phones like this almost a decade ago.

Deleted duplicate comment.

Patience grasshopper. We still don't know if it does NOT run Windows 10x. And if it does in addition to running Android apps this would be huge and not simply just another Android phone.

If it has the Play Store, it needs to meet the license requirements. At best it will have a Microsoft skin and modifications to work similar to the Neo. I bet these changes will be implemented in the source for Android 11.