Surface Laptop 3 and Surface Pro X SSDs are removable, but not by you
You'll need a "skilled technician" to remove the SSD in the Surface Laptop 3.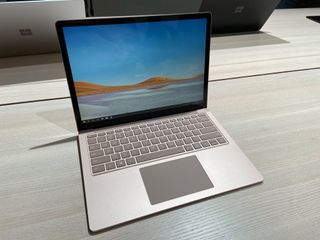 What you need to know
The Surface Laptop 3 and Surface Pro X pack removable SSDs, but you won't be able to swap them out yourself.
The fine print on Microsoft's order pages warns that you'll need a "skilled technician" to remove the SSD on either device.
You'll still be able to swap SSDs, but it looks like it'll require a trip to a Microsoft Store.
One of the most interesting reveals from todays Surface Laptop 3 and Surface Pro X announcements was that both feature removable SSD storage. It turns out, however, that you won't be able to swap SSDs on the fly on your own (at least not with Microsoft's approval).
According to the preorder pages for both devices, the drives are "not user removable" Instead, Microsoft says, you'll have to contact a "skilled technician" to swap the drives out. In other words, you'll likely have to make a trip to a Microsoft Store.
That's not the most cumbersome thing in the world. You can configure a total of 1TB of storage on the Surface Laptop 3 and up to 512GB on the Surface Pro X, which should give you plenty of breathing room. The fact that they're replaceable at all is a pretty significant step forward, considering how previous Surface devices have been constructed.
Still, it would have been a neat addition to allow buyers to replace their own drives as needed.
The Surface Laptop 3 and Surface Pro X are available for preorder now starting at $999. The Surface Laptop 3 is set to launch on October 22, while the Surface Pro X is scheduled for a November 5 launch.
Here's everything Microsoft announced at its Surface 2019 event
Windows 10 on ARM
(opens in new tab)
The lightest and thinnest Pro available

Available in a few different configurations, the thinnest and lightest Surface Pro to date is now available for preorder. Itis expected to be released November 5, 2019.
Compact form
(opens in new tab)
Microsoft Surface Laptop 3 (13-inch)
Small size, big value

Though it isn't as powerful as it's larger cousin can be, the 13-inch version of the Microsoft Surface Laptop 3 will make it an excellent travel laptop.
Go big or go home
(opens in new tab)
Microsoft Surface Laptop 3 (15-inch)
Perfect for home use

With a bigger screen and some slightly better hardware, the 15-inch version of the Microsoft Surface Laptop 3 is an excellent laptop to choose for home or office use.
Dan Thorp-Lancaster is the Editor in Chief for Windows Central. He began working with Windows Central as a news writer in 2014 and is obsessed with tech of all sorts. You can follow Dan on Twitter @DthorpL and Instagram @heyitsdtl. Got a hot tip? Send it to daniel.thorp-lancaster@futurenet.com.
If there's a way, people will do it.

I am sure users will, but the issue is if that voids the warranty. The cheapest model has laughable 128GB storage, and the one-step-higher 256GB model is $300 more expensive. That is very Apple of Microsoft. What is that, an SSD made of gold or something? How come a 128GB SSD costs $300 in 2019?

Are you sure the processor and amount of RAM are the same?

I've looked into this. Legally they can't void the warranty for users doing this. Technically they aren't even supposed to claim it voids the warranty, but that doesn't seem to be well enforced.

there is a way at least for the pro X, as tom warren describes the process using a sim like tool to open the panel where the SSD is to then be able to remove the drive.

So what if there is no Microsoft Store close to you, like for the vast majority of the world?

Everything'suser removable, user replaceable is a different matter. I consider myself a fairly skilled technician, and I'd wager there's a couple of others on here. I look forward to seeing what they've done to be hostile to consumers. Personally, anything that involves minor prying and security screws I'm cool with. If it involves a suction cup and heat gun to lift the display by 3mm to unclip 3 or 4 ultra fragile ribbon cables, I'd just buy a different machine.

Wonder what Louis Rossman thinks of all this

Hmm, I wonder how much Microsoft will charge to replace a broken keyboard...

This is quind of unexpected, it's really rare when a tech company makes their devices more user replaceable and more repairable, tgey normally just give you the middle finger.

Companies should get a lot more attention for creating throwaway devices like this. I have a Surface Pro 4 that has a battery runtime of 1 hour nowadays. The battery is glued into the device, the device itself is glued together. There is no way other than to pay $450 to get it fixed. Which of course makes no sense for a four year old device. So it's basically useless. That's why I won't buy Surface devices anymore - or other devices where I can't at least replace a battery.

The Dell Surface clone is supposed to be almost repaireable / upgradeable. The HP Elite one and Thinkpad one might also be (partly) repaireable.

Being able to repair/replace the ssd is important I think (which is often after warranty anyway), upgrading is nice but less important.

Anyone knows whats the size of the m2 SSD in these devices ? Looks like 2230 size for me but i'm not sure.

Most people interested in doing this probably can do it on their own. At that point it just becomes a warranty issue.

I'm sure users can do it on their own, but officially you shouldn't.

That sounds like a generic legal disclaimer as that covers or rather prevents Microsoft from being liable of people botch up the ssd to replacement themselves.

IMO that's just a way of saying that it won't be as easy as extracting the sd card from a camera.
Changing the storage (or RAM) of any computer requires skills of a "skilled technician", not all of their skills are top notch. The trip to the Microsoft Store is not a good solution, not everyone lives near one, yet in a country with one...

I don't think it will be very difficult. At 16:37 of the Event presentation during the SL3 promo video, it highlights 'Modular Design' and shows one of the bottom feet being removed, a plastic cap and a torx screw. May be as easy as removing the four (?) feet and screws, and using a pry tool to remove the deck cover. 16:39 shows the removable hard drive being held on with one screw. The Pro X looks to be even simpler, it's just a cover underneath the kickstand at 45:18. Can't remember where I got it from, but pretty sure that same area is where the SIM card goes into.
Windows Central Newsletter
Get the best of Windows Central in in your inbox, every day!
Thank you for signing up to Windows Central. You will receive a verification email shortly.
There was a problem. Please refresh the page and try again.