When Microsoft first introduced Surface Laptop back in 2017, I called it one of the best Surfaces yet. Years later, a lot has changed for Microsoft, but surprisingly Surface Laptop has not (save for the added 15-inch model as an alternative to the original 13.5-inch one).
But Surface is all about the details, and while I mostly panned Surface Laptop 3 with AMD Ryzen 3000, the new Surface Laptop 4 with Ryzen 4000 makes a noticeable impact thanks to those eight cores. Yes, Surface Laptop 4 is a marked improvement, so much so I am coming around to the 15-inch model. But, as usual, there are prominent areas where Microsoft can still improve and some heavy qualifications around that AMD chip too.
As to which model you should go with – Intel vs. AMD – the choice is complicated, but the bottom line is that either is a great option, with the latter competing among the best AMD Ryzen laptops available.
(opens in new tab)
Bottom line: Surface Laptop 4 gets a massive boost in performance making it a much better upgrade than last year's model. AMD Ryzen 4000 lives up to its promises, but so does Intel 11th Gen. Only a few things hold this laptop from being the best despite its fantastic design.
For
AMD Ryzen 4000 is a massive upgrade
Excellent performance (on AC), decent battery life
Still the best keyboard, trackpad, and audio in a Windows laptop
Not much competition (15-inch model)
Very quiet fan
Against
AMD performance drops on battery
Limited AMD color options
No Thunderbolt 4, few ports
Display is still glossy, with no HDR or WCG
No option for 4G LTE or 5G
Surface Laptop 4: Price and availability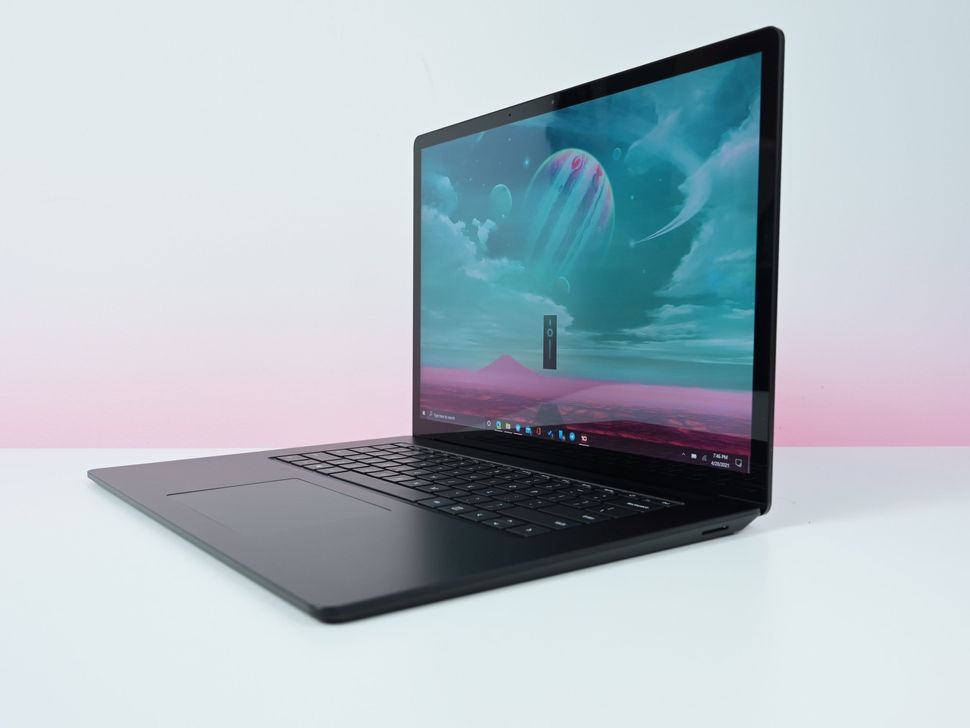 Surface Laptop 4 is now available direct from Microsoft or through Best Buy and Amazon.com, as well as many other retailers. Global availability varies, but it should be available in all current Surface markets by June.
New this year is the broader availability of choice between Intel and AMD models and many more configuration options.
Pricing still begins at $999 for the 13.5-inch model and $1,399 for the 15-inch one, but there is much more value for 2021. Compared to last year, the $999-entry level Surface Laptop doubles storage from 128GB to 256GB along with 8GB of RAM and a Ryzen 5 processor (instead of Intel Core i5). There is also no longer a $1,199 15-inch model with Ryzen 5. Instead, there is a $1,299 model, but the processor is now a more powerful Ryzen 7, and it also doubles the storage to 256GB making it well worth the extra $100.
Surface Laptop 4 (13.5-inch) Consumer
Swipe to scroll horizontally
| Features | Colors | Price |
| --- | --- | --- |
| Ryzen 5, 8GB RAM, 256GB | Platinum | $999 |
| Ryzen 5, 16GB RAM, 256GB | Platinum | $1,199* |
| Core i5, 8GB RAM, 512GB | Platinum, Blue, Black, Sandstone | $1,299 |
| Core i5, 16GB RAM, 512GB | Platinum, Blue, Black, Sandstone | $1,499 |
| Core i7, 16GB RAM, 512GB | Platinum, Blue, Black, Sandstone | $1,699 |
| Core i7, 32GB RAM, 1TB | Black | $2,299 |
Surface Laptop 4 (15-inch) Consumer
Swipe to scroll horizontally
| Features | Colors | Price |
| --- | --- | --- |
| Ryzen 7, 8GB RAM, 256GB | Platinum | $1,299 |
| Ryzen 7, 8GB RAM, 512GB | Platinum, Black | $1,499 |
| Ryzen 7, 16GB RAM, 512GB | Black | $1,699 |
| Core i7, 16GB RAM, 512GB | Platinum, Black | $1,799 |
| Core i7, 32GB RAM, 1TB | Black | $2,399 |
While AMD may be the star of the show for some, it is evident that Intel still gets preferred options. If you want the cloth-like Alcantara 13.5-inch in Ice Blue, that is Intel-only. The same goes for sandstone and black non-Alcantara models too. And if you are a big spender, the model with 32GB of RAM (also new this year) and 1TB of storage is also Intel-only.
Surface Laptop 4: At a glance
Surface Laptop 4 looks a lot like all previous models because Microsoft has not modified the core design since version one. Nonetheless, there are plenty of smaller changes, including processors, configuration options, pricing, and software that do add up to a substantial refresh over its predecessors:
Intel 11th Gen Core processors with Iris Xe Graphics
AMD Ryzen 4000 and Radeon Graphics Surface Edition
Up to 32GB of RAM and 1TB storage (Intel only)
No more 128GB option (256GB or higher)
Dolby Atmos spatial-audio
Ice Blue with Alcantara (13.5-inch Intel only)
Consumer availability of AMD and Intel models
Commercial availability of AMD and Intel models
Up to 70% performance improvement
Battery jumps from 11.5 hours to 17 to 19 hours
Slightly faster Windows Hello login
15-inch models are only Core i7 or AMD Ryzen 7
Same $999 starting price (AMD Ryzen 5, 256GB, 8GB)
AMD models now have Wi-Fi 6 and LPDDR4x
Specs-wise, Surface Laptop 4 falls into the traditional Ultrabook category – thin and light computing. While the 13.5-inch is more reflective of many of the best 13-inch laptops available, there are very few thin and light 15-inch laptops. Most 15-inch PCs add on at least a pound in weight, are significantly thicker, have worse battery life, but are also substantially more powerful thanks to a discrete NVIDIA GPU, which Surface Laptop 4 lacks.
Swipe to scroll horizontally
Category
Surface Laptop 4 (13.5-inch)
Surface Laptop 4 (15-inch)
Operating System
Windows 10 Home or Pro
Windows 10 Home or Pro
Display
13.5-inch PixelSense
3:2 aspect ratio
2256 x 1504 (201 PPI)
15-inch PixelSense
3:2 aspect ratio
2496 x 1664 (201 PPI)
Processor
Intel i5-1135G7
Intel i5-1145G7 (Commercial only)
Intel i7-1185G7
AMD Ryzen 5 4680U
AMD Ryzen 7 4980U
Intel i7-1185G7
AMD Ryzen 7 4980U
GPU
Intel Iris Xe
Radeon RX Graphics
Intel Iris Xe
Radeon RX Graphics
Memory
8GB, 16GB, or 32GB (Intel)
LPDDR4x (3733MHz)
8GB, 16GB, or 32GB (Intel)
LPDDR4x (3733MHz)
Storage
256GB, 512GB, 1TB SSD (Intel)
Removable
256GB, 512GB, 1TB SSD (Intel)
Removable
Front Camera
720p
720p
Security
Windows Hello face authentication camera, Firmware TPM 2.0
Windows Hello face authentication camera, Firmware TPM 2.0
Connectivity
Wi-Fi 6: 802.11ax compatible
Bluetooth 5.0
Wi-Fi 6: 802.11ax compatible
Bluetooth 5.0
Ports
1x USB-C, 1x USB-A, 1x Surface Connect, 3.5 mm headphone jack
1x USB-C, 1x USB-A, 1x Surface Connect, 3.5 mm headphone jack
Battery
Ryzen 5: Up to 19 hours
Core i5: Up to 17 hours
Ryzen 7: Up to 17.5 hours
Core i7: Up to 16.5 hours
Weight
Up to 2.84 lbs (1,288 g)
Up to 3.4 lbs (1,542 g)
Colors
Alcantara: Platinum or Ice Blue
Metal: Matte Black or Sandstone
Platinum metal, Matte Black metal
Only the 13.5-inch models offer the famed Alcantara cloth finish, and even then, it is only available in platinum or ice blue. The other two finishes are matte black and sandstone, which are traditional metal. For the 15-inch models, there are no exciting colorways, just platinum (Intel) and matte black (AMD or Intel).
This review uses the 15-inch matte-black model with Ryzen 7, 16GB RAM, and 512GB of storage provided by Microsoft. It retails for $1,699 and ships with Windows 10 Home.
Looks familiar
Surface Laptop 4: Design and features
Surface Laptop 4 can best be described as minimalist. Borrowing from the design philosophy of Dieter Rams, Microsoft wants a laptop that is clean, unobtrusive, and easily understood, where "less is more." It succeeds.
There are only four ports: Type A, Type C, and a headphone jack on the left side. On the right is the proprietary Surface Connect port (used with the 65-watt charger or port expansion via Surface Dock). There is no Thunderbolt 4 despite Intel building it into 11th Gen chips. The reason for omission may fall upon offering AMD processors, where adding the port specification is challenging (and maybe even political).
Image 1 of 2
The matte-black chassis is spotless thanks to a single logo on the lid with a mirror finish. While matte black looks nice, it quickly picks up fingerprints and oils, meaning it needs occasional wiping to stay clean. The platinum chassis is a better option for those who hate the sight of such marring. However, you are then limited to Intel as your processor choice in platinum, at least for the 15-inch series.
The sloped design of the chassis is smooth with no sharp edges. The display lid can be opened with one hand, and there is little flex to the whole body. Typically, the bottom of a laptop is where one finds large intake vents for the processor, but Microsoft pushes them to the rear edge. That means when in your lap, you never block the vents, and it results in a purer design (and likely a cooler chassis). Such details are easy to overlook, but few laptops go this far to hide necessary components due to the complexity of pulling them off.
There are no visible speakers on the Surface Laptop – another unique design trait not found on any other PC. Microsoft, instead, hides them below the keyboard. Despite its non-visible status, the audio is well above average, which is only improved upon this year by the inclusion of Dolby Atmos. Dolby Atmos is a software driver solution that increases the speakers' spatial capabilities during music playback, but especially during modern movies optimized for the standard.
Image 1 of 2
The keyboard and trackpad, as always with Surface, set the bar. Key travel, size, and the overall feel are some of the best in the business, with only HP offering similarly competitive typing. The three-stage backlighting makes it easy to see the keyboard in low-light situations. While some may lament the lack of a number pad on the 15-inch model, Microsoft is again going for a purer experience (and one I favor). The trackpad is large, smooth, and has a relatively quiet click when depressed.
A good display
Surface Laptop 4: Display and camera
Unfortunately, there are no new improvements to the screen for Surface Laptop 4. It is still the same LCD-based 15-inch PixelSense 2496 x 1664 display with a 3:2 aspect ratio. The 201 pixel per inch (PPI) is slightly lower than that of Surface Pro 7 (267 PPI) and Surface Book 3 (260 PPI), but that's not discernible.
The Surface Laptop 4 supports inking with a Surface Pen (not included), but the display does not open to 180 degrees, nor is there a place to keep the pen in transit. However, in a pinch, the pen is great for signing a document or making a quick note. Likewise, the Surface Dial works with off-screen interaction.
Display accuracy is typical, but unremarkable with 97% sRGB, 72% AdobeRGB, and 75% DCI-P3. The LG Gram 17 and VAIO Z, by comparison, earn 100% sRGB, 87% AdobeRGB, and 100% DCI-P3. Granted, neither of those also have a touch display like Surface Laptop 4, but it is evident Microsoft is not pushing the bar with screens lately.
Brightness peaks at an average of 399 nits in the center, with just 6.3 nits of brightness when set to zero, making this laptop easy to use in the dark of night without being too bright.
Microsoft still does not include an anti-reflective treatment (not to be confused with anti-glare/matte) for reducing eye strain. It also does not support HDR for more vibrant contrast, nor wide color-gamut (WCG) for those who need precise colorwork for photography or video. Such features are now increasingly common, but Microsoft is still uninterested in adding those to Surface.
Image 1 of 2
Color, contrast, and vibrancy are all good with very even brightness. Microsoft gets some credit for having one of the thinnest displays in a laptop, but the bezels are still on the large size compared to what HP and Dell are doing these days.
Microsoft does, nevertheless, excel in the web camera department. Even at just 720P resolution (below that of Surface Pro and Pro X at 1080P), it is an excellent camera that is much better than any other premium laptop in this category. However, post-pandemic, it would have been nice to see even more minor improvements in the hardware to match the new normal.
AMD shines, but …
Surface Laptop 4: Performance and battery
Performance with Surface Laptop 4 with AMD Ryzen 7 (4000 Mobile) is outstanding and a massive improvement over last year's Ryzen 3000 models. While some will lament that Microsoft is not using the newer Ryzen 5000 Mobile chips, the gains between it and the 4000 series are significantly less substantial than those between Ryzen 3000 and 4000 Mobile. It may be better to think of these processors as Ryzen "4500 Mobile" with the modifications to clock speeds and driver optimizations made by Microsoft.
Compared to other chips, including 11th Gen Intel and even Apple's touted M1 processor, the picture quickly gets complicated. Those hoping for a clear winner between Intel, AMD, and Apple will be sorely disappointed as each has pros and cons.
Image 1 of 6
Before we begin, there is a caveat and a change to our benchmarks. During my testing, it became apparent there is a discrepancy in performance on Surface Laptop 4 (AMD) between using AC power or on battery (set to performance in both modes). This behavior is also valid on Surface Laptop 3 (AMD). While the difference is not perceptible (that is, it did not feel slower), it is consistent, measurable, and often significant. Intel laptops do not exhibit such variance by comparison. I include benchmarks for both AC and battery scenarios for evaluation to give the entire picture.
On PCMark 10, an overall look at system performance, Surface Laptop 4 is only beat by laptops with a discrete NVIDIA GPU, which is extraordinary. It even slightly edges out the Dell XPS 15's 8-core Intel i7-10875H and even newer Intel Core i7-11375H. However, on battery, Surface Laptop 4 is a hair slower than Surface Laptop 3 (AMD) when running on AC and below that of 10th Gen Intel laptops.
3Dmark Time Spy reveals limitations of the AMD RX Vega GPU nearing the bottom of the list and below that of similar laptops with Intel Iris Xe graphics regardless if plugged in or not. The discrepancy with discrete GPUs from NVIDIA is even more apparent but unsurprising.
We see similar results on 3Dmark Night Raid, a mix of CPU and GPU overall system performance. Surface Laptop 4 on AC edges out Surface Pro 7+ but is well behind Razer Book 13 and HP Spectre x360 14, neither of which has a discrete GPU, just Iris Xe Graphics. On battery, Surface Laptop 4 edges out Surface Laptop 3 (Intel).
Image 1 of 2
Geekbench 5, which focuses on pure CPU performance, again highlights the difference between being plugged in or not. When on AC, Surface Laptop 4 nearly reaches Apple's M1 processor and is well ahead of Intel's 8-core and 4-core chips. However, when on battery, AMD falls behind processors like the one used in Surface Laptop 4 but with Intel for single-core but maintains a slight edge on multi-core (even though it has twice the core count).
It's not all bad news, however. On Cinebench R23, Surface Laptop 4 is remarkable regardless of power state. The AMD's 8-core advantage is especially apparent on the multi-core test, where it handily beats Apple's M1 processor by a substantial margin (Apple slightly edges AMD out on single-core). Intel quad-core and even 8-core 11th Gen chips are left in the dust.
Image 1 of 2
Surprisingly, even SSD speeds, which is never an area Microsoft excels in, takes a hit depending on power status (plugged or unplugged). Surface Laptop 4 PCIe 3.0 SSD has below average speeds of 2,310 MB/s for sequential read and a low 1,060 MB/s for sequential write when on AC power. On battery, those results drop to a disappointing 1,806 and 1,056 MB/s, respectively. Like Surface Laptop 3, the SSD on Surface Laptop 4 is serviceable, meaning users can upgrade it, although the process is a bit tricky.
Thermals are pretty good, with the top of Surface Laptop 4 never exceeding 103 degrees Fahrenheit (39 degrees Celsius) on the top deck. The bottom peaks at or just below 110 degrees Fahrenheit (43 degrees Celsius), making this laptop warm but never hot. Similar numbers are seen on Apple's MacBook Pro with M1 when both devices are running Cinebench 23.
Fan volume is about 2 decibels less than Surface Laptop 3, peaking around 46 dBA, which is incredibly quiet for a laptop in peak mode. Apple's MacBook Pro with M1 is a smidge softer at 44 dBA. When not pushing CPU and GPU to the max, the Laptop 4's fans rarely turn on, making this a very quiet laptop for everyday usage.
However, compared to Intel 10th Gen Surface Laptop 3 (13.5-inch) Surface Laptop 4 with AMD did not pass the 3Dmark Time Spy Stress Test earning just 91.6% FPS Stability compared to Intel's 99.1% score. Such a result suggests that the 8-core AMD processor is hitting thermal limitations, which seems plausible considering how thin and quiet this laptop is versus proper gaming or workstation PCs.
Image 1 of 2
Battery life is decent even though the 15-inch Surface Laptop has the same battery as the 13.5-inch. Of course, as has been illustrated, AMD and Microsoft accomplish this by reducing the CPU, GPU, and even SSD performance, which heavily influences such a result. In our controlled battery rundown test (PCMark 10 Modern Office), which loops through productivity-related tasks with occasional breaks, Surface Laptop 4 matched Surface Laptop 3 15-inch with an Intel Core i7 10th Gen.
The battery results are OK but not super impressive either, and it makes us wonder what the version with Intel 11th Gen would attain. In real-life experience, battery life appears to hit the 8-hour mark and should be fine for most people.
Surface Laptop 4 also resumes from sleep very quickly so that by the time the lid is opened, the Windows Hello infrared camera is already logging you into the OS. However, on hibernate, AMD takes around 5 seconds longer than an Intel Evo laptop to fully resume, clocking in at approximately 15 seconds versus 8 to 10.
Putting aside benchmarks and charts, Surface Laptop 4 feels very fast and responsive, much more so than Surface Laptop 3. Microsoft makes a big deal about "system integration" of all the hardware to work smoothly and efficiently — and I believe them. While the Ryzen 7 drops in overall performance on battery, where I use it most of the time, it still feels exceptionally competent and enjoyable.
Anything better?
Surface Laptop 4: The competition
While there are plenty of similar PCs in the 13-inch range, there are very few thin laptops like Surface Laptop 4 15-inch.
The most obvious comparison is the new LG Gram 14 (opens in new tab), which has a slightly smaller and lower resolution non-touch display (1920 x 1200), 8GB of RAM, and 512GB of storage with an Intel 11th Gen Core i7-1165G7. It does offer Thunderbolt 4, more ports, a larger battery at 72WHr (versus 47.4 WHr), and weighs just 2.2 pounds (999g) – more than a pound lighter than Surface Laptop 4, all for $300 less at $1,400.
Another interesting choice is HP's ENVY 14. It has a smaller, lower-resolution 16:10 14-inch touch screen, but it offers up a moderately powerful NVIDIA GeForce 1650 Ti GPU, which obliterates Iris Xe or AMD. It gets surprisingly good battery life, has many more ports (including microSD and full HDMI), and it is overall just one of the most lovely laptops I have used. Pricing with GPU is much lower than Surface Laptop 4 (15") at $1,260 while or smidge heavier at 3.53 pounds (1.6kg) versus 3.4 pounds (1,542 g).
The rest of the 15-inch space is crowded with some excellent offerings like the Dell XPS 15, Razer Blade 15, HP Spectre x360 15T, and more. Still, these all get into gaming laptop or workstation genres weighing much more than Surface Laptop 4 with higher price tags and often worse battery. You also get something much more performant since that class of laptop also features an NVIDIA GeForce GPU.
See our best 15-inch laptop and best 13-inch laptop lists to see our top-rated choices.
It's better
Should you buy Surface Laptop 4?
Who it's for
People who want a light and thin 15" touchscreen laptop
Those who want an elegant PC with strong AC performance
Writers, photo and video editors, office workers
Fans of Surface who want a traditional laptop
Who it isn't for
Those who need Thunderbolt 4 or a convertible PC
Gamers
People who need 4G LTE or 5G connectivity
My first experience with Surface Laptop 3 15-inch was, at best mediocre. Part of it was AMD's Ryzen 3000 processor was lacking compared to the much superior Intel 10th Gen chip. The other was more philosophical: why even buy this laptop?
The processor dilemma has mostly been answered, or rather, improved upon. AMD Ryzen 4000 and the eight-core R7 is a very powerful upgrade one that can even nip at the heels of Apple's M1. Battery life is decent – not unique – and the overall responsiveness, instant-on, and quality of the components shine. All of that has greatly improved my impressions and even fondness of the 15-inch model.
What makes a Surface a Surface is Microsoft's attention to detail and the sum of its parts. It is something you only "get" in using one firsthand. That holds especially true for the Surface Laptop, which is still one of the nicest, most enjoyable PC laptops available.
Of course, as the benchmark section revealed, there are a lot of qualifications too. Whether you primarily work on AC or battery could impact your choice of processor. AMD gets the battery life, but Intel gets the mobile performance. When plugged in, AMD dominates, but only if you do not need a strong GPU. If you primarily do work in multi-core app scenarios, then go with AMD, but Intel is the winner if you use single-core apps. Likewise, for media creators, our results from PCMark 10 revealed the AMD Surface Laptop 4 better for photo editing, but Intel Iris Xe (Surface Pro 7+) is better for video.
Image 1 of 2
It is all overly complicated, and most people don't have single answers to those questions. Instead, "it depends." The only takeaway is there is no clear winner between the two processors, and either option is fine. Just don't overthink it.
The more significant issue is why get Surface Laptop 4 15-inch regardless of the chip inside it? For myself, it is a tricky question to answer. The most obvious answer is the simplest: you prefer a more prominent display. That may be a good enough response for many, and it is not my place to disagree. However, I would still like to see Microsoft do a bit more to make the 15-inch model more than just a "blown up" smaller one. Even things like using a larger battery, adding an extra port, or a 1080P camera would at least be interesting. LG can get away with this because its whole schtick is ridiculously light laptops, e.g., Gram 17.
For either the 13.5-inch or 15-inch Surface Laptop 4, Microsoft could still do things to make the display on par with Apple, HP, or Dell regarding HDR, WCG, and anti-reflective treatment. Thunderbolt 4 would also be excellent (even if I think it is overrated for your average user).
Overall, Surface Laptop 4 is a welcomed improvement to the line irrespective of whichever processor you choose. As always, Microsoft seems to be slipping a bit in pushing new features making this laptop full of potential not yet realized. But if you are set on the 15-inch model, it is much easier to recommend in 2021 than last year.
AMD or Intel
(opens in new tab)
Microsoft Surface Laptop 4 (2021)
The choice is now yours

Surface Laptop 4 brings options for Intel 11th Gen or AMD Ryzen 4000 Mobile processors in both 13.5 and 15-inch models. With Dolby Atmos, Iris Xe, or Radeon Graphics, the new Surface Laptop 4 should deliver an excellent experience.
Daniel Rubino is the Editor-in-chief of Windows Central, head reviewer, podcast co-host, and analyst. He has been covering Microsoft since 2007 when this site was called WMExperts (and later Windows Phone Central). His interests include Windows, laptops, next-gen computing, and for some reason, watches. Before all this tech stuff, he worked on a Ph.D. in linguistics, watched people sleep (for medical purposes!), and ran the projectors at movie theaters because it was fun.
As long as the Laptop isn't a convertible, it'll be a no-go for me, and I continue to be baffled why Microsoft foregoes a convertible design on the thing when Surface had otherwise been about standing out with new, unique form factors and shrugging off the "boring laptop" existence of clamshells. Most notably, I hope Microsoft takes note of the advantages of Ryzen for a change and moves them beyond their limited availability in Surface products. The Surface Pro and Surface Book should move to AMD, I think. If they're still hugging Intel like this, to the point that they won't offer full chassis and device configuration options to those interested in AMD chips, I doubt they'll move off Intel's stuff for the rest of their lineup. It's a shame because this is the same thing that keeps holding back AMD (availability in premium devices) and it's the same thing that keeps me from buying Surfaces (use of Intel's inferior chips). It's very strange, that MS would go through the effort to get custom Ryzen chips made for Surfaces and then limit their potential at every turn. Maybe production shortages make their custom chips harder to spread out widely, but hard telling. I'd like both Microsoft to embrace the latest and greatest and for AMD to crack mobile computing, where it seems to still struggle with consumer perception because OEMs don't give it a fair shake.

I think some of your faith here in AMD is a bit overrated, tbh. Did you miss the parts where I mention how performance drops below Intel when on battery? Or how during the Stress Test FPS stability fails with AMD likely due to thermal restrictions? I mean, sure, battery life is decent here, but a lot of that is attributable to lower CPU, GPU, and even SSD performance. That's a hell of a trick. If Intel cut performance by 20% to get better battery life, I'm not sure it'd be just glossed over by "fans." I'm also waiting for a premium AMD laptop to have TB4 (and I wonder how much offering AMD here affected that decision by MS to not offer it Intel either). AMD here is nice. It has clear advantages (multi-core), and some where it's not better (single-core, GPU). It's a great option, but hardly a panacea or game-changer.

Even on Surface laptop 3 they put older AMD generation. Now again. Intel 11gen and AMD Ryzen 5000 are same gen.

I'm unsure how that relates to the CPU/GPU/SSD slowing down on battery vs AC, or the failure on the stress test I performed. Care to explain?

different power profiles which are easily adjustable.

Literally has nothing to do with the issue. All benchmarks were performed on 'performance' with the slider regardless of AC/battery status.

There were hardly to no others laptops with Ryzen 4000 when the Laptop 3 since it was released in October instead of April. Anyway this whole late to the game does not matter now since Ryzen 5000 is a good refresh while 4000 was the big jump and as Daniel mentioned its actually more like 4500. So while the Laptop 3 had a meh chip the Laptop 4 actually is competitive performance wise.

Dude, just buy a non-Microsoft convertible. What is the point of whining?

yeah, I'm waiting for an AMD option on Surface Pro 8. If it doesn't have one, I can wait. I'm fine with my Surface Pro 7.

If it is only for the Ryzen 5000 refresh than it will not really matter all that much, its a good refresh but not as good as the jump from 3000 (/Surface Laptop 3) towards 4000/4500.

Bottom line is I won't consider the surface pro 8 if it is Intel only again. The Truth of the matter is we operate in a multi core world. We don't only run one app at a time. We're web browsing while we wait for a video to render. We livestream while we play a game. We browse while we use Word and InDesign. We do virtual machines. I would be fine with an amd 4000 series sp8. Intel is wrong if they think Xe graphics is enough.

With that I definitely agree, they really need start to provide an Amd Surface Pro now that Amd has outpaced on Intel in the laptop market too.

Great review. The thermals are interestingly similar to what I see on my 13" Envy with a Ryzen 7 4700U. I am also reassured that you consider 110F "warm" and not "OMG call the fire department", meaning nothing is wrong with my unit. I do have one question. Why would omitting Thunderbolt be a political issue for Microsoft? I thought it was due to PCIE lane availability (Surface Connector + USB ports + display + other things using up the lanes). Other OEMs like Lenovo have offered similar laptop SKUs with the CPU being the only difference (Intel 10th gen vs AMD Ryzen 4000) and they included Thunderbolt on the Intel models.

"Why would omitting Thunderbolt be a political issue for Microsoft? "

There's the issue of whether MS

could

offer TB4 with AMD, for one, which seems technically possible just not seen ever? I don't know what is going on there. Re: Intel, my guess (and it is just that) is Microsoft did not want to offer such a big feature and have it only for one line of Surface Laptops. It'd cause even more customer confusion and really puts AMD in an unfair position to compete. For now, you can claim that AMD or Intel Surface Laptops have feature parity. Of course, there is the usual hand-waving by Microsoft regarding security, customer confusion of the standard, or even technical hurdles posed by having Surface Connect.

About Thunderbolt and Microsoft, my money is on US government departments demanding its exclusion for very narrow security reasons. Deciding to not offer it for enterprise but also not for consumer models is probably for the company's cost savings. MS is clearly very serious about their government contracts.

It's a good point and I can't refute that may be an issue as well.

This seems more likely yeah. I would say either this or a combination of this and the other points mentioned.

Interesting insight, and that might be a logical reasoning about the lack of TB4 on Surface devices. We can't say for sure since Microsoft themselves most likely won't going to admit about that, except that they find Thunderbolt being a security risks, despite many other OEM enterprise laptops do have Thunderbolt, which may also be sold to companies and even government on other countries. So far USB4 should be solution for this I guess. But then whatever new Thunderbolt version may going to have advantage again to USB4 in the near future.

USB4 supports TB3 at a minimum. However, USB4 does not set a cap on performance so the vendor can support TB4 specs without having to pay for TB4 certification and testing.

This is a really excellent review, especially the details about performance on and off battery and throwing in Apple M1 for comparison. All super useful. All I have to say is things look good for Surface Book 4.

Great review. It sounds like this is more than "kind of" better, but I guess the AMD 3000 last year was a low bar. Would the throttling on battery significantly reduce the benefit of having a Ryzen 7 over the 5? In Intel-land it seems like having an i7 in something very thin like an XPS 13 is hardly worth it over an i5 due to cooling.

Hard to say without having SL4 with an i7 here (trying to get one in). My experience is with 11th Gen they have been pretty good for performance/stress tests. I think if you're on battery all the time, Intel is a better choice. If plugged in a lot, AMD. But, that's like a weird way to pick a laptop as I think most people are mixed? Really, it seems like a wash between Intel and AMD here, imo.

"I think if you're on battery all the time, Intel is a better choice. If plugged in a lot, AMD. But, that's like a weird way to pick a laptop as I think most people are mixed?" I don't think that's weird. Let's say you need a somewhat powerful device. But you are also mobile at least some of the time. If very often you are on the road, working at cafes or in libraries, or walking around with your laptop in your office, then you'd need more battery life. If you only do those things infrequently - once a week maybe - you'd prefer more power. I doubt MS did it on purpose but they have given us a nice choice here. Naturally, I realized all of this during Covid. I am, shall we say, less mobile than I used to be. :-D

Agreed its a nice choice actually. Personally I would prefer more power on AC. I think most people do the heavy lifting when near a power socket.

is the surface laptop 4 stronger then the surface studio 2 ?

The graphics card is much more powerful in the Studio 2 and the cpu is likely still faster when doing prolonged heavy stuff like rendering or code compiling since the studio has 45W cpu (/uses more power) vs the 15W of the Laptop 4.

Curious to see if Intel's version also drops performance hard while on battery, maybe it doesn't at the trade off of worse battery life then the AMD version. It would be better if it had a 5000 AMD CPU, but it's great seing AMD options easily accessible on both 13.5 and 15" versions. The 15" looks great, but the 999$ 13.5" base model looks very promising, 6 core CPU + 8gb + 256gb (replacable) is very good for a premium laptop.

"Curious to see if Intel's version also drops performance hard while on battery, maybe it doesn't at the trade off of worse battery life then the AMD version."

I can say Surface Laptop 3 with Intel sure doesn't and I've never seen such a drop-off on Intel Ultrabooks. That said, I'm trying to get an Intel model in to test to verify. From what I understand, this AMD/performance thing is not necessarily common, but something that is not unusual for AMD chips.

Thanks Daniel for going into such detail, very helpful.

What this shows is that the M1 MacBook won't have any competition until Microsoft can make Windows run flawlessly on ARM, which they've been trying for years now, and until chip-makers can produce something on par with the M1 chip. Until last year I would only recommend a Mac if you really needed a Mac, as the performance was the same.
Today I would only recommend a Windows laptop if you really need a Windows laptop.
What's the point of offering a more expensive hardware for less power and less battery if you don't necessarily need to run software that are only available on Windows? Well. That's just my point of view, so no need to call me out on something.

"Today I would only recommend a Windows laptop if you really need a Windows laptop."

That literally is and always has been the reason to recommend either device. Nothing has changed. I don't use my M1 MBP as my main laptop

precisley because it runs an OS I don't care for

. That's an OK reason. And I highly doubt your average consumer, who is very ignorant of precise details on processors, decides based on which chip a laptop has. That's tech-bubble people. Normies base decisions on what they know/like, features, design, and price. The performance here of AMD R7 (last year's chip!) beats M1 on multi-core by a significant margin (less so than single score result by M1). Sure, the M1 is fast. It's not at some huge next level though. And for the class of this laptop, I'm not sure it matters all that much.

Such a tired argument. In 1989, I worked at NASA and the junior engineers used apples, as I did. When I went to graduate school, I used my savings from working at NASA to buy a Mac. Then I graduated and started my business. Do I spend $1K in 1996 to buy a Mac or $499 to buy a PC? Clearly, the $500 went a long way in meeting my working capital requirements. OSX is good. Windows is good. They each have their strengthens and weaknesses. But at the end of the day, a Windows Device is far cheaper than an Apple device. IF you want to spend the money buy a premium device, which includes a MAC in the decision process. But if you are on a budget, buy the PC.

As awesome as the M1 is, I usually tell people to wait and not jump on the gen 1 hardware right away. I'm really not a fan of Apple just slapping these chips in pre-existing laptops meant for Intel chips. At least MSFT designed a thinner Surface Pro to take advantage of having an ARM chip. I'm fully expecting a 2lb Macbook in the next year or so.

M1 is slower in multicore, and AMD is still on 7nm...

For Cinebench, correct. However, M1 is still faster on Geekbench (single and multi-core) suggesting that the M1's GPU is still more potent. Presumably, Ryzen 5000 Mobile would have narrowed the gap.