Sitting at the premium end of HP's lineup, the Spectre x360 15 and its smaller sibling, the Spectre x360 13, have always been eye-catchers. HP has continued to dial that in with several refinements in recent years, notably by switching to its gorgeous, angular "gem-cut" design and shrinking the bezels. The result of all that work is the latest Spectre x360 15, which continues to be one of the best looking convertibles out there.
The Spectre x360 15 also sits in a rather unique position: It's about the only current 15-inch convertible you can get your hands on. That makes for an interesting comparison to other 15-inch premium laptops out there, which may have some advantages, but ultimately lack the flexibility of a rotating 360-degree display. Combined with a vibrant, gorgeous OLED screen, that makes the Spectre x360 15 an easy laptop to recommend — despite disappointing battery life. Here's why.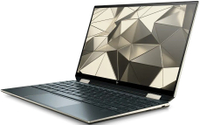 From $1,400 Bottom line: The HP Spectre x360 15 (2020) is a fantastic machine if you need something with a big, vibrant screen on the go. Performance feels good, and it's a dream to type on. However, you'll want to keep the power cord nearby thanks to its disappointing battery life.
Stand out
HP Spectre x360 15 (2020) specs and design
If you've paid attention to the Spectre line over the last couple of years, the latest Spectre x360 15's design doesn't pack any surprises from the outside. It carries forward the same "gem-cut" aesthetic that HP first introduced with the Spectre x360 13 in 2018. That's not a bad thing, as it's a handsome machine that embodies what it means to be a premium laptop.
Despite the similar design, however, HP has managed to shrink the Spectre x360 15, resulting in a more compact chassis. That largely comes down to a 59 percent reduction in bezel size around the screen, which allowed HP to reduce the laptop's length by 17.36mm (over half an inch). While the Spectre x360 15 is still noticeably larger and bulkier than any 13-inch laptop out there, that's a reduction that you can really notice when tossing it in a backpack or carrying it around the house.
Covering the laptop is a matte material that feels great to touch and looks great, too. I really appreciate that the material used here doesn't attract fingerprints either, which is something that can't be said about all matte exteriors like that seen on the Surface Pro X. Depending on your configuration, you can kit the Spectre x360 15 out in either black with copper accents or "Poseidon Blue" with bronze accents, both of which look fantastic.
Surrounding the chassis is are angular, beveled edges that help the Spectre x360 15 stand out from the crowd. Even though this aesthetic is a couple of years old now, I'm still impressed with how fresh it looks. While those angled edges can dig into your hands a bit when carrying the Spectre x360 15 around, they don't cause any issues when using the laptop.
Swipe to scroll horizontally
Category
HP Spectre x360 15
Operating System
Windows 10 Home 64-bit
Windows 10 Pro 64-bit
Display
15.6 inches
16:9 aspect ratio
4K UHD (3840 x 2160) resolution
OLED or IPS touch panels
Up to 400 nits
HDR 400
100% DCI-P3
Anti-reflection coating, BrightView
Processor
Up to Intel Core i7-10750H
Graphics
Up to NVIDIA GeForce GTX 1650 Ti with Max-Q Design
Memory
Up to 16GB DDR4-2933 SDRAM
Storage
Up to 1TB Intel SSD w/ 32GB Intel Optane memory
Front Camera
2.2mm 720p webcam
Windows Hello IR camera
Security
Fingerprint Reader
Windows Hello IR camera
Connectivity
Wi-Fi 6
Bluetooth 5.0
Ports
1x Thunderbolt 3
1x USB Type-C
1x HDMI 2.0a
1x USB-A
1x AC smart pin
1x headphone/microphone combo
1x microSD
Audio
Quad speakers
Audio by Bang & Olufsen
Battery
72.9Wh
Dimensions
14.17" x 8.91" x 0.79"
360mm x 226mm x 20mm
Weight
4.23lb
1,919g
Colors
Nightfall Black
Poseidon Blue
There's also a nice mix of ports that you'll appreciate if you're straddled between the old and the new. On the right side of the laptop, you'll find a standard USB-A port, two USB-C ports (one of which is Thunderbolt 3), and a microSD card reader. On the left, there's a single HDMI port along with the barrel plug for power, with the power button tucked away on the angled rear corner.
Image 1 of 2
Powering the HP Spectre x360 15 is a selection of Intel's 10th Gen Core i7 processors, including options for the i7-10510U and i7-10750H. The model HP sent for review uses the i7-10750H, which is part of Intel's Comet Lake lineup that launched earlier in 2020, and it's incredibly snappy. The most notable difference between the two processors is their base frequencies: You'll get a base of 2.9GHz on the i7-10750H versus 1.8GHz on the i7-10510U.
The frequency difference will mean better-sustained performance with the H-series chip, though that also comes at the cost of sipping more power. Beyond that, the CPU you choose also dictates which discrete graphics you'll get access to. The Core i7-10510U is available with NVIDIA's GeForce MX330, while configurations with the Core i7-10750H come with a much more powerful NVIDIA GeForce GTX 1650 Ti with Max-Q design.
Beautiful OLED
HP Spectre x360 15 (2020) display, audio, and camera
Out of all of the things that the Spectre x360 15 gets right, the display takes the top spot. The model reviewed here comes with HP's 4K OLED panel, and it's stunning to look at. Colors are dialed in just right with a vibrant look that doesn't get too overwhelming, and the contrast between dark and light portions of the screen looks fantastic.
HP really thought things through when it comes to using a display that's perfect for creative work as well. The OLED screen is rated at 100 percent coverage of the DCI-P3 color gamut. Moreover, HP includes a Display Control tool that lets you quickly swap between sRGB, Adobe RGB, DCI-P3, and native color profiles to make sure whatever content you're working on or consuming looks the way it's supposed to.
Thanks to the reduction in bezel size, everything on the screen just pops, too. The Spectre x360 lineup used to be notable for its prominent chin, with a large bezel area below the display. That space is substantially reduced now, with the Spectre x360 15 measuring a 90 percent screen-to-body ratio.
Also new this year is an anti-reflective coating that makes working in bright areas a much nicer experience. You'll still see reflections on the screen, to be sure. However, they're drastically reduced, making screen visibility a non-issue in a lot of situations that might have crippled previous displays.
Between its pixel density and color prowess, the Spectre x360 15 display is the best I've used on a laptop. What I'd love to see, however, is a 15-inch model with a 3:2 or 16:10 aspect ratio (like HP used in its new Spectre x360 14, rather than the current 16:9. I've become accustomed to the taller display area on Surface PCs over the years, and the slightly more cramped vertical space of 16:9 display doesn't feel as good by comparison. For watching TV and movies or working on video projects, however, it's perfect.
If the screen is great for consuming movies and TV, the speaker setup in the HP Spectre x360 15 complements it well. HP has equipped the laptop with four speakers, giving you a pretty good amount of punch and volume compared to many other options on the market.
Keep in mind these are still laptop speakers, so there will be some compromises in clarity, especially when it comes to bass response, no matter what. However, I was impressed with how cinematic movies still sounded through the quad-speaker setup. You won't get room-shaking bass here, but the Spectre x360 15 also managed to handle everything from wacky guitar-laden IDLES tracks to the hip-hop sounds of Run the Jewels well, albeit with some diminished bass.
One area that can't be overlooked, however, is the webcam. Simply put: it's not great. On the whole, laptop cameras aren't known for their clarity, and the Spectre x360 15's webcam continues that tradition.
The biggest offenders here are grain and poor colors. In indoor lighting conditions, images look unsettlingly grainy and smeary, harkening back to the camera quality of early smartphones. If looking your best on Zoom and Teams calls matters to you, you'd do well to invest in either a separate webcam or a dedicated ring light.
That said, HP deserves some credit for managing to squeeze a camera into the minuscule bezel area above the display. The company is using an incredibly tiny 2.2mm webcam in a top bezel that measures just 3.4mm thick. Given those restrictions, the quality can be somewhat forgiven, especially since you still get a Windows Hello IR camera.
Just my type
HP Spectre x360 15 (2020) keyboard and trackpad
The keyboard on the HP Spectre x360 15 is another area that delights. The keys have a nice amount of bounce that makes typing feel great. The spacing between the keys and travel feels just about perfect as well.
If you're incredibly picky about your keyboards, there's nothing to worry about here. There's always an adjustment period when you move from one keyboard to another, but that transition felt much faster thanks to the Spectre x360 15's keyboard's excellent feel and layout. If you find yourself doing a lot of data entry and working with spreadsheets, the inclusion of a number pad is excellent, too.
Beyond the feel of the keyboard, HP has included some thoughtful extras that can come in handy, especially in a world where we're all participating in many more Zoom calls. There's a dedicated microphone mute key next to the media control keys, which is a godsend if you've ever needed to mute yourself in a call quickly.
There's also a dedicated camera shutter switch that completely disables the webcam at a moment's notice on the right side of the laptop. This is done at the hardware level, so Windows doesn't even recognize the webcam once that switch is flipped.
Though there's an IR camera onboard here for Windows Hello, HP also included a fingerprint sensor just below the number pad. It's a nice touch if you'd rather not use the camera to log in. It can come in handy, too, if you've left your webcam shutter switch on, giving you an alternate way to log on.
As good as the keyboard and typing are with the Spectre x360 15, the trackpad is more of a middling experience. The feel of the trackpad glass is fantastic and has just the right amount of friction to feel good when scrolling. However, the click feels slightly off, almost like the feeling of pushing a sticky button.
The way a trackpad clicks isn't a dealbreaker by any means, but it's somewhere HP could stand to improve in the future. Otherwise, Microsoft's precision touchpad drivers feel great here, allowing for excellent gesture navigation without a hiccup.
Zoom Zoom
HP Spectre x360 15 (2020) performance and battery
The HP Spectre x360 15 performs well at most tasks, feeling as snappy as you'd expect from a high-end processor for general everyday tasks like writing and web browsing. With its focus on color accuracy and the added GPU horsepower, however, the Spectre x360 15 needs to be a solid performer with creative tasks as well. In that respect, it mostly holds up, though there are better options in some areas.
In our Geekbench tests, the HP Spectre x360 15 turned in solid performance on both single-core and multi-core scores. But while it was in the top-end of our tests, it was still outclassed by the latest Dell XPS 15 and ASUS ROG Zephyrus G14. While the difference is negligible in single-core performance, there's a pretty drastic delta when it comes to multi-core performance.
On PCMark 10, which gives an overview for a more general set of common, everyday computing tasks, things are much closer. The HP Spectre x360 15 still falls behind the Dell XPS 15 and ROG Zephyrus G14, but it tops everything else. Notably, the difference between the Spectre's performance compared to the XPS 15 is much less pronounced.
While gaming isn't something most will buy the Spectre x360 15 for, it's fairly competent at achieving good performance in non-demanding games. While it lags behind a lot of the pack in 3DMark's Time Spy benchmark, I was able to achieve 60 FPS in World of Warcraft at moderate settings using the Spectre's discrete GPU at native resolution.
It's worth noting, however, you will have to drop the resolution down for any intense games for the best performance.
Like a lot of laptops coming out this year, the Spectre x360 15 includes Wi-Fi 6 and Bluetooth 5 connectivity. Wireless performance was fast, pulling most of my wireless connection's 200 Mb/s speeds throughout my apartment. I didn't experience any drops with Bluetooth headphones connected.
Geekbench 5
Geekbench 5.0 (CPU) (Higher is better)
Swipe to scroll horizontally
| Device | CPU | Single core | Multi core |
| --- | --- | --- | --- |
| HP Spectre x360 15 (2020) | i7-10750H | 1,249 | 4,985 |
| Dell XPS 15 9500 | i7-10875H | 1,318 | 7,621 |
| Dell XPS 15 7590 | i9-9980HK | 1,176 | 7,624 |
| Lenovo ThinkPad X1 Extreme (Gen 2) | i7-9850H | 1,160 | 4,168 |
| ASUS ROG ZEPHYRUS G14 | Ryzen 4900HS | 1,221 | 7,982 |
| Surface Book 3 15 | i7-1065G7 | 1,298 | 4,511 |
| Surface Book 2 15 | i7-8650U | 1,130 | 3,602 |
| Dell XPS 13 9300 | i7-1065G7 | 1,284 | 4,848 |
| Dell XPS 13 2-in-1 7390 | i7-1065G7 | 1,209 | 3,571 |
| Dell Inspiron 13 7390 2-in-1 | i7-8565U | 1,111 | 2,965 |
| Dell Precision 3541 | i7-9750H | 1,117 | 4,720 |
| Lenovo IdeaPad Flex 5 14 | Ryzen 5 4500U | 1,087 | 4,570 |
| Surface Laptop 3 15 | Ryzen 5 3580U | 769 | 2,720 |
PCMark
PCMark 10
Swipe to scroll horizontally
| Device | Score |
| --- | --- |
| HP Spectre x360 15 (2020) | 4,731 |
| Dell XPS 15 9500 | 5,160 |
| Dell XPS 15 7590 | 5,521 |
| ASUS ROG ZEPHYRUS G14 | 5,707 |
| Surface Book 3 15 | 4,393 |
| Surface Book 2 15 | 4,228 |
| Surface Laptop 3 15 (AMD) | 4,006 |
| Surface Laptop 3 15 (Intel) | 4,604 |
| Dell XPS 13 2-in-1 7390 | 4,427 |
| Dell Inspiron 13 7390 2-in-1 | 3,764 |
| Dell Precision 3541 | 3,906 |
| HP Pavilion x360 14 | 3,558 |
| Lenovo ThinkBook 13s | 3,468 |
3DMark
Time Spy
Swipe to scroll horizontally
| Device | GPU | Score |
| --- | --- | --- |
| HP Spectre x360 15 | GTX 1650 Ti Max-Q | 3,328 |
| Dell XPS 15 9500 | GTX 1650 Ti | 3,936 |
| Lenovo ThinkPad X1 Extreme (Gen 2) | GTX 1650 Max-Q | 3,190 |
| ASUS ROG ZEPHYRUS G14 | RTX 2060 Max-Q | 6,224 |
| Surface Book 3 15 | GTX 1660 Ti | 1,712 |
| HP ENVY 32 AIO | RTX 2060 Max-Q | 5,664 |
| Lenovo ThinkPad X1 Extreme (Gen 2) | GTX 1650 Max-Q | 3,190 |
| Lenovo ThinkPad P53 | Quadro RTX 5000 | 6,760 |
| Lenovo Legion Y740 15 | RTX 2070 Max-Q | 6,406 |
| Lenovo Legion Y740 17 | RTX 2080 Max-Q | 7,128 |
SSD
CrystalDiskMark (Higher is better)
Swipe to scroll horizontally
| Device | Read | Write |
| --- | --- | --- |
| HP Spectre x360 15 (2020) | 2,206 MB/s | 1,047 MB/s |
| Dell XPS 15 9500 | 3,420 MB/s | 2,856 MB/s |
| Dell XPS 15 7590 | 3,000 MB/s | 2,796 MB/s |
| Lenovo ThinkPad X1 Extreme (Gen 2) | 3,416 MB/s | 3,016 MB/s |
| Dell XPS 13 2-in-1 7390 | 2,400 MB/s | 1,228 MB/s |
| Dell Inspiron 13 7390 2-in-1 | 1,440.3 MB/s | 359.2 MB/s |
| Dell Precision 3541 | 3,468.8 MB/s | 2,220.4 MB/s |
| Huawei MateBook 14 | 3,470 MB/s | 1,920 MB/s |
| Huawei MateBook X Pro (new) | 3,416 MB/s | 2,779 MB/s |
| Huawei MateBook 13 | 3,436 MB/s | 2,553 MB/s |
| HP Spectre x360 13t | 3,085 MB/s | 1,182 MB/s |
| LG gram 14 2-in-1 | 558.1 MB/s | 523.1 MB/s |
| Dell Latitude 7400 2-in-1 | 3,110 MB/s | 2,825 MB/s |
.
Two main areas deserve a word of caution with the Spectre x360 15 regarding performance: battery life and heat output.
If you're planning to get a lot of work done on the go, you'll want to make sure you have your power brick on hand. Using Windows' built-in battery report tool, I've averaged around five to six hours of battery life from a full charge when using the laptop for general work and browsing tasks. That's largely using the "better battery life" power setting when the Spectre is unplugged. For heavier, sustained tasks like any video work or playing games, you'll fall quite a bit short of that.
The issue is that HP shrank its battery this year, dropping to a 72.9Wh unit. Additionally, you're powering a 4K OLED display, which is itself a heavy drain on power. With a power-hungry CPU and discrete GPU, you have a combination that won't last through extended work periods away from an outlet.
The Spectre x360 15 also gets pretty hot when under load. The top of the unit isn't too bad, and the keyboard remains usable without any discomfort, even when things are getting hot. However, the bottom can reach uncomfortable temperatures, especially if you're using it in your lap.
Ready to go
Should you buy the HP Spectre x360 15 (2020)?
Who it's for:
Anyone who prizes a premium look and feel
If you need a vivid, color-accurate display
Those who need a large, convertible PC
If you're picky about keyboards
Who it isn't for:
If you need a beefy gaming PC
If you prefer petite Ultrabooks
If you don't need or want a convertible
If display tech isn't that important to you
HP's 2020 take on the Spectre x360 15 can be summed up in one word: refinement. The laptop feels and looks just as premium as ever and is dripping with style. Shrinking the display bezels show that even small adjustments can make a big difference.
The Spectre x360 15's display is simply gorgeous, and it remains a big attraction here. For creatives who rely on color accuracy for their jobs or hobbies, you can't do much better with the current crop of laptops on the market. If you have the money to spare and just want the best looking display for TV and movies, then you'll be satisfied here, too.
The Spectre x360 15 also remains the only convertible in this size that you can get your hands on with current specs. That puts it in a unique spot for a niche of people that require a 15-inch convertible. It's also a serious contender for the best Windows laptop if you value versatility most.
For your money, there are some other options out there that might appeal to you depending on where your priorities lie. While the hardware in the Spectre x360 15 performs well, you might consider the Dell XPS 15 9500 if you don't need a convertible and want every ounce of raw power you can get. Likewise, HP's own Envy 15 is an even better choice when it comes to raw power in a traditional laptop form, but you'll lose out on the styling of the Spectre.
Still, the Spectre x360 15 remains an excellent choice at the top of HP's range. The display and keyboard are among the best you can get in a laptop. So long as battery life isn't your top concern, the Spectre x360 15 is a premium convertible that will delight.
Premium convertible
HP Spectre x360 15 (2020)
Sleek beauty

The HP Spectre x360 15 (2020) retains its position as one of the most premium laptops out there. The combination of sleek styling and powerful hardware makes it a dream to use. Battery life is a concern, but it's one you might forget after taking a look at its gorgeous display.
Dan Thorp-Lancaster is the former Editor-in-Chief of Windows Central. He began working with Windows Central, Android Central, and iMore as a news writer in 2014 and is obsessed with tech of all sorts. You can follow Dan on Twitter @DthorpL and Instagram @heyitsdtl.