Surface Duo 2 sails through FCC with 5G and some type of wireless charging
By Daniel Rubino last updated
Microsoft's upcoming Surface Duo 2 was spotted at the FCC in a recent filing. The data suggests it has wireless charging, but it's unlikely to be Qi.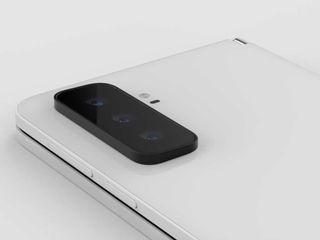 (Image credit: WindowsUnited)
What you need to know
New FCC documents cleared on September 17 filed by Microsoft are likely for Surface Duo 2.
The documents confirm 5G, NFC, UWB, Wi-Fi 6, and a "Wireless Power Transfer."
While it could be Qi wireless, it is more likely inductive charging for a Surface Pen.
On September 22, Microsoft is expected to reveal Surface Duo 2 — the follow up device to its unique dual-screen theory of pocketable computing.
New FCC documents released on September 17 reveal some more details about the upcoming device, although photos, schematics, and in-depth descriptions are withheld until January 2022.
While most of the data, filed under C3K1995 (C3K is the grantee code for Microsoft, 1995 is the FCC product code), are drab test results, there are a few details that confirm this is Surface Duo 2.
For one, it's referred to as a "portable handset" throughout the documents. There are multiple references to various "postures" for testing the device, including "flip and flat." The device has 4G and 5G capabilities. Testing was performed for hearing aid use — a requirement for "digital wireless phones." Even the build number of the firmware — 2021.728.20 — matches the format used by Surface Duo.
Besides confirmation of Wi-Fi 8021.11b/g/n/ax (aka Wi-Fi 6), Multi-band 5G, NFC, and Ultra-wideband (UWB, likely for accessories and rapid file transfers like Nearby Share), there is also mention of "Wireless Power Transfer," aka fancy FCC speak for wireless charging.
While it's easy to jump to Qi-wireless as the reference, our sources, so far, have yet to confirm any native Qi wireless charging for Surface Duo 2. Indeed, the device is so thin that putting the Qi coil in and mitigating the heat generated could be too difficult to implement.
An alternative theory to Qi wireless charging is that Surface Duo 2 may support inductive charging for a Surface Pen akin to how Apple's iPads can recharge the Apple Pencil with it magnetically sticking to the device. Admittedly, the support for Surface Pen and Surface Duo 2 is not something widely reported on yet in terms of actual abilities like haptic feedback, storage, and support in Android leaving it all a bit of a mystery.
Category
Surface Duo 2
Operating System
Android 11
Display
5.8-inch each, High-Refresh Rate, 2754 x 1896 (Opened)
SoC
Snapdragon 888
Memory
8GB RAM
Storage
128GB, 256GB
Expandable Storage
No
Rear Camera
Wide (12MP)
Telephoto (12MP)
Ultrawide (16MP)
Front Camera
12MP
Security
Fingerprint Reader
Connectivity
5G, Bluetooth 5.1, NFC
Ports
1x USB-C
Audio
Stereo Speakers
Battery
4,400mAh (rounded down)
Dimensions
Unknown
Weight
Unknown
Colors
White, Black
Besides the above information, much about Surface Duo 2 is already known. The device should feature the Qualcomm Snapdragon 888 processor, 8GB of RAM, larger 5.8-inch high-refresh displays that curve inward, three rear cameras, Bluetooth 5.1, a larger 4,400 mAh battery, white or black colorways, and Android 11 (with Android 12 expected first half of 2022).
More details about Surface Duo 2 should be revealed on Wednesday, September 22 at 11 AM ET in a #MicrosoftEvent live stream. In addition to the Surface Duo 2, other devices like Surface Pro 8, Surface Pro X, Surface Go 3, and a "Surface Book 4" are also expected to be unveiled.
Thanks, Javid M., for the tip!
Daniel Rubino is the Executive Editor of Windows Central, head reviewer, podcast co-host, and analyst. He has been covering Microsoft here since 2007, back when this site was called WMExperts (and later Windows Phone Central). His interests include Windows, Microsoft Surface, laptops, next-gen computing, and arguing with people on the internet.
Missing on Qi would be a drag, but I think that's easily the easiest omission to excuse. There's a direct alternative solution to charging (the cable), where as losing NFC would leave you without mobile payment. I've got a wireless charger, but I've found myself never using it these days. It's convenient to "set it and forget it," but it's so common that I need to do something on my phone while it's charging that the cable is ultimately more convenient...and faster. If the Duo embraces the Slim Pen with wireless charging, then I hope they REALLY support it with the chassis design. Renders showing the pen on the inside of the device look really smart. Have the camera bump match the thickness of the Slim Pen and let the pen be a secondary source of support for the screen when folded back against the camera. It'd make the device more stable overall and let the whole package gel in a great way. You still have to worry about having the pen fall off the back, especially going into or out of a pocket, but that's always a concern.

Yeah, wireless charging is great if you a car with one, but for regular use it's meh, specially now with phones with incredible fast charging capabilities like the new Xiaomi phone that can charge from 0 to 100% in 20 minutes.

Car wireless charging is even worse than home, IMO. I'm more likely to leave a phone on a table or nightstand that want to put it on a car's wireless charger. Those are usually min-spec (5W) and have no upgrade path long-term. With as often as people use map and music apps while driving, a cable and dash mount is a much better solution, IMO.

Even with it, i'd never use... I had a charger with nothing on it burn to the glass table underneath it once. No idea how the heck that happened, but nope. Not trusting anything near those anytime soon.

My Qi charger in my car (sadly, now just a holder for my Duo, because the Duo doesn't support Qi) is 10 watts, which charges faster than the old micro-USB charges pre-QuickCharge of just a few years ago (1.5A x 5v = 7.5watts). Qi chargers can go up to 15 watts, but I don't think any phones support that rate yet.

Goncalo Duarte1, but that 0 to 100% in 20 minutes kills the overall life of the battery. When you see reported stats on # of possible recharges for Li-Ion and Li-Polymer, they show a median number of full recharges of something like 400-500 full discharges and re-charges. What they don't clarify is that a 50% recharge isn't half as bad is a full recharge, it's only about 25% as bad, and a 25% recharge is about 1/12 as destructive -- the closer to 0% the battery gets, the more damage done as a simple limit of the chemistry of the batteries. Also, while QuickCharge 3+ has excellent technology to prevent overheating and extreme damage to the battery (remember the Samsung fires from QuickCharge 2?), the high amperage still is harder on the battery than a slower charge. This means that those "convenient" quick charges from a nearly fully drained battery are also all shortening the life of your device. Given that the batteries are not intended to be replaced, this is the critical downside to QuickCharge, and a core advantage to wireless charging. By more slowly charging and keeping the battery from draining, you massively extend the life of the battery. Combine that with a USB-C cable for the occasional QuickCharge in an emergency (like when traveling and only have a few minutes at the airport to recharge) and you get the best of both worlds.

Xiaomi claims 800 charge cycles before the battery drops below 80% capacity. They addressed that issue directly.

I don't dispute this. That's why a phone can generally be used for a couple of years and sometimes longer. However, keep in mind these are bell curves. So "800 cycles before battery drops below 80%" really means for some % of phones -- is that half? One standard deviation? That important data point is missing (understandably -- that's not a level of detail you'd expect to find in promotional material). Certainly, there will be many phones that are on the losing end of that curve. And for those, is their batter completely dead? Probably not, but is it at half the life? An eighth? And what about after those 800 cycles, how quickly does the battery start to die after that? Point is that taking steps to preserve battery life can allow your phone to last longer than the norm, or increase the likelihood that you reach it, when you might otherwise have a battery with shorter life. Clearly that doesn't matter to everyone, but if it's a concern you have, maybe because you plan to use your phone for longer than 3+years or, like me, you just hate the idea of your battery life shrinking with age, then Qi charging provides advantages over USB-C cable and QuickCharge.

Yeah, lacking Qi Wireless Charging is a bummer for me as well, especially when docking this on my car. But at least not having one isn't a total loss of functionality, since wired charging exist and faster. NFC though, not having one means not having mobile payment, public transports, NFC pairing and other potential functions that only having NFC can provide. NFC is pretty much necessary on many other countries for mobile payments and especially on countries with very good public transport that uses them. This was a futuristic that became reality, and it was shame Duo 1 didn't have it. Even let's say, it wasn't meant to be a "smartphone" at first. At least that got addressed with Duo 2. I still hope one Duo 3, they can fit Qi Charging. This tech is already becoming more popular and there are new cars that came with it. Also it's pretty cheap to get one for any existing car as a mount. Helps to reduce wear and tear to the USB-C port.

I really don't get the 'can't use while charging wirelessly.' If it on a wireless charger, pick it up and use it. Do you do stuff that lasts so long it dramatically affects the charge? I have had to force myself to lay my phone down off a charger so it actually uses battery, and isn't just full all the time. With a corded charge setup, when you need to pick up the phone, you drag that cable with it, potentially knocking things off the desk. If you need to go get some information from somewhere out of cable radius you have to disconnect and reconnect when you get back. I typically charge fully at night, and it makes it through the day anyway. If you have a phone that doesn't make it to lunchtime, and you need it to quick charge to make it to dinner, that's a whole different issue. It's a personal choice, but there is nothing inconvenient about wireless charging.

If you have a phone that doesn't make it to lunch time, you either need to use it less and if that isn't the problem, you need a new phone!

If the Duo 2 had Qi then I think I would definitely get one. Without it, it's still a maybe but I think that I'll definitely be waiting to hear what people's experiences with the camera is like. I can certainly see the logic behind the camera as it is but I fear that using it will be awkward.

Not been this excited about a Microsoft reveal for years... Really hope they have made major updates to the software...

Not excited at all.
The design isn't practical to be used as a phone with a single screen. This form factor all together proved to be failure during the last few years, especially after the launch of foldable screen phones. I know people here love Microsoft products (me either), and they were fighting with me when I expected the failure of the first Surface Duo before its release. Believe me, this is the last Surface Duo. Microsoft will throw the towel after the miserable sales numbers (as usual with their initial insane prices). Please, don't compare this situation with other Surface products history.
This is a phone. Call it whateveryou like, but it is still a phone, and everyone knows Microsoft legendary history with phones.

"Believe me, this is the last Surface Duo"

It's not and you should really not pretend to have knowledge or insight that you don't possess.

"This form factor all together proved to be failure during the last few years, "

Duo 1 is only one year old this month.

"The design isn't practical to be used as a phone with a single screen."

You haven't tried it yet. You're

assuming

based on photos and

imagining

how it operates. The phone still reverse folds and has one-screen mode. Let's wait until the reviews from people who have used it to see what they say vs. people presuming experiences in their heads.

Why the heck would it NOT be the last? It makes no sense whatsoever for Microsoft to brunt ongoing engineering costs of supporting this random Android fork when nothing else in the product portfolio uses it. The Surface Neo is completely dead and even if it wasn't, it was never intended to run Android as the OS. This launch seems to only have a couple goals. One is to get even a modest ROI on mostly a boondoggle of dual screen hardware. The other is to use the customer base of the Duo devices to gather data on what one-off features are resonating and which aren't. That data will be crucial to adjusting their Android app strategy as well as long term hardware plans. Microsoft is not betting on Duo and it's really delusional to think it stands any chance of being much of a success in the overly crowded mobile device market. Hell, if Google actually is releasing a folding Pixel phone, Microsoft might as well pack it up on the hardware front for phones after 2 decades of failing repeatedly. You should probably recognize just how much fanboyism is in your reply. It doesn't take a genius to know that the width of the device when folded is a massive problem for widespread success. The Galaxy Fold learned that lesson while their previous versions were still smaller width, but when they brought it in just a bit more on the 3rd generation, it has been a HUGE success. I'm very pro-Surface in general and a longtime fan of so many Microsoft products, but it's absurd to keep waiting on Microsoft to get it right with a phone. The Duo running Android addressed the app gap that doomed Windows Phone, but it doesn't make Android "better". It just introduces the "potential" for dual screen apps… that will never come from non-Microsoft apps as there is no way to justify the additional app engineering cost for it to have any ROI

I think it is fair for you to just leave this device alone if it's is so offensive and disturbing to you. I don't think anyone is forcing you to participate in this discussion. What's the point of being here?

Why wouldn't he have the right to have is opinion? Only praise is permitted? Who are you to tell others that they should not express their vision of things?

"It doesn't take a genius to know that the width of the device when folded is a massive problem for widespread success. The Galaxy Fold learned that lesson while their previous versions were still smaller width,", the width of the Duo is a pro since the whole device focuses more on work (note taking, reading, emails / documents etc) than on consumption like other phones do. Also the Fold has to have low width since its so thick (otherwise it would not fit in your pockets, the Duo does not share this issue). "but it's absurd to keep waiting on Microsoft to get it right with a phone." , they only just released 1 Duo and you expect that to be immediately your perfect dream device? I remember how the 1st Fold also had a ton of design quirks and issues (and that device is even more expensive than the Duo 🙄).

You may not be using in an Enterprise environment, where you're not an IT person. The form factor is fantastic for work.

So they will sell several to some IT folks who are also Microsoft fanboys. That doesn't make a market.

OK so you agree that the Surface Duo is a Gen1 product and that Samsung only got the Galaxy Fold properly right on the third try. I don't recall Microsoft killing a product of this scale on the first try. Only the Studio in recent memory has seemingly stalled at a Gen2. The product was beloved but didn't get sufficient traction due to some limitations (non-upgradeable) and so the ball is still up in the air about it. but the concept and engineering is undeniable by those who have used. it. Let's see the response and take-up of the Gen2 Surface Duo before we come to a more definitive forecast of what may or may not happen.

Roy, where to start. If MSFT purely used ROI to justify the investment, then they would cancel the entire Surface line. There is no way Surface has margins anywhere near the margins of Office 365/Windows/Azure. MSFT MUST develop apps for Android. Android runs over 70% of all mobile phones. Even if they do not have a device that runs Android, you can bet most of their apps and software will run on Android. How they go about integrating Office 365 between Windows, Android, and iOS (Axure/cloud/ etc.) is above my paygrade. But you can assume that the executive committee talks about this often, which explains why Panos is now on the committee. Surface Pro went through 4 generations before they developed a strong ecosystem. You can also assume that MSFT knows who buys their Surface Pro device (and various other devices and form factors). I have bought the Go and the first mini-Surface (forgot its name). I bought the Surface Pro 5 and 7. Surface Headphones and many former Lumia Phones. They know the same about millions of customers. I did not buy the Surface Duo, and I will wait until next year before I think about a Surface Duo 2. Why? Because I put a lot of faith in the Lumia line of phones (MSFT was willing to pay billions and invest billion more for a failed attempt to develop windows mobile ecosystem). They broke that faith, and I would rather wait for Gen 2 to get enough updates to avoid being a guinea pig, which I was often subjected to with Lumia Phones (Verizon took forever to allow 8.1 onto the Lumia 928).

How do you know it isn't the last Surface Duo? Microsoft cancels products all the time. After sales of Duo are horrendously low, Microsoft will cancel Duo early 2022. We will hear about it around spring time. The form factor isn't viable. Dual screens are way too awkward to be worth the modest benefits of having a second screen. No one else is pursuing this form factor anymore for a reason. It just isn't worth it. Unless Microsoft prices it extremely low, it will go no where. They need this thing to be like $500 at launch, but that doesn't make financial sense.

$500 at launch!! That's hilarious! Name one other basic slab phone sold in the USA with the SD888 chip, that is that cheap. I'll wait, but not hold my breath.

It's hard to imagine anyone being more of a ******. "How do you know X? I know Y". Get bent, ******.

Microsoft can't satisfy customer like you. Whatever device they produce you won't be satisfied with the product. Buy samsung fold or, Iphone instead. I hope you will feel better.

I mean… yes? It's definitely true Microsoft is nowhere near close to delivering on a phone that meaningfully competes for market share from either Samsung or Apple. It's really weird how the extremely tiny group of Microsoft fanboys clamoring for the company to get success with a phone keep acting like Microsoft is on the verge of success. They just aren't

Why don't you just go elsewhere then? What exactly are you looking for here?
Reminds me of a vegetarian showing up at a steak bar to complain. What's the point??

So you want Microsoft to fail? Why can't you be critical of their poor strategies? You want them to continue with their poor form factors and strategies?

Most people here don't really care about market share. They just care that the phone is successful enough that it remains available for them to use. people clamouring for Microsoft's success with the Duo are doing so for their own selfish reasons, i.e. so they can use the hardware they want. What is truly sick is the people clamouring for their failure. What does it matter to you whether the Duo succeeds or fails if it's not a device you want? I have no issue with people who have reservations about the Duo - have my own - but the glee with which some people try to tear it down says far more about them that it does the Duo or Microsoft.

Again, an irrelevant benchmark. Sony's mobile division has recently started to become profitable. This has happened despite being light years behind Samsung and Apple in sales. The goal isn't to beat those two. You don't have to be a top-3 OEM to make a decent product or keep the lights on. Instead of "beat Samsung," the goal should be more focused on "don't be LG."

That Microsoft has fanboys isn't at all weird. That some of them match the zealousness of Apple fanboys isn't surprising either. What is rare are the anti-fans that feel free to lecture others as to how Microsoft is failing with a particular product and how illogical those fans are for liking said product.

So we should blindly cheerlead even when Microsoft does things that are destined to fail? Duo has no future. Dual screens aren't viable. It has been proven time and time again. We would prefer Microsoft do something good, something with a future. Duo is a total waste of time.

You know, pocket PC's technically failed over and over again. The first iphone wasn't exactly a roaring success with the public and many journalists said it would fail too. Sure glad they stuck with it, iterated until they had a roaring success. Android had it's share of negative press saying it had no future as well. People also have said for years that Elon Musk's Tesla motors had no future and wouldn't make electric cars mainstream. Years of negative press didn't stop Tesla motors. Yet, here we are 10 years later. Tesla is worth more than every other car company combined and every other car company can't convert their cars to electric fast enough. Very very very few products are instant successes. They usually take years of trial and refinement to get there. Sticking with it and refining it is exactly how you make a successful product.

"So we should blindly cheerlead" This may surprise you but that is not the only alternative to being a complete ******.

Roy, you may well be correct on the narrow point that the Surface Duo will not see comparable market share to the top Galaxy phones, but similarly, as expensive flagships, those devices have relatively little market share compared to less powerful and cheaper Android phones. Hardly an argument to discontinue them. Microsoft doesn't make the Duo with the expectation that it will be the dominant phone. They make it to ensure a measure of control over part of the delivery and ecosystem for their software and platforms, which are a major portion of their overall revenue. The Duo is more about protecting their flank against Google on the software front than on "winning" a hardware war. Viewed in that light, it's quite clear that as long as the phones sell at a modest level, MS will keep at it.

I was thinking the same thing lol

Indeed. Seem to be several new posters here who all sound exactly like Bleached. I wonder if they're really all separate people.

Talking roi with no idea of the engineering/r&d costs, let alone if that expense was planned out and budgeted over a multi-device period (hint: it was but roy clearly DOES NOT know that), talking marketshare (really irrelevant to tech companies bc almost no one has enough to make actual relevant besides you know who in comparison to profitability (clearly doesn't know that profitability is obtained by subsidizing different products and services when you are an organization of this size which is why their earning calls are broken down the way they are).
Roy is clearly ignorant to all of these things. Save yourselves the time of responding to them. If he was in search of learning, he would have presented his arguments in a different manner. It's clear, Roy's mind is locked into what he believes and this time next year... Well as the saying goes, time will tell. Roy will realize how stupid he made himself appear to be and have to live with it.

I only have my one account that I have had for like a decade. It is almost certain Microsoft will kill Duo early next year.

Im excited. I already have a Duo and it works perfectly good with single screen, but I cant imagine going back to a single screen phone. It would be a huge step backwards after getting used to dual screen.
Whether or not it will be a success I wont comment on that depends on what the definition of success would be and there is several different ones that could be applicable. Did you ever own one? About Microsoft history with phones, are you comparing them trying to establish a new phone OS with them making hardware for an already established OS? Those are totally different things my friend.

I rarely take an ad hominem route to a response, but I am inclined to believe you have not touched or used the current Duo for whatever reason; sometimes we develop a myopic view of "whatever" . . . you know a lack of foresight or scope.

"Call it whateveryou like, but it is still a phone, and everyone knows Microsoft legendary history with phones" That nonsensical position is where you give away agenda.

I guess Roy does not know that MSFT once had a 40% plus share of the cell phone market (before the iPhone was released. Taken aback by the success of the iPhone, MSFT spent a decade and $10 billion-plus to try and catch up with Android and iOS. I think spending a few $10s of millions a year to develop Surface Hardware for a division to generate over $4 billion a year in sales is a small ask from the CFO of MSFT, especially when you can show how the Surface line is expanding the WinTel ecosystem.

"The design isn't practical to be used as a phone with a single screen." This is less meaningful in 2021 than ever before. Many people take calls without holding the handset to their ear. They use wireless earphones or in-car calling a lot. It's not that severe a problem, even if you're right (which, I think you're not). Heck, if I'm not out at a store or around people in public, I take most of my calls on speaker anyway. I'd say fewer than 25% of my calls involve having a phone to my ear. "This form factor all together proved to be failure during the last few years, especially after the launch of foldable screen phones." No it didn't. Saying something without any explanation isn't a real point. One device without a proper hardware feature set launched with this form factor at way too high of a price for its lacking feature set. In no way is that "years of showing the form factor is a failure." "Please, don't compare this situation with other Surface products history." You're right. I've never owned another Surface product before (though I've used a lot of them for work or bought them for others). Unlike those, I intend to buy a Surface Duo, so it's definitely different. "everyone knows Microsoft legendary history with phones" Borderline irrelevant comparison. Microsoft's history with phones came down to hardware and a platform that people generally liked, but a lack of app support made the platform non-viable for many. That's not an issue with the adoption of Android. Though some WILL judge the Surface Duo as a "Microsoft is bad at phones" matter, those people probably barely used a Windows phone, if at all. The hardware was never an issue with the platform, and the Duo's failures primarily came down to missing hardware features. With those being resolved this time around, the situation is MASSIVELY different from Windows phones.

I wear hearing aids. I almost never look at my phone. But I answer the same way every time I get a call. "Hello, this is David" in a flat monotone voice.

Keith, you speak for me too here. Well said. I admire Surface devices, but the only one I OWN is a Surface Duo, and I absolutely love it. No way I'd go back to a narrow, single screen phone. In fact, to the form factor, even many of the reviews critical of the Duo overall still praised its form factor. As Zac says, the problem with the Duo (beyond the obvious hardware limits like the poor camera and no NFC) is that the OS and software were not really ready for release at launch. Given that it was not intended as an Android phone during design, that's not too surprising. Hopefully, the Duo 2 won't suffer those problems.

Reviews praised the build quality and hardware, not the form factor. The form factor doesn't work. Kyocera, ZTE, LG and now Microsoft have all proven it. The biggest indication that the form factor doesn't work is that Samsung doesn't make one. No one makes one anymore but Microsoft. If Duo actually was good and actually proved the form factor is viable, we would be seeing all sorts of copy cats at this time. Not even the Chinese are copying it!

Nah, symptoms are more drunk than high

This will be my next phone... Goodbye Note 8.

You are already planning to get the 2nd generation of a phone not even formally announced yet, when the first generation resulted in a fire sale. JFC. This site is a safe space for the very strange group of remaining fanboys of Microsoft mobile phone efforts. There's really no reasonable arguments to be made how Microsoft is making a better Android phone than the likes of Samsung and Google, but far too many of you here try so damn hard to

Please go away. You are adding nothing here. You sound like bleached.

Yeah he sounds like a troll

Bleached is more literate and actually presents some legitimate criticisms at times. This guy is more like a long-form Twitter troll missing his brain.

The Fold is a fantastic media consumption device, but it's horrible for work multitasking. The 3rd is better for note taking, but the narrow side-by-side makes it inferior for work multitasking. This is coming from user experience.

It works perfectly fine for the rare times you want dual apps, and it can even do three apps when needed. You are blindly fanboying if you think the Duo has anything on the Fold. There is a reason they have like a million pre-orders and Microsoft will sell next to no Duo phones unless they sell it really cheap.

Roy, have you ever used a Duo? I too was a sceptic, but having bought one on sale I really think this is the future... I have a Fold 3 too... The Surface with too separate screens is the more fluid device in use... Not saying the Surface Duo will appeal to all but there is definitely a market for this... And the hardware is more elegant than any Apple product ever released...

The hardware is certainly nice, but it has no chance as the future. The only thing you can say about it is "elegant", because there is no practical advantage to the Duo.

Stop criticizing people for their choices. Let people make their own decisions. What are you upset about? Did you used to use windows phone and then get overly mad it got discontinued? Did Microsoft do something to upset you? Have you had a slew of personal issues with their software and/or hardware that has left a bad taste in your mouth? How many MS hardware products have you actually used?
What's up? What gives?
It's fine to have an opinion my friend. Just don't criticize others for having a different opinion than yours.

I'd love Qi so I could charge it on my car's wireless pad, but the dimensions honestly make that difficult anyway. Looking forward to the reveal.

I do wonder if they can add it via an external case. It wouldn't be as elegant, but one possible solution for those who really want Qi.

Something like the Lumia 925 charge cover clip on? Thinking about it, I agree it won't be as elegant. Also with the camera bump, it would be quiet difficult to place it flat. As I'm thinking the Camera bump is on the rear of right screen. So the coil would have to go on the rear of the left screen to enable you to place it flat on a surface. I suppose that could work and Microsoft could use the camera LEDs as notification LEDs.

Maybe they can do that, at least it will fill up the gap from the camera hump at least most of it. Though will that going to have problem to fold back with a thicker case. The hinge can accommodate the camera hump since that is on the near edge of the device but having that thick side near the spine will limit the number of degrees you can open flat. Also to have a case for Qi, unless there is some sort of pogo interface. It will use USB-C which means it will add significant amount of width for the device just to have another USB-C passthrough, or maybe not at all and will prevent user to plug it with a USB-C as long as the case is installed.

It's definitely a possibility, although the form factor does make cases a bit challenging, I think. As it is, even with the first Duo, we just had my wife's iphone on the charging mat, and tucked my Duo away in the console where the extra usb-c was. Not as convenient, but it worked well enough for road trips!

I'm sure they could, given wireless charging cases existed several years ago. I don't know that they WOULD do it, but if they did, I'd hope they go all-in on making it a "productivity case" or something. Give it a slot for the pen, add a bit more battery to it, and help it make the Duo be a bit more stable in its phone mode (so the screen is supported by more than just the camera). Giving it Qi would already add to the thickness and be relatively pricey for a case, so they might as well use it to make the experience somewhat unique.

Looks like a worthwhile upgrade to my Duo. Good job, Microsoft!

I really hope that's not the final camera bump, it looks like it can be broken so easy lol. Glad to see on the really boosted up the internal hardware side, I just hope the software side is drastically improved as well. I'd love to see a Windows 11 variant of the device as well, but I doubt it.

You're not the only one who wants to see and buy a W11 variant of the duo lol.

Yeah, there are several of you.

I like the concept of the duo what's a turn off is not wireless charging its the processor they use and like the article says they should use SD888 but what if they go with a older processor and the same giant price tag.

Wireless charging is the only thing rumored to be missing at the moment that is a vital feature for me. How does anyone not love wireless charging? Sure it's not as fast as a cable but the convenience is unmatched. At work, I have one at every desk and workstation. At home, I have one on every nightstand and end table. No futzing around with a cable, especially when it falls behind the furniture, for the past 6 years makes me cringe at the thought of using cables again. I'll probably stick with a Galaxy for now and wait for the Duo 3.

"How does anyone not love wireless charging? ". there are a lot of reasons:
- its slower
- you cannot use the phone while charging
- its less efficient / higher electricity costs
- device / battery gets hot = faster battery bloating / degradation I would only use it in a car. I like magnetic usb-c cables the most though I am not sure if I would risk the more expensive phones (galaxy, duo etc) with it (supposedly it can result in damage).

All of your claims about Qi charging are moot or grasping at straws.
- my phone is always charged by the time I wake up so it doesn't matter that it is "slow". I actually set tinto charge as slow as possible if it is on charge after 10pm. (Samsung Galaxy S20+ 5G)
- I don't need to use my phone when I am asleep so I don't care that it is difficult to use while charging wirelessly. For the rare occasions I need to charge and use it, a cord is available.
- cost increase for lower efficiency? Really? That is an issue for you? My S20+ has a 4500mAh battery. Even if I used the full capacity of the battery once a day and charging was only 50% efficient, my annual energy cost would be less than $1.20.
- the battery doesn't get hot. None of the phones I have had from the Lumia 920 on got overly hot when wireless charging. Only my daughter's Lumia 950 had that issue and it was a bigger issue when charging with a cord compared to wireless charging. Wireless charging is super convenient and is something I will have to think hard about if the Duo 2 doesn't have it. I really want a dual screen phone so I hope the Duo 2 delivers. I do not want a single screen foldable.

You are really just focusing on a feature because you are dug in, not because there is a strong, rational justification to care much about wireless charging. It just comes across like you are looking for problems to reason over rather than it being something actually important

"You are really just focusing on a feature because you are dug in, not because there is a strong, rational justification to care much about wireless charging." Sorry pal, but you don't hold the monopoly on rationality that you think you do. Doing without wireless charging is certainly not the end of the world - we all did without it before it existed - but it is a fact that it is more convenient that wired charging and that convenience is of greater importance to some people than it is to others. All your talk of rationality doesn't change that. I love wireless charging ad have been using it almost exclusively in my last four phones (Lumia 925, Lumia 950 XL, LG V30, LG V40). I have wireless chargers at my bedside, on my desk, in my living room and for on the go. If nothing else, I want to get the most out of my investment in those chargers by having wireless charging in my next phone too, but I also want to be able to use them for the reason I bought them: the convenience. You don't have to be a fan of wireless charging but where the hell do you get off telling other people that they have to share your opinion or they're not being rational? What's not rational is your determination to douse other's enthusiasm for a device that they want. That you think that it will fail is one thing - there's certainly an argument to be made - but your obvious desire for it to fail is positively pathological. You should get that looked at.

Your "convenience" amounts to the few seconds it takes you to plug a USB-C cable in. It takes long to make sure you have the phone lined up properly to wireless charge in my experience. That "convenience" is completely negated when you pick the phone up 20 mins later and it hasn't increased in charge at all, when plugging it in would get you 40% or more depending on the phone.

"Your "convenience" amounts to the few seconds it takes you to plug a USB-C cable in." No it doesn't. Maybe try asking someone what they think for once instead of telling them.

"All of your claims about Qi charging are moot or grasping at straws." , that is your opinion and they are not 'my claims', its common sense lol. I am not saying MS should not add Wireless Charging (I think they should), I was just listing various reasons why not everyone swears by wireless charging.

ochhanz, thanks for the clarification on your position. For me, and I think the same is true for many who have embraced wireless charging, I have wireless charging stations all over from prior phones. Desks at home and work, nightstand, end table by the couch while watching TV or gaming, kitchen counter, etc. This means from a convenience perspective, wireless is unmatched. Even the magnetic cables that snap-to-charge and support one-handed charging are extra work compared to just setting down the phone on the charger -- no cable to find, just set it down, done. If not for the convenience of the magnetic charging cables, and I had to use two hands to manually plug in a USB-C plug every time I had to charge the phone, as much as I love the form factor, I probably would avoid the Duo altogether. Charging speed seems to be a defense of cables. Charging speed is effectively meaningless when the device always has a full charge, which is what you gain with wireless charging. It's just always charging, unless you're actively using it -- when you set it down for a moment, it's on a charger. Further, modern Qi is pretty fast -- not as fast as modern USB-C charging, but faster than wired charging of a few years ago. I also suspect the lower amperage of wireless charging and keeping the battery from ever dropping below about 60% protects the battery and extends its overall life. Nothing crushes Li-Ion battery life like repeated full discharges. Also, I hear concerns about the extra heat generated by wireless charging. I respect that Dan knows what he's talking about and I fully believe that some energy is lost during wireless charging in the form of heat, but in my personal experience, the high-amp QuickCharge causes a phone to become much hotter than charging via Qi. I suspect this is simply because of the higher power and faster charging.

Hi, you make some good points. Also agree regarding QuickCharge, personally I would avoid it and just use normal usb-c charging. "when you set it down for a moment, it's on a charger. ", you do need to have chargers at several places than (like I only charge my phone at night). "I also suspect the lower amperage of wireless charging and keeping the battery from ever dropping below about 60% protects the battery and extends its overall life. Nothing crushes Li-Ion battery life like repeated full discharges.", mostly true though a sporadic deeper discharge does not matter much and heat can really kill batteries too (a good example are the 1st gen Surface Books where the cpu, screen and battery are near each other).

This explains why my Lumia 928 and Microsoft 950 batteries died in 2 years.

You are egregiously overplaying the convenience of wireless charging by implying plugging a cable in is inconvenient. Wireless charging has the inconvenience of needing to be a bit precise in placing the device on the charger, though Apple has certainly mitigated that with MagSafe in the iPhone 12/13. I like wireless charging but I definitely use cable charging without complaints on a regular basis.

Wireless charging does not have the inconvenience of needing to place the device carefully, at least not with most phones and chargers. Especially the charging stands -- it's literally impossible to misplace the phone. The only cases where user placement can cause the phone not to charge are the flat pads, because on those you can set the phone down an inch off and miss the charger without realizing it. That is why I prefer the stands. They also make the phone more functional by angling the display at you while it's charging. But even the flat pads generally have a light on them to indicate when charging has engaged, and you also just learn it by feel, about like knowing where the volume buttons are on your phone or TV remote after a while. Plus with wireless, you never have to find the end of the cable, which is my constant annoyance with even the magnetic snap-to-charge cables. I still have to find cable, inevitably moved by another person or a cat. Or by my wife who sticks them in a drawer to get the ugly things out of her way. And that's the other rub with cables: in addition to the massive convenience of wireless charging, it's just much neater. Cables suck. They are messy. There is no way to make them look appealing. At best, you can maybe roll-up or hide most of the cable (or go with ultra-short cables) so only the charging end is exposed, but then you lose the only legit benefit of wired over wireless: the ability to move and use the device while it's charging. That requires long, dangling wires all over the place.

Several explanations. Being slower's a big deal if you're trying to get charged up quickly. You're also more restricted in your phone's usability, since a cable has flexibility/length that a pad does not. Moving the pad is also more of an annoyance than a cable. You can't easily answer messages from the charger. I've used Qi a lot over the years (going back to my 920 in 2012), but as I've been increasingly inclined to send/receive messages while my phone's charging in the recent past, the desire to leave my phone across the room on a charger is more of an inconvenience. I haven't used my wireless charger in probably close to a year because there just aren't many times I'm going to leave my phone sitting somewhere for an hour where I couldn't just leave it on a cable with ease instead.

Keith, if you have a charger everywhere you regularly sit, this problem goes away. Now that there's a standard (Qi), no reason not to do that. It's not like that's a huge investment just for the current gen phone -- it will work for future phones too... well, except for the Duo. :-) Also, check out the Qi stands. They present the phone to you like a computer monitor so you can see those incoming messages without even having to pick up the phone. You can just glance it at without touching it or reach out and use the touchscreen on the charger. Of course, because it's wireless, picking it up for a few seconds to type something is trivial too, then just back down on the charger.

Every reason you mentioned is a non-factor me. I guess that's why I'm surprised some people don't care about wireless charging. I haven't worried about heat, battery degradation, or speed with wireless charging since my Lumia 950 (heat only) . I agree about the difficulty of using it while charging, but that circumstance is far less common than the frequency in which I place it on a charger. Finding a way to include it, even if it meant releasing a little later, would put the Duo 2 in a much better position at launch. Instead, users who have found wireless charging to be a necessity will pass on the Duo 2. As a result, they lose potential buyers of the phone and, additionally, Microsoft services and content.

Delaying the Duo 2 any further is pointless. There simply isn't general consumer interest in it; it is only a consideration among a specific cohort of tech enthusiasts. Microsoft isn't going to continue burning money on a product that just doesn't resonate with more than a small sliver of tech enthusiasts. I guess people here think that the Microsoft announcement event is going to catch general consumer attention? People here are strange…

'People here are strange...' You've come to a Microsoft dedicated website, found people who are interested in Microsoft products and beyond that a specific device not made by anyone else and found those people want said device to be as good as they imagine it could be. I'm confused, what do you find strange about that?

The strange part is that people would rather cover a small-ish use case at the expense of a device's success. Delaying the Duo for wireless charging would have left it in a similar state to the first-gen, using an outdated SoC when the competition would be at least a full generation ahead. Having everything else be relatively modern in the Duo is much more important than having wireless charging, which I think is still more niche than people want to admit.

mobster011, yeah, and "battery degradation" is actually IMPROVED not harmed by wireless. Because it charges more slowly and keeps the phone at full charge, it puts less wear and tear on the battery than the high-amp QuickCharge methods. That said, and as much as I really, really hope we're surprised with Qi in the Duo 2, I don't want them to delay it for this. If it's there, fantastic!! If not, don't hold up the phone just to add this for the few of us who care passionately about the feature.

Pre-ordering on day one. Qi is nice to have, not essential.

I hope it will also come out in Italy because such a device is a dream come true, and there are no such devices out there. Once again the Surface brand shows what the concept really is: Think differently!

There is definitely a strong new market for an improved Duo, it is an avant garde product design and Microsoft should be applauded for having the courage and stamina to stay on this "moleskin" course.

Yeah agreed and they actually improved a lot this time, generally MS can be a bit timid in bringing improvements for updated iterations of their released Surface devices but this is definitely an exception to that.

"MS can be a bit timid in bringing improvements" Yeah, but they usually aren't anywhere near as far behind the competition as the Duo was. They were missing nearly every modern smartphone feature imaginable, including a usable camera. There were a lot of low-bar improvements to be made. Comparatively, the other Surfaces have been missing more niche/comfort things like Thunderbolt or large numbers of ports. Other Surface devices have been perfectly fine in their feature sets, with the things that are "missing" are more limitations of the form factor or niche things that mainstream users don't even care about (things like a number pad or Thunderbolt or Ethernet).

Yeah that is definitely true, 1st Duo was behind the curve.

Apple is timid in adding features to its products. Lumia Phones had the most tech of most phones. Too bad it used Windows and did not have a successful app market etc.

Yeah Lumia (and Pro 1-4, SB 2 and Surface Laptops) seem to be the exception.

Where is this "strong new market"? It didn't show up for Duo 1. What makes you say that!?

Still use my Duo, it's a daily secondary device, mostly for book reading purposes, and for that it's fantastic, I've had it pretty much from launch, its still buggy, even with a year's worth of updates,and Microsoft launcher application updates from the playstore, it has improved, but software, is the main problem, that is something anyone who owns a Duo will know, the specifications don't help either, so the Duo 2, SoC is better this time which is great, I would have liked to see 10 Gigabyte of ram, though, more is always better, but like I said to myself last year, before I bought the Duo, generation three of the Duo will be the product to get and Microsoft will nail the hardware, software, like with the Surface Pros. Software, should be Microsofts first priority, because without nailing that, hardware means nothing.

Am I the only person who uses their Duo daily and finds it better than any other current device? er... [Except the camera & the charging port]

Nope. My Surface Duo is my daily driver and my favorite phone I have ever owned. It has its flaws, but nothing that's a deal breaker. And I can't see myself ever wanting to go back to a single screen phone.

My Duo is also my main phone which I use for business... I'm self employed... Never fails to start a conversation... Most people can't believe how thin it is...

I use mine as my daily (coming from a Note 9) and have no regrets. Yes some compromises were made but for my usage the good outweighs the bad.

With the better specs, and if the software has been improved and continues to do so, there is no reason that Microsoft cannot carve out a niche market with the Duo for several years to come. The Duo is not at all like the Samsung Fold. I admire the progress Samsung has made with the Fold 3, but it will be a while before they can solve its biggest turnoff: the thickness when folded paired with its unusual narrowness. I recently saw I new use case for the Fold besides media consumption. After negotiating a home improvement contract, the sales rep pulled out a Fold, opened it and scrolled through the contract and had me sign with his S Pen. This was much more comfortable than finger signing. I don't believe the Fold is a competitor to the Duo, no matter how much work Samsung does in enhancing windowing on its Android devices. The Duo is a productivity tool, and it worked OK at that in version 1 and here is hoping it does that much better in version 2. Oh, and the Duo works better as a Kindle than any Kindle does. I've read more books in the last year on the Duo, than I had read in total on my Kindles.

Interesting times. Why is Microsoft making a play in mobile when they failed with the Windows Phone and Mobile. even if it's not with their own OS? Because having a mobile platform is one of the strongest ways of showcasing your value to consumers, being able to market your vision at a platform level, and not just an app or services level. and getting a visceral connection and commitment to a physical in-hand product over time. Just having individual apps on other platforms is not enough when you are at the mercy of their rules and you are just one of many choices, though you must still provide and maintain apps. Microsoft will keep fighting on this front while they also attempt to look ahead and catch any waves of new product categories that can be part of, or lead to, the next shift. Progressing your customers from mobile to wearables and ambient is more probable than getting them to make the leap from the desktop paradigm. See how Apple has been able to launch a series of continually successful products (Watch, iPad) due to the iPhone's dominance and ubiquity, integrating seamlessly with them. Surface Duo 2 not a me-too product. It's a massive effort by Microsoft to plant a stake in the mobile space by thinking differently about how users interact with mobile devices and attempting to provide a better way of doing that. The concept is legit with demonstrable positives

Tunde, The simple answer is that Android runs more than 70% of mobile phones in the world. MSFT will always push its software into this ecosystem. So, they must be familiar with Android. IN this case, they are now working with Google to build a native dual screen set of APIs/software into Android (Android 11) which MSFT would like to be implemented by other OEMs in their phone offerings. MSFT wants to expand the Office ecosystem by using Android to give billions of people around the world access to the Office ecosystem. MSFT believes a ton of small businesspeople will find value in the Duo form factor. Just like we have found value in the Surface Pro.

Android 11 was released a year ago. If Microsoft worked with them on A11, where is it? Duo should have had it a year ago.

What's up with the January 22nd date? Is that a typical FCC delay in device photos?

It's common for companies to pay for the delayed availability so products don't leak before they are ready. Very very common.

Surface duo 2 will be the best phone evaaaarr!!!!

I am not familiar with how processors rank in phones - how behind is this processor compared to say the Galaxy Fold stuff and the new Iphone13?

Also, we are not going to end up getting an upgrade to android 12 are we... based on the first duo... T_T

888 is top of the line for Android. IPhone uses in-house chip. I wouldnt expect 12 on duo 1. Ms is already paying for extended support on that old chip.

Processor is the same as the one in the Fold 3...

Any guesses on price? Being carried by any US cell carriers?

Barring a negative surprise in the announcement, I expect to buy this device on release. My biggest question at this point is about this new wireless charging revelation. While a rechargeable pen would be great, I hope it turns out to support Qi charging after all. Lack of wireless charging is a much bigger negative to me personally than NFC (I suspect I'm in the minority on that). Lacking Qi won't stop me buying it, but for me, that's by far the biggest potential negative with the Duo 2. I have wireless charging stations all over from prior phones. Car, desk at work, desk at home, nightstand, end table by the couch, kitchen, etc. Charging speed doesn't matter when your device always has a full charge, which is what you get with wireless charging, because when you're not using the device, it's just always charging. Plus, modern Qi is pretty fast anyway -- faster than wired charging of a few years ago. I also suspect the lower amperage of wireless charging and keeping the battery from ever dropping below about 60% protects the battery and extends its overall life. Nothing crushes Li-Ion battery life like repeated full discharges. With the current Duo, I use the Gen X magnetic connection to charge, which is fine (best option other than wireless in my opinion), but that still requires the annoying little USB-C adapter on the phone (prevents it standing up straight in book mode) and still requires messy cables all over the place. My previously pristine surfaces now have wires on them. Qi charging, please!

Well personally I do not use NFC atm so I would too slightly prefer wireless charging (but more as a backup to using a wire).

Don't buy on release. There will be fire sales within a few months. Duo has very little chance of success unless Microsoft prices it extremely competitively, and they won't.

Sounds promising, in specs at least. Would be great with Qi! Very please to see it has NFC, so the possibility of using Google pay would probably be there. Also the possibility of nfc cases.
Totally interested in this device, but will wait to see full actual specs upon release as well as real, unbiased reviews of it after it has been out for a little bit. If the positives outweigh the negatives for me, I may get one. I already enjoy using their android launcher on my Note 10+ so there wouldn't be any re-learning for me.

Well, one thing's for sure: the idiocy is out in spades on today! Yep, I have Duo, and I guess I have some idea of it's usability. As a single screen device, it is more than usable. There is at least one way it is preferred over my previous candy bar phones: that 4:3 screen. Are there things about the device I would like to see changed or improved? Of course, but my previous phone was a Note 8 - again, the 8th iteration of a device, 8 years in making said device. I had things that I wanted to see changed and improved on it as well. 1 year. First version. Good start and a very useful design, but just not for everyone.

Those of us who have been riding this Microsoft wave of evolution from Microsoft for the past 15 years at least know that in reality it comes down to the one thing the Microsoft still struggles on......wait for it......marketing!! My daughter owns an iPhone but wanted the Samsung Z Fold because of the commercial she saw with BTS (for those who don't know who that is, you obviously don't have daughters..lol). My point is that the Surface Pro has been one of the best "2-in-I" devices for over six years but the advertisements are minimal. Apple owns this space and has for a while. Now, I absolutely love the commercial for Windows 11, but the question is will that be an anomaly or has Microsoft actually turned the page when it comes to advertisement? If they don't push good marketing behind the Surface Duo, the reality will be, it's a great device that the common person simply doesn't know about.

Yeah this is true, Apple investments more in advertising. I do see MS products sometimes at billboards or in series, but not nearly as often as a Macbooks or Iphones.
Regarding the Duo, it might not be a device that many people will buy, just like not even all that many people bought a Fold 1 or 2 compared to other Samsung phones because of how expensive they are (granted the Duo is cheaper).

If it really is a great device, then marketing is easy. Reviews will push it and with word of mouth it will snowball. The problem at Microsoft isn't marketing, it is having a product that lives up to the hype. Apple doesn't have that problem. They are very picky and rarely release duds. Marketing only gets your product in the door, then it has to perform. It is the second part where Microsoft struggles.

Bleached, there's a reason companies spend millions of dollars on advertising: it makes them more money in increased sales by a wide margin than the advertising costs. Advertising done well is especially effective at educating about new products and form factors and at increasing brand loyalty (e.g., Coke and Nike don't advertise to directly sell their products, but to drive brand preference over their competitors so when customers buy, they buy the advertised brand). From a marketing perspective, Microsoft behaves more like what you've written, assuming word of mouth and good reviews will drive sales. Obviously, those are important too, but Microsoft does themselves no favors by not promoting its products, especially those that are new and fundamentally different from the nearest competitors. It's bizarre to me. It's as if they have an ethical prohibition on advertising. Having said all of this, I don't believe that advertising alone will turn a dud of a product into a success either. Advertising can increase awareness and promote brand loyalty among similar products, but it can't make people buy and use something they don't like.

One significant point that Bleached and his bestie Roy failed to take in to consideration was the very real market dynamic of screens. There are those who love one big screen and will naturally gravitate to that experience, and then there are those who much prefer two separate screens and will view that as the only solution. So whilst you two sit in your corner together satisfying yourselves whilst telling each other how superior you are, the rest of us will make a choice to determine what is best for our needs, not yours.
After spending some time with an early fold, I loved the engineering but didn't have my socks blown off by the user experience. It was heavy, thick and oddly proportioned. I use two screens for work so this time around I will give the Duo a go... so long as the bloody thing officially comes to Australia. Not forking out that much money for a dodgy import!

I don't know the other one, but I feel that there really isn't a market for dual screens. The original Duo is near perfect for a dual screen, yet it didn't prove the form factor. It didn't catch on. Making the camera a bit better and making it faster won't change that. I still haven't had anyone answer the big question: Why is Microsoft the only one still pursuing dual screens? Why didn't the original Duo cause copy cat devices, especially from the Chinese? Because there is no market.
Windows Central Newsletter
Get the best of Windows Central in in your inbox, every day!
Thank you for signing up to Windows Central. You will receive a verification email shortly.
There was a problem. Please refresh the page and try again.