Images of Microsoft's upcoming 'Surface Duo 2' leak revealing triple camera setup
New photos reveal our first look at the next Surface Duo.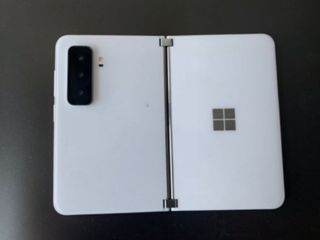 (Image credit: YouTube: Tech Rat)
What you need to know
Images of a near-final Surface Duo 2 prototype have leaked.
They reveal a new external triple-camera setup.
They also show white and black variants of the device.
Microsoft is gearing up to ship a second-generation Surface Duo 2 this fall, and today images of what appears to be a near-final prototype have leaked online revealing a new external camera setup with three lenses, housed in a camera bump just like other flagship smartphones on the market.
Image 1 of 2
It's unclear where these images originated, but Windows Central can confirm that the photos in question are legitimate. Surface Duo 2 features three external cameras consisting of an ultrawide angle, telephoto, and standard lens. The photos also reveal that the device may ship with frosted glass on the outside, and come in both white and black colors. They also show that the fingerprint reader has been removed and likely embedded into the power button, and the USB-C port is now centered on the bottom right hand side of the device.
Windows Central understands that Microsoft is planning to ship Surface Duo 2 in the September or October timeframe, and will feature flagship specs for 2021, including a Snapdragon 888 processor, 5G, and NFC for wireless payments. The device appears to be a major step-up in hardware over the Surface Duo 1, which shipped with outdated specs and without key hardware features.
We'll be interested to see if Surface Duo 2 ships at the same price point as Surface Duo 1, or if it'll be more expensive given how many more hardware features it has. What are your thoughts on Surface Duo 2's external design? Will you consider buying a Surface Duo 2 if the hardware is better than Surface Duo 1? Let us know in the comments.
Thanks for the tip, @Beichen_CAO
Windows Central Newsletter
Get the best of Windows Central in in your inbox, every day!
Zac Bowden is a Senior Editor at Windows Central. Bringing you exclusive coverage into the world of Windows on PCs, tablets, phones, and more. Also an avid collector of rare Microsoft prototype devices! Keep in touch on Twitter: @zacbowden.
I hope that camera bump doesn't affect how the device is used.

Since the main point of the Duo is to use both screens at the same time, I doubt it'll change much.

A bump? So it won't fold flat? That is sad.

A small camera bump, with a divot on the opposing side would be acceptable.

I am going to reserve judgment, but that is a question that I have, as the phone is always folded in single screen mode while in my pocket. Initial impression is that I couldn't do this anymore. We shall see.

Yeah same, hopefully the release version will have the camera flushed more into the design for onehanded mode.

You're expecting decent cameras without a bump? How would that be possible without making the device thicker, so heavier?

All I want is a thicker, heavier Duo. Give me more battery life and a flush camera so the phone can lay flat and I am all in. Chasing thinness while sacrificing on multiple postures of orientation and it loses out on being perceived as flexible and adaptive.

Looks like the bump is angled slightly so it sits flush with the other side. Slight gap like surface book..

Sharp eye, that indeed makes it better.

That just looks horrible / fake. No mention of whether it has micro SD card support? No mention if it has 5G support? The last one didn't even have band 71 for T-Mobile because they seem to have made this just for AT&T bands... And on top of all that, they thought $1500 was a good price point for this. Then I found out it didn't have all T-Mobile bands for LTE (band 71) and no micro SD support. Microsoft again not reading the room correctly and thinking they can do "Apple pricing" when they're lacking.

I guess you didn't read the article. It says 5g support. Then you throw in an Apple bash? Which iPhone has micrSD support? I guess no coffee yet?

Same. I enjoyed the first... But it didn't service multiple drops. I desperately want to avoid a case, but no choice.

The article does mention it will have 5g

Yes it does. Reading. It's FUNnndamental.

Did you read the article? 5G is literally mentioned! These are just first pics and not-yet final hardware so we can't make a final judgment just yet.

What everyone else said lol, I also used the original on tmo fine no 5g of course for the first one????? Microsd wasn't in the original, and most newer phones like Samsung offerings. Again still a prototype nothing official yet

You may wish to reserve comment on how it looks until we get final photos, the article clearly states it's a prototype.

I would question the validity of the photos, but since Zac is usually pretty good with this stuff, I'll give them the benefit of the doubt. That said, I doubt the Duo 2 will have a camera bump that large. Maybe a small bump, or even a thicker body with no bump at all. My guess is that it's a prototype so the engineers can work on implementing the new camera system, and that the final product will be much sleeker... at least I hope so. I'd hate for the Duo 2 to lose the ability to fold flat. I have a Duo and inevitably there comes a time when it's just more efficient and faster to use one screen, depending on the app I'm using.

Specifically when making a call to right? That was one of the big selling points about it. I agree and I'm holding out hope that this is wrong or just an early prototype as you said as well.

Yup. I use single screen for all my calls.

The article clearly states that WC confirms the legitimacy of these photos.

A photo can be both legitimate and a prototype.

Let us clarify: it is a prototype, but also a near-final design. This is what they are going for.

Dan, thanks for the clarification. Hopefully this is more pleasing for users than the Duo 1. Personally, I'm fine(ish) with the Duo camera since I primarily take pictures during the day, thus, I have no need for a better camera. However, many people do, so maybe this is a worthwhile tradeoff for them. And for what I use my Duo for, the Snapdragon 855 is enough for me so I'm not really feeling any FOMO (yet). Random thought... I wonder if Microsoft will continue to produce and sell the Duo 1 after Duo 2 is released. After all, they did the same with the Pro X 1 and 2. When it comes to phones, it may not hurt to make sure that there's a cheaper option in the portfolio.

There's another way to make a cheaper dual-screen device available with slightly reduced hardware ... [insert wink]

I'll take that as confirmation of a new LG V60 ThinQ :p

Loved v1. Can't wait for v2! Former samsun s20, s11, s10+, and s8 owner

🤔🤔🤔🤔 That image looks either very prototype, or fake. It just looks tacked on. This can't be near final; at least I hope not... We'll just have to wait and see... Hopefully, it's camo like they do with automotive test mules.

Doubtfully, this is fake because WC's sources are very good. But, that doesn't mean that this is strictly final hardware, as we have seen hardware change by revel showing its more polished than spy images showed. The key take away here is that the Surface Team knows what they are doing (as far as asthetics and ergonomics) so be patient, have faith, and most importantly DON'T PANIC. We have more reasons to be believed it will be a greatly improved device than not.

They don't make bad designs for the most part, so there is no way this could pass Panos' and his team's experience and design sensibilities. They might also not want the camera system to look exactly like other smartphone makes.

That's what I'm thinking. Can't wait till the reveal 💯💯💯

I think your take is right in both aspects. I think the photo is genuine, and I think it's still a raw prototype. Remember how many patent images we saw of the first Surface Duo? I can expect to see more photos that provide more detail and different aspects of the device. I would agree with some that one of the amazing features of the Surface Duo is how incredibly thin it is, that allows for a flush fold. The image as it's presented does concern me a little about the fact that it may no longer do that, but I'm sure MSFT is tracking that. The reality is the bar has been set pretty high for the second generation since the first generation provided a solid product with decent reception. The only issue I have always had with MSFT is marketing. Hopefully they market this better than the first generation.

Word.. I don't think Microsoft's intent was to mass market the original Duo, rather gather a few beta testers for their proof of concept, which I think was a success in that aspect. If Microsoft feels that version 2 is a more well rounded device I would suspect they would do a bit more to push it towards the average consumer. 👍🏾👍🏾👍🏾

I don't think you can really improve it. This is a form factor that either works or it doesn't. A better camera, 5g, and a faster processor won't make up for the real issues. It is awkward to hold when unfolded, too wide when folded with one screen, and it is rare that you actually need both screens. I was interested in this form factor, or at least seeing if it is viable with proper hardware. Surface Duo 1 proved it isn't. The trade-offs aren't worth the slight advantage of a second screen.

How much time did you spend using it?

Sounds like it's not for you. A lot of people who bought the Duo love the form factor (I'm one of them)... and a lot of people who returned it said they loved the form factor but the camera and specs were insufficient for their needs.

I use it about 95% in book mode.
Not sure what your experience with the Duo is based on, but it looks like it just isn't for you.

Then why didn't reviews praise the form factor? Why didn't the Chinese or even Samsung copy it? The form factor isn't catching on. It isn't worth the trade-offs and is only liked by Microsoft fanboys.

I love my Surface Duo and will never go back to a single screen phone. Too bad it wasn't good for you

I honestly thought this was a July April Fools joke, that's how bad that photo looks. Doesn't look anywhere near final and sure doesn't have that premium Surface look. I had every intention on jumping on the Surface 2 the day it released and have been trying really hard to keep myself from getting the original at its heavily discounted price but if this is how the 2 is going to look, I might reconsider. This, based on the photo here, looks really bad. Hope somehow this photo and info is a mistake. After further thought, I'm going to get 1 billllion monopoly dollars that this is not what it will look like. It needs to find flat for phone calls and any pressure on the side of the screen opposite the camera when folded back would easily damage the screen. This look would really hurt the Surface reputation for premium, well manufactured products. Relief is setting in now. Whew.

I think a camera bump period may cause strain on the hinges when in phone mode. Maybe it's long enough to reduce that potential strain but I hope they would have gone with a dent so it would fold flush instead. We will see though as I do not think they would go with a huge compromise like that without trying to mitigate it somehow. Yeah, the camera is subpar (just pulled my Lumia 1020 out and took some low light shots with flash and boy did it slap the Duo) but I this may give a lot of us what we wanted. Sometimes compromise is necessary until they figure out through iterations how to make it more sleek. Gotta start somewhere.

Exactly what I think of. Following Samsung's (S21) footstep on camera is horrible. Both devices are for 2 different target consumer segments. There are many other ways to improve camera (doesn't have to be super good) without having such ugly big bump on the back. The bump could probably be heavy too causing stability problems in certain usage form factor. I believe this is just one of the many many prototypes Microsoft has. Knowing how clean Surface devices' designs are, I seriously do not believe Panos Panay will approve this one!

It was basically confirmed by WC editors elsewhere in the comment section that this is the real design. Sorry to disappoint. I, too, am not amused by the decisions made that would have led to this outcome.

They need to make the SIM and the internal eSIM both function at the same time! It's a PITA to carry two phones when one of thrm is this super expensive Duo. I have a Duo 1 and that was a big hidden disappointment.

What is that monster!!! I really hope that as everyone has said that the picture is of a prototype, anybody knows about Ip ratings (waterproofing?)

I've not heard, but I'm hoping for at least a little bit of water resistance too, so it's safe to have with you when it's raining or near (not necessarily fully in) the shower for music/podcast/audiobook listening. I don't personally need full submersion, but at should be safe against at least splashes.

I'm going to say it's a fake. This device needs to fold flat. A camera bump takes that away.

The article clearly states that WC confirms the legitimacy of these photos

Dan, it doesn't seem to have the other reported feature to go with the camera: a divot in the back of the other side so it opens fully without a gap. Is it real, but just a crude prototype, or is that what you expect the final product to look like? I think those are 2 distinct options. Personally, as long as it folds all the way open, I don't care about the camera bump and I think I like the report that the fingerprint scanner will be part of the power button.

There is no divot and this is very similar to the final design.

"It's not fake." It should be.

It honestly looks like a Surface Duo 1 with a mock 3 lens camera glued to the back. Just like everyone has said I hope they polish this up a bit before release. Still have a few months so I think we'll be OK.

Purely from the perspective of the camera, that look pretty much like other phones so one would expect similar performance to other flagship phone cameras. That's all well and good but the bump will make it impossible to fold the device all the way back and it will also make it unstable if it's laid out flat. The biggest issue, though, is that one-handed photos will be difficult to impossible and two-handed photos won't be easy either. Folding the current Duo all the way back makes it feel about the same as other phones but you can't do that with a Duo 2 like that because that would cover the camera. That means you'd have to use two hands with the phone open, so holding it while taking a photo would be awkward. 5G is important for the device but I would have been OK with 4G personally. NFC was a must but I haven't decided yet whether wireless charging is also a sjow-stopper.

I think there will always be some trade offs. The current camera lens modules are so large that pretty much every phone in the market has bump. Unfortunately that impacts Duo in a weird way, like you mentioned here. My guess is, the front facing camera will improve as well so you will still be able to do what you do with Duo 1 but the quality might not be as good as those triple cameras. NFC I understand but i dont understand people fussing about wireless charging. I have iphone and wireless charging pad both but never use it. It is just so freaking slow, it makes you fee like you are still living in 90s. Charging the phone through fast charging tech these days is so much better. I still wish MS adds it to Duo 2 though so one less complain to worry about.

kd2604, I know we're probably not getting Qi charging, but that's a huge negative to me (I confess I'll still buy it). For me, speed is irrelevant. The whole point of wireless charging is eliminating cables. I have Qi chargers everywhere, including work, car, and several rooms at home, so I just set my phone (pre-Duo) down on the charger wherever I am. That keeps the screen facing me and keeps the phone always at 100% charge, except when I'm not at one of those places. Wires are messy and a pain and my wife's cats play with the ones in the bedroom, causing them to knock phones on the floor. Even with the magnetic connectors that snap them on one-handed (a huge plus), they're still a pain compared to Qi: they can get dirty and may not make a good connection and you still have ugly and messy (and cat attracting) wires hanging all over the place. The only downside to Qi for me is the need to buy multiple chargers in the first place (yeah, if I only had one, I probably would care about the charging speed too), but because it's a standard, once you've made that investment, it's awful when a phone doesn't support it. The only difference with newer chargers are actually that they are faster than the older ones, delivering more charging amps, and faster even than older wired charging, but to your point, still not as fast a USB-C Fast Charging.

I stopped using fast wireless charging (when I owned Samsung) . Because you'll notice the battery getting hot which reduces battery life due to repeated charging. If you regularly buy new phones, it's not an issue. But if you keep phones for a long time, it's an issue

Sorry, replied to the wrong comment and cannot delete.

Speed never matters until you get a device like the current Duo, and then its all that matters. In the dictionary under the word "lag" is a picture of the Surface Duo.

I almost never charge during the day. I set my phone on my Qi charging stand and never have to mess with cables. I actually tell my phone to charge as slow as possible since it always finishes well before I wake up. Now why would I want to mess with cables?

I would like wireless charging purely in the case the usb port breaks or gets damaged (eg by removing the dust in it, I know the chance here is low but the Duo is expensive).

The benefit of wireless charging is you just put it down on the pad whenever you're not using it, and never have to worry about wires. Charging speed only matters for people wedded to their phones or if you're burning the battery down with something like gaming... otherwise, a wireless pad means it will be always fully charged when you pick it up.

I'm with everyone else here. I have wireless charging stands and plates all over the place, including a couple of portable ones, so I just set my phone down wherever I am and it charges. The battery rarely gets low enough that charging speed is an issue and the level of convenience is significantly higher, which is the point. I've been using wireless chargers since the days of my Lumia 925 so, while I wouldn't necessarily be completely against using a phone without wireless charging, it would be a shame to waste the investment I have made in the chargers themselves.

I wouldn't expect performance to be quite up to par with the other SD888-packing devices. The Xperia 1 III showed thermal issues. Basically anything that didn't have a gaming-centric/active cooling solution, like the RoG Phone, showed thermal issues. The Duo will probably have the most demanding thermal package of any phone released this year (heat of two screens, thin chassis packing things with minimal room for high-end cooling). The SD888, being a tough chip to effectively cool, is unlikely to reach the heights of its SoC-related siblings, though that's a reasonable limitation. That in mind, I wouldn't have minded if they went with the SD870, which seems to have served as a good near-flagship with better thermals, but people would have cried about it.

"heat of two screens". But then you also have the area of two screens to dissipate that heat. The Duo has twice the surface area of a regular phone so cooling may not be as big an issue as you think.

One of my preferred ways of using the Duo is having both screens open with it laid flat on my desk, which wouldn't be solved even by a divot, but yeah... this feels problematic.

I guess we're supposed to carve out a hole for the camera on our desk with a Dremel.

Ugh, that looks still prototypey.
But at least they have a dark color version now. I see issues taking photos, not folding flat and while hardware upgrades are nice it still really runs Google version of Android. No CoreOS (like 10X) or way to run Linux easily no buy from me. iPhone and Surface Go it will be.

I use iphone and even though it is so much thicker than duo, it still has a big bump so Big camera bump on Duo was expected. I swear i read WC mention
Ing about divot on opposite side(dont know if it will make it ugly) of the screen. That and a case would pretty much solve the bump issue. This has to be prototype since MS already knows the widespread weak and breaking USB connection issue and The USb part still looks very thin and fragile and it doesn't appear to be resolved in this version.

I divot wouldn't make much sense if the bump is large. The idea of a divot makes sense if it's to keep the device flush, but that means making the side opposite the bump thicker. Then, you have to decide if both sides need to be much thicker, or if the device's weight will be way out of balance. Doing a divot really means they'd need a much smaller bump than we are seeing here.

This MIGHT be the devices that will have me move phone functions off my two Lumia 950 XL Dual SIMs - still the best phone out there.
Being forced to give up Win10 Active Tiles means I'll have an equally dumb interface as Android on my Surface Tablets. I might just as well have all my devices dumbed down.

Live Tiles are a huge step down from real, full featured widgets. Live Tiles are useless in reality, nothing but an inferior notification system that Microsoft quickly abandoned. They never received any meaningful improvement. They could at least allow buttons so they aren't completely useless.

Widgets are garbage... Most of them are less functional because they don't update properly (Often requiring you to hit a refresh button), they're hideous because they don't match any other design choice on the OS or the design choices of other widgets. No one puts more than 1, maybe 2 widgets tops on their home screen because of this. The only real argument I can see is for music widgets where pause/play/skip is useful and HEAVY power users willing to spend days in KWGT making something that looks halfway decent. Phone, messaging, weather, calendar, stock tickers, reddit, youtube, fitness trackers, and pocket tiles were all better than their modern widget implementations.

Live Tiles also had update issues all the time, but they didn't even have the update button to fix it. None of the things you listed are better on the Tile. The notification shade on Android and iOS are better than the tile. Being able to swipe through your calendar, or messages, stock ticker, or whatever was way more useful than whatever random info the Live Tile was showing you with no interactivity. Live Tile failed for a reason.

Widgets are just as useless as live tiles. The fact of the matter is the majority of people are just going to open apps. Even Sailfish couldn't get people fully on board with interactive app control from the home screen.

I agree, but having music controls on the home screen was nice.

Android widgets are not all that good too, my experience with them is that they are still buggy. Even sometimes (every x weeks/months) they just stop working and I need to remove & re-add them.

Didn't have that issue with the ones I used and they work fine on my iPhone too.

I thought live tiles were excellent on windows phone, for the apps that had good support for it that was. Many apps allowed me to just glance at the start screen rather than going into an app to see new information.

That is a poor notification system. A quick pull down of the notification shade shows you the same thing anywhere you are. Way better than going to the Home Screen.

I don't believe Microsoft will do that. Camera bump at the back? How can someone lay it out on laptop mode to type.. on such uneven base coz of the bump.

They will do that. The number one complaint on Duo was the poor camera. Well, this is the solution.

Guess what the number one complaint will be on the new model.

Only from the closed minded who can't look past version 1

I really don't think it is an issue.

I could be wrong but I think that it will be an issue. I'm a heavy Surface user - four current devices in the house and my Surface Go replaced a Surface 3 - and I was keen to get a Duo 2 if it had a desirable feature set, so I'm not hater. They definitely needed to improve the camera and, if this is the only way they could do that, I understand why they did it. I see a number of problems with it though. Firstly, it makes the device close to impossible to use fully open and laying flat on a table or desk. Secondly, it makes the device much harder to use in laptop mode. If you have the camera side down then the device will be wobbly and if you you have the camera side up then you can't open it too far or it will tip over. The biggest issue, though, will be holding the device comfortably to take a photo. I think about how I hold my current phone to take a photo and neither one-handed portrait shots or two-handed landscape shots would work the same way. With my current phone, I can hold it with one hand and take a portrait shot. That won't work with the Duo 2 because folding the screen the whole way back would cover the camera, and holding it with one hand while open would be awkward. When I take landscape shots, I have my left index finger and thumb on the top and bottom edge and my right index finger hooked around the top-right corner while I press the button with by right thumb. That also won't work with the phone fully open so you'd have to have the second screen sticking out towards you in order to have a bottom edge to the primary screen to hold comfortably. Bot orientations seem to require the phone being held with two hands and more awkwardly than people are used to. Time will tell whether it is a major problem but it seems like it must be a problem of some sort.

I would expect this to be the last Duo if they actually do this. That design makes 0 sense when the device needs to fold flat to make a phone call. That giant bump would just make it feel unfinished and awkward. Also trying to take a picture with the phone open would be cumbersome as well.
Unless this is attached magnetically and can be removed?
It seems like they solved one problem but created a dozen more.

Keep in mind that Microsoft may well be working on camera technology to enable a third- or fourth-generation device to avoid having to have a bump. My dream for a Duo camera has always been to have part of it in each screen and for it to clip together as a whole when you fold the screens all the way back. That could allow them to get away without a bump on some future device, but I'm not sure how realistic a dream that is.

Won't they complain about the bump now though?

Microsoft will not be concerned about those who never had intent to buy the device, yet complain. They will however enjoy feedback from actual users that find the device greatly improved over version 1. It's all about the big picture, the least liability, and the reality of what the majority of average consumers can discover they want and need. 👍🏾

Let's not dismiss concerns/criticism as if they were only from people who didn't have the Duo and were never planning to get the Duo 2. A ton of the people being critical are Duo owners.

Following Samsung's (S21) footstep on camera is horrible. Both devices are for 2 different target consumer segments. There are many other ways to improve camera (doesn't have to be super good) without having such ugly big bump on the back. The bump could probably be heavy too causing stability problems in certain usage form factor. I believe this is just one of the many many prototypes Microsoft has. Knowing how clean Surface devices' designs are, I seriously do not believe Panos Panay will approve this one!

No, the real solution is just call the "selfie" camera what it is, a Teams/Zoom camera. Who actually uses the rear camera on any of the Surface tablets? They're pointless. These cameras on the Duo 2 will be just as useless.

Lay it flat?... It's not going to have a bump on both sides. Lol. Just use the other side. Non issue.

Do you have a Duo? Two very common use cases are (1) having the phone in two screen mode and laid flat on a surface and (2) having it in single screen mode and folded back and flat so it can be used as a phone. Having a bump would seem to make both of these problematic.

I don't think laying it flat in laptop mode will be an issue. The SW just needs to work to allow you to lay it on the side without the camera.
As for folding, the bumper alredy creates a hump, so unless the camera hump is more pronounce that what the bumper adds, it's a non issue.
I never used it laying fully flat unfolded, so I'm not sure about what the use case would be here.

The camera hump IS more pronounced than the bumper, and I and other Duo owners didn't use the bumpers in the first place because they compromised the functionality of the device (meaning you couldn't get the full 360 degrees of motion). The fact that MS doubled down on this is sad, but I guess they decided they'd have better luck selling an awkward v2 that is even harder to hold as a phone but takes good pictures.

100% agree. Halfway open to be used in single screen mode and fully open to be used in phone mode were how I spent 99% of my time with the Duo.

I'll buy one as soon as I can

However leaked this photo. Why would you not show a folded view with the camera bump's impact. I do not think I would buy this until I know it will not break in one screen mode. I would be concerned that just having the phone closed in one screen mode that the bump will act like a fulcrum and the phone will break, become deformed. Please Microsoft, do not blow it I loved your phones and hope for the best, but if you have a phone that is going to break, become deformed this will do so much damage. No apple bend gate please!!!

I share the same concerns as others. The Surface team's track record is pretty awesome, though, so I'm not going to jump to conclusions.

This. I love my Duo and only use the camera when my wife is not around with a better camera. A better camera is welcomed, but hopefully the single screen (folded) use is not compromised. We shall see.

What exactly have been the Surface team's "awesome" deliverables with the Duo after it was launched? Nothing. They forgot about the OG device the second it was out the door.

Will it still have 2015 bezels?

Nopers.. Smaller bezels and larger screen.

Wow, this looks horrible both visually and functionally.

I'm OK with it. I rarely ever folded my Duo all the way back. If I did, it was only for taking pictures.

Exactly, folding it back to take a picture was an annoyance because the crazy auto flipper was always getting in the way. I mostly fold my device back only to keep people in public from asking me about it when I'm not in the mood. 😂😂😂

Wow, I use it almost 100% with the screen folded back, since there's no compelling software to use it open like a book besides Kindle. I do sometimes watch YouTube with it folded at 90 degrees so it has its own built in stand.

The bump isn't unexpected, but that size is but worrying. How well would the screens work folded back with the bump only supporting part of the device? I know some have said they kept the device folded open in their pockets, and the pressure on the screens seems like it could be a but if a problem, if you do that. Regarding the price, we'll see. If rumors of the Z Fold 3 coming in at a lower price than it's predecessor, there's no way MS could justify raising the price. Even status quo on the price, if the Z Fold is nipping at its heels, might chase some to Samsung, though I would personally would be OK with a feature-packed Duo in the $1,400 range. I do hope that black color makes it to market. Really didn't care for the white on the first-Gen. It's not a color I've ever cared for in my phones. Black's not exciting, but options never hurt. Seeing the Duo get colors like the Laptop or Type Cover would be ideal, but it's not realistic. They're moving in the right direction for sure.

Soooooo, taking pictures with at camera are going to be awkward??? I have to half open my phone or either have it in full tablet mode to take a pic. I trust WC, but that just not make sense unless the final design will incorporate a front screen.... If that is the case I'm 100000000% in.

No front screen, but see past patents for ideas on how Microsoft can solve for notifications while the device is closed and you have your answer.

I'll take a look, because my current understanding makes this design sooooo disturbing

I was quite surprised that the solution presented in a patent and many renders was not part of the final product. I never quite bought the excuse of keeping the device closed helped unplug you, helping you stay in the moment. The success of a productivity device hinges on good notifications.

I don't mind the camera bump but on the white color, hoping that would at least make the camera bump housing also white, not black like what is shown in the picture. On the black color the outside looks like a matte black instead of the nice glass on the Duo 1. My .02.

Now, tell us how you really feel.

Stupidest decision they could make! It entirely destroys cleanness of the Duo. I am devastated by this.

Glad to hear the upgrades are coming ❣️. I hope the Surface Team can stay true to their design asthetics. Don't care about the camera bump but give it a housing on the other side. Truth of the matter is, Microsoft has my attention and I'm holding of upgrading my Galaxy Fold to see what Surface Duo 2 offers. I'm glad it has better "phone qualities" but want it because it is the better productivity device. Thank you for the update 👍🏾.

Zac, you wrote, "USB-C port is now centered on right hand side of the device." I assume that means just on the right screen and centered at the bottom when in book/portrait mode (versus being shifted to the left on Duo 1), and not that it is now on the right side near the power button and volume rocker. Is that correct?

I caught that as well, and believe it is just centered on the right side, bottom, looking at it open like a book. I'm not sure that's a great idea as it will make it harder to find stands for it. Most cell phone stands assume the charge port is in the middle and leave an inch or so gap in the bottom supports to allow that. I have found a couple that have a wide enough gap to accommodate where the charge port on the Duo is, but they are already more tablet stands than phone stands. Moving the port farther right is going to make finding a stand even harder.

Yes, thanks. I updated the wording too.

I think I would jump on the Duo2 without pause. I have been using Duo as my daily driver since I got it two weeks or so after release. My productivity has increased and I assume that I would benefit from the faster processor and thusly better camera responsiveness. Sad that I probably won't be able to sell Duo1 so it will join the device graveyard I have growing (Trophy, (2) Icons, SCH-i760, and Note9)

@Daniel and/or whoever else would have been able to help nudge MS in any sort of design suggestion(s). Why wouldn't they use the bump/notch style from that one original prototype, except on the inside...Hear me out. They have huge bezel/space across the top on the inside of the device. They could have done a decent horizontal style bump on one side with a receiving notch on the other, and this would allow it to close and open flush and still provided top tier cameras (especially with a supplemental AI system). /shrug (I've owned V1 since day 1, and still use it as my primary)

@dannyGT love this idea. an internal bump/notch would maintain current usability and allow for more modern cameras. I LOVED the duo but the bugginess of the early software made me abandon it... if they can keep the usability of V1, implement the cameras, with some improved software i'm buying it over the Fold 3. THEY HAVE TO ABANDON THIS DESIGN...

Also, I'm all for better cameras. My picture taking has dropped to almost zero because of how poor the camera is. Sure, great in a perfect outdoor setting when you're completely still. But I have three very active kids and it SUCKS for most situations. My big concern with this, is how fragile the device is...the folding mechanism is phenomenal but if folded back to take a call, how will it withstand someone adding just a little to much pressure against that bump? What if someone does inadvertently try to place it in their pocket folded back...? I can see that easily shattering the glass. All this assumes its used the way I love to use it..."naked". Another thought... This bump could be the identical size to the bumper/case that came included with the V1. If that's the case (no pun intended) I guess one can make the argument that we were already not able to open it all the way, and it would protect itself in the same manner. Interesting...Lets see how it works in the official unveiling. I still think my internal bump/notch idea would have been a better use case scenario.

"Why wouldn't they use the bump/notch style from that one original prototype, except on the inside...Hear me out."

I think the short answer is a triple array divot on the other side would: Look absolutely terrible (imagine a divot on the front of the device; now it's double ugly) There is no free space on Duo. You put in a divot, you take away from the silicon and/or battery. That doesn't help with the new display feature ...

Agree on the looks! Thats why I said having a horizontal array on the INSIDE, inside that large bezel + the divot being on the other screen where it would tuck into nicely. It being all black on the inside would certainly hide the aesthetics of it all a bit more, compared to how it contrasts so at the moment. But the 'space' issue is 100% and I knew it despite making the comment, but at some point you need to fantasize a little ;) - They also didnt have to go nuts with the cameras. 3 cameras with a smaller bump/divot + supplemental AI to improve the pictures could have been achieved. Hell, the Pixel 5 (is it?) still has impressive photos despite being down two cameras with a smallish bump. I would have even made the device a hair thicker just to allow for a less jarring bump...

This doesn't come across in the photos, but I'm told the Duo 2 already is a hair thicker. There's just no room in this device to be able to have a divot of dead space on one side.

Cosmo Communicator is still cooler.
You dont need to fake the thinness.

So, you'll have to have the Duo open to take a photo. Not good. It won't fold flat to take a call. Not good. You won't be able to lay it flat with the screens open. Not good. The beautiful Duo aesthetics ruined. Not good. All in all, pretty awful

It would definitely be worth a look. What I don't understand from so many companies is the wireless charging aspect. Their purchasing the pad is a pennies on the dollar thing as it is bought in bulk. At this point it could be included in just about any device. Especially when you got other places selling an adapter of sorts for $5-10 on line.

So, while this seem big, the angle on the surface of the camera bump might help when folding the duo in Phone mode. I have never used the bumper but it might be similar. This anyway shouldn't be a pb, the only time I use the duo in phone mode is precisely on phone call. Which has become rare, especially with accessories such as headphones glued to my head when working. I really hope we will see a refined "surface design polish". But realistically, I feel like there isn't any good looking bump on any phone theses days so maybe it's not worth the effort. Finally, this is version 2 and the recent hiring in the camera department early this year could mean work is currently happening on designing an amazing duo 3. I want and need the upgraded specs but at the same time, might be good to skip a version of the duo? One thing for sure, I will pay off the duo 1 and will keep it forever. The design is just amazing! Even after a year it feels amazing.

I like that MS is listening to feedback... I do like the form-factor, in theory... Was even tempted to snag an LG V60 if they'd have had an unlocked version... I don't need this... But I like the iterations... Hoping this retains Surface Pen support... Wish there was a way to stow a mini Surface Pen within the housing...

Mini Surface Pen is what I have been wanting so much. To be able to pull out a pen to quickly take notes at Lock Screen would be great. Reminds me of when you used to be able to click the button on the Surface Pen and immediately draw on the screen with my Surface Pro 3. And then that feature went away. At least, I don't think it is there anymore. But, they should take a page out of the Galaxy Note and add similar quick note taking functionality and easy pen access.

I'm so sad about this new design. Just so sad. This new design is so bad I'd consider sticking with version 1 for another year.

They should at least make the Camara bump extend the entire length so it won't wabble when layed flat. e.g. taking notes. Similar to what the bumper case does.

Yikes. I hope this is a fake - I typically leave my Duo unit folded with screens showing.

I really hope this isn't Microsoft's answer to all the negative hype. If so, it really appears that they put no thought into providing viable camera solution while maintaining the elegance of the original Surface Duo design. I've seen some renders that provide a better upgraded camera esthetic. If this is their solution, just slapping a large camera node on the back, that would indicate to me that this will be the last Surface Duo. As Microsoft only put this one out to honor their word that they'd continue with another regardless of sales of the original. Such a shame. I was and am a fan of the form factor but sadly won't be purchasing if this is the product they bring to market.

NFC and 5G confirmed, done, buying it, I have a Oneplus 9Pro now, I LOOOVE Oneplus, but I planned on and want the Duo. Caaannn't Wait

The photo that shows the centered usb-c port is labeled noting the angled camera housing. Is the housing angled or is it just a poorly fitting prototype? It seems that the angle makes no sense when holding the phone up to take a picture in either portrait or landscape orientation.

The housing can be angled without the cameras themselves being angled. The purpose of the angle would be to make sure the housing sits flush when folded all the way open.

I like better specs (and the current camo is terrible), but unless MS has something up their sleeve that isn't apparent here, this really ruins the elegance of the device, and makes several use cases (screens open, phone lying flat on a surface and phone folded back flat in single-screen mode--plenty of us go without the bumpers precisely because they impact those same scenarios) far less viable.

I want one but I'm gonna wait for a big sale a few months after release for around $600. My current phone is still running strong anyway.

I guess Microsoft had little choice...keep the entire device super thin and stick with a rubbish camera, make the whole thing a lot thicker but with no bumps, or add a bump.

They should have taken a page from the Apple "Courage" book and just removed the camera entirely.

It must have two camera's then? One internal for videocalls, in the end this remains a productivity device. Somehow I also see the slim pen storage location playing nicely with the bump.

Yes, there's an internal webcam still, just no flash this time. Your theory about slim pen storage/case is interesting. Can't saw we have heard that, but it's not a bad idea.

I was thinking the same thing, I feel like the slim pen would work OK in that little gap...

As long it is close to using the Duo with bumper on. The angled camera housing should help. Maybe there will be a new bumper that can make it flush with the camera housing. Since you cannot use it one screen mode, I am guessing there is a 4th inside facing camera for video chat and selfies. Maybe inside facing flash still there too.

You can still use it with one-screen mode. There is an internal webcam as before, just no flash this time.

The Surface Duo has such a bad image problem (literally and figuratively), for Microsoft's sake I hope they rebrand. I thought Surface Duo was a dumb name, but Surface Duo 2??? I still like my idea of "Surface Scribe."

People sad the exact same thing about Surface Pro and Surface Pro 2. People have short memories.

Surface Pro 1 and 2 were poorly done ultrabooks, but I don't remember anyone saying that about them. I think you are confusing them with Surface RT.

I'm simply not feeling this. Do I understand that the lack of a good camera was one of, if not the biggest complaint with V1...yes. But you DON'T correct that by taking away all the positives that was there in V1! The ability to open and close the device 360 degrees was a major positive. The fact that it sat flush allowed the device to be really sleek and slim...thats all gone now. And yes, the camera housing is angled, because if it weren't, the damn thing would crack the back of your device over time. Still doesnt mean its good design when you now have a gap when taking phone calls preventing it from closing flush. This makes the gap of the Surface Book look like childs play because it actually effects the way you store and position your phone. This just doesnt seem like typical sound Surface design here. The solution would have been to make both sides slightly thicker and use that extra space for a divot to house the camera so it could be flush. The camera hump itself is also grossly protruded. Hopefully the screens are a little taller thus reducing the bezels even more at the top and bottom. No reason for a phone to stick with the usual 3:2 aspect ratio.

When I had the Duo, I always used it in phone mode until I needed to multi-task. This will be a problem with the camera bump.

What's more of a problem? Crap cameras
Camera bump

For me, crap cameras. I have basically stopped taking photos of anything due to how cumbersome it is to try to take photos. Not because I have to open it all the way up, but because the camera doesn't know which display to be on. A software toggle is all they needed to resolve this but it hasn't happened. And when you do manage to take a picture, it isn't that good for say family events unless you have near perfect lighting and time to take the shot. Considering I was messing around with my Lumia 1020 and it's camera is better than the Duo, and its a very old phone, it kind of sucks. Yeah having the shot is better than nothing but I'll take a ugly camera bump over a crap camera. It's definitely going to feel weird now in phone mode, but I don't think it will be much different than using the bumper, which I have gotten quite used to.

But what about the software bugs? Otherwise looks bloody marvellous.

No cameras = It's crap
Has crap = It's got a camera bump, still crap. Smartphones have had a bump for years now. I wish the phone thicker if anything but that's not what they do.

A slab with a bump is different from a two screen device using a 360° hinge with a bump.

I'm just imagining how one would take a photo using the Duo 2 with that exterior camera. I guess it would be by opening it up in tablet mode and snapping a pic that way? Seems kinda clunky. I always kinda looked at people who would take photos using an iPad a certain way...guess I'll be none the better if I get a Duo 2.

Open it book mode 90 degrees. Still use single screen and snap a pic. It's easier to hold with two hands actually than a slab phone. For one hand use, a physical button need to be a shutter button. Selfie camera will still be there, so you can use it one handed for that.

Yeah. I could imagine doing the whole 90 degrees thing for snapping photos. It will just take some getting used to, is all. Still think the logistics of it to take a photo is off.

You clearly haven't lived with an OG Duo - "book mode" is the most awkward thing ever unless you have it laid flat on a table or are just reading a Kindle book.

Doesn't have the same charisma or sleekness as the first Duo. Honestly, I would rather a heavier/thicker phone than a camera bump. Good they are upping the Camera specs but unsure if this is the best way.
Maybe the technology is not there but I would've preferred a camera under both screens so when folded outward you could flip between selfie and outward facing camera while using one hand.

I went from being willing to spend almost whatever the wanted to ask for the Duo 2 to not getting it at all. The hump and the inability to fold it back flat ruined it. I'm out. I wish they would have stuck to their guns that this was not a phone and not worried as much about the camera. Or, done what TCL and a few others have done and made a competent camera system that's flush with the body of the device. They are making the same mistake they made with Windows phone, abandoning their vision to copy others. They should have stuck to their guns with this and then made a traditional slab phone if they felt the need. I hadn't been this excited about a new MS device in 5 or 6 years, I'm really disappointed.

"I wish they would have stuck to their guns that this was not a phone" It IS a phone. It HAS to replace your existing phone, else no one is going to buy it. Which is EXACTLY why the current one did not sell. At all. If its not a phone, what do you think it is?

Not by Micro$shafts definition. It is a productivity device not a phone.

I disagree - I didn't buy it to replace my "phone" (I don't carry this thing around on weekends), I bought it to be my "work phone" and crank out email, Office tasks etc. And it completely sucks at that because Microsoft has invested ZERO in the software. All the Office apps on the Duo are the same as the day it launched and they barely take advantage of the formfactor. The opportunity has been lost, and it won't get any better by slapping three cameras on the back.

When did Microsoft ever say this isn't a phone? It most certainly is a phone!

Yeah, I think I'll wait for v3 when most of the issues will be polished. I think the Duo is following the same trajectory as the Surface when it was first introduced. I then bought my first Surface 3 and never looked back. And frankly, many of the negative comments on the Duo are software related, so their focus should be on the software side as well. Hope my iPhone 7 Plus hangs on until then.

Software is the biggest issue for me. It gets laggy quickly and with bumper, back screen constantly activates. After using my naked and it falling a foot to it's doom on concrete, I now use the bumper so it has more grip. But that also means I get to fight with the folded back display. Now if the camera bump is like the bumper bump, I am really hoping they iron that out. Otherwise, we are going to see those same issues with the back display activating constantly. I am on my 4th Duo and each Duo had that same issue with the bumper. With it off, no issues when folded back. I'm sure it will be Duo 3 that will hit the nail on the head. First was the concept, 2nd is going to be implementing solutions for any shortcomings of v1. v3 will most likely be the start of just iterating on it like any other major phone.

I hope that bump decreases, even if that means the device is thicker.
How will you make a comfortable phone call with your phone folded open? But we will wait to see the final designs. 🙂

I will be buying the Duo 2 as soon as it's available. My biggest problem with Duo 1 is swiveling the phone to take a picture.
It looks like they did some good engineering work to fix it.

Awesome, now you get to hold both screens open just to take a picture. What an improvement.

It's tricky to know which approach is better. Folding it over and just having one camera module that does everything makes sense, but only if that module is good enough (which apparently is isn't). This immediately looks like an improvement in the camera hardware but having to keep it unfolded to take pictures? I'm not certain that's an improvement. For me, I'd prefer the original solution but with a better camera module. I guess the device thickness would be sacrificed though so it gets complicated as to what the better approach should be. tbh I'm thinking that the Duo just doesn't make sense for me, even though 2x screens vs one that folds does seem like the right approach for this kind of device. It just needs to be much cheaper for me to consider it.

The only thing you need the camera for is doing Zoom meetings, and for that the current original Duo placement is fine. No one is going to use this as their camera phone. No one.

Hope it has a metalic frame, not again plastic, considering the issues SD1 had with the plastic frame.

I am going to assume they will not make that mistake again considering the amount of replacements they probably had. I'm assuming with the device being thicker, they may still use plastic which will mean the plastic around the port will be a bit thicker. However, metal will be better even if it means adding some more weight to it. I don't need my phone to be paper thin and extremely lightweight. Thicker means you can hold it bettery anyway.

IMHO they ruined their own design to accomodate critics. A better camera was the reason people didn't run to buy this?

I agree aesthetics are going to take a hit from the original design but unless real good camera tech gets small enough to fit in a device as thin as the Duo, we are going to have to have compromises until they can iterate enough on the design to find a happy medium that balances the original aesthetics and new size to accommodate the requests of a lot of Duo owners and potential owners.

If you've ever used the original Duo you know the camera is the least of its problems. This solves nothing.

Considering the current prototype camera looks like it's glued in, has anyone considered that it may just be modular since it is a prototype? Maybe they have a couple different cameras they are testing out and being able to just swap it out during testing is something they chose to do since it's a prototype. I would like to think that what we are seeing now is not going to be what it will look like. I am sure the official camera will not have gaps like those in the picture between the camera and the back housing. I think people are thinking too much into the look of the current prototypes. Wild thought... What if the rear camera IS removable? Highly doubt it though. Again, just a wild thought since people think that the camera is going to look just like that, stuck on with glue...

Black would look awesome.

I am so tempted to spoil Microsoft's surprise with the "Surface Duo 2," but I won't. Take note of the camera bump position and the codename. There will be a big surprise at the end. A "one more thing," as it were. Call me Microsoft. I know a lot more.

Software, software, software.

That camera looks like an attachment on top of the real camera, an accessory for the camera

All of you saying that camera bump not acceptable, you guys need to see and feel it first before making any judgement. When you guys see food on the table, do you want to taste it first before you decide it's good or bad or just decide looking at it? Be positive.

Win 11 on it, also doing android apps would be perfect

The design, as it looks like here, doesn't convince me at all. They should have recovered space in the bezels or even made it a bit longer phone to house the cameras.
The hardware probably is near a top phone now, but what is still unclear is the software reliability and again the device overall advantage ... For now, such devices at these prices are nothing more than expensive status symbols for a tiny minority of people. In my opinion, the only acceptable way for the future is that towards less devices per person (at lower price also), battery replacement, modularity. None of these things is in Surface Duo.

@dan16 maybe the fairphone will interest you.

I have been told I am wrong about this but the more I look at the second photo of the black version, the more I am convinced that one side has a dark blue skin with a rubber texture, this texture is missing from the first photo of the black device, it makes me think more and more that this camera is an attachment.

Shame, I imagine that a wireless charging camera module that can be attached to the front or back magnetically, which communicates via Bluetooth would have presented a better solution in that it would keep the form we all loved intact, be useful for video conferencing, present possibilities for photography, and would improve the duo accessory eco system.

I'll wait for the reviews on the Surface Duo 2.

If I hadn't bought a S20 FE 5g a few months ago, I might have considered it. I'd really rather have the Neo. I'd buy an updated version of that pretty quickly.

With the large camera hump, you can't open and fold the device flat against itself.

Exactly, and if you own an original Surface Duo you know that that's how you use the device 90% of the time. So this is the stupidest idea ever for this form factor. Honestly I wish they'd just gotten rid of the camera entirely, no one is going to use it anyway.

the Surface DUO is a productivity device not just a smart phone. so it is in a class by itself. folks
the original Surface DUO came to market lacking some software to make it run smoother &
some hardware that most smartphones had to make it more useful. Microsoft has kept it's
promise & corrected a lot of software issues & those who have a DUO can say it is better now
than it came to market. the coming Surface DUO 2 will correct the lack of Hardware the First
Surface DUO did not have. It is what the first DUO should have been & will get better software
too. my IPhone' stolen so I will get a Surface DUO 2
Windows Central Newsletter
Thank you for signing up to Windows Central. You will receive a verification email shortly.
There was a problem. Please refresh the page and try again.