Surface Pro 8 has a bigger battery than Pro 7 and faster, more accurate Windows Hello
By Daniel Rubino last updated
The latest Microsoft Mechanics deep dive video sheds light on many of the smaller improvements to Surface Pro 8.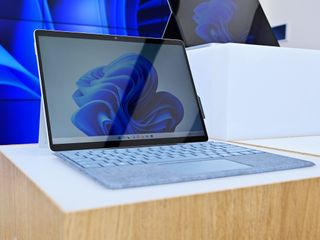 (Image credit: Daniel Rubino / Windows Central)
What you need to know
The Surface Pro 8 gets a breakdown in the latest Microsoft Mechanics video.
Faster Windows Hello, new ambient color sensor, 23-watt TDP, and more were revealed.
Surface Pro 8 also switches from magnesium to anodized recycled aluminum for the chassis.
There's also a new carbon composite thermal dissipation system.
The all-new Surface Pro 8 is the first major overhaul to the Surface Pro line since 2014's Surface Pro 3. Besides thinner bezels, Thunderbolt 4, a larger display, and 11th Gen CPU, there are many other more minor changes that weren't mentioned in the press release or product specs announcement.
The latest Microsoft Mechanics video spends a good seven minutes breaking down what's new, and as it turns out, there is quite a lot that you may not have known about.
We've summarized the main points below, but it's worth watching the video yourself to have it all explained:
Modern, rounded chassis "compliments the fluid UI design of Windows 11"
The thinner bezels expand the display real estate by 11%
The chassis is made from recycled aluminum instead of magnesium
Both "classic" Platinum and Graphite Pro colorways are anodized
First Surface display with ambient color sensor to dynamically adjust display colors based on room lighting
Display brightness peaks at 450 nits and goes down to just two nits
120Hz display makes pen latency "seemingly undetectable"
The IR camera has been improved "substantially" in terms of speed and accuracy
Microsoft's AI platform lets Windows Hello dynamically adapts to changes in your appearance with glasses or changes in facial hair
The 5MP full HD RGB camera has larger 1.4-micron pixels for better low-light performance
The camera also has tuning optimizations to keep your face in focus and lighting exposure more consistent
Dolby Vision (HDR) and Dolby Atmos (surround sound) enhance the multimedia experience
Surface Pro 8 supports up to 23-watt TDP for the 11th Gen Intel processor, a "first for the Pro line"
You can get LTE in Core i3 and Core i7 models for the first time (Commercial markets)
Battery has increased to 50.4 WHr up from 43.2 WHr (Surface Pro 7+ is also 50.4WHr, but Surface Pro 7 is 43.2)
Uses new carbon composite thermal dissipation system: Vapor chamber, three heat pipes, and three graphite spreaders
Improved perimeter venting
46% faster compute and 75% boost to graphics processing compared to Surface Pro 7
That's a lot of stuff for Surface Pro 8, which goes to show you that what makes a PC "great" is more than just the name on the processor.
We'll keep all these changes in mind when we do our Surface Pro 8 review sometime in October to see how much of a difference it really makes. You can get more of an idea of how Surface Pro 8 compares to Surface Pro 7 to hold you over for now or go deeper on those new 11th Gen processors.
| SKU | Price |
| --- | --- |
| Intel Core i5, 8GB RAM, 128GB Storage | $1,099.99 |
| Intel Core i5, 8GB RAM, 256GB Storage | $1,199.99 |
| Intel Core i5, 8GB RAM, 512GB Storage | $1,399.99 |
| Intel Core i5, 16GB RAM, 256GB Storage | $1,399.99 |
| Intel Core i7, 16GB RAM, 256GB Storage | $1,599.99 |
| Intel Core i7, 16GB RAM, 512GB Storage | $1,899.99 |
| Intel Core i7, 16GB RAM, 1TB Storage | $2,199.99 |
| Intel Core i7, 32GBR AM, 1TB Storage | $2,599.99 |
Surface Pro 8 is expected to begin shipping on October 5 in the following markets:
United States
United Kingdom
Canada
Austria
Germany
Ireland
Switzerland
France
Japan
Classic 2-in-1
(opens in new tab)
Surface Pro 8
Updated design, same 2-in-1 form factor.

The Surface Pro 8 finally adopts the modern design that Microsoft first introduced with Surface Pro X, now with two USB-C ports that are Thunderbolt 4 enabled, an upgraded 13-inch display with a high-refresh rate of 120Hz, and support for the Surface Pro X style Type Covers with the Slim Pen charging cradle.
Daniel Rubino is the Executive Editor of Windows Central, head reviewer, podcast co-host, and analyst. He has been covering Microsoft here since 2007, back when this site was called WMExperts (and later Windows Phone Central). His interests include Windows, Microsoft Surface, laptops, next-gen computing, and arguing with people on the internet.
"Surface Pro 8 supports up to 23-watt TDP for the 11th Gen Intel processor, a "first for the Pro line"" So they're being more bold with the thermals both here and in the Surface Laptop Studio. I'm very interested to see how that plays out. Great run-down.

Indeed, and furthers the narrative of "AMD can't match hut the TDP needs of Surface" seem even less sensible that it's been.

I ordered the graphite i7 with 16 GB RAM/256 GB to replace my Pro (5), what's everyone else getting? 🙂

Surface Pro was released on my birthday back in 2013. I waited in line at a Microsoft Store to purchase it. I used it until Surface Pro 3, which was a mind-blowing update to the original. I then had a Pro 5 (the one without an official number) but then moved to the Surface Book. I am moving back with Pro 8 because I have really missed the Pro form factor and there are now so many improvements from the 5 that I am certain it will do everything I need it to do. I even noted it is now made of recycled aluminum instead of magnesium, another plus.

No replaceable SSD? That would be a step back from the Pro 7+ and the Pro X.

It has a replaceable SSD. That was well known, publicized, and even talked about in this video.

Bigger battery explains the unfortunate weight gain. But I guess this is a 2 in 1 after all, not just a tablet.

I'll be curious to see the iFixit teardowns. Repairing my 4 has been awful, and the improvements they made with the X were welcome. Hope that they carried over here.
Though irritating that there's no i5 with 16GB of RAM and 512GB storage, or no other i5 models with 16GB RAM so you could swap out a small SSD without overpaying.

Other than swapping the drive, what could the Pro X/8 offer that would be meaningfully better than your SP4? Screen removal for any meaningful repairs seems like it would be the same necessity as always, which is the big issue of Surface Pro repairs.

I'm concerned that this display isn't "true" HDR when they mention Dolby Vision - i.e. that it probably isn't more than 400 nits - otherwise, I think they'd be telling us "1000 nit display".
Nonetheless, I've preodered the i7/16gb/256 model. 🙃

Correct. Dolby Vision is better than nothing, but it's not like ramping whites up to 1,000 nits for certain scenes.

It is not clear the reason they moved to aluminium for the chassis instead of magnesium.

Sustainability - recyclability is infinite for aluminium.

They explained that pretty early on in the video.

Looks like a great update especially when considered with the new slim pen 2... Looking forward to the reviews before taking the plunge...

I really waited for the Pro 8 but for me all the great stuff they added isn't that important (I'd like the bigger screen but pen/inking I hardly use). I guess I'll go with the Pro 7+ instead. My main pain-points with the Pro 8
- core i5 not fanless anymore
- no microSD
- 10% more weight
Additionally I don't like
- no normal USB port
- no support for previous keyboard (?)

Yes it doesn't support previous keyboards but that's because it's been redesigned.
it does however work with the surface pro X keyboard.
Windows Central Newsletter
Get the best of Windows Central in in your inbox, every day!
Thank you for signing up to Windows Central. You will receive a verification email shortly.
There was a problem. Please refresh the page and try again.