Here's how the new Surface CPUs stack up against older models
A whole new generation of Surface PCs just launched. How does performance compare?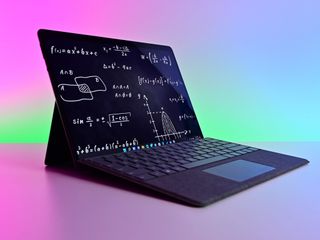 (Image credit: Daniel Rubino / Windows Central)
Microsoft's Surface hardware events are always eagerly anticipated thanks to the promise of shiny new devices. This year was no exception, as we waited to see whether expectations of a Pro 8, Laptop Studio, Pro X, Go 3, and Duo 2 would be realized.
While Microsoft seems to always be on the ball with its design choices — save maybe port selection — the performance hardware side of things isn't always as easy to appreciate. The AMD-powered Surface Laptop 3 15 comes to mind, as do the Intel-powered Surface Studio 2 and Surface Go 2. These devices launched with aging processors, much to the chagrin of power users who wanted the absolute best performance in their brand-new device.
A whole new crop of Surface PCs is here, launching Oct. 5 to coincide with the worldwide rollout of Windows 11. While the Pro X hasn't seen a performance upgrade, the Surface Pro 8 and Surface Go 3 do have some new CPUs. And with the launch of the new Surface Laptop Studio, there are also some Intel H-series chips to take a look at. Let's see what we can expect from these CPUs, as well as how they might compare to a bunch of other popular laptops that we've already had in for testing.
Surface Pro 8 and 11th Gen Intel Tiger Lake
The Surface Pro 8 can be equipped with four different processors, all from Intel's 11th Gen Tiger Lake series. PCIe 4, Thunderbolt 4, and Wi-Fi 6 support comes with these CPUs. Looking at the consumer side first — the Pro 8 also has commercial options for business — there are Core i5-1135G7 and Core i7-1185G7 quad-core chips available. These are both 10nm with a maximum 28W TDP, capable of hyper-threading for a total of eight threads.
The i5 tops out at around 4.2GHz with Turbo, while the i7 hits about 4.8GHz with Turbo. As for the cache, the i5 is looking at 8MB while the i7 has 12MB. Intel Iris Xe graphics are integrated into both chips, with the i7 version being a bit more powerful thanks to a slightly higher frequency and more execution units (96 compared to 80). You can expect better graphics performance compared to previous Iris Plus and UHD integrated chips, but I still wouldn't consider the Pro 8 a gaming PC. You can find a lot more power in our collection of the best gaming laptops.
We've already seen the i5-1135G7 in the Surface Pro 7 Plus where it achieved impressive numbers in both Geekbench 5 and Cinebench R23 benchmarking. And now that we've tested the Core i7-1185G7 in the Surface Pro 8, we can see where performance rests.
Image 1 of 2
On the commercial side of the Pro 8 release, a Core i3-1115G4 and Core i5-1145G7 join the aforementioned Core i7-1185G7. Why the different i5 on the commercial side? It has Intel vPro capabilities, just like the i7-1185G7, to help with remote management. These appeal to IT departments, so it makes sense for Microsoft to offer them for enterprise buys. The i5-1145G7 has a slightly higher Turbo clock compared to its 1135G7 counterpart, but its cache, TDP, and graphics frequency remain the same.
The Core i3 is there to help keep costs down, or for anyone who doesn't need a whole lot of power. It's a dual-core chip with Intel UHD integrated graphics, so don't expect it to measure up too closely to the i5 and i7 siblings. We've tested the i3-1115G4 in the Acer Aspire 5, but haven't so far tested the i5-1145G7; I pulled average single-core and multi-core numbers from official Geekbench listings to give an idea of what to expect. As for Cinebench, i3 and i7 numbers are listed.
Image 1 of 2
Take these numbers with a grain of salt. The Pro 8 is its own device, and averages pulled from a huge database are certainly skewed.
Classic 2-in-1
(opens in new tab)
Updated design, same 2-in-1 form factor

The Surface Pro 8 finally adopts the modern design that Microsoft first introduced with Surface Pro X, now with two USB-C ports that are Thunderbolt 4 enabled, an upgraded 13-inch display with a high-refresh rate of 120Hz, and support for the Surface Pro X style Type Covers with the Slim Pen charging cradle.
Surface Laptop Studio and 11th Gen Intel H-series CPUs
The Surface Laptop Studio is the latest device to join the lineup, bringing a snazzy 2-in-1 design with display hinge on top of a standard laptop body. It's packing 11th Gen Intel Core H-series CPUs for a bit more power owing to its "Studio" designation. Entry-level configs have a Core i5-11300H, with the Core i7-11370H available as a step up. PCIe 4, Thunderbolt 4, and Wi-Fi 6 support come with these chips.
These two Tiger Lake CPUs have four cores, eight threads, a 10nm process, and a maximum 35W TDP. The i5's base clock speed hits up to 3.1GHz at that 35W TDP, while the i7 hits 3.3GHz when drawing the same power. As for Turbo, the i5 hits 4.4GHz while the i7 hits 4.8GHz.
Both chips feature integrated Intel Iris Xe graphics, though the Laptop Studio provides dedicated graphics options as well for more power. Compared to the 11th Gen G7 CPUs in the Surface Pro 8, and compared to 10th Gen H-series counterparts, you should expect better performance here.
We tested the Surface Laptop Studio's Core i7-11370H CPU, putting it through multiple benchmarks to see exactly how it performs.
Image 1 of 2
As for the Core i5-11300H option, we still haven't had a chance to test it in-house. Notebookcheck has average Geekbench 5 scores of 1,313 (single-core) and 4,403 (multi-core). Similarly, CPU-Monkey has Cinebench R23 average scores of 1,394 (single-core) and 5,349 (multi-core).
Bye-bye, Book
(opens in new tab)
The 2-in-1 gets weirder

Microsoft's new Surface Laptop Studio delivers an interesting take on the 2-in-1 form factor. Instead of being a tablet with a detachable keyboard, the display is no longer detachable and can instead be pulled forward and laid flat over the keyboard. It also has a new Precision Haptic touchpad, a 120Hz 14-inch display, and powerful Intel and NVIDIA chips.
Surface Go 3 and Surface Pro X
The Surface Go 3 saw mostly a performance upgrade. It's now available with either an Intel Pentium Gold 6500Y or a 10th Gen Intel Core i3-10100Y. This isn't a huge bump in power, and it's looking like the same issue of "barely enough" that we saw in the Surface Go 2 will be true once again.
While benchmarks and performance numbers are not plentiful for either of these chips — we will have our own set of numbers once we have a Go 3 in for testing — we can compare them to the older Go 2 CPUs.
The Pentium Gold 6500Y in the Go 3 is a dual-core chip with four threads, 5W TDP (up to 7W), and 1.1GHz base frequency. The Gold 4425Y in the Go 2 is also a dual-core chip with four threads, with a 6W TDP and 1.7GHz base frequency. The 6500Y does have a larger cache (4MB compared to 2MB) and a slightly higher max frequency for its integrated graphics. Performance is likely not going to be wildly different if you're coming from a Go 2 with the Pentium chip.
The 10th Gen i3-10100Y in the Go 3 has two cores, four threads, 5W TDP (up to 7W), 4MB cache, and a 1.3GHz base frequency. The 8th Gen m3-8100Y has two cores, four threads, 5W TDP (up to 8W), 4MB cache, and a 1.1GHz base frequency. Again, these chips are quite close on paper, and we will have to see how they perform in a real-world setting.
As for the Surface Pro X announced at the 2021 Surface Event, nothing is changing when it comes to performance hardware. There's now a version available without built-in LTE, which also lowers the starting cost of the device.
Both the Microsoft SQ1 and SQ1 ARM CPUs remain as available options for the Pro. If you're interested in how these chips compare, Executive Editor Daniel Rubino's in-depth Surface Pro X SQ2 review has all the information. And if you're looking for details about a bunch of other great laptops, our collection of the best Windows laptops likely has what you need.
Surface surprise
(opens in new tab)
Three times the charm

If you want entry to the Surface family of devices for one of the lowest possible prices, the Surface Go 3 tablet is an option to consider. For now, it's a Wi-Fi device, though LTE options are on the way.
Windows Central Newsletter
Get the best of Windows Central in your inbox, every day!
Senior Editor, Laptop Reviews
Cale Hunt is formerly a Senior Editor at Windows Central. He focuses mainly on laptop reviews, news, and accessory coverage. He's been reviewing laptops and accessories full-time since 2016, with hundreds of reviews published for Windows Central. He is an avid PC gamer and multi-platform user, and spends most of his time either tinkering with or writing about tech.
Good benchmarks, comparable across the board even with M1 in multi-core benchmarks. I need to get my hands on a demo to try the new pen out.

For this kind of article, you should post and compare the results of 10 and 30 minutes run on Cinebench R23 unplugged on battery power, to other devices in the same product category measured the same way. 1-time loop run on Cinebench while plugged into an AC outlet is as useless as Geekbench or Userbench tests, because it's inaccurate and not representative of real-life works you'd do on a PC.

I'm confused, is Surface Laptop Studio slower than Surface Laptop, despite being advertised as most powerful?

Correct. Because the H series CPU in the Laptop Studio isn't really H series as the name suggests, it's just a new Intel U series chip with higher TDP which is slower than a generation older AMD U series chip in the Laptop 15.
"Most powerful" Surface Laptop Studio is basically using the same CPU as Surface Laptops, Surface Pros, and Surface Books, just designed to consume double the power which doesn't really improve performance much at all while plugged in.

I've been very happy with the Pro 8's (i7) performance. On the other hand I'm concerned about its battery life. I know the "Up to 16 hours" always comes with a big asterisk, but I'm getting closer to 5-6 hours of use even while just editing documents and using edge with about 7 or 8 tabs. Anybody else having similar issues? Maybe another couple of firmware updates will improve it.

Can you be more specific with your battery life test:
1. what is screen brightness
2. was battery saver on/off
3. if battery saver is off what is power mode? better or best performance)
4. was bluetooth on/off
5. how many background apps open
6. was keyboard attached
When I checked out the SP8 (i5, 8ram, 256ssd), I experienced on average 9.5 hours of battery life running YouTube continuously at 40% brightness, battery saver and wifi on, bluetooth off, no keyboard, no extra tabs open, and no background apps open in the background. This average was 30-40 minutes better than my SP7 (i7, 16ram, 256ssd) after accounting for the larger battery...

Interesting that they included the SP7's i5 model but left out the i7. My SP7 (i7, 16 ram, 256ssd) produced Geekbench 5.4 scores of 1,330 for single-core and 4,816 for multi-core which are pretty similar to SP8's i5 model (see Daniel Rubino's SP8 review). In 2019, they proudly stated that the SP7's i5 model was faster than the SP6's i7 model. But that does not seem to be the case between the SP7 i7 and SP8 i5 which probably explains why you don't see the SP7 i7s benchmarks anywhere....